A quick and easy homemade bbq sauce recipe that incorporates condiments from your fridge – ketchup, mustard, sriracha – and elevates them.
This super-duper easy homemade bbq sauce is a simple way to elevate your condiments. The story goes like this — Patty and I were in the kitchen, readying up some spicy Italian sausages for the grill.
We weren't doing a recipe. It was a day off of our Madness duties, and I didn't think anyone would be interested in a couple of basic grilled Italians. I didn't have sauce prepared other than the homemade honey-beer mustard that I hope to post soon.
We were just going to go with the standard ketchup and mustard, and for me, a bit of sriracha. I like my Italians with mustard and a splash of sriracha or some other hot sauce. So! Patty, as she likes to do, tosses out a challenge.
"You should do a recipe with these condiments." My first thought was, "WHAT? Are you nuts?" But, being one who does not like to back down from a challenge, it got my wheels turning, and Patty flat out knew that would happen.
The result? This bbq sauce recipe.
I'm calling it a bbq sauce because it tastes like a bbq sauce, but it's more in the generic sense that it is an all-purpose sauce that goes with anything barbecued. It would totally work on burgers of any kind – turkey, beef, chorizo – over brats, Italian sausages, simple hot dogs, even slathered over chicken.
You can easily vary up the ratios of the condiments – a little less ketchup, a little more sriracha, a different type of mustard – for different flavors, but the end result is surprising. Plus, it really is super-duper easy to make. I had this ready in 10 minutes once I thought of it. Next time, though, I might add in a ghost pepper for myself. Oh baby!
Patty's Perspective
It's grilling season here, and we only get that for about 3 months so I'm constantly wanting to grill as much as possible. I'm very excited because I'm putting this sauce into a squeeze bottle to use all summer long. In fact, I'm brining it to a friend's 4th of July BBQ party this weekend. I thought it should be called a "Bun Sauce" or maybe "Grilled Meat Sauce". Pretty much any grilled meat or anything you can put on a but would be great for this sauce.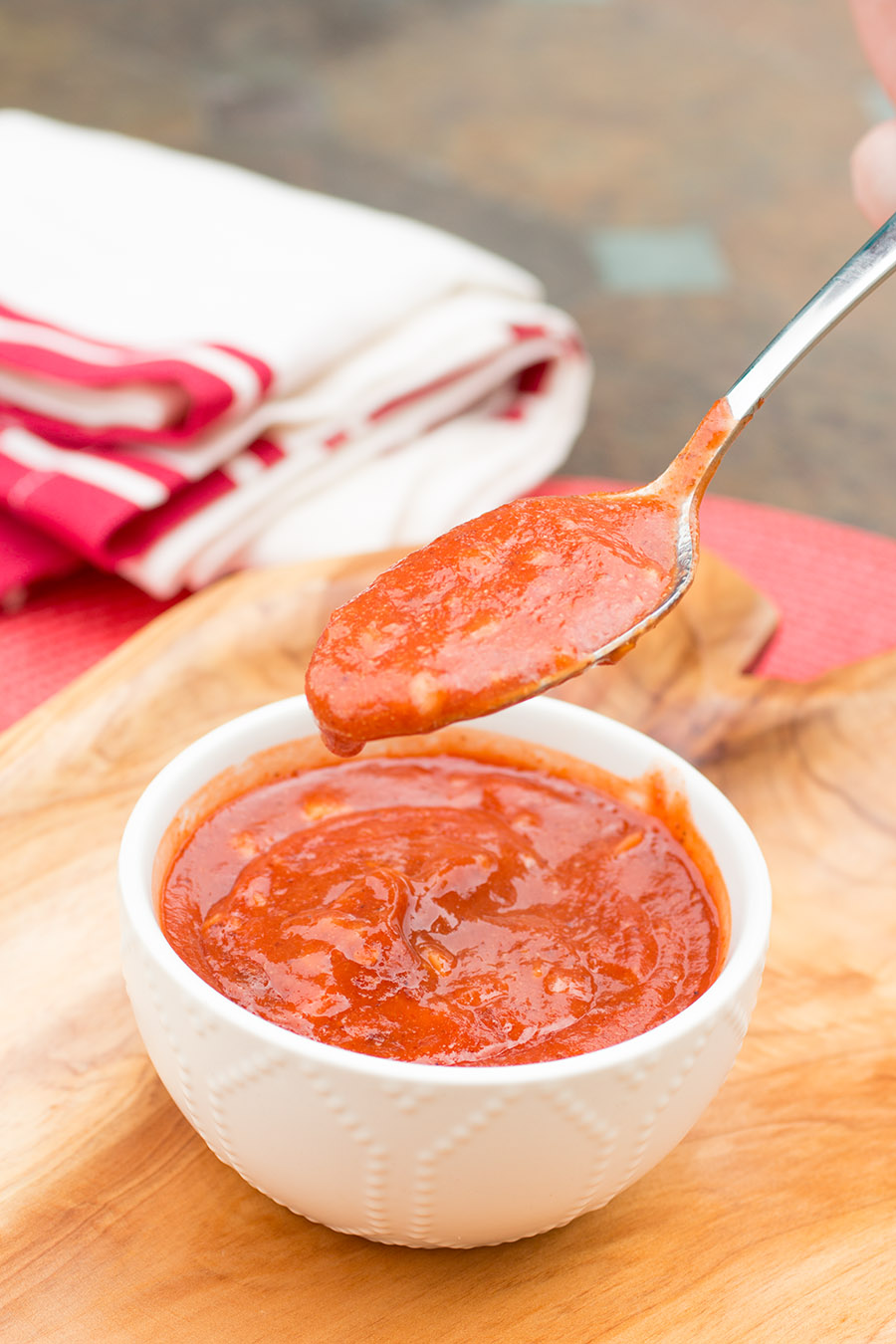 Try Some of My Other Popular BBQ Sauce Recipes
If you enjoy this recipe, I hope you'll leave a comment with some STARS. Also, please share it on social media. Don't forget to tag us at #ChiliPepperMadness. I'll be sure to share! Thanks! — Mike H.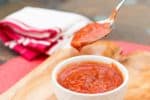 Easy BBQ Sauce
Ingredients
¾

cup

ketchup

¼

cup

spicy mustard

2

tablespoons

sriracha

1/3

cup

apple cider vinegar

1

shallot

minced

1

garlic clove

minced

2

tablespoons

light brown sugar

Salt and pepper to taste
Instructions
Add all ingredients to a pot and heat. Bring to a boil, then reduce to low.

Simmer 10 minutes.

Cool and use it on anything from burgers to hot dogs to chicken to ribs to brats…
Nutrition Facts
Easy BBQ Sauce
Amount Per Serving
Calories 376
Calories from Fat 18
% Daily Value*
Total Fat 2g 3%
Sodium 3040mg 127%
Potassium 832mg 24%
Total Carbohydrates 80g 27%
Protein 5g 10%
* Percent Daily Values are based on a 2000 calorie diet.