A recipe for cauliflower rice you're guaranteed to love, made with the Cajun holy trinity, jalapeno pepper, and plenty of spicy Cajun seasonings.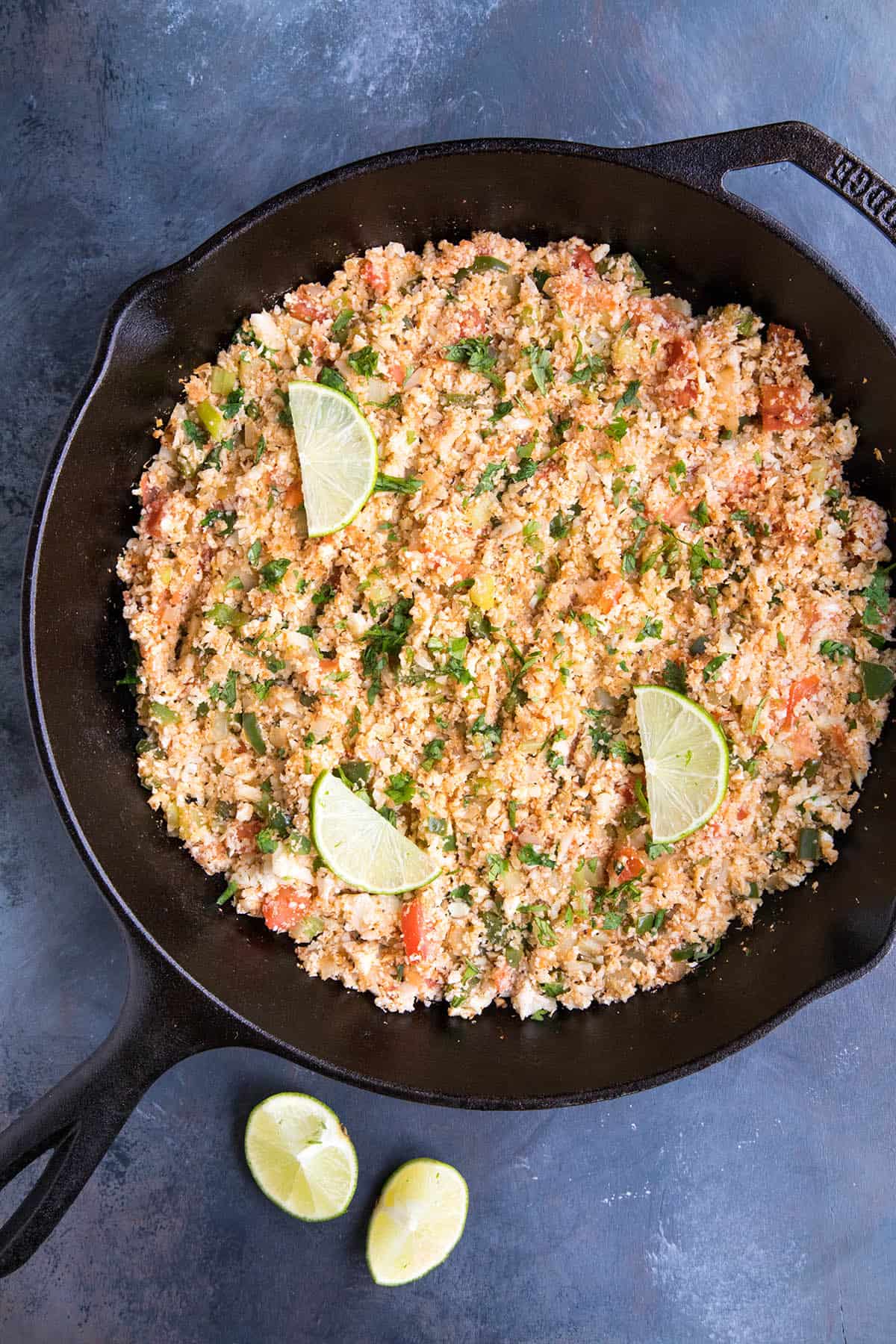 I am officially on the "cauliflower rice" train, my friends. Dude! Excitedly so, I might add.
I've seen cauliflower rice recipes around - on food blogs, in magazines - and they've never really excited me until now. I dunno. It all just sounded rather boring in concept, but Patty and I have been enjoying cauliflower more and more lately, so she suggested I give cauliflower rice another look.
So happy I did!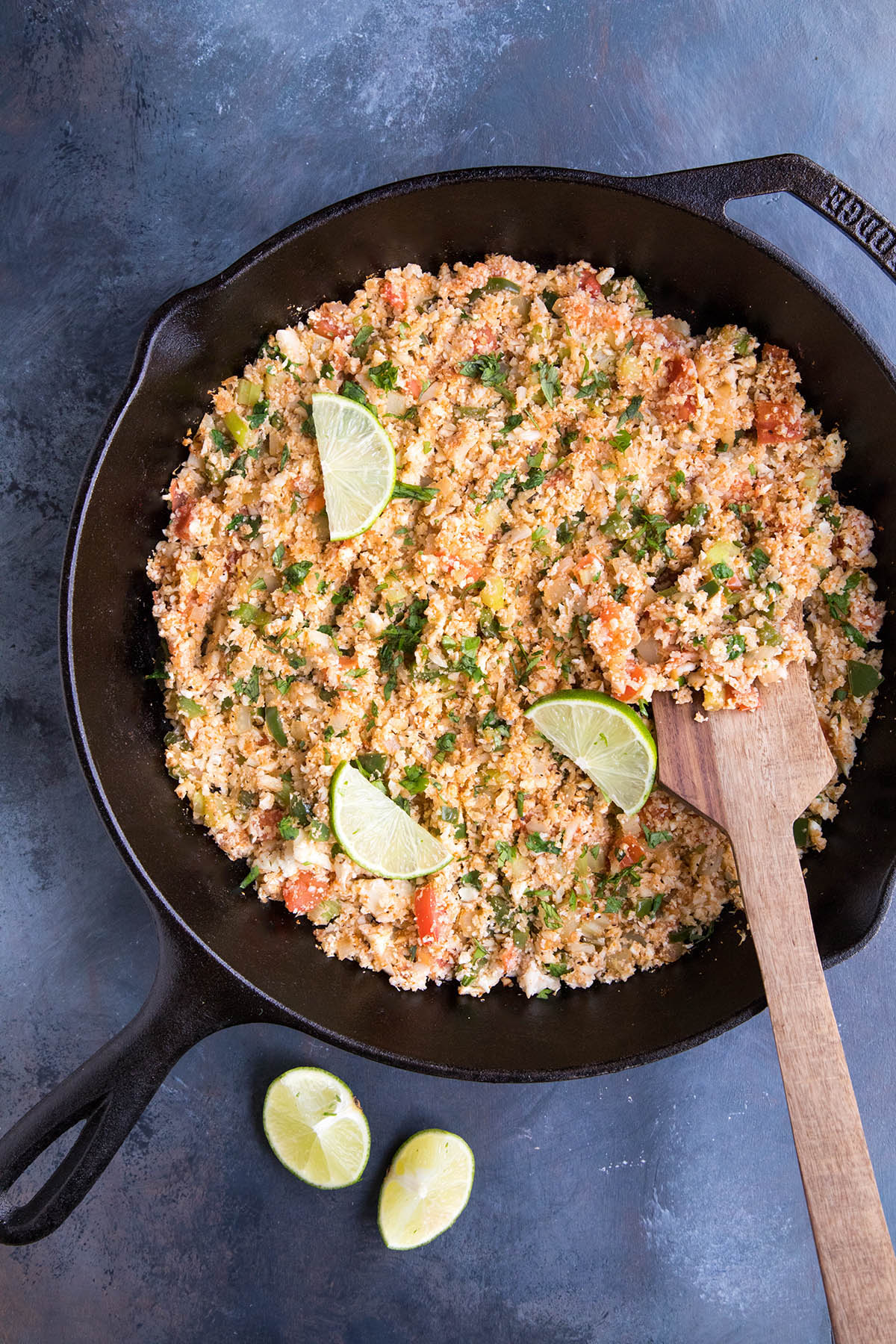 First try and BOOM! I LOVE this stuff.
We've been working out more lately and I like to find ways to incorporate healthier foods into my everyday meals, and this one is definitely a new favorite. I've filed it under Mike's Favorites. See? No joke.
Cauliflower is Low Carb and Low Calorie
Cauliflower is naturally low carb and low calorie, and you can use it in place of rice in many dishes. It makes for an excellent side. You would think cauliflower might taste bland and boring, but not with this recipe. We're going CAJUN, my friends! You'll never get a boring Cajun dish. Of course I had to do it my way, and Cajun was my first choice.
AND! This recipe is super easy to prepare. Let me show you how. Ready?
How to Make Cauliflower Rice - The Method
First! Rinse your cauliflower head and chop it into florets. Toss them into a food processor, like so.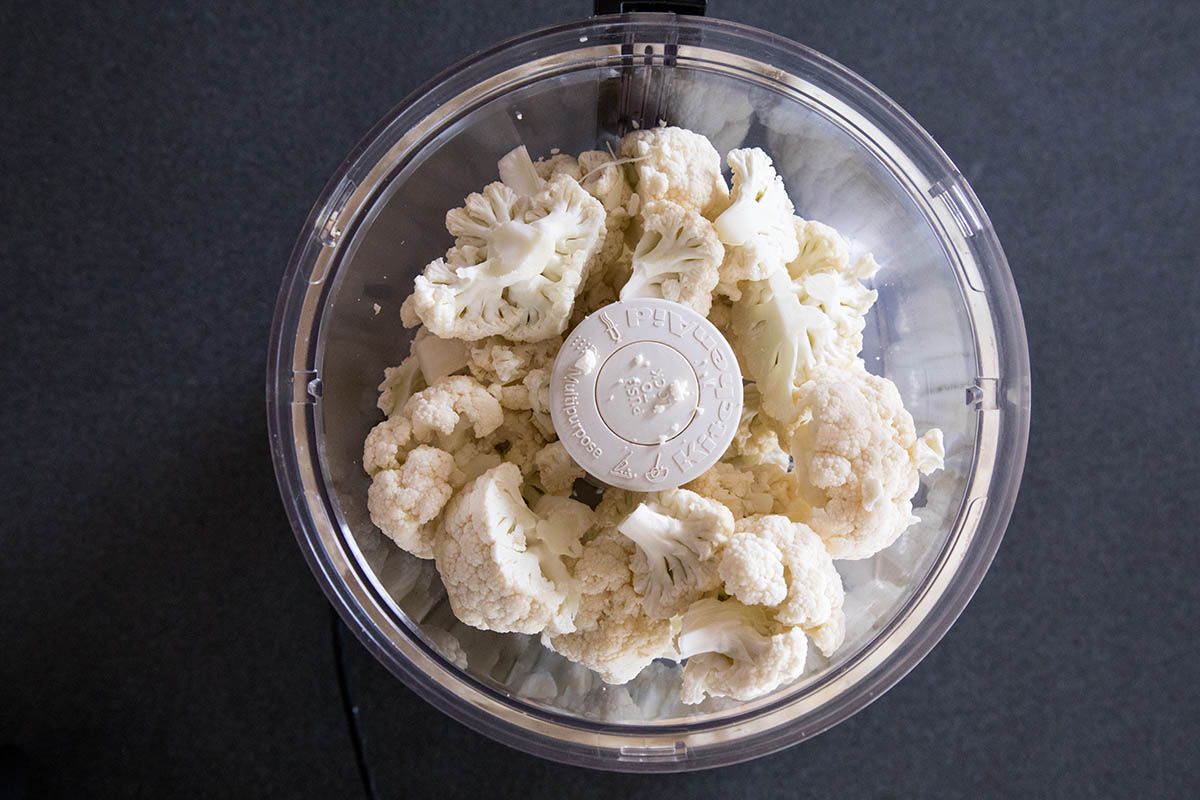 Pulse the florets several times until they break down into the consistency of small rice grains. You can chop them thicker if you'd like, but try not to over process them, or they canbecome a bit mushy.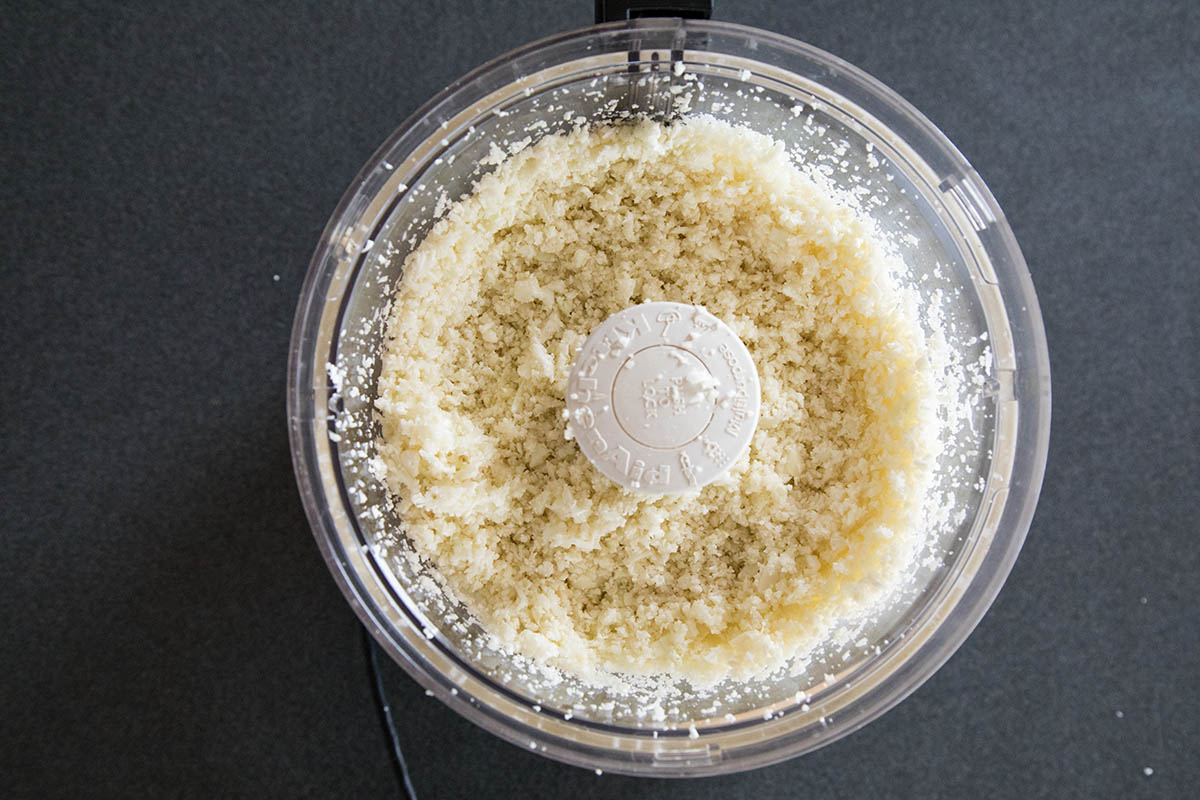 Next, heat a large pan to medium heat and add a bit of olive oil. Use just a bit of oil spray for even fewer calories. Add your chopped onion, peppers and celery and cook them down a bit. This is the Cajun Holy Trinity - onion, celery and bell peppers. I added a jalapeno, too, for some extra heat and flavor.
Yeah!!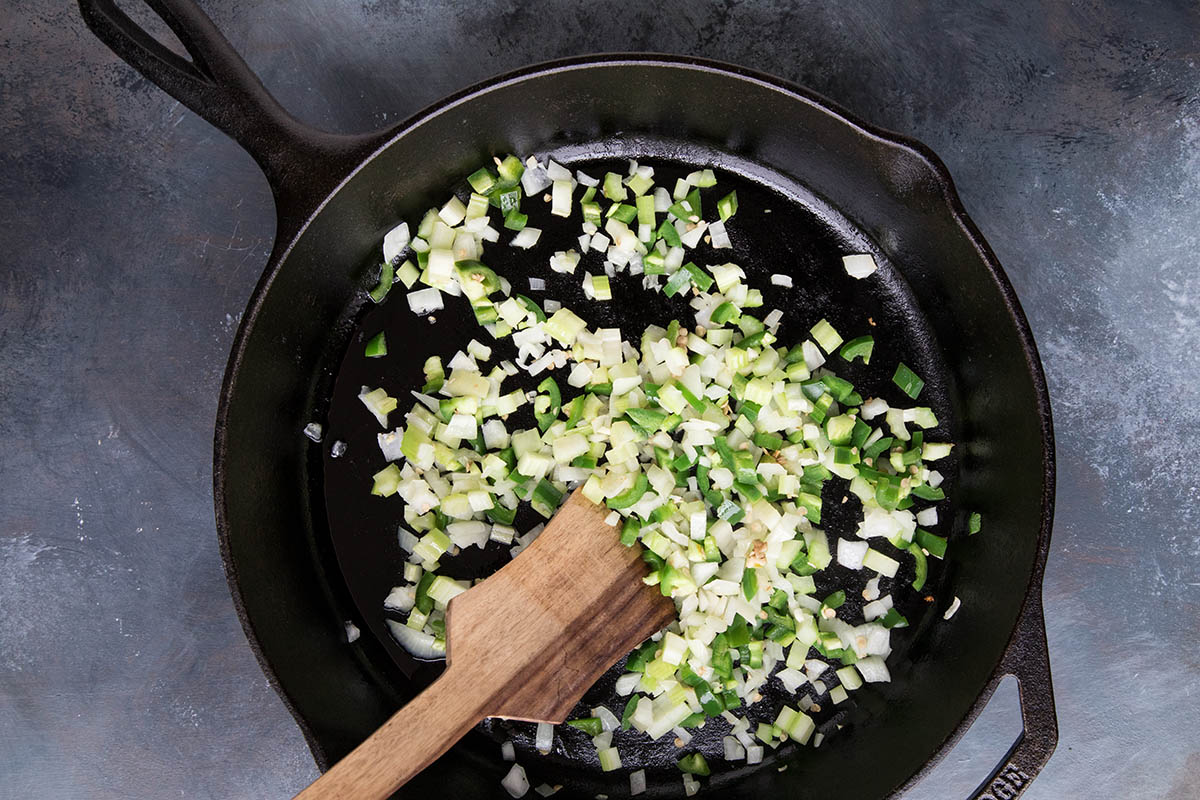 Next, toss in the garlic, tomato, a bit of parsley and Cajun seasoning blend and give it a good stir. Cook it all down about a minute or so.
I used my Homemade Cajun Seasoning blend here, though any of your favorite store bought blends will do.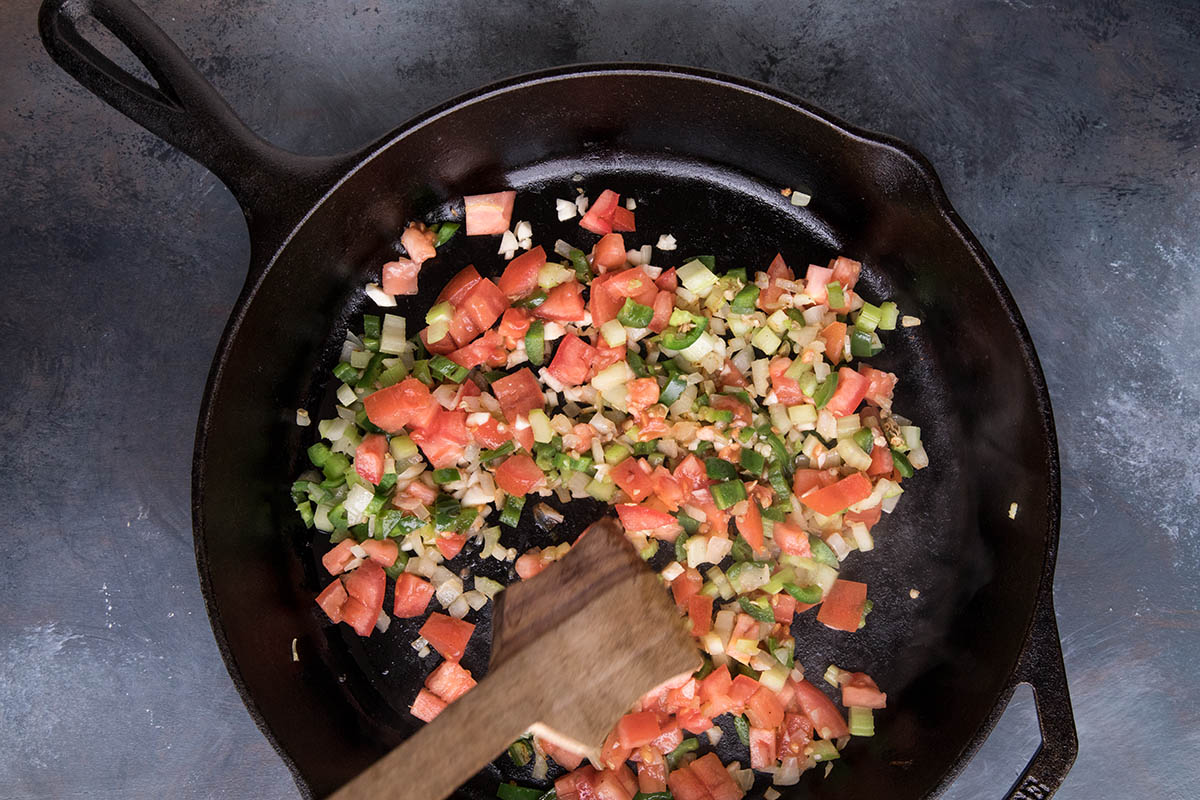 Finally, add the cauliflower rice and cook it all down about 5 minutes or so to your preferred level of doneness. It doesn't take very long. The cauliflower rice will absorb all those great flavors. Trust me! It's so good!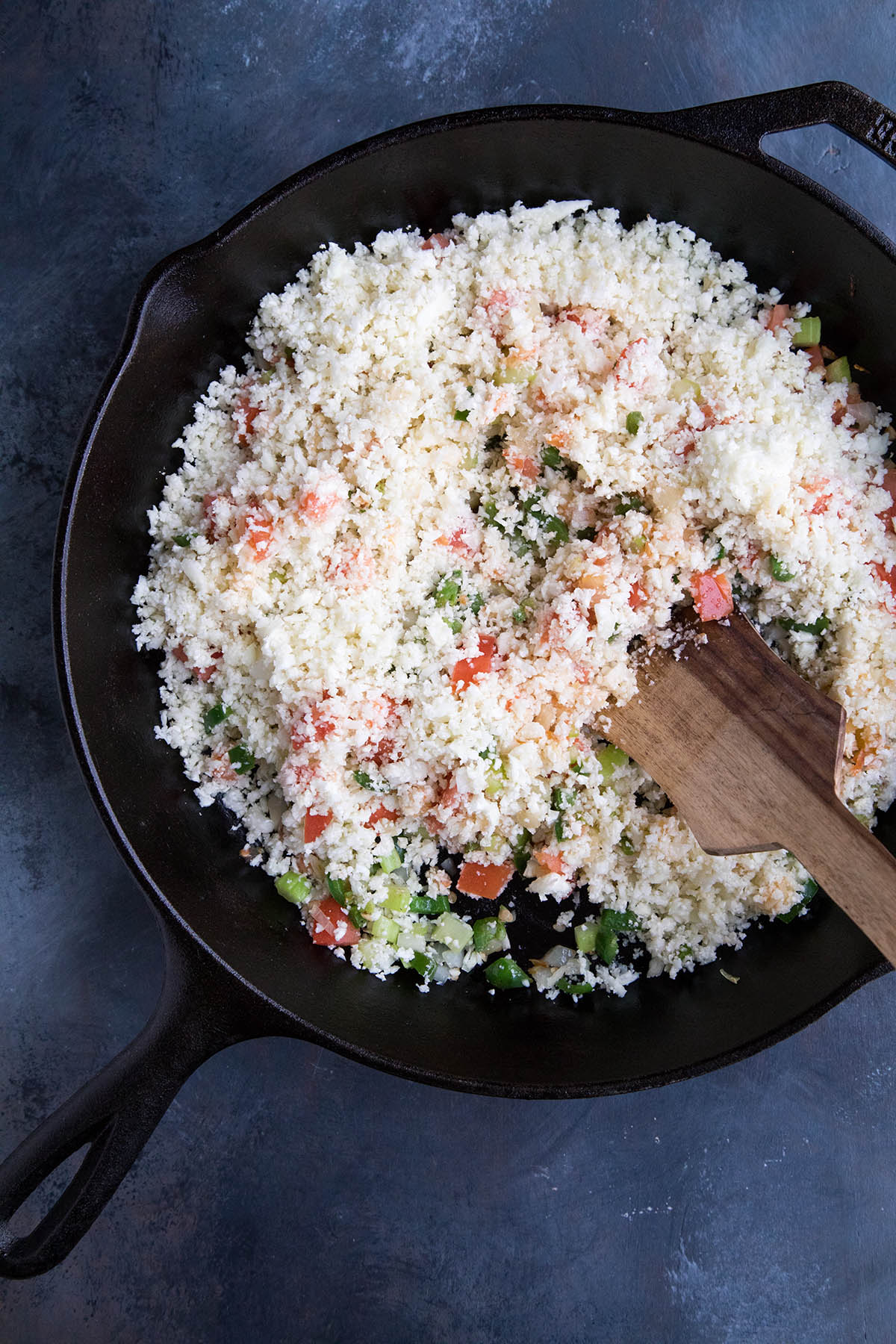 When it's all done, stir in the rest of your parsley and a bit of fresh lime juice. BOOM! Seriously! I think you'll really dig this recipe. It will certainly get you in the spicy food buds, and who knows? It might just find its way into your regular recipe rotation.
It has mine!
Serving Suggestions for Cajun Cauliflower Rice
Serve it as a side dish or as a bed for some of your favorite proteins, like grilled chicken or fish.
Let me know how it turns out for you. I hope you like it. Cheers! -- Mike H.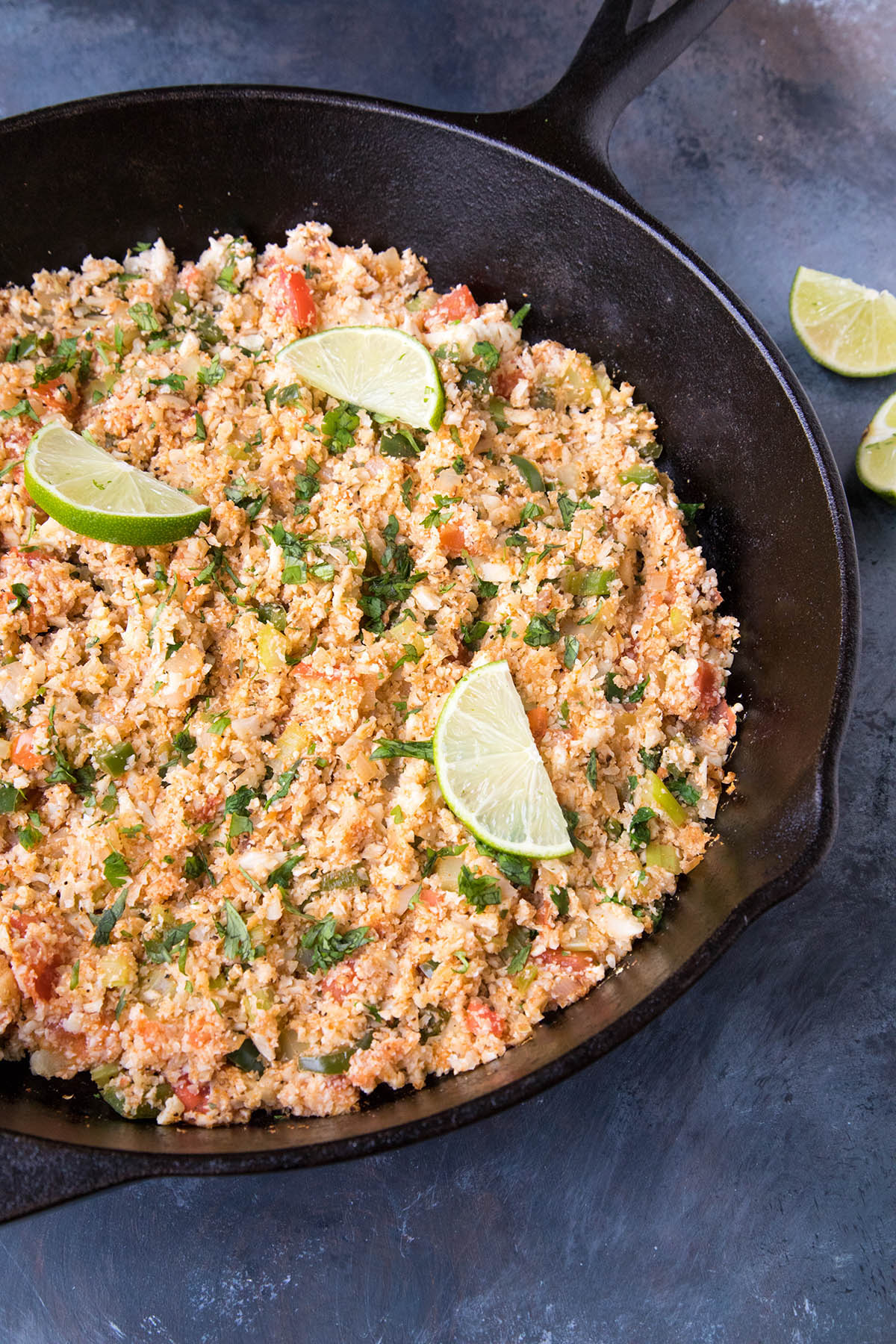 If you enjoy this recipe, I hope you'll leave a comment with some STARS. Also, please share it on social media. Don't forget to tag us at #ChiliPepperMadness. I'll be sure to share! Thanks! -- Mike H.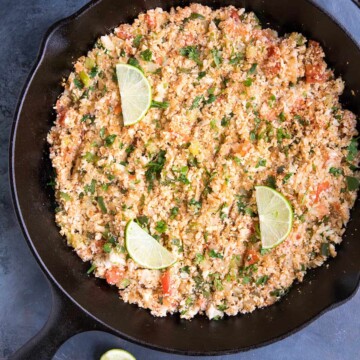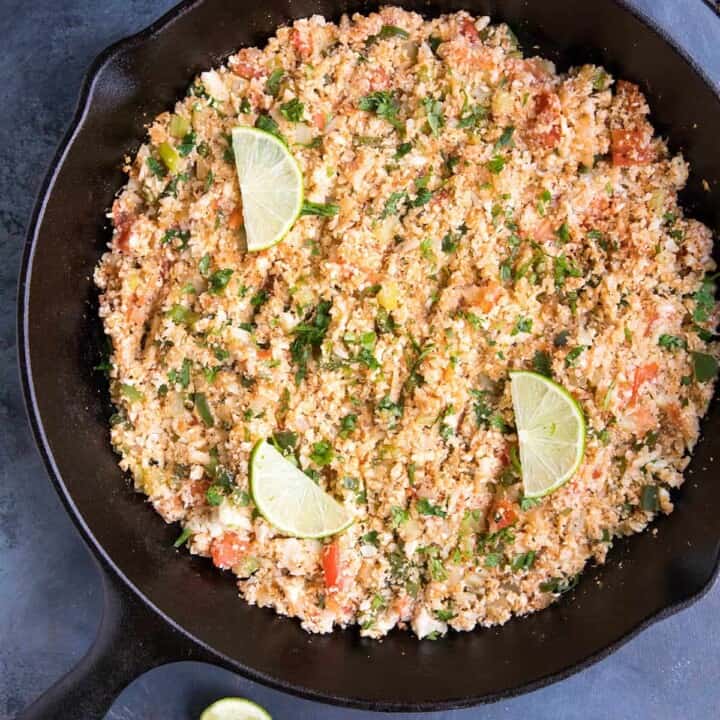 Print
Cajun Cauliflower Rice – Recipe
A recipe for cauliflower rice you're guaranteed to love, made with the Cajun holy trinity, jalapeno pepper, and plenty of spicy Cajun seasonings.
Save Recipe
Saved!
Ingredients
1

head cauliflower

washed, stems removed

1

tablespoon

olive oil

1

green bell pepper

chopped

1

jalapeno pepper

chopped

1

small onion

chopped

1

stalk celery

chopped

1

medium sized tomato

chopped

2

cloves

garlic

chopped

1

tablespoon

Cajun seasoning blend

2

tablespoons

fresh chopped parsley

Fresh lime juice for serving
Instructions
Cut the cauliflower into florets and place them into a food processor. Pulse continuously until they are processed to about the size of small rice grains. Don't overprocess, or it can become mushy.

Heat a large pan to medium heat. Add the olive oil, peppers, onion and celery. Cook them about 5 minutes to soften.

Add the tomato, garlic, Cajun seasonings and half of the parsley. Cookk about a minute or so.

Add the cauliflower rice and cook another 5 minutes or so, stirring often, until it reaches your preferred doneness.

Remove from heat. Stir in the remaining parsley, then squeeze in a bit of lime juice.
Notes
Serves 4
Heat Factor: Medium.
Nutrition Information
Calories:
70
kcal
Carbohydrates:
8
g
Protein:
1
g
Fat:
3
g
Sodium:
22
mg
Potassium:
322
mg
Fiber:
2
g
Sugar:
3
g
Vitamin A:
1480
IU
Vitamin C:
50.7
mg
Calcium:
32
mg
Iron:
0.8
mg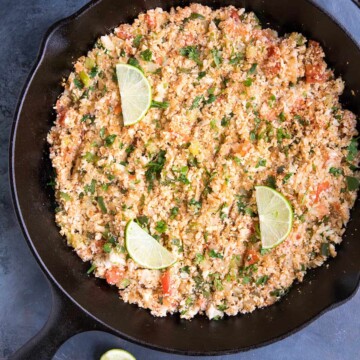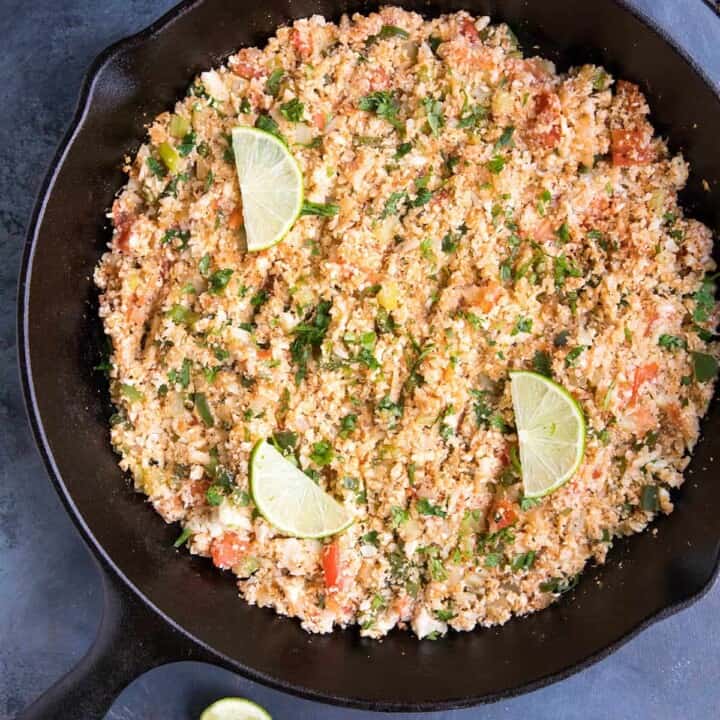 Did You Enjoy This Recipe?
I love hearing how you like it and how you made it your own. Leave a comment below and tag @ChiliPepperMadness on social media.