This lamb vindaloo recipe is a fiery Indian curry dish of spicy, tangy lamb simmered in vindaloo spices, so easy to make and adjust to your heat and spice preference. I make mine extra spicy.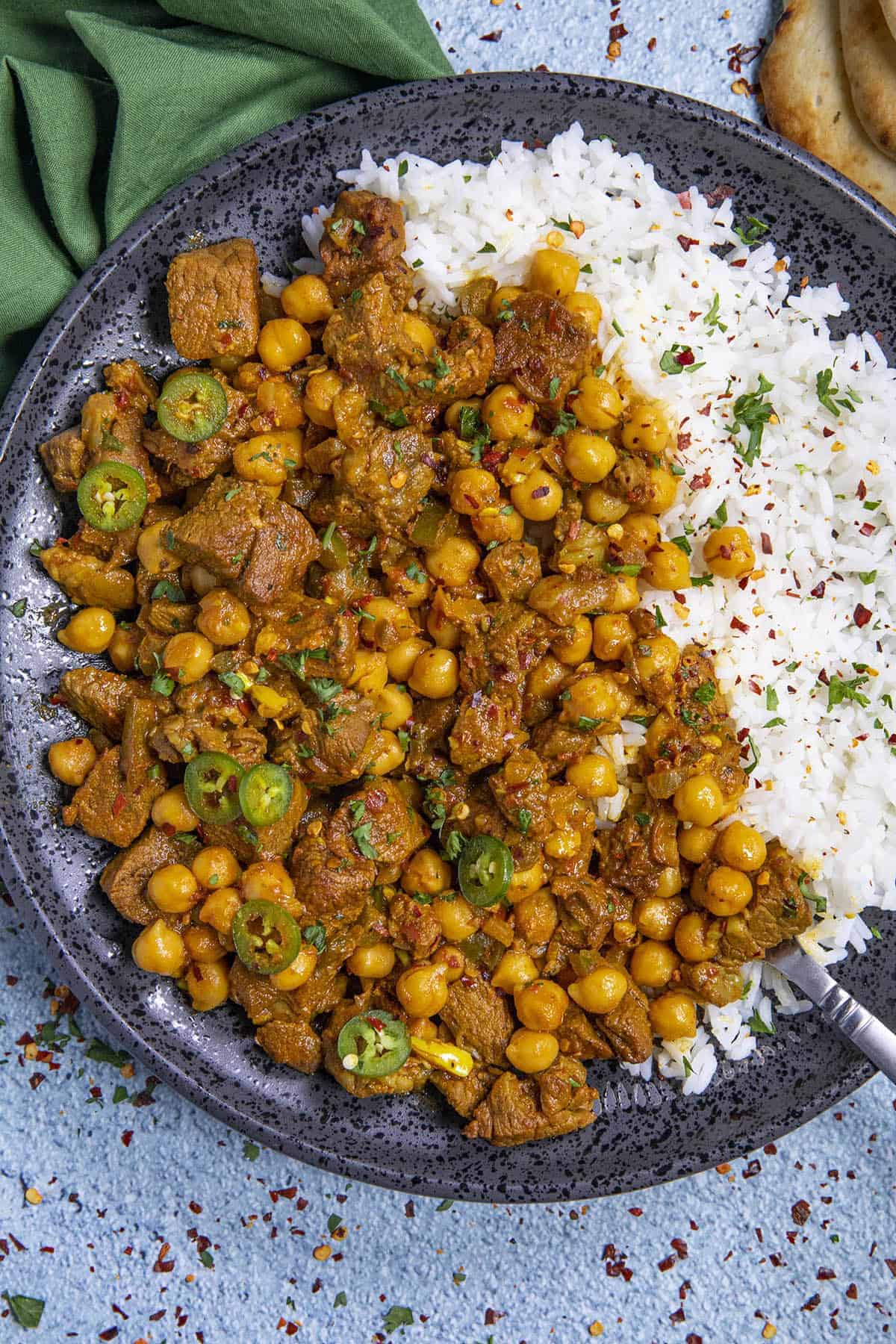 Restaurant Style Lamb Vindaloo Recipe
Lamb Vindaloo is on the menu tonight, my friends, so pull up a chair and get those taste buds ready. If you're a spicy food lover like I am, you're about to experience bliss, because when it comes to spicy flavor with a nice bit of heat, a good Vindaloo curry recipe delivers like no other.
This dish has everything a fiery food lover could want - Flavor, Heat, Spiciness, Pure Satisfaction. And massive BONUS for this guy, who is a slow cook in the kitchen - it's super EASY to make!
YES! And saves me a trip to the local Indian restaurant.
What is Vindaloo?
"Vindaloo" is a popular Indian curry dish that calls for meat to be marinated in a highly flavorful spicy mixture with vinegar, then quickly cooked up when you're ready to eat.
Goan vindaloo is very often made with pork, though you can use any meat you'd like - pork, goat, beef, chicken (see my Chicken Vindaloo Recipe), even potato and/or chickpeas for a vegetarian version.
"Vindaloo" originally was a meal of meat marinated in wine and garlic. It comes from the Portuguese dish, "carne de vinha d'alhos", which translates to "meat in garlic wine marinade".
Portuguese sailors brought it to India, where the locals adopted it and transformed it with local ingredients, including the addition of dried chili peppers and other spices.
As authentic vindaloo spread to other regions, it continued to change as locals adopted new spices.
Even though it has transformed in its travels around the world, most styles still offer that spice level and flavor we all crave. This particular version is more of a restaurant style lamb vindaloo.
Let's talk about how to make Lamb Vindaloo, shall we?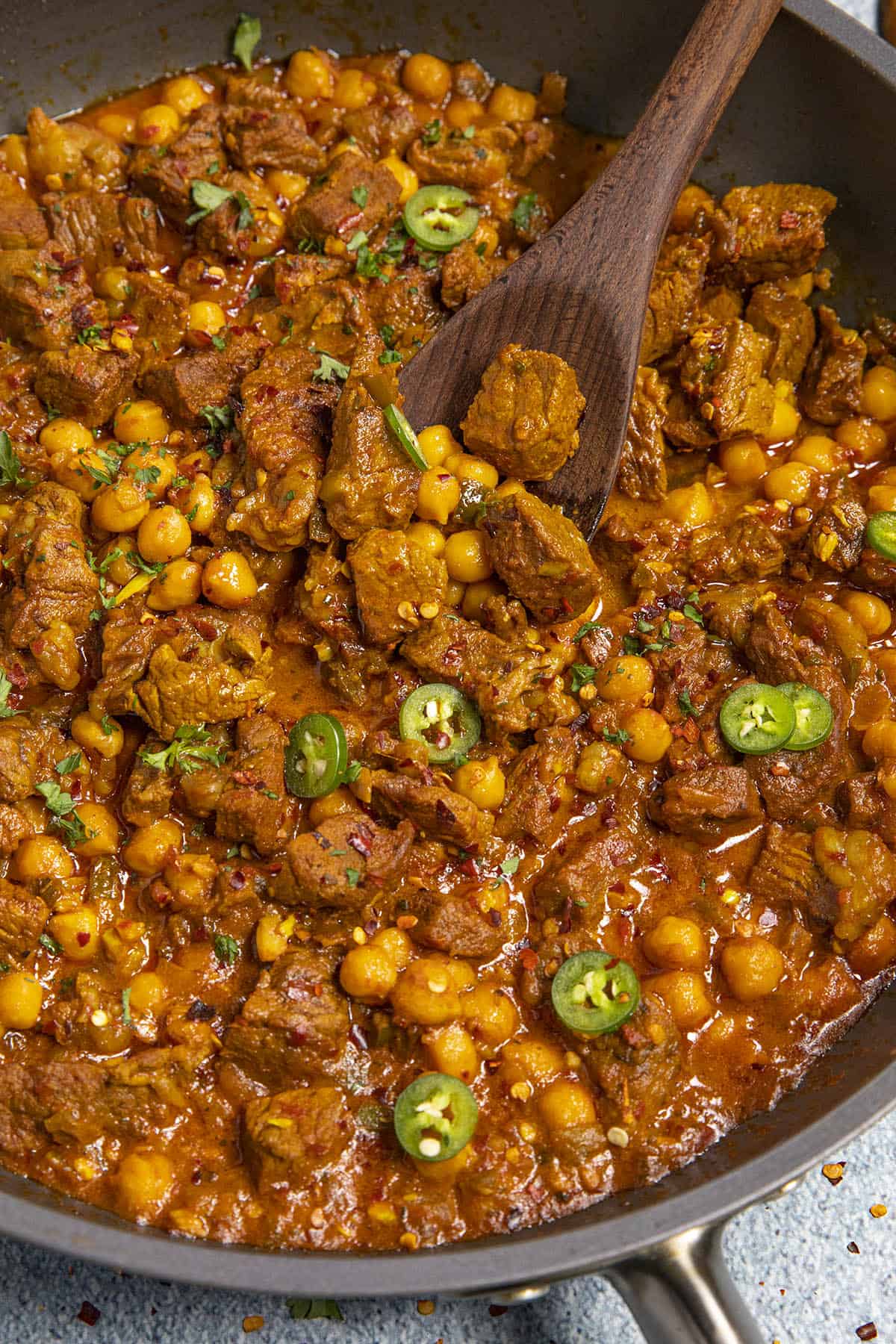 Lamb Vindaloo Ingredients
The full ingredients list with measurements is listed in the printable recipe card at the bottom of the post.
Lamb. Use lamb leg or lamb shoulder.
Vegetable Oil.
Onion. Red onion or white onion.
Peppers. I'm using serrano peppers, but use Indian peppers if you can obtain them
Tomato Paste.
Salt and Black Pepper.
Chickpeas. Canned is good here.
FOR THE VINDALOO MARINADE
White Vinegar. White wine vinegar is great, though you can also use red wine vinegar.
Fresh Garlic.
Red Chili Flakes. I used ghost pepper flakes for an EXTRA kick
Spices. Ginger, coriander, turmeric, mustard powder, cumin, cinnamon.
For Serving. Cooked rice, fresh herbs, extra chili flakes
How to Make Lamb Vindaloo - The Recipe Method
Make the Vindaloo Marinade. The marinade is a very important part of this lamb curry dish, as it imparts an immense amount of flavor that all of us spicy food lovers crave.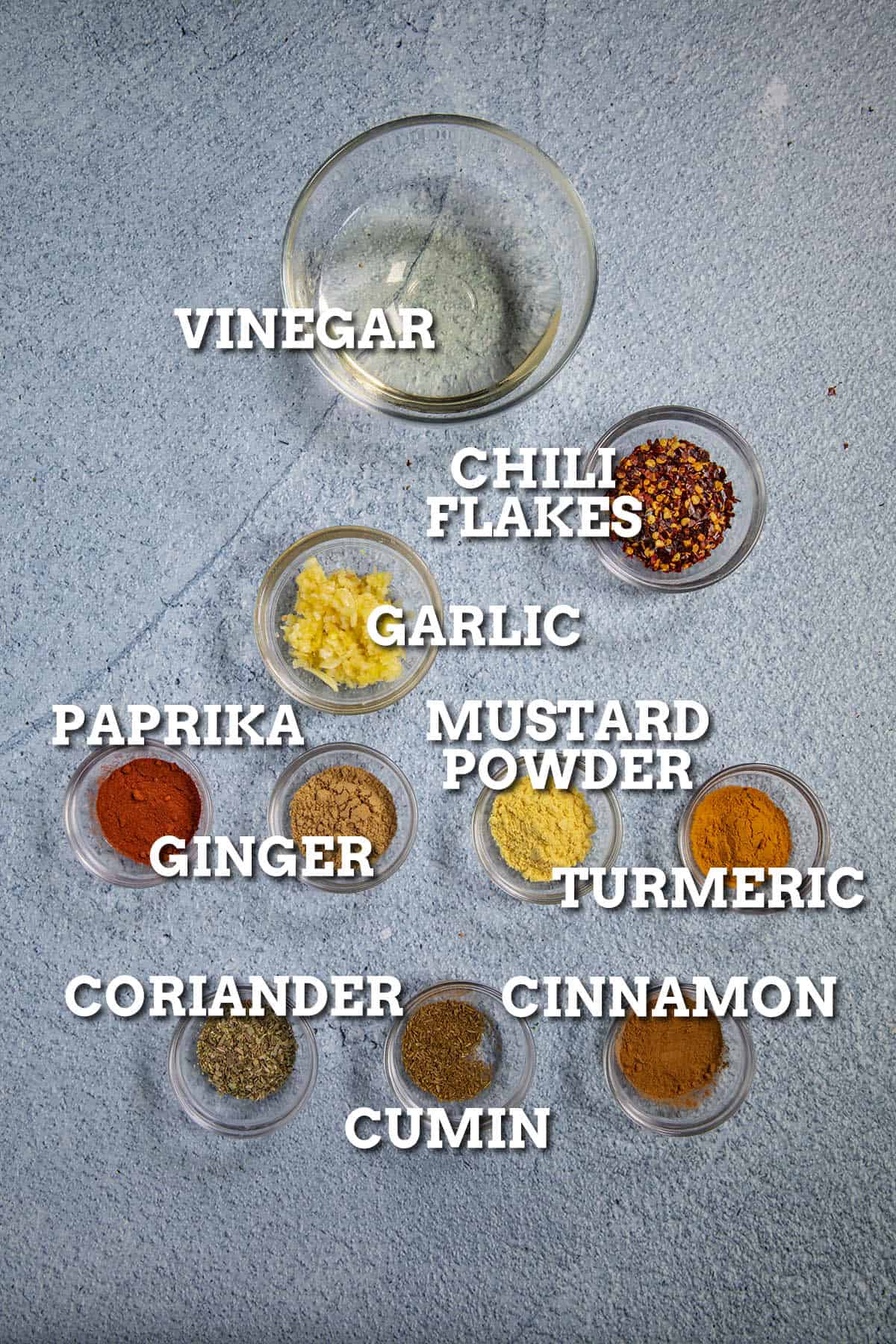 Vinegar is a MUST, as is garlic. Add the vinegar, and then we add in all of our pungent spices to make this dish top notch, including paprika, garlic, fresh ginger or powder, coriander, turmeric powder, mustard powder (ground mustard seeds), ground cumin seeds, cinnamon, and a healthy dose of spicy red chili flakes or dried red chilies.
You can use this blend to make your own Vindaloo Curry Seasoning to use anytime you'd like.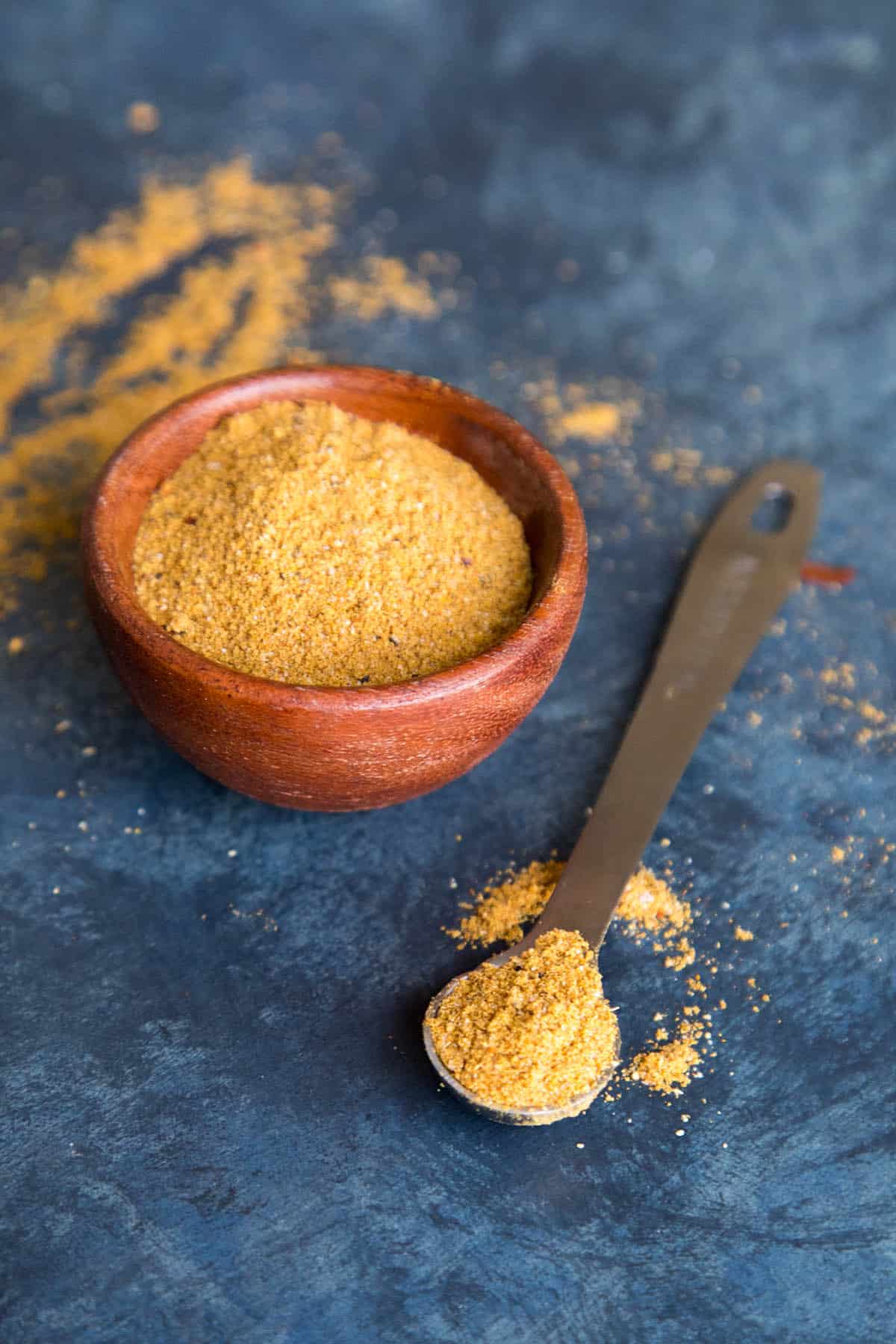 Marinate the Lamb. Whisk all of the seasonings together with the vinegar (or process it in a food processor or blender), then pour it over the lamb in a bowl.
Or, use a sealable plastic bag and add the lamb and marinade. Refrigerate the lamb for at least 1 hour, though you'll get better results if you let it marinate overnight.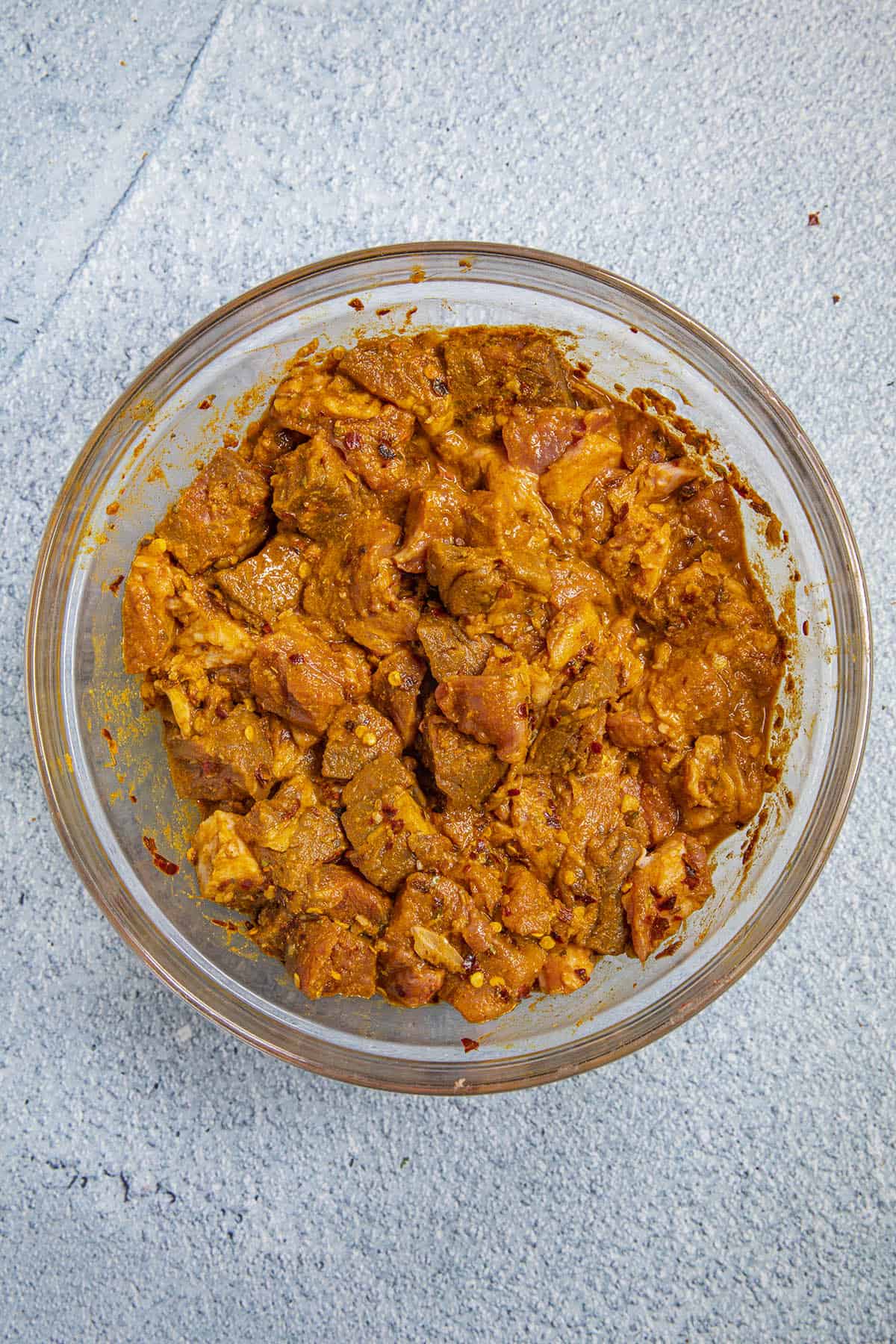 Time for Cooking. Making Lamb Vindaloo is simple once your marinade is done. First, heat some olive oil in a large frying pan to medium high heat.
Onions and Peppers. Next, cook down chopped onions and peppers to soften them up.
I used spicy serrano peppers here, though you can use milder peppers for a version with less heat. Jalapeno peppers are always a great option, or try Kashmiri chilies.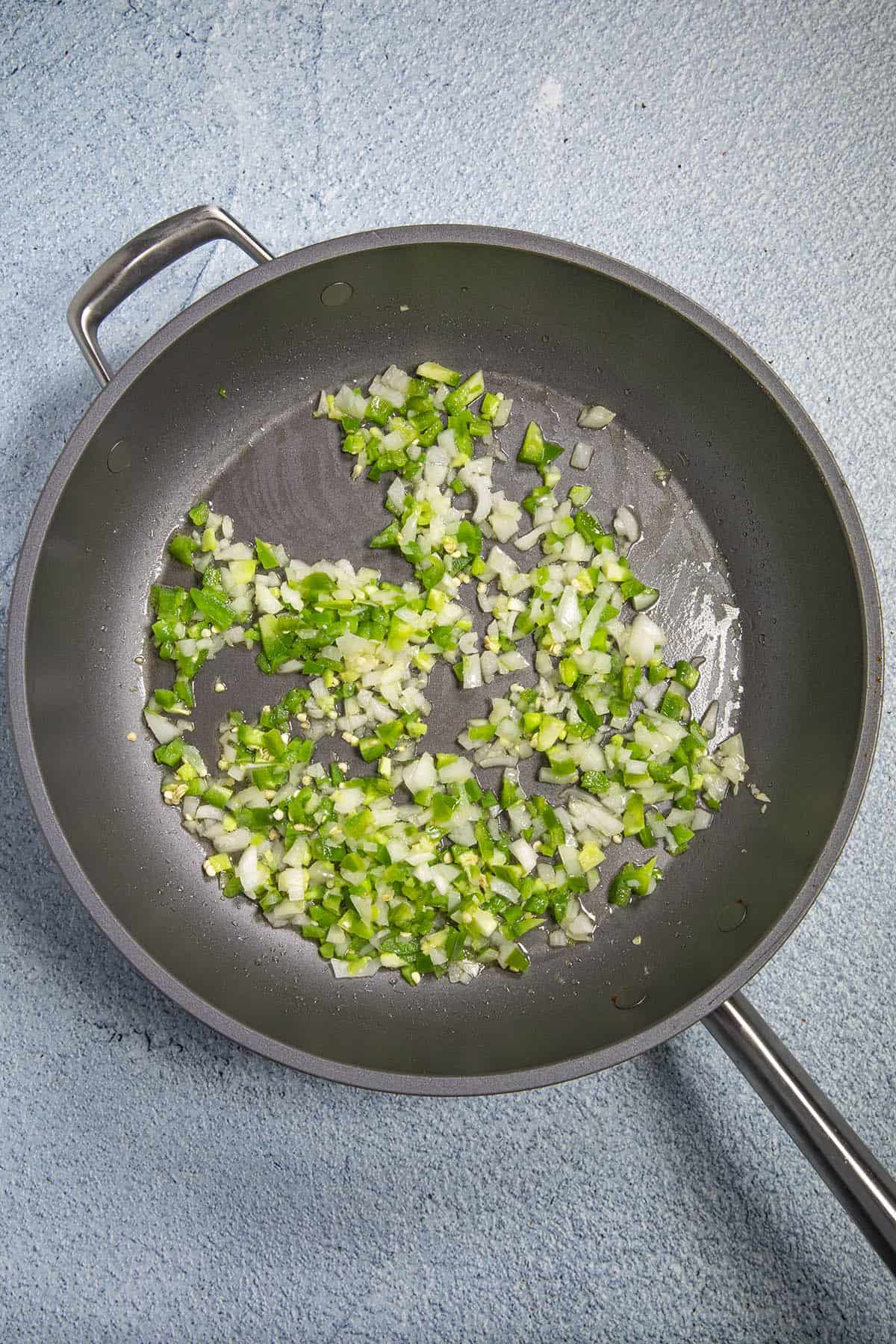 Add the Lamb. Next, add the marinated lamb and stir. Cook it for about 5 minutes, stirring occasionally.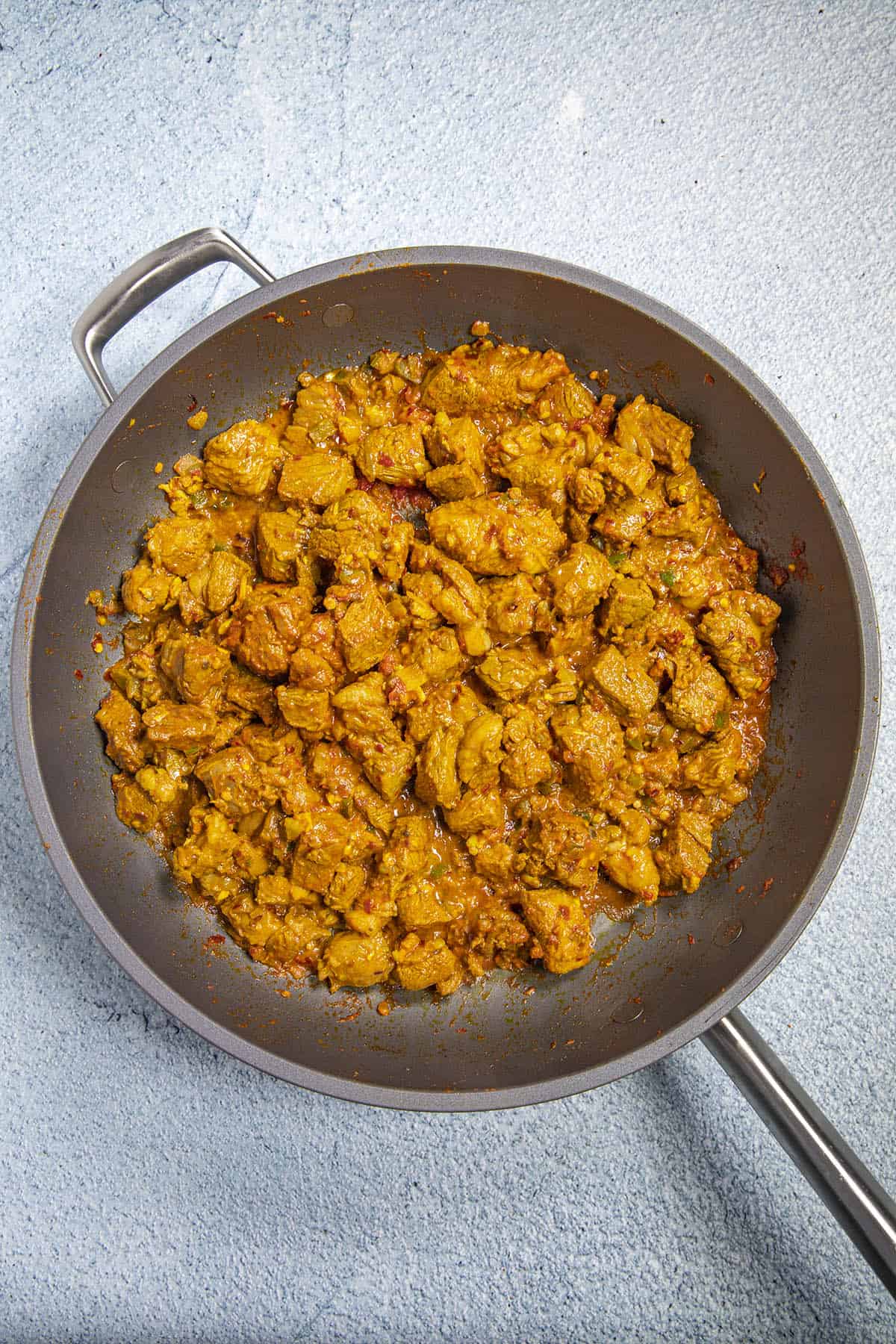 Make it Saucy. Reduce heat to medium heat and add in the tomato paste or tomato puree. Give it a quick stir, along with 1/2 cup of water or chicken broth to form a sauce.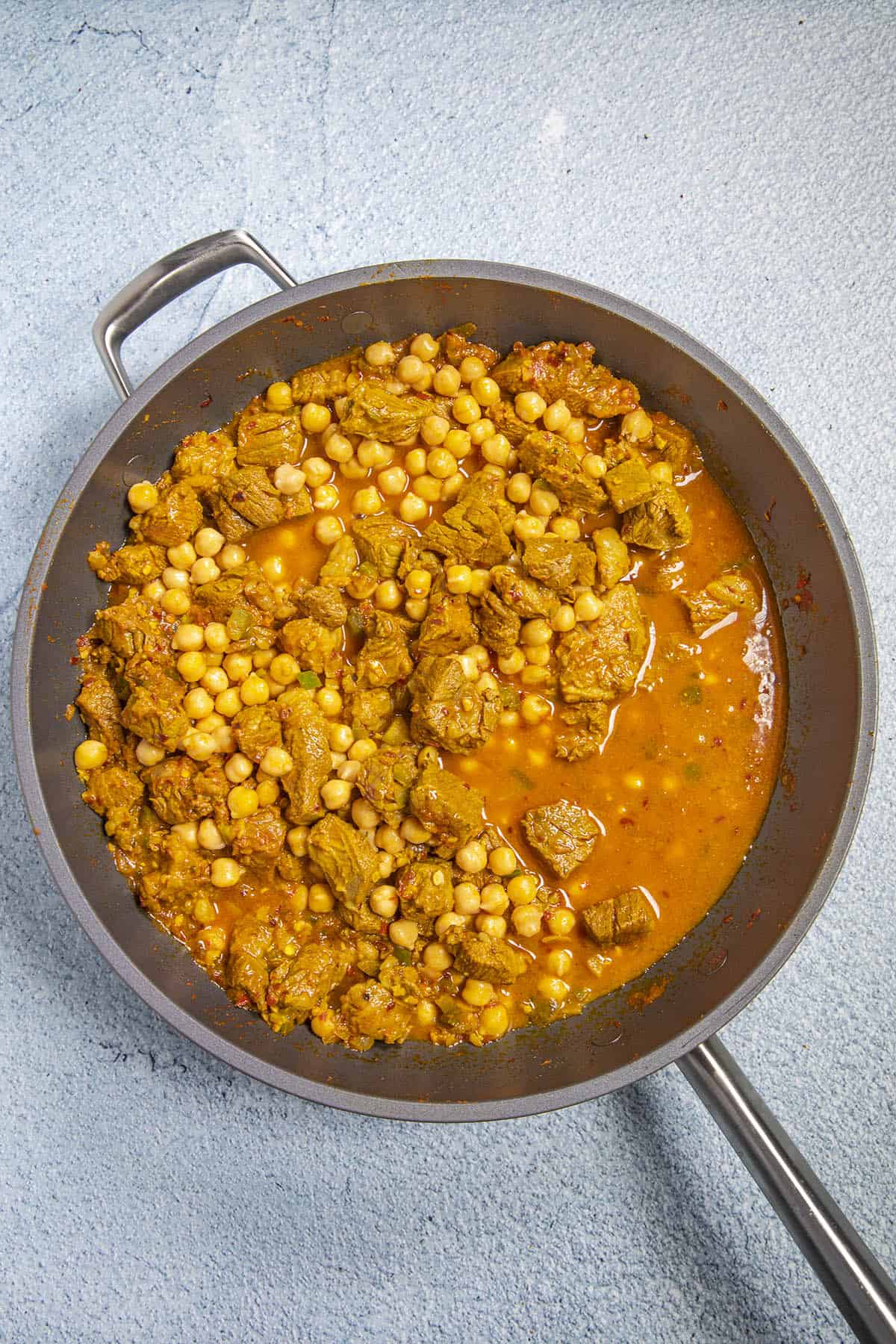 Simmer the Lamb. Bring to a simmer for 20 minutes, or until the lamb cooks through and the flavors develop. You can let it simmer longer if you'd like.
If the sauce becomes too thick, stir in a bit more water or broth until it reaches the consistency you prefer.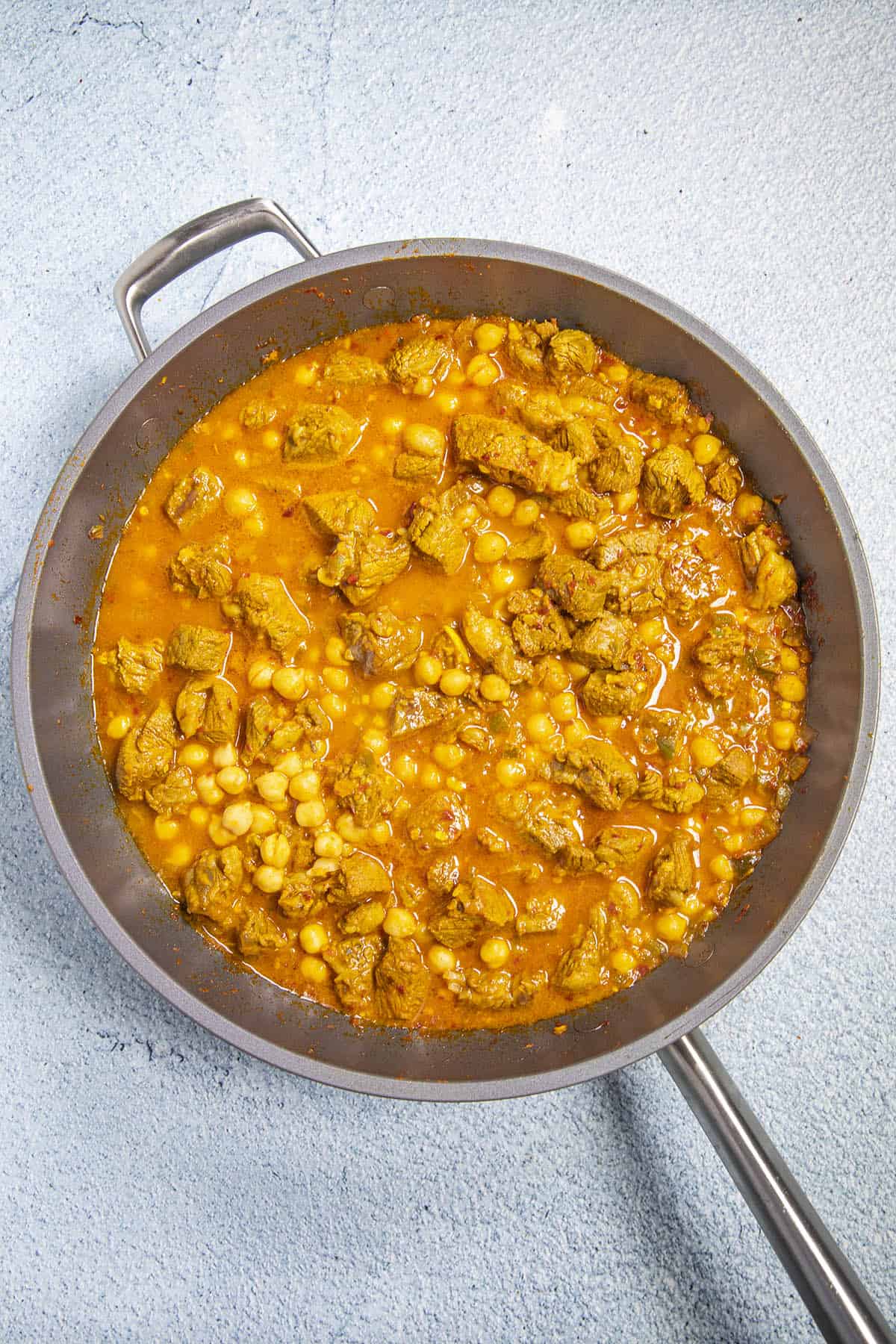 BOOM! DONE! Your fiery curry is ready to serve. Looks wonderful, doesn't it?
Serve it up over steamed rice with some fresh herbs and spicy Kashmiri chili flakes. Spice it up, my friends!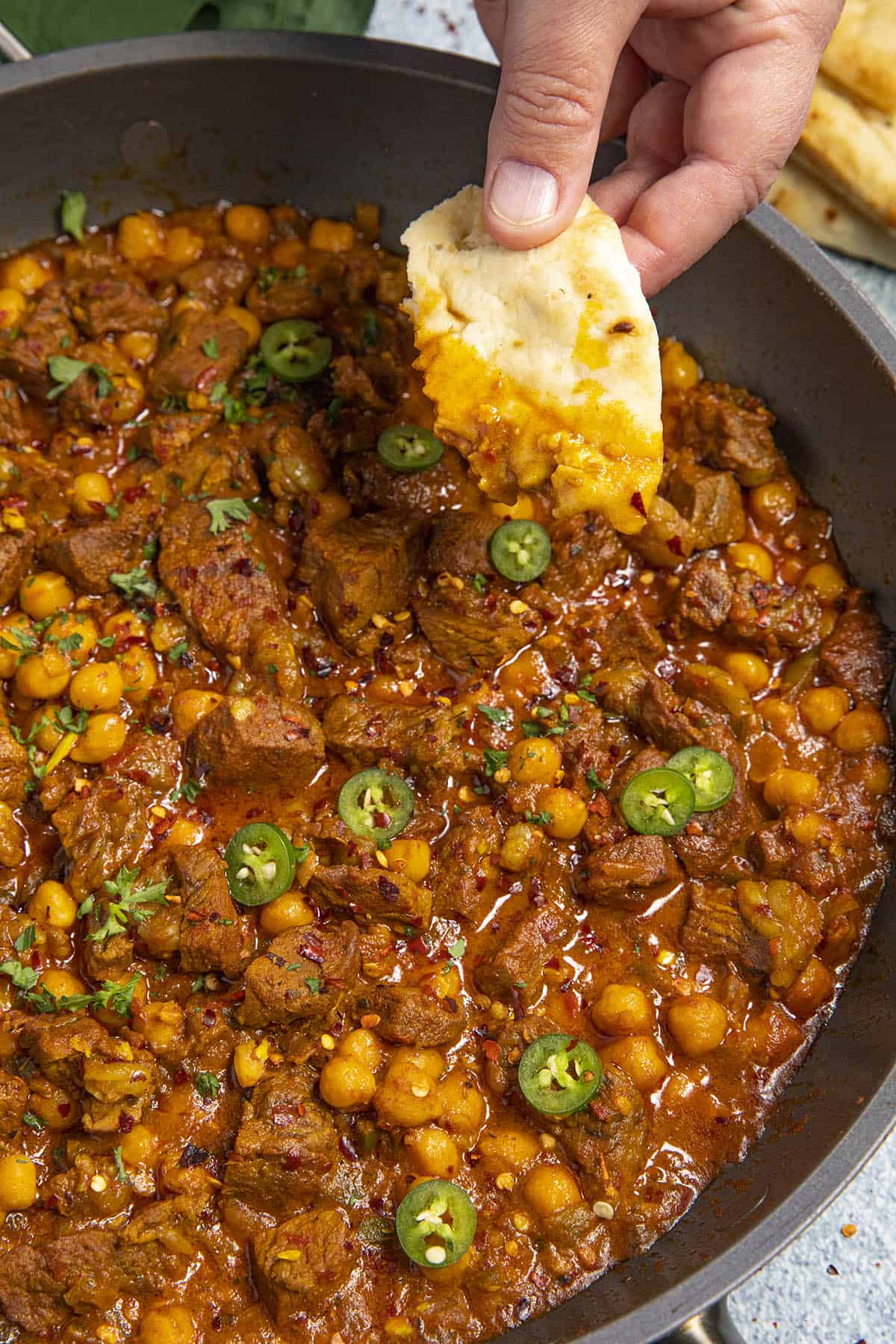 Recipe Tips and Notes
Other Popular Ingredients
Some cooks like to include a bit of sugar in the seasoning blend if you'd like, either white or brown sugar, though I prefer not to. Other popular ingredients with Vindaloo seasonings are ground black pepper or ground cloves, so feel free to include those if you'd like.
You can also adjust the seasonings ratios to your own preference. If it gets TOO spicy, serve it alongside this Traditional Indian Raita recipe, which is made from spiced yogurt. It has a nice cooling effect.
Or, try simmering in a cup of coconut milk to help tame the heat.
Using Pre-Cooked or Smoked Lamb
You CAN also make this recipe with pre-cooked lamb. I've made with this chopped smoked lamb leg and lamb shoulder and it was delicious. Just don't marinate the lamb for long.
Mix the marinade ingredients, toss it with the chopped lamb, and proceed with the recipe. It's super tasty!
The Vindaloo Curry Powder
I like to add in a bit of ghost pepper powder for this recipe, because I LOVE it very spicy, but feel free to omit if ghost peppers are too hot for you. If you're looking to up the heat just a little, add in spicy red chili flakes or up the cayenne powder.
Just go with the heat level you're comfortable with. Toasting the spices before grinding them adds a ton of flavor.
Marinating Tips
I like to whip this recipe together the night before and let it sit in the refrigerator until dinner time the next evening. It makes for a super quick and easy meal, though yeah, it does require a little bit of forethought. More marinade time = more flavor.
It really is an amazing dish. Give it a try and let me know how you like my recipe for lamb vindaloo. How spicy did you make yours? Send pics! I'd love to see them. Till next time!!! -- Mike H.
Storage and Leftovers
Store any leftover lamb vindaloo in a sealed container in the refrigerator for up to 5 days. Simply warm it gently in a pan to enjoy again.
You can also freeze lamb vindaloo in a vacuum sealed bag or container for up to 6 months.
Patty's Perspective
Vindaloo is my new favorite curry. I love both this one and the Chicken Vindaloo Mike makes. We had a dinner party this weekend and I asked him to make it again for dinner, and everyone loved it.
Try Some of My Popular Curry Dish Recipes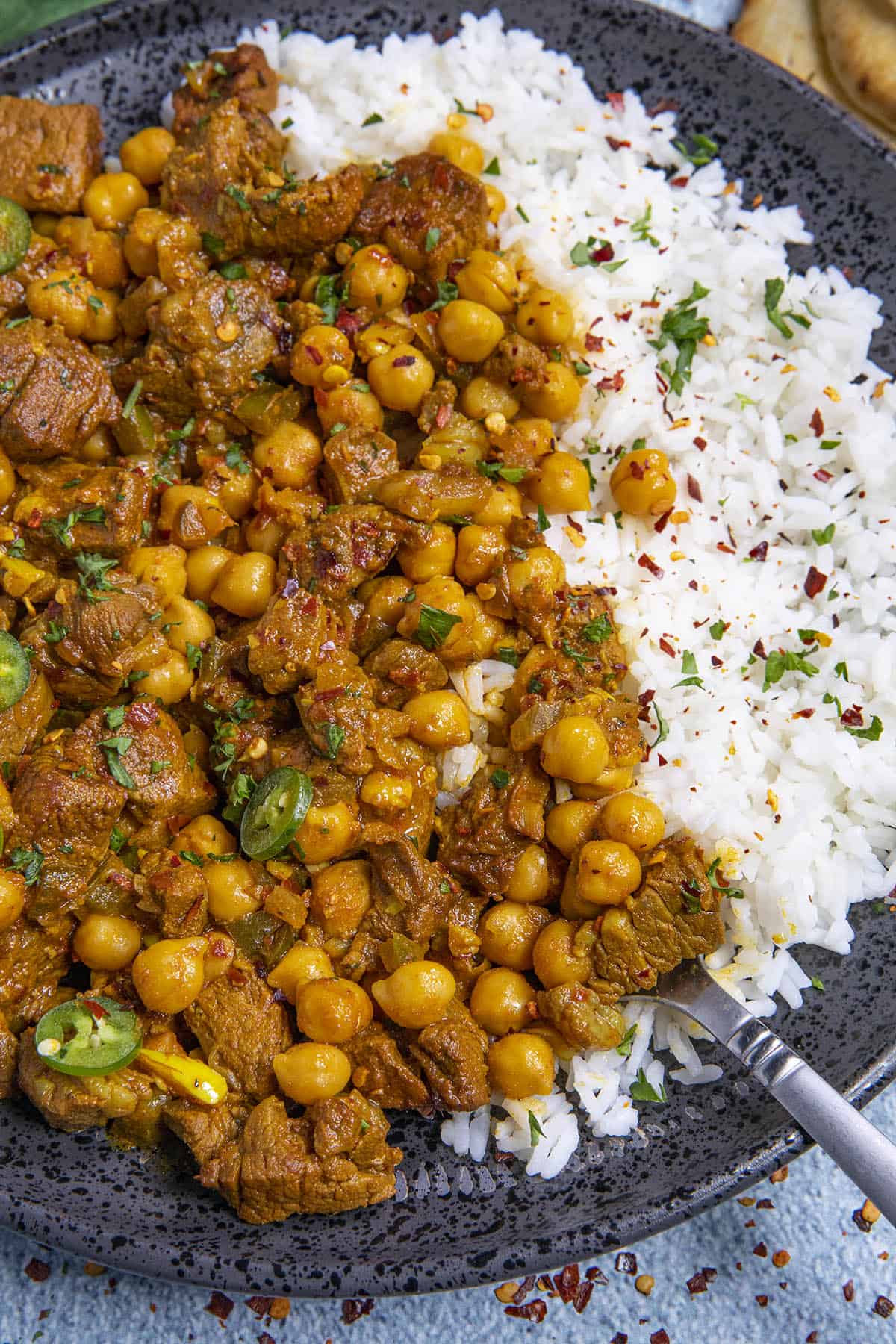 If you enjoy this recipe, I hope you'll leave a comment with some STARS. Also, please share it on social media. Don't forget to tag us at #ChiliPepperMadness. I'll be sure to share! Thanks! -- Mike H.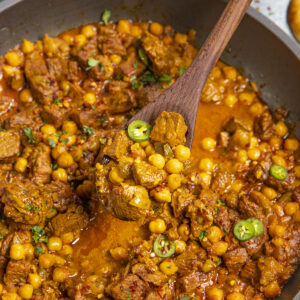 Print
Lamb Vindaloo Recipe
This lamb vindaloo recipe is a fiery Indian curry dish of spicy, tangy lamb simmered in vindaloo spices, so easy to make and adjust to your heat and spice preference. I make mine extra spicy.
Save Recipe
Saved!
Ingredients
2

pounds

boneless lamb leg

or shoulder, chopped into 1 inch cubes

2

tablespoons

olive oil

1

small yellow onion

chopped

2

serrano peppers

chopped, or use Indian peppers if you can obtain them

1

tablespoon

tomato paste

Salt and pepper to taste

1

pound

cooked chickpeas

canned works fine, drained
FOR THE MARINADE
½

cup

white vinegar

6

cloves

garlic

minced

2

tablespoon

spicy red chili flakes

I used ghost pepper flakes for an EXTRA kick

1

teaspoon

paprika

1

teaspoon

ginger

1

teaspoon

coriander

1

teaspoon

turmeric

1

teaspoon

mustard powder

½

teaspoon

cumin

½

teaspoon

cinnamon

FOR SERVING: Cooked rice, fresh herbs, extra chili flakes
Instructions
Add the lamb to a large bowl.

Mix your marinade by whisking together the vinegar and all of the seasonings. Pour it over the lamb and rub it into the meat. Cover and refrigerate for at least 1 hour. Longer is better, such as overnight.

Heat a large pan to medium heat and add the olive oil. Add the onion and peppers and cook about 4-5 minutes, until they soften up.

Add the lamb with the marinade and cook another 5 minutes to nicely brown up the pieces.

Add the tomato paste and cook another minute, stirring.

Add the cooked chickpeas and ½ cup of water (or chicken broth for extra flavor), then stir until the mixture thins out and becomes a sauce. You can add more water if needed. Reduce the heat and let it simmer for 20 minutes, until the lamb is cooked through.

Serve as is or over rice with fresh herbs and sprinkled chili flakes. Make it rain!
Notes
NOTES: This is definitely a hot and spicy dish, though you can dial back the heat by using milder chili peppers and going easy on the red chili flakes. If you're looking for an even HOTTER version, go with habanero peppers, or fiery ghost peppers, which will REALLY heat things up.
Nutrition Information
Calories:
565
kcal
Carbohydrates:
15
g
Protein:
29
g
Fat:
42
g
Saturated Fat:
16
g
Cholesterol:
110
mg
Sodium:
366
mg
Potassium:
584
mg
Fiber:
5
g
Sugar:
1
g
Vitamin A:
1025
IU
Vitamin C:
3.8
mg
Calcium:
69
mg
Iron:
4.2
mg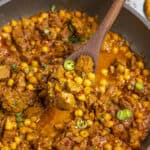 Did You Enjoy This Recipe?
I love hearing how you like it and how you made it your own. Leave a comment below and tag @ChiliPepperMadness on social media.
NOTE: This recipe was updated on 10/11/23 to include new photos and information. It was originally published on 11/12/18.