Chicken vindaloo is a popular Indian curry known for it's spicy and tangy flavor combination, a quick and easy kitchen staple. My version is wonderfully fiery, though you can easily adjust the heat and spice to your preference.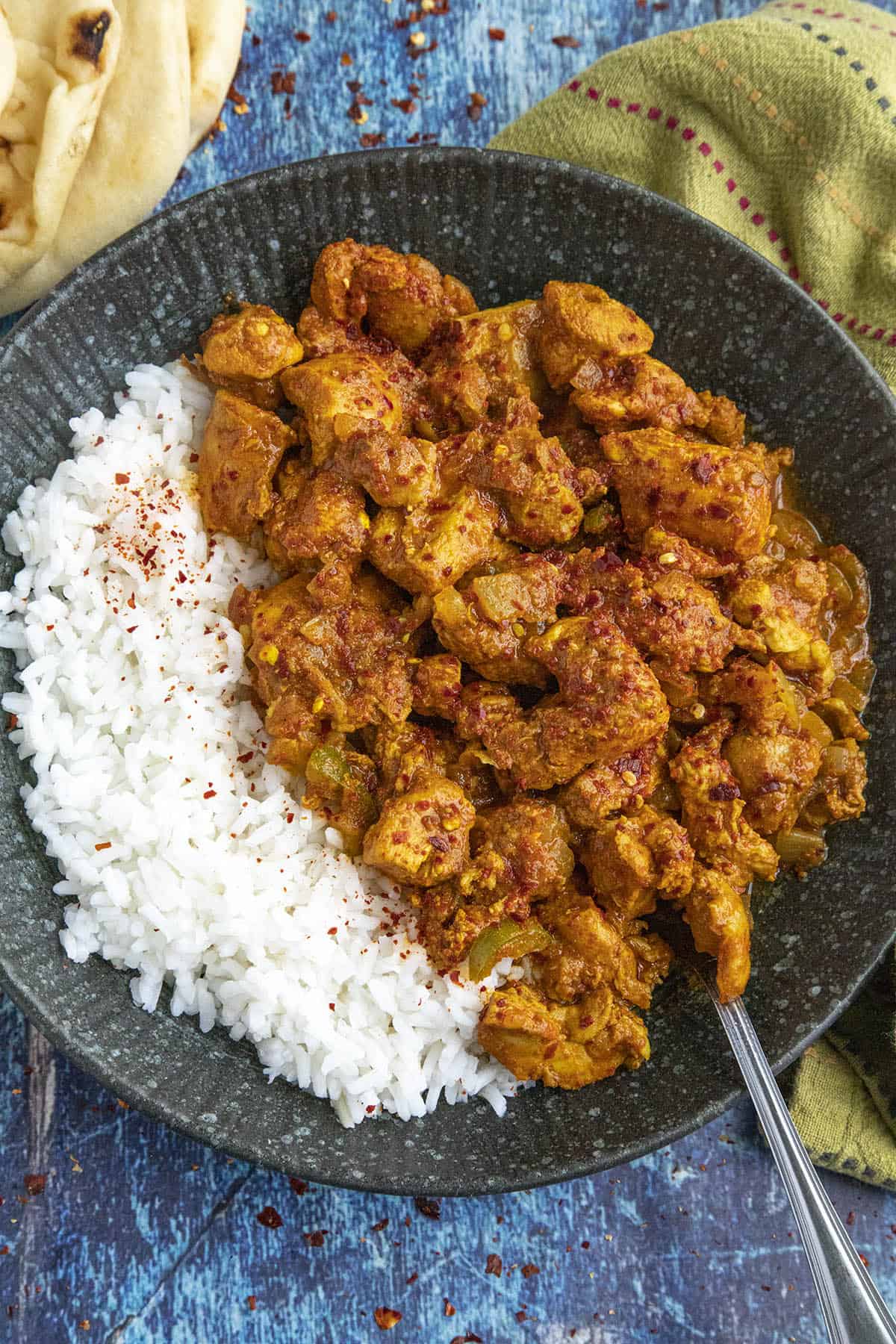 Chicken Vindaloo Recipe
If you are a spicy food lover like I am, you need to give your taste buds a treat and try this amazing Chicken Vindaloo Recipe. It has everything a fiery food lover could want - Flavor, Heat, Spiciness, Pure Satisfaction.
It is most definitely one of my favorite recipes and it is super eat to whip together in the kitchen with very little effort and cooking time.
That's a HUGE PLUS for a slow cook like me!
What is Vindaloo?
"Vindaloo" is a highly spiced curry dish that originated in the Goa region of India. It is known for its fiery and tangy flavors, and is often made with meat, typically pork, beef, goat, or chicken, marinated in a spiced vinegar-based sauce. You can also make it with potato for a vegetarian version.
The word "vindaloo" comes from the Portuguese dish "carne de vinha d'alhos," a dish of meat marinated in wine vinegar and garlic. Historically, when the Portuguese colonized Goa, they brought this dish with them, which was adapted to local Indian ingredients and flavors to create Goan vindaloo.
The dish is known for its intense heat, which comes from the use of red chilies, and pleasant tanginess from vinegar.
I love it with chicken, particularly chicken thighs, which I've included here for this recipe.
Let's talk about how to make Chicken Vindaloo, shall we?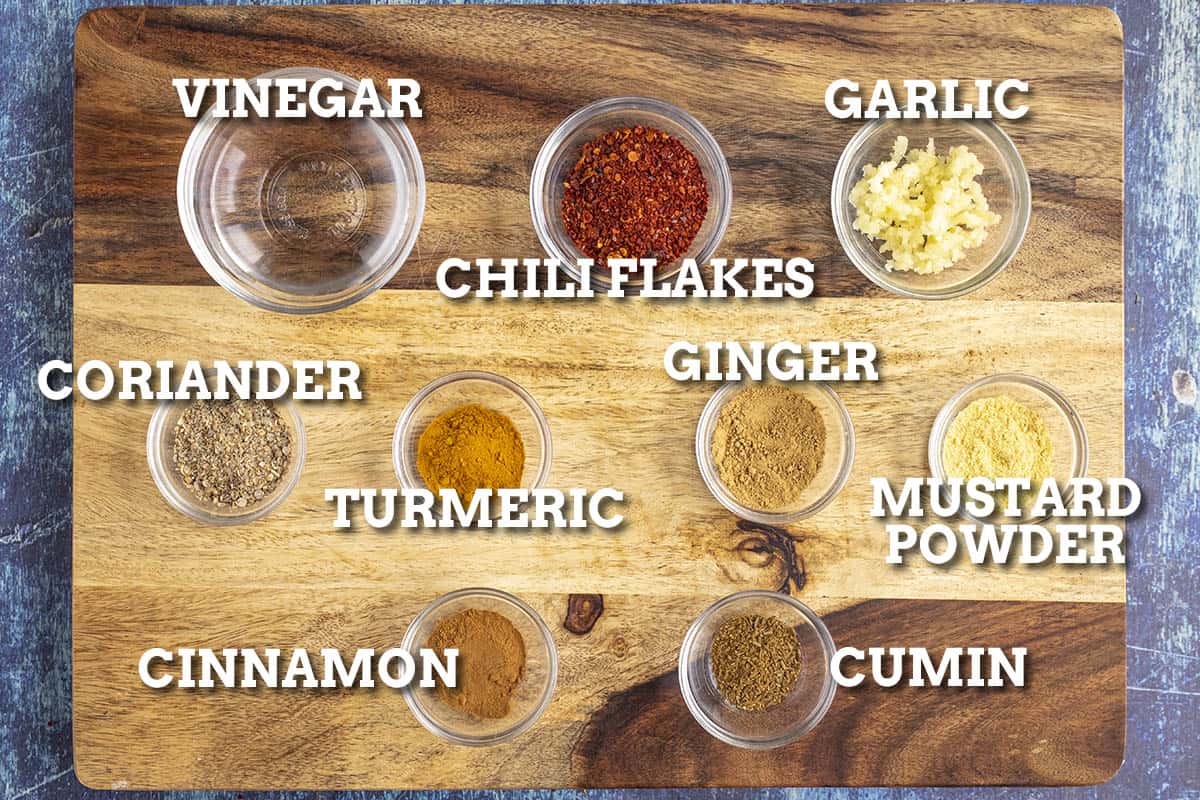 Chicken Vindaloo Ingredients
The full list of ingredients with measurements and printable cooking instructions are listed in the recipe card at the bottom of the post.
Chicken. Use chicken thighs or chicken breast, or a combination.
Olive Oil. For cooking.
Onion.
Serrano Peppers. Or use Indian peppers, like Kashmiri chilies.
Tomato Paste. You can also use fresh tomatoes.
Salt and Pepper. To taste.
FOR THE VINDALOO MARINADE
White Vinegar.
Garlic and Ginger.
Spicy Red Chili Flakes. I enjoy using ghost pepper flakes for some extra heat, though you can use dried red chilies or flakes to your heat preference.
Other Spices. Paprika, coriander, turmeric, mustard powder, cumin cinnamon. Freshly ground coriander seeds, cumin seeds, and mustard seeds make for extra fresh flavor.
For Serving. Cooked rice, fresh herbs, extra chili flakes.
How to Make Chicken Vindaloo - Recipe Method
Marinate the Chicken. The vindaloo marinade is the most important part of this dish, as it imparts an immense amount of flavor that all of us spicy food lovers crave.
Vinegar is a MUST, as is garlic. From there, we're adding in a number of pungent spices to make this amazing, including paprika, ginger, coriander, turmeric, mustard powder, cumin, cinnamon, and a healthy dose of spicy red chili flakes, and salt and pepper, of course.
Try this Homemade Vindaloo Seasoning Blend.
You can also include a bit of sugar if you'd like, either white or brown sugar. I didn't use them this time.
Whisk all of the seasonings together with the vinegar, then pour it over the skinless chicken in a bowl. Or, use a plastic bag that you can seal. This is your curry paste. The chicken should be cut into bite sized pieces.
Refrigerate the chicken for at least 1 hour, though you'll get better results if you let it marinate overnight.
More marinade time = more flavor.
Cook the Onion and Peppers. Heat the oil in a large skillet to medium heat.
Next, cook your onion and chili pepper a few minutes to soften them up. I used spicy serrano peppers here, though you can use milder peppers for a version with less heat.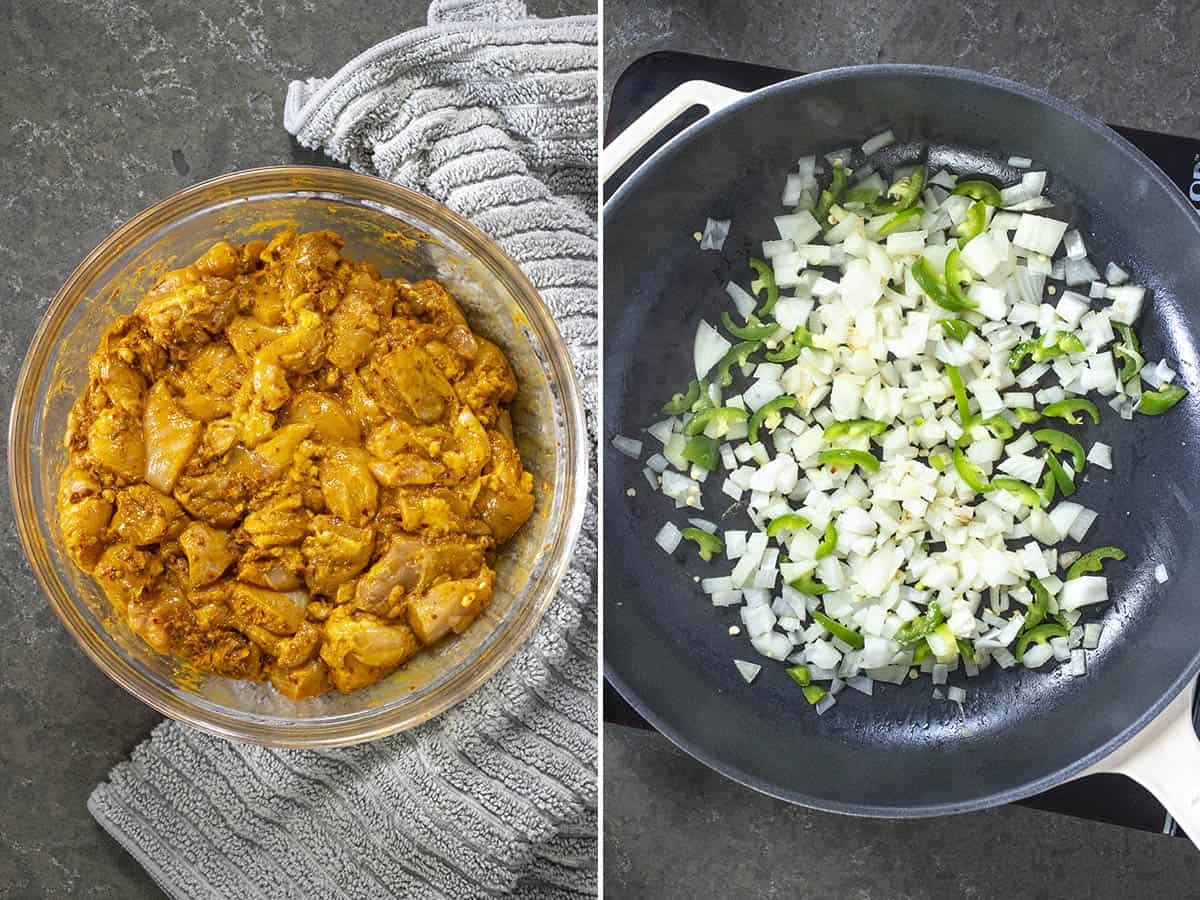 Cook the Chicken. Next, add the chicken (along with the marinade) and stir. Cook it for about 5 minutes, stirring occasionally.
Next, add in the tomato paste, salt, and pepper, and cook stirring a bit, along with about 1/2 cup of water or chicken broth to form a sauce. Fresh diced tomatoes are also a nice addition here.
Simmer the Vindaloo. Reduce the heat an let the whole pan simmer for 15 minutes to 20 minutes, until the chicken cooks through and the flavors develop. You can let it simmer longer if you'd like.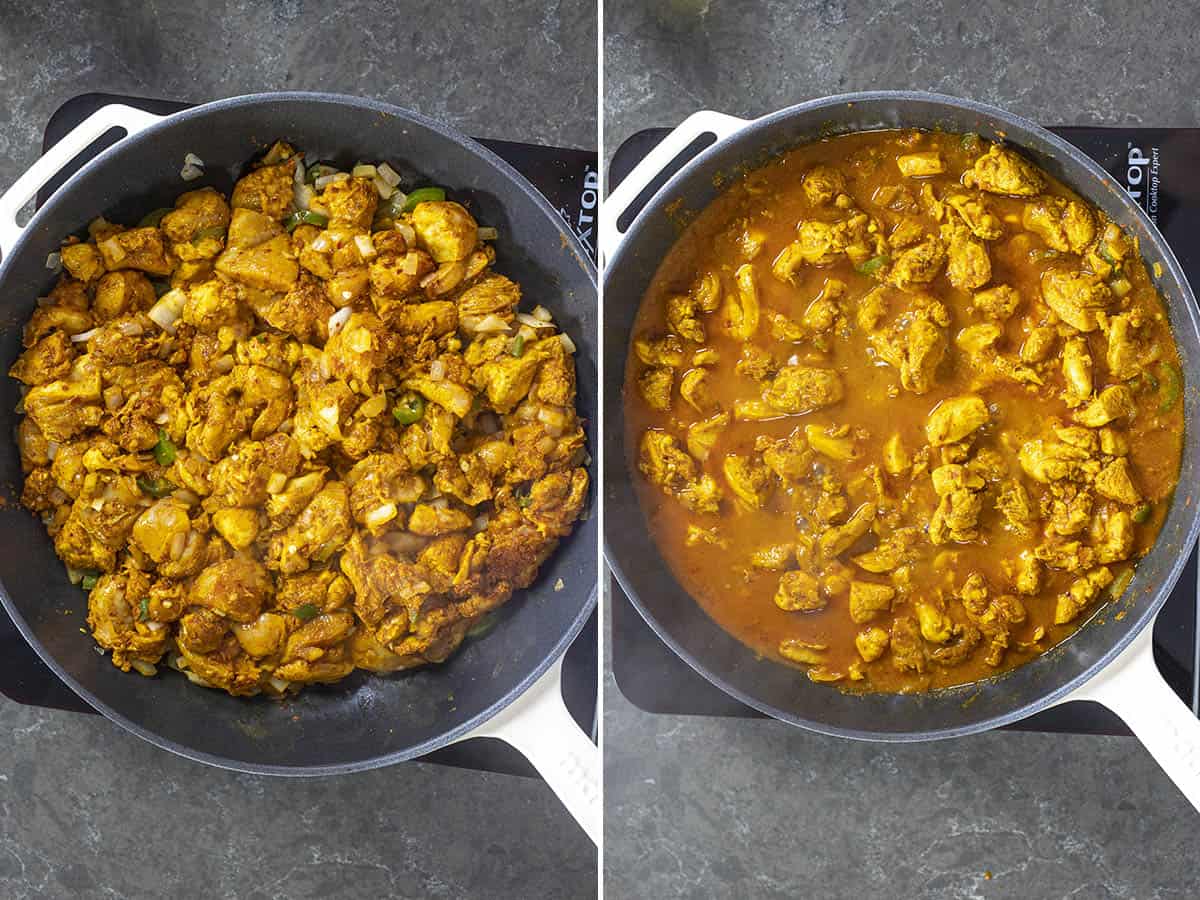 If the vindaloo sauce becomes too thick, just stir in a bit more water or broth until it reaches the consistency you prefer. It will thicken in the pan. It should be the consistency of a good gravy.
BOOM! DONE! Your chicken vindaloo curry is ready to serve! Better than any Indian restaurant. It's so deliciously fragrant. I love it. Such a great recipe. Indian food is filled with so much amazing spice and flavor.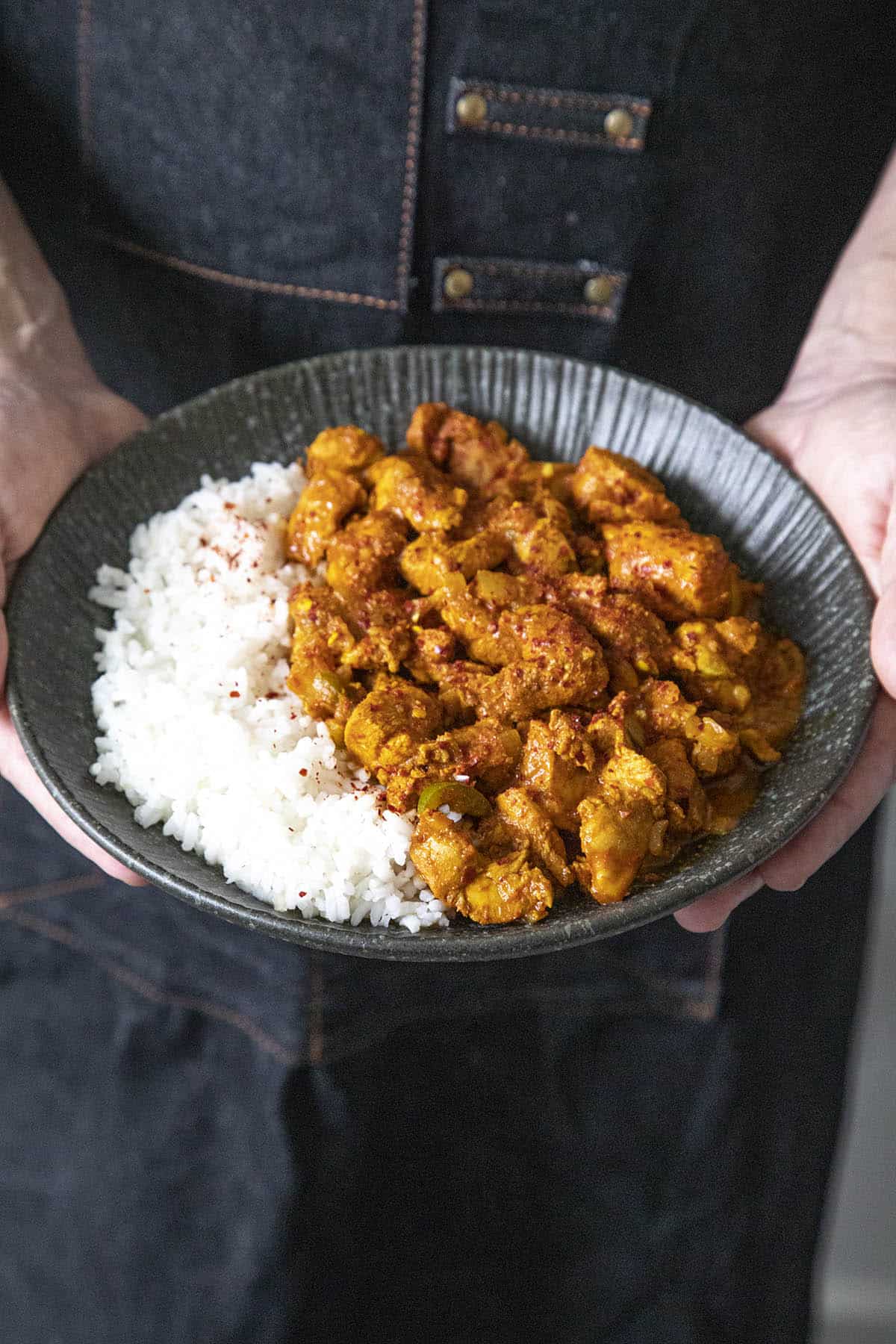 Recipe Tips & Notes
Marinate Ahead
I like to whip this recipe together the night before and let it sit in the refrigerator until dinner time the next evening. It makes for a super quick and easy meal, though yeah, it does require a little bit of forethought.
Heat and Spice Factor
For the wild chiliheads like ME, you can use ghost pepper chili flakes like I did. If ghost peppers are too hot for you, use the typical red chili flakes or cayenne pepper that you find in the store, which are perfectly GREAT for this recipe.
You'll definitely get plenty of heat with them, and I want this dish to please your personal palate, not mine! So go with a heat level you're comfortable with.
Serving Chicken Vindaloo
Serve chicken vindaloo over steamed rice and garnish with fresh herbs and extra spicy chili flakes. Basmati rice is a nice choice, as is a side of naan bread.
If it is too spicy, serve it alongside this Indian Raita recipe, which is made from spiced yogurt. It has a nice cooling effect.
Storage and Leftovers
Chicken vindaloo will last up to 5 days in the refrigerator in a sealed container. To enjoy it again, simply warm it in a pot on the stove over gentle heat. Or, warm it in the microwave.
You can also freeze it for 3 months in vacuum sealed bags or freezer containers.
It really is an amazing dish. Give it a try and let me know how you like this curry recipe. How spicy did you make yours? Send pics! I'd love to see them. Till next time!!! -- Mike H.
Try Some of My Other Popular Chicken Dishes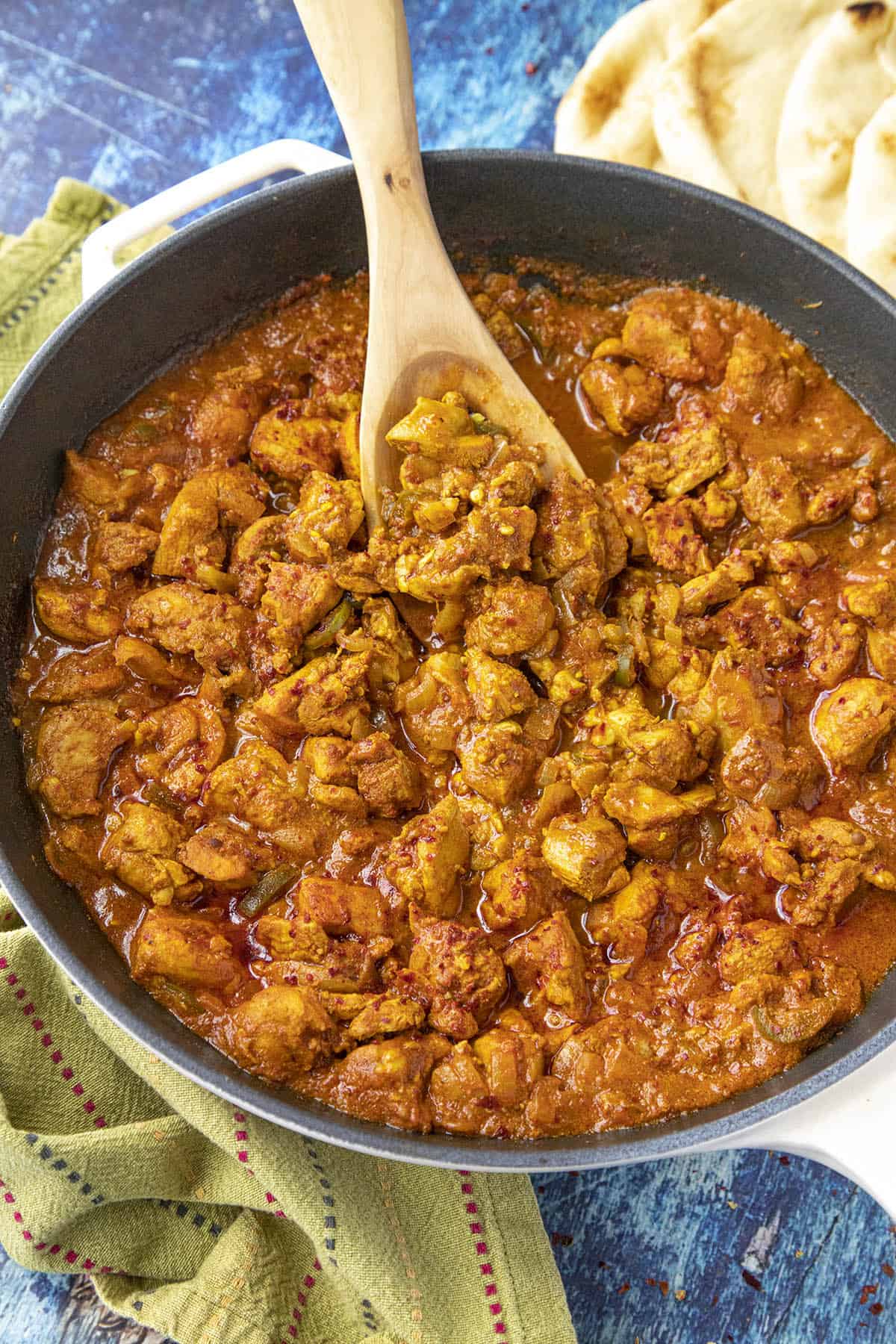 If you try this recipe, please let us know! Leave a comment, rate it and tag a photo #ChiliPepperMadness on Instagram so we can take a look. I always love to see all of your spicy inspirations.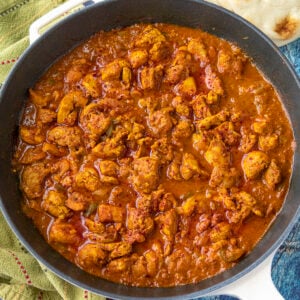 Print
Chicken Vindaloo Recipe
A recipe for the popular spicy Indian dish, this spicy, tangy curry is a quick and easy kitchen staple. My version is wonderfully fiery, though you can easily adjust the heat and spice to your preference.
Save Recipe
Saved!
Ingredients
2

pounds

chicken thighs

chopped

2

tablespoons

olive oil

1

yellow onion

chopped

2

serrano peppers

chopped (or use Indian peppers if you can obtain them)

1

tablespoon

tomato paste

Salt and pepper to taste
FOR THE MARINADE
½

cup

white vinegar

6

cloves

garlic

minced

2

tablespoon

spicy red chili flakes

I used ghost pepper flakes for an EXTRA kick

1

teaspoon

paprika

1

teaspoon

ginger

1

teaspoon

coriander

1

teaspoon

turmeric

1

teaspoon

mustard powder

½

teaspoon

cumin

½

teaspoon

cinnamon
FOR SERVING: Cooked rice, fresh herbs, extra chili flakes
Instructions
Add the chicken to a large bowl.

Mix your marinade by whisking together the vinegar and all of the seasonings. Pour it over the chicken and rub it into the meat. Cover and refrigerate for at least 1 hour. Longer is better, such as overnight.

Heat a large pan to medium heat and add the olive oil. Add the onion and peppers and cook about 4-5 minutes, until they soften up.

Add the chicken along with the marinade and cook another 5 minutes to nicely brown up the pieces.

Add the tomato paste and salt and pepper to taste. Cook another minute, stirring.

Add ½ cup of water (or chicken broth for extra flavor) and stir until the mixture thins out and becomes a sauce. You can add more water if needed. Reduce the heat and let it simmer for 20 minutes, until the chicken is cooked through.

Serve as is or over rice with fresh herbs and sprinkled chili flakes. Make it rain!
Video
Notes
NOTES: This is definitely a hot and spicy dish. Some would say very hot, though you can dial back the heat by using milder chilies and going easy on the red chili flakes. If you're looking for an even HOTTER version, go with habanero peppers, or fiery ghost peppers, which will REALLY heat things up.
Gluten Free.
Nutrition Information
Calories:
252
kcal
Carbohydrates:
5
g
Protein:
30
g
Fat:
12
g
Saturated Fat:
2
g
Polyunsaturated Fat:
2
g
Monounsaturated Fat:
6
g
Trans Fat:
1
g
Cholesterol:
144
mg
Sodium:
202
mg
Potassium:
519
mg
Fiber:
2
g
Sugar:
1
g
Vitamin A:
1055
IU
Vitamin C:
4
mg
Calcium:
40
mg
Iron:
2
mg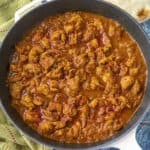 Did You Enjoy This Recipe?
I love hearing how you like it and how you made it your own. Leave a comment below and tag @ChiliPepperMadness on social media.
This recipe is gluten free.
NOTE: This recipe was updated on 4/21/23 to include new information, photos, and video. It was originally published on 4/20/18.