Learn how to make shredded chicken in a single pot that is always moist and juicy with this never-fail low and slow cooking recipe, so easy to make!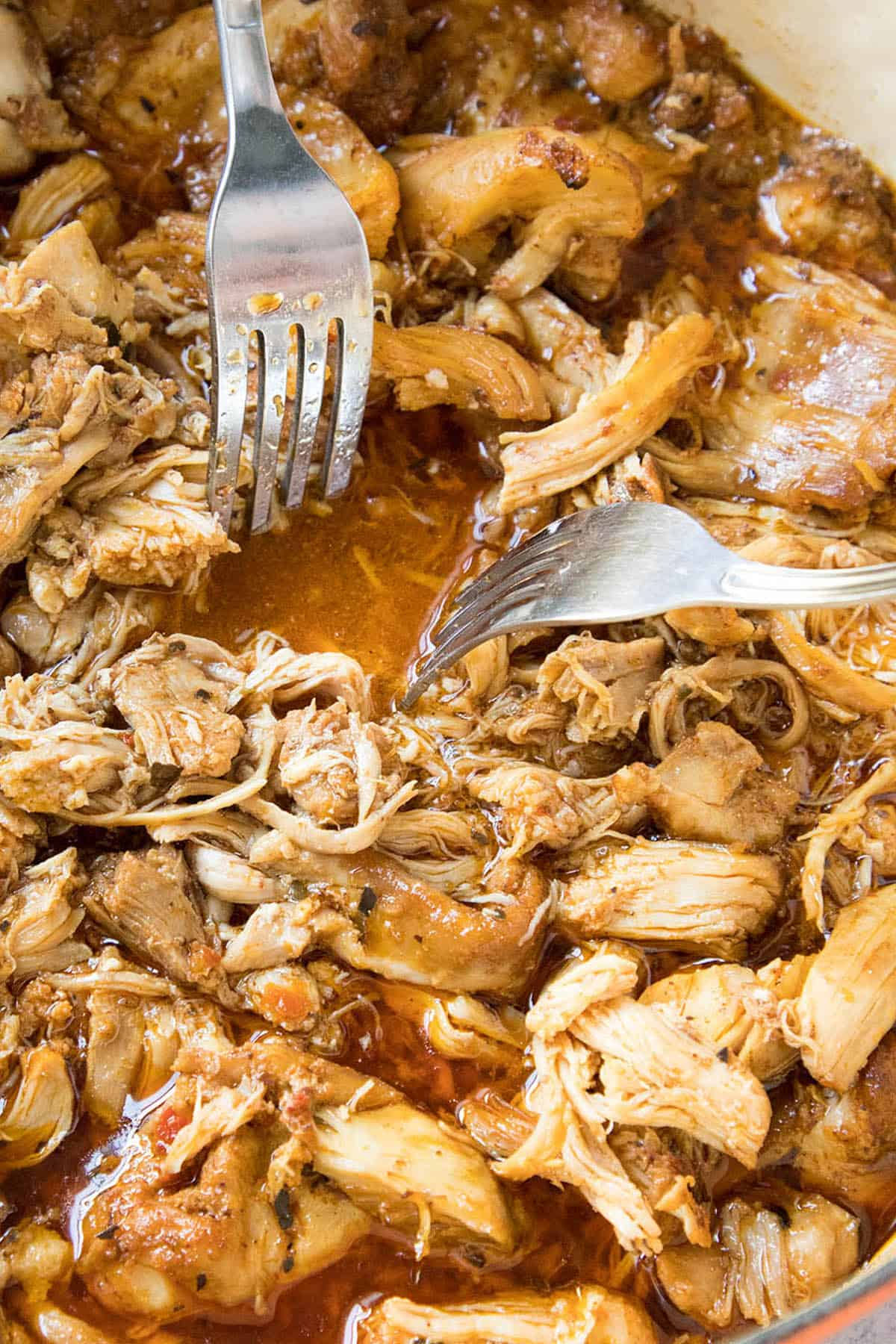 The Best Shredded Chicken
Have you ever noticed how some Mexican restaurants serve up the juiciest, best tasting chicken tacos around? And some just aren't so great? I've had chicken tacos all over the U.S. and in Mexico and it's amazing how much they can vary.
There is a place in town nearby that I've stopped frequenting because their chicken is just so dry. No amount of delicious hot sauce can take away that dry texture.
It's pretty simple for me. When it comes to shredded chicken, I want it to be juicy! The moisture needs to permeate the meat, which is why I'm sharing this particular recipe that always works for me.
It's super simple, and with it, you'll be making juicy, moist shredded chicken in no time.
The Secret to the Best Moist and Juicy Shredded Chicken is...
TIME. Don't get me wrong. It does take time, but you'll save yourself a lot of time later by making large batches of this shredded chicken or pulled chicken for quick and easy meals. I like to cook up a few pounds at a time, then portion them out and freeze them.
This way, I can yank one out of the freezer and thaw as needed. It's perfect for your weekly meal prep.
It can be heated and eaten just as it is, or you can add in your own preferred seasonings and use it for making homemade tacos, sandwiches, and so much more. Swirl into your soups and stews. Serve it over rice for a nice chicken taco bowl.
Satisfy that chicken craving.
You CAN make shredded chicken much faster by poaching the chicken for 30 minutes, then shredding, but this low and slow method results in much juicier and moist chicken.
Let's talk about how to make shredded chicken.
Shredded Chicken Ingredients
Chicken. You can use boneless chicken or bone-in chicken. It works with any chicken, though chicken thigh and chicken breast are ideal.
Chicken Broth.
Seasonings. Use your favorites, or none at all, though I suggest salt.
How to Make Shredded Chicken
First, start off with chicken thighs. I use boneless skinless chicken thighs. They have more fat content than boneless skinless chicken breast, so this is my preferred ingredient. However, the technique does work well for chicken breast also. Or use a combination of chicken thighs and chicken breast for the best of both worlds.
Next, toss the chicken with your preferred seasonings then sear them a few minutes in a large pot. I used my Dutch oven for this. It's a simple and effective one-pot cooking recipe. You can use any seasoning you'd like before you cook the chicken, even just a bit of salt and pepper. More on that below.
Once you've seared the chicken, add chicken broth and reduce the heat to low. You can also add the seared chicken and broth to a slow cooker or Instant Pot for slow cooking on LOW.
Next, cover the chicken and simmer the whole pot with the lid placed slightly askew on top. Your cooking time is 3 hours. Sorry, this isn't a simple 20 minute recipe. It takes a while to make super juicy shredded chicken. The fats will emerge and the chicken will cook low and slow in those fats until they are deliciously tender and very juicy.
Finally, shred the chicken with a couple forks and you're good to go.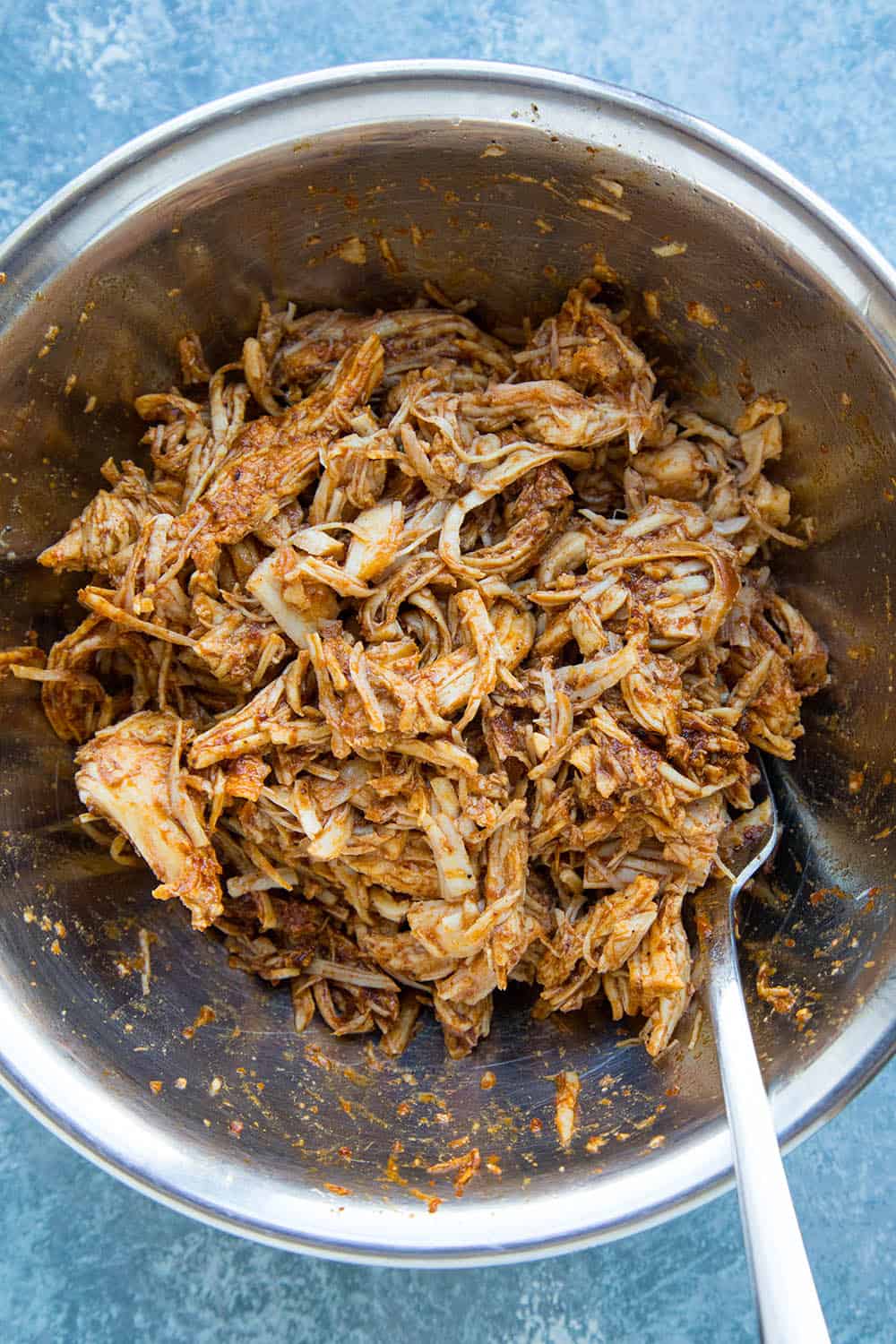 How to Shred Chicken
Shredding the chicken is easily done with a couple of forks. Simply insert the fork ends into the chicken and gently pull them apart. Repeat the process until the chicken is shredded to your liking.
There are tools available for purchase that look like bear claws. They work nicely as well for large batches. Forks are just fine for smaller batches, I've found.
You can shred the chicken right in the pot, or remove the chicken and shred it in a separate bowl.
I've also used a hand mixer to shred larger batches of chicken, though it can get a bit messy if you're not careful.
Very easy, right? I love easy recipes.
Recipe Tips & Notes
Can I Make Shredded Chicken in a Crock Pot or a Slow Cooker?
Yes, you can make shredded chicken in a crock pot or slow cooker. Slow cooker shredded chicken is great. Just make sure you are able to season and sear the chicken in a hot enough pan, then transfer it to the crock pot for slow cooking.
The key is low and slow, so cook on LOW. Don't use the high heat setting, unless you know your crock pot very well.
About the Seasonings
You can use a LOT of seasoning here if you'd like. I vary up the seasonings that I use, depending on how I'm going to eat the shredded chicken.
The recipe calls for a quarter cup, which sounds like a lot, but I often find myself adding even more sometimes, again, depending on my taste preferences. Feel free to experiment with your seasoning ratios.
Storage Information
Store your shredded chicken in the refrigerator for up to 5 days in a sealed container. Or, freeze it in batches in vacuum sealed bags or containers for up to 6 months.
Shredded Chicken Recipes
You can use your cooked shredded chicken in a number of recipes, not just for chicken salad. Use it to make juicy chicken tacos or burritos. Make a chicken torta with refried beans and avocado.
Stir it into soups or stews, or include some in a stir fry. It also freezes nicely for those who want to use shredded chicken in their weekly meal prep. The serving size is about 4 ounces.
Here are some recipes you can try:
Super juicy, my friends! Eat some, freeze some, make life easy on yourself! I hope you enjoy it! Let me know how you like it if you make it. -- Mike H.
Try Some of My Other Popular Dishes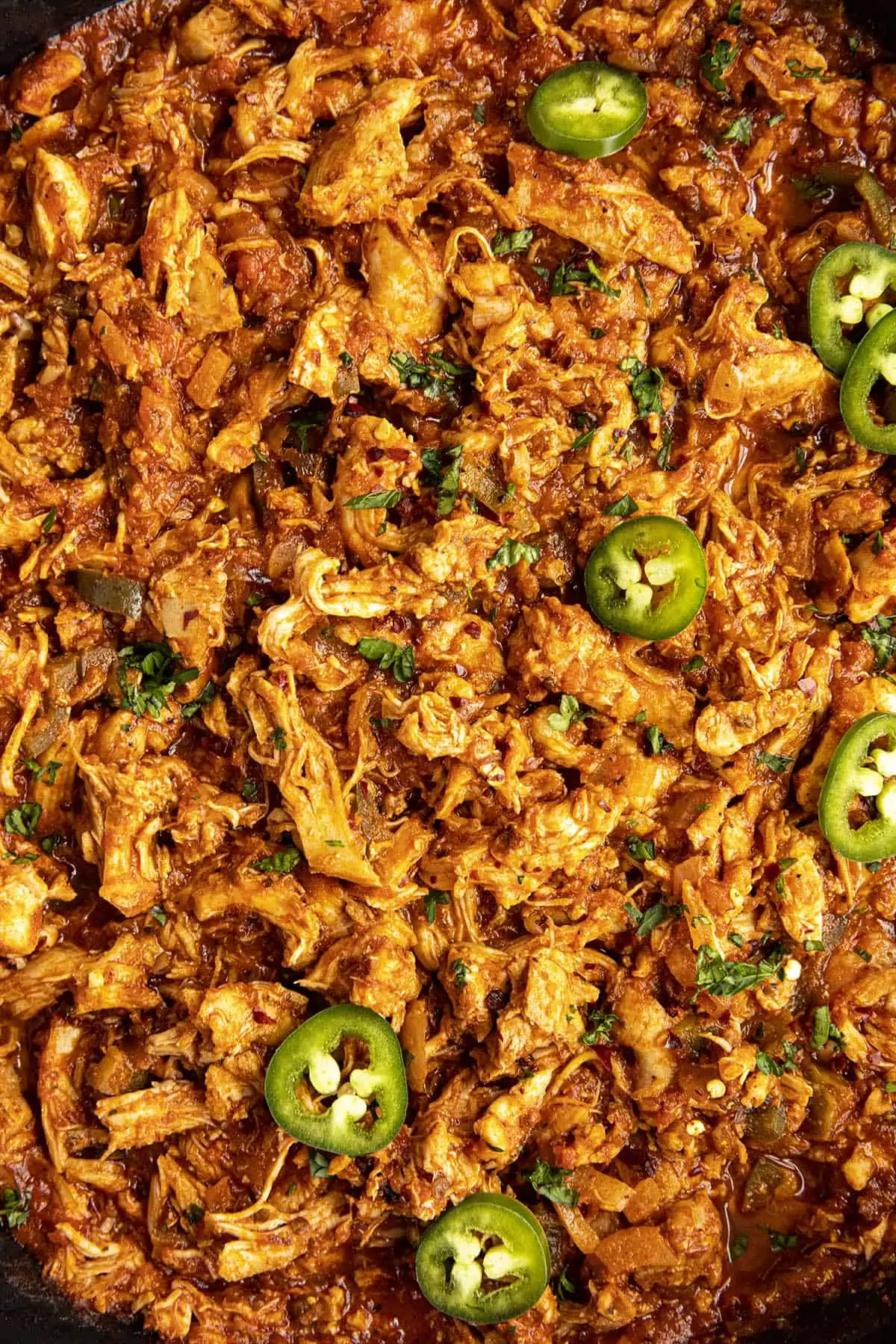 If you enjoy this recipe, I hope you'll leave a comment with some STARS. Also, please share it on social media. Don't forget to tag us at #ChiliPepperMadness. I'll be sure to share! Thanks! -- Mike H.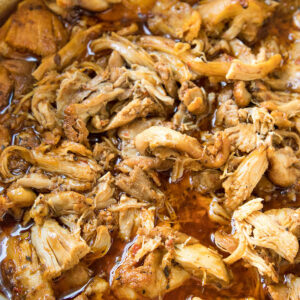 Print
How to Make Shredded Chicken (The Best Shredded Chicken Recipe)
Learn how to make shredded chicken in a single pot that is always moist and juicy with this never-fail low and slow cooking recipe, so easy to make!
Save Recipe
Saved!
Ingredients
3

pounds

boneless chicken thighs

2

tablespoons

olive oil

¼

cup

Cajun seasoning blend

Taco Seasoning blend, or Spicy Chili Powder blend (or more as desired)

1

tablespoons

granulated garlic

1

teaspoon

ghost pepper powder

optional

Salt and pepper to taste

1

cup

chicken broth
Instructions
Toss the boneless chicken thighs withthe olive oil and seasonings in a large bowl. Make sure to get them nice and coated.

Heat a large pot to medium heat. I used my Dutch oven for this. Add the chicken thighs and sear them for a few minutes per side, stirring them up a bit as you go.

Pour in the chicken broth and reduce the heat to a simmer. Top the pot with the cover just slightly askew and cook low and slow for 3 hours. You can also use your slow cooker on LOW. Check it every now and then after a couple hours. If you need to add a bit more chicken broth, you can do so.

When the chicken is super fork tender, remove it from the heat and cool it slightly. Use a couple forks to shred it.

Use as desired!
Notes
Makes 12 servings. I like to freeze portions for future use.
Heat Factor: HOT! I used ghost powder here, so you'll get awesome heat, though you can easily omit it or use a milder chili powder for less intense heat.
Recipes Referenced:
Nutrition Information
Calories:
278
kcal
Carbohydrates:
2
g
Protein:
18
g
Fat:
21
g
Saturated Fat:
5
g
Cholesterol:
111
mg
Sodium:
163
mg
Potassium:
310
mg
Vitamin A:
1245
IU
Vitamin C:
1.4
mg
Calcium:
15
mg
Iron:
1.4
mg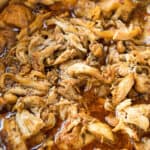 Did You Enjoy This Recipe?
I love hearing how you like it and how you made it your own. Leave a comment below and tag @ChiliPepperMadness on social media.
Keto Friendly and Gluten Free.