The Juiciest Shredded Chicken
This simple cooking technique will show you how to make the juiciest pulled chicken imaginable. It's super easy. Here is the recipe.
Have you ever noticed how some Mexican restaurants serve up the juiciest, best tasting chicken tacos around? And some just aren't so great? I've had chicken tacos all over the U.S. and in Mexico and it's amazing how much they can vary.
There is a place in town nearby that I've stopped frequenting because their chicken is just so dry. No amount of delicious hot sauce can take away that dry texture.
It's pretty simple for me. When it comes to shredded chicken, I want it to be juicy! The moisture needs to permeate the meat, which is why I'm sharing this particular recipe that always works for me.
It's super simple, and with it, you'll be making juicy pulled chicken in no time.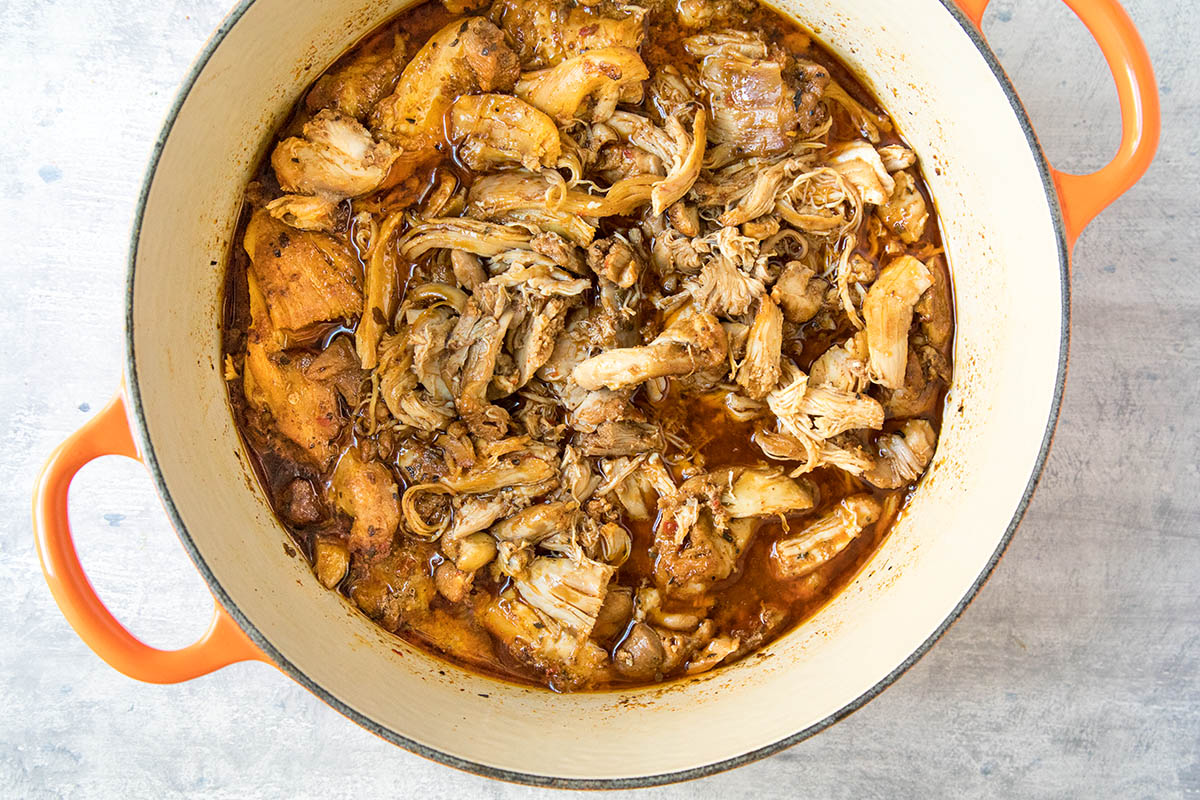 Don't get me wrong. It does take TIME, but you'll save yourself a lot of time later by making large batches of this shredded chicken for quick and easy meals. I like to cook up a few pounds at a time, then portion them out and freeze them.
This way, I can yank one out of the freezer and thaw as needed.
It can be heated and eaten just as it is, or you can add in your own preferred seasonings and use it for making homemade tacos, sandwiches, and so much more. Swirl into your soups and stews. Serve it over rice for a nice chicken taco bowl.
Satisfy that chicken craving.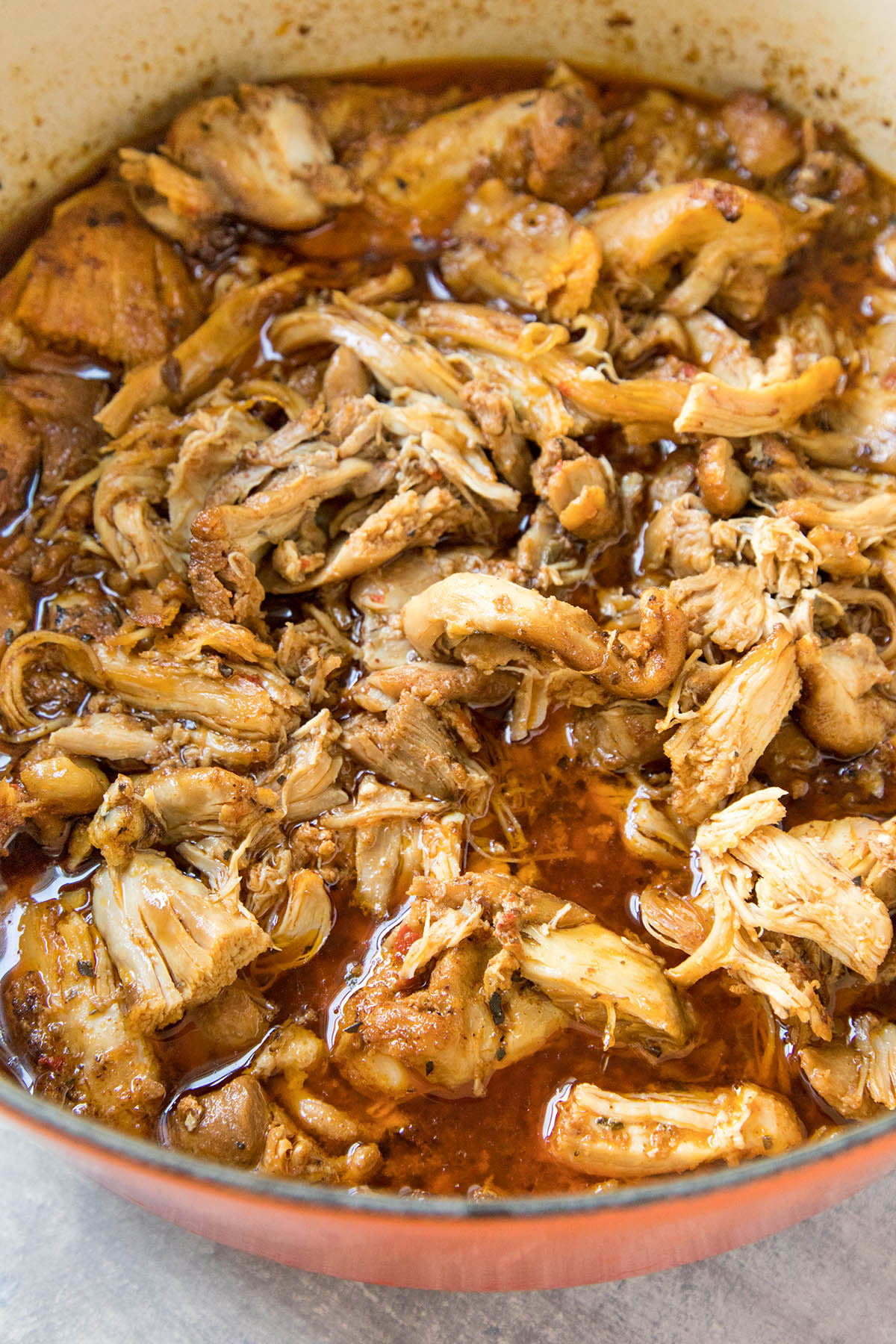 Let's talk about how we make this juicy shredded chicken.
How to Make Moist and Juicy Shredded Chicken – Recipe
First, start off with chicken thighs. Chicken thighs have more fat content than chicken breast, so this is my preferred ingredient. However, the technique does work well for chicken breast also.
Next, toss the chicken with your seasonings them sear them a few minutes in a large pot. I used my Dutch oven for this.
Once they're seared, add chicken broth and reduce the heat to low. Simmer the whole thing in the post with a lid place slightly askew on top for about 3 hours. The fats will emerge and the chicken will cook low and slow in those fats until they are deliciously tender and very juicy.
Lastly, shred them with a couple forks and you're good to go.
One note about the seasonings. You can use a LOT of seasoning here if you'd like. I vary up the seasonings that I use, depending on how I'm going to eat the shredded chicken.
The recipe calls for a quarter cup, which sounds like a lot, but I often find myself adding even more sometimes, again, depending on my taste preferences. Feel free to experiment with your seasoning ratios.
Super juicy, my friends! Eat some, freeze some, make life easy on yourself! I hope you enjoy it! Let me know how you like it if you make it. — Mike H.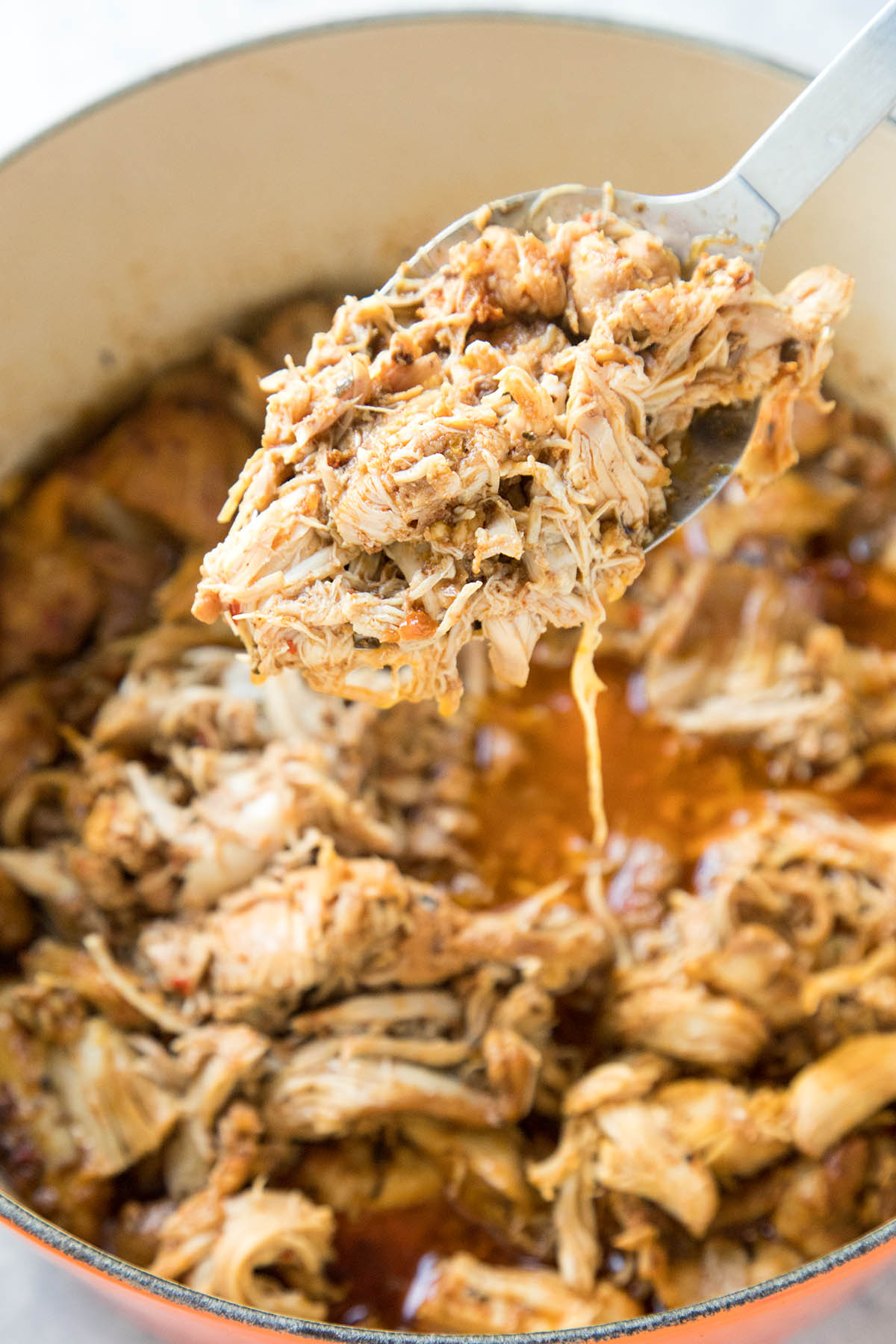 Try Some of My Other Popular  Dishes
If you enjoy this recipe, I hope you'll leave a comment with some STARS. Also, please share it on social media. Don't forget to tag us at #ChiliPepperMadness. I'll be sure to share! Thanks! — Mike H.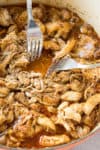 The Juiciest Shredded Chicken – Recipe
This simple cooking technique will show you how to make the juiciest pulled chicken imaginable. It's super easy. Here is the recipe.
Ingredients
3

pounds

boneless chicken thighs

2

tablespoons

olive oil

¼

cup

Cajun seasoning blend

Taco Seasoning blend, or Spicy Chili Powder blend (or more as desired)

1

tablespoons

granulated garlic

1

teaspoon

ghost pepper powder

optional

Salt and pepper to taste

1

cup

chicken broth
Instructions
Toss the boneless chicken thighs withthe olive oil and seasonings in a large bowl. Make sure to get them nice and coated.

Heat a large pot to medium heat. I used my Dutch oven for this. Add the chicken thighs and sear them for a few minutes per side, stirring them up a bit as you go.

Pour in the chicken broth and reduce the heat to a simmer. Top the pot with the cover just slightly askew and cook low and slow for 3 hours. Check it every now and then after a couple hours. If you need to add a bit more chicken broth, you can do so.

When the chicken is super fork tender, remove it from the heat and cool it slightly. Use a couple forks to shred it.

Use as desired!
Recipe Notes
Makes 12 servings. I like to freeze portions for future use.
Heat Factor: HOT! I used ghost powder here, so you'll get awesome heat, though you can easily omit it or use a milder chili powder for less intense heat.
Recipes Referenced:
Nutrition Facts
The Juiciest Shredded Chicken – Recipe
Amount Per Serving
Calories 278
Calories from Fat 189
% Daily Value*
Total Fat 21g 32%
Cholesterol 111mg 37%
Sodium 163mg 7%
Potassium 310mg 9%
Total Carbohydrates 2g 1%
Protein 18g 36%
* Percent Daily Values are based on a 2000 calorie diet.