We at Madness (that's really Mike and Patty) decided on a Seafood Madness exploratory trip in order to celebrate 15 wonderful years together. We love beach trips, but we also love exploring what areas have to offer in terms of food and culture. Having been to Myrtle Beach a few years ago, we knew we liked the general area, but were looking for something a bit less commercial. Lucky for us, after a bit of research, we found Topsail Island, North Carolina.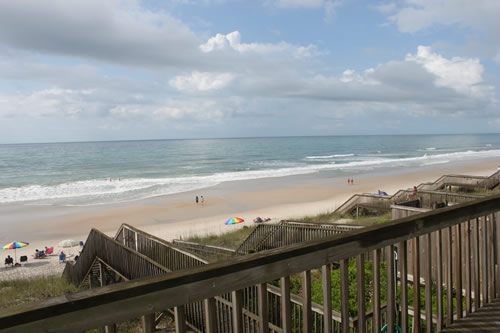 Here's a link: http://en.wikipedia.org/wiki/Topsail_Island
We drove approximately 1,000 miles and rented a small beach house right on the water. The photo above is the view from our back door. Absolutely gorgeous. The view was spectacular, the beach was wonderful, but best of all was the fresh seafood. Literally blocks away was a tiny place called Surf City Crab.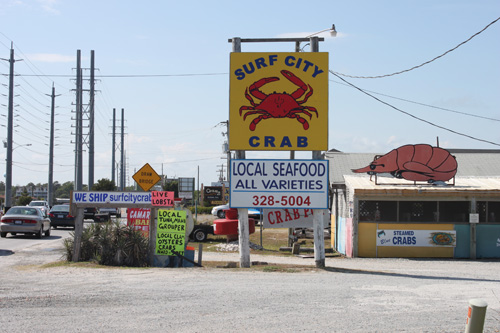 Surf City Crab
They had a restaurant, which we didn't try, but what they did have was a line of coolers filled with fresh seafood and boats constantly arriving with their fresh catches.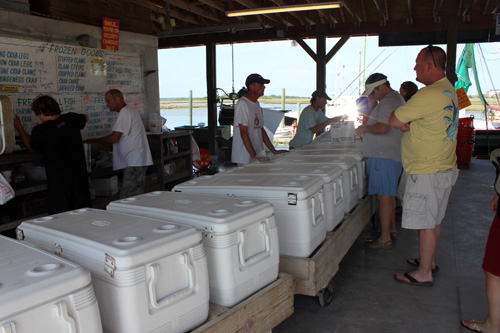 Surf City Crab in Topsail Island - Fresh Seafood
Talk about heaven. We approached the operators and took a peek inside the coolers and were greeted with an excellent selection of fresh seafood. Choices were shrimp of various sizes, crab claws, crab meat, crab cakes, an assortment of fresh fish, scallops, and more. Take a look at the sign: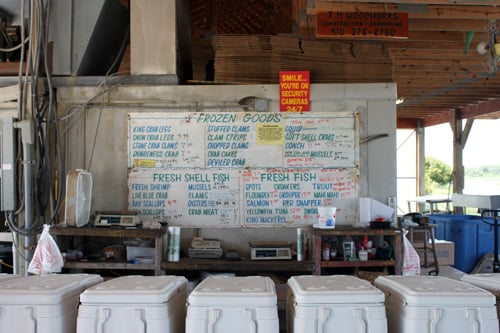 Selection of Seafood from Surf City Crab in Topsail Island, NC
There were some frozen selections but we were more interested in the fresh stuff. There is nothing better than being able to walk at a whim to pick up fresh seafood for a meal to suit your mood. Sorry to report that the reviews of the restaurant aren't very good, but we can certainly recommend it for fresh seafood.
Surf City Crab – Facebook Page – See for yourself.
For a 7 day trip, we only went out for dinner once, and that was because we had a hard craving for pizza. Otherwise, we cooked up a number of recipes,including:
Pasta Primavera with Sauteed Scallops
Shrimp-Pineapple Skewers with Jalapeno Peppers
Cajun Grouper
Chipotle Chilean Sea Bass
Buffalo Scallops
Caliente Crab and Veggie Pasta
All so delicious. We can never get sick of seafood. We can't wait to visit Topsail Island in NC again. We're looking forward to a future trip.