Pineapple-Mango Ghost Pepper Hot Sauce
A sweet and spicy hot sauce recipe made with fiery ghost peppers, fresh mango, citrusy pineapple and more, perfect for chicken or fish.
Flat out – I can't keep these around the house long enough. They never last! Hot sauces get poured onto everything. It is AWESOME to have hot sauce around as a nice finisher. Plus, you can incorporate them into recipes. How many times have I written, "Hot Sauce of your choice" in a recipe? While not all hot sauces are alike, this recipe produces an ideal level of both sweet and heat, the perfect combination. Walking through the store the other day, I found this HUGE pile of pineapples and one accidentally spilled into my cart as I was passing by, so I figurred, OK, fine, I will cook with you. And then his friend the mango came along for the ride. I didn't want them to be alone, so into a sauce they went. Tropical fruit is so nice and friendly like that.
Especially with ghost pepper! Yes! I know ghost peppers are hot, over 1 Million SHU, but I urge you to try this hot sauce recipe, even if you are afraid of the heat. You can always sub in some milder chili peppers, but in reality, this isn't quite as hot as you'd think. The ghost pepper heat is tamed a bit from the sweet. This particular hot sauce is excellent on chicken, fish, or shrimp. Shrimp tacos, anyone? It would also be a nice base for a glaze.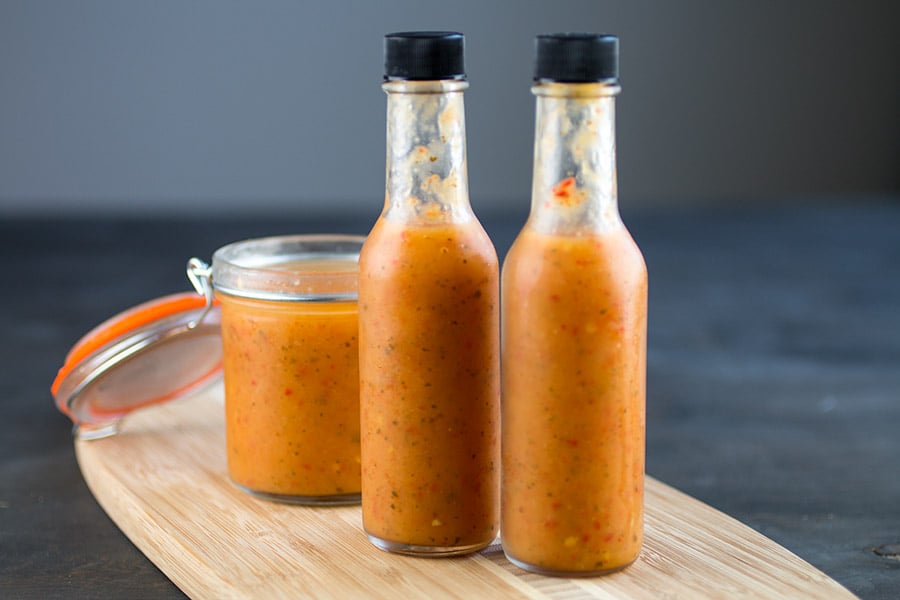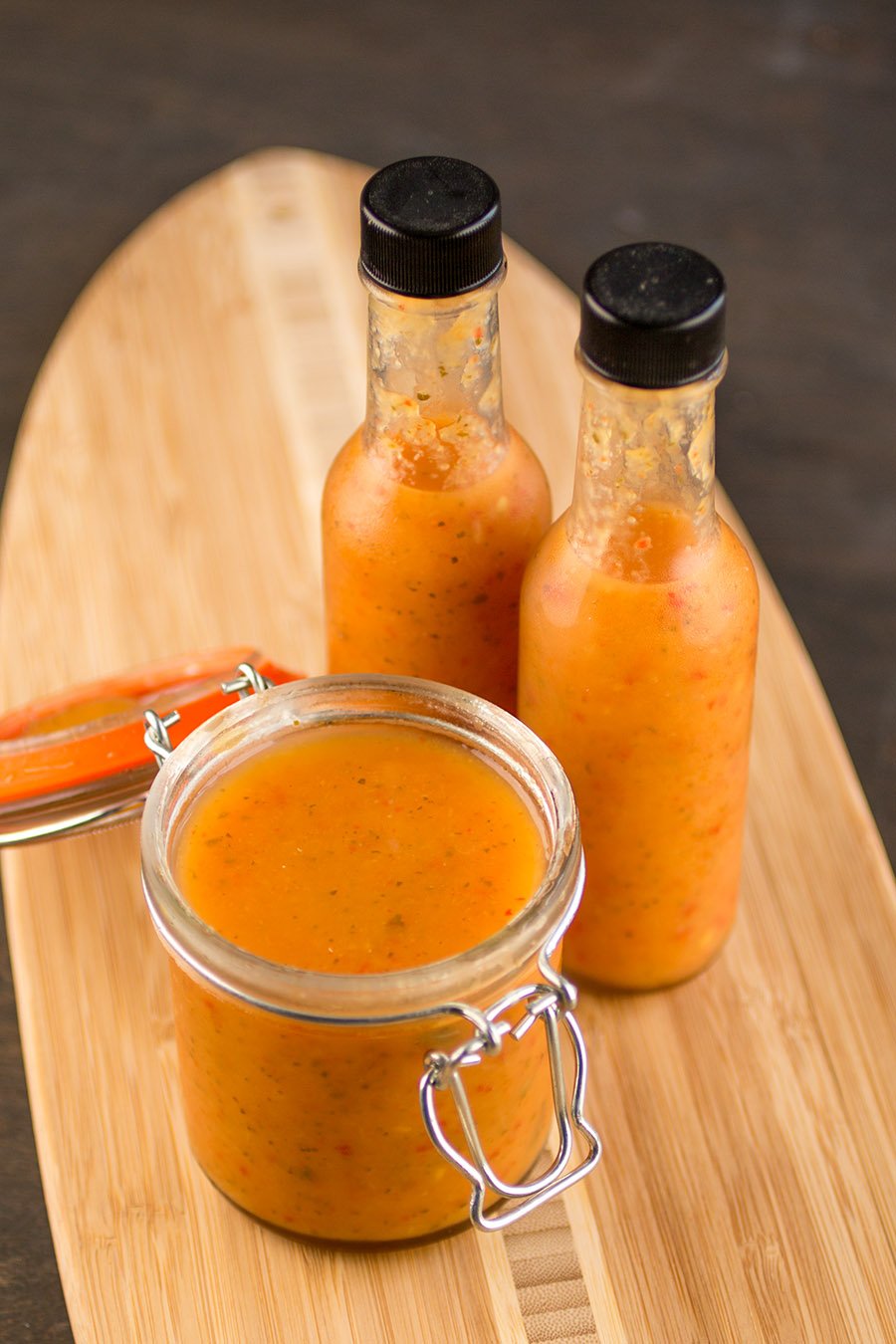 Here are some answers to the most common questions I get about this and other hot sauce recipes:
How long will this sauce keep? It should keep a few months easily in the fridge, or even longer. It's all about the acidity. To be technical, target level ph for shelf stable foods is below 4.6 ph, but should probably be lower for home cooks, around 4.0 or so, to account for errors. I have not measured the ph of this sauce, but I won't have it around very long anyway. If you're concerned, add more vinegar to lower the ph.
Where'd you get that sauce bottle? I find them locally sometimes, but I also order through Amazon. Here is a link to some bottles I like (affiliate link, my friends!): Swing Top Glass Bottles, 8.5 Ounce – Set of 4
. If you like the smaller bottles that most hot sauce makers use, here's another link: Hot Sauce Bottles, 5 Oz – 24 Pack
.
Can I process this hot sauce for longer storage? Absolutely. Just be sure to use proper canning/jarring safety procedures.
What should I do with hot sauce? Aside from drizzling it over anything you please, here's a post I did about How to Cook with Hot Sauce. As if you need even MORE reasons to eat hot sauce. LOL. I hope you find it helpful!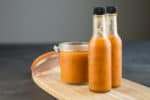 Pineapple-Mango Ghost Pepper Hot Sauce - Recipe
A sweet and spicy hot sauce recipe made with fiery ghost peppers, fresh mango, citrusy pineapple and more, perfect for chicken or fish.
Ingredients
1

teaspoon

olive oil

1

ghost pepper

chopped

1

cup

freshly cut pineapple

chopped

½

cup

chopped mango

2

cherry pepper

chopped

1

cup

water

½

cup

distilled white vinegar

2

tablespoons

chopped cilantro

1

teaspoon

sugar

1

teaspoon

paprika

Salt to taste
Instructions
Heat a large pan to medium heat and add olive oil. Add peppers and fruit. Cook about 8 minutes to soften.

Add water, vinegar, sugar, cilantro and paprika and bring to a boil. Reduce heat and simmer about 20 minutes. Remove from heat and cool.

Add to a food processor and process until smooth.

Pour into sterilized bottles and serve it up!