A cheesesteak recipe mashup! Here is our Mexican-style riff off of the classic Philly cheesesteak, made with spicy jalapeno peppers and salsa con queso. Absolutely delicious!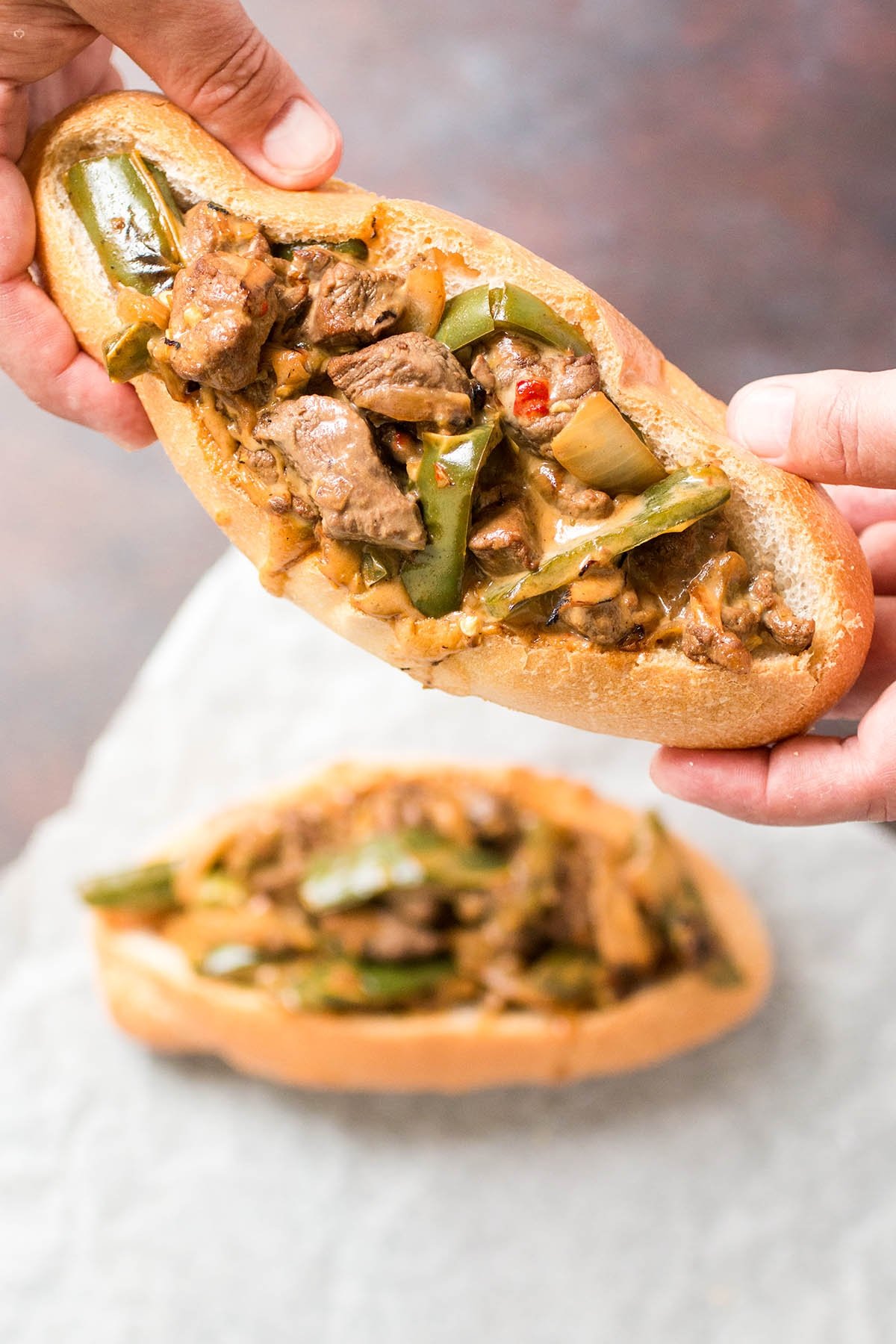 Messy Sandwich Alert! I do freely admit that this one might make a bit of a mess when you dig into it, but believe me, you'll be thanking me as you wipe the juiciness and dripping cheese from your chin.
So, are there any Philly Cheesesteak fans out there? I have fairly recently fallen IN LOVE with them. Probably one of the best steak sandwiches I have ever tasted, and I'm a total FOOL for not having them on my blog, but no worries! I WILL have a recipe here one of these days. However! As I was experimenting with recipes, I realized I had in my possession all of the ingredients to make a "sort of" Philly Cheesesteak, which of course led me to want to play around with the original recipe and see how things would turn out.
The result? AMAZING! Truly. These cheesesteak sandwiches are crazy delicious, so nice and cheesy, with tender filet mignon that has been chopped and cooked with caramelized jalapeno peppers and onions. OH MY. This is going to be a new Mike's Favorites recipe.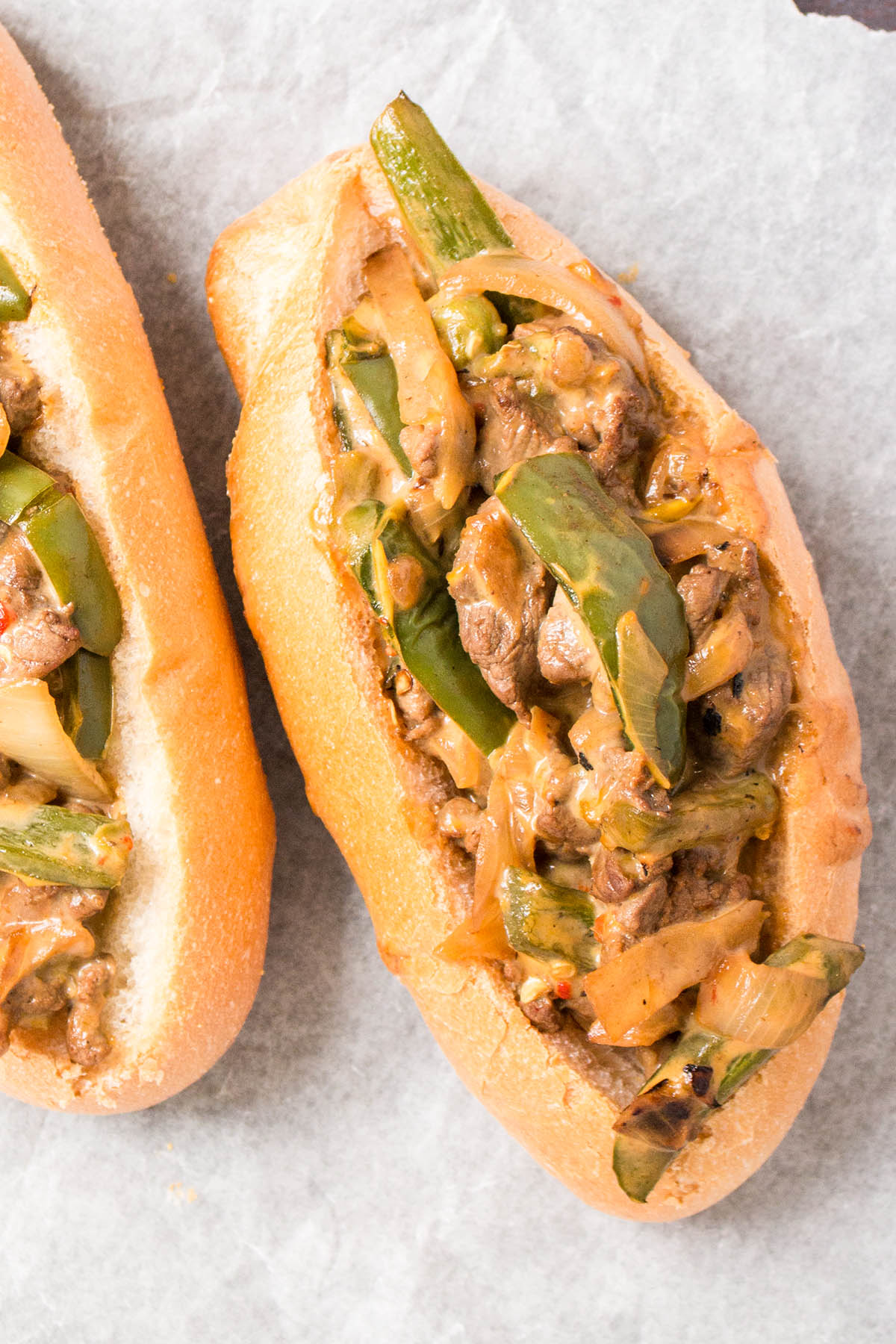 First off, did I say they were messy? I may be a little "exag" here, but just so you know. I mean, so are Philly cheesesteaks, so it isn't really my fault or anything. It's just how the sandwich is built. Not as bad as a Sloppy Joe, though. I digress!
The story here is that I had an extra filet mignon cut in the freezer and wasn't sure what to do with a single filet. We had a friend visiting a few days prior and I ran out to grab something to make for dinner. This is the same night I made the Grilled Pineapple-Poblano Salsa as an appetizer. Yep. There was a decent meat selection in the store, but the filets were packed in fours, so I had one leftover. Fast forward a couple days and there I am staring at this filet, certainly craving it, wondering how I can make this interesting for two people.
Then I saw the jar of salsa con queso. BOOM! A new sandwich was born - DUN DUN DUN! The Mexi Cheesesteak Sandwich Recipe.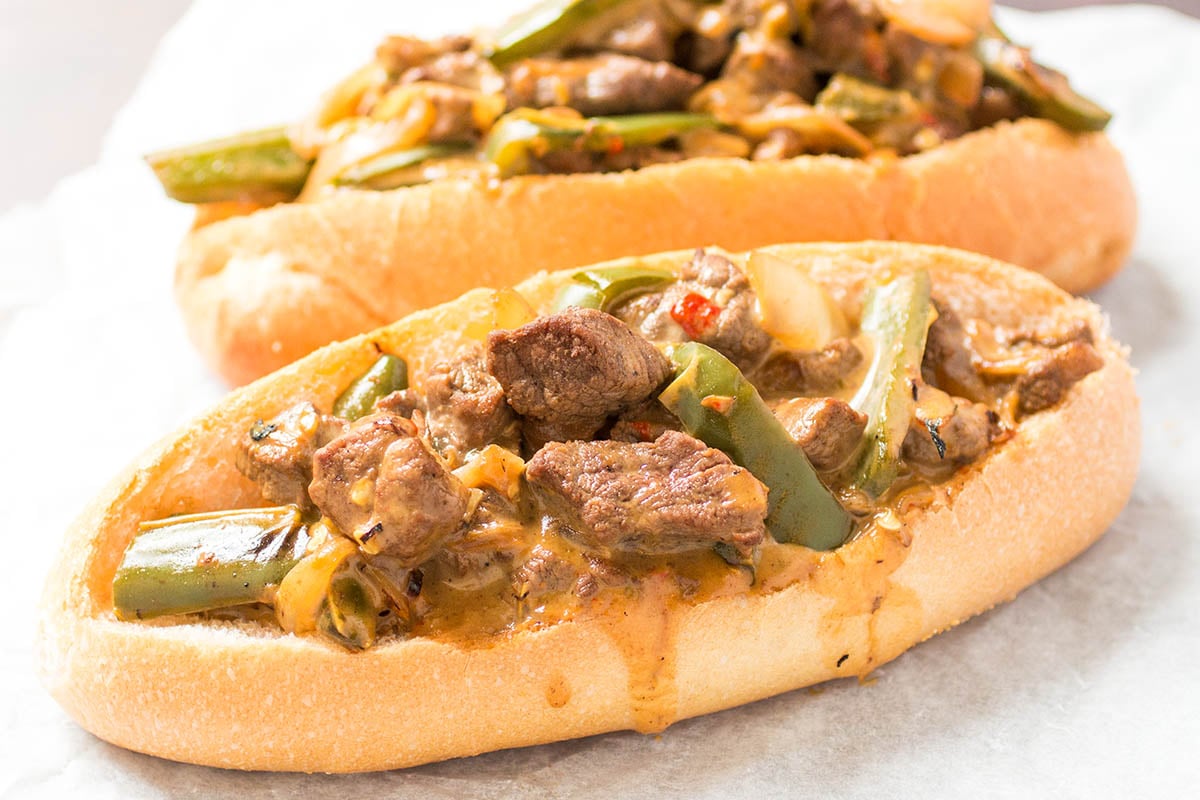 I realize I'm being a bit dramatic here, but truly, I love this sandwich that much. SO VERY TASTY, and quite easy to make, really. To break it down, you don't need many ingredients. Start off by cooking down your jalapeno peppers and onion in a skillet until they are nice and caramelized. This is an important step. You want those sugars to break down, which will bring out BIG flavor for you. It should be about 20 minutes or so.
Next, rough chop the filet mignon and season it with salt and pepper. Traditional Philly Cheesesteaks use ribeye, which would work great here. Or! You might try this with a marinated skirt steak, which is more traditional to Mexican cooking, like carne asada. Also, you can incorporate other seasonings here, like your favorite Taco Seasoning Recipe blend or a bit of garlic and chili powder. Go for it! Cook up the steak a few minutes until it is cooked through and nice and tender.
Next, stir in the salsa con queso. This stuff is AWESOME. In South Philly they use Cheese Wiz, and seriously, this stuff is better!
Remove from heat and serve this over a couple of lightly toasted rolls. BOOM! DONE! Unless you want to top them off with any of your favorite fixings, like melted cheddar cheese, tomato, crema, etc, but it is SO GOOD as is.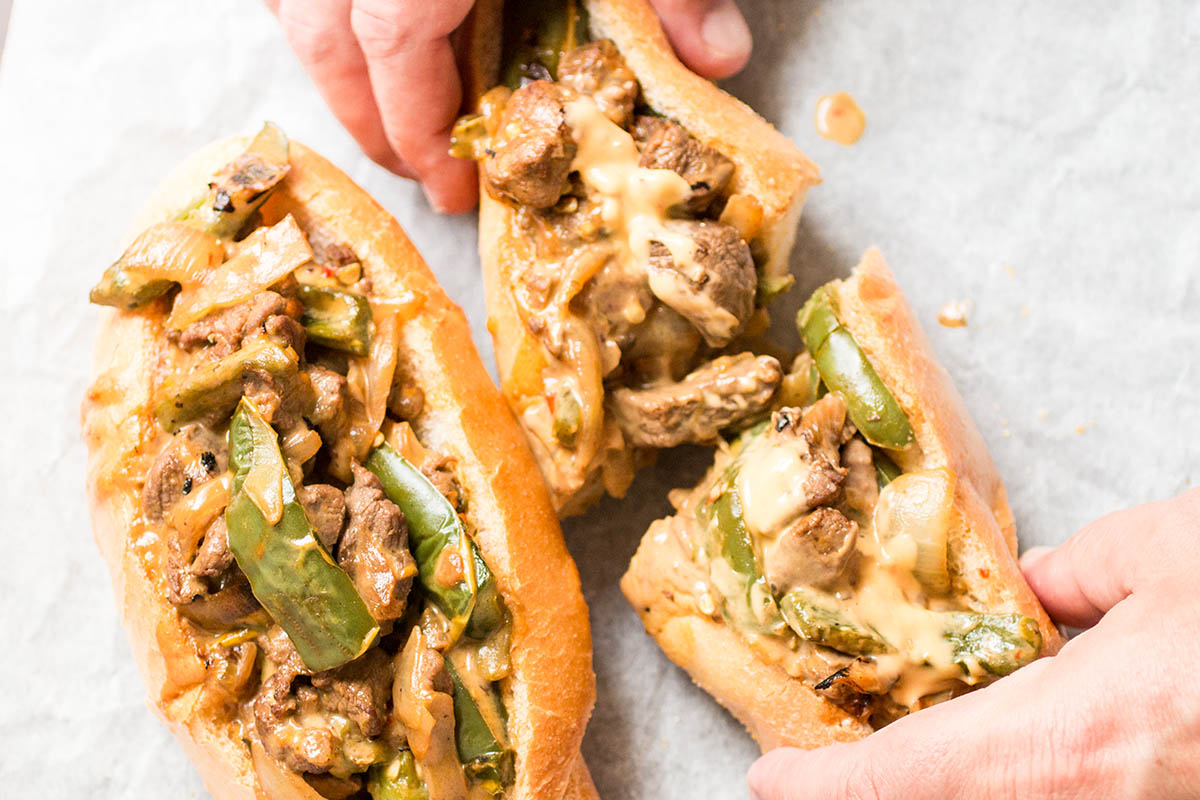 I hope you do enjoy it! Let me know how yours turn out.
Patty's Perspective: Like Mike, I've recently become addicted to cheesesteak sandwiches, so when Mike mentioned he was thinking of a Mexican style version, I was, of course, ALL IN. This sandwich did not disappoint!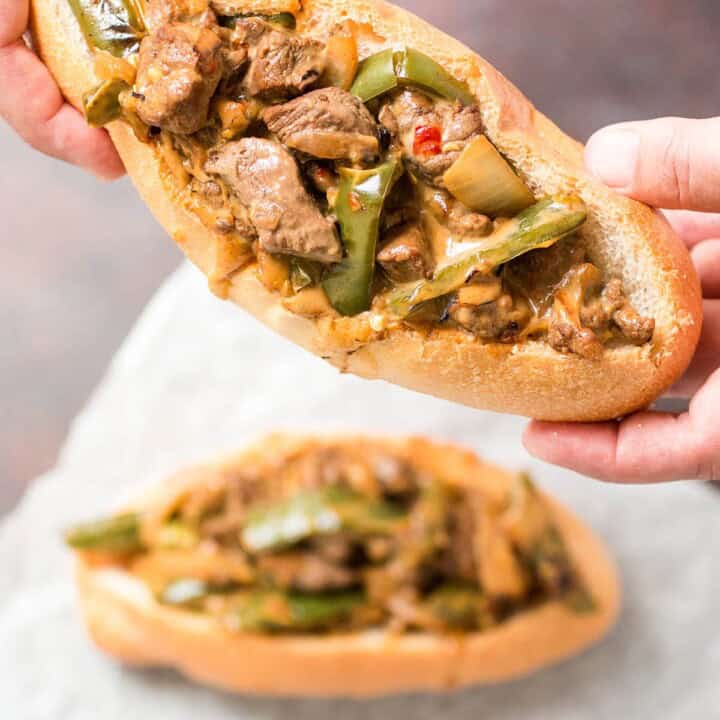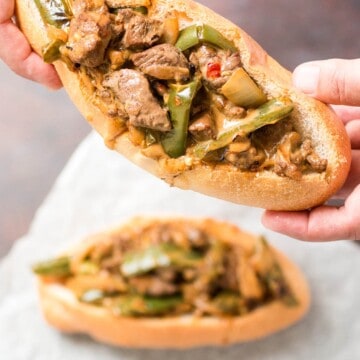 Print
Mexi Cheesesteak Sandwiches – Recipe
A cheesesteak recipe mashup! Here is our Mexican-style riff off of the classic Philly cheesesteak, made with spicy jalapeno peppers and salsa con queso. Absolutely delicious!
Save Recipe
Saved!
Ingredients
2

tablespoons

olive oil

3

large jalapeno peppers

1

large white onion

8

ounce

filet mignon – skirt steak is a good alternative

but would benefit from a marinade

Salt and pepper to taste

¼

salsa con queso + more as desired

2

large rolls for serving

lightly toasted
Instructions
Heat oil in a large pan over medium heat.

Rough chop the jalapenos and onions and cook them down about 20 minutes, until they begin to caramelize.

Rough chop the filet mignon (or other steak) and season with salt and pepper. Add to the pan and cook about 5-6 minutes, stirring often, until just cooked through.

Add salsa con queso and stir.

Scoop into lightly toasted rolls and serve with extra salsa con queso, if desired.
Nutrition Information
Calories:
581
kcal
Carbohydrates:
27
g
Protein:
25
g
Fat:
40
g
Saturated Fat:
12
g
Cholesterol:
79
mg
Sodium:
273
mg
Potassium:
531
mg
Fiber:
2
g
Sugar:
5
g
Vitamin A:
225
IU
Vitamin C:
29.5
mg
Calcium:
94
mg
Iron:
4.2
mg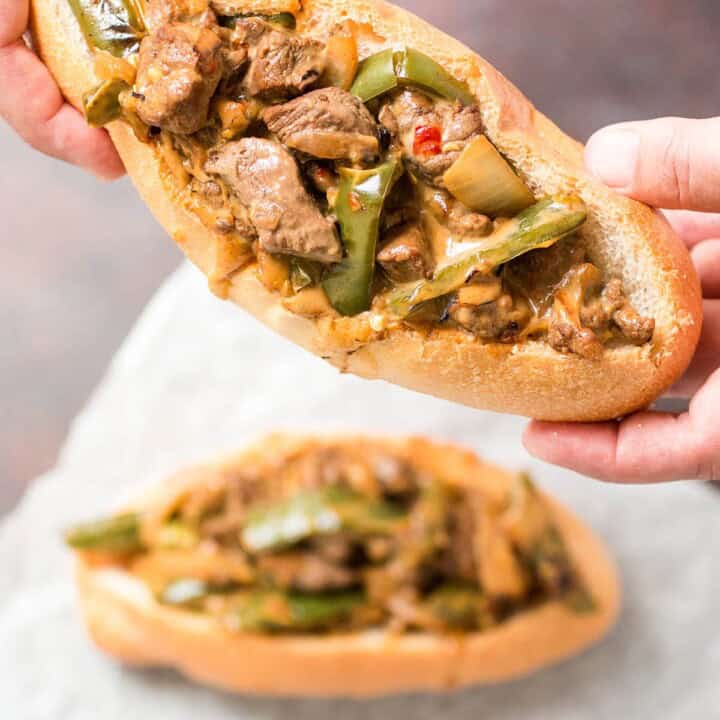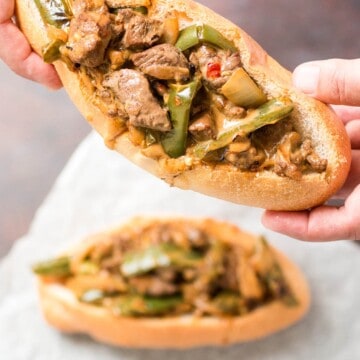 Did You Enjoy This Recipe?
I love hearing how you like it and how you made it your own. Leave a comment below and tag @ChiliPepperMadness on social media.