This is my favorite recipe for homemade biscuits with cheddar cheese and jalapeno peppers, perfect for quick morning breakfast or brunch, for serving with chili, or even enjoying as a quick-to-make dessert.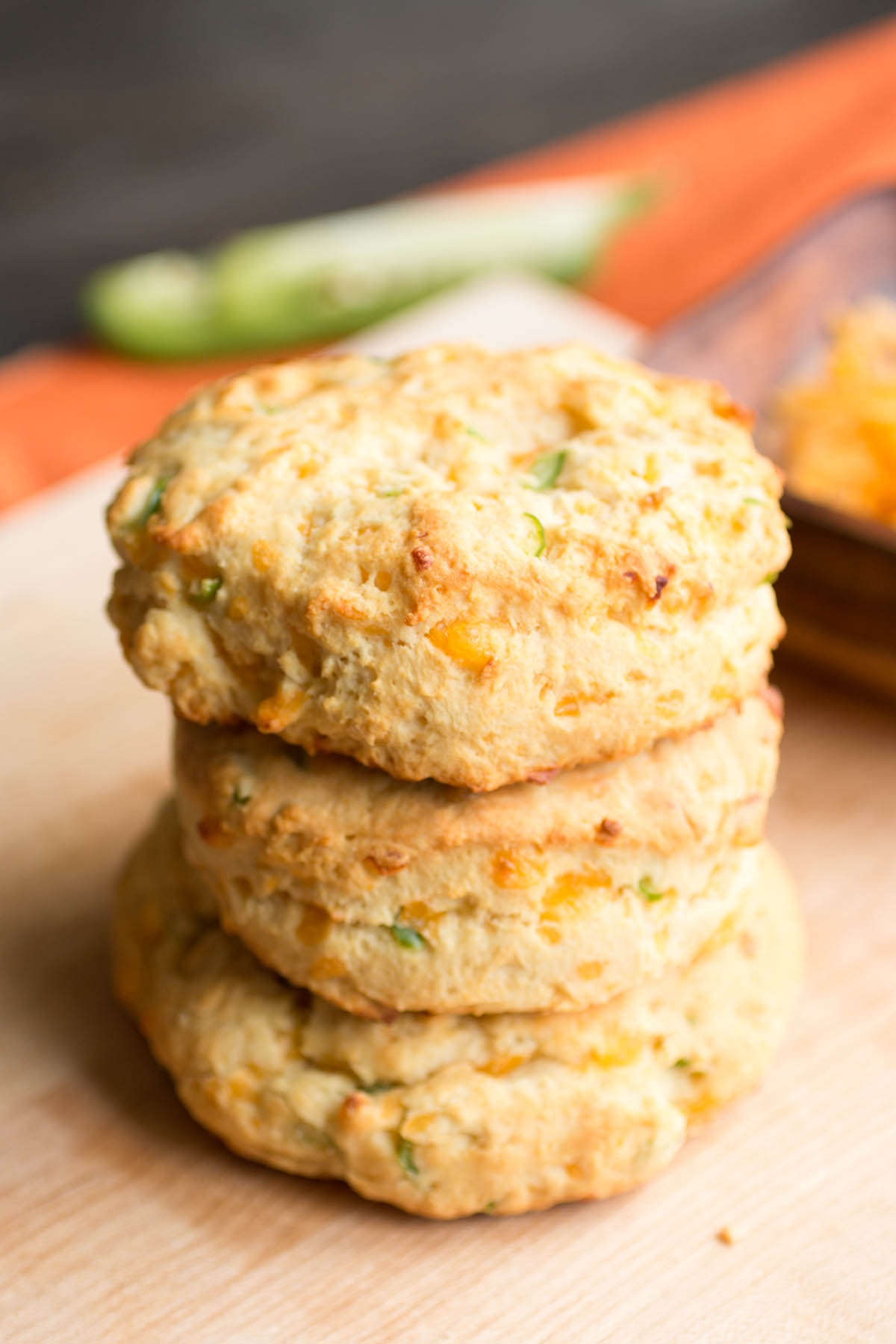 You know, homemade biscuits are NOT hard to make, but I managed to screw them up for years. I have no idea why. I sometimes feel there is an invisible force emanating from my body that actively interferes with anything with flour that requires baking. In the past I have failed horribly at making bread or anything involving yeast, and this poor luck extended to biscuits for some reason. Until now! I am happy to report that I no longer have an issue making biscuits, thanks to a few small things.
First, I measured properly! WOW. Did you know that when you bake anything, you need to ensure your ratios are correct? Baking is different from cooking in that you need precision. You can't just toss a little extra of "this", a little more of "that" like you can with, say, a homemade pasta sauce or a pot of chili. No! You must measure, or face the consequences. Like I did. *Grumble*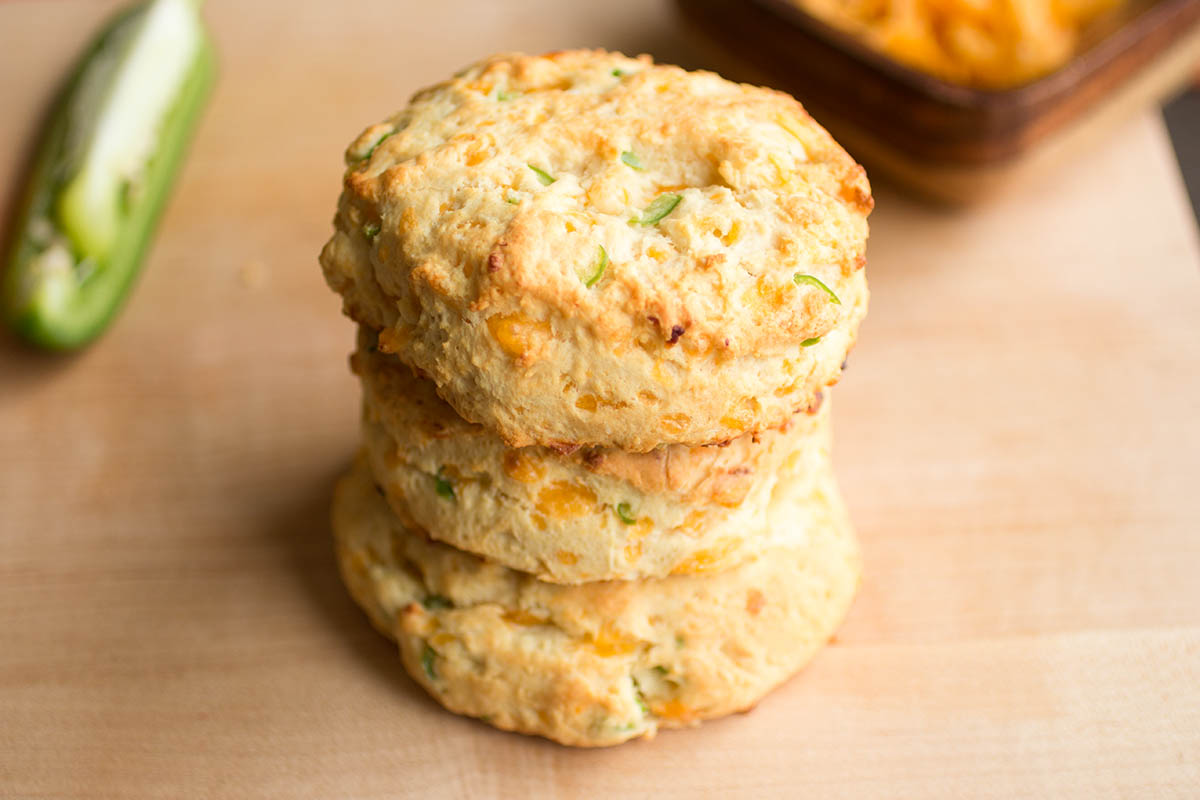 Second, I DID make small adjustments to those ratios and wound up with the measurements that work best for me. Other tips include using cold butter straight from the fridge, which will help form the best consistency for your dough. Also, use buttermilk. I've made these with milk and they turn out just fine, but something about buttermilk makes them that much better, and we want the best, right? Buttermilk allthe way. Lastly, use a good biscuit cutter. You don't have to, but the cutter helps keep the round shape better than hand forminig, and we eat with our eyes as well. You don't need a fancy cutter. An inexpensive one will do just fine! Like this one that I use - 3.5-Inch Round Stainless Steel Cutter
(Amazon affiliate link, FYI).
You can omit the cheddar, garlic and jalapeno peppers here and follow this as a bare bones homemade biscuit recipe. They're DANG good all by themselves with just a little butter. Nice and flaky. It's how I got started. But once you've perfected this awesome recipe, you'll be ready to begin your experimentation by adding all sorts of fun and interesting and tasty ingredients. Like jalapeno peppers and cheddar cheese, two ingredients that always go GREAT together.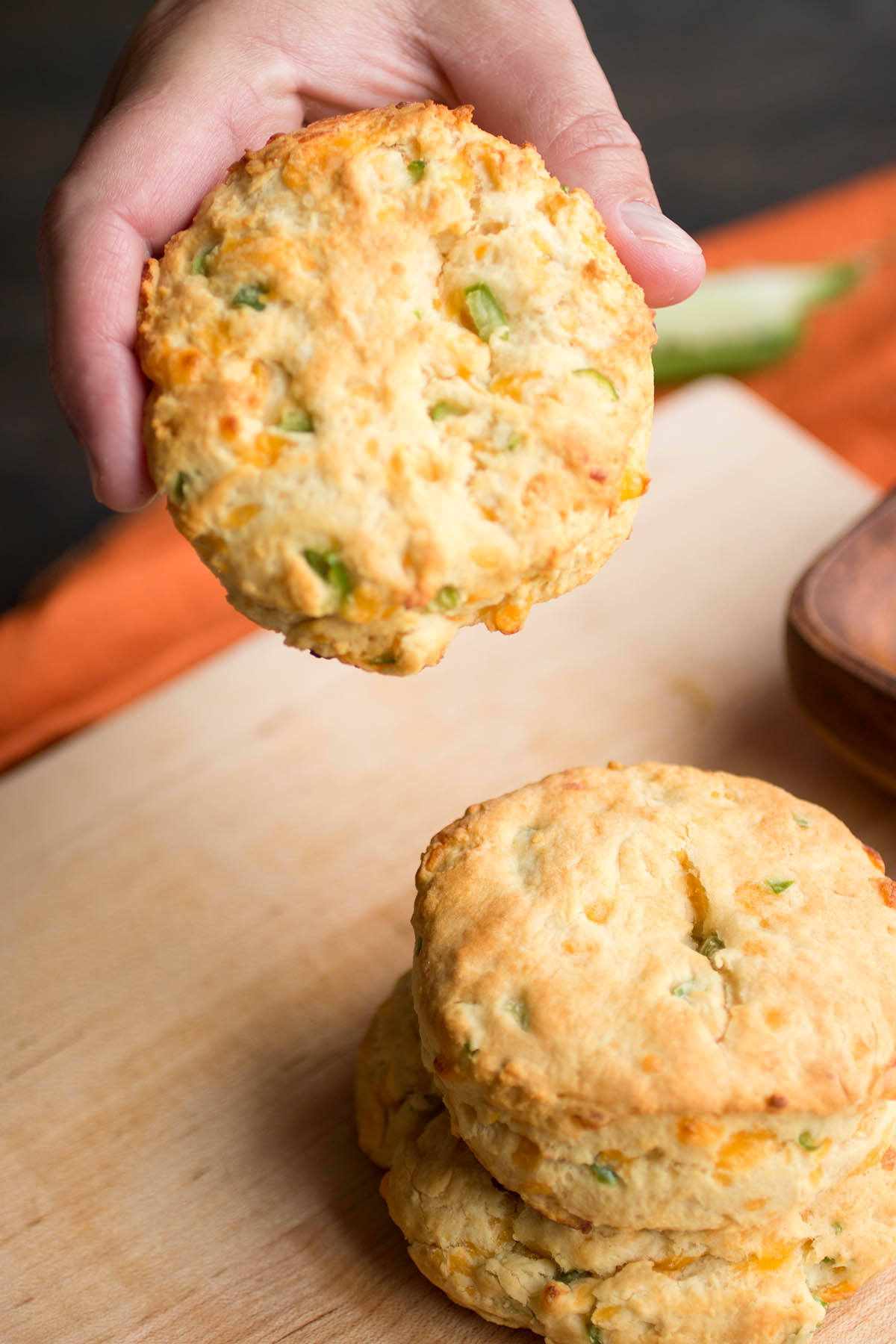 I can usually have these done in 15-20 minutes. I LOVE THAT! Super quick! Super easy! Super flaky! You can, of course, serve them up with a traditional breakfast, slap a bit of butter on them, call it a morning. Nothing wrong there! But biscuits are quite awesome and can be served in many different ways.
Make yourself a bacon, egg and cheese biscuit sandwich. How about drizzling them with bacon or sausage gravy? How about topping them with lightly poached eggs and letting the thick yolk drip down the sides? Serve them as a side for your world famous, award winning chili. Or, be like me and serve them as an alternative to traditional desserts. Who needs cake when you can have a biscuit drizzled with honey or agave nectar? Oh, biscuits, how I do love thee.
I hope you enjoy the homemade biscuits!
Try Some of My Other Popular Recipes
Got any questions? Ask away! I'm happy to help. If you enjoy this recipe, I hope you'll leave a comment with some STARS.Also, please share it on social media. Don't forget to tag us at #ChiliPepperMadness. I'll be sure to share! Thanks! — Mike H.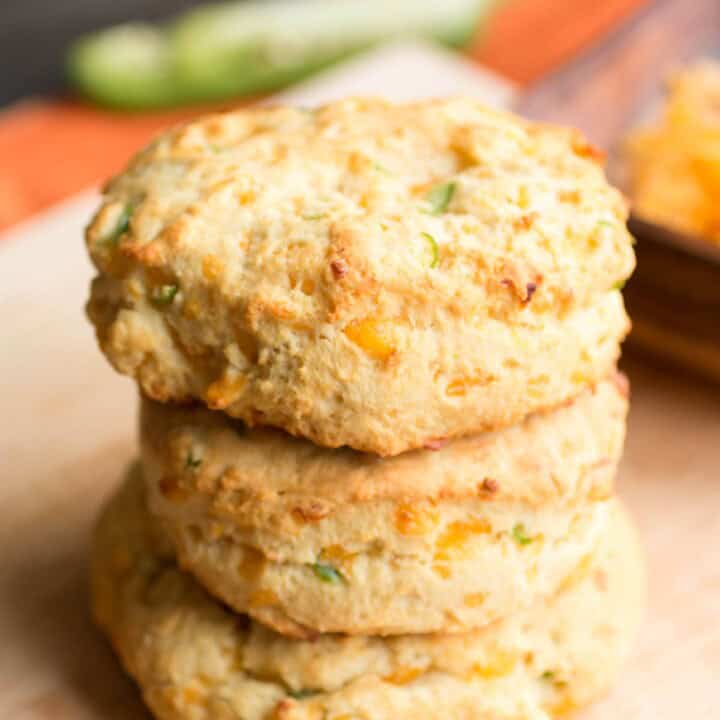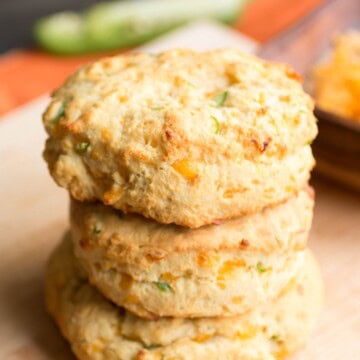 Print
Homemade Cheddar-Jalapeno Biscuits
This is my favorite recipe for homemade biscuits with cheddar cheese and jalapeno peppers, perfect for quick morning breakfast or brunch, for serving with chili, or even enjoying as a quick-to-make dessert.
Save Recipe
Saved!
Ingredients
2

cups

all-purpose flour

1

teaspoon

salt

3

teaspoons

baking powder

1

teaspoon

baking soda

6

tablespoons

cold butter

cubed

¾

cup

buttermilk

1

large jalapeno pepper

finely diced

1

teaspoon

garlic powder

1

cup

shredded cheddar cheese
Instructions
Heat oven to 450 degrees.

Add flour, salt, baking powder, baking soda to a mixing bowl. Mix well.

Add butter and hand mix until butter is thoroughly spread through. The mixture should be slightly grainy.

Add remaining ingredients and hand mix to form a dough. If it's too sticky, add another tablespoon of flour.

Press into ¾ inch thickness and cut into 2 inch rounds. A biscuit cutter is ideal here.

Bake for 7-9 minutes or until golden brown.
Nutrition Information
Calories:
175
kcal
Carbohydrates:
17
g
Protein:
5
g
Fat:
9
g
Saturated Fat:
5
g
Cholesterol:
26
mg
Sodium:
410
mg
Potassium:
155
mg
Vitamin A:
305
IU
Vitamin C:
1.4
mg
Calcium:
133
mg
Iron:
1.1
mg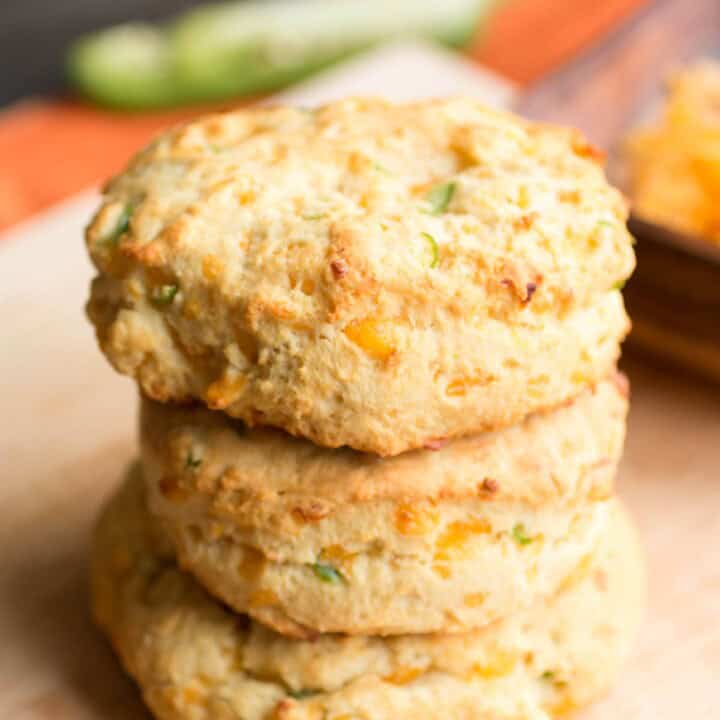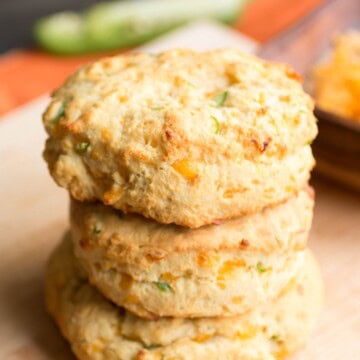 Did You Enjoy This Recipe?
I love hearing how you like it and how you made it your own. Leave a comment below and tag @ChiliPepperMadness on social media.