This braised chicken fajitas recipe is tender and juicy with seasoned chicken breasts lightly seared then slowly braised, which makes the chicken extra saucy.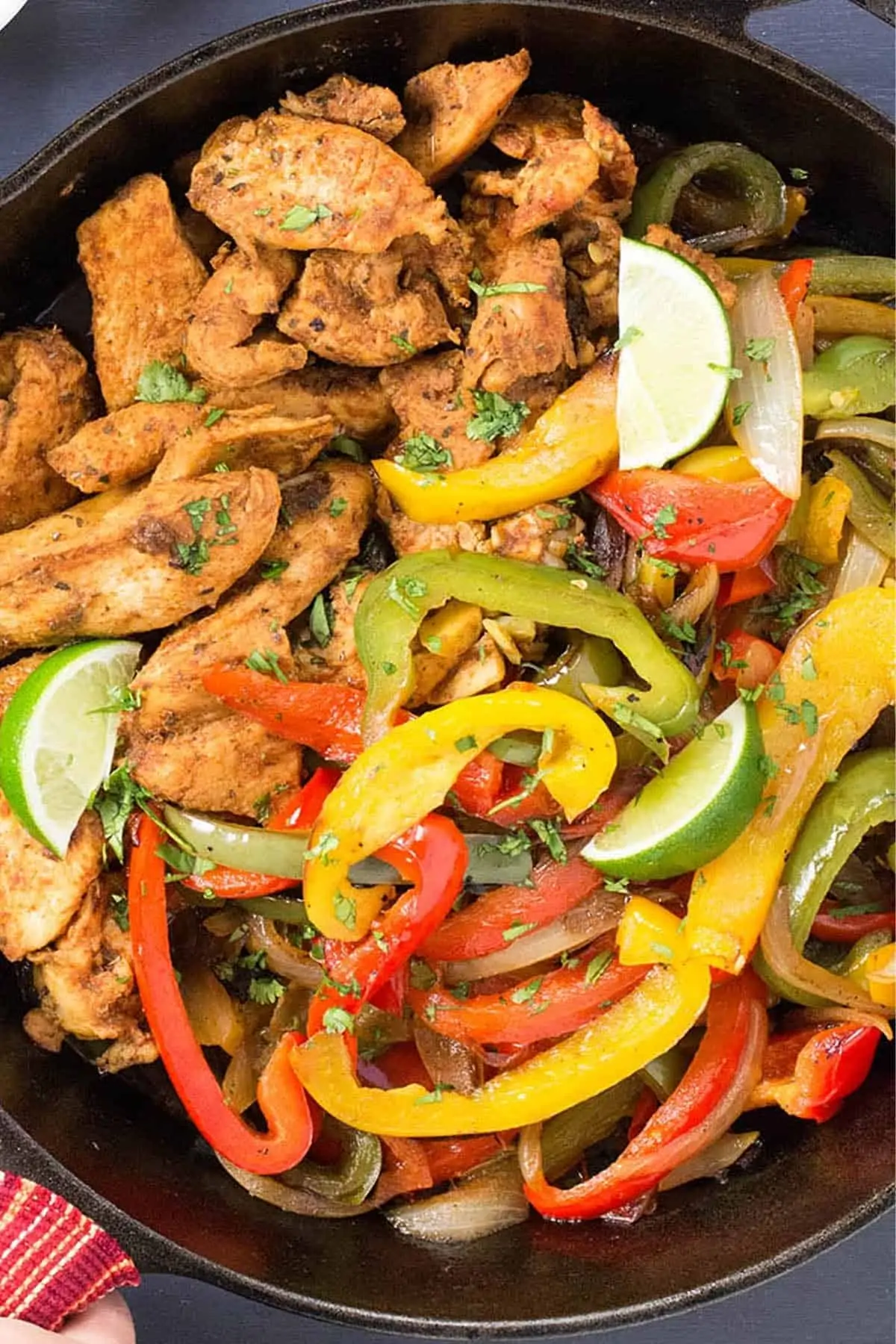 You know Cinco de Mayo is right around the corner here, and you also know we're crazy for this time of year in the Madness household. We enjoy our bold, zesty flavors, and it gives us an opportunity to highlight some of our favorite ingredients and seasonings with friends, party style.
So tonight we're making Tender, Juicy Braised Chicken Fajitas!
Chicken Fajitas are ideal for party situations of all kinds, for many reasons.
First, everyone loves them. Why wouldn't they? Fajitas are awesome! So tasty. We enjoy them all the time.
Second, a panful can easily serve a small crowd. Seriously, a couple pounds of chicken breast along with sautéed peppers will serve 6-8 easily, depending on how hungry you and your guests are.
Third, they go GREAT with beer braising. Fajitas are savory with just enough heat and spiciness, perfected when finished with a sip of beer. I should also mention they are leftover-friendly. If you have any left, keep them in a refrigerated container with a lid and enjoy them the next day.
Delicious!
However, if you'd prefer to cook without beer, you can easily use chicken broth or chicken stock and you'll get wonderful results as well. Excellent!
Let's talk about how we make juicy braised chicken fajitas, shall we?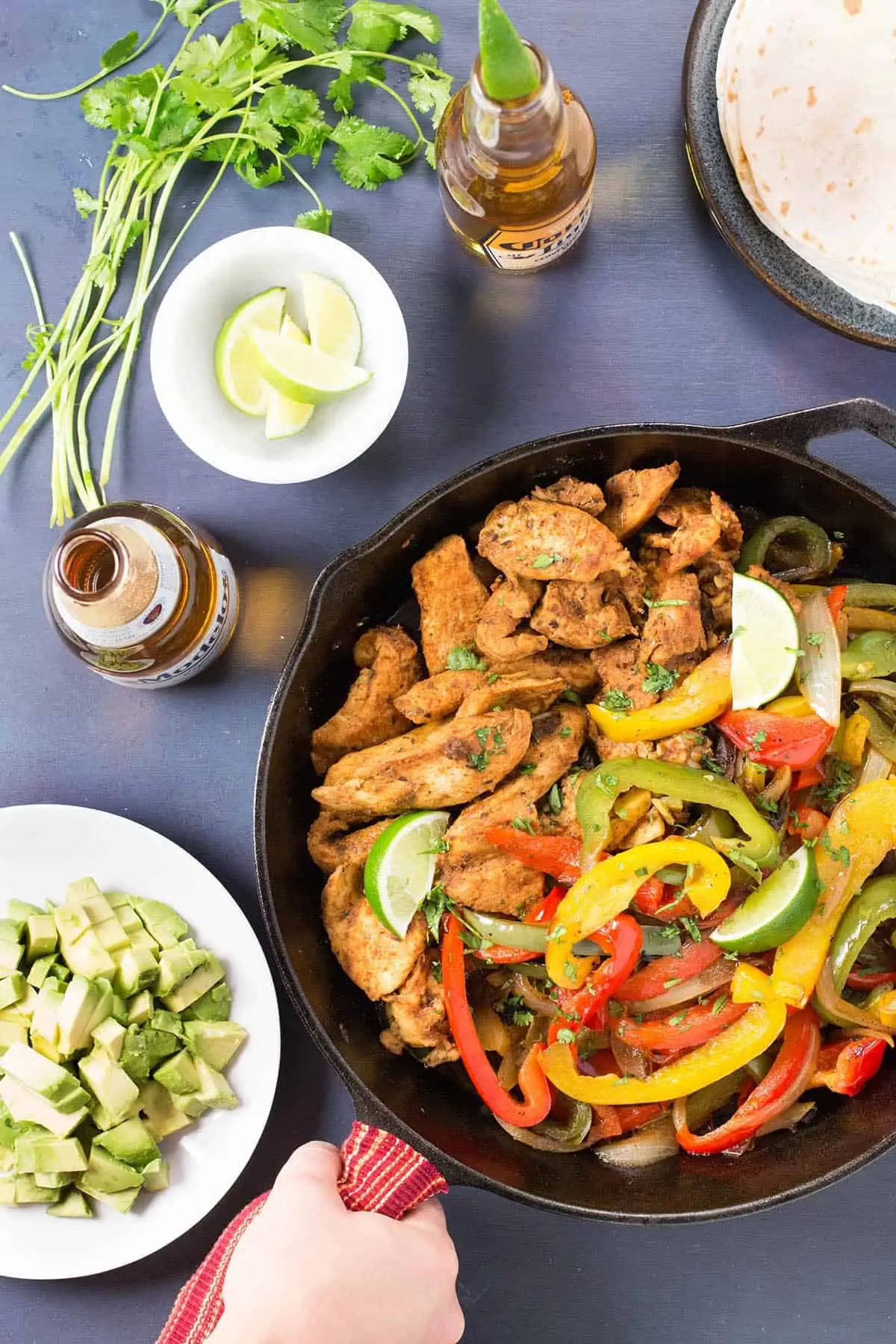 How to Make Braised Chicken Fajitas - The Recipe Method
The Vegetables. Cooking them up is a breeze. It all starts with your collection of gorgeous chili peppers – bell peppers and a couple jalapeno peppers in this case, along with onion and garlic.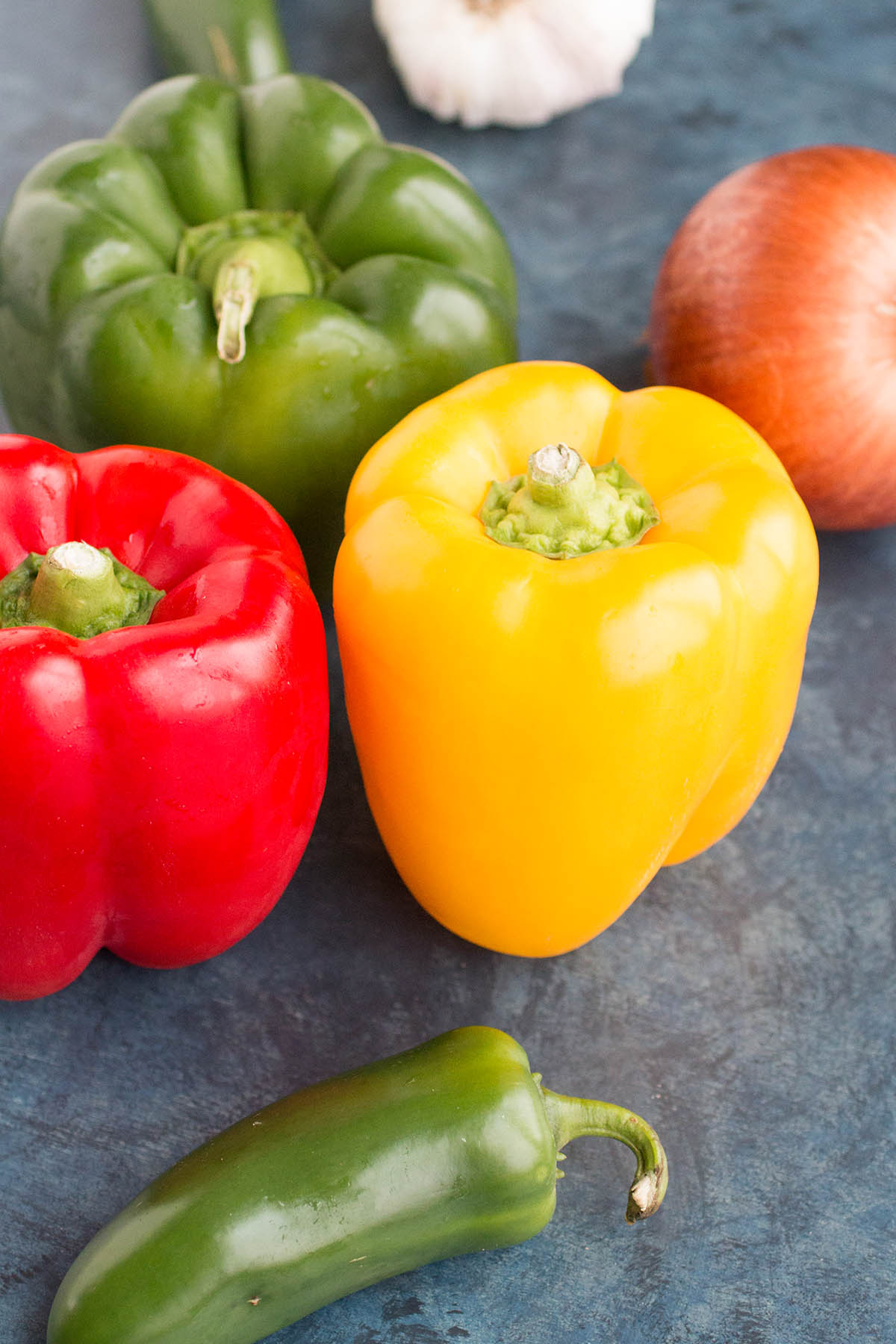 Use a collection of colorful bell peppers for visual enticement. Of course you can use green bells only, and you will enjoy the same level of great flavor, but if you're having a party, do yourself a favor and go with the colorful collection.
I added a couple jalapeno peppers because I personally enjoy a bit of extra heat, but you can omit them if you'd like, or hey, go with something spicier!
Chop up your peppers and onions.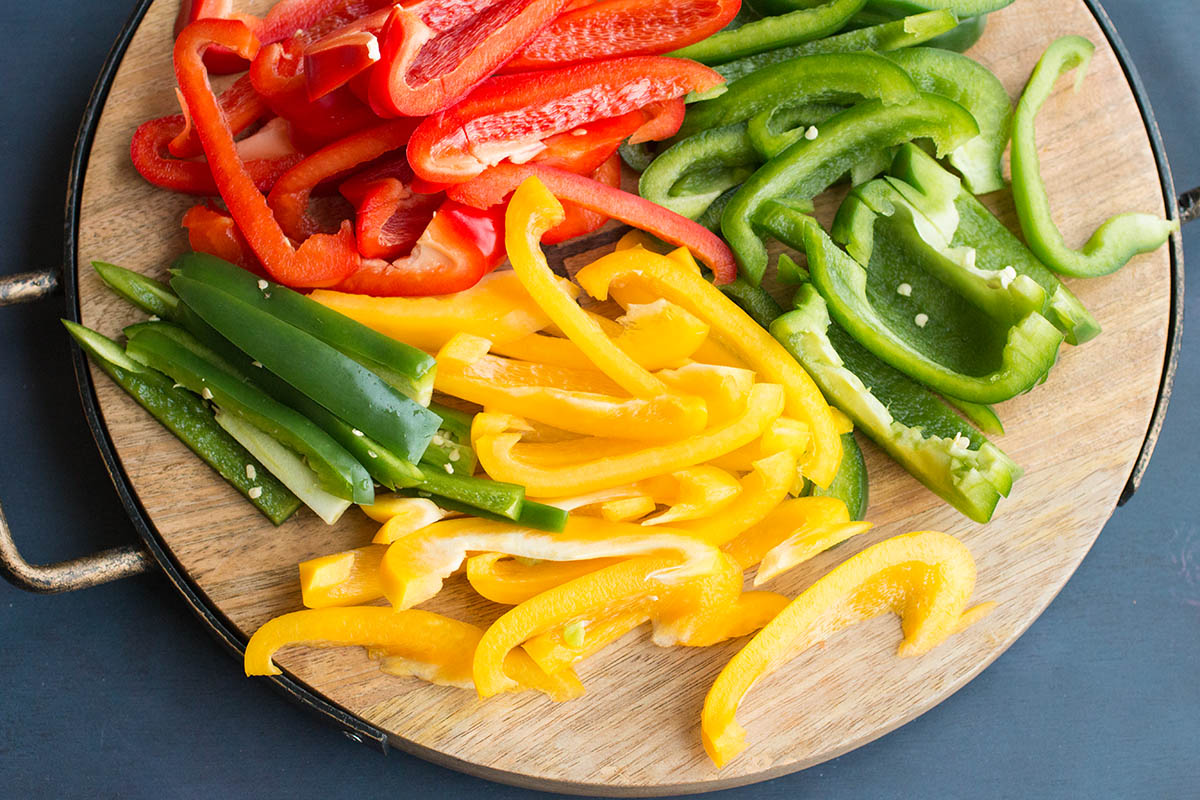 Don't they look gorgeous?
For the Braising. Next – and this is very important – crack open a beer. You will be cooking with it anyway, so you may as well enjoy one while you're at it. If you'd prefer to cook without beer, use chicken stock or chicken broth instead.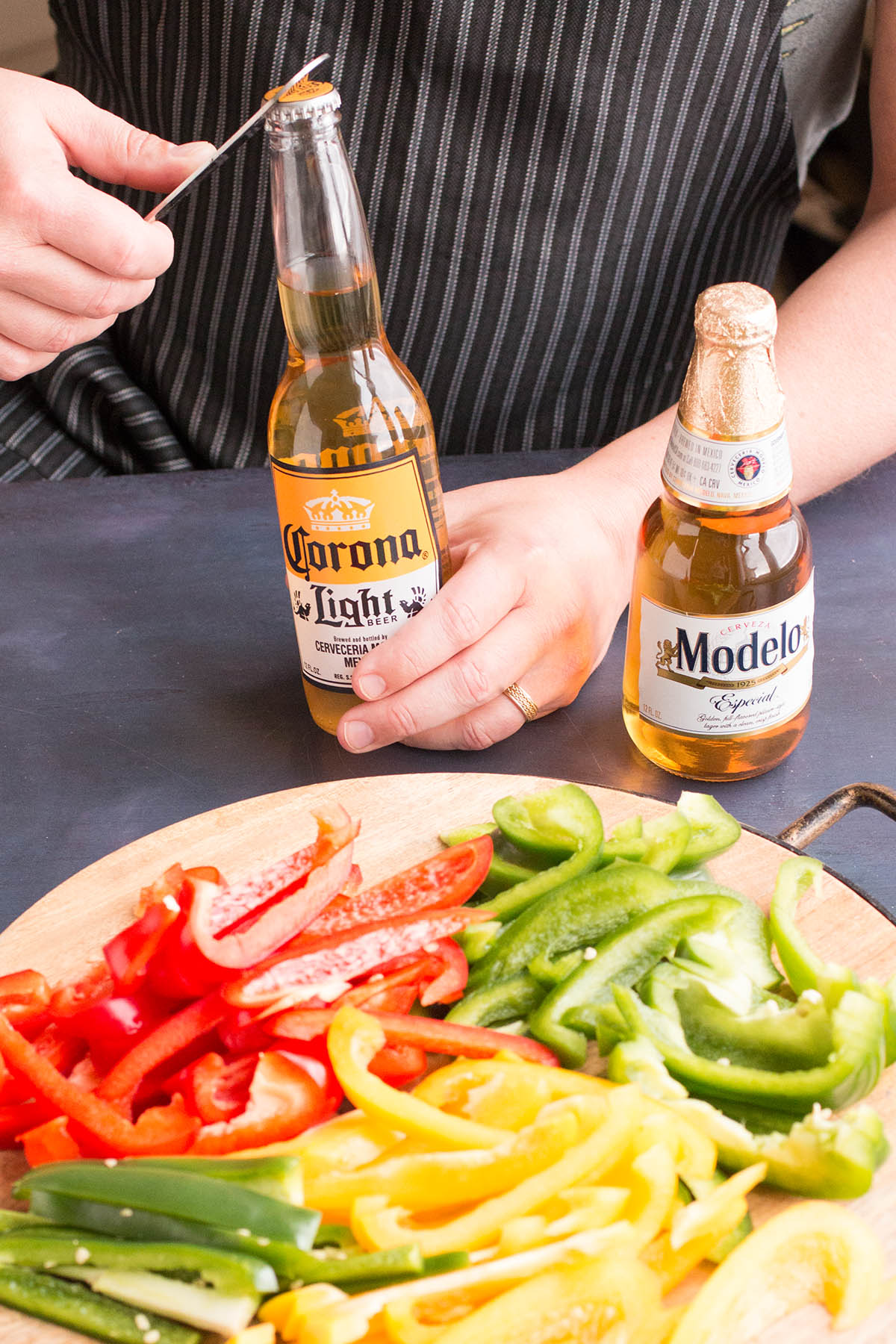 Cooking Up the Peppers and Onions
Now! Set all those bright, gorgeous peppers in a cast iron pan with the onions and a bit of olive oil and cook them down.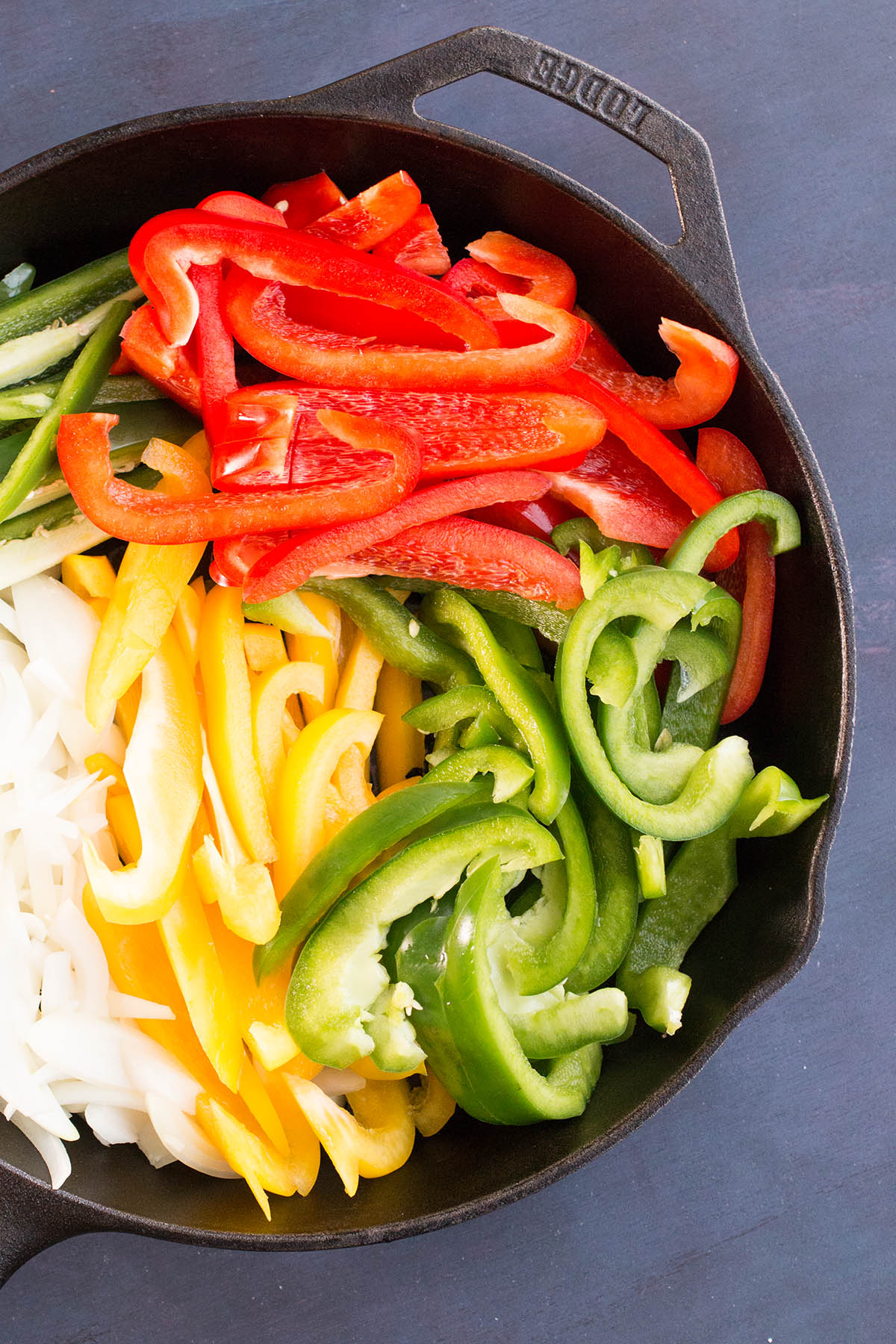 Since there are so many, it could take you 20 minutes or so, but keep an eye on them. You want them nicely softened, just starting to caramelize, but not too soft. They're best with a bit of snap factor. Add the garlic and cook another minute or so, stirring.
When they are ready, set them aside and cover them to keep them warmed.
A Proper Fajita Seasoning, a Sear, and a Final Beer Braise Makes the Best Fajitas
Let's talk about the chicken. Use chicken breast for this recipe that has been sliced into strips and seasoned liberally with your favorite fajita seasoning. You can purchase your choice from the store, but if you'd like to be adventurous, try our own homemade fajita seasoning recipe.
So much better when you make it at home!
Heat the pan back up and sear your seasoned sliced chicken breast in oil.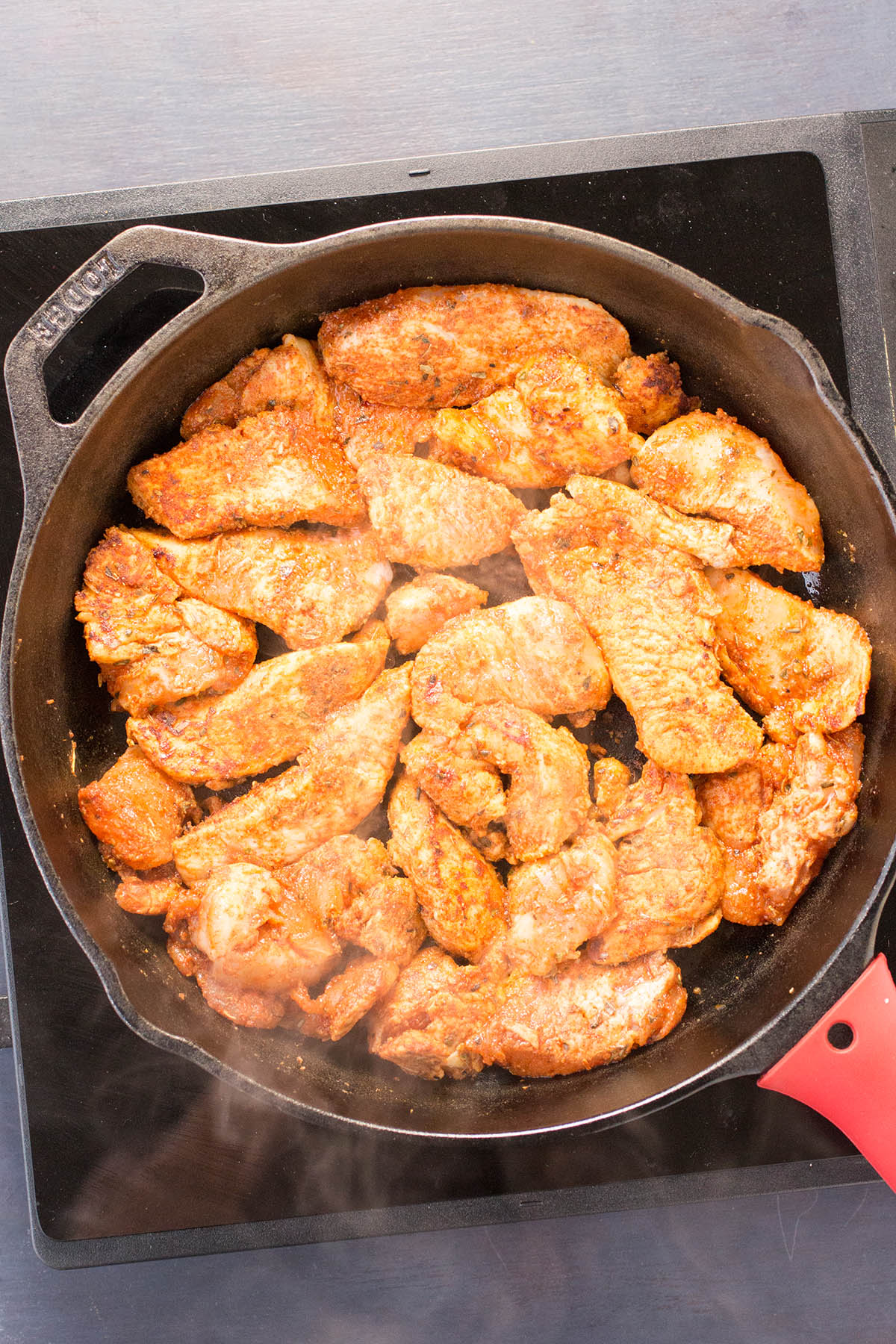 You only want to sear them about a minute per side, because the good part is coming up next. Beer!
The Benefits of a Braise
Pour the beer (or chicken stock) over the chicken breast and watch the steam rise. Mmmm. Reduce the heat and let it simmer a while. I only added 6 ounces of beer, but you can add more liquid if desired.
What is happening is the beer is now slowly finishing the cooking of the chicken, adding flavor, and also tenderizing the slices, so when you eat them, they will practically melt in your mouth.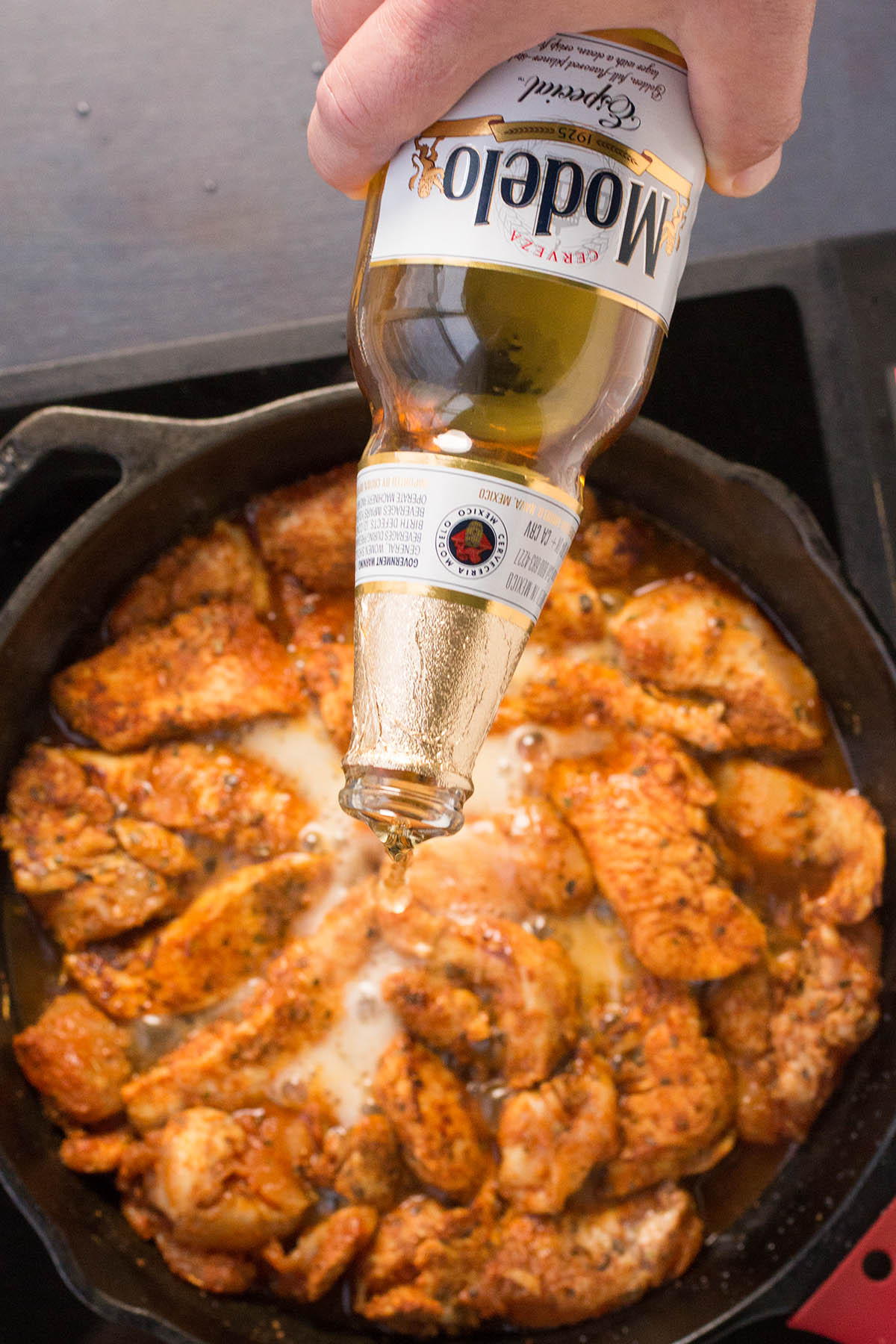 Also, as the beer reduces in the pan, you'll be left with a thick sauce at the bottom of the pan that is filled with your original fajita seasonings that you can spoon over the top of your fajitas as you serve them, adding yet another layer of flavor and moisture.
This is the best way to make fajitas, in my opinion. So crazy good!
Add the pepper and onion mixture back to the pan and heat them up. Toss it all together and you're just about done.
Serving Up Your Chicken Fajitas
When it's all ready, set up your fajita party station with your fajita mixture, warmed flour tortillas, and as many fixings as you'd like. We brought in fresh limes, diced avocado, fresh cilantro, Mexican crema. Cheddar cheese is great here, as is your own favorite hot sauce.
And beer, of course.
Allow your guests to serve themselves by assembling their own fajita as desired.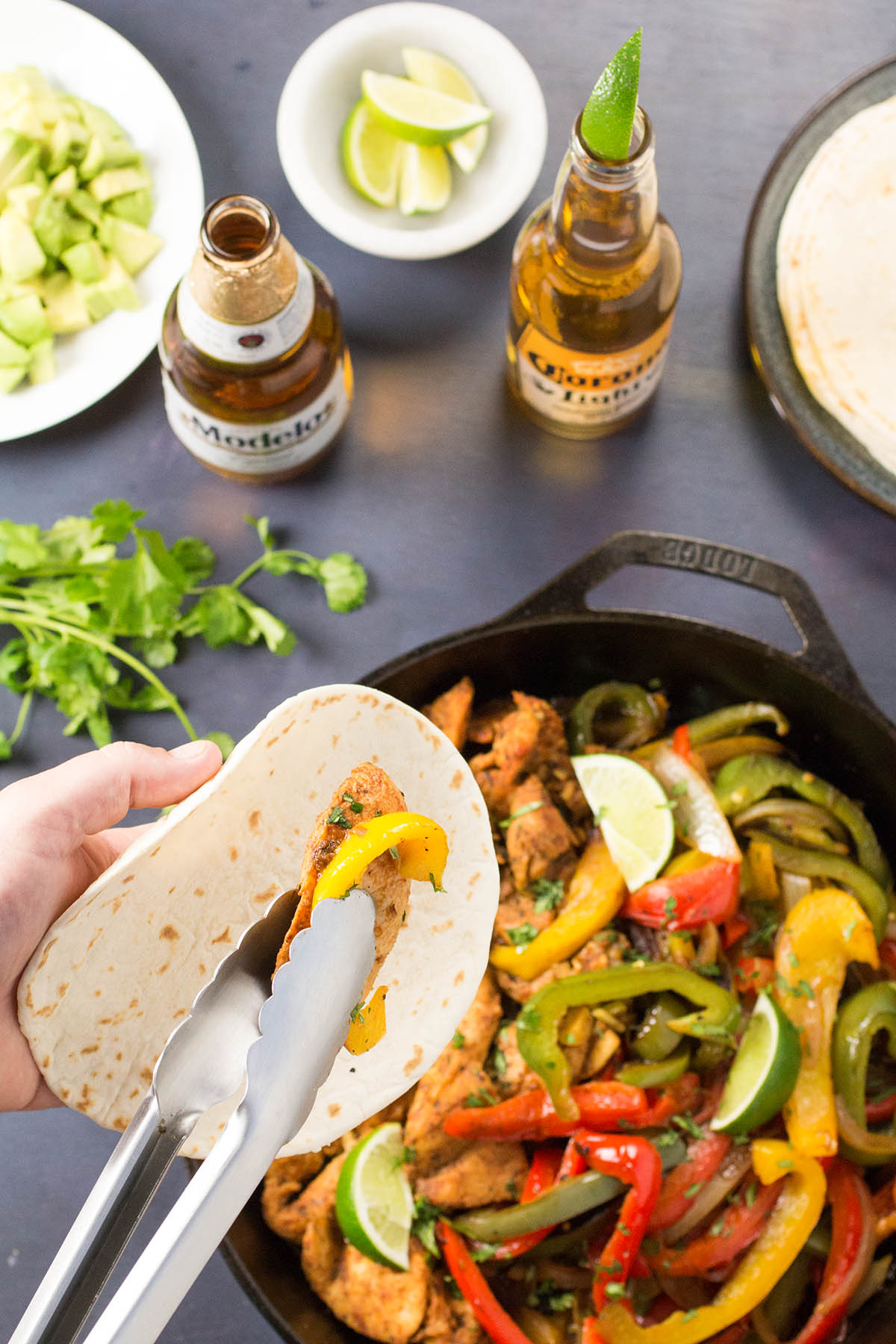 I hope you enjoy your fajita party, folks! Have fun!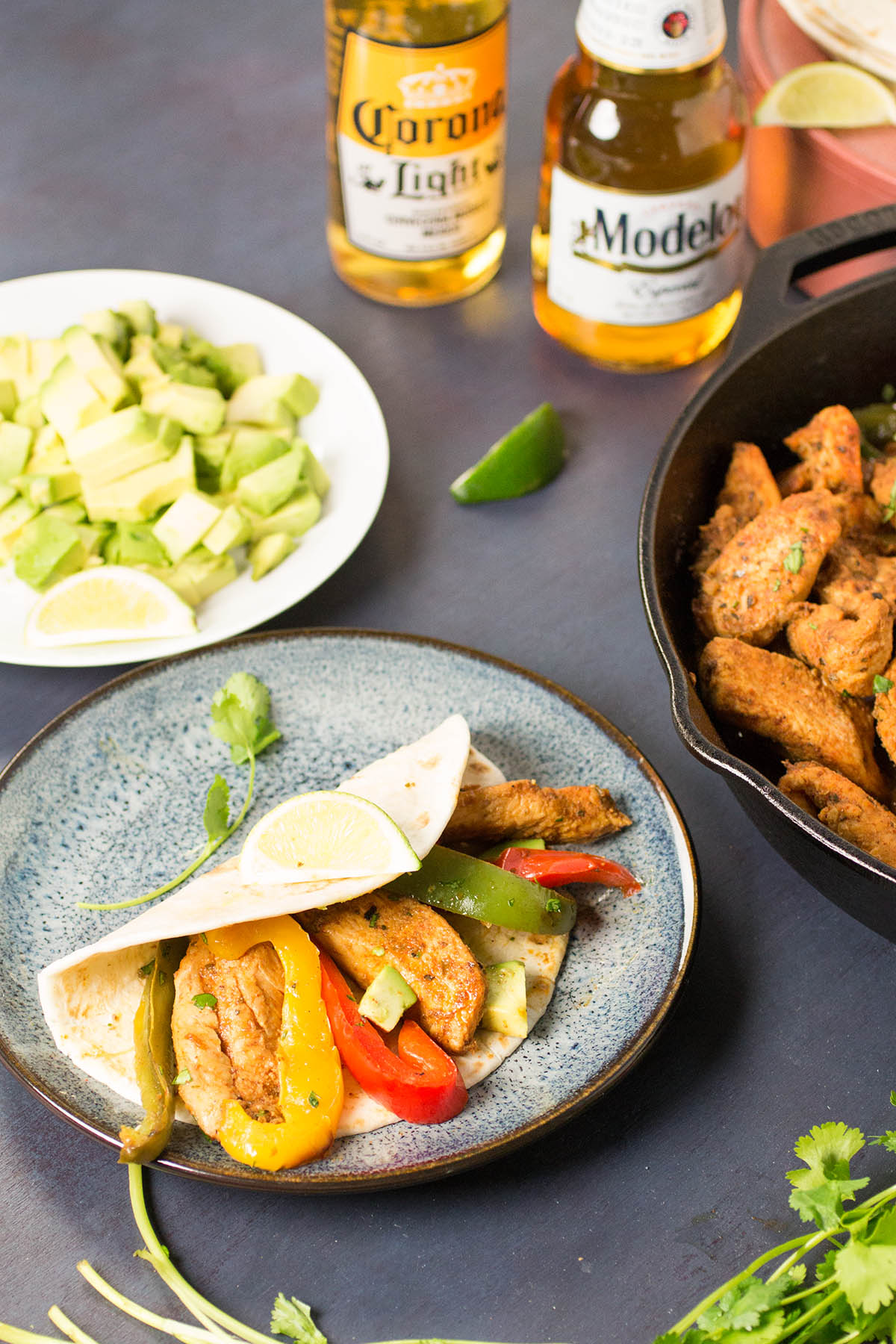 Patty's Perspective
When we go out for fajitas, we always try to customize them the way we prefer, but it is difficult. Making them at home allows us to make them exactly how we want, with lots of peppers. I absolutely love the beer braise. It turns out so tender and juicy every time. This is the way to make fajitas.
Try These Other Related Recipes
Try These Accompaniments for Your Fajitas
Got any questions? Ask away! I'm happy to help. If you enjoy this recipe, I hope you'll leave a comment with some STARS. Also, please share it on social media. Don't forget to tag us at #ChiliPepperMadness. I'll be sure to share! Thanks! — Mike H.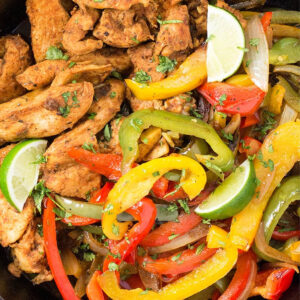 Print
Juicy Braised Chicken Fajitas Recipe
This braised chicken fajitas recipe is tender and juicy with seasoned chicken breasts lightly seared then slowly braised, which makes the chicken extra saucy.
Save Recipe
Saved!
Ingredients
2

pounds

chicken breast

4

tablespoons

olive oil

divided

6

tablespoons

Fajita Seasoning

3

multi-colored bell peppers

sliced into strips

2

jalapeno peppers

sliced into strips lengthwise

1

large white onion

sliced and small strips

6

ounces

Mexican style beer

I used Modelo Especial (Use Chicken Broth or Stock for a non-alcoholic option)
FOR SERVING
Warmed flour tortillas

Chopped cilantro

Diced avocado

Diced tomato

Fresh sliced limes

Shredded cheese and crema

if desired
Instructions
Slice the chicken breast into strips about a half inch thick and no longer than 3 inches in length. Set them into a mixing bowl. Toss the chicken with 2 tablespoons olive oil and the fajita seasonings. Be sure to get them nice and coated. Set them in the refrigerator for now.

Heat a cast iron pan to medium heat and add the remaining olive oil. Add the peppers and onion slices and cook them down, stirring often, about 20 minutes or so, until the mixture has softened and just begun to caramelize. Set them aside for now.

Heat the same pan back to medium heat. Add the seasoned chicken strips and cook them for 1 minute per side. You just want to give them a nice sear.

Add the beer and give it all a good stir. Reduce the heat and simmer about 20 minutes, or until the beer has reduced to a quarter of the original beer. There should be a thick, saucy moisture in the bottom of the pan.

Add the peppers and onion mixture back in and heat through. Squeeze fresh lime juice over the entire fajita mix.

Serve the fajitas on warmed flour tortillas and top with avocado, cilantro, and all of your other favorite toppings.
Nutrition Information
Calories:
250
kcal
Carbohydrates:
12
g
Protein:
25
g
Fat:
10
g
Saturated Fat:
1
g
Cholesterol:
72
mg
Sodium:
137
mg
Potassium:
687
mg
Fiber:
5
g
Sugar:
3
g
Vitamin A:
1660
IU
Vitamin C:
63.8
mg
Calcium:
189
mg
Iron:
4.8
mg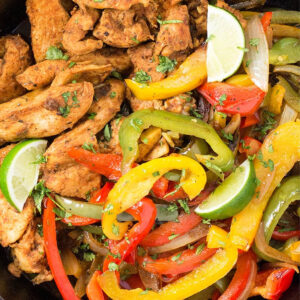 Did You Enjoy This Recipe?
I love hearing how you like it and how you made it your own. Leave a comment below and tag @ChiliPepperMadness on social media.
NOTE: This recipe was updated on 5/24/21 to include new information. It was originally published on 4/24/17.