Every night is steak fajita night with this recipe for perfectly grilled tri-tip steak rubbed down with homemade fajita seasoning, served with warmed flour tortillas, guacamole and plenty of grilled peppers.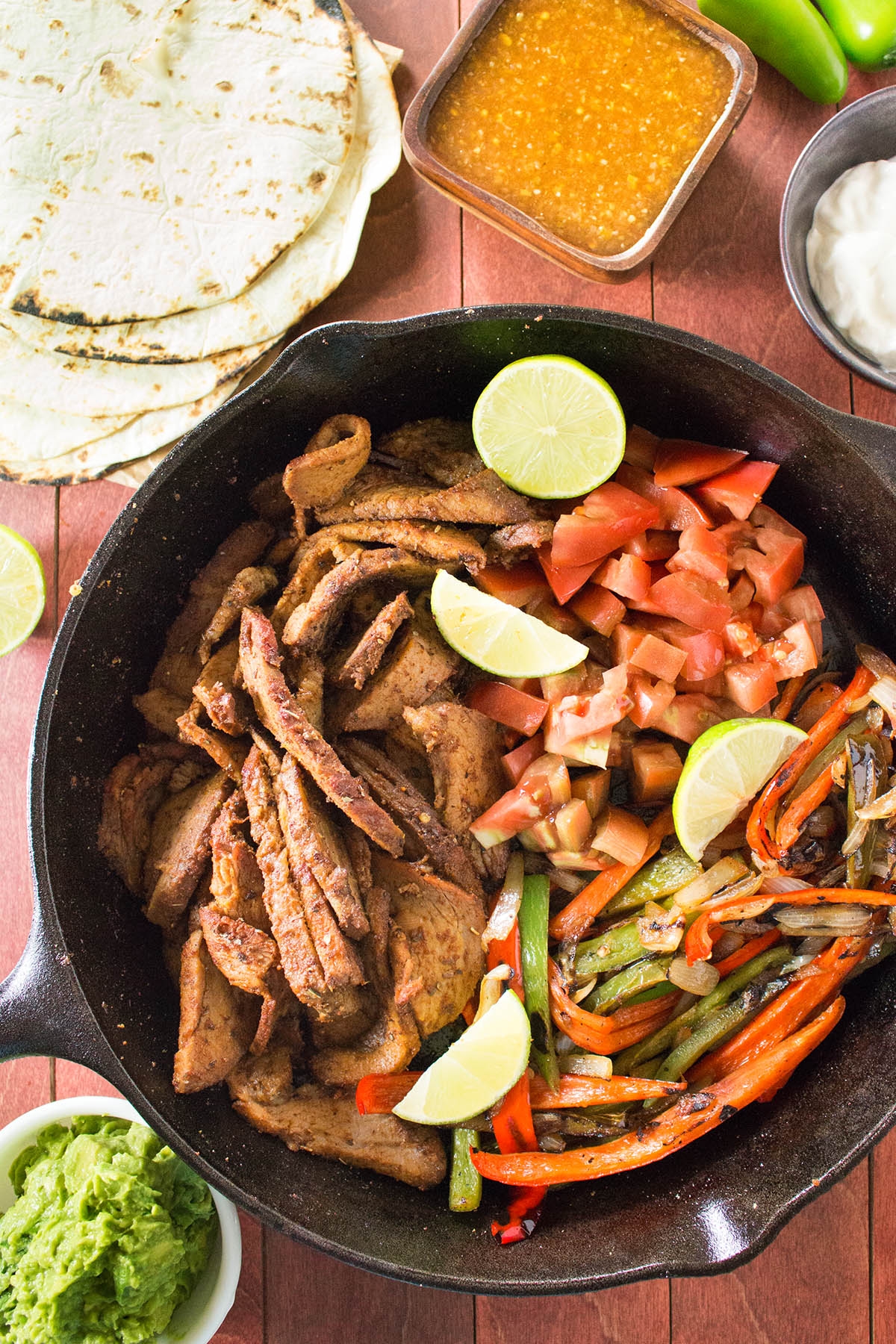 Calling all steak fajita fans! It's dinner time. If you love steak fajitas, this recipe is for you. You'll never want to go to the restaurant for fajitas again.
We're cooking up our fajitas in the traditional style, but we're changing up a few things.
First, we're not using skirt steak. I KNOW what you're going to say. "But Mike, skirt steak is the absolute KING of the steak fajita world." You're right!
Skirt steak fajitas are dang delicious, but you may never go back once you try them with tri-tip. Tri-tip? Oh yeah!
Tri-tip is an inexpensive cut of beef cut from the bottom sirloin, from the muscle group that controls the steer's back legs. It's an ideal cut for it's flavor and juiciness, and it holds up well to our fajita seasoning mix.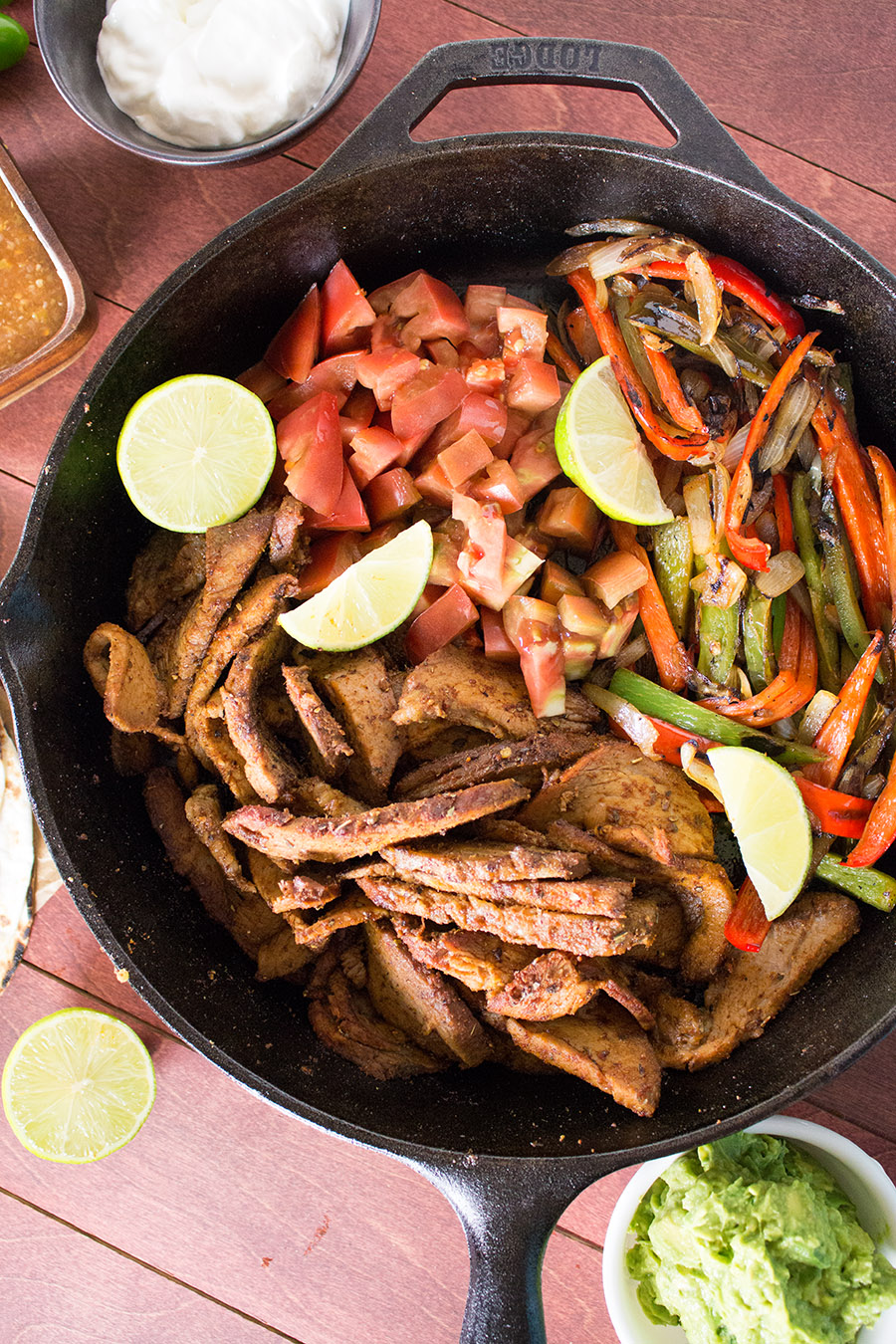 Second, we're using our own Homemade Fajita Seasoning Recipe Mix Recipe so we're sure to get a flavor we prefer. Of course you can use your own preferred store bought brand, but give this one a try.
It's just the right balance of ingredients. I need to keep this around the house all the time now.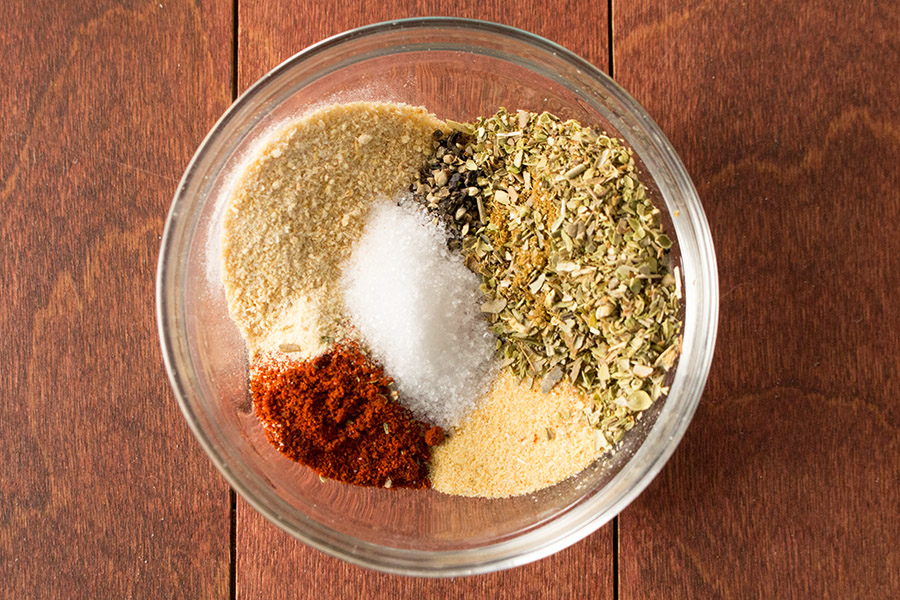 Third, we're serving them up with a mixture of spicy chili peppers seared in a cast iron pan right on the grill.
Traditional fajitas are served with grilled bell peppers, and again, you can sure serve them up this way if you prefer, but we're loving the extra kick that comes with the spicier peppers.
I personally used a mix of jalapeno peppers, Crimson reds and a red habanero tossed into the mix.
Let's talk about how to make grilled tri-tip steak fajitas!
How to Make Tri-Tip Steak Fajitas
First, rub down the steak with a generous portion of fajita seasoning mix.
Next, sear it on the hot grill a few minutes per side. Move it over to the cooler side and let it cook another 15-20 minutes until the internal temp reaches 135 degrees F. This is a very important step. It allows the steak to cook through properly and come to your preferred temp.
Now, let the cooked steak rest then slice the steak against the grain. SO FREAKING GOOD! If you haven't yet tried tri-tip, try it this way first.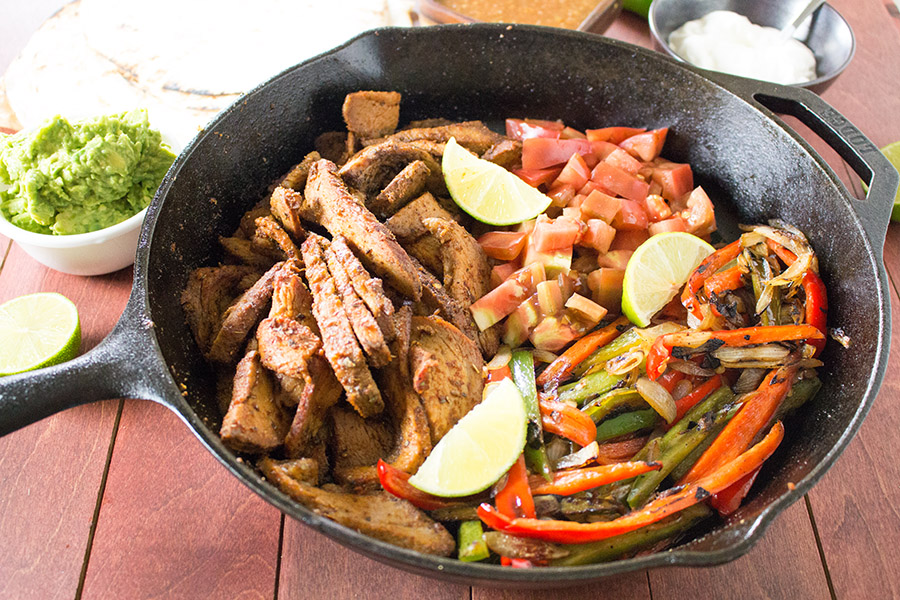 While the tri-tip is resting, the next step is cooking the peppers and onions. They bring a wonderful sweetness to your fajitas.
Grill them over the same grate as the steak, or in the same pan if you're using a skillet. Dash them with a bit of salt when they're just about done.
Serve it all up with warmed tortillas and all of your favorite fixings. I've included a few links to some of OUR favorite toppings below.
I hope you'll try them all. Enjoy fajita night!
Recipe Tips & Notes
Cooking the Steak
Let's talk a bit about cooking tri-tip. A typical tri-tip steak is about 2 pounds and because of its triangular shape, it often cooks a bit unevenly.
This is NOT a problem.
Purists say to cook them only to medium-rare, but they are delicious cooked to medium and retain much of their characteristic juiciness.
Steak Fajita Marinade
If you'd like to marinade your steak first before grilling, use a mixture of lime juice mixed with freshly chopped garlic and cilantro, spicy chili flakes or chili powder, a touch of cumin and a touch of honey for sweetness.
Or try my fajita marinade recipe. So good!
Marinate the steak for 4 hours for the most flavor, however, you can easily get flavor with a quick 10 minute marinade.
This particular recipe doesn't call for a marinade. Instead, I've used the fajita seasonings to layer in the flavor. I love the way it turns out. Marinating is optional.
What's the Best Steak for Steak Fajitas?
Most steak fajitas are made with marinate skirt steak or flank steak. They're grilled thin and sliced, then served on tortillas.
However, I personally love tri-tip, as it has a similar texture with outstanding flavor.
Leftover Tri-Tip
You can make this recipe with leftover tri-tip steak or other cuts of steak. I do this all the time.
Simply rub down the leftover meat lightly with fajita seasoning, then quickly grill or sear in a hot pan to heat them up, then proceed to grilling your peppers.
Patty's Perspective
I need this WAY more often! Fajitas are always the same in restaurants. When you make them at home, you can make them how YOU want, with your own flavors and your own heat level. These are the best.
Try Some of My Other Popular Beef Recipes
Try Some of My Other Popular Recipes
If you enjoy this recipe, I hope you'll leave a comment with some STARS. Also, please share it on social media. Don't forget to tag us at #ChiliPepperMadness. I'll be sure to share! Thanks! -- Mike H.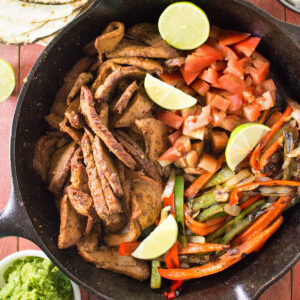 Print
Grilled Tri-Tip Steak Fajitas Recipe
Every night is steak fajita night with this recipe for perfectly grilled tri-tip steak seasoned with homemade fajita seasoning, and lots of peppers!
Save Recipe
Saved!
Ingredients
1

2-pound

Tri-Tip steak

½

cup

Fajita Seasoning

– Use our Homemade Fajita Seasoning Recipe Mix

2-3

tablespoons

olive oil

4-6

red and green peppers

sliced – Bells are traditional, but I used an equivalent mixture of jalapenos and spicy red peppers

1

large onion

sliced

Fresh sliced tomatoes for serving

16

flour tortillas

warmed

Guacamole for serving

Picante sauce for serving

- Try my Picante Sauce Recipe

Other toppings as desired, such as shredded cheese, sour cream, hot sauce…
Instructions
Heat the grill to medium-high heat.

Rub the tri-tip steak down with the fajita seasonings. Sear it on each side on the grill, about 5 minutes per side.

Close the lid and adjust the heat to 350 degrees. Cook the tri-tip steak about 15 minutes, then flip and grill an additional 15-20 minutes, or until the internal temp reads 135 for medium-rare.

Remove from heat and allow to rest 10 minutes.

While steak is resting, set a cast iron pan onto the grill and heat. Add olive oil.

Add peppers and onions and sear them up until softened yet still slightly crisp. Remove from heat.

Slice the tri-tip steak against the grain and set into the hot pan. You can toss the steak with additional fajita seasonings if you'd like and give the slices some extra sear, as desired.

Serve with warmed tortillas tomatoes and your fixings.

ASSEMBLY: Stack a tortilla with a few strips of tri-tip steak, then with peppers and onions, then top with sauce, guacamole, and whatever else you'd like. Enjoy!
Nutrition Information
Calories:
268
kcal
Carbohydrates:
44
g
Protein:
6
g
Fat:
8
g
Saturated Fat:
1
g
Sodium:
417
mg
Potassium:
402
mg
Fiber:
8
g
Sugar:
5
g
Vitamin A:
470
IU
Vitamin C:
49.2
mg
Calcium:
309
mg
Iron:
7.7
mg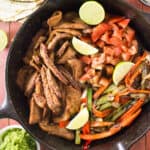 Did You Enjoy This Recipe?
I love hearing how you like it and how you made it your own. Leave a comment below and tag @ChiliPepperMadness on social media.
Steak fajitas are gluten free with corn tortillas, low carb and paleo friendly.