A quick and easy (and healthy) baked chicken recipe prepared with sliced peppers, potatoes and finished with tangy, mustardy South Carolina barbecue sauce. It's an easy mid-week meal with just the right amount of spice.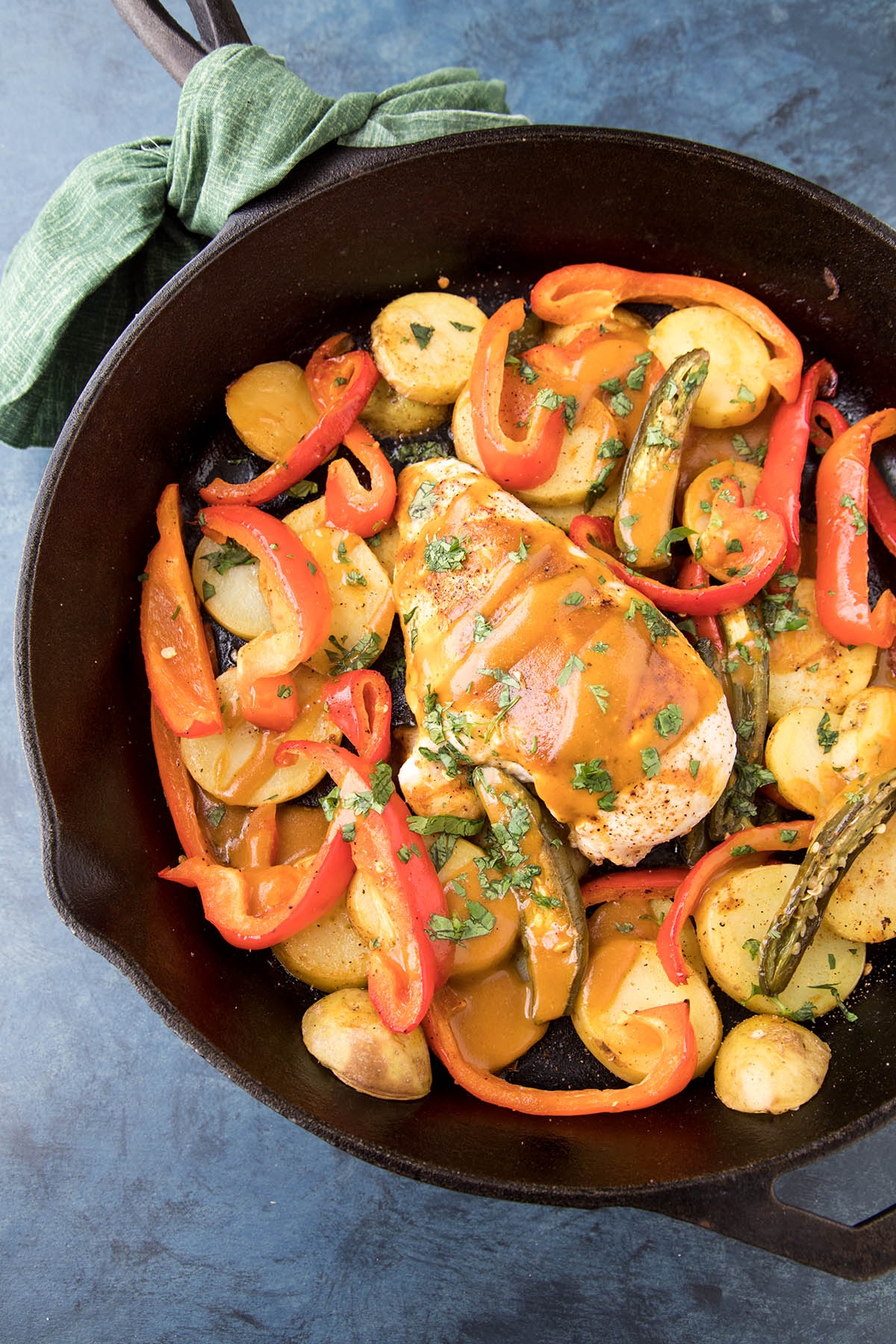 Easy recipe alert! I'm filing this one under "Quick and Easy Recipes" because you'll have this one ready in 30 minutes or less, probably less because it took me about 30 minutes to prepare, and I am slow!
Seriously, I have no idea why I am such a slow cook. Maybe it's because I love spending time in the kitchen and I'm never really in a big hurry there.
Or maybe I'm just getting old. Who knows? One thing I DO know is that I'd never survive on a television show like "Chopped" where there is a timer involved.
One look at that timer and I'd be toast. Fuggedaboutit.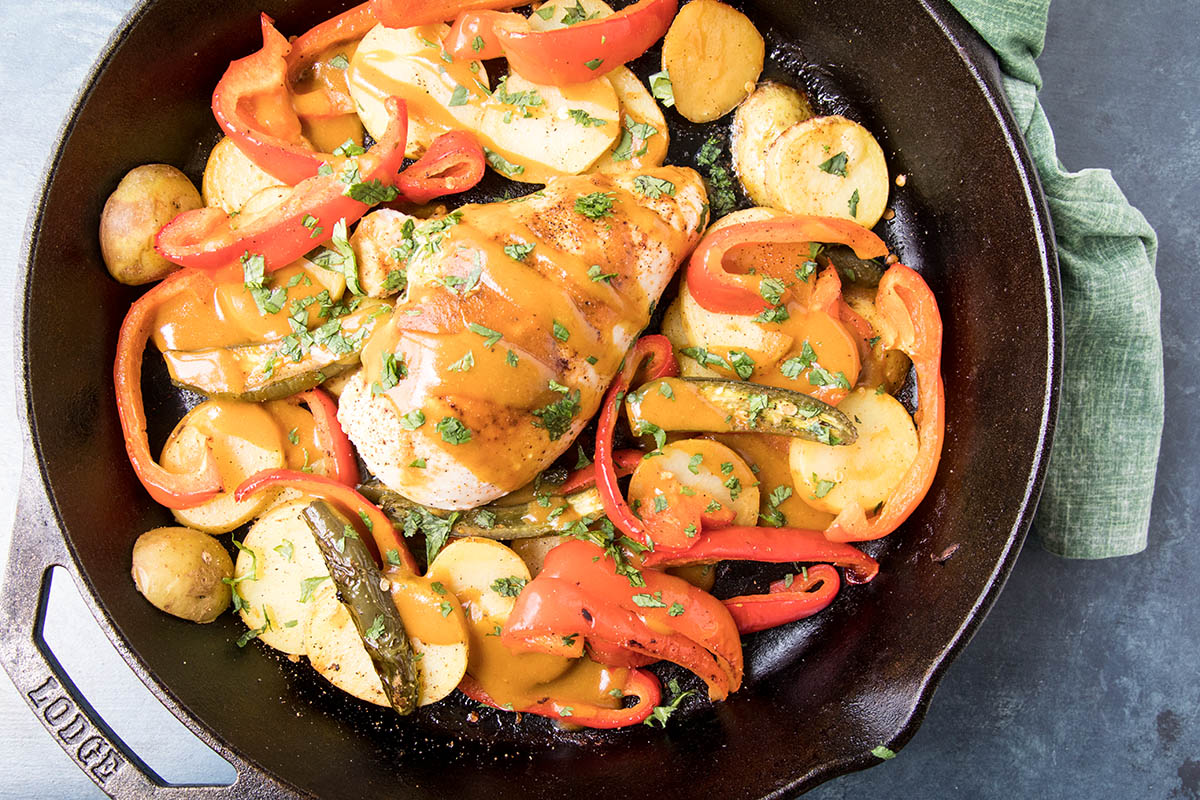 I've been kicking my workouts up into a higher gear lately, nothing too crazy, but meals like these are helpful in keeping the calorie count down. The focus is on chicken and vegetables, and in most households, the combination of Chicken + Vegetables = BORING.
Not here!
I don't like to cook boring food. No matter what I'm cooking, I desperately need flavor and spice, and this recipe certainly delivers.
And, bonus! It delivers it fast!
As I said, you'll have it done in 30 minutes or less and you'll be good to go for all your future workouts, or hey, for anytime you need a quick and satisfying meal. For me, this is a perfect weeknight dinner for when you are pressed for time.
Who doesn't like a quick and easy meal?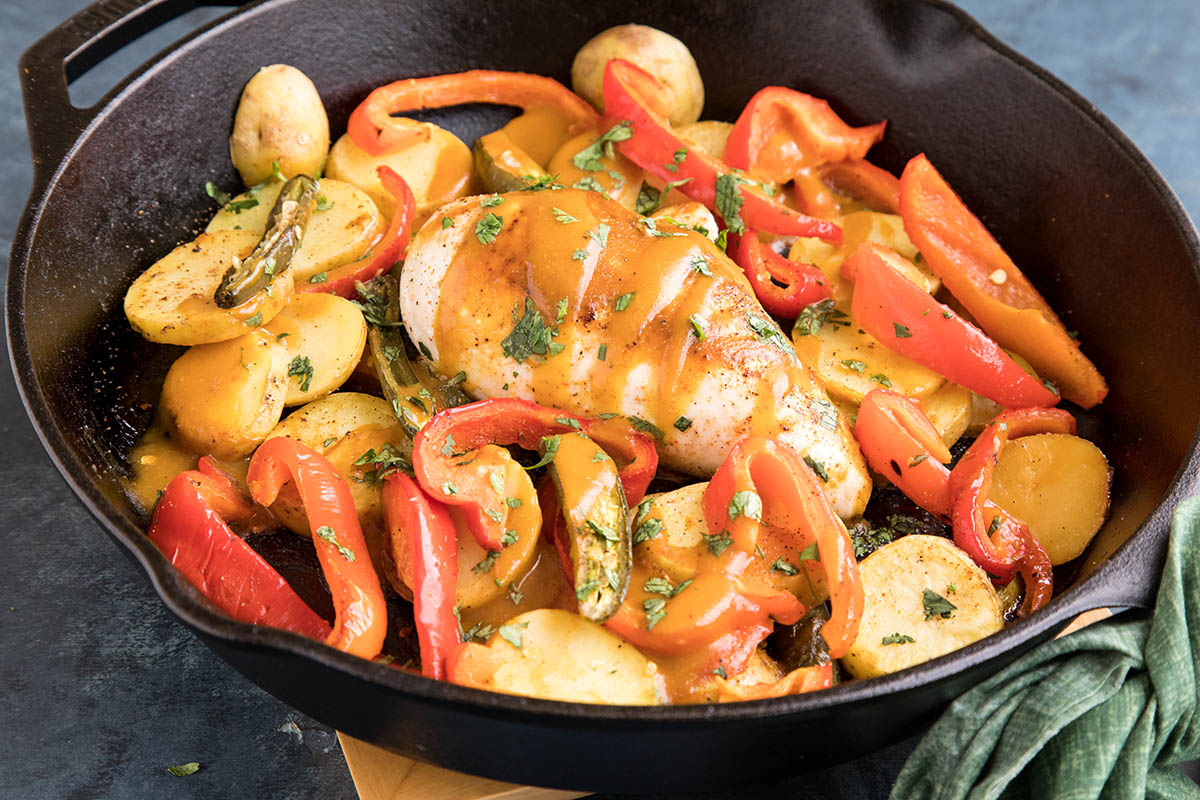 The ingredients are simple enough. We have a large chicken breast, bell and serrano peppers, small yellow potatoes, a Cajun seasoning blend, a bit of vinegar, and one of my favorite sauces, South Carolina BBQ Sauce.
Yes!
This stuff is the best, and it's SUPER EASY to whip together. It is a mustard based sauce, not heavy at all, with an excellent level of tanginess that will make your chicken POP with flavor.
I like to make a large batch of this ahead to keep in the fridge for the month so I can use it anytime I want. Making quick and easy recipes is a breeze when you have sauces like these on hand. Go ahead, put together a quick sauce and let's get cooking.
Making the Recipe
For the recipe, you'll simply sear your seasoned chicken breast with oil (or spray oil) in a hot pan with your peppers and sliced potatoes until they are nicely browned, then splash in your vinegar for flavor.
Let this reduce a bit, then squeeze on some of the South Carolina Mustard BBQ Sauce.
Set the pan into the oven to finish it off. It bakes up quickly. Top the whole thing with extra sauce and some fresh herbs, if you're in the mood for them, and you're good to go.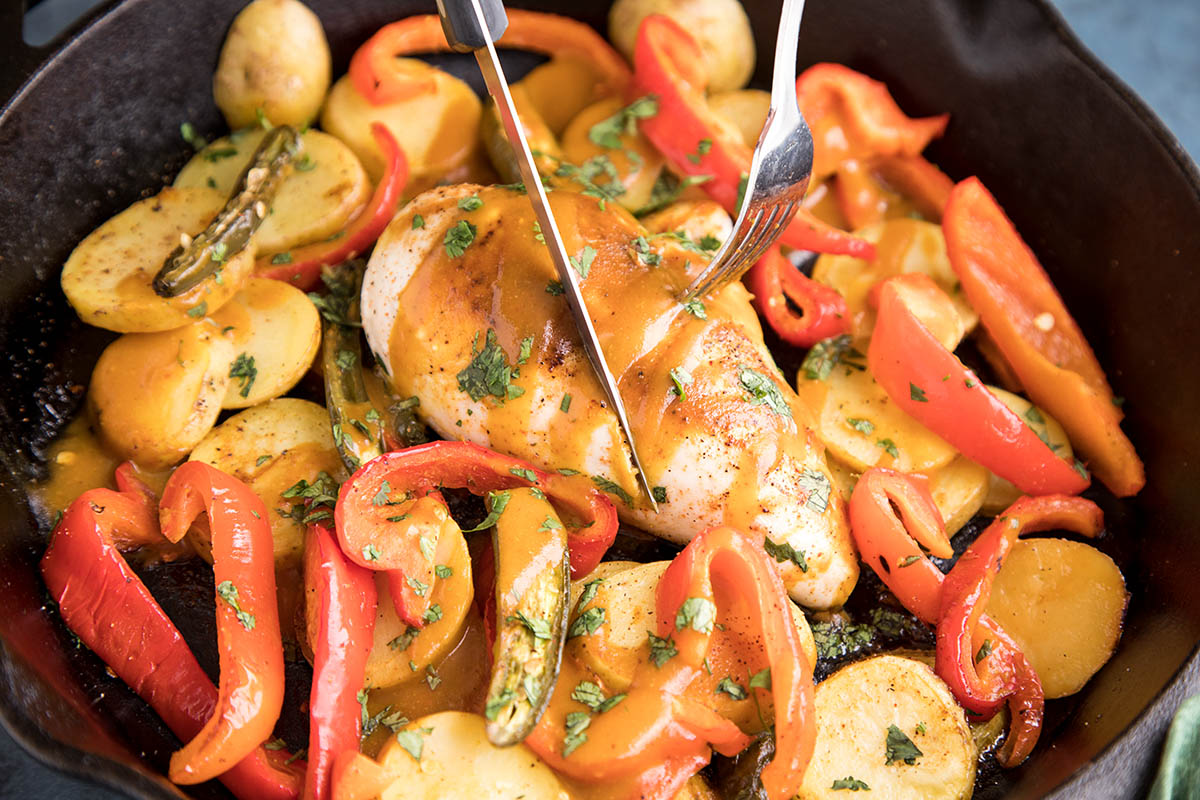 That's it, my friends! Go get cooking! Chicken will never be boring again. Let me know how it turns out for you. I hope you enjoy it.
-- Mike H.
Try this with my BBQ Chicken Marinade recipe, too.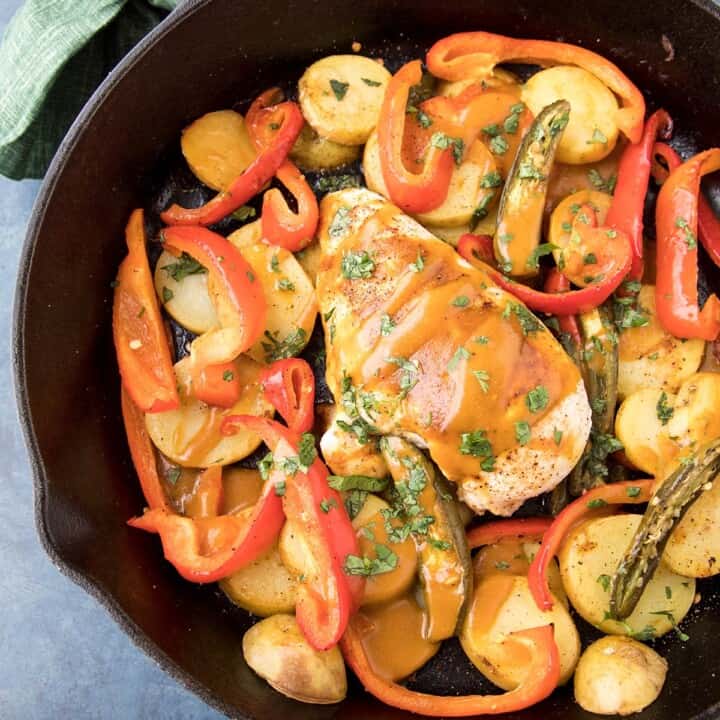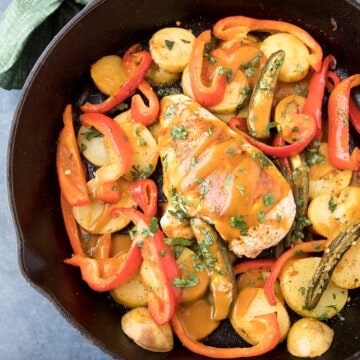 Print
One-Pan Baked Chicken and Peppers with South Carolina BBQ Sauce
A quick and easy (and healthy) baked chicken recipe prepared with sliced peppers, potatoes and finished with tangy, mustardy South Carolina barbecue sauce. It's an easy mid-week meal with just the right amount of spice.
Save Recipe
Saved!
Ingredients
1

tablespoon

olive oil

or use spray oil

1 10-12

ounce

chicken breast

or 2 smaller breasts

Cajun seasoning blend – 2 tablespoons or more

to your preference

1

red bell pepper

sliced

3

serrano peppers

sliced in half lengthwise

2-3

small yellow potatoes

sliced

Splash of white wine vinegar

South Carolina Mustard BBQ Sauce – Best to make this ahead!

Chopped cilantro for serving
Instructions
Heat the oven to 375 degrees F.

Heat the olive oil in a large cast iron skillet over medium heat.

Season the chicken breast liberally with Cajun seasonings and set in the pan along with the peppers and potatoes. Sear them all about 3 minutes, then flip the chicken and stir up the veggies. Sear another 3 minutes, until the chicken breast is nicely browned on each side.

Splash in the vinegar and it will steam up. Let it reduce a minute or so.

Spoon on about a half cup of South Carolina BBQ Sauce.

Set into the oven and bake for 15-18 minutes, or until the chicken is cooked through and the veggies are softened up. If using smaller chicken breasts, reduce the cooking time and check them after about 10 minutes or so.

Remove from heat and cool. Top with parsley.

Serve with extra BBQ sauce.
Notes
This serves 2 in our house. Just slice the chicken breast in half. Enjoy!
Nutrition Information
Calories:
404
kcal
Carbohydrates:
34
g
Protein:
40
g
Fat:
12
g
Saturated Fat:
2
g
Cholesterol:
99
mg
Sodium:
210
mg
Potassium:
1769
mg
Fiber:
9
g
Sugar:
3
g
Vitamin A:
5440
IU
Vitamin C:
106.2
mg
Calcium:
88
mg
Iron:
9.2
mg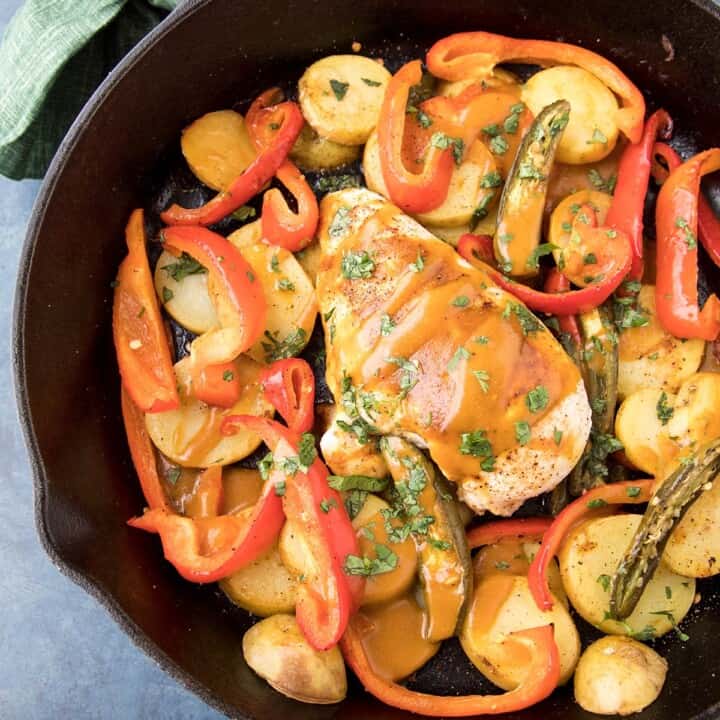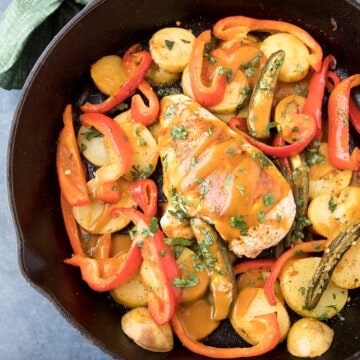 Did You Enjoy This Recipe?
I love hearing how you like it and how you made it your own. Leave a comment below and tag @ChiliPepperMadness on social media.