This Queso Fundido recipe is the ultimate cheese dip with loads of gooey cheese, spicy chorizo and roasted poblanos, topped with a quick homemade salsa. Don't forget the chips! Best eaten hot, right away.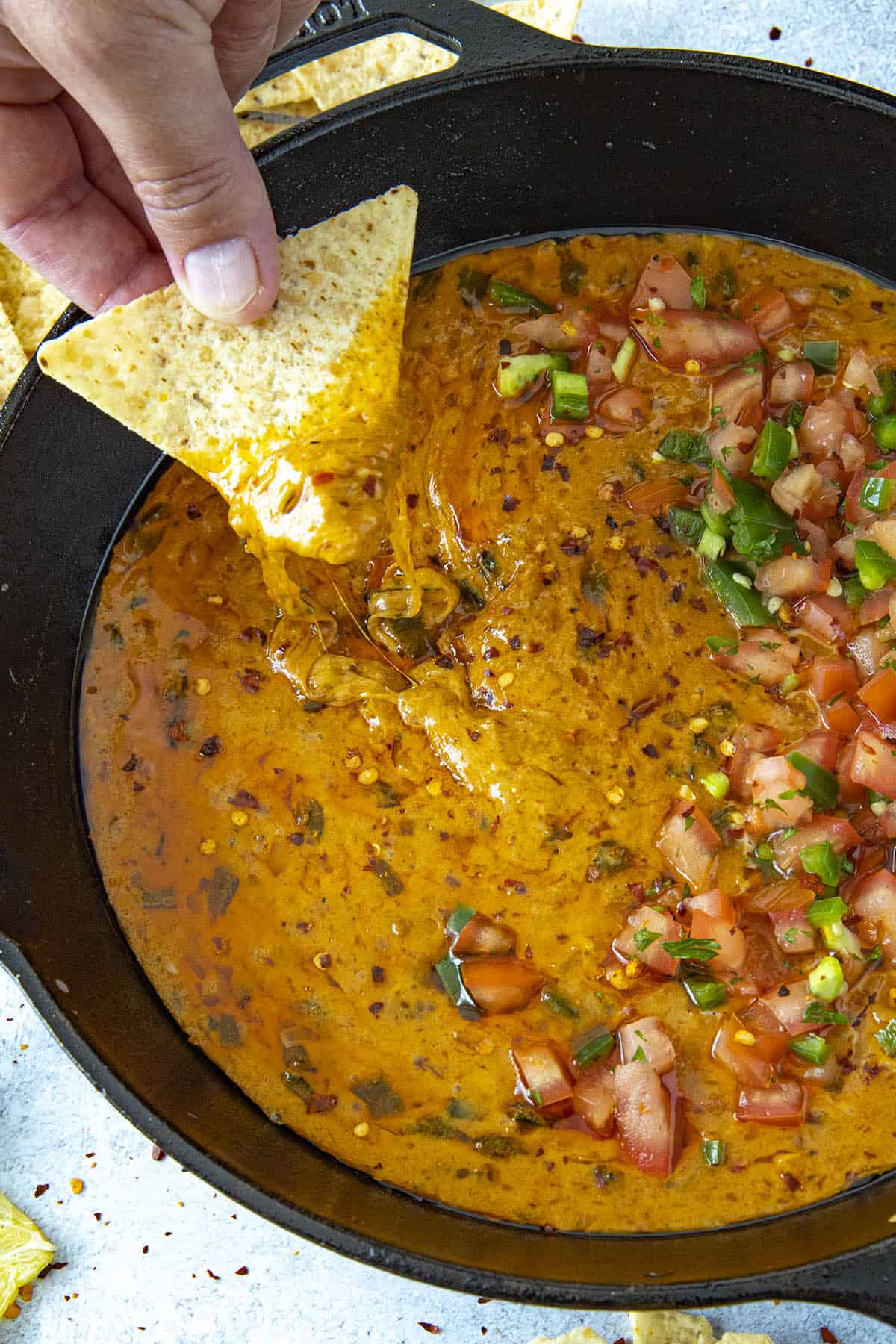 The ULTIMATE party is coming up. Do you know what you're serving yet? Are you going fancy? Or easy? Either way, here is a last minute recipe idea for you. You might even be able to make this with ingredients you already have on hand. It is truly the ULTIMATE party appetizer.
What better for that ultimate party?
I present to you - Queso Fundido. OH YES! The name "Queso Fundido" translates to melted cheese, and that is literally what you're going to get with this recipe. It doesn't get any more unpretentious.
What you have is a mixture of cheeses melted over a pan of cooked chorizo, onions, roasted poblano peppers and garlic, then topped with a quickly made salsa and diced avocado.
You may have heard of this recipe referred to as queso flameado or choriqueso.
It looks absolutely gorgeous to behold, and your party guests will love you for serving this.
Truly, you can have this particular cheese dip recipe in about 10 minutes from start to finish. OK, maybe 15 minutes if you're a slow cook like me.
But seriously? How easy is this?
Let's talk about how to make Queso Fundido, shall we?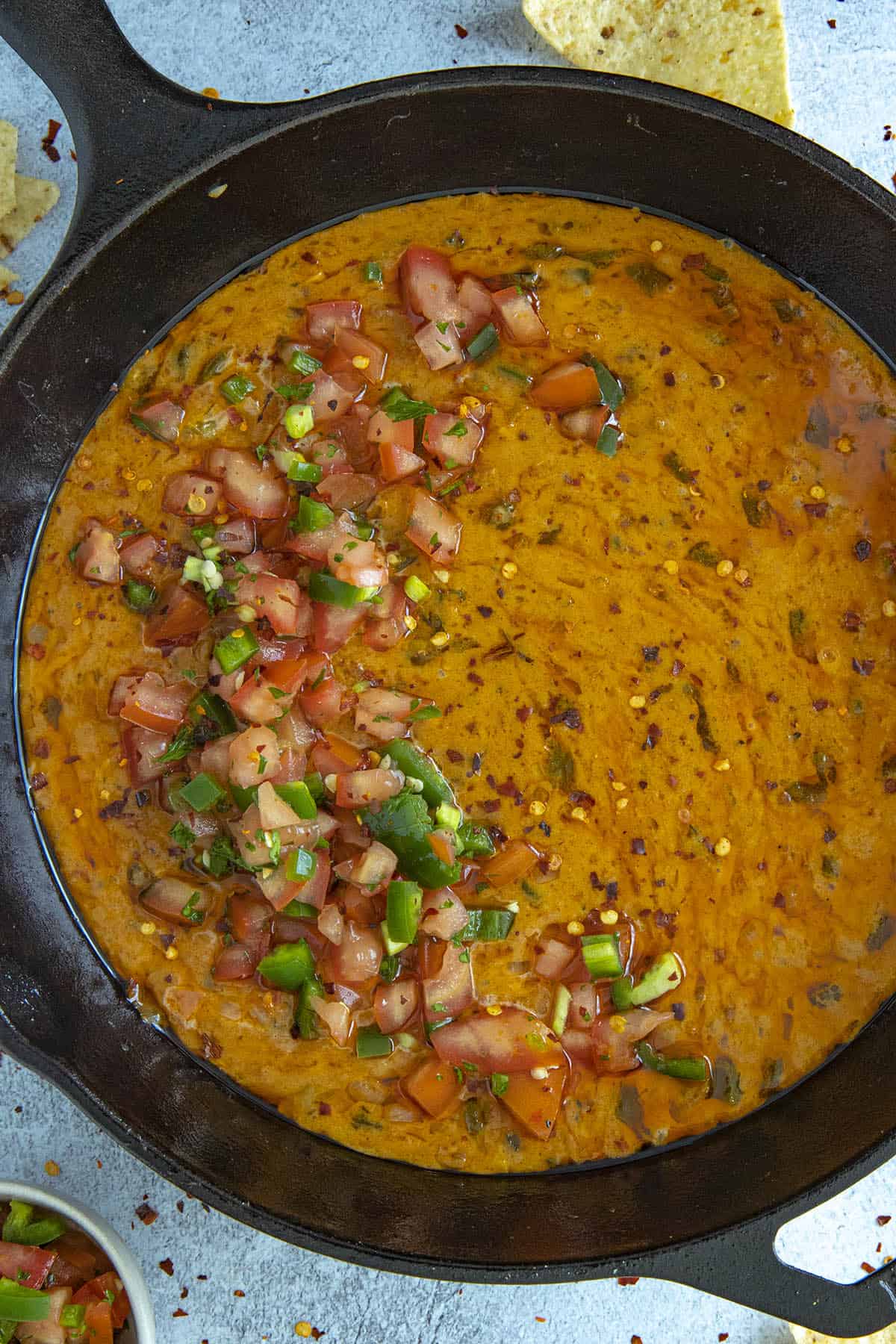 Queso Fundido Ingredients
FOR THE SALSA TOPPING
Tomato.
Jalapeno.
Cilantro.
Lime.
Salt.
FOR THE QUESO FUNDIDO
Mexican Chorizo. Try my homemade Mexican chorizo. So good! Or use your favorite brand.
Onion.
Garlic.
Roasted Poblano Peppers. See how to roast poblano peppers for further directions.
Mexican Cheeses. You can use chihuahua cheeses
Salt and Pepper.
Other Toppings. As desired.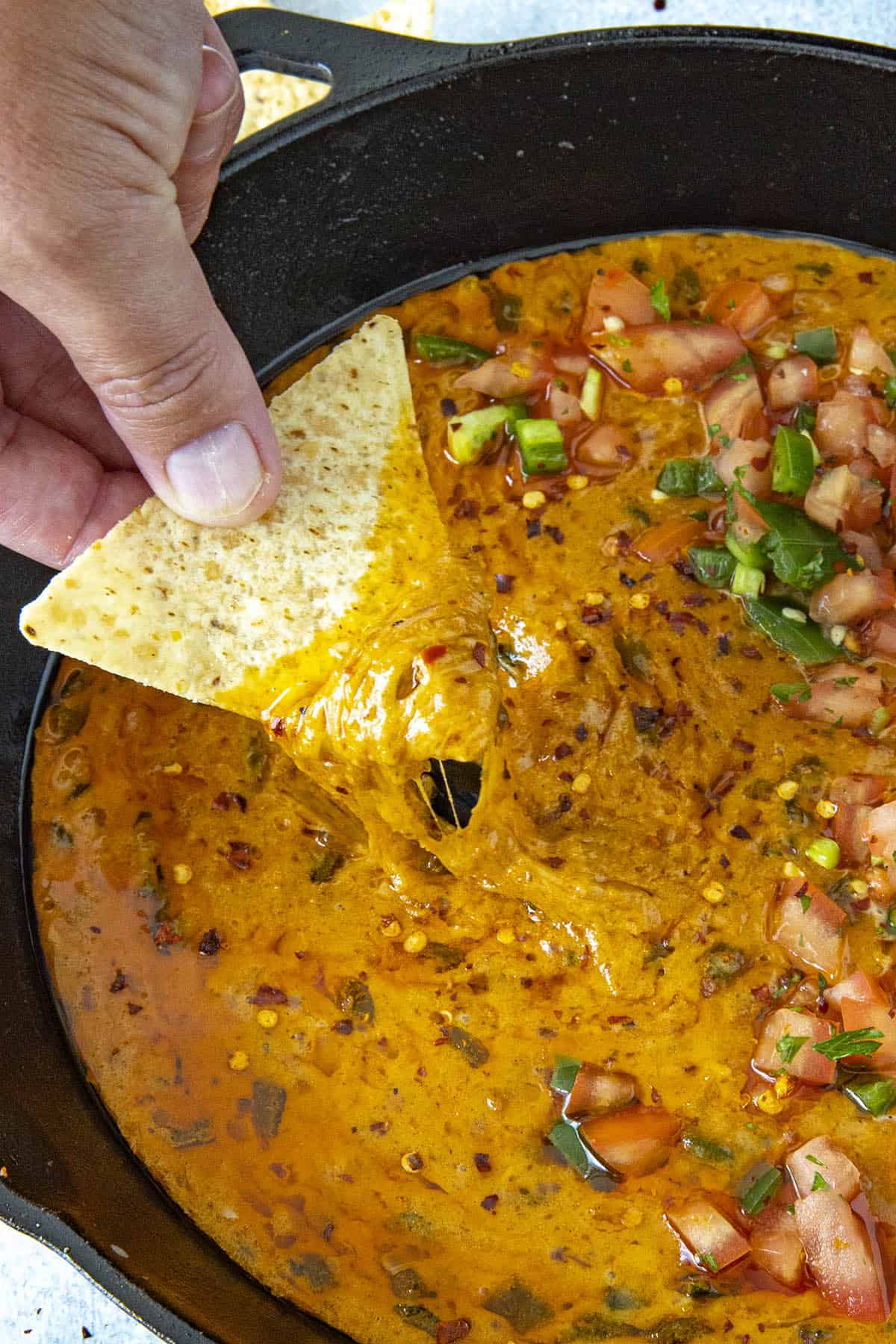 How to Make Queso Fundido - the Recipe Method
Make the Salsa Topping. Start by making the salsa for the topping. Simply dice the tomato and jalapeno and toss it in a small bowl with a bit of chopped cilantro and lime juice. And maybe a splash of salt. Like so.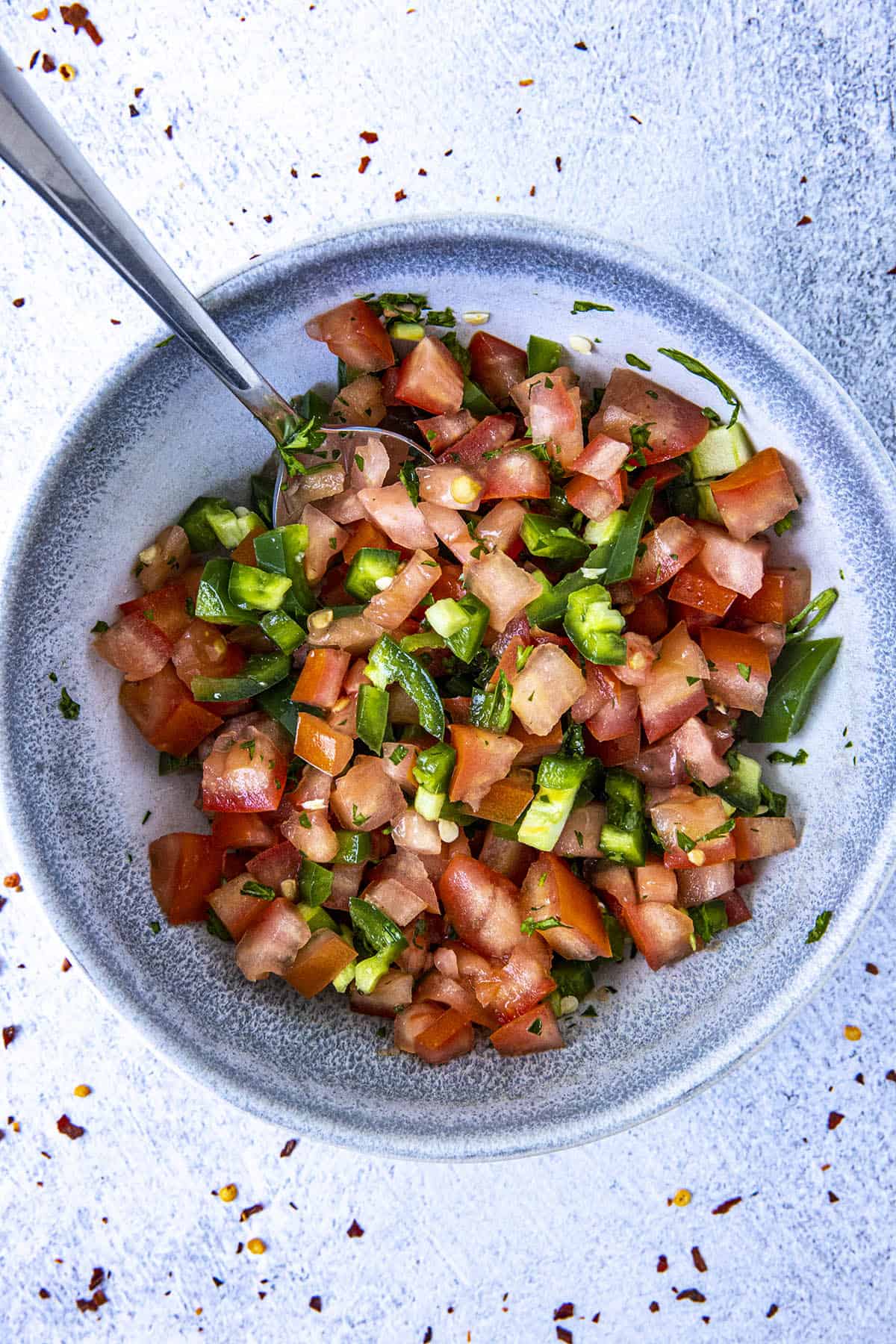 Cook the Chorizo and Onion. Next, heat your pan to medium high heat. A 10-inch pan is needed here, unless you're making a larger batch. I used a cast iron skillet. Worked perfectly.
Add the onions and Mexican chorizo and cook for 6-7 minutes, or until the chorizo is cooked through and the onion is softened up.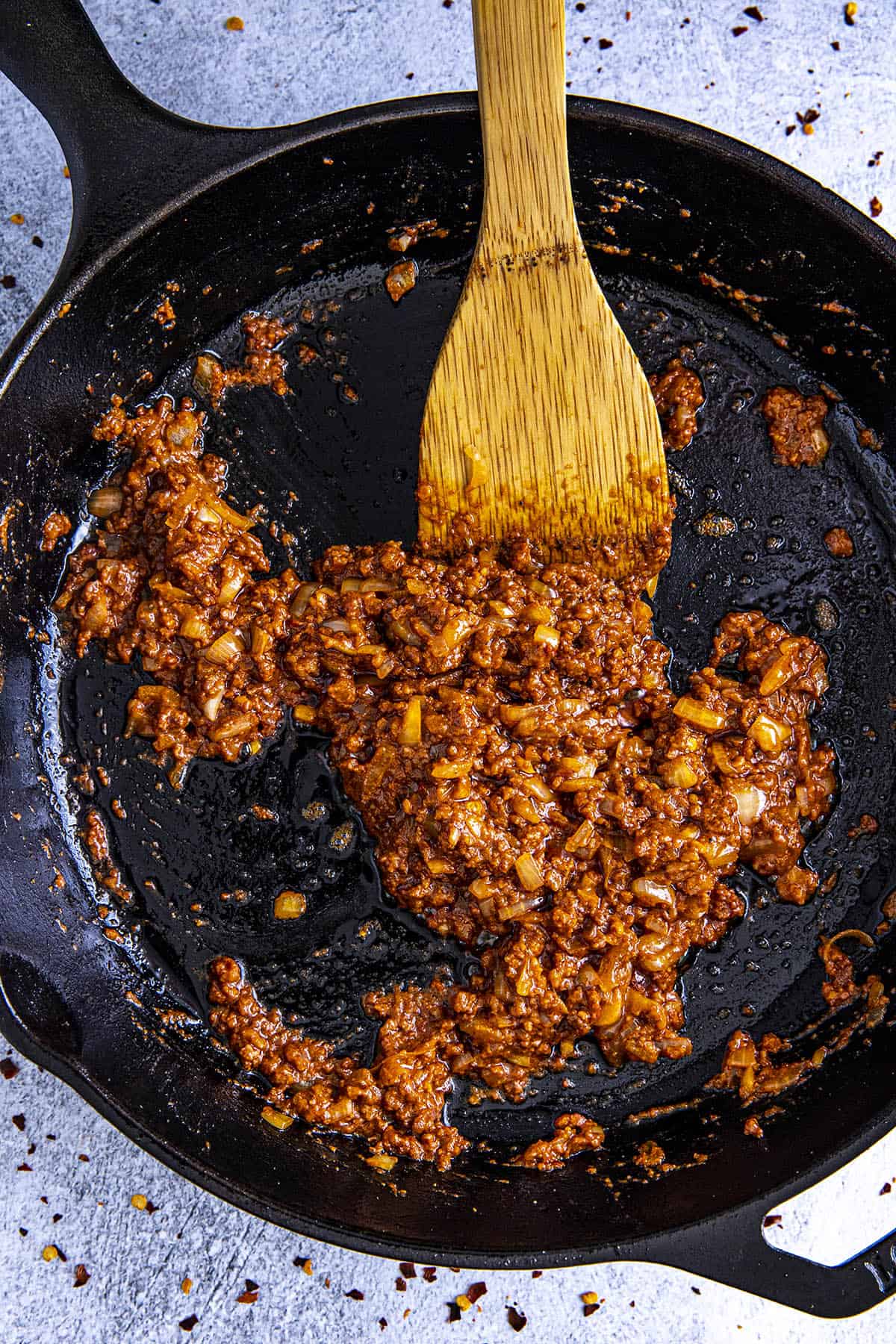 Garlic and Roasted Poblano Peppers. Add the garlic and roasted poblanos. Stir and heat for about a minute, stirring.
Swirl in the Cheeses. Next, add the cheese in batches, stirring as you go. The cheeses will melt quickly into the pan and become delicious, ooey gooey queso fundido with delicious onions and peppers.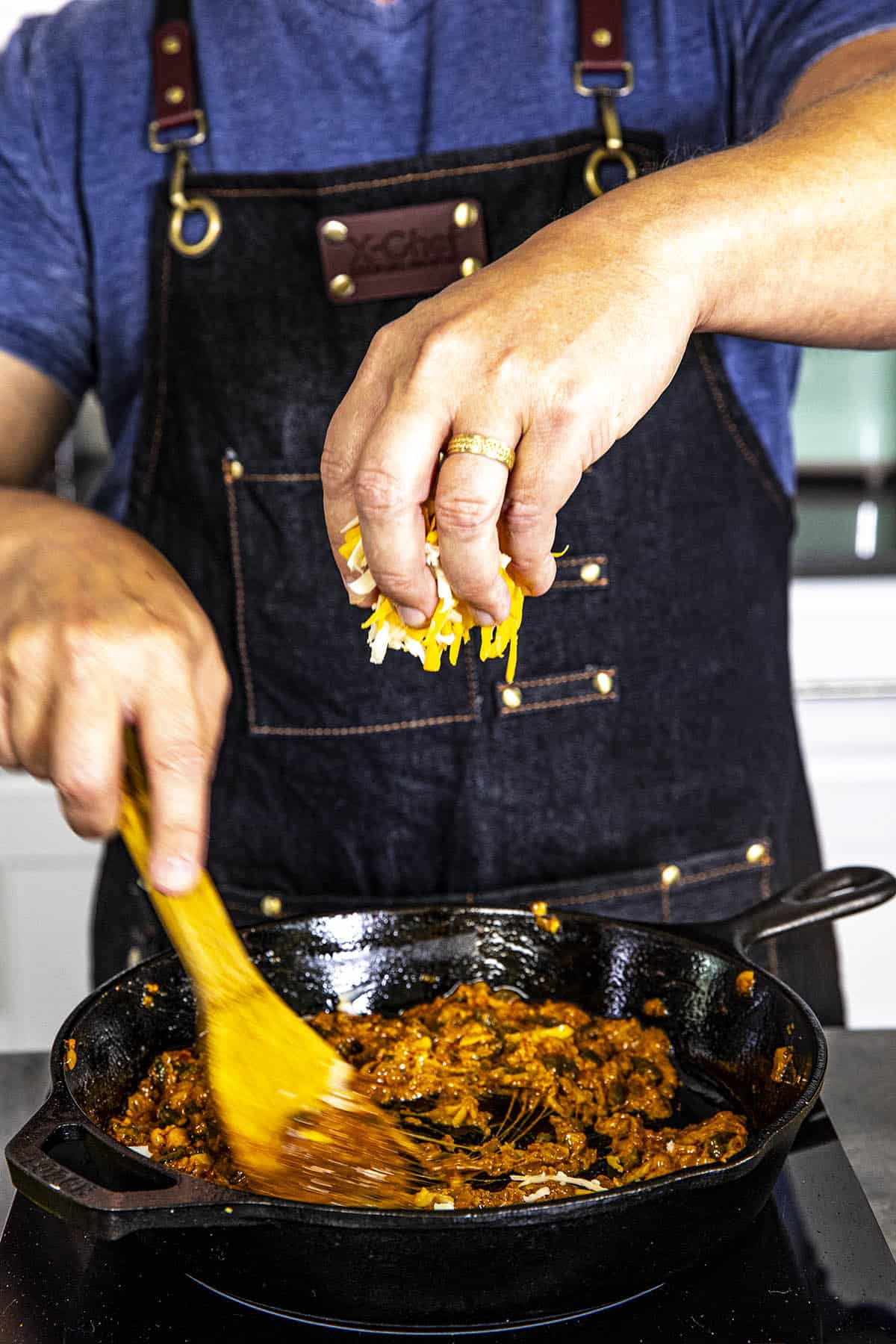 It is going to start melting right away. Give it a little swirl. Let it melt nicely through. This is why you need a nice selection of melty cheeses.
Think Asadero, Chihuahua, Monterrey Jack, even cheddar works nicely here. I like to use a blend. If there is too much oil on top for your preference, dab it with a paper towel to soak it up.
Top with Salsa. When the cheeses are nicely melted, top the batch with your homemade salsa and serve it up. Serve it nice and hot with crispy tortilla chips.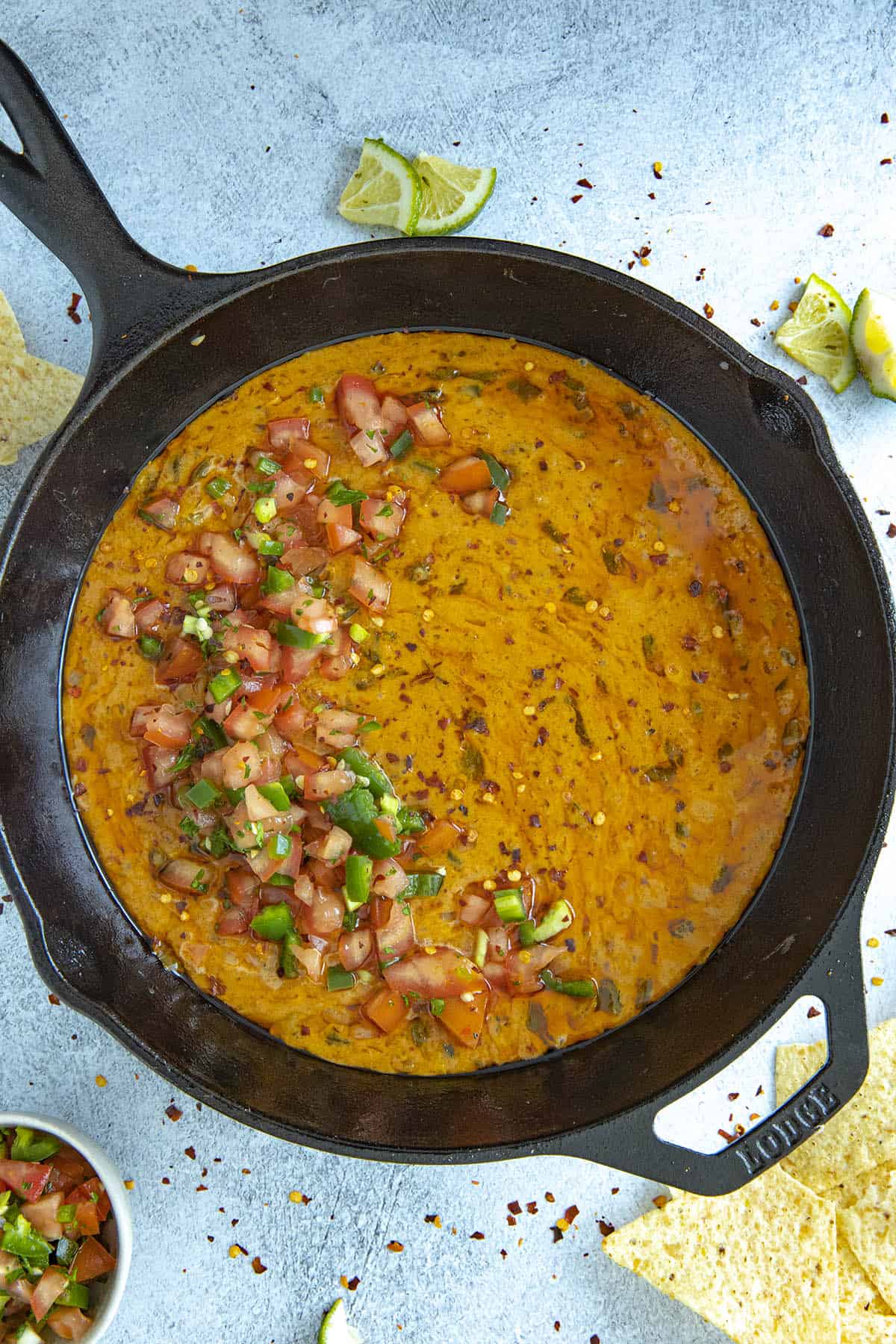 Boom! Done! So easy to make, isn't it? I'm ready to dig into this right now, my friends. This is the perfect party cheese dip. So good. I'd love to hear if you enjoyed it! Bring it to a party, be the star of the evening!
Recipe Tips and Notes
Squeeze of Lime. I like to squeeze a bit of lime juice over the top first. THEN serve it. So here you go, YES, NOW you can eat it. Please! I hope you enjoy it! Just serve this up along with a bag of corn tortilla chips and watch it disappear.
Serving Queso Fundido. I love to serve mine simply with tortilla chips as a party dip, but try serving them with flour tortillas for a super cheese taco! So good!
Serve Immediately. This cheese dip recipe is best when served immediately. It doesn't travel well, so don't plan on bringing it to a party unless you are going to make it there. I WAS able to make it at my house and bring it to a party right next door. It did survive the trip and lasted about 20 minutes on the table, but after a while, the cheeses cool down and congeal, so it won't be so perfectly melty anymore.
Keep it Warm. If you're unable to serve it right away, you can keep it warm at 250 degrees F in a large oven a bit until ready to serve. Just be sure to preheat the oven to get it in their quickly.
Extra Toppings. You can easily add in other toppings. Some of my other favorites are chopped avocado, diced green onion, fresh chopped cilantro and sour cream or crema.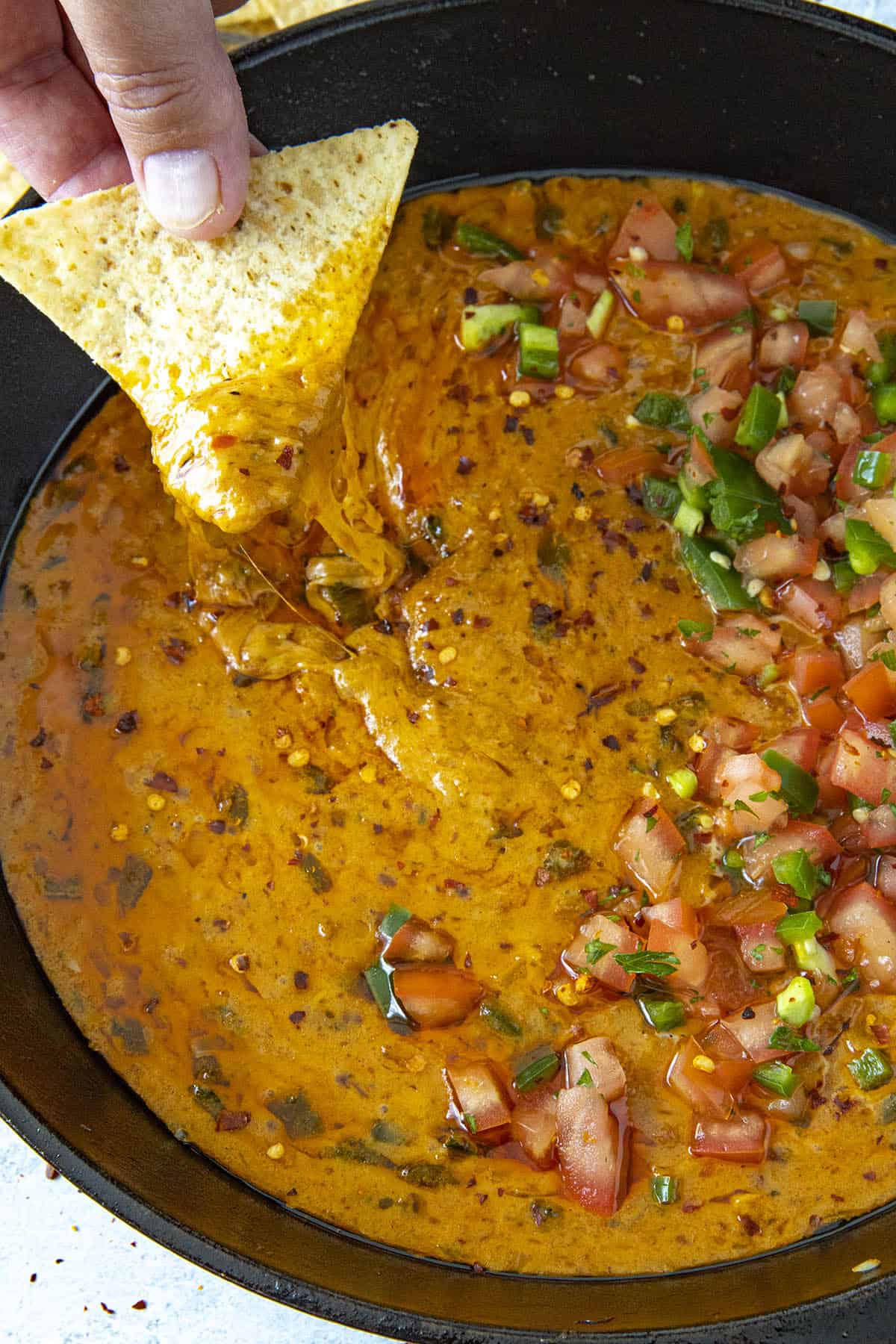 Can You Reheat Queso Fundido?
Yes, but it gets slightly rubbery, so it's best to eat it right away. You can try by adding it back to the stovetop, but again, it just won't be the same. So enjoy quickly! I hope you like it.
Check Out Some of My Other Popular Spicy Dip Recipes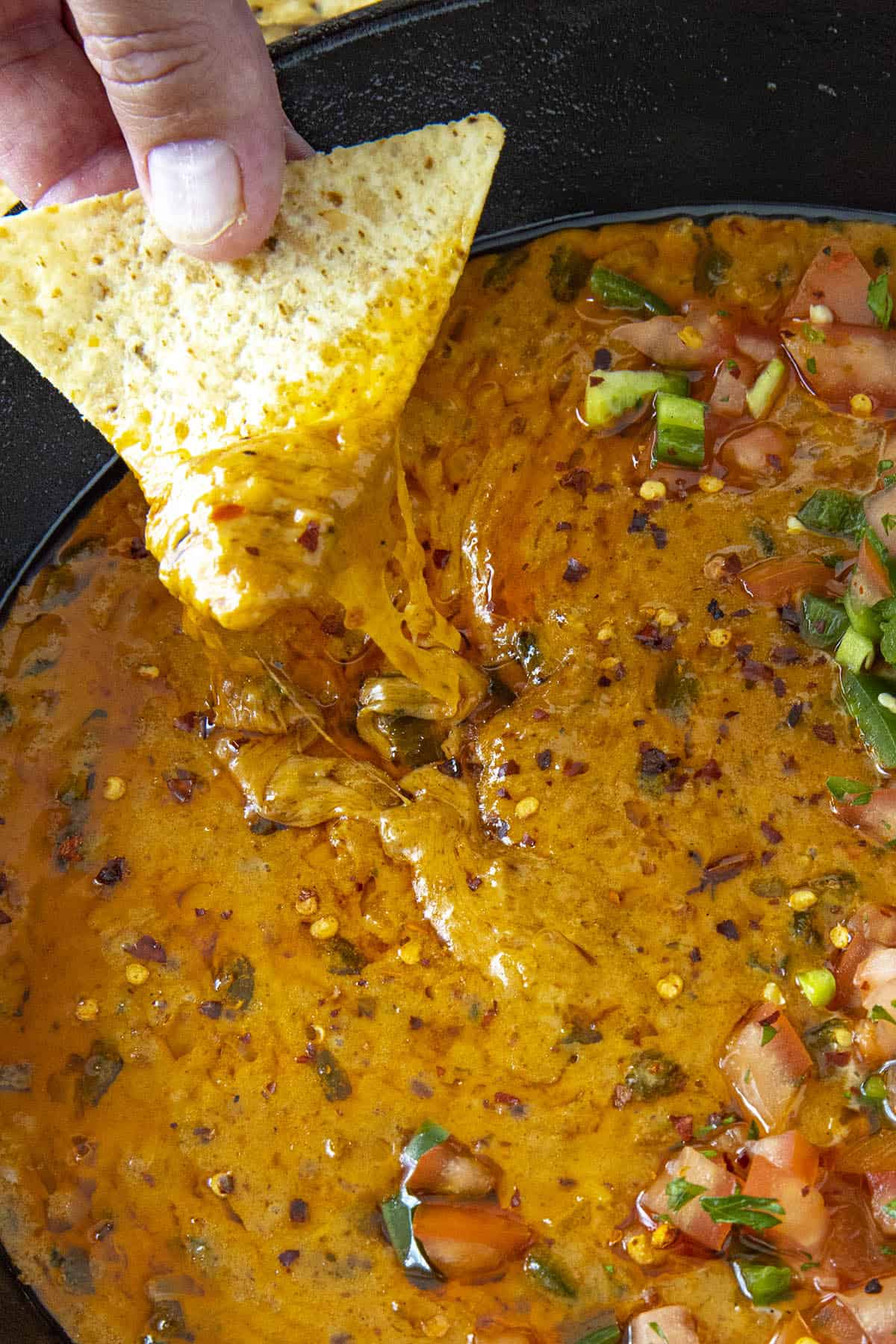 If you enjoy this recipe, I hope you'll leave a comment with some STARS. Also, please share it on social media. Don't forget to tag us at #ChiliPepperMadness. I'll be sure to share! Thanks! -- Mike H.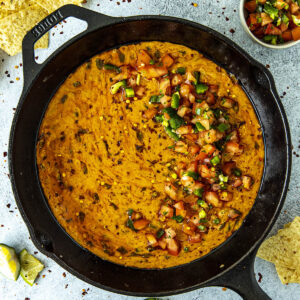 Print
Queso Fundido Recipe
This Queso Fundido recipe is the ultimate cheese dip with loads of gooey cheese, spicy chorizo and roasted poblanos, topped with a quick homemade salsa.
Save Recipe
Saved!
Ingredients
SALSA TOPPING
1

small tomato

chopped

1

jalapeno pepper

chopped

1

tablespoon

chopped cilantro

1

lime

Salt to taste
FOR THE QUESO FUNDIDO
6

ounces

Mexican chorizo

1

small white onion

chopped

2

cloves

garlic

chopped

1

large poblano pepper

roasted and diced (roasting instructions below)

10

ounces

Mexican cheese blend – Use any melty cheeses like Asadero

Chihuahua, even cheddar or Moterrey Jack work great

Salt and pepper to taste
FOR SERVING
Tortilla chips, extra lime
Instructions
Make a quick salsa for topping by combining tomato, jalapeno, juice from half a lime and salt to taste to a bowl. Mix well and set aside.

Heat a 10-inch pan (I used a cast iron pan) to medium heat and add chorizo and onion. Cook about 6-7 minutes, or until cooked through. Remove and set aside.

Add garlic and chopped roasted poblano peppers. Cook another minute.

Stir in the cheese a bit at a time until melted. It will melt fairly quickly.

Remove from heat and top quickly with salsa and a few squeezes from the remaining half a lime.
How to Roast Poblano Peppers
Set oven to broil. Lightly oil the poblano peppers and broil them about 10 minutes, then flip and broil another 10 minutes, or until the skins blacken and bubble up. Alternatively, you can roast them directly over an open flame, rotating often, until the skins char and flake.

Remove from heat and cover with paper towels to let the skins loosen. Peel the skins and discard them.

Slice the poblano peppers open down the middle and scoop out the insides. Chop and use as needed.
Video
Nutrition Information
Calories:
382
kcal
Carbohydrates:
7
g
Protein:
22
g
Fat:
29
g
Saturated Fat:
14
g
Cholesterol:
83
mg
Sodium:
818
mg
Potassium:
329
mg
Fiber:
1
g
Sugar:
3
g
Vitamin A:
695
IU
Vitamin C:
31.8
mg
Calcium:
393
mg
Iron:
1.2
mg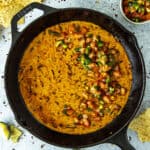 Did You Enjoy This Recipe?
I love hearing how you like it and how you made it your own. Leave a comment below and tag @ChiliPepperMadness on social media.
NOTE: This recipe was updated on 11/19/21 to include new information, photo, and video. It was originally published on 12/29/16.