One-Pan Hatch Chili-Cheese Dip
A zesty, super cheesy dip recipe made with roasted Hatch chili peppers, cheddar and Monterrey Jack cheeses and plenty of seasoning. Bust out the chips! It's party time!
So, there is this crazy AMAZING thing in my house now, and it's called Hatch Chili-Cheese Dip. It's freaking tasty and I'm prepared to go on and on about how much I love this stuff, but I won't go TOO crazy, so no worries.
It's just that it was sort of an unexpected recipe that came together on a moment's notice, and now that I've had it, I just want more and more, and I can't understand why I didn't put this fairly simple combination together before, because, end of day, it's pretty perfect.
Yeah. THIS!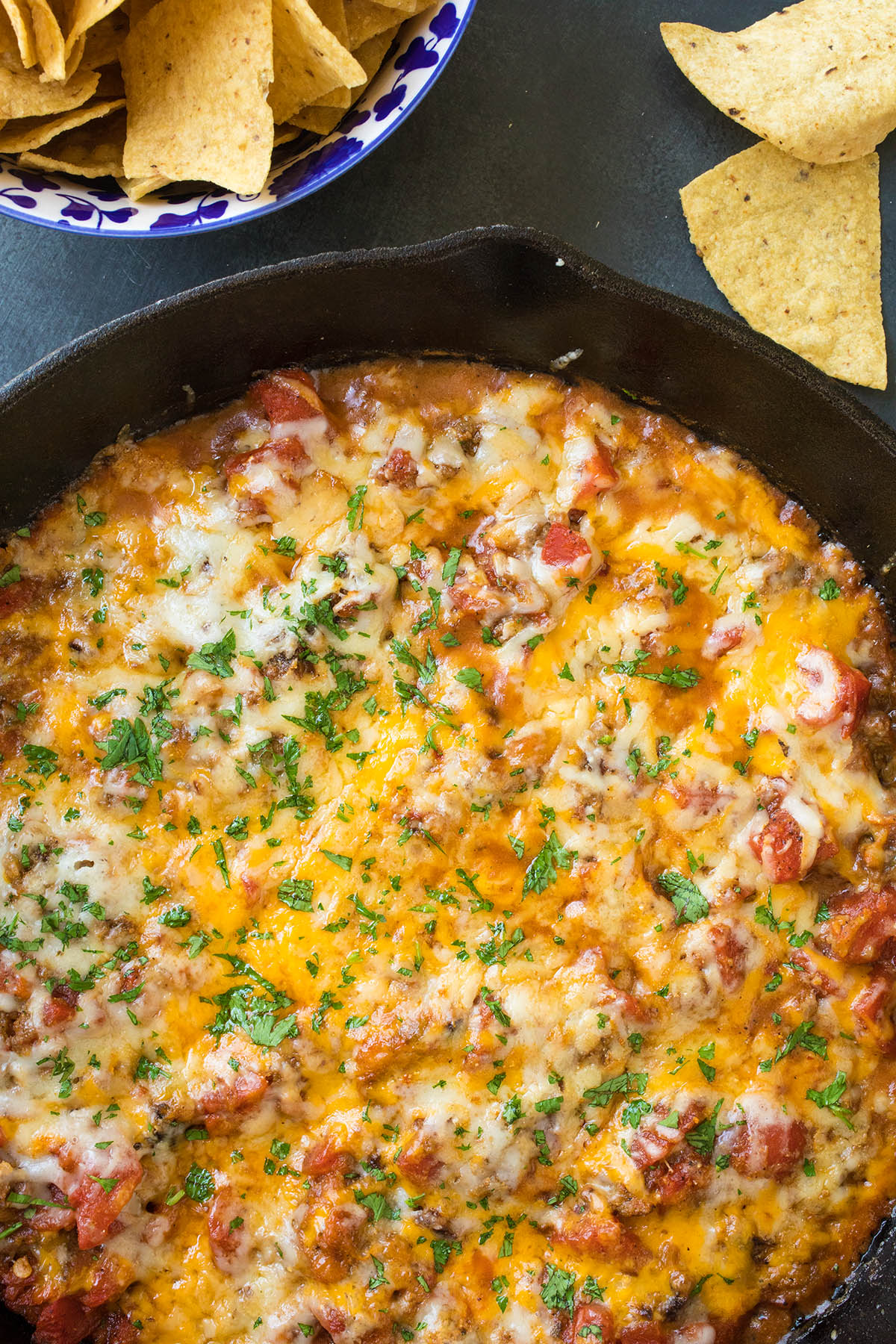 Why Hatch Chili Cheese Dip?
The story is that I had some roasted Hatch chili peppers in my freezer, along with some ground beef that I knew I had to use up soon. Hatch chilies are wildly good.
If you've never had them, you owe it to yourself to order some up as quickly as possible directly from New Mexico.
The thing is, Hatch chilies are regional only to New Mexico and because of the unique and ideal soil conditions in that area, you won't get chilies like them anywhere else.
I certainly wanted to make sure I used them up. As I browned the ground beef along with onion, jalapeno and garlic, practically my mirepoix, I kept wondering how roasted Hatch peppers would round out this dish. I already knew I was going to toss in some chopped tomatoes and other seasonings.
I also had the original idea of adding in some noodles and making this more of a casserole, which I KNOW would totally work, but for some reason, as I pondered the end result of this recipe and visualized myself enjoying it, I found myself skipping the noodles and going straight for the Hatch peppers and loading up a good quantity of shredded cheese.
And then I couldn't help but begin to drool.
I mean, just look at it. DANG! BOOM!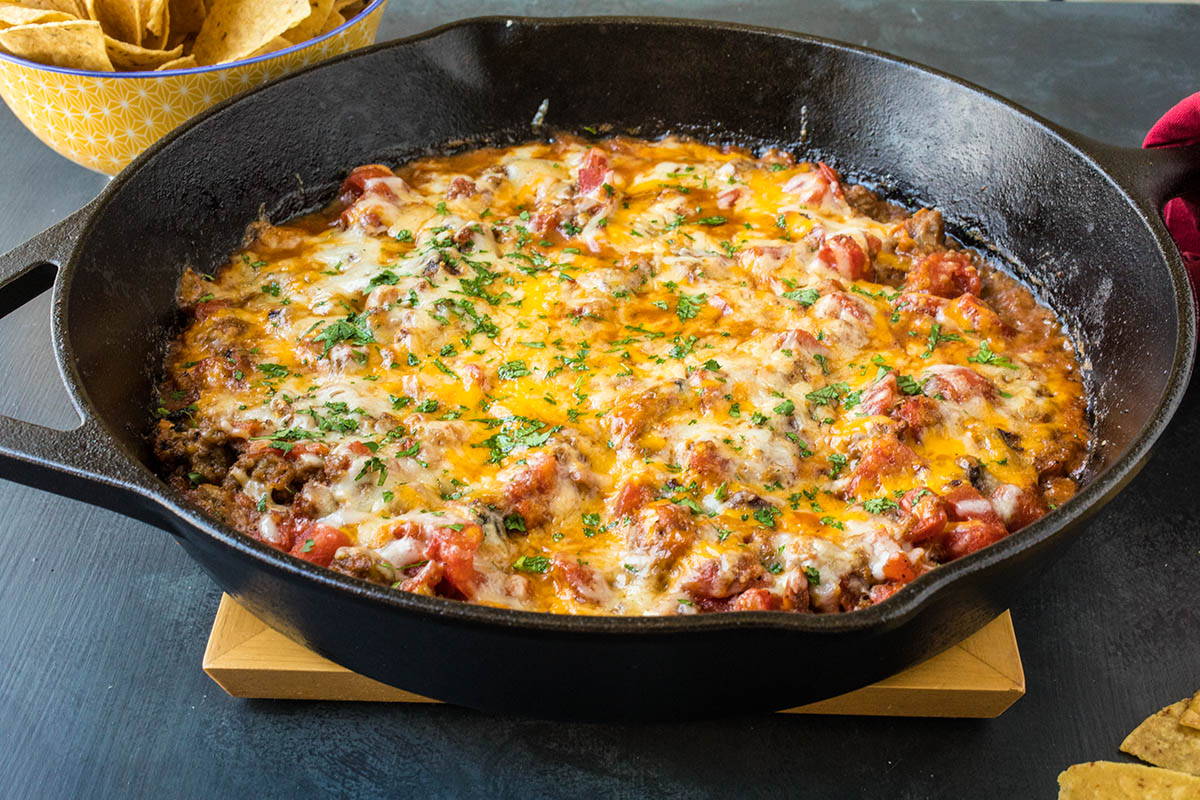 If ever there was such as thing as BOOM FOOD, this is it. For sure.
What you'll end up with is a slightly meaty, extra cheesy, slightly spicy dip with just the right amount of tomato that will essentially beg for you to dip a chip right in there.
Like so.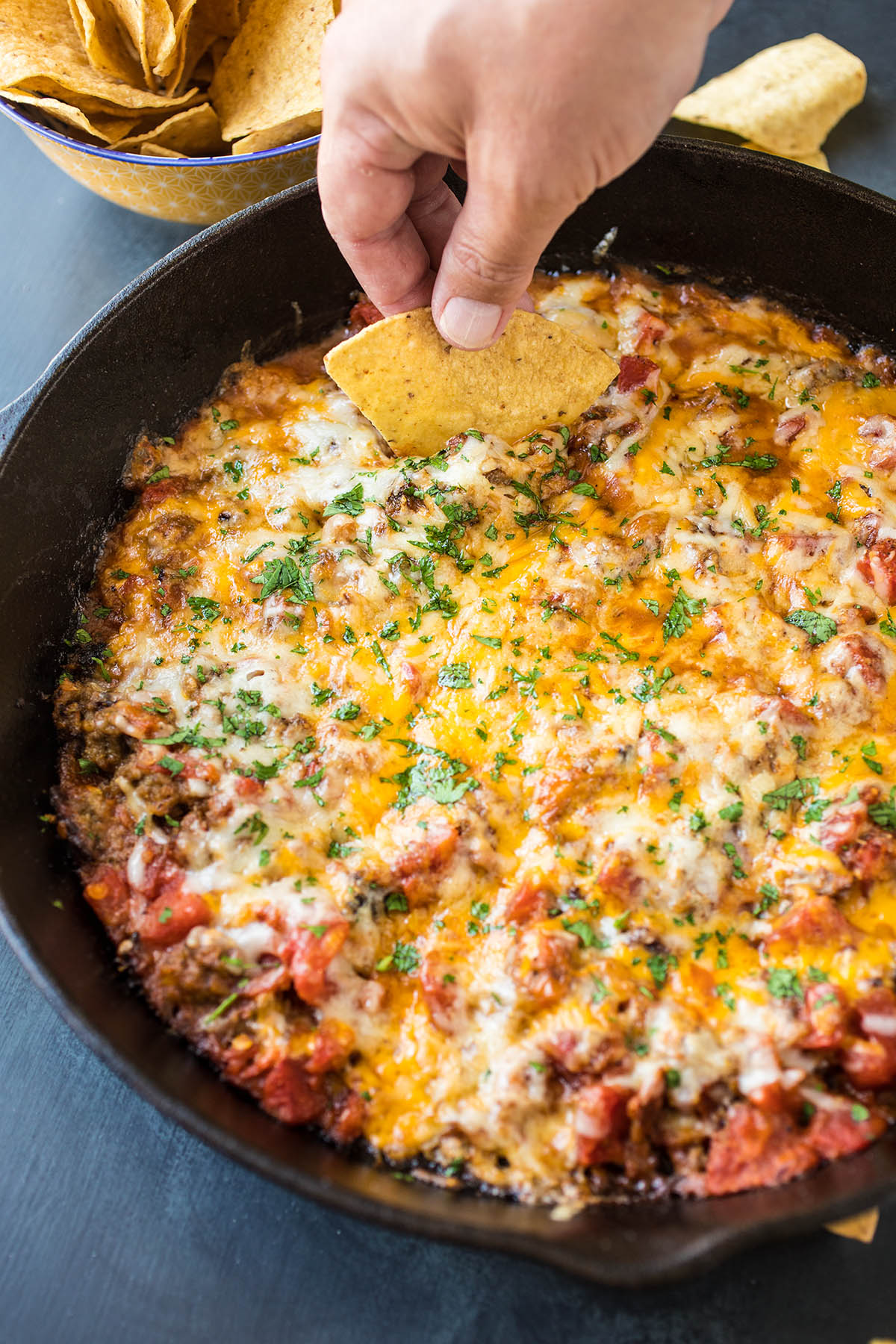 I do not feel guilty about this. In fact, I feel fortunate that I listened to my gut here and followed serendipity, because otherwise, I would have not discovered this new favorite dip of mine.
About this Hatch Chili Cheese Dip
It's somewhat similar to the world famous Queso Fundido Recipe that everyone loves, but the flavors are different. We're using different seasonings here, ground beef instead of chorizo, Hatch peppers. YUM. We have some good spice in there.
I have to say that while it is freaking AWESOME on a crispy tortilla chip, you absolutely need to try this on a warmed flour tortilla. After noshing half the pan with chips, I had the idea that, hey, what if this was served up as a taco?
You know what? YES! BOOM again!
I realize I'm being a bit ridiculous here, but trust me. This is some good stuff here. Give it a go for your next party. Or just make it for yourself and don't feel bad about it. You have my permission to do this guilt free. Enjoy it!
I'll just be over here making another pan… Shhh…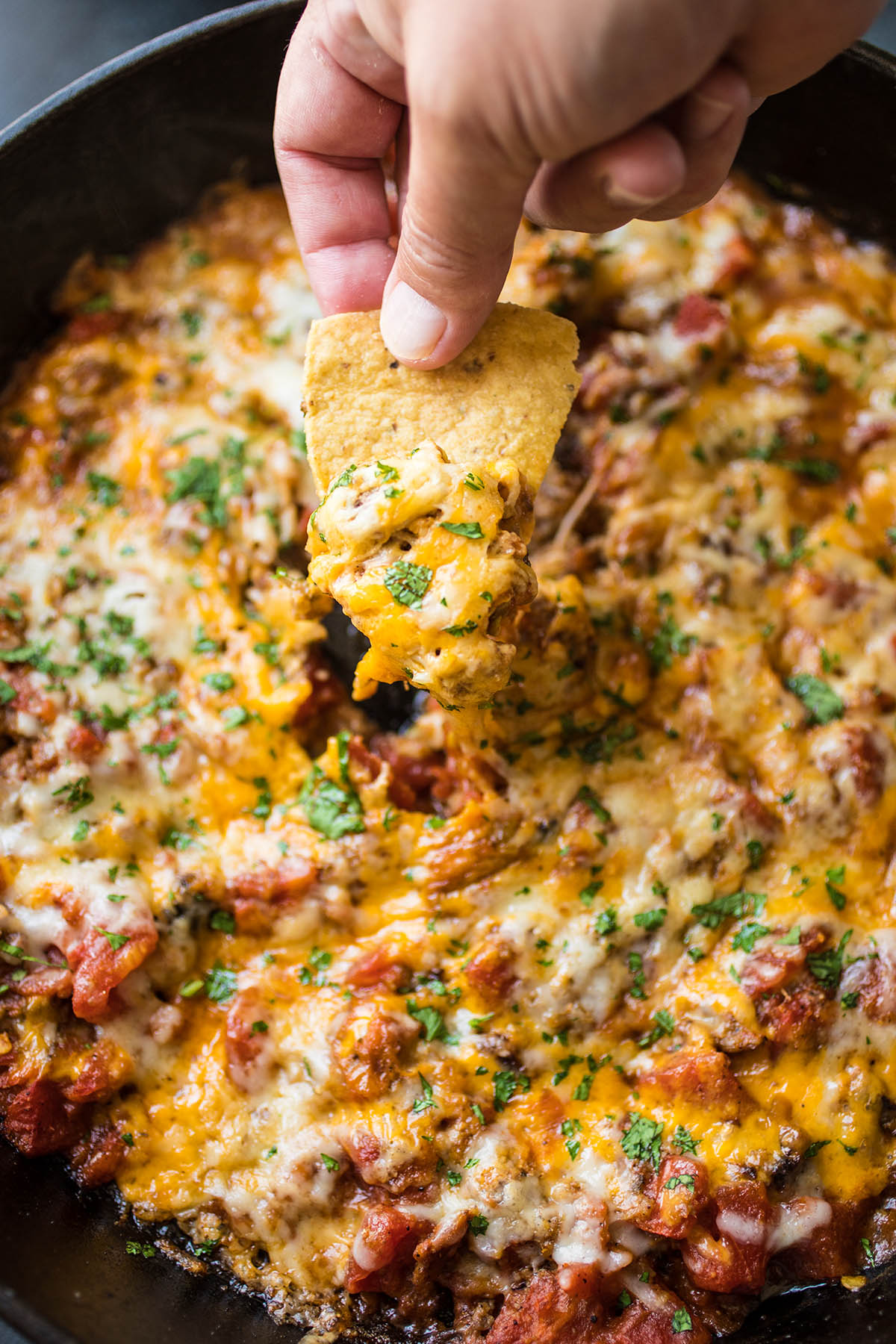 Where Can You Buy Hatch Chili Peppers? Here are my recommendations.
Learn more about Hatch Chili Peppers.
Check Out Some of My Other Popular Spicy Dip Recipes
If you enjoy this recipe, I hope you'll leave a comment with some STARS. Also, please share it on social media. Don't forget to tag us at #ChiliPepperMadness. I'll be sure to share! Thanks! — Mike H.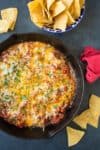 One-Pan Hatch Chili-Cheese Dip
Course:
Appetizer, Main Course
Ingredients
1

tablespoon

olive oil

1

medium onion

chopped

1

jalapeno pepper

chopped

2

cloves

garlic

chopped

1

pound

ground beef

6

ounces

roasted Hatch chili peppers

chopped – I used a medium-hot variety (Sub in a variety of serrano, jalapeno, and bell peppers if you can't obtain Hatch peppers)

14-

ounce

can chopped tomatoes

1

teaspoon

red chili powder

1

teaspoon

dried basil

1

teaspoon

cumin

Salt and pepper to taste

1

cup

shredded cheddar cheese

1

cup

shredded Monterrey Jack cheese

Chopped fresh herbs and chips for serving
Instructions
Heat the oil in a cast iron pan and add the onion and jalapeno. Cook them down about 6-7 minutes, until softened.

Add the garlic and stir. Cook another minute until fragrant.

Add the ground beef and break it apart with a spoon. Brown it on each side about 5 minutes.

Add the Hatch chiles and chopped tomatoes and stir.

Add red chili powder, basil, cumin and salt and pepper to taste. Stir and cook another 5 minutes until the meat is mostly cooked through.

Top with shredded cheddar cheese.

Bake at 350 degrees F for 10 minutes, until the cheese is melted.

Top with fresh herbs and serve with tortilla chips!
Nutrition Facts
One-Pan Hatch Chili-Cheese Dip
Amount Per Serving
Calories 391
Calories from Fat 261
% Daily Value*
Total Fat 29g 45%
Cholesterol 90mg 30%
Sodium 373mg 16%
Potassium 487mg 14%
Total Carbohydrates 7g 2%
Protein 23g 46%
* Percent Daily Values are based on a 2000 calorie diet.