A sweet and savory bacon jam recipe made with bacon, chili peppers, brown sugar and more, so perfect as a spread.
Have you ever tasted decadence on a spoon? Behold – Bacon Jam.
I've heard bacon jam referred to as Devil's Delight somewhere, and oh my, is that an accurate moniker. Bacon jam is deliciously savory and sweet and works as a spread over cheeses and breads, or as a flavor blast addition to meats or sandwiches.
And so much more! Can you tell we both love bacon jam?
I've been experimenting with different ingredients and this is our favorite version, though I also love to use superhot chili peppers. I'm working on a new cookbook about superhot chili peppers, including a large variety of cooking techniques and recipes, and a version of this recipe will be included with Carolina Reaper peppers.
If you want to make your own superhot version, you can use a powder or dehydrated chili peppers. Fresh is ideal, but the powders or rehydrated pods will still bring plenty of flavor and heat.
Note here that I've used habanero peppers, which are certainly awesome chili peppers. You'll get a nice heat with them, but if habaneros are too hot for you, jalapenos work just fine, or even a bell pepper.
You want the substance and flavor of the pepper over the heat, but I personally LOVE the heat.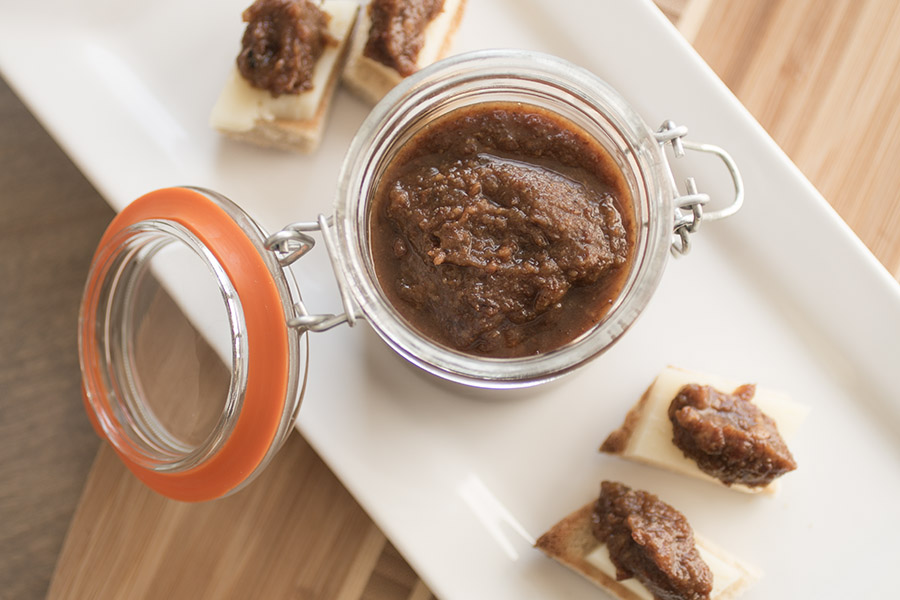 We served some up immediately here over some cheese slices and toasted breads. It really is a great little appetizer or teaser. I've made grilled cheese with bacon jam and I hope to post that soon, and WOW, is it freaking delicious. Definitely one of our favorites.
Here is the recipe in all its splendor.
Patty's Perspective
We shared some of our bacon jam with our neighbors and everyone asked – What do you do with it? I told them for a fail safe way to enjoy bacon jam, pair it with cheese and you can't go wrong.
Check Out My Other Popular Spicy Bacon Recipes
If you enjoy this recipe, I hope you'll leave a comment with some STARS. Also, please share it on social media. Don't forget to tag us at #ChiliPepperMadness. I'll be sure to share! Thanks! — Mike H.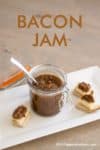 Print Recipe
Slow Cooker Bacon Jam - Recipe
A sweet and savory bacon jam recipe made with bacon, chili peppers, brown sugar and more, so perfect as a spread.
Ingredients
1

pound

bacon

2

small onions

chopped

4

cloves

garlic

chopped

2

habanero peppers

chopped (If habaneros are too hot for you, use milder peppers instead, like the jalapeno. If you want more heat and can find them, use some superhots like the Carolina Reaper! Oh baby!)

½

cup

brown sugar

¼

cup

pure maple syrup

1

cup

brewed coffee

brew it strong!

½

cup

apple cider vinegar

1

teaspoon

smoked paprika

1

teaspoon

dark chili powder

A superhot powder is nice! I used Scotch Bonnet this time.
Instructions
Heat a large pot to medium heat and add bacon. Cook until nearly crisp and brown. Transfer to a plate lined with paper towels to cool and drain.

Cook the onions in the pot with the bacon fat about 5 minutes to soften.

Add garlic and habanero peppers and stir. Cook about 2 minutes.

Add the remaining ingredients and stir. Bring the mixture to a boil reduce heat to a simmer.

Chop the bacon and add it into the pot.

Cook low and slow for about 4 hours, stirring every now and then. A thick jam will form. Also, you can use a slow cooker to achieve the same results.

When it is nice and gooey and consistent, transfer some of it to a food processor and process until slightly chunky. Add back to the rest of the bacon jam and mix well. You can process as much as you want for your desired consistency.

Allow to cool then transfer to containers for serving.
Nutrition
Calories:
133
kcal
|
Carbohydrates:
9
g
|
Protein:
3
g
|
Fat:
9
g
|
Saturated Fat:
3
g
|
Cholesterol:
14
mg
|
Sodium:
154
mg
|
Potassium:
97
mg
|
Sugar:
8
g
|
Vitamin A:
95
IU
|
Vitamin C:
2.5
mg
|
Calcium:
14
mg
|
Iron:
0.2
mg
See below. Just look at it. Yum! It is so gooey and spreadabale, so tasty. Make an extra large batch and give it away to your friends and neighbors. They will love you for it.