A homemade hot sauce recipe made with the spicy peach sugar rush chili pepper.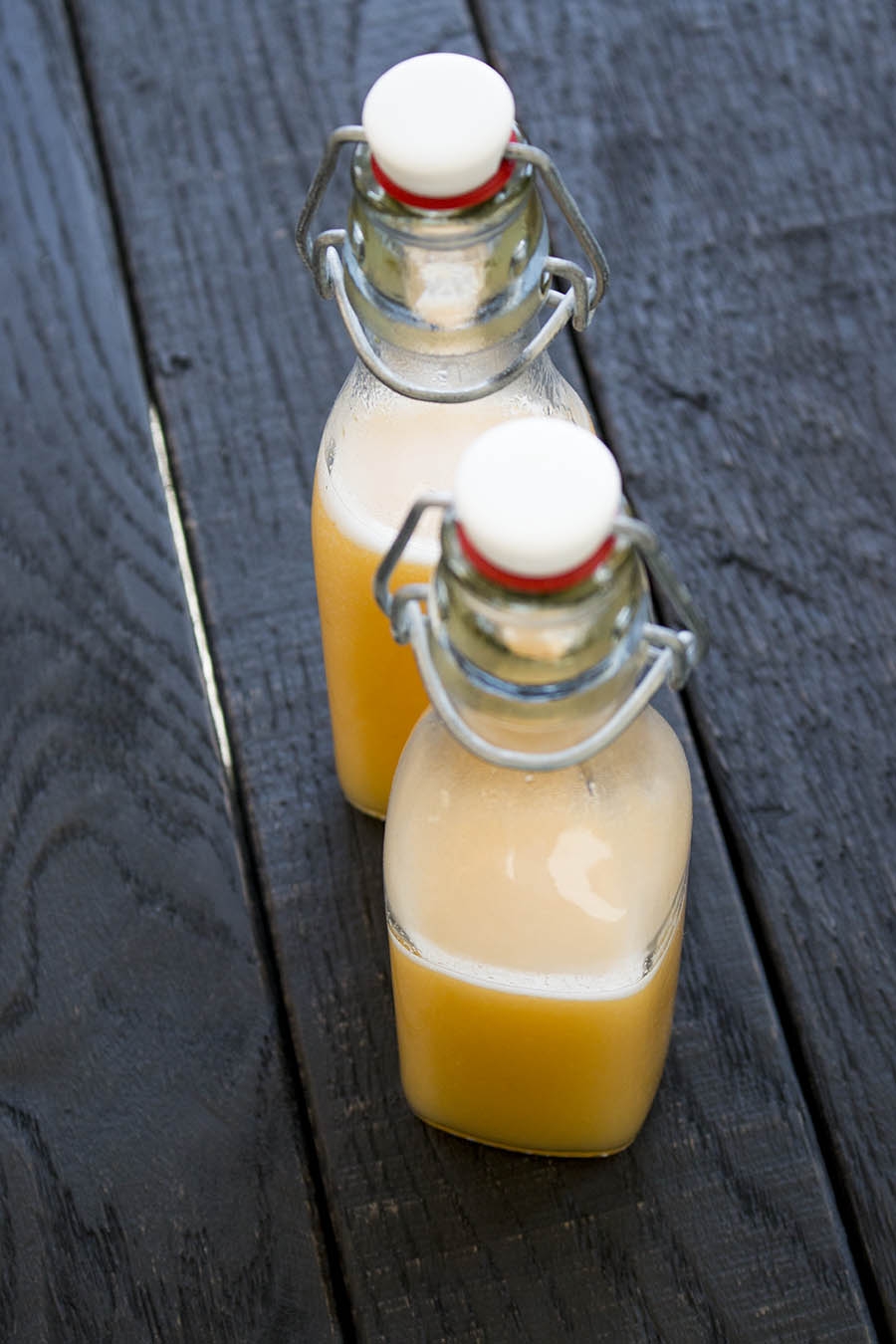 We talk about making homemade hot sauces all the time. There are some amazing hot sauces on the market today. The industry is growing quickly, and that's a great thing for all of us.
I like to keep a number of them on hand at home for recipes or for simply dashing over meals for extra flavor and heat. There is something about a homemade hot sauce, though.
You'll get a nice blast of fresh chili pepper flavor and that bright heat of a spicy pepper. Sure, you can make hot sauces from mild peppers, but I like the "hot".
These sugar rush chili peppers are ideal for a hot sauce. The peach color is inviting, and if you want heat, you got it! It's close to habanero level heat, though doesn't get quite that hot. And, it is nice and sweet, hence the "sugar" in the name. Learn more about the Sugar Rush Chili Pepper here.
I added a bit more sugar to this recipe for extra sweetness. When you first make this sauce, it will be rather chunky. You need to strain it to achieve a thinner consistency. You can strain it several times to get it to the point that you prefer, or heck, don't strain it all and have yourself a chunkier sauce.
This is a simple sauce recipe for sure, but a good way to use your fresh peppers. Once you learn more and more about making hot sauces, you can begin to work in more complexity with additional flavors and ingredients. Soon, you'll be selling your own hot sauce!
Frequently Asked Hot Sauce Questions
Here are answers to some of the most common questions I get on other sauces:
How long will this sauce keep?
It should keep a few months easily in the fridge, or even longer. It's all about the acidity. To be technical, target level ph for shelf stable foods is below 4.6 ph, but should probably be lower for home cooks, around 4.0 or so, to account for errors. If you're concerned, add more vinegar to lower the ph. Sauces made with fermented chili peppers will last even longer.
Where'd you get that sauce bottle?
I find them locally sometimes, but I also order through Amazon. Here is a link to some bottles I like (affiliate link, my friends!): Swing Top Glass Bottles, 8.5 Ounce - Set of 4
. If you like the smaller bottles that most hot sauce makers use, here's another link: Hot Sauce Bottles, 5 Oz - 24 Pack
.
Can I process this hot sauce for longer storage?
Absolutely. Just be sure to use proper canning/jarring safety procedures.
What should I do with hot sauce?
Aside from drizzling it over anything you please, here's a post I did about How to Cook with Hot Sauce. As if you need even MORE reasons to eat hot sauce. LOL. I hope you find it helpful!
Check out more Hot Sauce Recipes or learn more about How to Make Hot Sauce.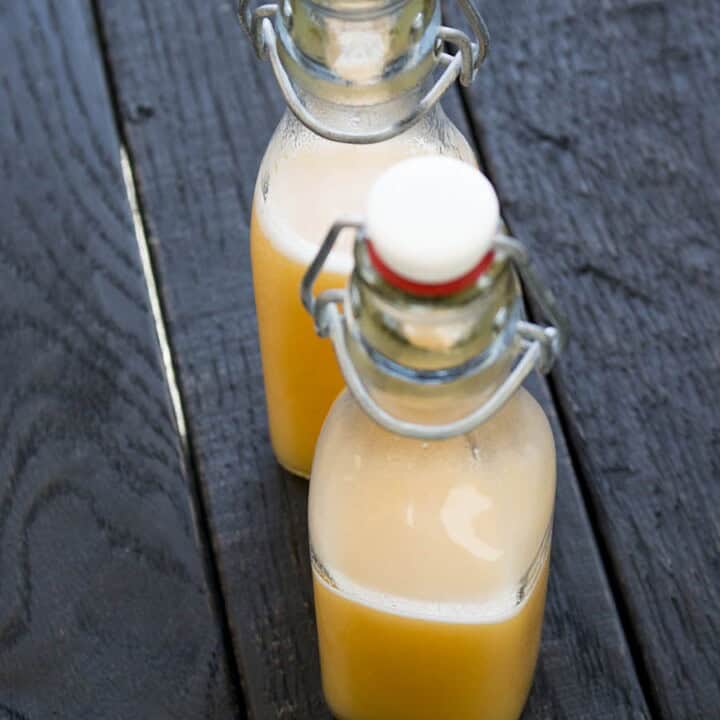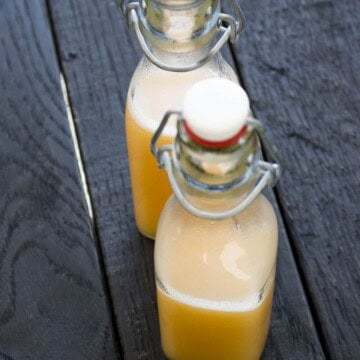 Print
Peach Sugar Rush Hot Sauce - Recipe
A homemade hot sauce recipe made with the spicy peach sugar rush chili pepper.
Save Recipe
Saved!
Ingredients
20

sugar rush chili peppers

2

cups

vinegar

2

cloves

garlic

2

tablespoons

sugar

Salt to taste

1

tablespoon

lime juice
Instructions
Remove stems from the sugar rush chili peppers and discard. Toss the peppers into a food processor.

Add all remaining ingredients and process until smooth.

Pour into a saucepan and bring to a boil.

Reduce heat and simmer about 20 minutes.

Process again if needed, and strain. Discard the solids.

Pour into a bottle and serve as desired!
Nutrition Information
Calories:
27
kcal
Carbohydrates:
5
g
Sodium:
4
mg
Potassium:
144
mg
Sugar:
3
g
Vitamin A:
430
IU
Vitamin C:
65
mg
Calcium:
8
mg
Iron:
0.5
mg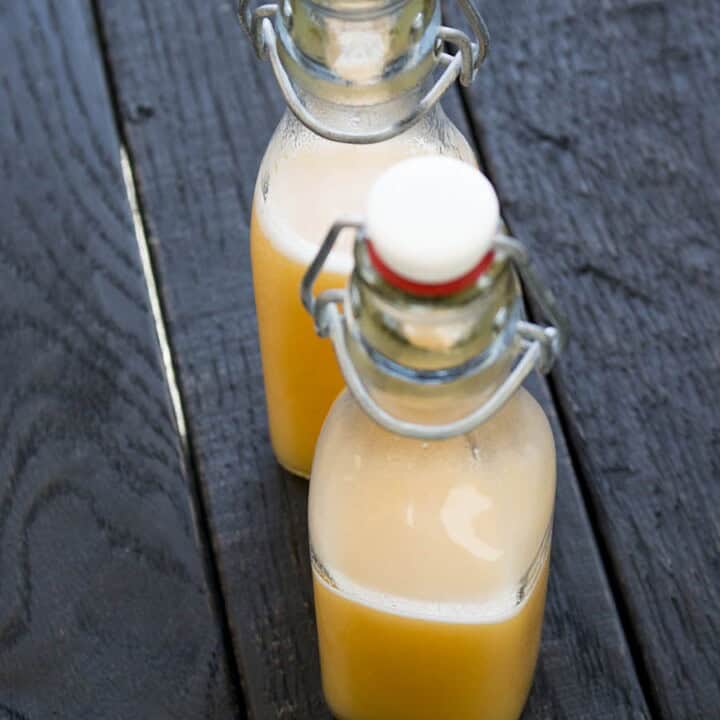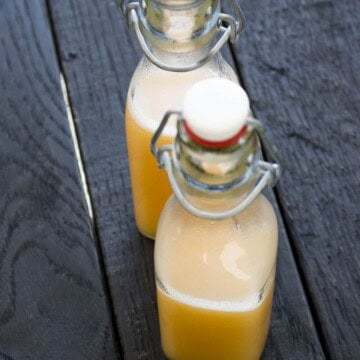 Did You Enjoy This Recipe?
I love hearing how you like it and how you made it your own. Leave a comment below and tag @ChiliPepperMadness on social media.