The Ultimate Leftover Pot Roast Sandwich
If you find yourself with leftover pot roast from last night's dinner, keep this recipe on hand for one of the most satisfying sandwiches you'll ever have.
Do you ever find yourself with leftover pot roast? I do all the time. Definitely not a complaint! The thing is, we're only 2 people in our household, and it isn't really possible to make a large pot roast for only 2 people and NOT have leftovers. I see this as a GOOD THING because then I get to eat pot roast throughout the week, or I'm able to freeze portions for future use.
I've been making a fair amount of roast recipes lately, particularly through the winter because it's great comfort food and it really helps to warm the bones. I'm also including a couple of roast beef recipes in my forthcoming cookbook about Easy Spicy Dinners, so again, more leftover pot roast.
What exactly can you do with leftover pot roast? SAMMICH TIME!
Yes!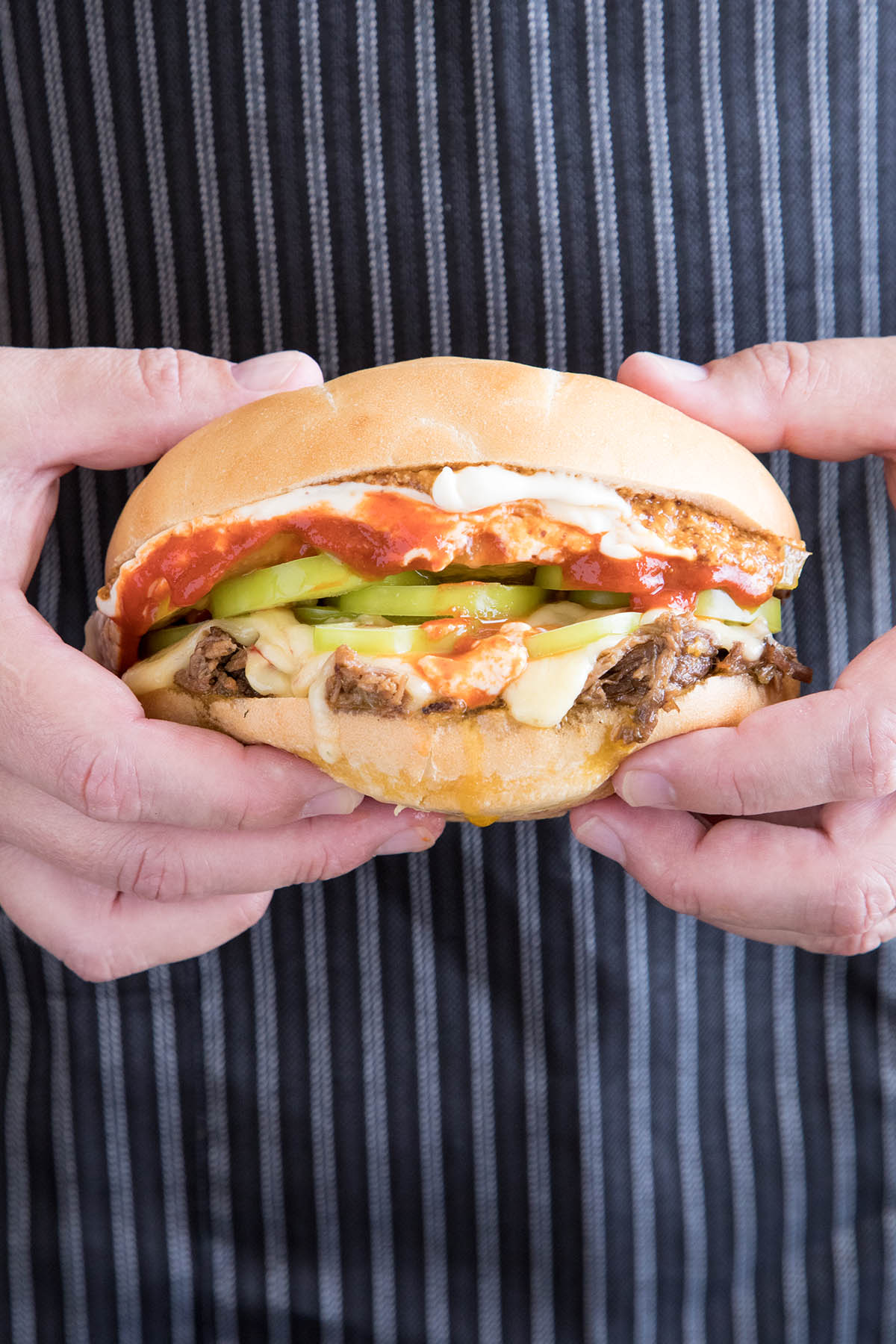 Doesn't this look good? Leftover pot roast makes for an OUTSTANDING sandwich experience. The meat is so juicy-tender, it melts in your mouth, and while I absolutely love pot roast on its own, served up with a seasoned gravy over mashed potatoes, I might like it even MORE served up on toasty bread with melty smoked cheese and some of my favorite condiments.
DROOL.
Heck, sometimes I find myself making a pot roast just so I can make these sandwiches. It isn't crazy. Really!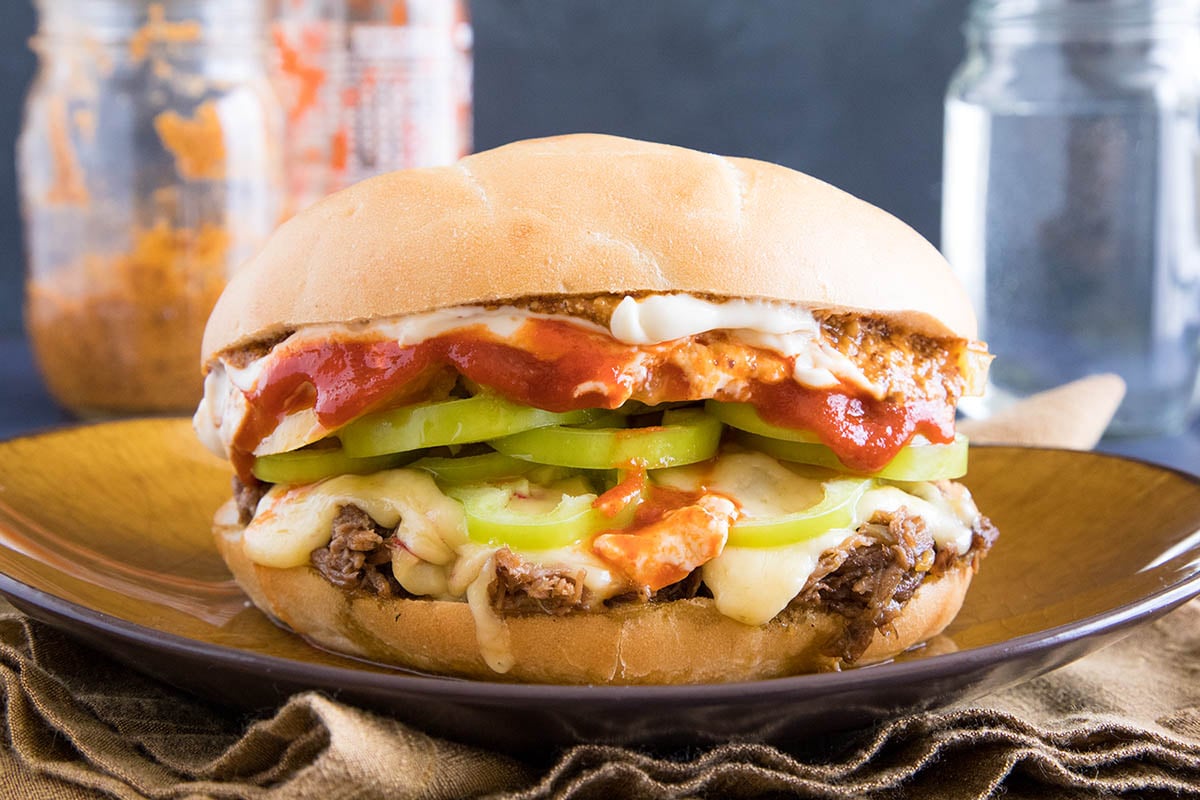 The cool thing is that you can use whatever pot roast recipe you'd like. I have a few here that you can refer to, but if you feel like using your mother's old school recipe, go for it! Here are a few that I enjoy making:
Get those roasts cooking! It's sammich time!
They're super easy to put together. Just warm the pot roast and spoon it over your favorite buns or sandwich rolls. I used some torta buns here, though French rolls or bolilo rolls work GREAT. Top the meat with smoked gouda and bake the sandwiches until the cheese is nicely melted and the buns are lightly toasted.
Finally, dress them up! I use thinly sliced sweet peppers and tomato, and a nice condiment mixture of a homemade chipotle-honey mustard with sriracha and mayo.
SO. GOOD. 
I wish I had this sandwich in my hand right now. Stomach is growling.
Let me know if you make it and how you like it! Enjoy, my friends!!! — Mike H.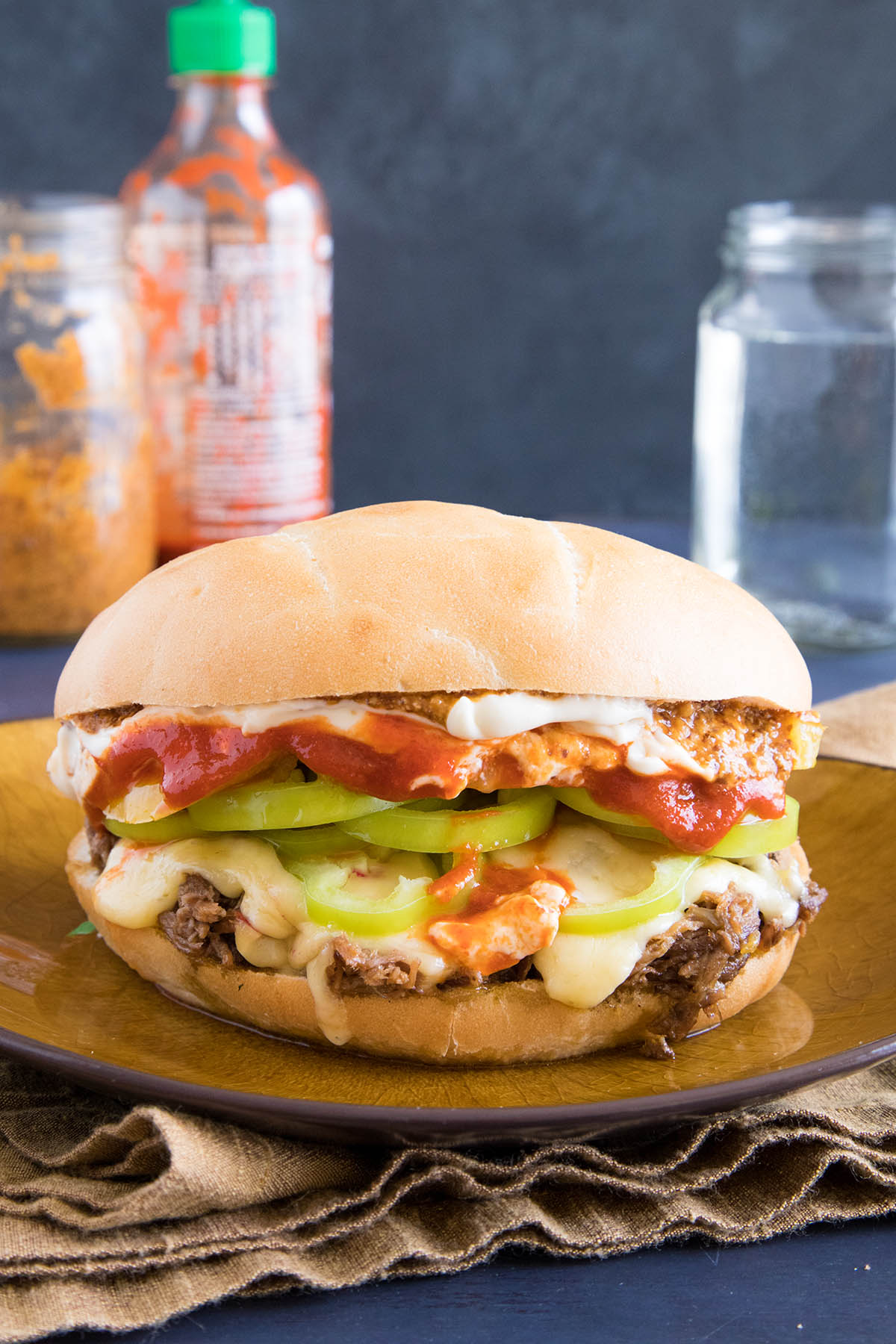 The Ultimate Leftover Pot Roast Sandwich – Recipe
Ingredients
1 pound leftover pot roast, warmed
4 buns or rolls
1 cup shredded smoked gouda cheese
CONDIMENTS/TOPPINGS
Sriracha
Mayonnaise
Sliced Sweet Peppers
Sliced Tomatoes
Cooking Directions
Divide the pot roast between the bun bottoms and top each with gouda cheese.
Set onto a baking sheet with the bun tops and bake for 5-10 minutes, or until the cheese is nicely melted and the buns are lightly toasted.
Top each with the chipotle-honey mustard, sriracha, mayo, sliced sweet peppers and tomato.
Makes 4 sammiches!