Mississippi pot roast is a comforting dish of tender chuck roast cooked low and slow in a crock pot with pepperoncini peppers and seasonings, easy to make! Make it tonight!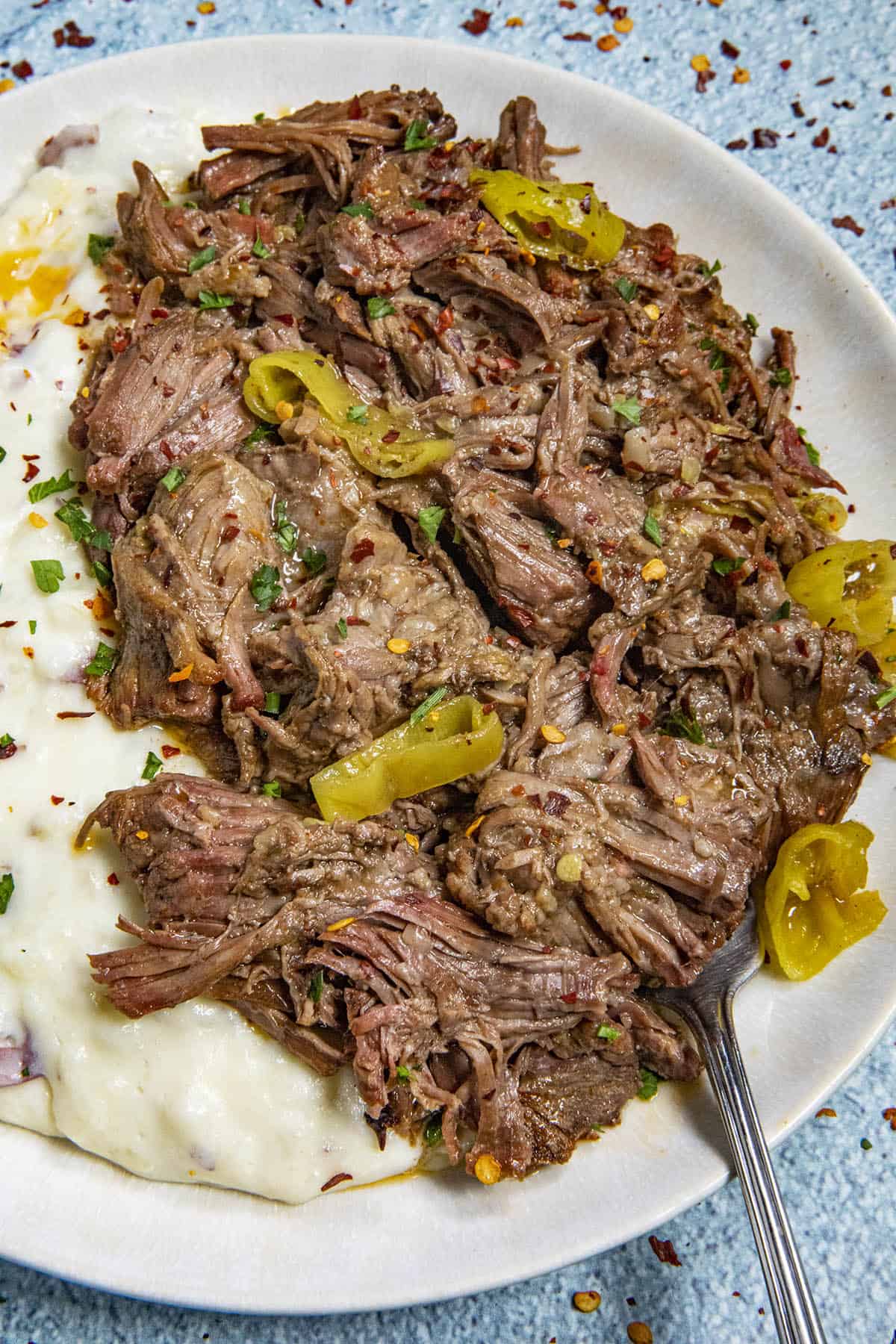 Slow Cooker Mississippi Pot Roast Recipe
We're cooking up a big crock pot full of Mississippi Pot Roast in the Chili Pepper Madness kitchen today, my friends.
If you're a lover of tender, juicy pot roast, you'll love the flavors of this dish.
Where Did Mississippi Pot Roast Come From?
Mississippi pot roast was created when a couple of Mississippi natives put the recipe in their church cookbook and it eventually took off, mostly because it's so darned tasty.
The combination of ingredients truly melds with beef that is slow cooked until it is deliciously fork tender. Patty and I were practically eating the roast out of the pot.
One of the key ingredients are the pepperoncini peppers. Pepperoncinis adding a wonderful briny flavor along with a touch of heat that we truly love.
Let's talk about how to make Mississippi pot roast, shall we?
Mississippi Pot Roast Ingredients
Chuck Roast. You can make this with other cuts of meat, but chuck roast is by far the best. Try other beef roasts or pork roast.
Seasonings. Salt and black pepper.
Flour.
Vegetable Oil. To brown the meat.
Butter. I use unsalted butter and add salt to taste.
Pepperoncini Peppers. Pepperoncini peppers and their juices are key to this recipe, making it quite unique. You won't get a lot of heat from them, but delicious flavor.
Beef Broth. You can use other broths or stock, or just use water.
Homemade Ranch Dressing. Mayonnaise, apple cider vinegar, dried dill, paprika, Worcestershire sauce, hot sauce, and buttermilk.
Cornstarch Slurry. For the gravy. Use cornstarch and water or milk.
How to Make Mississippi Pot Roast - the Recipe Steps
FOR THE MISSISSIPPI POT ROAST
First you'll season and brown the meat in a hot pan, then add to your crock pot.
Next, mix the ranch dressing ingredients, then pour them into the crock pot.
Add the pepperoncini peppers, beef broth, and a stick of butter.
Cover and cook the pot roast on low for 7-8 hours, or on high for 5-6 hours, or until the meat is melt-in-your-mouth tender. I recommend slow cooking on low.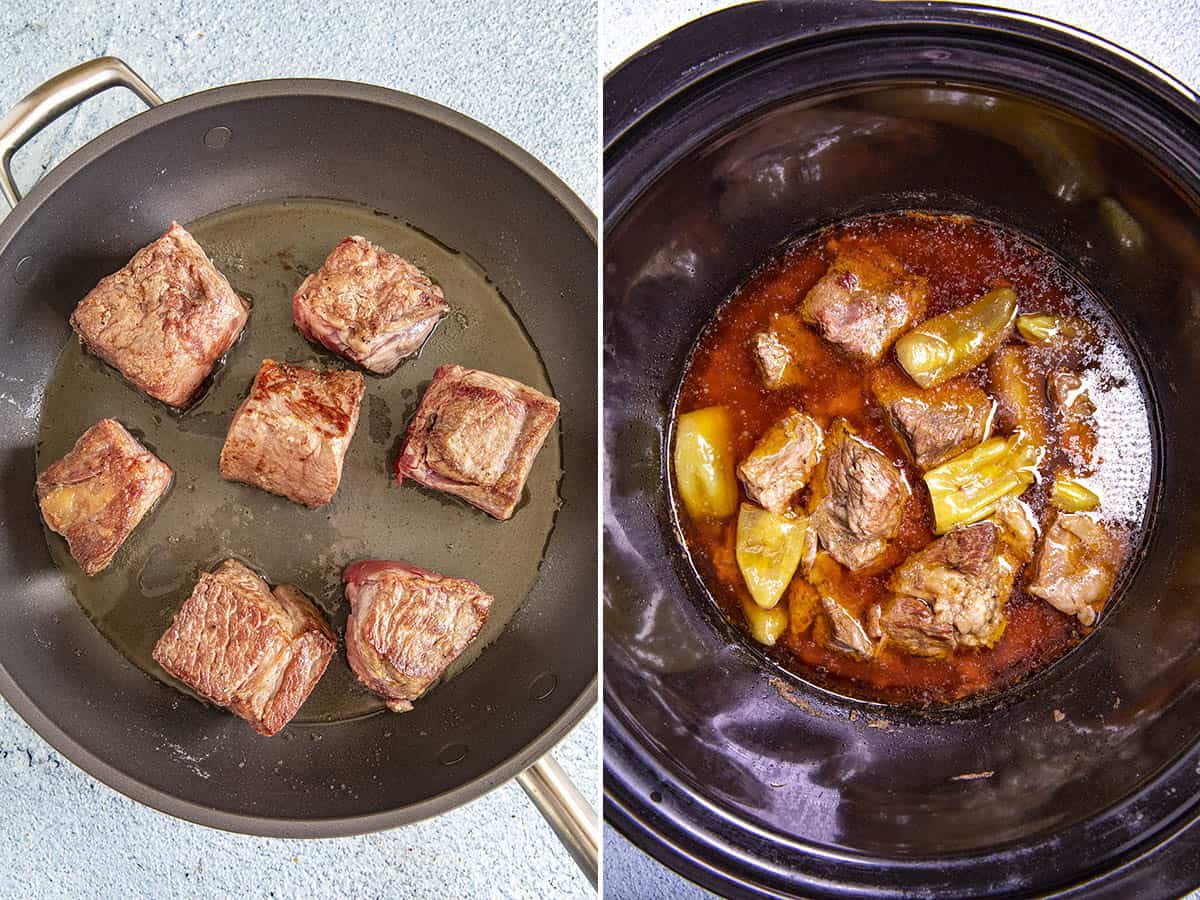 Look at how tender the meat gets. So tender and juicy!
Shred the meat and return it to the pot.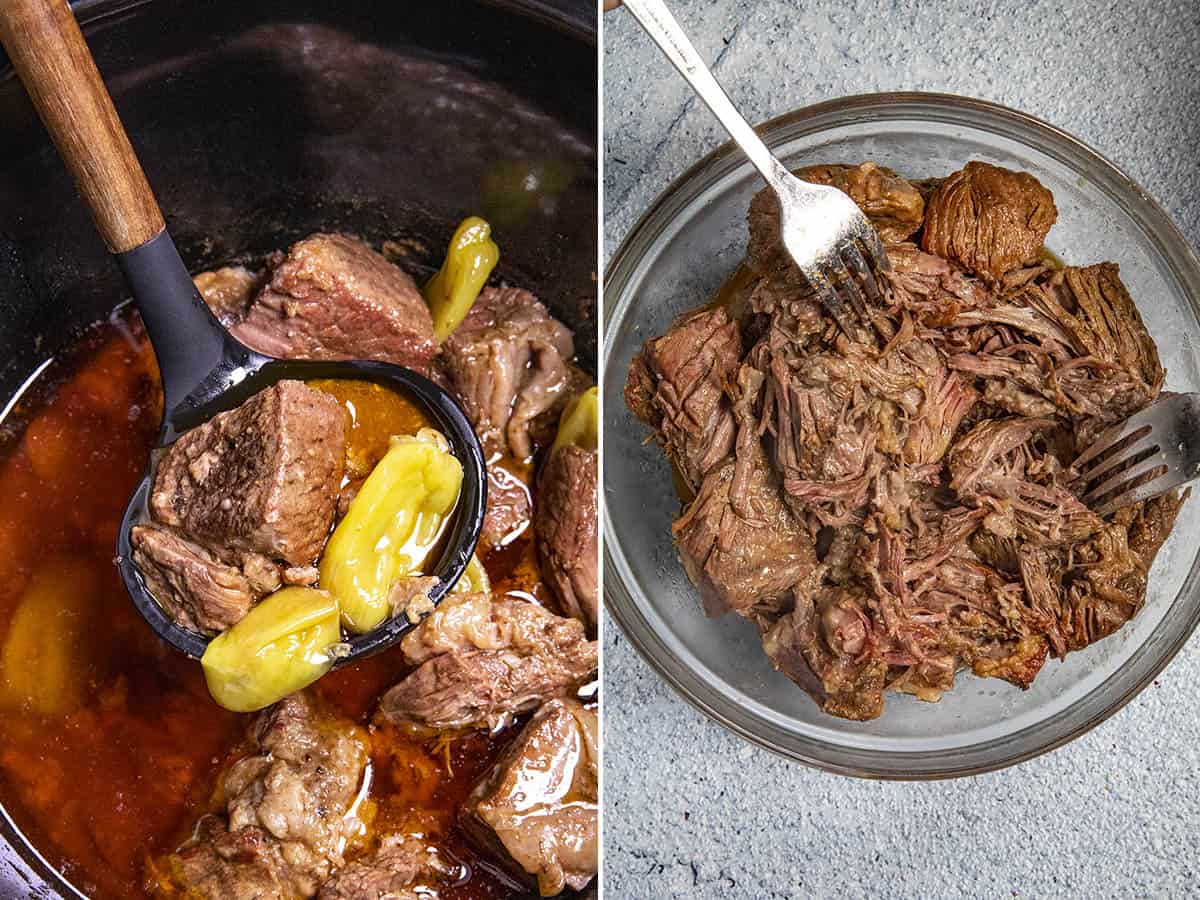 For your gravy, strain the cooking liquid and reserve the pepperoncinis, if desired. Thicken the gravy in the pan with the cornstarch slurry, the serve it over the Mississippi pot roast.
Boom! Done! Your melt-in-your-mouth, juicy Mississippi pot roast is ready to serve. So easy to make in the crock pot, isn't it? I love this recipe.
This version is very easy and incredibly delicious. Such great flavor. Extra pepperoncinis for me, please!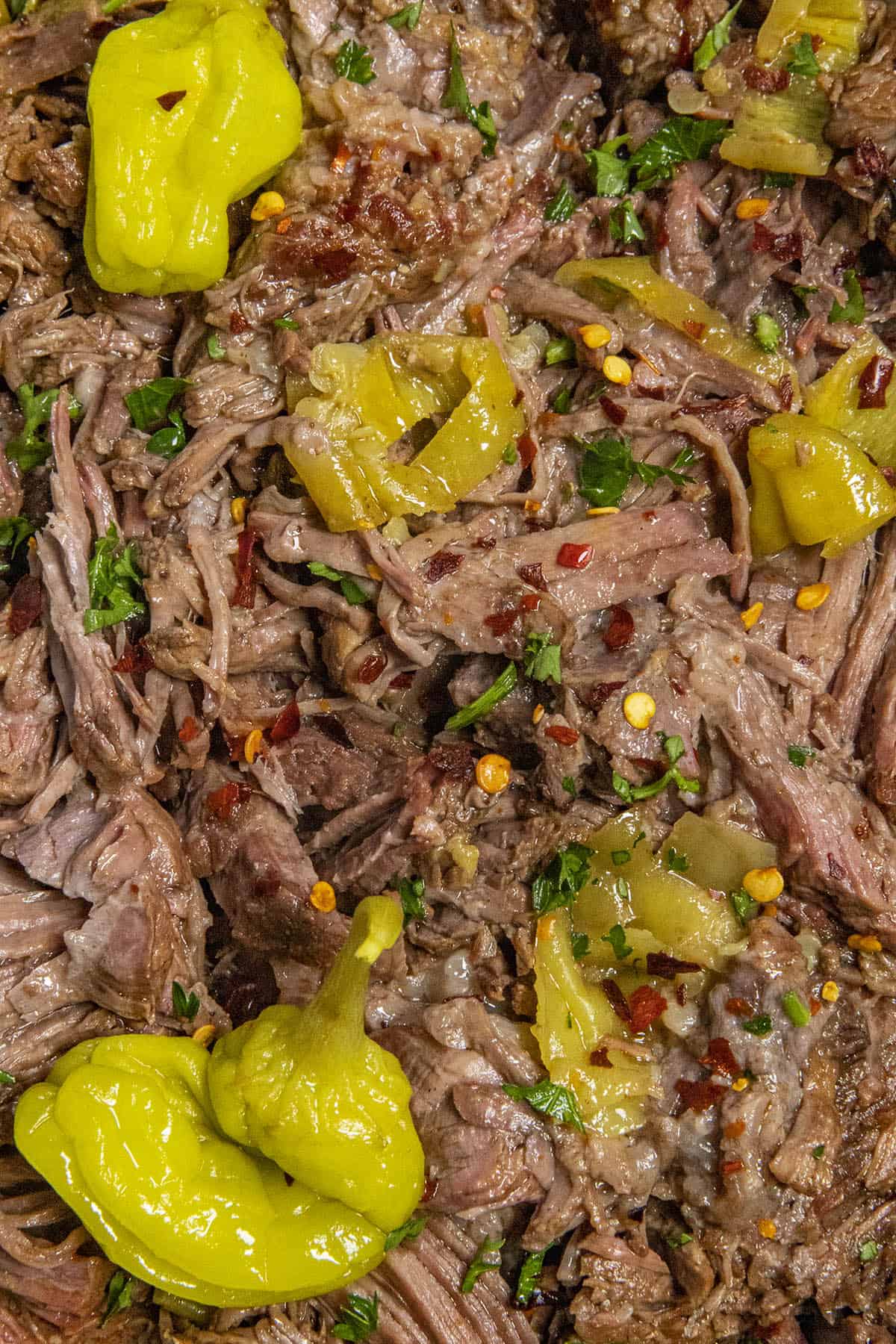 Serving Mississippi Pot Roast
Serve with your favorite mashed potatoes with gravy. Add extra pepperoncinis if you'd like. My mom always served pot roast with mashed potatoes and carrots. YUM.
Recipe Notes & Tips
Original Mississippi Pot Roast. The original recipe calls for beef, butter, au jus gravy mix and a package of Hidden Valley Ranch seasoning mix (dry ranch dressing mix and au jus), along with pepperoncini peppers. I like to stay away from the dry packet stuff, so am sharing a slightly altered version that is just as tasty.
Oven Cooking. You can also make this in a Dutch oven or large pot. Simply brown the meat and make the ranch dressing per the recipe, add everything to a Dutch oven or oven safe pot, then cook in the oven at 250 degrees F for 5-6 hours, or until the meat is fork tender. I should do a pressure cooker version. Cook it up quick!
Heat Factor. Mississippi pot roast isn't meant to be spicy. I added extra pepperoncinis to my recipe, though feel free to adapt and include as many as you'd like.
Storage & Leftovers
Store any leftover Mississippi pot roast in a sealed container in the refrigerator. It will last up to 5 days. Simple reheat it on the stovetop in a pot to enjoy again.
You can also freeze it for 3 months or longer.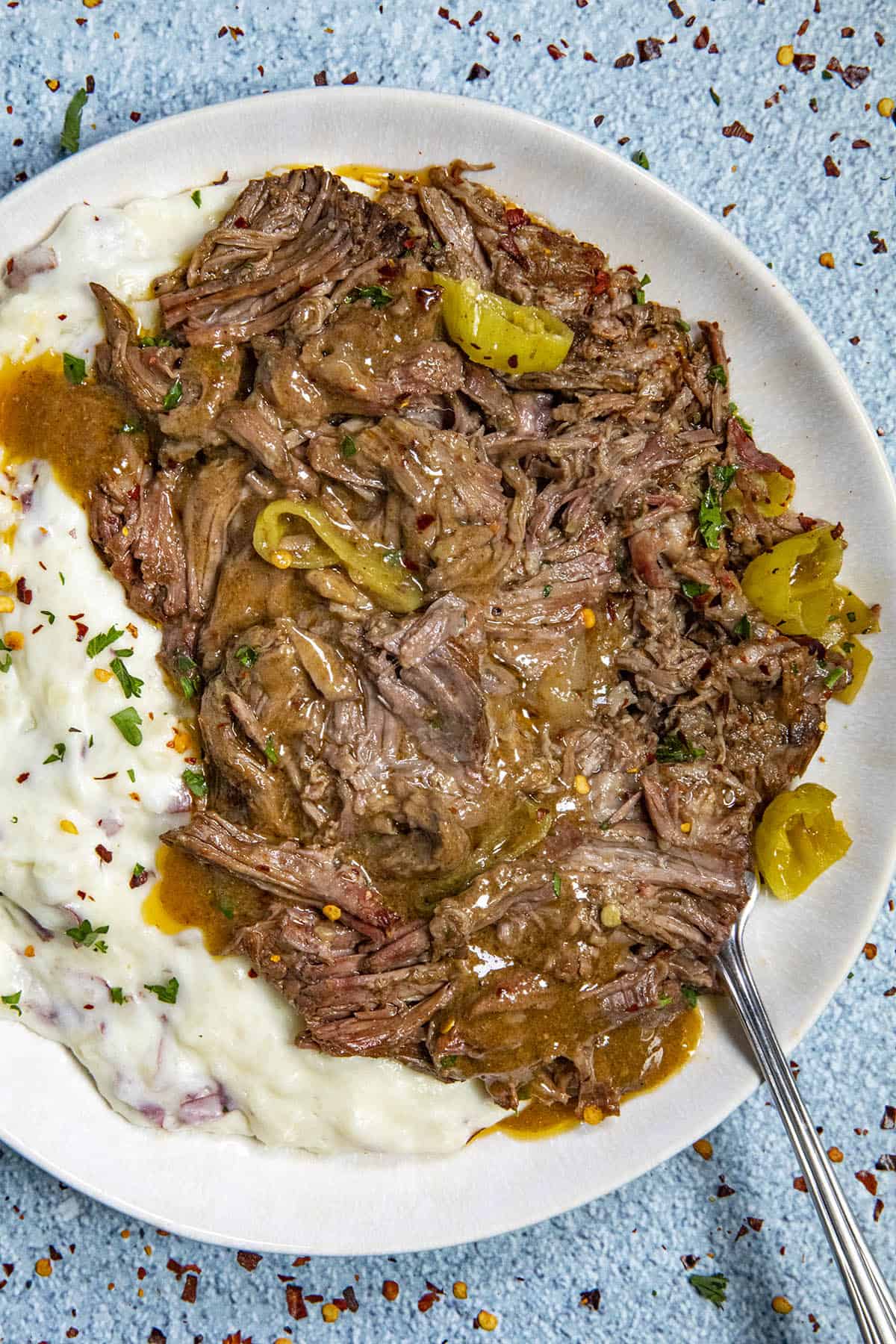 If you enjoy this recipe, I hope you'll leave a comment with some STARS. Also, please share it on social media. Don't forget to tag us at #ChiliPepperMadness. I'll be sure to share! Thanks! -- Mike H.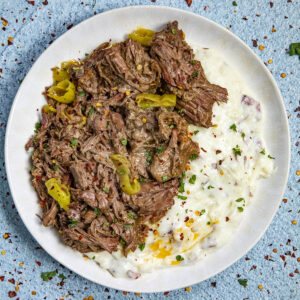 Print
Mississippi Pot Roast Recipe
Mississippi pot roast is a comforting dish of tender chuck roast cooked low and slow in a crock pot with pepperoncinis and seasonings, easy to make!
Save Recipe
Saved!
Ingredients
1

boneless chuck roast

cubed/cut into large chunks, about 3 pounds

1

tablespoon

salt

1

teaspoon

black pepper

4

tablespoons

flour

3

tablespoons

vegetable oil

1

stick butter

8

ounces

pepperoncini peppers

or more to your preference

1/2

cup

beef broth

(or use water)

3

tablespoons

mayonnaise

1

tablespoon

apple cider vinegar

1

teaspoon

dried dill

1

teaspoon

paprika

1

teaspoon

Worcestershire sauce

1

teaspoon

your favorite Louisiana style hot sauce

1

teaspoon

buttermilk

optional

2

tablespoons

cornstarch

3

tablespoons

water
Instructions
FOR THE MISSISSIPPI POT ROAST
Season roast with salt, pepper and flour. Be sure to coat all sides.

Heat the oil to medium heat in a pan and sear the cubed roast on one side for about 5 minutes, then flip and sear another 5 minutes. Sear the sides of the roast a couple minutes each as well. Add to a crock pot or slow cooker.

Homemade Ranch Dressing. In a bowl, whisk together the mayonnaise, vinegar, dill, paprika, Worcestershire, hot sauce and buttermilk. Pour into the crock pot and stir.

Add the butter, pepperoncinis, and beef broth.

Cook on LOW for 7-8 hours or on HIGH for 5-6 hours, or until the meat is fork tender. Low is recommended for this recipe.

Transfer the tender meat to a bowl with 1 cup of the cooking liquid and shred with forks.
MAKE GRAVY
Strain the remaining cooking liquid and add to a sauce pan. Heat to medium heat.

Stir the corn starch and water together to form a slurry. Pour into the pan and stir, heating, until the mixture thickens into a gravy. Should take a few minutes.

Serve with your favorite mashed potatoes with gravy.
Notes
Heat Factor: Mild
Reserve the Pepperoncinis. Most recipes toss out the pepperoncini peppers, but I like to cut them up and stir them into the dish. More flavor for me!
Nutrition Information
Calories:
271
kcal
Carbohydrates:
7
g
Protein:
23
g
Fat:
17
g
Saturated Fat:
6
g
Polyunsaturated Fat:
4
g
Monounsaturated Fat:
8
g
Trans Fat:
1
g
Cholesterol:
80
mg
Sodium:
1023
mg
Potassium:
473
mg
Fiber:
1
g
Sugar:
1
g
Vitamin A:
249
IU
Vitamin C:
24
mg
Calcium:
30
mg
Iron:
3
mg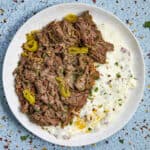 Did You Enjoy This Recipe?
I love hearing how you like it and how you made it your own. Leave a comment below and tag @ChiliPepperMadness on social media.
NOTE: This recipe was updated on 2/21/22 to include new information and photos. It was originally published on 2/19/18.