This shop has been compensated by Collective Bias, Inc. and its advertiser. All opinions are mine alone. #CollectiveBias #TheFreshMarket #TFMGetGrilling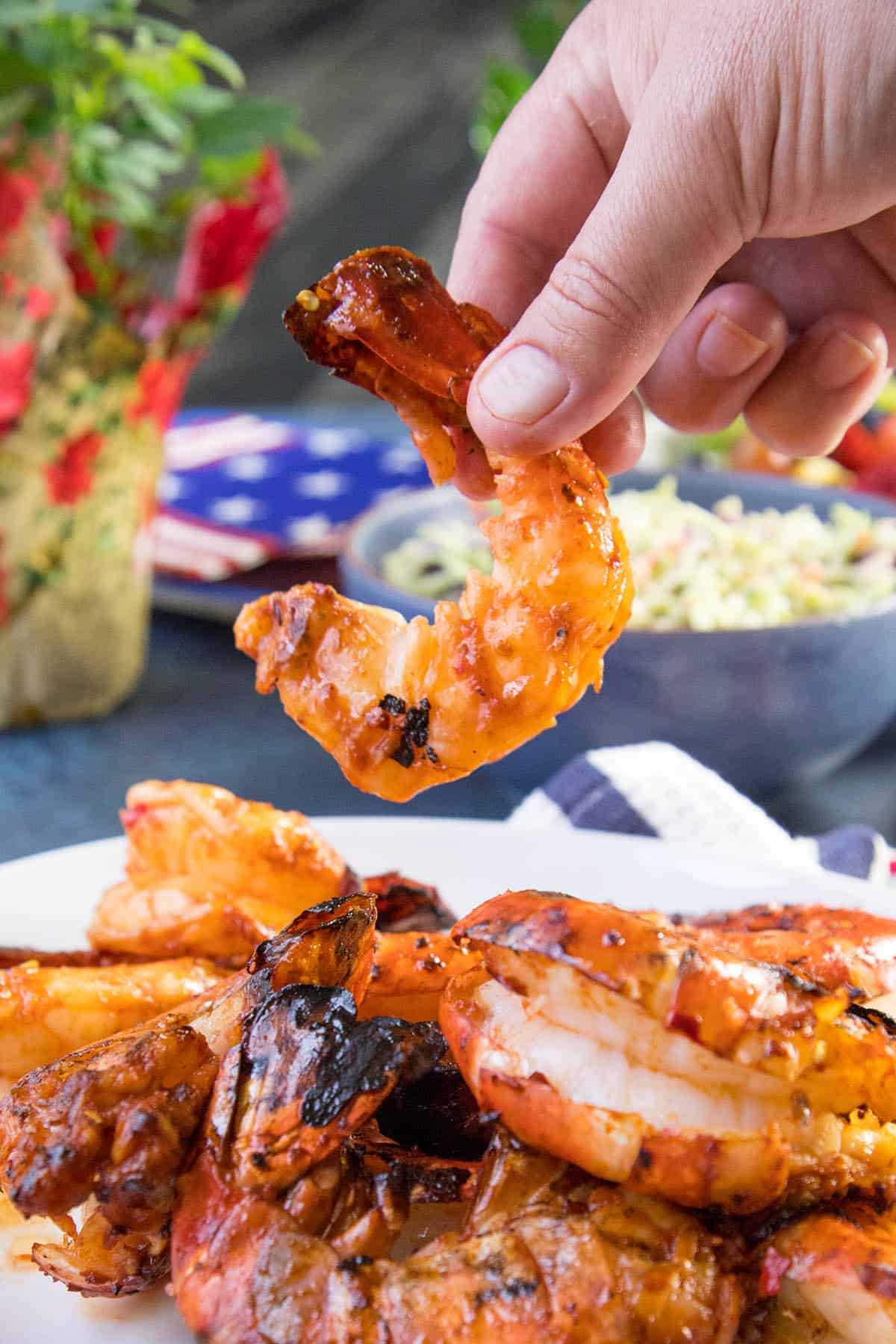 Get your grills ready for this grilled shrimp recipe with very large succulent shrimp that have been marinated in flavorful harissa, then grilled to perfection. They're super tender and huge on flavor.
The 4th of July is just about here, my friends, and where I'm from, it is HUGELY important. For us in the United States, it is Independence Day, the day we declared ourselves a new nation in 1776. July 4th is celebrated with fireworks, special gatherings and best of all... GRILLING!
We're having a small gathering of friends and I want to theme it up a bit with some spangles and stars, so I ran down to my local The Fresh Market and picked up a few items, including these Holy-Cow-Amazing-HUGE Colossal Shrimp.
Take a look at this amazing piece of shrimp.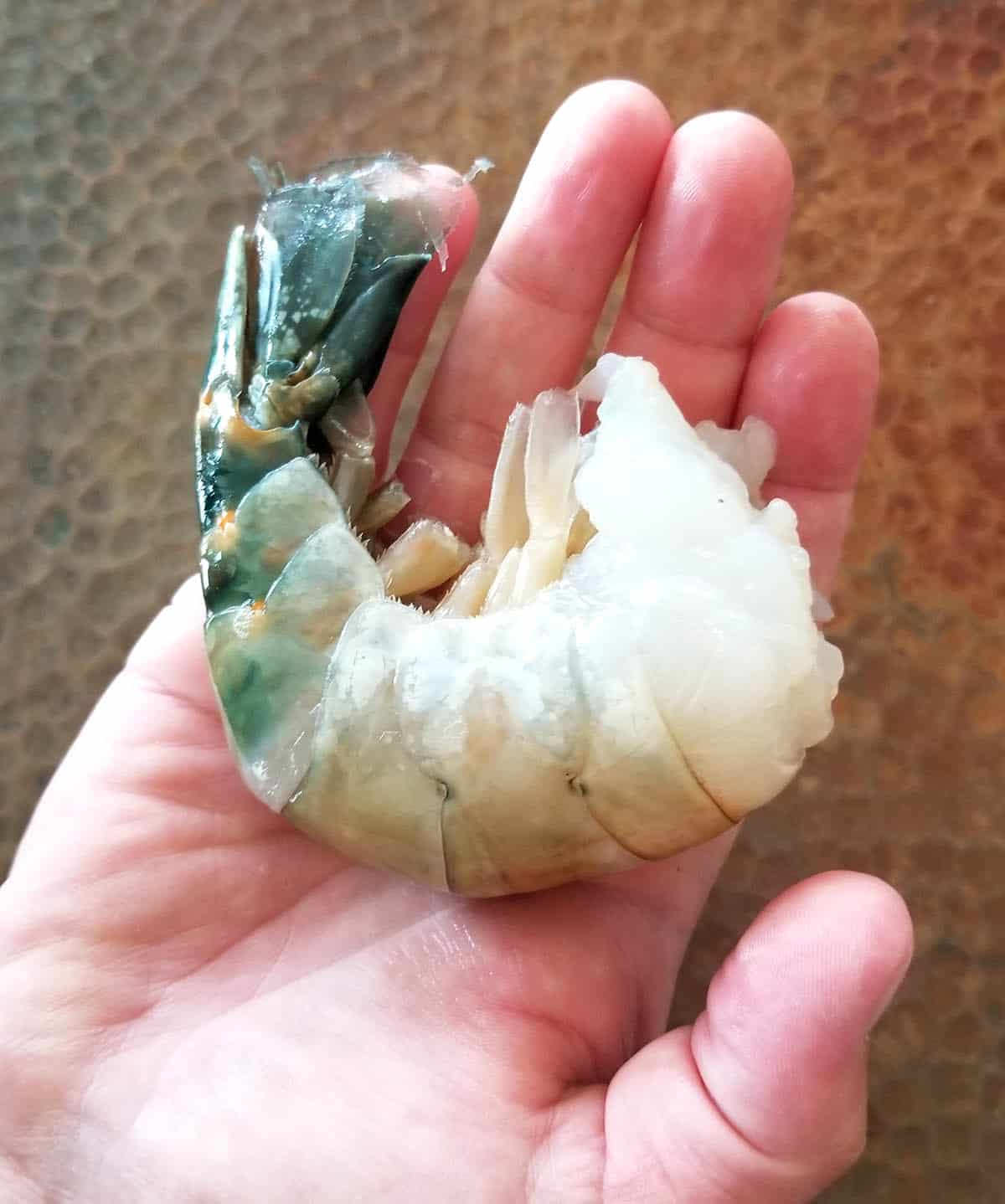 This is a single colossal shrimp and it really lives up to its name. Each colossal shrimp is 3-4 ounces, so you'll get 4-6 of them per pound. You can use smaller shrimp, of course. But I love big, fat, plump shrimp!
I'm having 6 people total, so I grabbed 12 colossal shrimp, which weighed in at about 2.5 pounds.
I'm getting hungry! We're talking Colossal Grilled Shrimp, my friends! With a super awesome Harissa Marinade!
Let's get cooking!
Grilled Shrimp with Harissa Marinade Ingredients
Shrimp. I'm using colossal shrimp in the shells, though prawns are good, as are larger shrimp. You can really use any size shrimp to make grilled shrimp.
Harissa. I am using a homemade harissa, but you can use your favorite brand.
Lemon Juice. Great flavor builder.
Seasonings. I'm using salt and pepper to taste, though you can use others. Consider garlic or a nice Italian seasoning.
How to Make Grilled Shrimp with Harissa Marinade
Make the Harissa Marinade. First, whisk together about a quarter cup of harissa with juice from 1 lemon and a bit of salt and pepper.
I didn't want to add in too many other seasonings this time around as I'm using this Homemade Harissa Recipe. It is already very highly seasoned to my liking, though you can include a flavorful chili powder or some extra spicy chili flakes if you'd like.
Marinate the Shrimp. Add the shrimp to a large bowl or a sealable bag and rub the harissa marinade in. Really get it in there. Like so.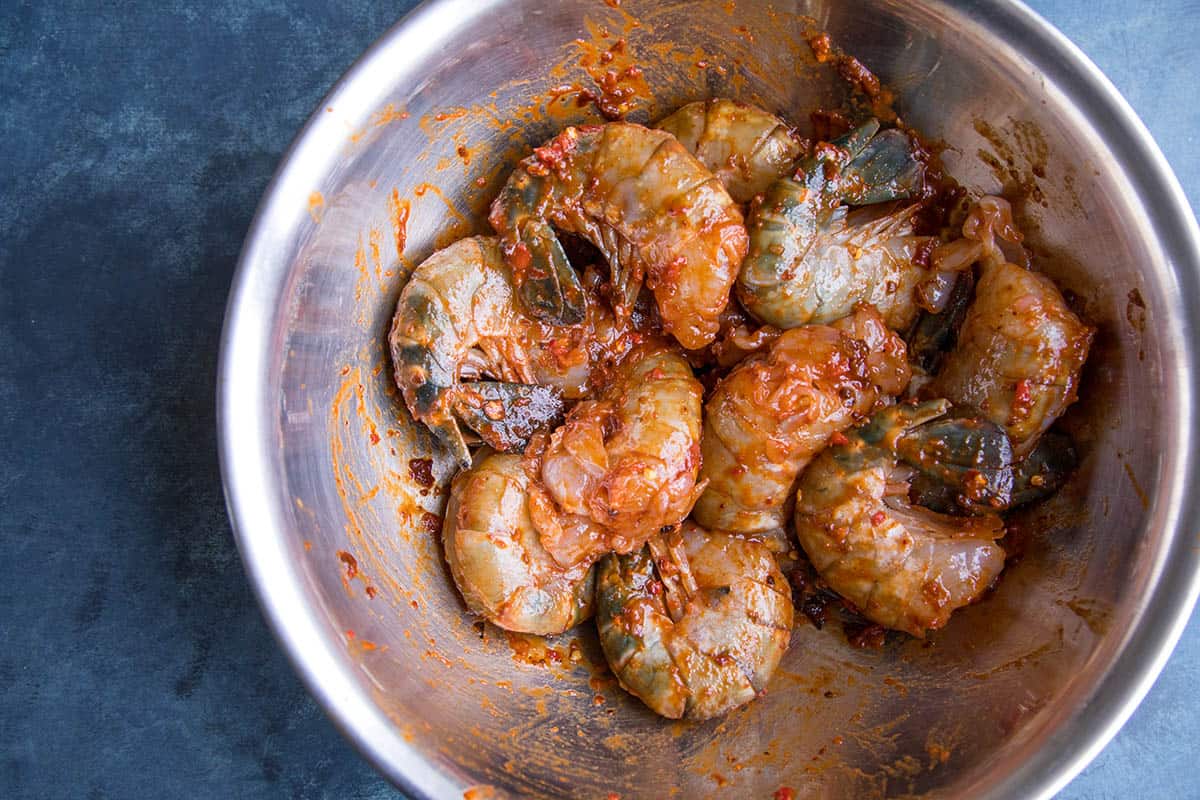 No need to peel the shrimp. We're grilling them in their shells for extra flavor.
Marinate the Shrimp. I marinated mine for 4 hours, covered in the fridge. You can reduce the marinating time to 20 minutes to 1 hour for smaller shrimp.
Grill the Shrimp. When you're ready to get grilling, fire up the grill to medium high heat and lightly oil the grill grates. Set the shrimp on and grill them about 4-5 minutes per side, or until they cook through. Or, you can thread the shrimp on skewers and grill them. Grilled shrimp skewers are great. Use wooden skewers soaked in water or grill safe metal skewers.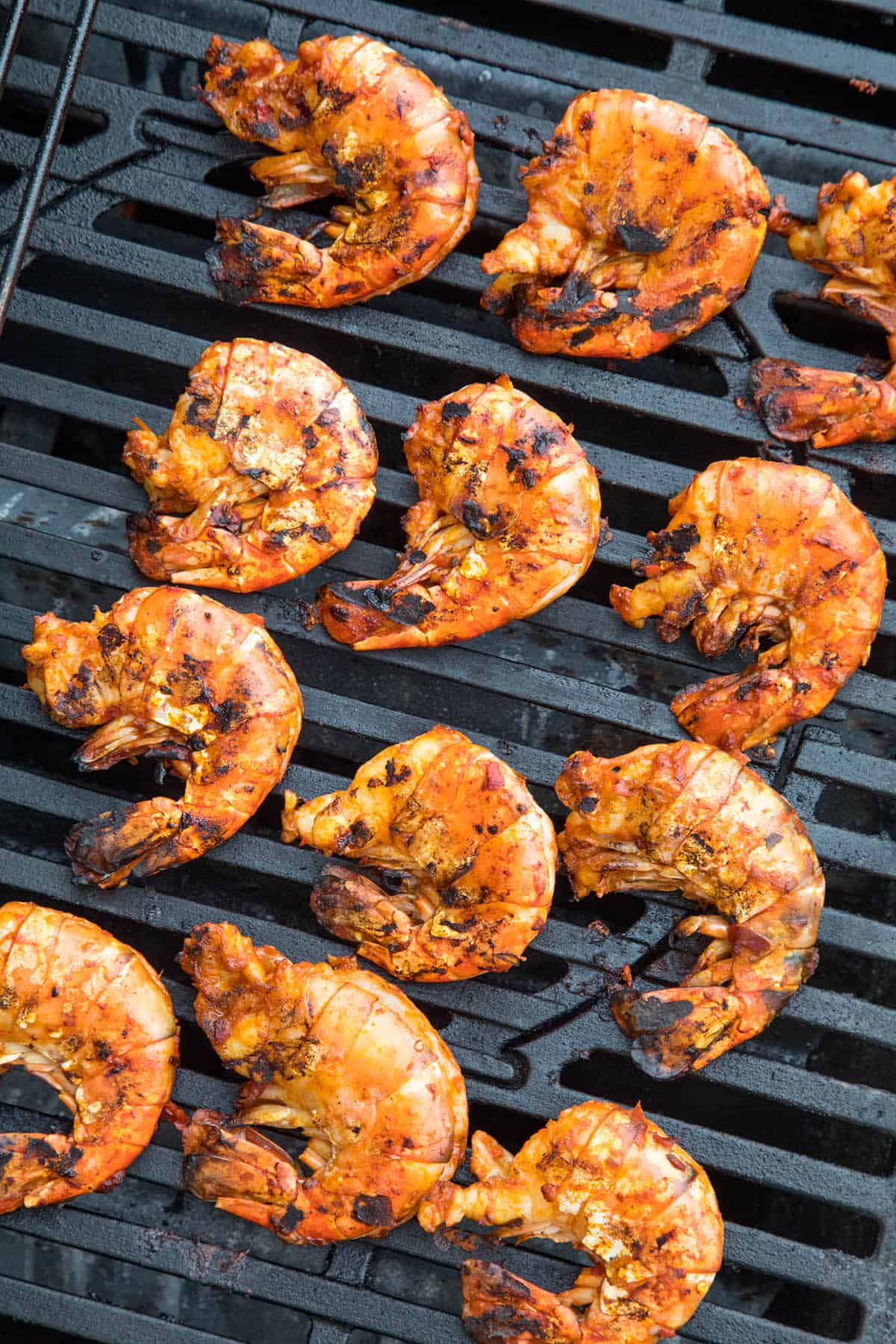 The shrimp will be opaque and firm. They're done when the internal temperature measures 145 degrees F. Keep checking them to avoid overcooking the shrimp.
Pluck them off the grill and serve them up! They're SO EASY to make! I love easy meals! Especially when they involve grilled shrimp.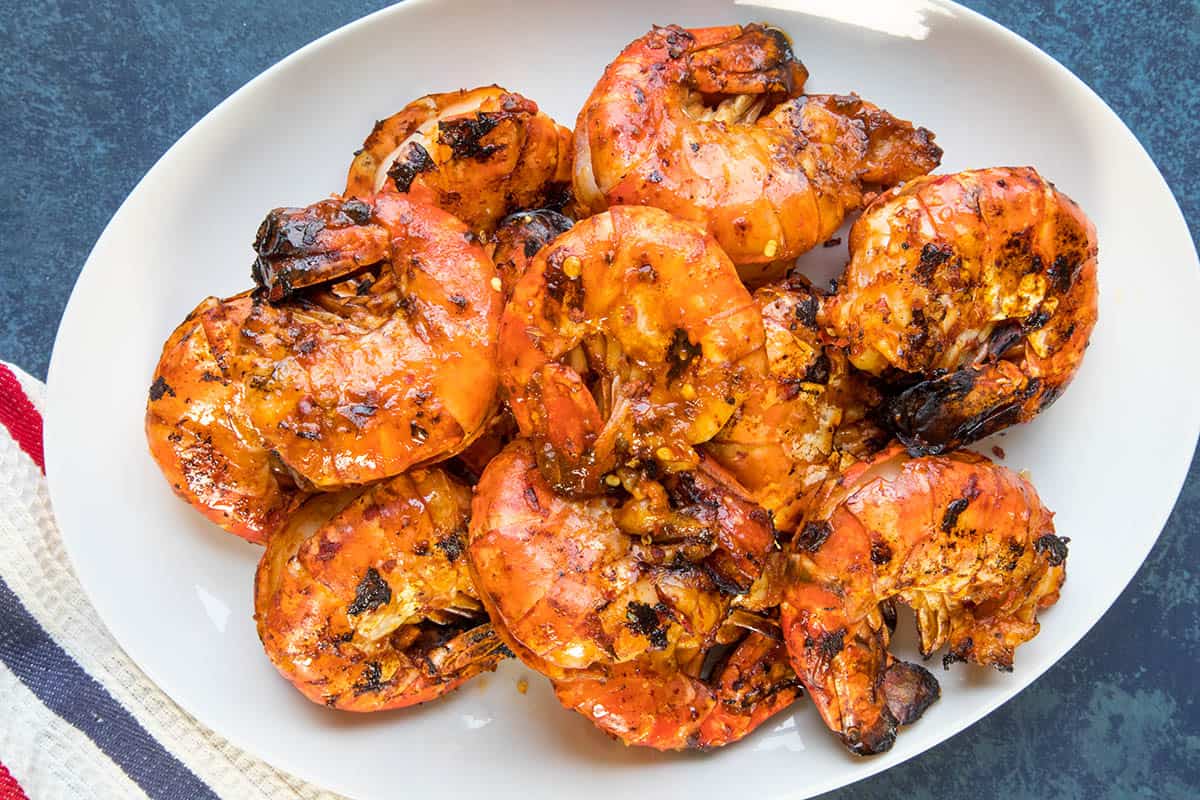 Serve Them up! Serve the cooked shrimp onto a plate and served them alongside some simple sides and boom!
That's it, my friends! Colossal Grilled Shrimp with Harissa Marinade made easy! I hope you enjoy! Have fun and enjoy with such an easy grilled shrimp recipe. Hard to beat.
Recipe Notes & Tips
Alternative Marinade. Not a fan of harissa? Try my favorite shrimp marinade recipe with olive oil and lemon juice, soy sauce and more. It's really huge on flavor. Marinade 30 minutes then pop them on the outdoor grill. So easy!
Patty's Perspective
The name for these shrimp is no joke. They are truly Colossal. When we first walked up to them at The Fresh Market, I mistakenly thought they were lobster tails. They really do look like lobster tails because they are so huge. Great for a few foodie friends to enjoy. Grilled shrimp is one of my favorite things in the world, and the harissa marinade really took these to a new level.
If you try this recipe, please let us know! Leave a comment, rate it and tag a photo #ChiliPepperMadness on Instagram so we can take a look. I always love to see all of your spicy inspirations.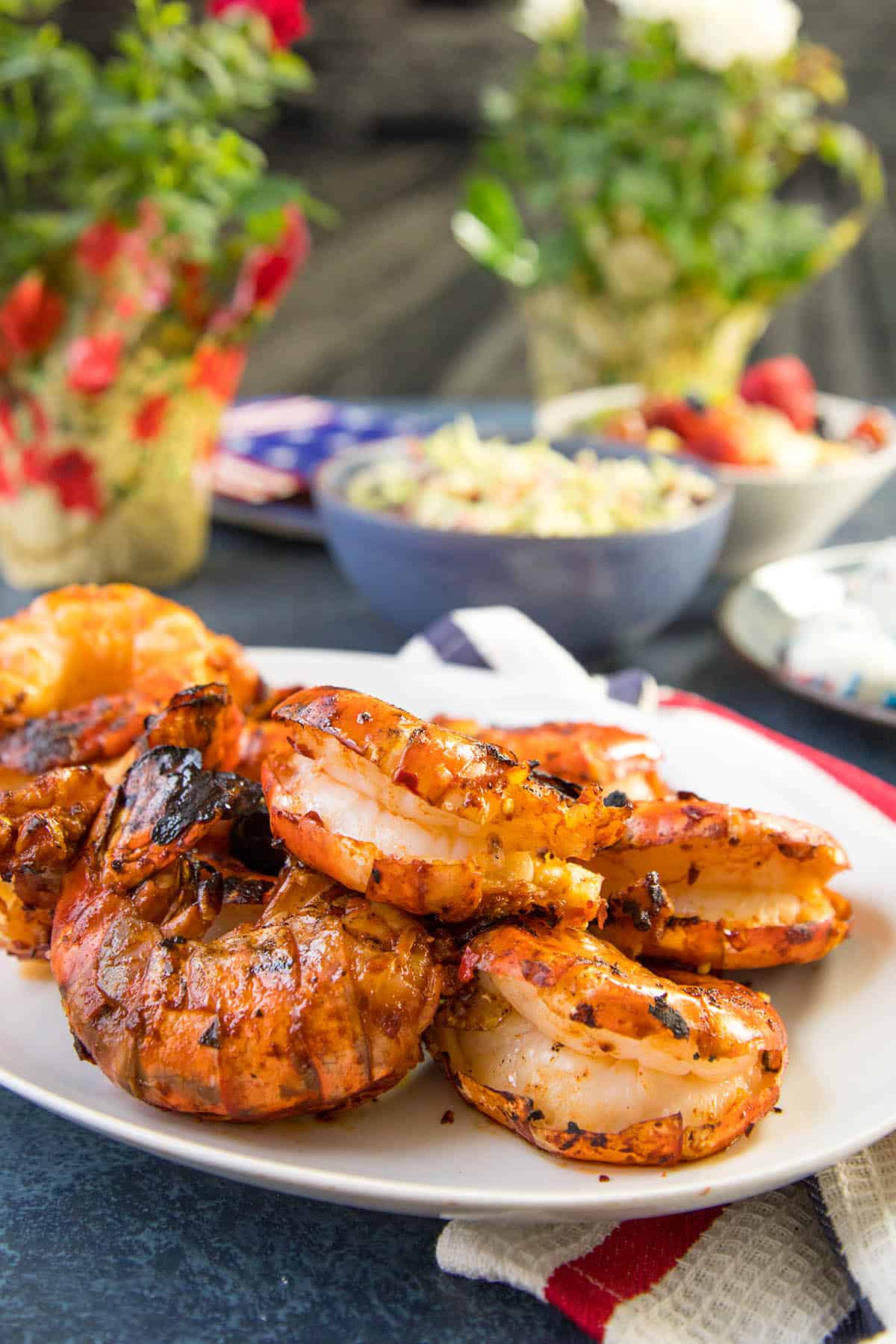 Get Inspired!
Get more grilling inspirations and ideas here and also check out The Fresh Market 4th of July page.
Try Some of My Other Popular Recipes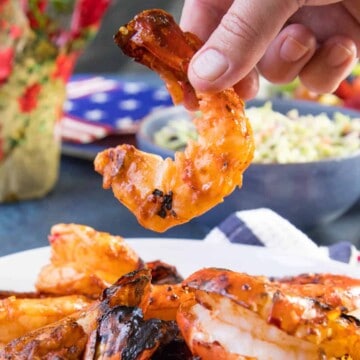 Print
Grilled Shrimp Recipe with Harissa Marinade
Get your grills ready for this grilled shrimp recipe of large succulent shrimp that have been marinated in flavorful harissa, then grilled to perfection. They're super tender and huge on flavor.
Save Recipe
Saved!
Ingredients
12

Colossal Shrimp

about 2.5-3 pounds

¼

cup

harissa

Juice from 1 lemon

Salt and pepper

to taste
Instructions
Pat the shrimp dry and set them into a plastic bag or a large bowl.

Whisk together the harissa, lemon juice and salt and pepper. Pour it into the bag or bowl with the shrimp.

Rub the shrimp down with the harissa marinade.

Cover and set the shrimp into the refrigerator for at least 2 hours.

Fire up the grill to medium heat and lightly oil the grates. Grill the shrimp for about 4-5 minutes per side, until they are cooked through. They should measure 145 degrees F internally.

Serve
Nutrition Information
Calories:
45
kcal
Carbohydrates:
1
g
Protein:
7
g
Cholesterol:
70
mg
Sodium:
393
mg
Potassium:
84
mg
Vitamin A:
140
IU
Vitamin C:
0.9
mg
Calcium:
31
mg
Iron:
0.2
mg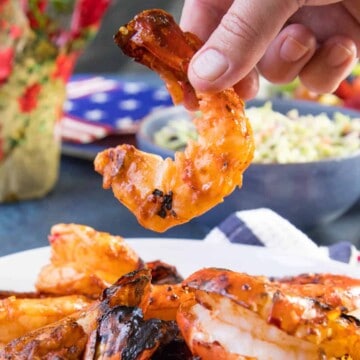 Did You Enjoy This Recipe?
I love hearing how you like it and how you made it your own. Leave a comment below and tag @ChiliPepperMadness on social media.