Mole sauce is the national dish of Mexico, a Mexican chili sauce with countless variations, ranging from red to green to black. Chili peppers are the heart and core of all them. Learn more about mole sauce.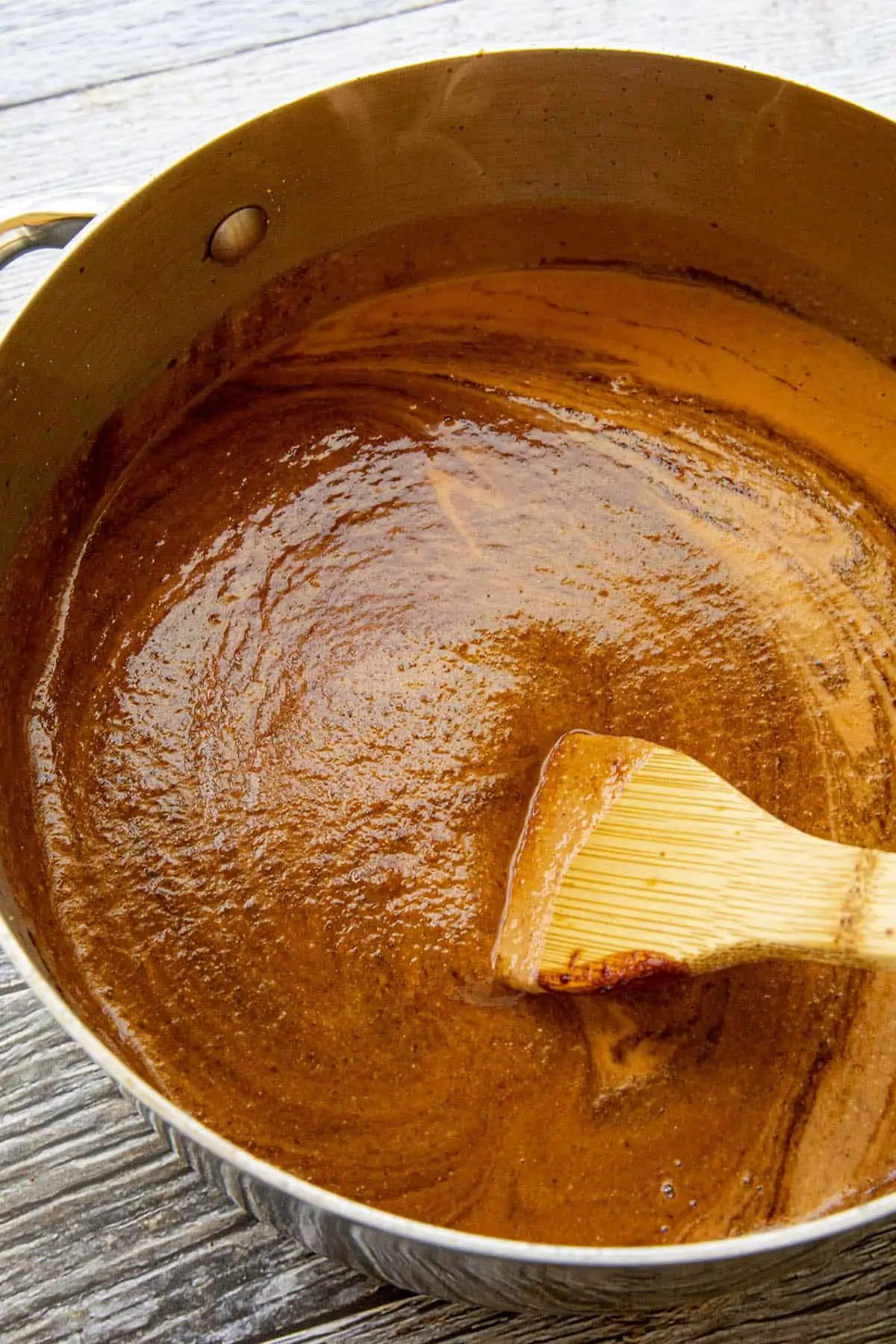 A Guide to Mole Sauce
A number of Mexican dishes have made their way to the United States, gaining popularity as more and more people hear about them and try them out. It is no surprise that mole sauce is one such dish that has gained a lot of recognition in America. That's not even the best part.
What fascinated us the most was the fact that this sauce is the national dish of Mexico. It is hugely important to Mexican cuisine.
The pronunciation of the word is 'MOH-lay', instead of 'mole'. The term "mole" is mostly used in the U.S for describing a certain sauce that has been spiced with rich, and earthy flavors.
If you're looking for detailed information regarding this special sauce then you have come to the right place. Are you wondering what mole sauce is made from? What does it taste like? Or what are the types of mole sauce? We've created this detailed guide for the purpose of answering all your questions related to this Mexican specialty. So let's begin!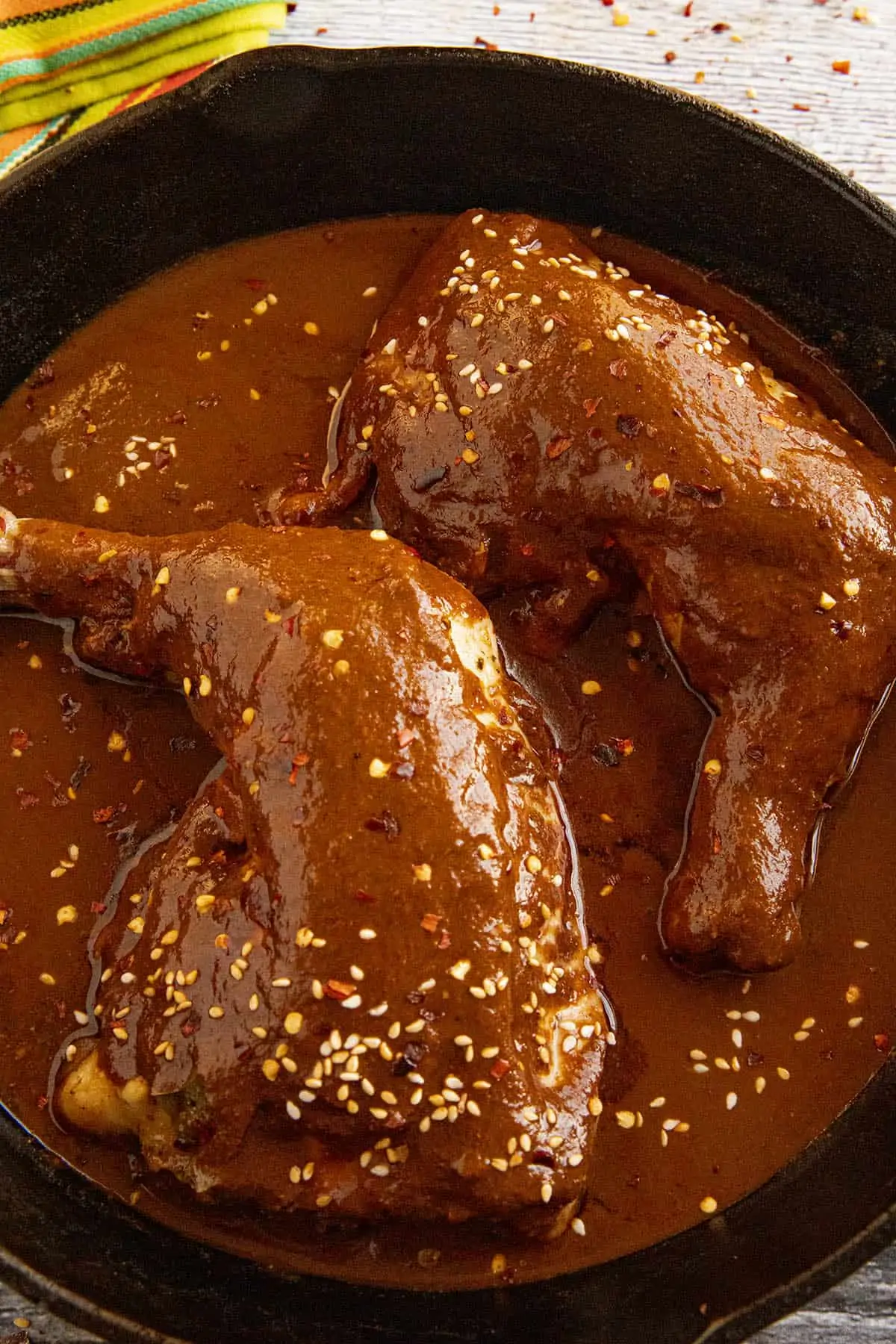 What is Mole Sauce Made of?
Firstly, it is important to note that there are different types of mole sauce. The one similarity between each of the types of mole sauce is that all of them are prepared using one particular type, or different types of chili peppers.
Take the example of the classic mole sauce prepared in Central Mexico, and Oaxaca. These are mole poblano, and mole negro respectively.
They're prepared from any combination of the chili peppers listed below: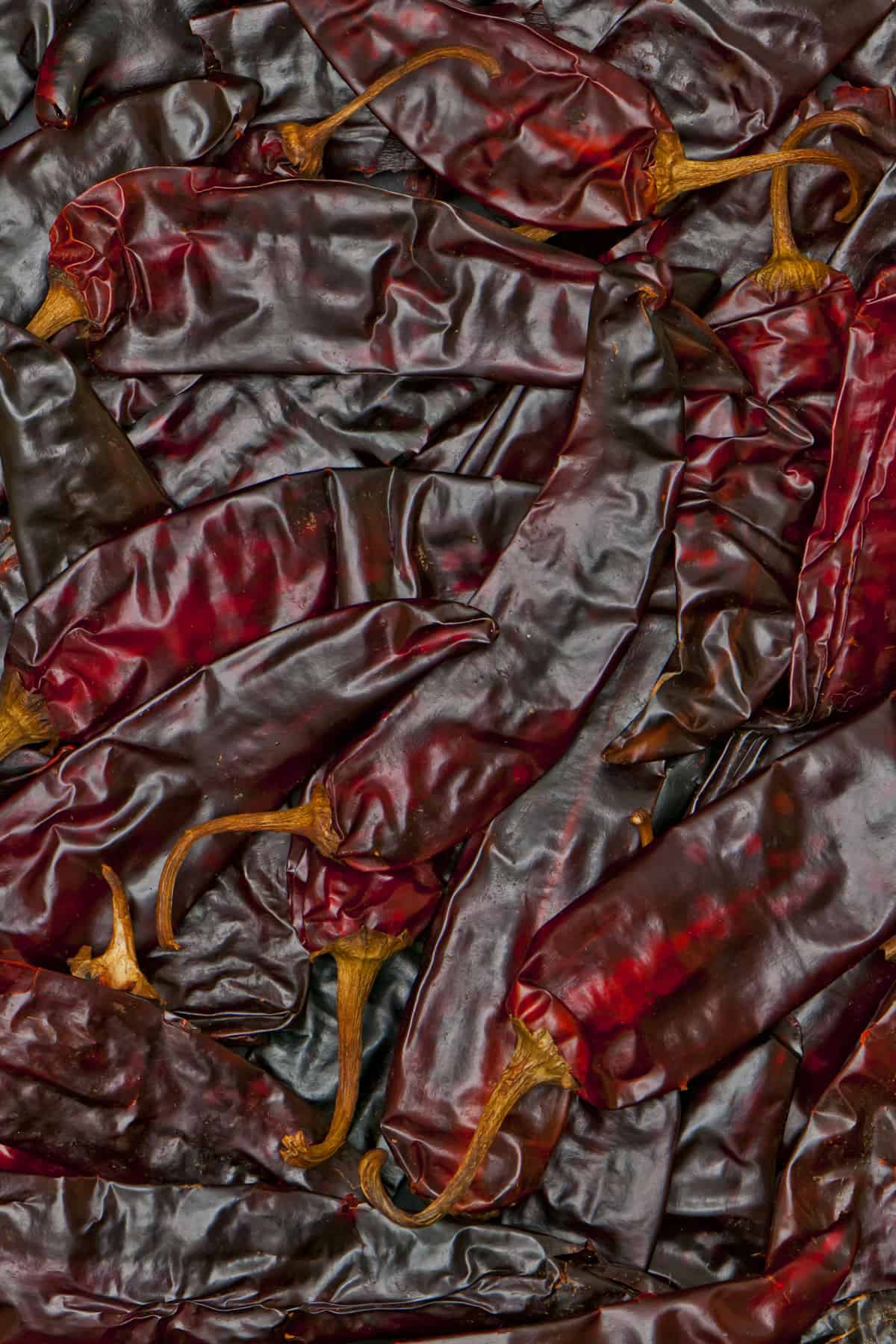 Several other ingredients other than chili peppers contribute to its exotic flavor. These often include cumin, cloves, tomatillos, tomatoes, sesame seeds, garlic, herbs, dried fruits, black pepper, achiote, guaje.
Common herbs used for the preparation of this particular sauce include piper auritum, or hoja santa, Mexican oregano and others.
Each of these sauces have complex ingredients, and they're not very simple to make. Some of the complicated sauces such as mole poblano and mole negro contain 20 to 26 ingredients, on average.
Mole sauce contains ingredients from five main categories:
Sweet (dry fruits, and some sugar)
Chilies
Sour (tomatillos)
Thickeners such as nuts and tortillas
Spices
The process of preparation of mole sauce involves roasting the ingredients, then grinding them into a fine powder or paste. If you intend to make this sauce by hand, then the grinding and roasting processes are going to take you approximately a whole day.
Traditionally, the grinding and roasting processes were completed by several women of the family. However, this was before the introduction of electric mills which has made it a common practice to grind the ingredients.
Most of the families in Mexico have their distinct recipes and methods to prepare this exotic sauce. Most of the time, this special recipe is prepared in large batches on special occasions.
After the roasting and grinding processes have been completed, the prepared mixture is simmered after adding either water or broth. The sauce is left to simmer until it becomes thicker, and pungent.
Mole sauce isn't traditionally prepared with your ordinary kitchen utensils. Instead, it is prepared in a special type of pot, also called a cazuela, or a thick heavy clay cauldron. During the process, the sauce being prepared is stirred constantly to prevent burning.
What Does Mole Sauce Taste Like?
All the different types of mole sauces have a distinct flavor. Some are sweeter while the others are spicier. It mostly depends on the version of mole and the composition of the ingredients. Even the consistency of each type is different.
Generally, most mole sauces taste spicy and smoky with earthy sweet notes. This is because of the chilies, nuts, warm spices, raisins, and tomato used in the preparation of the sauce.
The texture of a mole sauce is commonly smooth and velvety. For the best results, use an electric blender. To make the sauce thicker, recipes usually have varying amounts of nuts such as almonds, peanuts, sesame seeds, or pumpkin seeds.
How Do You Make Mole Sauce From Scratch?
Making mole sauce from scratch isn't as simple as measuring ingredients and combining them. It involves several complicated processes such as roasting and grinding. The worst part is, if you haven't got electric mills in your kitchen, the process is going to take a ton of your time.
However, the end result is certainly worth the time and the effort. After you've successfully prepared mole sauce, you're going to feel like a pro chef. For the preparation of mole, you'll need to sauté and toast several ingredients. After toasting you'll need to blend and strain all the solids. In the end you'll have to simmer the sauce prepared.
Here's an overview of the entire mole making process:
Prep the Vegetables and Peppers
Before cooking, you need to prep the vegetables and peppers. Slice each vegetable, including onions, chilies, and other veggies. The garlic should be minced, the veins and seeds removed, the peppers sliced. Dried peppers should be seeded, with seeds reserved, and cut into pieces.
Toast the Seeds
Over a medium flame, toast seeds, such as sesame seeds, in a large dry skillet over medium heat. When they're toasted, stop immediately to avoid burning them. While you're heating them, stir constantly. This will also prevent them from burning.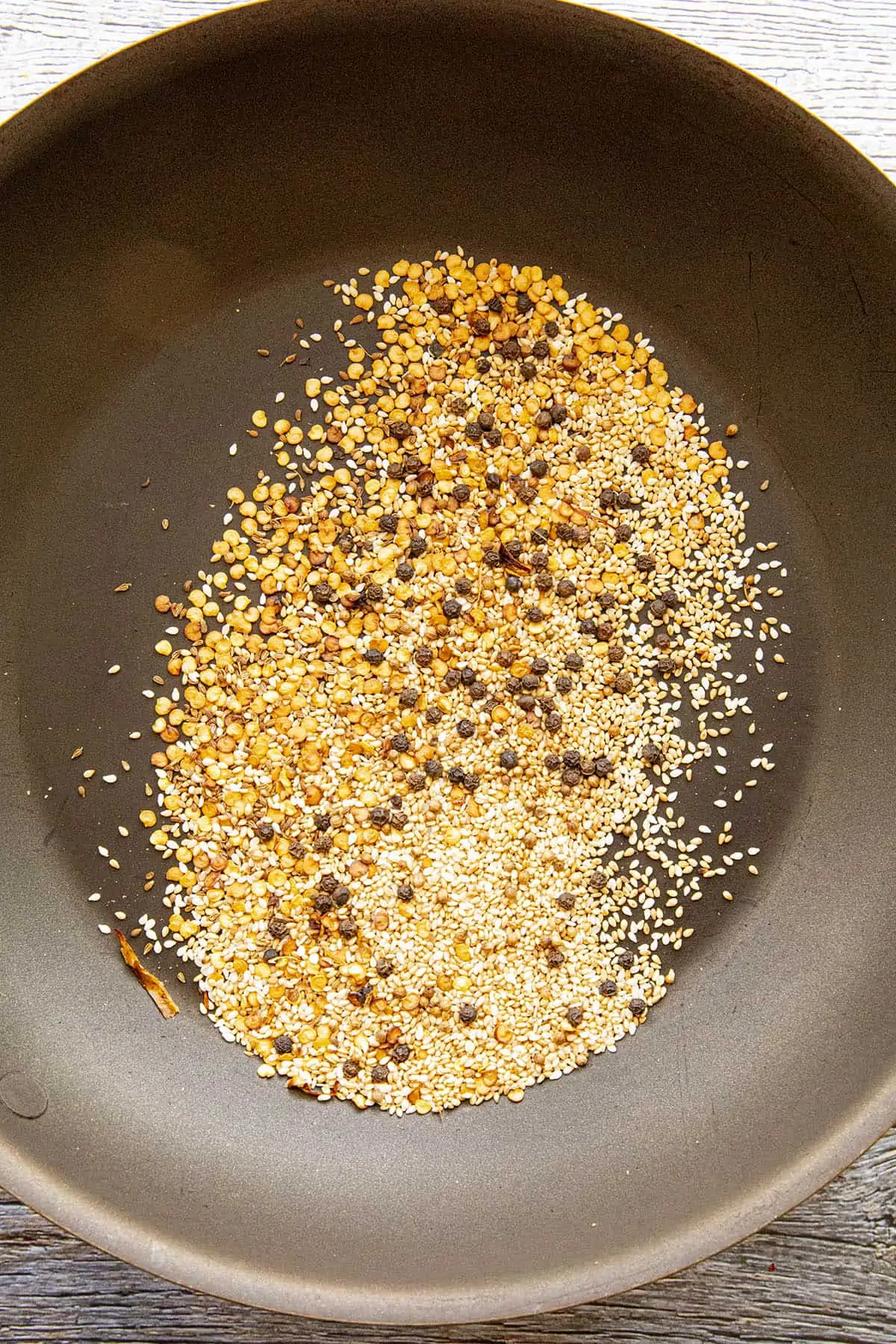 Set Up Your Mole Pot
It likely isn't possible to get the exact cauldron used by traditional Mexican people. What you can do is, get a large pot ready for all your ingredients. In a large saucepan, add 2 cups of water, on a medium flame. As you go, you are going to add everything to this pot.
Toast the Peppers
Over medium heat, a few tablespoons of oil need to be added into the skillet over medium-high heat. When you've heated up the oil adequately, you can add one layer of chilies at a time. Fry the chilies on both sides, without burning them. You can also dry toast them. Add them to your pot.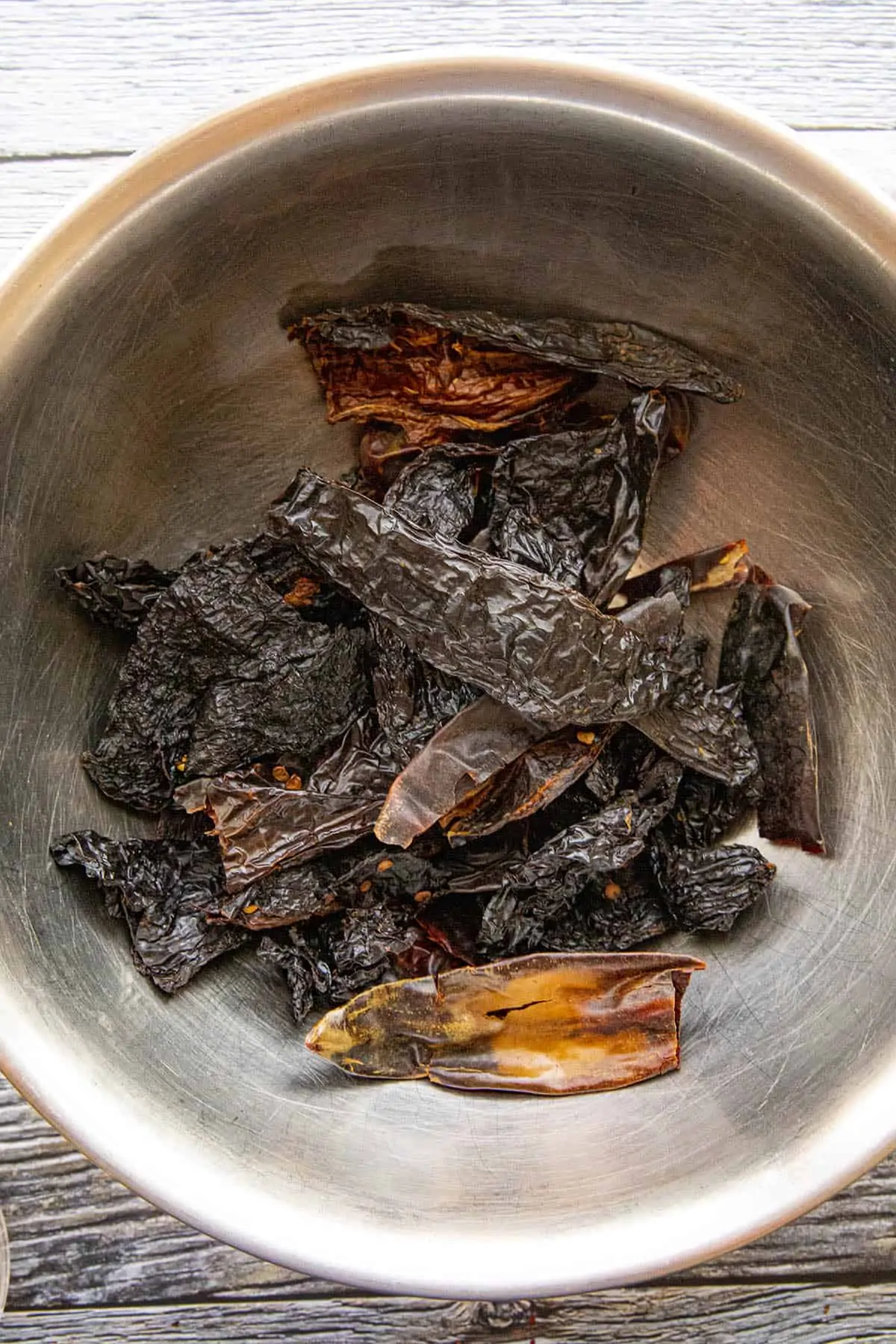 Fry the Peanuts, Almonds, Raisins, Corn Tortillas and Bread
Add oil, only as much as needed for coating the bottom of the pan. You will have to do this before you put in each ingredient. For about 45 seconds, toast of each of the ingredients. Keep stirring at a constant rate to avoid burning. Once this is done, add it into the holding pot, pressing these ingredients down into the water.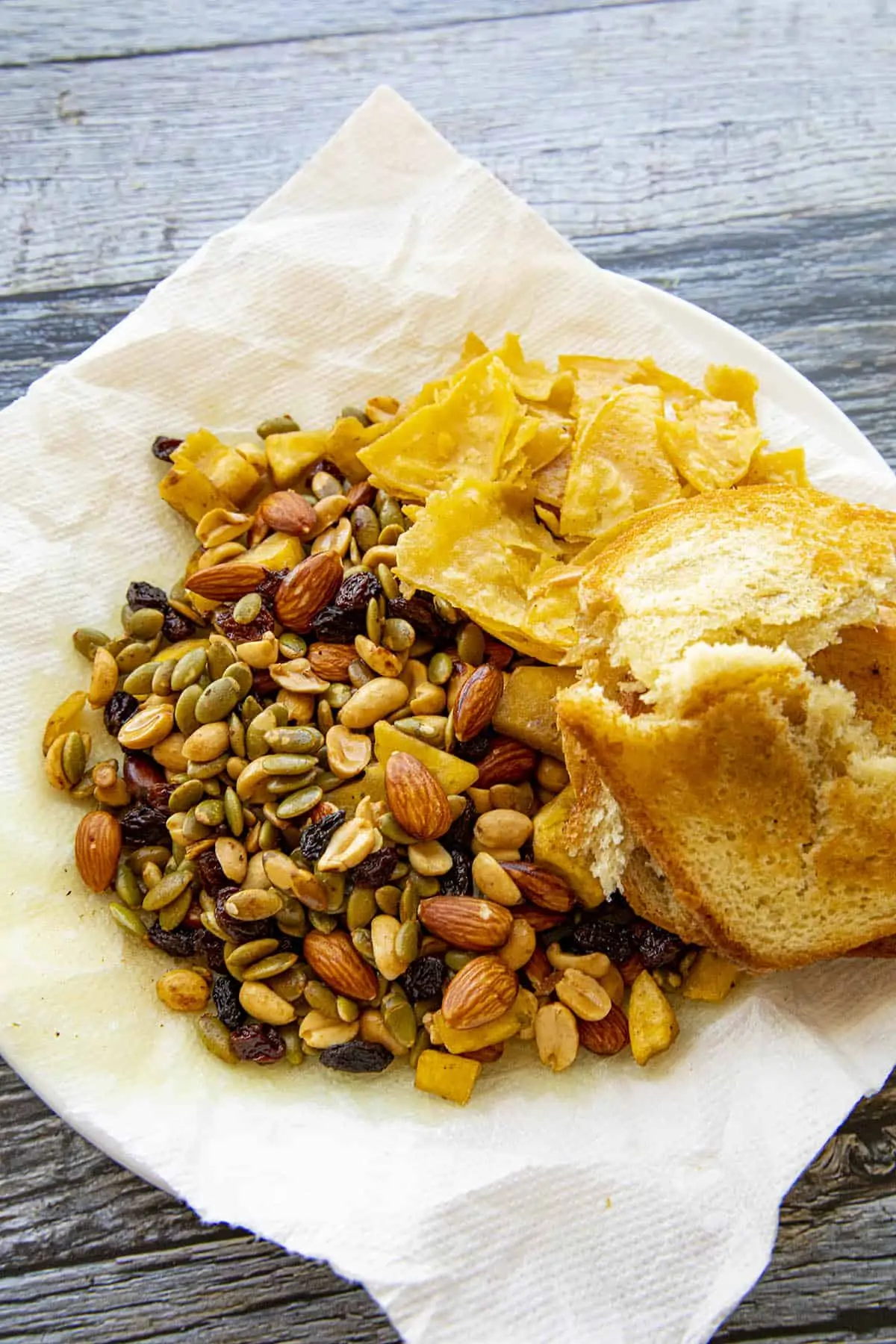 Onions, Plaintain, Garlic
For this step you don't need to add too much oil, just enough to cover the bottom of the pan. For 1 to 2 minutes, add the onions and sauté . When that is done add the garlic, and sauté for a few more minutes, then spoon the garlic and the onion in the holding pot.
To this same pot, add a little more oil. When it's heated adequately, add the sliced plantain. After you've fried it on both sides, add it to the holding pot too.
Prepare the Seeds
All the seeds in the recipe need to be sautéed. This includes peppercorns, coriander seeds, cumin seeds, anise, and crushed red pepper. Often, reserved chili seeds are used as well.
First reduce the heat to a medium flame, adding the seeds to the hot oil. These need to be fried just for a couple of seconds, and then added to the big pot. Make sure you don't stop stirring in between, otherwise you'll end up burning the seeds.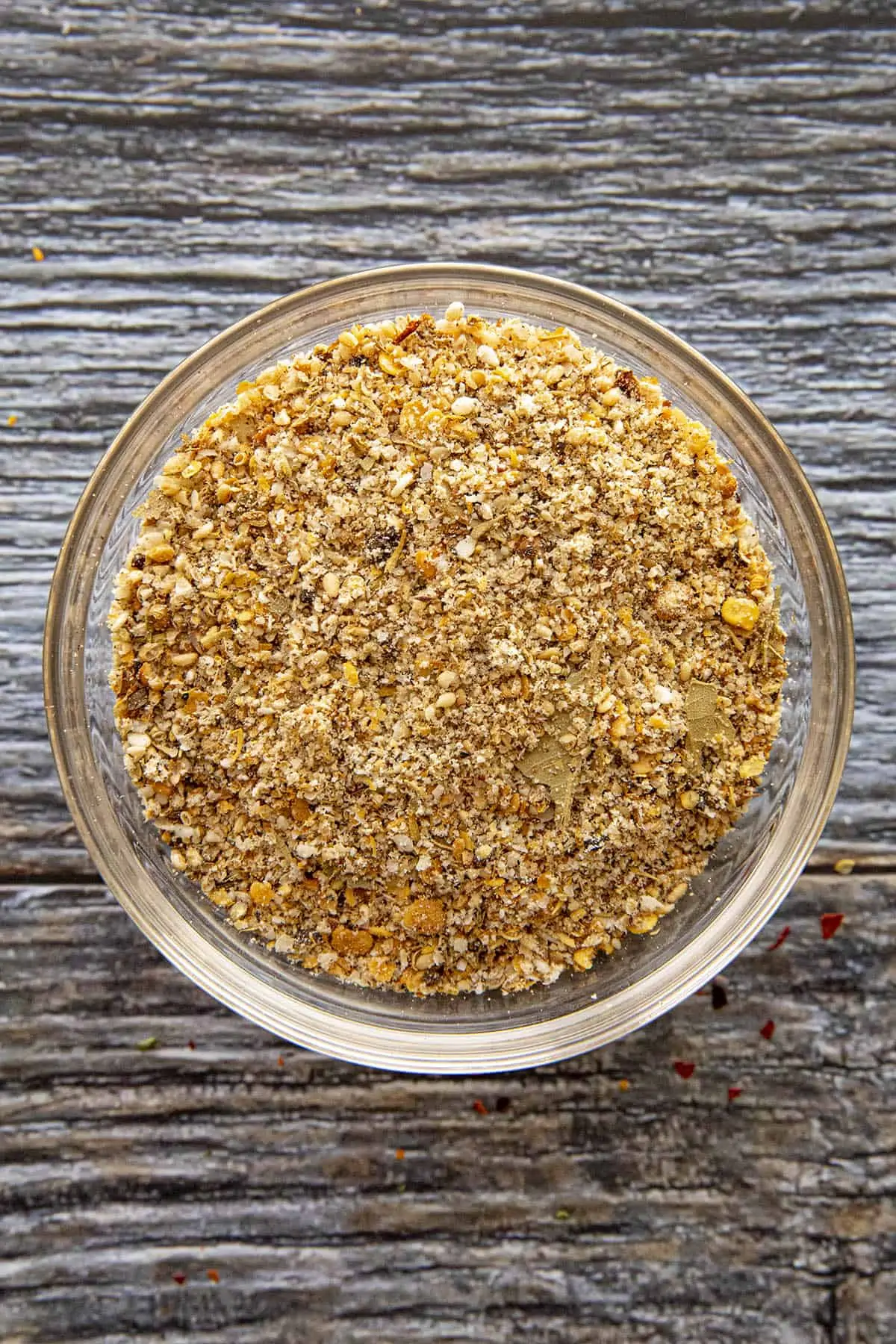 Set Up the Second Pot
As complicated as this process is, it requires a lot of utensils. To proceed further, you'll need another large pot in which you'll add 2 tablespoons of lard or oil. When you have melted this, turn off the heat.
Puree the Ingredients, then Strain
Most of the complicated process is now complete. The next few steps are fairly simple. Simply blend everything in the first pot together, until you achieve a smooth mixture. To this mixture add chicken broth as required to ease the process of blending.
Before you add this to the second pot, strain this mixture, throwing away the residue remaining in the mesh strainer.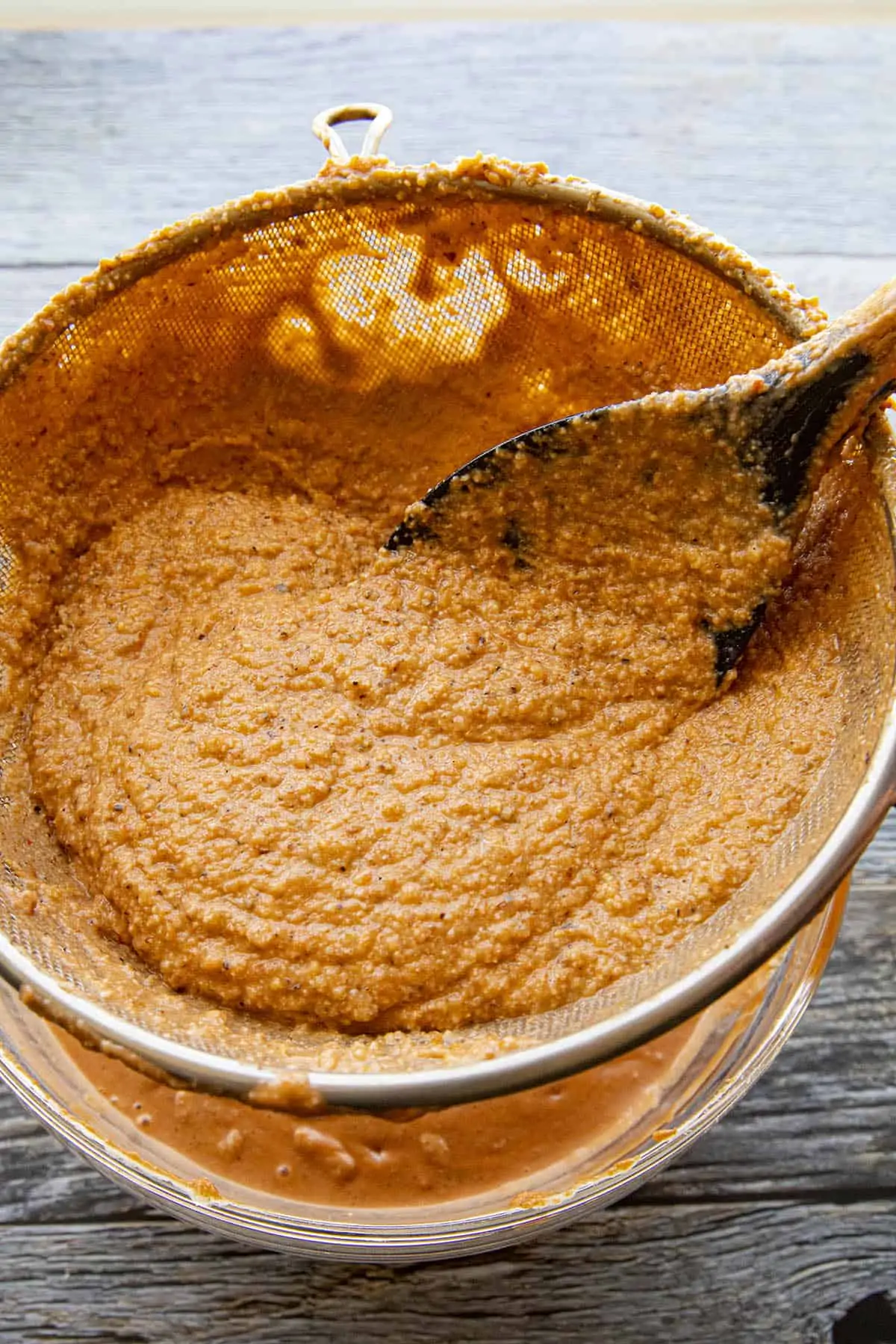 Melt the Chocolate
The next step is to melt Mexican chocolate with the chicken broth. Add brown sugar to taste. Initially just add a tablespoon, increasing the quantity as you go.
Simmering
The last and final step is to simmer the prepared sauce along with the chicken broth on medium heat. This is to be done for 1 hour, stirring often, but not constantly. If the resulting mixture is too thick, you can add chicken broth accordingly, adjusting the consistency as required. For flavor you can add the salt and sugar according to your requirement.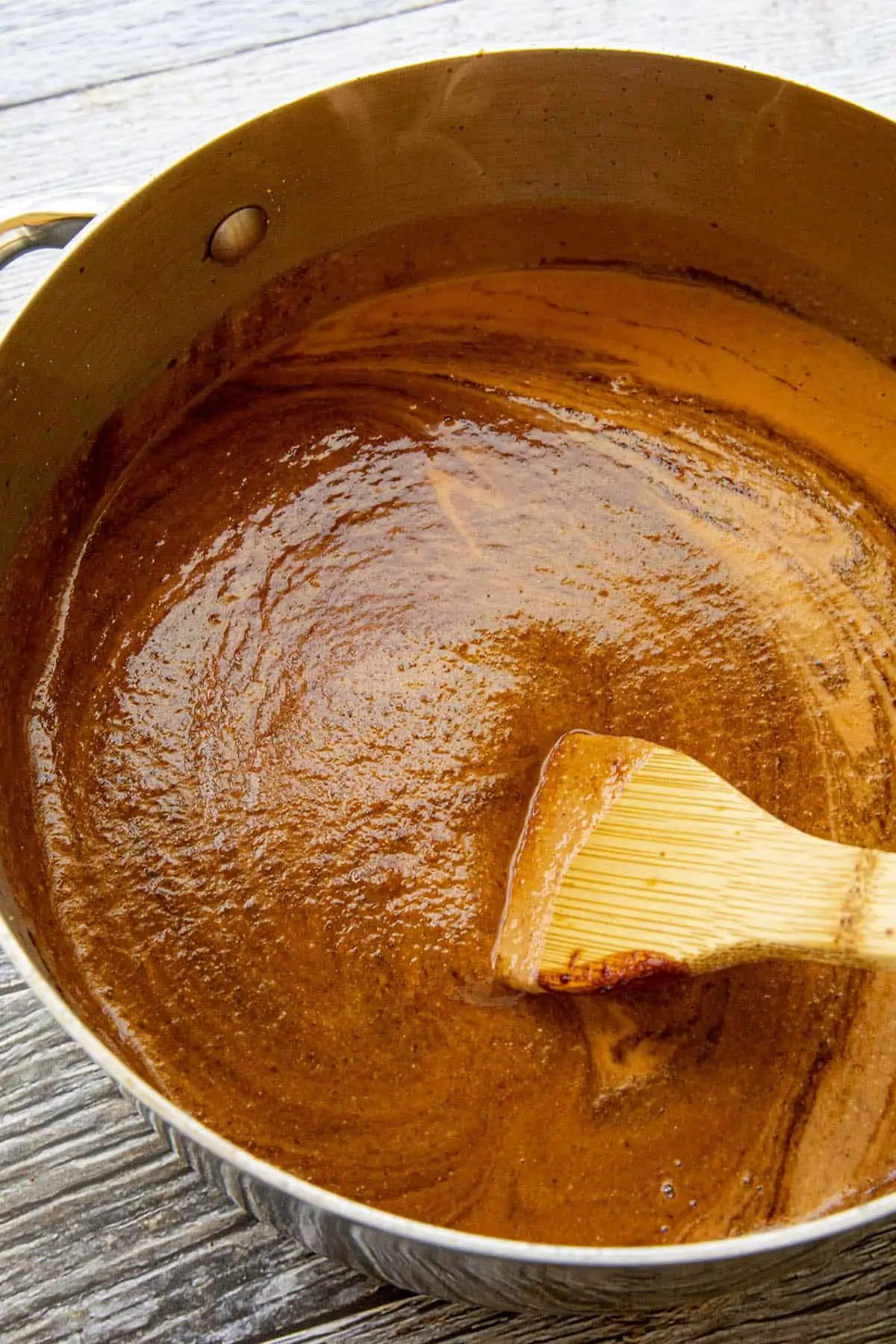 Common Questions About Mole
Does Mole Sauce Always Have Chocolate?
To be clear, mole sauce doesn't always include chocolate. In reality, this special sauce has over 40 types, and each of these is prepared using different ingredients and methods. The surprising thing is, some of these types of mole sauce don't even contain chocolate at all.
What are the Different Types of Mole Sauce?
As mentioned , mole sauce has almost 40 different types. Each of these are characterized by their ingredients which creates differences in flavor. Mole sauce has three main types which are most popular, and most commonly made in the USA, and in Mexico. They are listed below:
Mole Poblano
This is the most well-known, and the best type of mole sauce. It is made of at least 20 ingredients which includes, sugar and cocoa but to keep it simple, chocolate can also be used. This helps counter the heat of the chilies. Even so, the flavor of the sauce remains unaffected by the chocolate, only reducing the heat by a small degree.
The chocolate makes the sauce look dark. You are going to find this sauce most commonly eaten with turkey, at special occasions such as birthdays, weddings, Christmas and Easter. It is also delicious with pulled pork.
See my own homemade mole poblano recipe.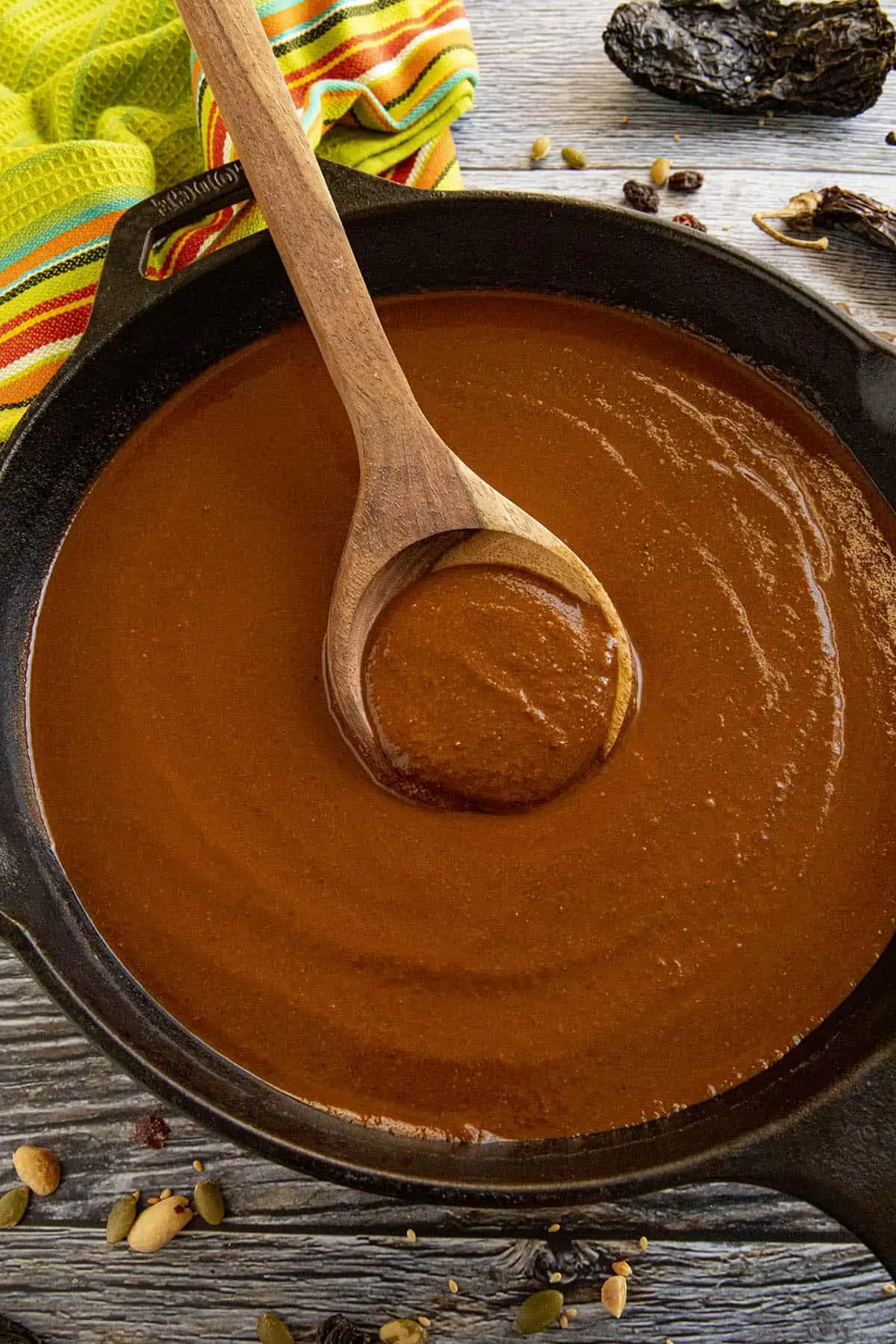 Oaxaca
There are actually 7 famous types of mole sauce from Oaxaca, including Mole Poblano (Red Mole), Mole Verde, Mole Negro, Chichilo, Amarillo, Coloradito and Manchamantel. Each flavor very unique, depending on the varying quantities of herbs used. The most common also includes chocolate, chili peppers, onions, garlic and more.
What makes this sauce different from the rest is the leaf of hoja santa. Compared to all the other sauces, this one is the most difficult to make.
San Pedro Atocpan
This is the most unique mole sauce of all, again with several different types. It has a unique history too, which contributes to its complex recipe, and preparation process.
If you're planning on making this type of mole sauce, it is going to be a bit of a challenge, especially if you have little experience in cooking. Even if you do have experience, this sauce requires focus, patience, and skill to make. So be prepared.
Looking for a recipe for mole?
Check Out These Mole Sauce Recipes