Nuoc Cham is a popular Vietnamese dipping sauce made from fish sauce, lime juice, chilies, water and sugar, known for it's versatility. Here is the recipe.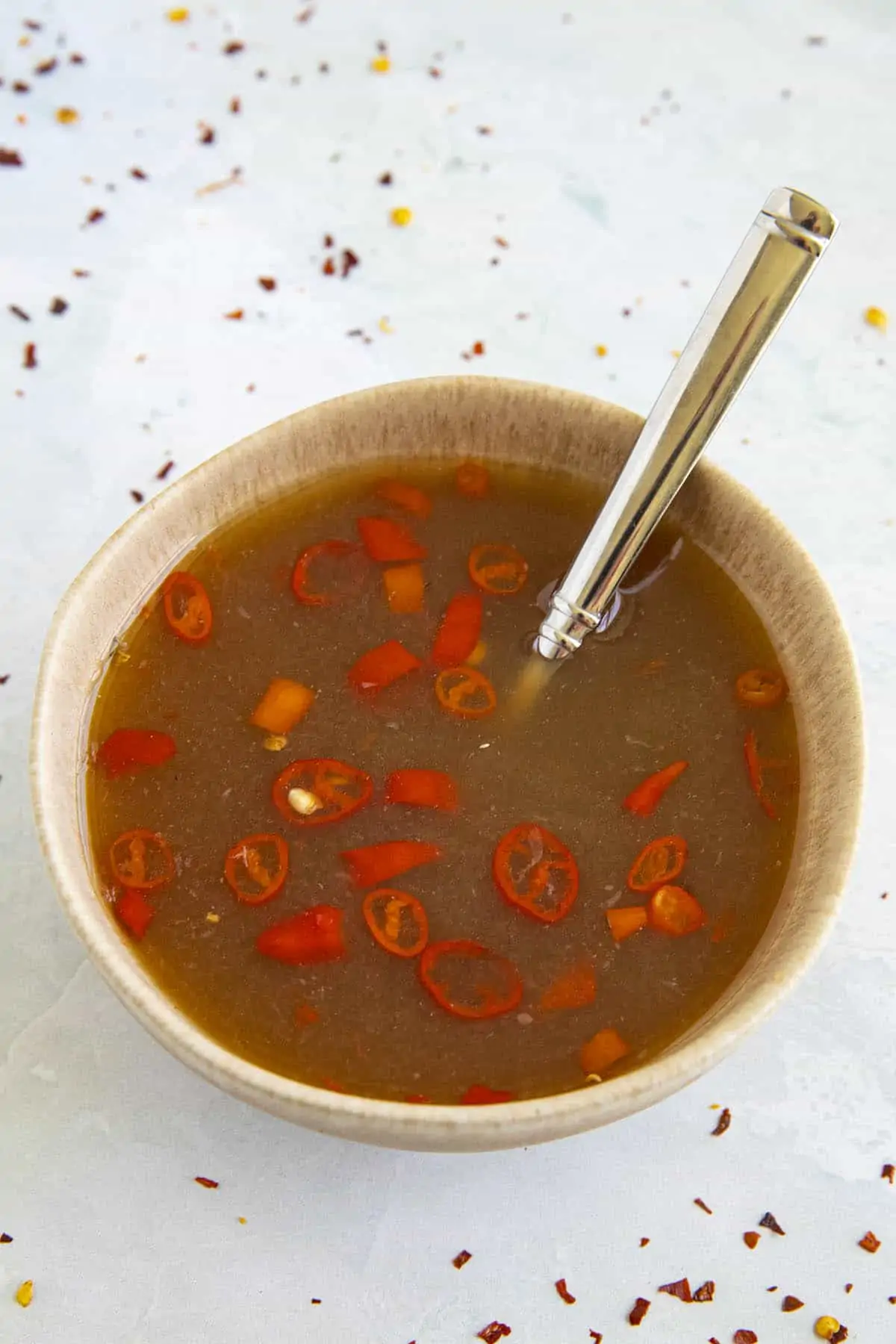 If you love versatile sauces that pair with almost any dish, you cannot go wrong with Vietnamese Nuoc Cham, which has been a classic in Vietnam for ages.
Sauces are essential to cuisines worldwide, be it as toppings or fillings. For centuries, they have been used to make a dish taste just right. Depending upon the type of flavor you want, you can use sauces to make your food taste sweeter, sourer, spicier or any other taste you would like to intensify.
They can also be used to enhance the color and texture of your food. So while your food tastes delicious, it also looks so appealing that nobody would be able to resist it. Vietnam is known for its vast variety of traditional dipping sauces.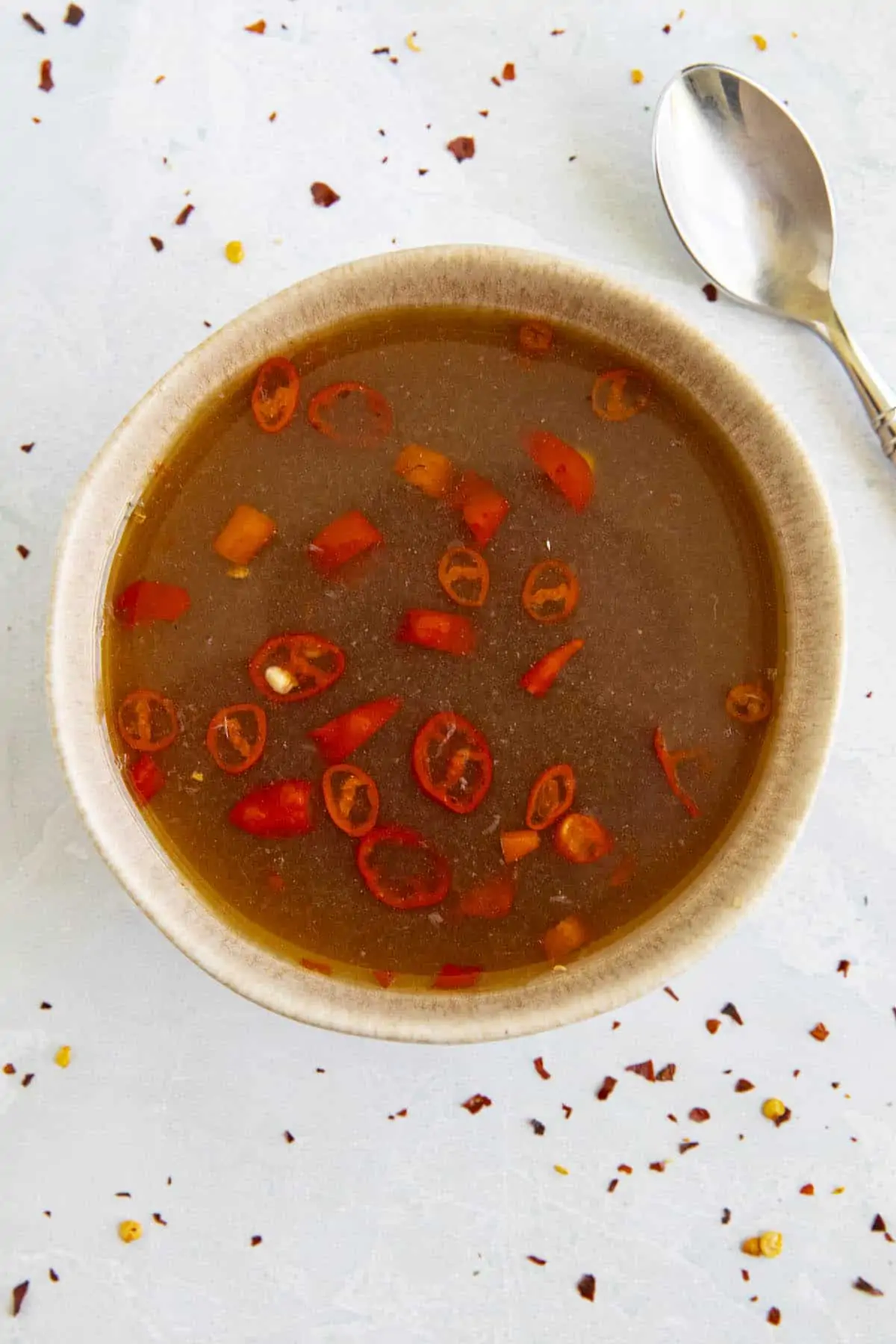 What is Nuoc Cham?
Nuoc Cham is very common in traditional and modern Vietnamese dishes alike. It goes well with both simple and sophisticated vegetarian and non-vegetarian dishes, very common in Vietnamese restaurants.
You can use it for stews, meat, beans, noodles, and any food for which you would like to diversify the flavor.
Nuoc Cham is a very unique sauce as it combines all the possible tastes and flavors you can have in one dish. Due to its versatility, it can be used in various types of Vietnamese foods and doesn't necessarily have to be used only as a visible topping.
It can be tossed into summer rolls as a filling, squirted on vermicelli, rice noodles, fried spring rolls, and all types of sweet, salty, and sour dishes. It can be prepared very easily while cooking on the stove.
You may also find that this all-around dipping sauce has slightly different ingredients, depending upon the region of Vietnam it is prepared in. Since there are many variations of this sauce, all these varieties are often collectively called the Nuoc Cham sauces.
The variations usually differ in ingredients and the ratio of water and fish sauce, and the ratios of other ingredients.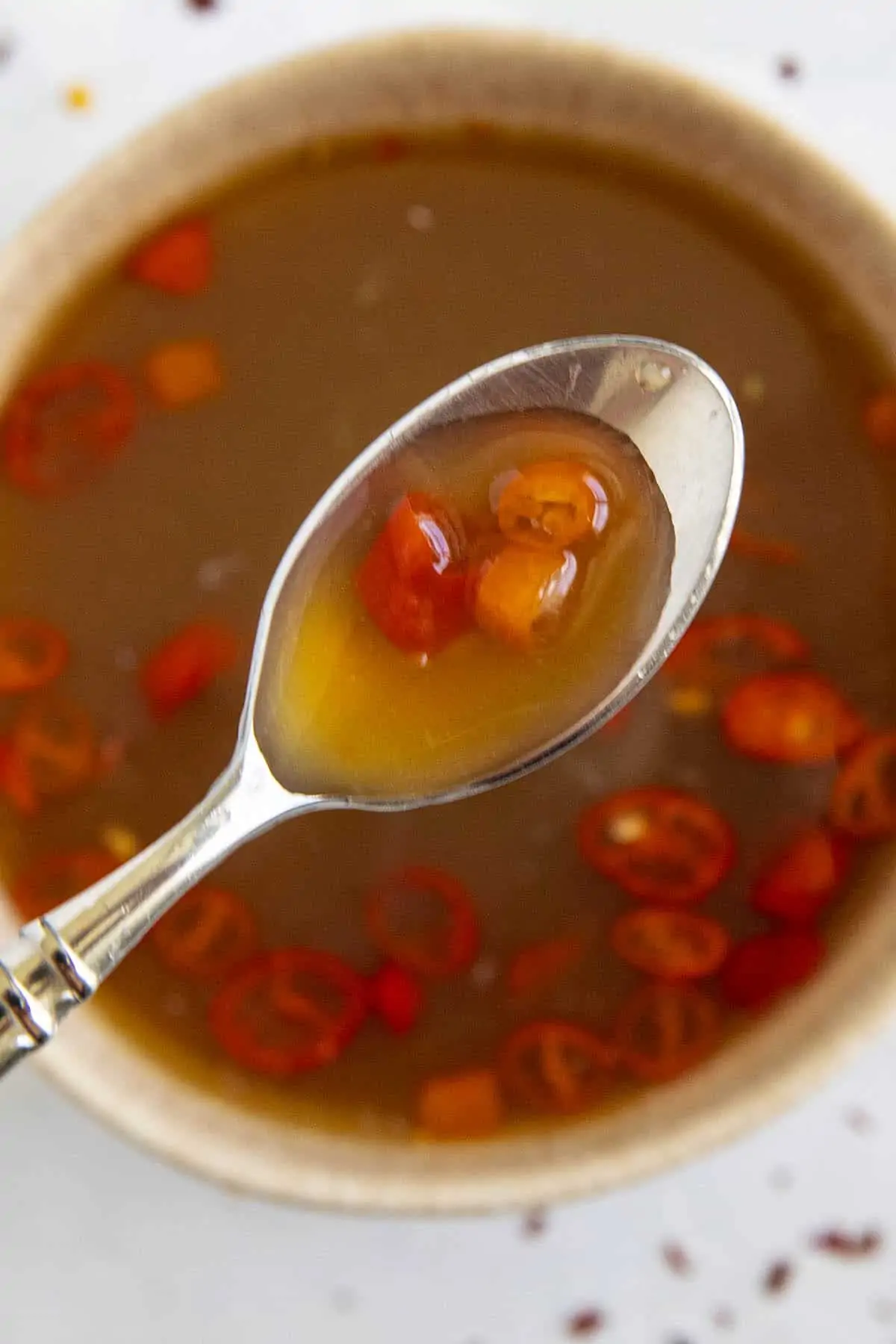 What is Nuoc Cham made of?
The main ingredients of Nuoc cham are water and fish sauce. It is very simple to make, as the ingredients are readily available.
Fresh Lime juice
Vinegar
Fish sauce
Chilis - Thai peppers are the most popular, though bird's eye chilies are excellent here. You can use any of your favorite chilies.
Water
Although Thai chilis are one of the most popular choices for this classic Vietnamese sauce. If there is already a mix of spices in your fish sauce, you can skip adding chilis to Nuoc Cham altogether, if you don't want to make it tangier.
Fish sauce is easily available in the market and is made of salted fish, so that is where Nuoc Cham gets its salty taste from. This mouth-watering sauce has a major advantage with the main ingredients (soy sauce and water) being available to almost everyone.
There are many variations of the Nuoc Cham.
In the Northern regions of Vietnam, you will find the taste of pork and shrimp, in addition to the fish. In southern regions, you will find the use of coconut to add a sweet taste. In central regions, you will find more water added to the sauce and hence, a thinner dip!
When making the Nuoc Cham at home in a small bowl, you can play a bit around with the original ingredients. Stay constant with the fish sauce and water, as they have a major role in this wonderful sauce. But try out your local alternatives for adding sugar, spice, and everything nice. And you will have made your very own variation of the Nuoc Cham.
What does Nuoc Cham Taste Like?
If you want to add a balanced sweet and sour taste to your dish, the Nuoc Cham will offer you just that.
Due to the fish sauce, it even has a hint of tanginess. The umami sets it apart from other sauces that only contain either too much sugar or too much spice.
Nuoc Cham is the perfect combination of all flavors combined into one healthy and mouth-watering dipping sauce. Use Nuoc Cham as a dipping sauce if you're not confident about adding something for seasoning during cooking.
After all, it is mostly used as a topping or dip-sauce on cooked food.
Here is a breakdown of how Nuoc Cham gets its flavors and taste from various ingredients:
Lime juice: Adds the sour taste - freshly squeezed is ideal
Vinegar: Enhances the sour taste
Fish sauce: Gives it its salty taste
Chilis: Makes it nice and spicy
Nuoc Cham can also be used for seasoning as it provides instant flavoring. You can use the Nuoc Cham sauce by dipping your food into it, by marinating, or by dressing.
The process of marinating or dressing should be avoided if you're not sure somebody would want to take Nuoc Cham with their food. So, serve this awesome sauce as a dip to give options when you're having guests.
How do you pronounce Nuoc Cham?
Since 'Nuoc Cham' is a traditional Vietnamese sauce, the words are of the same descent. The 'Nuoc' is pronounced like a short 'knock' in American English.
As for the 'Cham', make it longer by emphasizing the 'a' as an 'aaaahhhhhh'. So the perfect way to pronounce 'Nuoc Cham' is 'Knock Chaaaaam'.
That is the general way to pronounce the name of this Vietnamese dipping sauce, but your accent may vary depending on the country you live in.
Try Some of These Other Popular Recipes
Got any questions? Ask away! I'm happy to help. If you enjoy this recipe, I hope you'll leave a comment with some STARS. Also, please share it on social media. Don't forget to tag us at #ChiliPepperMadness. I'll be sure to share! Thanks! — Mike H.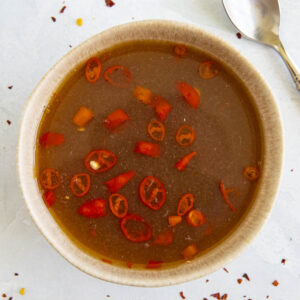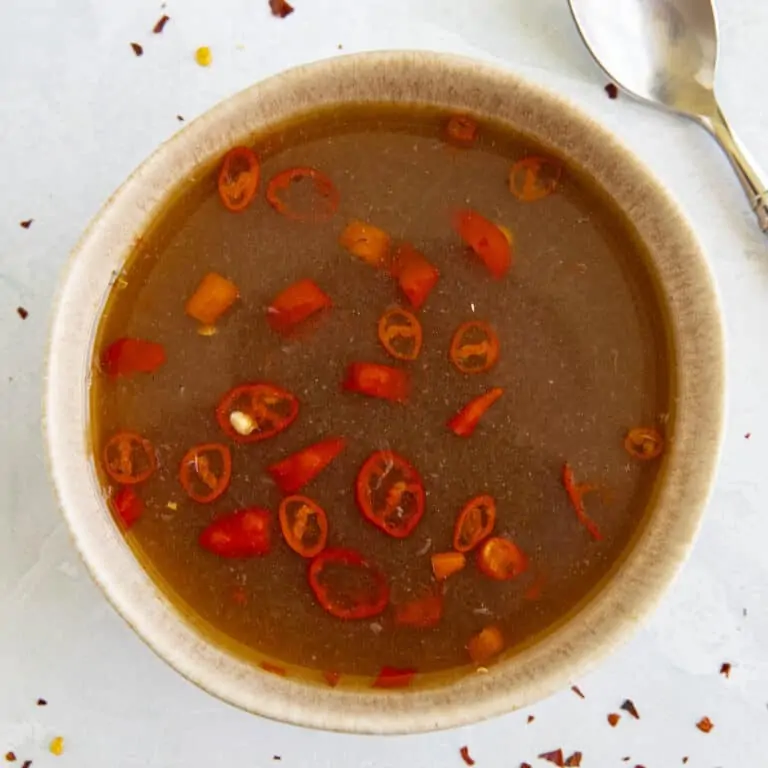 Print
Nuoc Cham Recipe
Nuoc Cham is a popular Vietnamese dipping sauce made from fish sauce, lime juice, chilies, water and sugar, known for it's versatility. Here is the recipe.
Save Recipe
Saved!
Ingredients
1/3

cup

fresh lime juice

1

tablespoon

rice vinegar

1-2

tablespoons

sugar

1/3

cup

water

for thinning

1/4

cup

fish sauce + more to taste

2-3

Thai chilies

or use bird's eye chilies, chopped

2-3

garlic cloves

minced (optional)
Instructions
Whisk together the lime juice, vinegar, sugar and water in a small bowl, until the sugar dissolves. Taste and adjust for sweetness.

Stir in the fish sauce and taste. Adjust with more as desired.

Stir in the sliced peppers and mince garlic. Serve as desired.
Notes
You can easily adjust the ratios of all of the ingredients to make this dish your very own. I personally enjoy more bold fish sauce for umami and more spicy chilies, but you can easily add more water, more garlic, less lime juice, whatever you'd like. It is best to taste, adjust, and experiment.
Nutrition Information
Calories:
8
kcal
Carbohydrates:
2
g
Protein:
1
g
Fat:
1
g
Saturated Fat:
1
g
Polyunsaturated Fat:
1
g
Monounsaturated Fat:
1
g
Sodium:
286
mg
Potassium:
36
mg
Fiber:
1
g
Sugar:
1
g
Vitamin A:
57
IU
Vitamin C:
10
mg
Calcium:
4
mg
Iron:
1
mg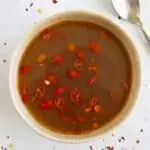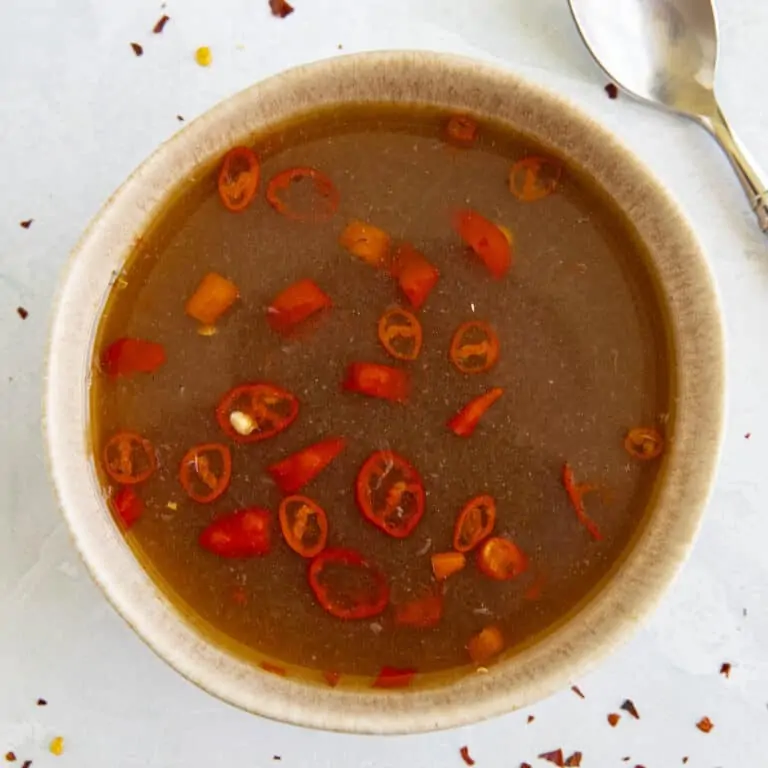 Did You Enjoy This Recipe?
I love hearing how you like it and how you made it your own. Leave a comment below and tag @ChiliPepperMadness on social media.