Braised Brisket with Ancho Gravy
Perfect for holiday or game day gatherings, this brisket recipe will serve a small crowd with a long, slow braise, served with savory ancho gravy. Incredibly fork tender.
With the holidays just around the corner and game day gatherings busting out all over the place, I'm thinking of serving up a brisket again very soon. I know beef briskets are popular in the summer when the smokers and grills are going hot and heavy, but I think they need to go on the menu much more often this time of year. It's such a flavorful cut of meat, which is why it is so popular.
The thing about brisket, though, is that it is one of the toughest cuts of meat, which is what makes it ideal for long, slow cooking. Most people like to smoke their briskets, and so do I, of course! But you don't need a smoker to cook a perfect brisket, nor do you need to do anything outdoors. In reality, briskets are ideal for a long, slow braise.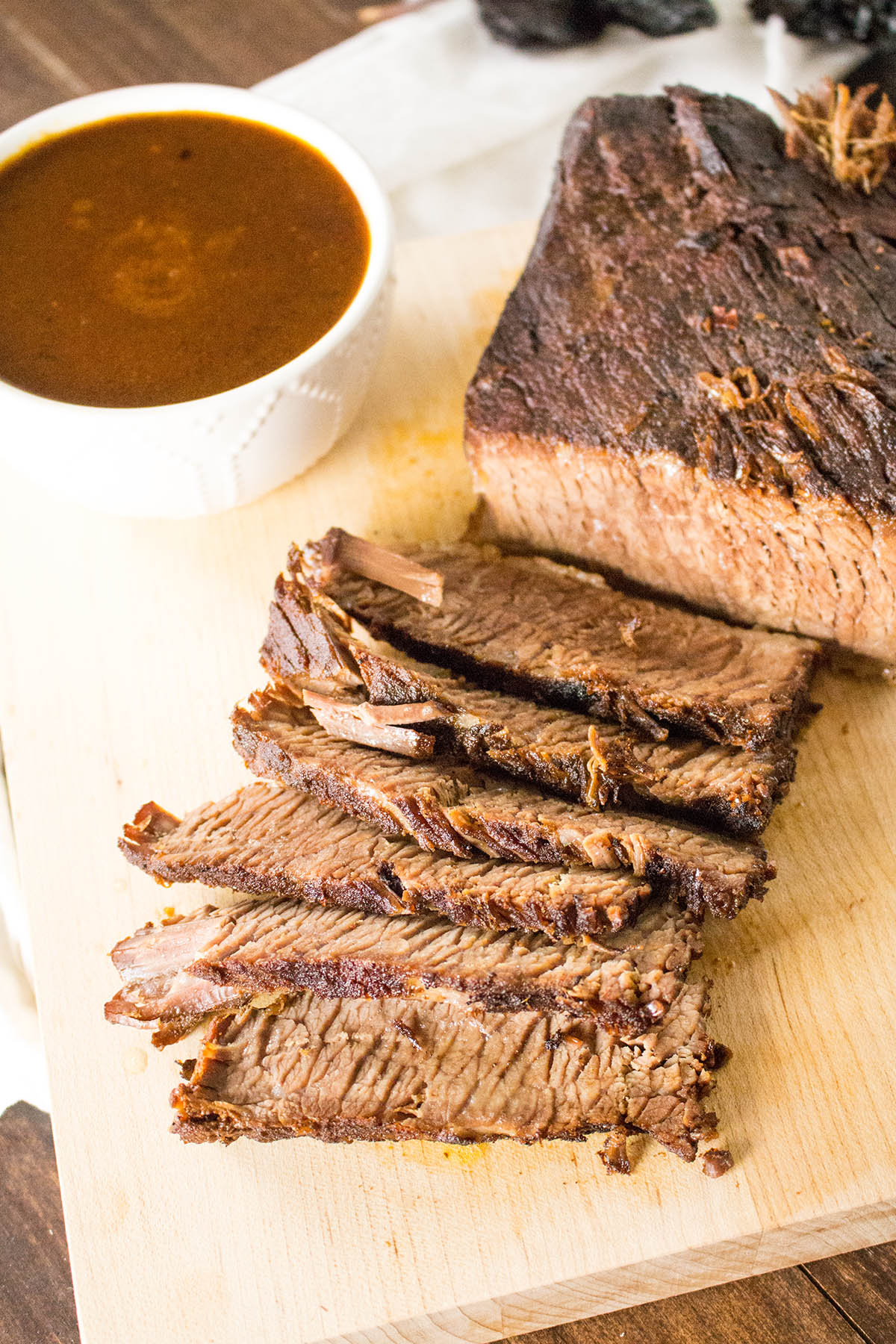 All you need is a pot to fit your brisket and your oven. And your ingredients, obvi. Super easy.
You might look at the ingredients list below and be a little intimidated, but nah. Don't be. You're overall prep time is only about 30 minutes or so (not including waiting time), even for a slow cook like me! Cooking is really just waiting. Yes, this is the hard part. Your brisket will take 3-4 hours to cook for a small 3-pound cut, so be sure to plan accordingly.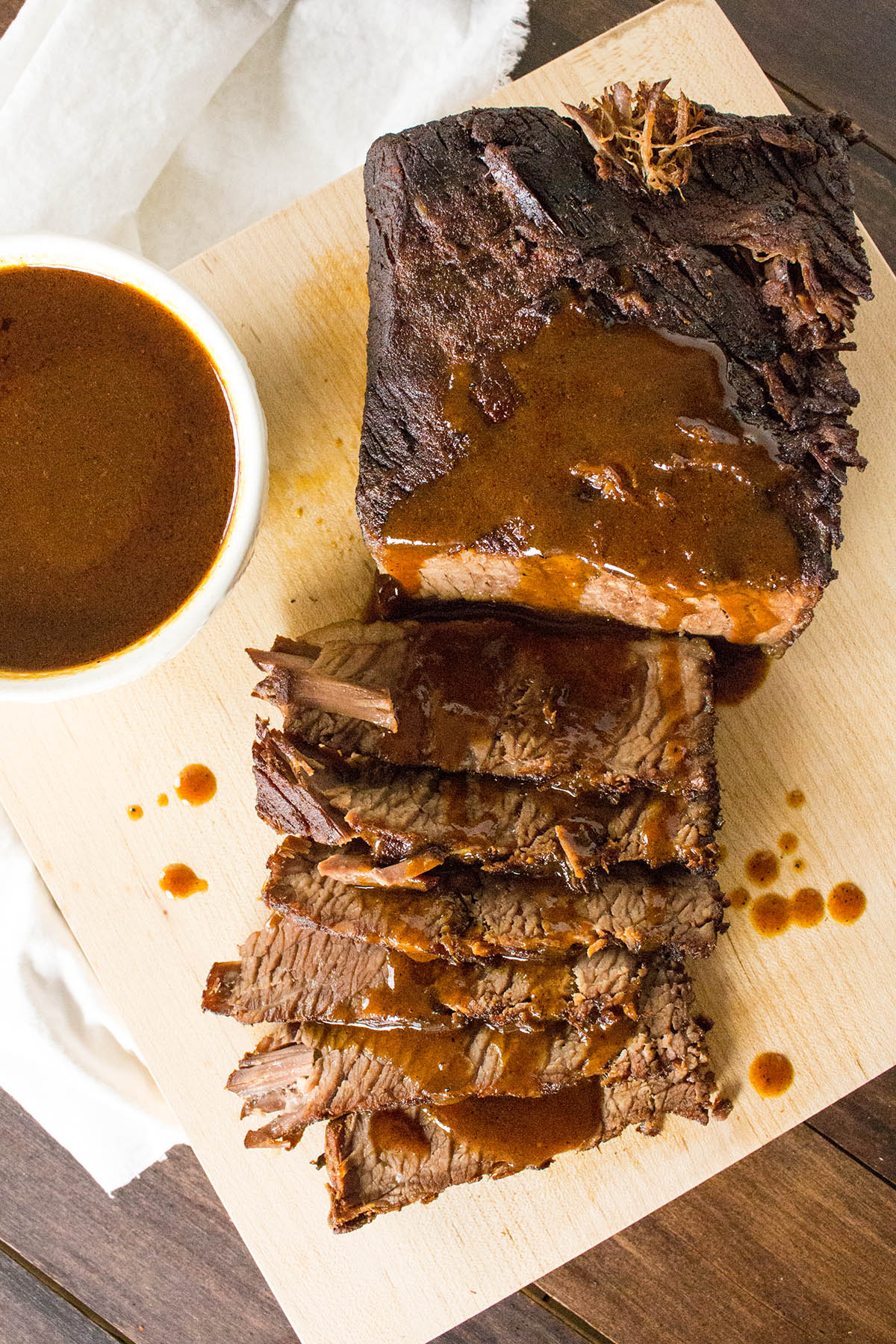 In a nutshell, you'll season up the brisket, wrap it and refrigerate it for an hour to let the seasonings settle into the meat. Then, you'll sear it off, add your veggies, ancho paste and a bit of beer to the pot. Set it into the oven to cook low and slow at 275 degrees F until the brisket is fork tender and practically falls apart.
SO. FREAKING. GOOD!
But, it gets even better because of the gravy. Dang!
Once the brisket is done, remove the pot and set the brisket out onto a cutting board to rest. Strain out the liquids from the pot and swirl in a bit more ancho paste and flour to thicken it up into a savory gravy that is, not lying, super addictive. This is definitely one of my very favorite recipes.
Give it a try for your next holiday party, or cook it up for game day. Go team! I hope your team wins and your family loves it as much as I do. Serve it over mashed potatoes if you'd like. That's how Patty likes it. Thanks!
— Mike H.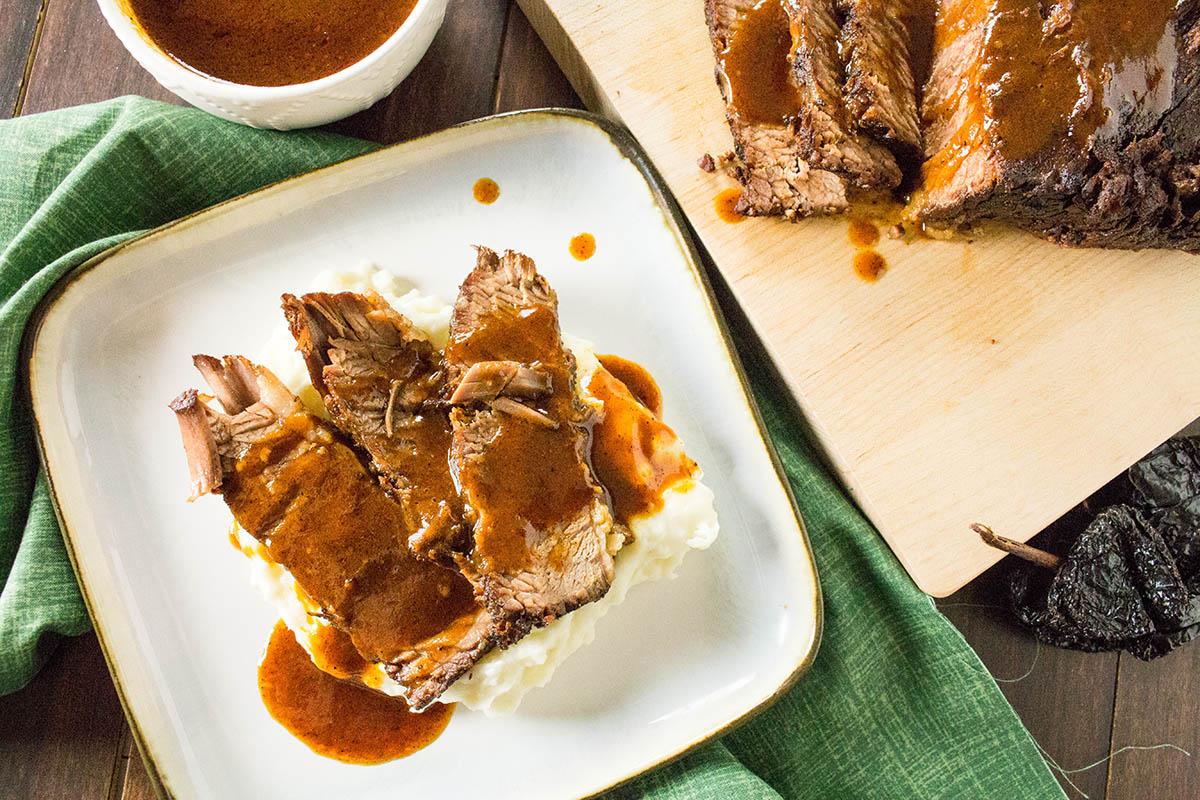 NOTE: I did this same recipe for Chile Pepper Magazine last year. I've done many features for them. If you're interested in Chile Pepper Magazine, get yourself a subscription. I've added a link to the right where you can pick one up at Amazon (affiliate link, my friends!). Highly recommended. I am a regular contributor.
Subscribe to Chile Pepper Magazine Here
.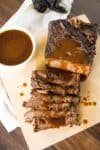 Braised Brisket with Ancho Gravy - Recipe
Perfect for holiday or game day gatherings, this brisket recipe will serve a small crowd with a long, slow braise, served with savory ancho gravy. Incredibly fork tender.
Ingredients
1

3-pound beef brisket flat

1

teaspoon

salt

1

teaspoon

paprika

1

teaspoon

ancho powder

1

teaspoon

garlic powder

1

tablespoon

Mexican oregano

½

teaspoon

cumin

Olive oil

2

medium-sized carrots

chopped

2

poblano peppers

chopped

1

white onion

chopped

4

cloves

garlic

chopped

2

tablespoons

ancho paste

recipe included below

1

bottle beer – Use a flavorful winter ale

2

tablespoons

flour

Salt and pepper to taste
ANCHO PASTE
5

dried ancho peppers

1-2

tablespoons

olive oil

¼

cup

chopped yellow onion

1

cloves

garlic

chopped

Salt to taste
Instructions
Dry the brisket with paper towels and rub it down with olive oil.

Mix together the seasonings and rub them into the brisket. Cover with plastic wrap and refrigerate at least one hour.

Preheat oven to 275°F.

Heat a Dutch oven to medium-high heat and add a couple tablespoons olive oil. Sear the brisket a few minutes each side to form a crust. Remove brisket and set aside.

Add carrots, peppers, onions and garlic. Stir and cook 5 minutes to slightly soften.

Add 1 tablespoon ancho paste and beer. Scrap up the brown bits from the bottom of the pan and swirl the ancho paste into the liquid.

Set the brisket over the top and cover. Bake for about 3 hours, or until the meat is fork tender. It could take longer, depending on your oven and on the beef. Remove from heat and transfer the brisket to a cutting board to rest.

Strain the solids from the Dutch oven. Put the liquid back into the pot and bring to medium heat. Swirl in 1 more tablespoon ancho paste and flour. Whisk until smooth. Heat until the gravy thickens. Season with salt and pepper.

Slice brisket against the grain and serve with ancho gravy.
ANCHO PASTE
Heat a large pan to medium heat and add ancho peppers. Cook them a couple minutes per side until they become fragrant.

Add ancho peppers to a large bowl and pour boiling water over them. Cover and let sit for about 20 minutes to soften.

Remove from the water and cut off the stems. Slice open and remove the seeds. Add to a food processor.

Heat pan to medium heat and add 1 tablespoon olive oil. Add onion and cook about 3-4 minutes to soften.

Add garlic and cook 1 more minute, stirring a bit. Remove from heat and add to the food processor.

Add a pinch of salt and process to form a thick paste.
Recipe Notes
I make large batches of this paste for a big flavor blast in a hurry. Just pull it out of the fridge and swirl a bit into whatever you're making, like soups, stews, sauces or gravies. You can easily halve this recipe. Makes 2 cups. Serves 6.
Nutrition Facts
Braised Brisket with Ancho Gravy - Recipe
Amount Per Serving
Calories 547
Calories from Fat 225
% Daily Value*
Total Fat 25g 38%
Cholesterol 191mg 64%
Sodium 845mg 35%
Potassium 1244mg 36%
Total Carbohydrates 10g 3%
Protein 65g 130%
* Percent Daily Values are based on a 2000 calorie diet.