A recipe for Buffalo chicken sliders made with ground chicken, Buffalo sauce, crumbly blue cheese, plenty of seasonings and Serrano peppers for an extra spicy kick. Perfect for any party!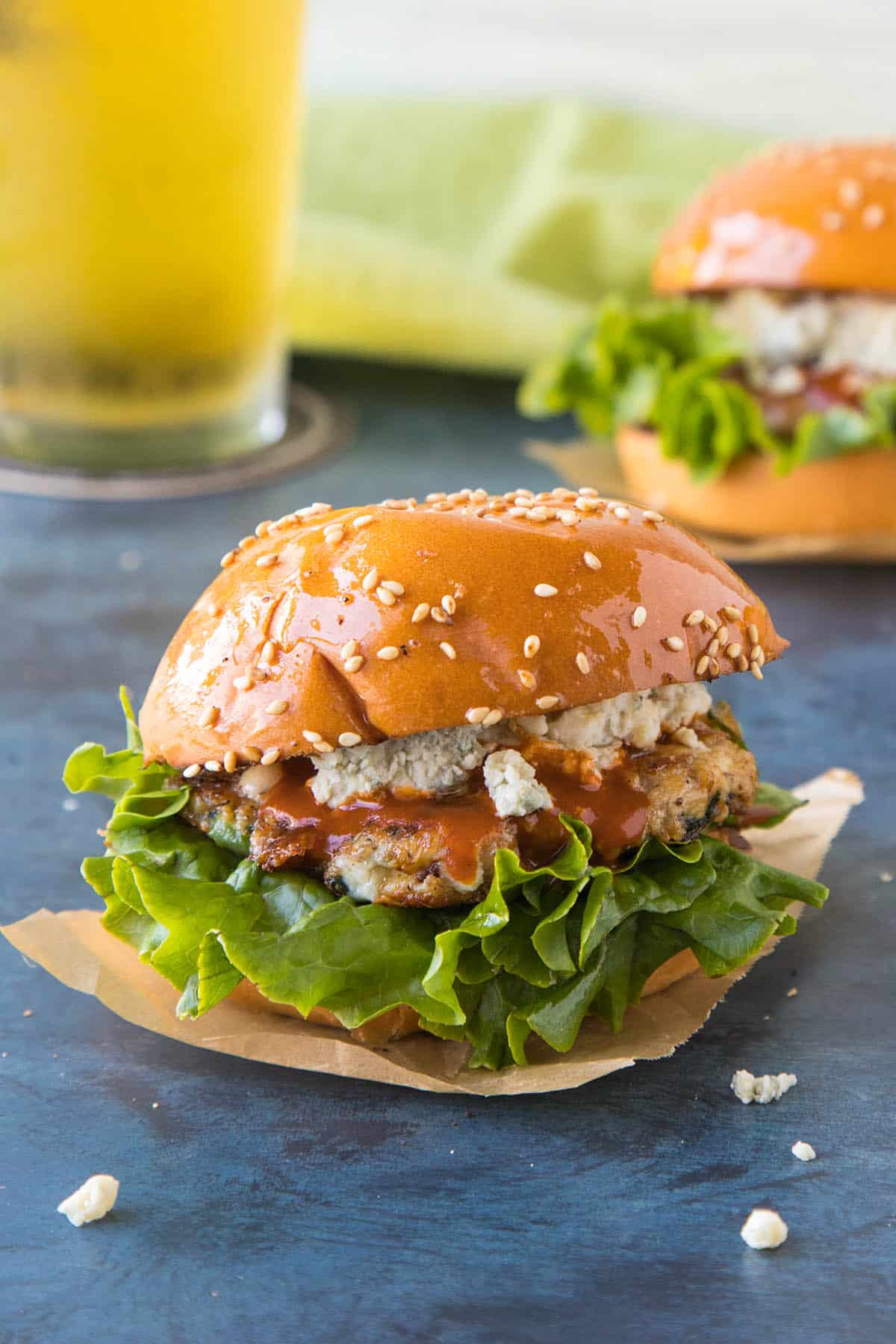 Party times are on the way, my friends! Spring is FINALLY here and I'm freaking PUMPED because I'm really not much of a winter guy. I prefer the warmer weather where I can work with my windows open and I don't freeze my appendages off when I step outside.
NO. THANKS!
Spring and warmer weather bring some great things with them, including outdoor grilling (though heck YEAH you can still grill in the winter, but dude, it's still cold!), and with outdoor grilling comes awesome gatherings! We're talking parties, right? Game day.
YES!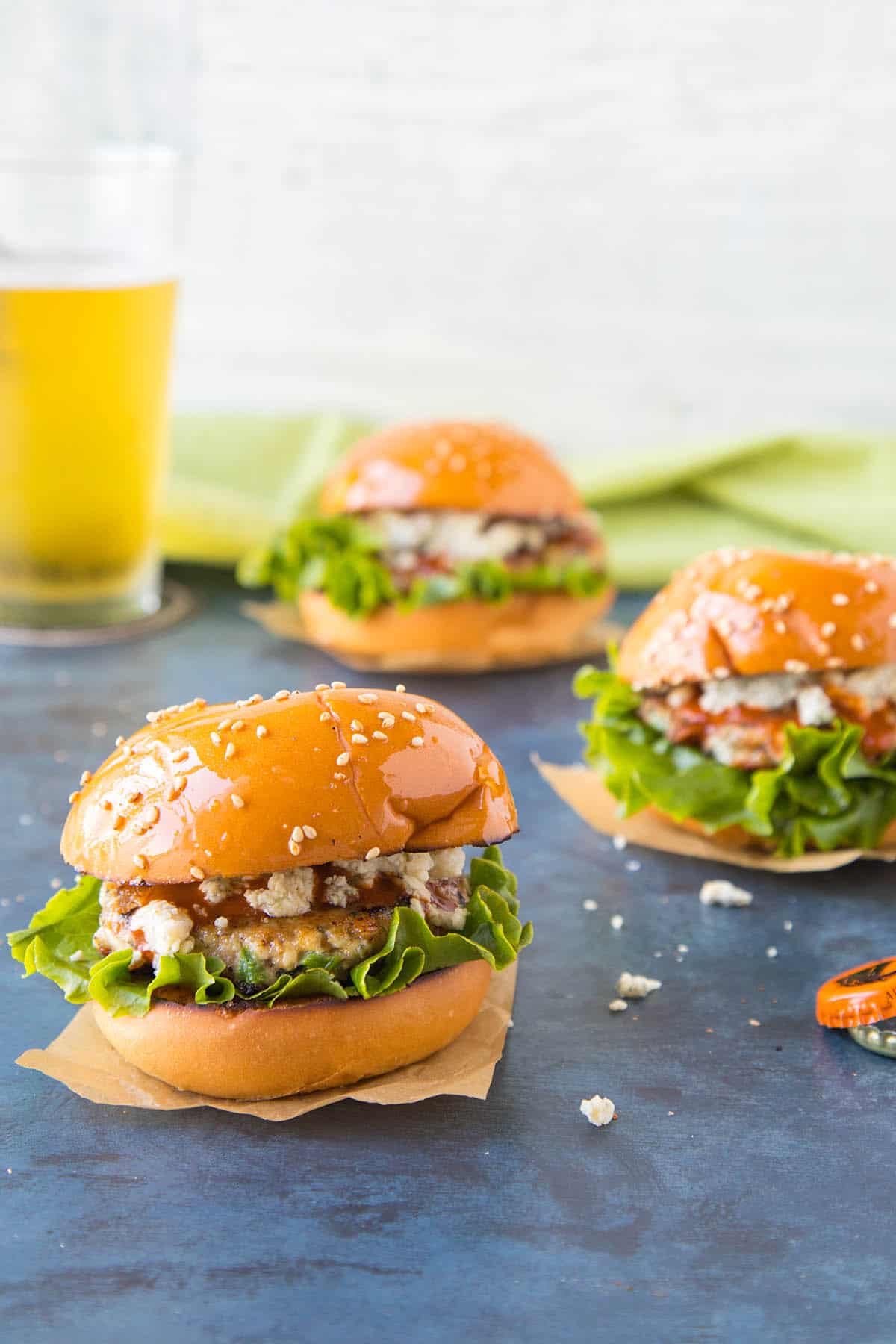 When you have yourself a party, it is best to pass the drinks around and then serve everyone up a great starter, like these. We're talking…
Buffalo Chicken Sliders.
OH YEAH!
What I LOVE about these is that they are big on the BOLD flavors that I'm sure you KNOW I love by now, and you do too, but they're small enough to work as an appetizer. Everyone can have a single slider and they'll be ready for the main course when that comes around.
Or hey, maybe some people want to just eat Buffalo Blue Cheese Chicken Sliders. I have no problem with that. However YOU like to do it. Cool!
They're great for the kids as well. Come on, we're creating young little chiliheads here, right? I thought so. They'll love these.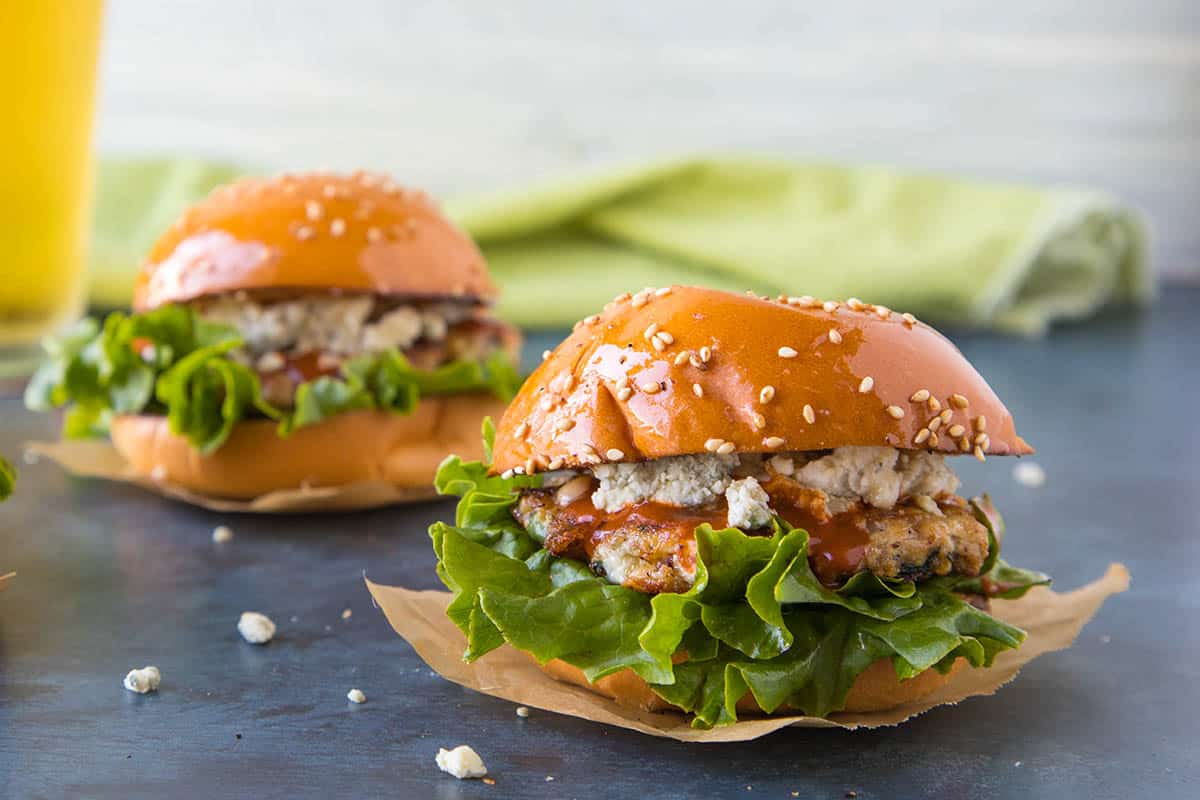 Making them is a snap. These are more like little burger chicken sliders as opposed to shredded chicken sliders, though you can make them that way, too. I'll discuss that more in the recipe notes section.
Let's talk about how we make these Buffalo Chicken Sliders, then, shall we?
How to Make Buffalo Chicken Sliders - the Recipe Method
First, you'll mix up your ground chicken with chopped serrano peppers, blue cheese, Buffalo sauce, seasonings, a bit of olive oil and some breadcrumbs. The breadcrumbs will help hold a solid consistency so they don't fall apart on you. If serrano peppers are too hot, you can easily sub them for jalapeno peppers, or even milder peppers.
Next, hand mix the meat mixture into small burger patties. With this recipe, you'll get 8 2-ounce slider patties, though it easily scales up, so plan accordingly.
Next, you can either grill these on your grill or cook them up on the kitchen stove, whichever you prefer. Get the pan good and hot and grill them 3-4 minutes per side, until the chicken is cooked through.
That's it! Serve them up on slider buns with some leafy lettuce, extra blue cheese crumbles and Buffalo sauce. Maybe toss on some grilled jalapeno peppers, or a bit of smashed avocado. I don't know, go to town! This is some great stuff! Pick your favorite additional toppings.
Recipe Tips and Notes
Hawaiian Rolls. Soft Hawaiian rolls are great for this recipe, as are dinner rolls, for quick and easy slider buns.
Rotisserie Chicken. Save yourself some time and serve this up with shredded rotisserie chicken you can purchase from the store. Just shred it up and heat it with your Buffalo sauce. Or, use easy slow cooker shredded chicken.
Buffalo Sauce. Use your favorite brand of Buffalo sauce for this recipe. Many people love Franks Red Hot Buffalo Sauce, but I enjoy making my own homemade buffalo sauce recipe. The base is hot sauce and melted butter mixture, with a few other flavor building ingredients. Give mine a try. I hope you like it! I like to make mine with a little extra zing to it.
Heat Factor. Medium, though it may tip to medium-hot with the serrano peppers for some people. If you're concerned about the heat, skip the serrano peppers and go with milder, like the wonderful jalapeno pepper. If you'd like some extra heat and spicy, consider adding in some habanero peppers, or maybe even ghost peppers, you crazy chilihead, you.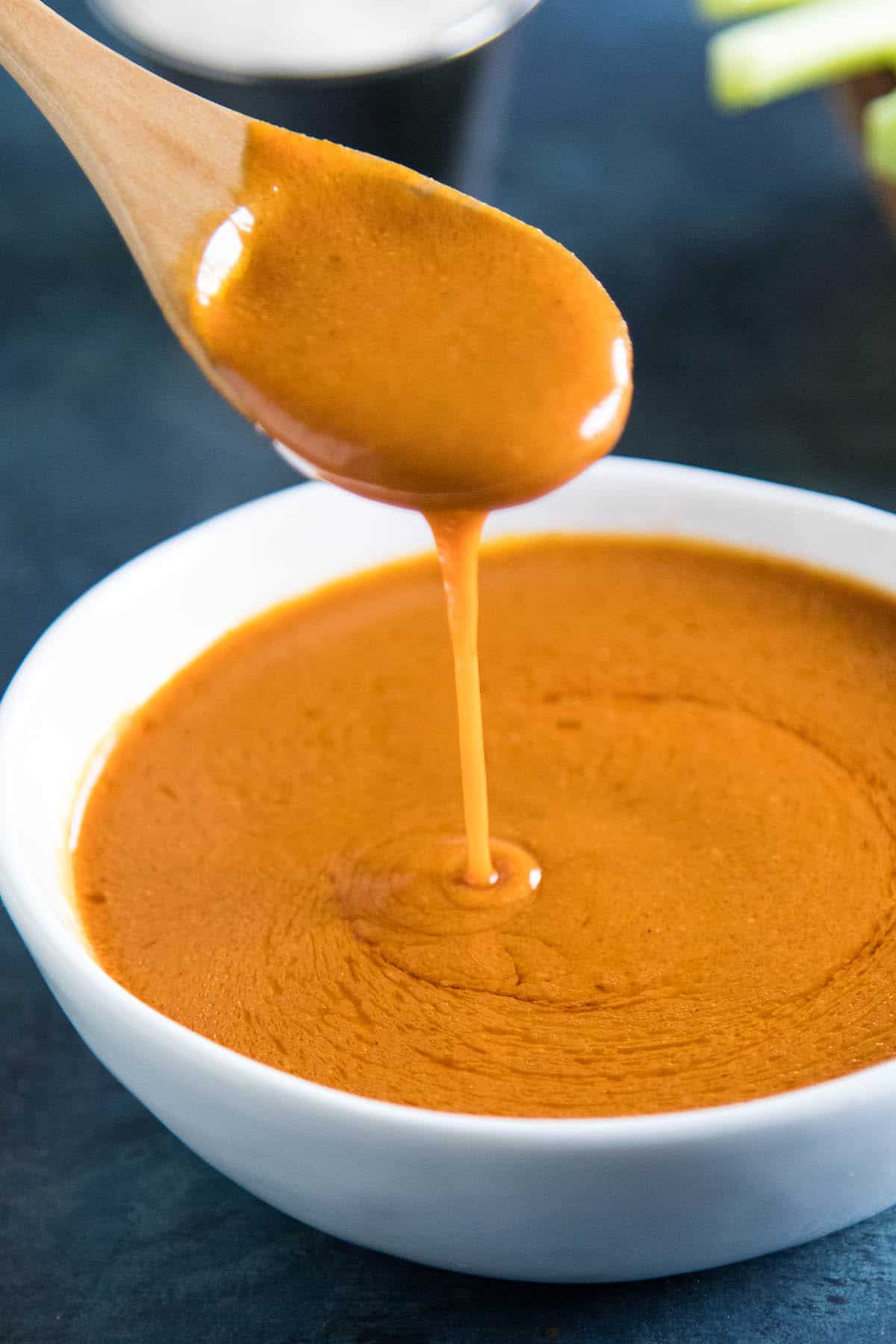 Let me know how they turn out for you, my friends. Curious to hear how the party likes them! Get cooking! These are the perfect appetizer and perfect for game day. – Mike H.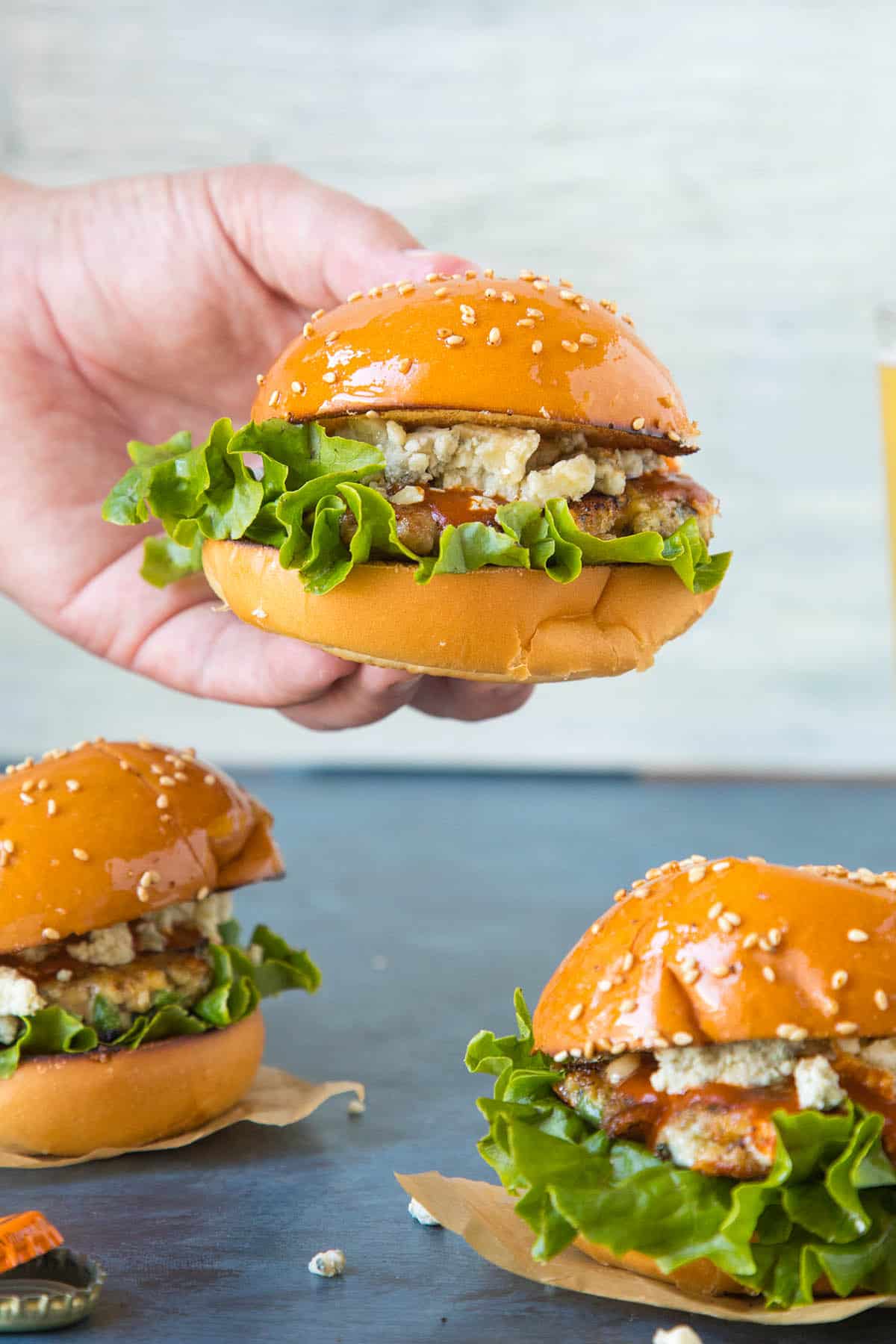 Try Some of My Other Popular Slider Recipes
If you try this recipe, please let us know! Leave a comment, rate it and tag a photo #ChiliPepperMadness on Instagram so we can take a look. I always love to see all of your spicy inspirations. Thanks! -- Mike H.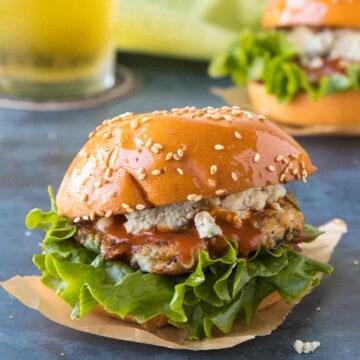 Print
Buffalo Chicken Sliders Recipe
These Buffalo chicken sliders are made with ground chicken, Buffalo sauce, crumbly blue cheese and plenty of seasonings. The perfect party appetizer!
Save Recipe
Saved!
Ingredients
1

pound

ground chicken

4

serrano peppers

minced

1/2

cup

crumbled blue cheese

+ more for topping

1/4

cup

Buffalo Sauce

+ more for serving

1

tbsp

smoked paprika

1

tbsp

garlic powder

2

tbsp

olive oil

+ more for the pan

3

tbsp

bread crumbs

or more if needed

8

slider buns

lightly toasted

1

Leafy lettuce for serving
Instructions
To a mixing bowl, add ground chicken with serrano peppers, ½ cup blue cheese, ¼ cup Buffalo sauce, paprika, garlic powder, olive oil and 3 tablespoons bread crumbs. Hand mix, but do not overmix or the sliders can become mealy. If the meat mixture doesn't stick together enough, add a bit more bread crumbs.

Form the meat mixture into 8 2-ounce slider patties roughly the width of your buns. They will shrink a bit when cooked.

Heat olive oil on a large grill pan to medium heat and cook the sliders about 3-4 minutes per side, or until the chicken is cooked through.

Serve the sliders on toasted buns with leafy lettuce and extra blue cheese crumbles. Top with extra Buffalo sauce.
Notes
Heat Factor: Medium-Hot
You can lower the heat by choosing milder peppers, such as jalapeno peppers, or reducing the number of spicy serranos, which have a nice heat level. Make them hotter with a spicy hot sauce, hot pepper flakes, or hotter peppers.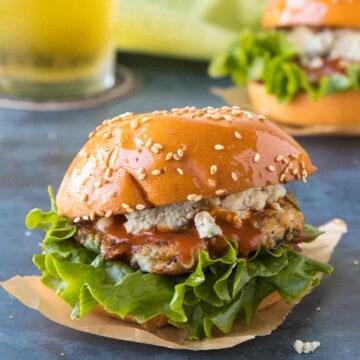 Did You Enjoy This Recipe?
I love hearing how you like it and how you made it your own. Leave a comment below and tag @ChiliPepperMadness on social media.