A recipe for quick and easy chicken curry made extra spicy with an addition of ghost pepper and other chili peppers. Chili Pepper Madness style.
We're truly spicing up your traditional chicken curry recipe over here at Chili Pepper Madness by bringing in the wonderul bhut jolokia, aka Ghost Pepper. Chicken curry is one of those super quick-to-make recipes, something you can easily have done in 30 minutes or less. Even I, a cook who takes forever in the kitchen, can whip this dish out fairly quickly. It makes for a fast tasty lunch on those busy work days, or a quick dinner when you're really in the mood to plop down in front of the television with the latest release.
You're probably already familiar with the ghost pepper, but if you're not, beware. It is consider a "superhot" chili pepper, over a million Scoville Heat Units, so yes, this will truly spice up your meal. You only need one ghost pepper here. Some chileheads will be able to include more, but if you're new to the world of ghost peppers and superhots, you can easily tone it down by only including half or a portion of the ghost pepper. Or, you can omit the ghost pepper and add in other chili peppers instead that are more suited to your heat preference.
For me, personally, I want the heat! Bring on the ghost peppers.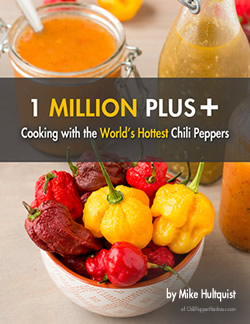 If you enjoy cooking with superhot chili peppers, check out my cookbook, "1 Million Plus+ Cooking with the World's Hottest Chili Peppers".
Ghost Pepper Chicken Curry Recipe
Ingredients
2 chicken breasts
Salt and pepper to taste
2 tablespoons coconut oil
1-1/2 cups chopped peppers – I used an assortment, but included a white bhut jolokia/ghost pepper for some true heat!
½ cup chopped green onions
1 medium onion, chopped
4 cloves garlic, chopped
½ teaspoon ginger powder
½ teaspoon curry powder
1 teaspoon paprika
2 tablespoons red curry paste
8 ounces coconut milk
Salt and pepper to taste
Juice from fresh limes + lime wedges for serving
Chopped cilantro or parsley for serving
2 cups cooked rice for serving – I used coconut-lime rice!
Cooking Directions
Heat a large pan or wok to medium heat and add 1 teaspoon coconut oil. Season chicken with salt and pepper and set into the pan. Cook 4-5 minutes per side, or until chicken is cooked through. Remove chicken and set aside.
Chop the chicken when it is cool enough to handle.
Add the remaining coconut oil to the pan or wok and add peppers, onion, half the green onions and garlic. Cook about 5 minutes, stirring, until softened.
Add ginger, curry powder and paprika. Stir.
Add red curry paste and stir it in. Cook about a minute or so.
Add coconut milk and reserved chopped chicken and stir. Heat through about 5 minutes or so.
Serve the spicy chicken curry over prepared white rice, then squeeze a bit of fresh lime juice over the top.
Top with extra green onions, parsley or cilantro, and lime slices or wedges.