A mashup-recipe of pasta tossed with spicy ground pork and tomato sauce that has been seasoned with taco seasonings.
Pasta pasta pasta! There is always room for a great pasta recipe on the menu. When we travelled to Italy not long ago, we enjoyed all manner of pastas. There is a wonderful variety of shapes and forms and sauce combinations. We flatly ADORE Italian cuisine. But as you know, we ALSO adore Mexican cuisine and figured, what would happen if we made pasta, spaghetti in this case, the way we make pasta at home, but instead of typical Italian ingredients, we used Mexican ingredients? Behold! A Taco-Style Pasta recipe.
I hesitate to call this a Mexican-Style recipe because that would be a traditional "Fideo" recipe, which is a Mexican pasta made with Fideo noodles, where you actually toast the noodles in oil before cooking them in your tomato sauce and seasonings. This is very close in flavor and profile, and just as delicious. But yeah, it's different.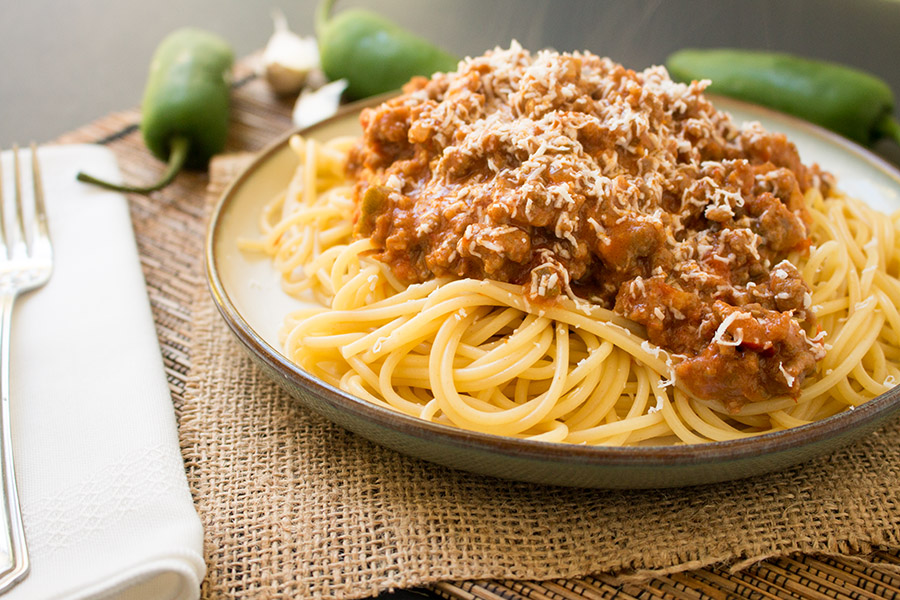 You CAN use Fideo noodles if you can find them, but if you can't, use spaghetti or vermicelli noodles. Start with the freshest ingredients you can find. If you're out of tomatoes, canned tomatoes are fine. I also used a mixture of seasonings – Cumin, Spanish Paprika, Ancho Powder and Cayenne Powder – but to make things easier, use your favorite taco seasoning blend.
I wanted this to be nice and creamy, so I swirled in several tablespoons of Mexican crema at the end, and yeah, it worked. Nice and creamy. Use sour cream if you can't find crema. Either will do. We're super happy with how this turned out. I used ground pork for this recipe. The sauce flavors seriously develop the longer you let it sit. You can make this with other meats as well, like chorizo, chicken (ground, chopped or shredded), pork shoulder, or ground beef.
As a topping variation, try crumbling tortilla chips over the top or serve with additional crema. Add more peppers for some heat! This had a good spice level. Making this again in the near future for sure.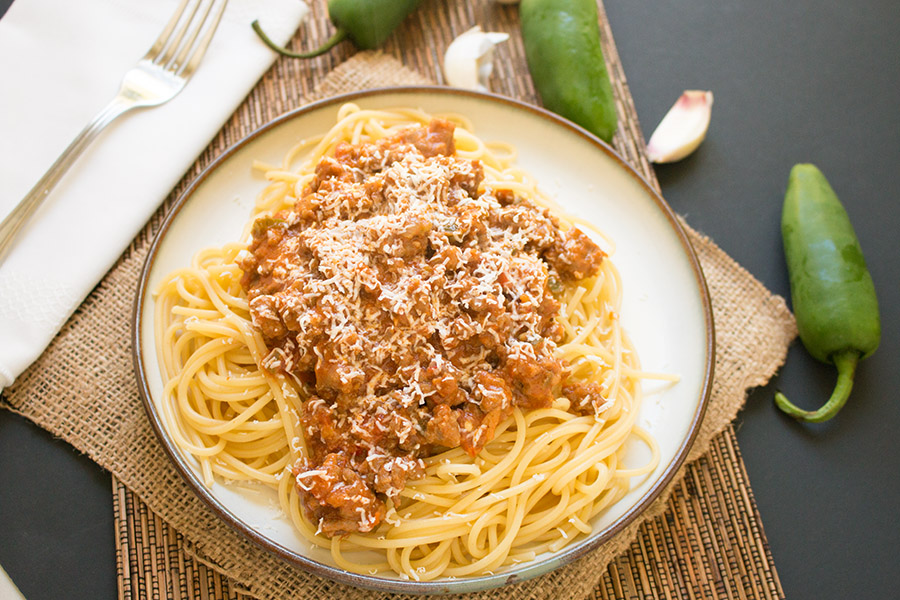 Patty's Perspective: I love how unique this recipe is. It looks exactly like your typical Italian spaghetti, but the flavor is totally different. My exact words to Mike after one bite. "Um, you can make pasta this way ANY TIME you want."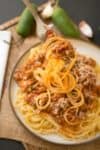 Creamy Taco-Style Pasta
A mashup-recipe of pasta tossed with spicy ground pork and tomato sauce that has been seasoned with taco seasonings.
Cuisine:
Italian, Mexican
Ingredients
2

jalapeno peppers

chopped

1

small onion

chopped

Olive oil

2-3

cloves

garlic

chopped

1

pound

ground pork or spicy Mexican chorizo - or

you can prepare this with chicken or ground beef

1 14-

ounce

can crushed tomatoes - or

use the equivalent of fresh chopped tomatoes (just cook them down nicely)

2

tablespoons

chopped cilantro

2

tablespoons

favorite hot sauce

if desired

3

tablespoons

Taco seasoning – Or

use an equal blend of Spanish Paprika, Ancho Powder and Cayenne Powder with a few extra sprinkles of Cumin.

3

tablespoons

or more as desired Crema or sour cream

16

ounces

Fideo noodles - or

sub in spaghetti or vermicelli noodles

Cotija cheese for serving
Instructions
Heat a large pan to medium heat and add jalapeno, onion and 1 tablespoon olive oil. Cook about 5 minutes to soften.

Add garlic and cook another minute, stirring.

Add ground pork and brown on each side. Break it up and cook it most of the way through.

Add the crushed tomatoes and stir. Bring to a very slight boil then reduce heat to simmer.

Add cilantro, hot sauce (if using) and seasonings and stir to incorporate. Simmer about 20 minutes or so to allow flavors to develop.

Prepare the noodles to al dente, boiling about 12 minutes in salted water. Add a couple of spoonsful of the pasta water to your sauce and stir.

Remove sauce from heat and stir in the Crema or sour cream.

Toss with noodles and top with shredded Cotija cheese.
Recipe Notes
This makes a good 6-8 servings, depending on how hungry you are.
Nutrition Facts
Creamy Taco-Style Pasta
Amount Per Serving
Calories 396
Calories from Fat 117
% Daily Value*
Total Fat 13g 20%
Cholesterol 43mg 14%
Sodium 290mg 12%
Potassium 478mg 14%
Total Carbohydrates 48g 16%
Protein 18g 36%
* Percent Daily Values are based on a 2000 calorie diet.