A recipe for a spicy plum sauce with an Asian flair, made with fresh plums, chili peppers, soy sauce and a variety of seasonings. Great as a dipper or for poultry.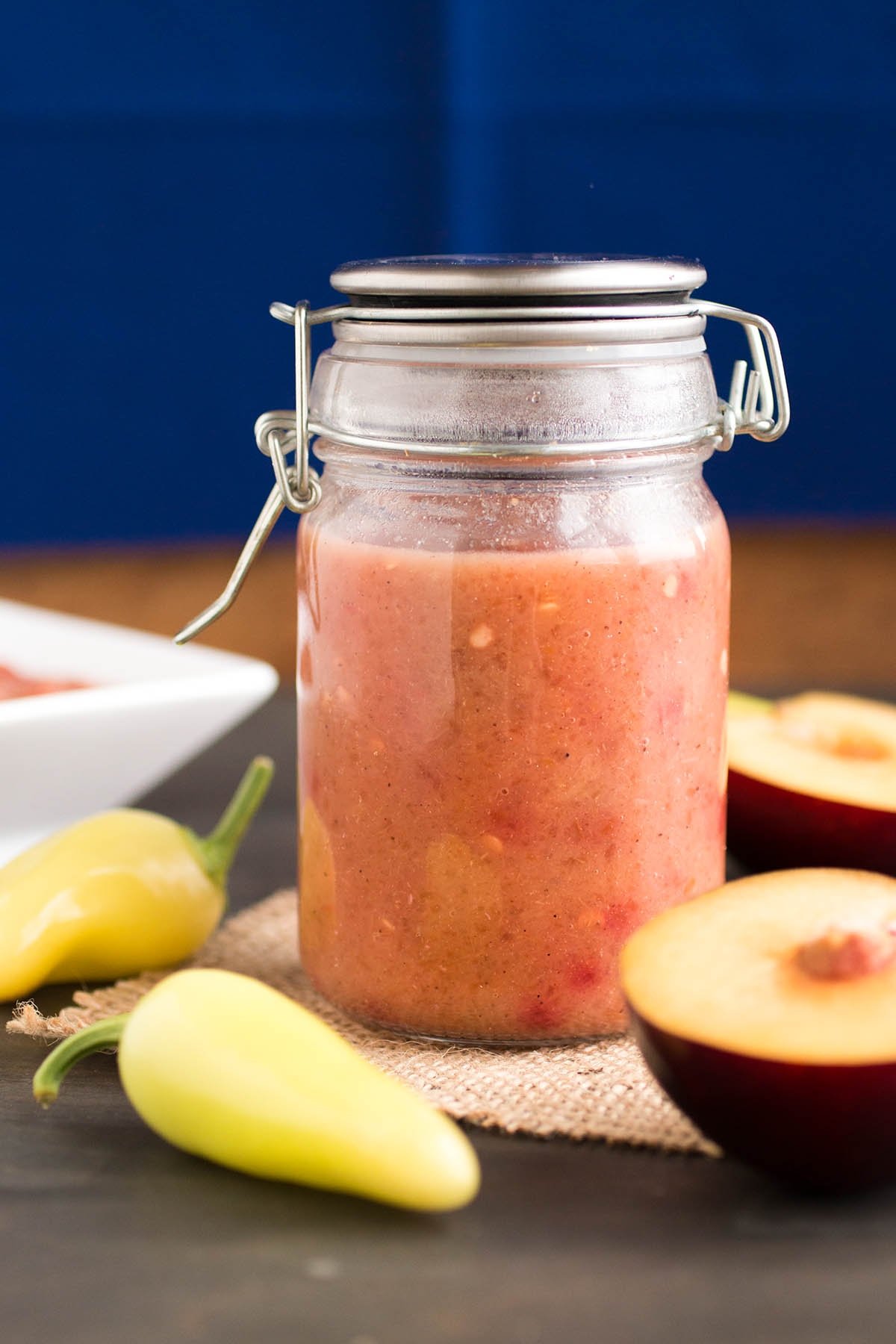 Plum sauce time! As Patty and I were cruising through the grocery store, picking up some of the necessities for the week, I rounded the corner and nearly slammed into the enormous purple wall looming before me. After my vision cleared, I realized it was plums, plums, and more plums.
Plum season runs from May through October, and they clearly JUST got a shipment in. There were so many, so vibrant, glorious in color and like most foods, they spoke to me.
"Mike! We want to be in your cart! Now! Take us home and cook with us!"
So into the cart they went. Who am I to disappoint fruit? The main goal was to enjoy a couple of them on their own. Plums are delicious all by themselves. Slice the up and pop them into your mouth. Not much needed there.
They're succulent, peach-like, mildly tart and cold. After that, it's time to make the plum sauce. Oh yeah!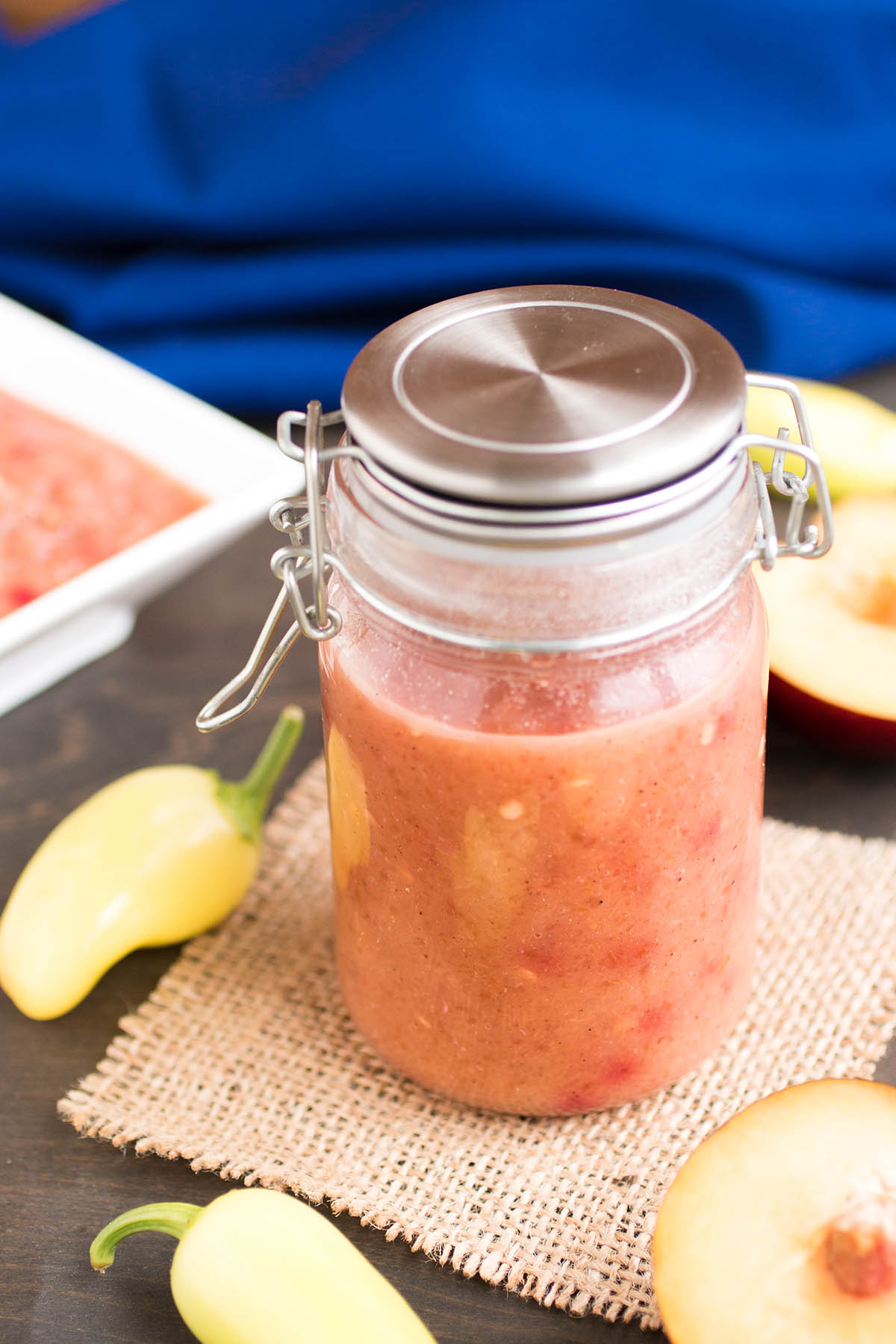 With the massive amount of chili peppers we harvested from the garden this year, I opted for the golden jaloro peppers for this recipe. They're about the same heat level as the jalapeno pepper, similar flavor and thickness. You can use other peppers to your preference. Consider red or yellow bell peppers.
The color of your resulting sauce will change depending on the types of peppers you use, but the flavors will still be there.
Making the Sauce: In a nutshell, cook down the peppers and plums a few minutes, mix in with your remaining seasonings and simmer, then process to form your sauce.
We went an Asian route today, with vinegar, brown sugar, soy sauce, fish sauce, ginger. I added some ground mustard, cloves and lime juice to round it out. The end result is a thick sauce that will coat the back of a spoon.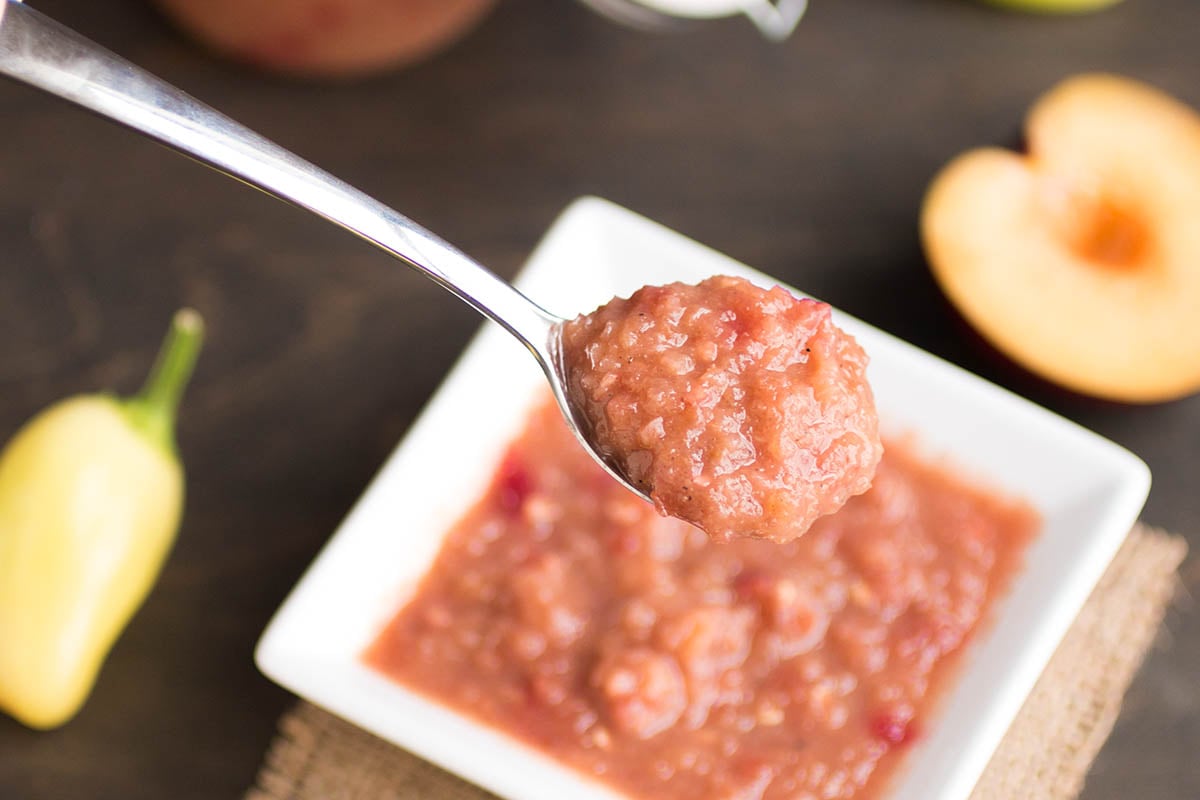 Vibrant and delicious. The next question is:
What Can I Make With Plum Sauce?
Yes, what can I make with plum sauce indeed? I like to use some as a marinade for chicken, and also simmer the chicken in the sauce. Try it out with chicken wings for an Asian style wing. Use it as a dipper for egg rolls, or toss it into a crock pot with meatballs. It goes nicely with pork as well.
Consider rice or noodles with plum sauce, with a bit of chopped pork or chicken tossed in, perhaps some sauteed cabbage or other vegetables. We also enjoy it as a dipper for fondue. So many uses!
Patty's Perspective
I feel like this sauce is extremely versatile. It can be easily thought of as a salsa. I could just dip chips in it all day. But I think it works great with white fish. It's a smart sauce to make on the weekend so you can use it throughout the week with different meals.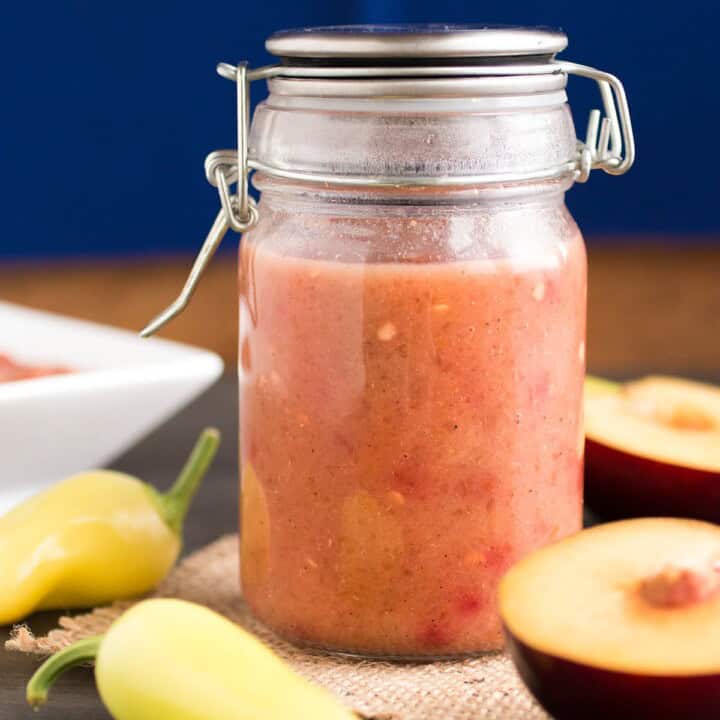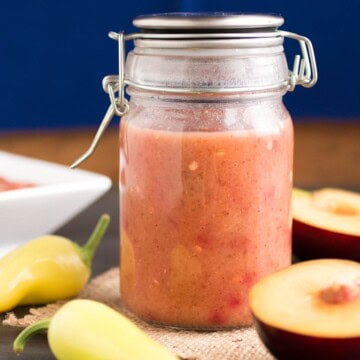 Print
Chile-Plum Sauce – Recipe
A recipe for a spicy plum sauce with an Asian flair, made with fresh plums, chili peppers, soy sauce and a variety of seasonings. Great as a dipper or for poultry.
Save Recipe
Saved!
Ingredients
Dash of olive oil

6

ounces

chili peppers

chopped – I used jaloros from the garden. Use about 10 or so jalapeno sized, or maybe 1-2 large bell peppers for a milder version

3

plums

chopped

½

cup

apple cider vinegar

3

tablespoons

brown sugar

2

tablespoon

soy sauce

1

tablespoon

fish sauce

1

teaspoon

ground ginger

1

teaspoon

ground mustard

½

teaspoon

ground cloves

Juice from 1 lime
Instructions
Heat a large pan to medium heat and add olive oil. Add peppers and plums. Cook about 5-6 minutes, stirring a bit.

Add remaining ingredients and simmer for 20 minutes.

Cool and add to a food processor. Process until smooth.

Store in bottles or containers and refrigerate.
Video
Notes
Heat Factor: Mild, though you can easily heat things up with hotter peppers, or with spicy chili flakes.
Nutrition Information
Calories:
43
kcal
Carbohydrates:
9
g
Protein:
1
g
Sodium:
179
mg
Potassium:
187
mg
Fiber:
2
g
Sugar:
6
g
Vitamin A:
2285
IU
Vitamin C:
3.6
mg
Calcium:
6
mg
Iron:
0.6
mg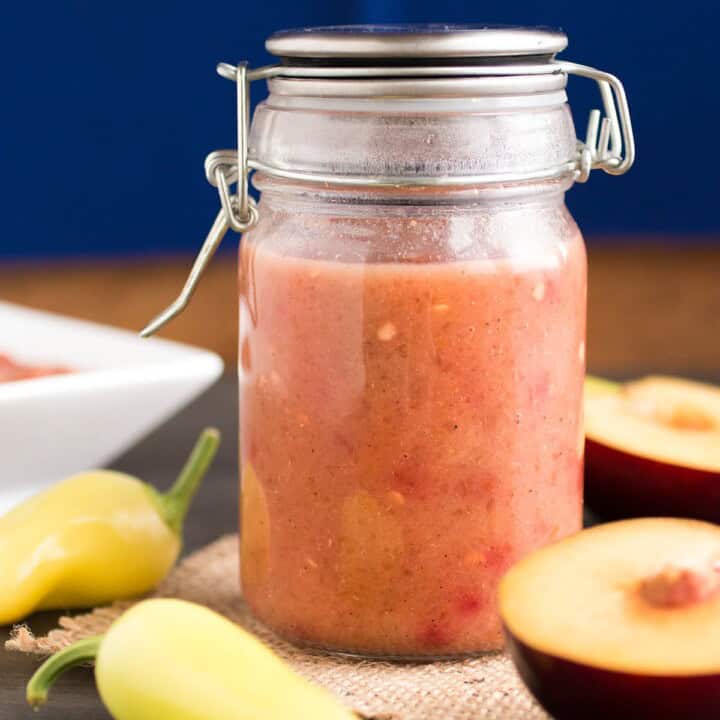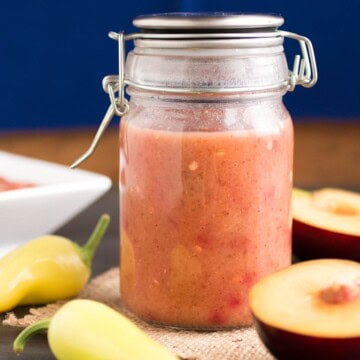 Did You Enjoy This Recipe?
I love hearing how you like it and how you made it your own. Leave a comment below and tag @ChiliPepperMadness on social media.