Want spicy salt? Or salt with additional flavor? Learn how to make your own salt blends for gifts or home use. Here is a method with recipe.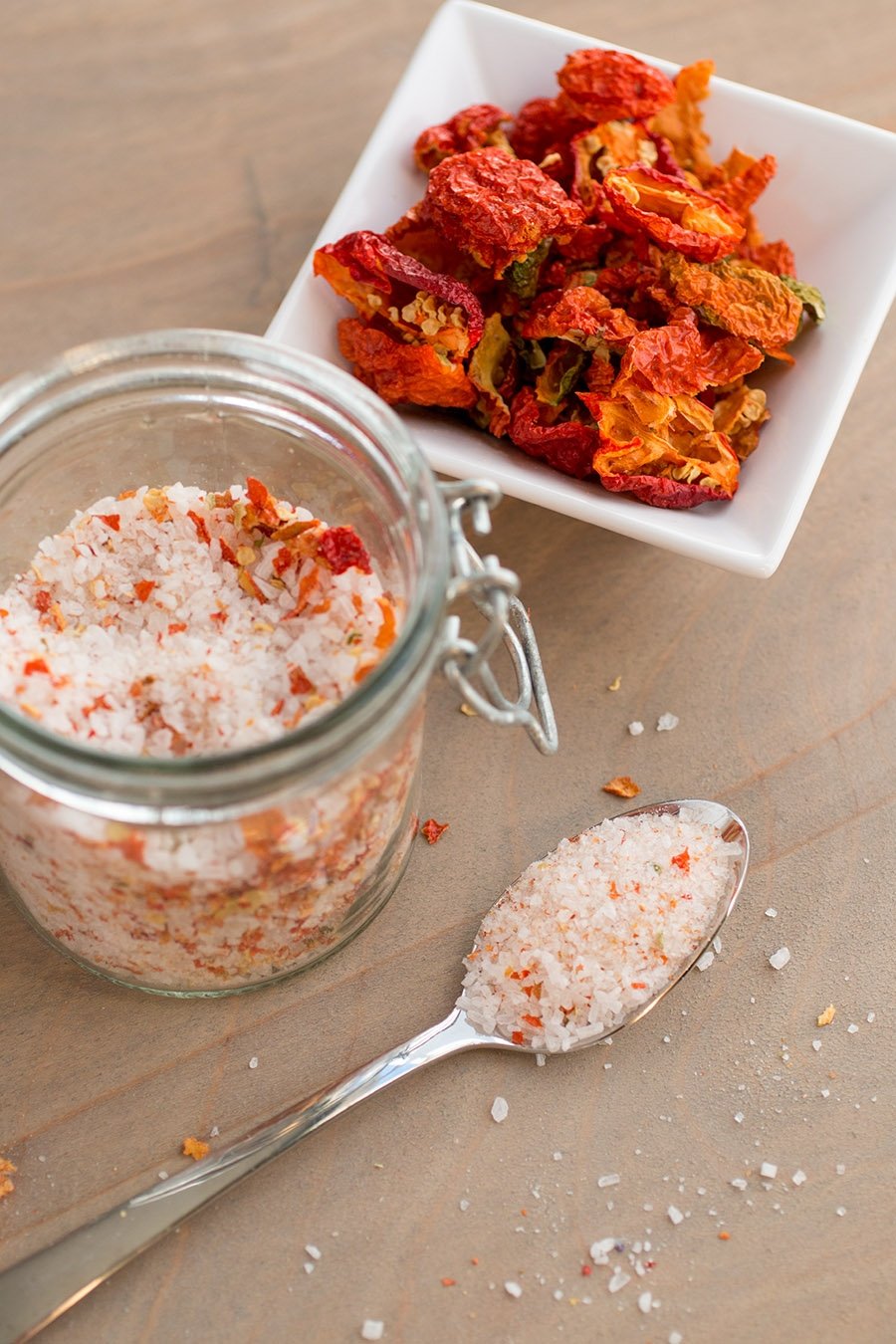 If you've ever perused the aisles of a specialty food store, you've probably encountered a variety of salt blends available to you. There are some wonderful blends and combinations for pretty much anything you might need. You might even own a few. I do. I've received them as gifts and I've picked some up myself.
But, I soon realized that I wanted specific blends of my own, and the stores just weren't selling them.
So, we made our own. We have small batches all over the house now with different combinations, like a spicy celery salt blend in the bar for Bloody Mary's, or this very excellent Superhot Salt blend in the kitchen that I like to use as a finisher.
Some meals call for a fresh blast of salt over the top for serving, but as you know, I personally enjoy the heat. You may or may not like it as hot as I do, but the principle still applies. You can incorporate milder peppers or other dried ingredients to achieve the flavors you desire.
To make your own salt blends, you'll need...SALT! But not just any salt. Look for flaky salt, the larger the flakes the better. You'll be blending or grinding them into smaller flakes. You'll also need dehydrated chili peppers or pepper flakes. You can purchase some in the store or order online.
Or, if you'e like me, you can dehydrate them yourself. See: "How to Dehydrate Chili Peppers" or our "Spicy or Chili Pepper Blends" pages.
This is a very basic recipe that only uses salt and peppers, though you can also add in other dried ingredients, such as garlic powder, peppercorns, dried lime zest, etc.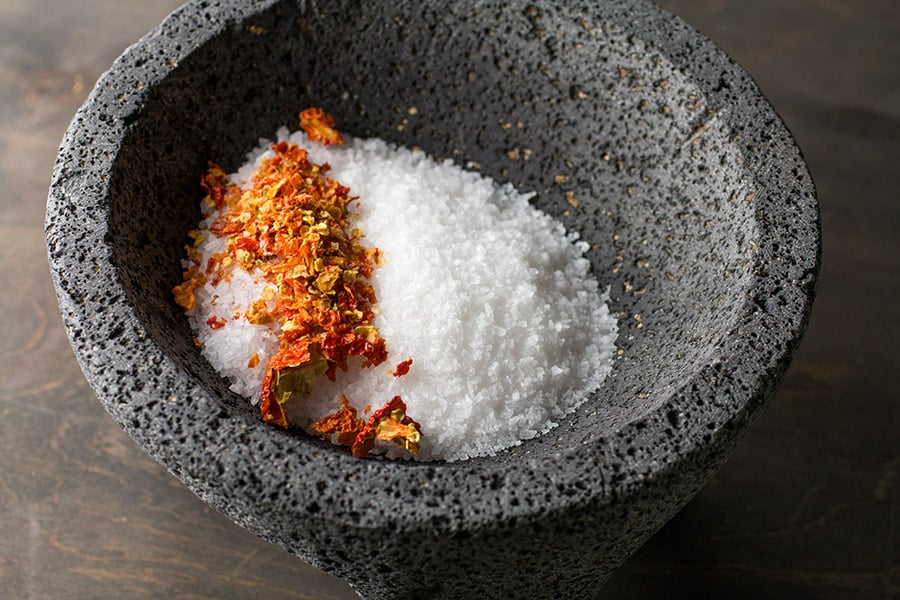 How to Make Spicy Salt Blends
Set the ingredients into a food processor or use a mortar. I used our molcajete. It works great. Focus on the amount of salt. This is a salt blend, after all. Process it or grind up.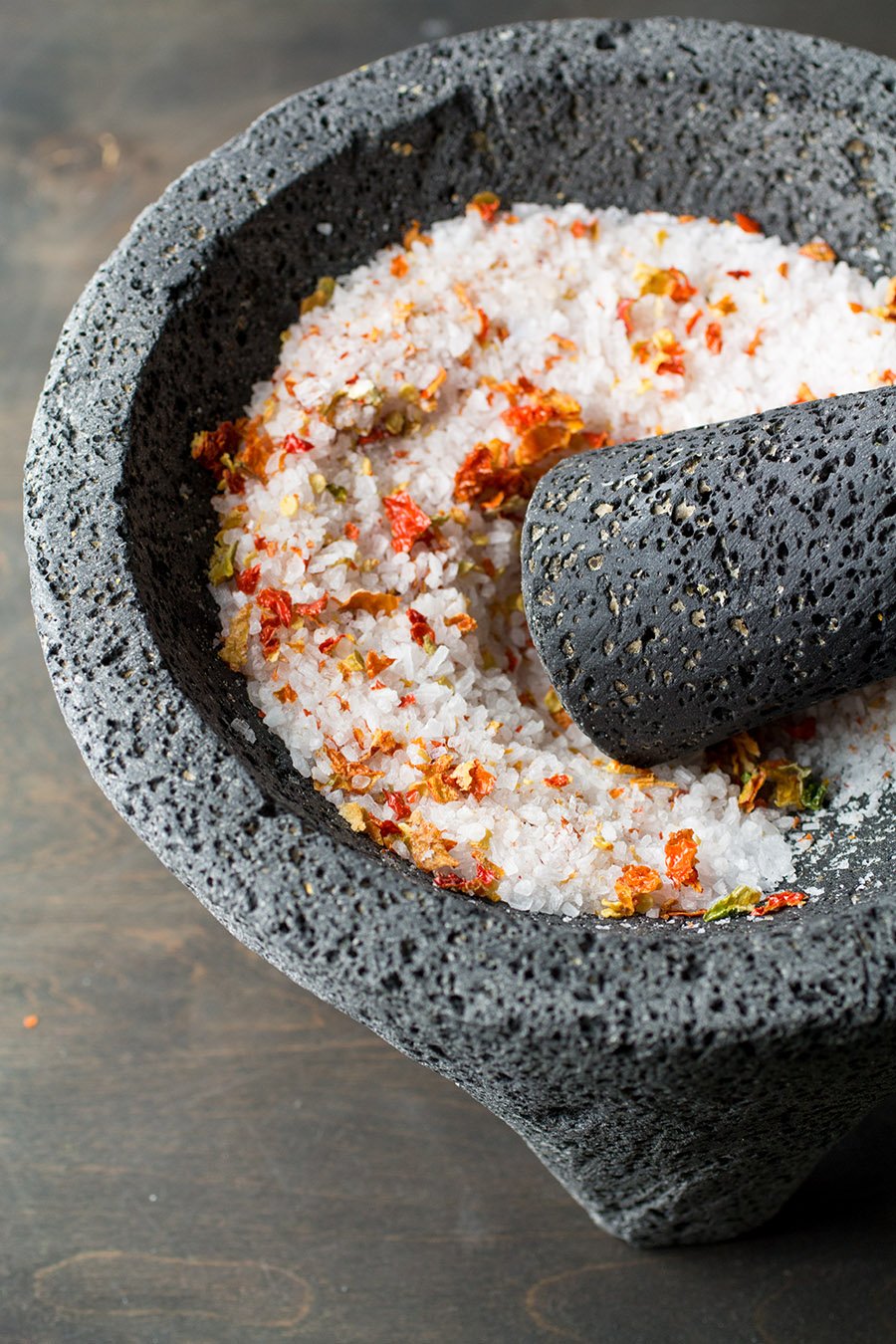 Once everything is ground up to your desired consistency, transfer it to a serving jar or better yet, to a grinder. I like to store it in a jar, but with a grinder, you can grind just a bit over your foods as needed. I keep versions of this down in our bar for meals. I also like to keep a superhot spice blend with just a few pinches of salt in the bar for pizza nights. It is the PERFECT spicy pizza topping. So good!
Also, homemade salt blends make wonderful holiday gifts. Again, you don't have to use SUPERHOTS like I do. Consider what flavors you might want to incorporate for your family and friends.
What do they love? Focus on that. But if you know any chiliheads out there, and I'm guessing you do, they would LOVE to receive something like this at the next holiday gathering. Enjoy!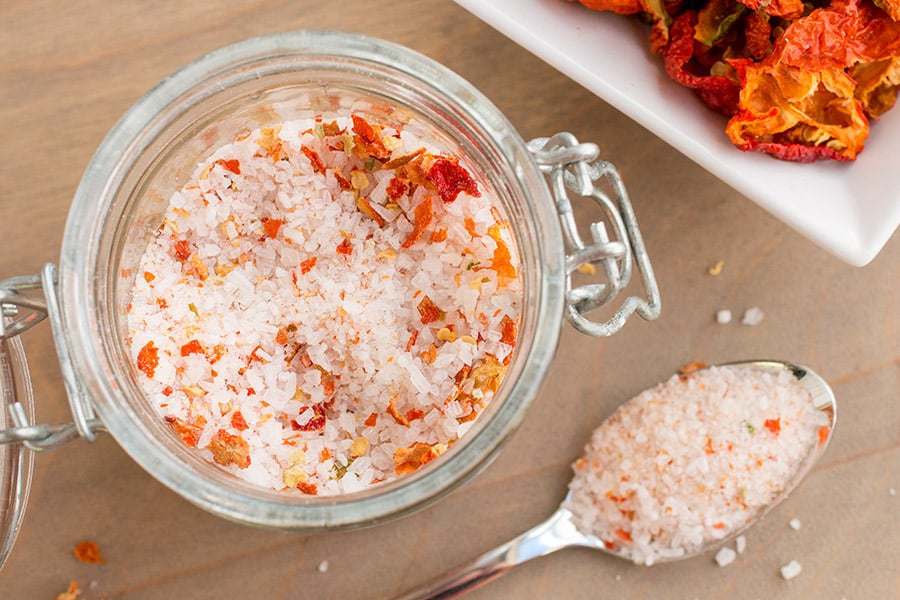 Patty's Perspective: I particularly LOVE salt, more than I should, I'm sure, but I often want more flavor than just salt. This type of salt blend is great because when you grind it onto your food, it will be very fresh and powerful.
And yes, this makes an excellent holiday gift because most people won't think of making it for themselves. Once they try it, though, they'll be asking for more.
Check Out Some of My Other Homemade Seasoning Blends
If you enjoy this recipe, I hope you'll leave a comment with some STARS. Also, please share it on social media. Don't forget to tag us at #ChiliPepperMadness. I'll be sure to share! Thanks! -- Mike H.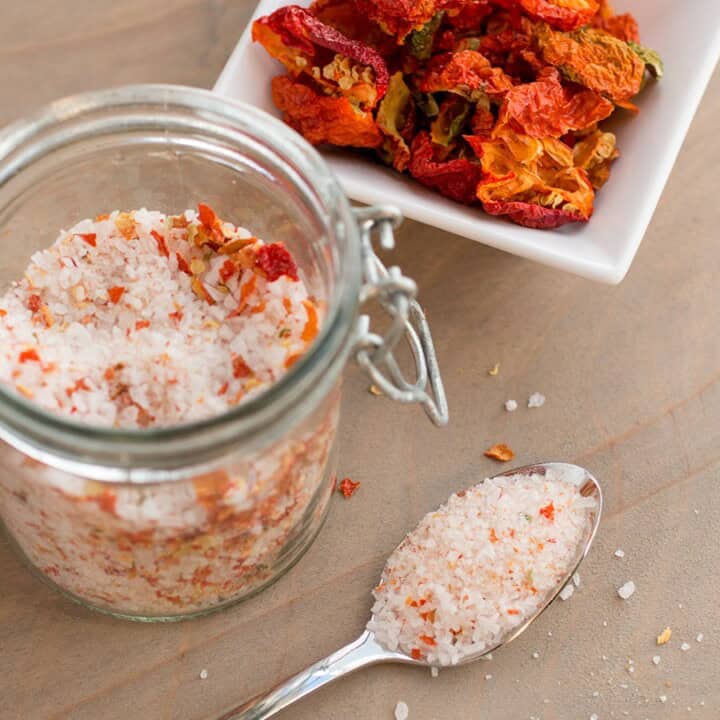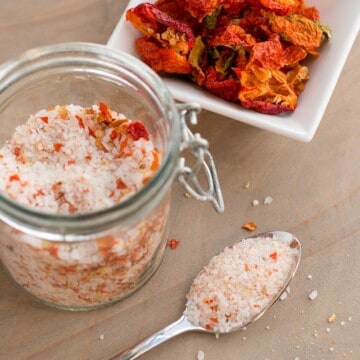 Print
Make Your Own Spicy Salt Blends
Want spicy salt? Or salt with additional flavor? Learn how to make your own salt blends for gifts or home use. Here is a method with recipe.
Save Recipe
Saved!
Ingredients
½

cup

coarse sea salt

2

tablespoons

crushed dried peppers

I used a blend of Reaper, 7-Pots and Scorpions, but use milder peppers for less heat
Instructions
Add all ingredients to a small food processor, or, if you're like me, to a molcajete.

Pulse to combine in the food processor, or use the pestle to grind up the salt and peppers into a uniform blend.

Store in airtight containers until you're ready to use!
Notes
Heat Factor: Mild to Hot, depending on the peppers you use.
Nutrition Information
Calories:
1
kcal
Sodium:
1179
mg
Potassium:
11
mg
Vitamin A:
165
IU
Vitamin C:
0.2
mg
Calcium:
1
mg
Iron:
0.1
mg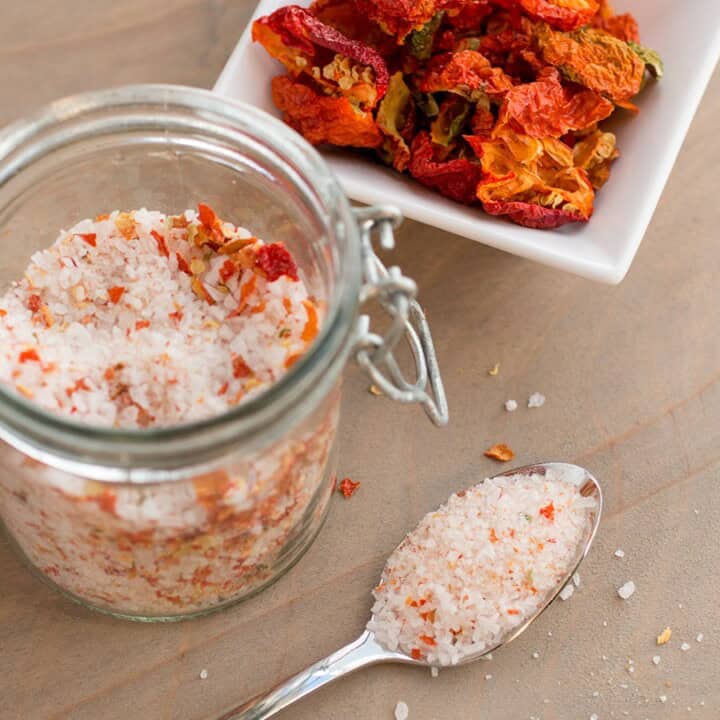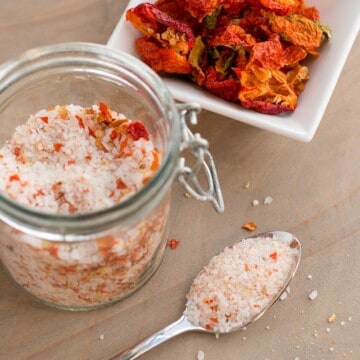 Did You Enjoy This Recipe?
I love hearing how you like it and how you made it your own. Leave a comment below and tag @ChiliPepperMadness on social media.