Frozen chili peppers are great for soups and stews, and you can still use them almost the same way you use fresh chili peppers. Here's how.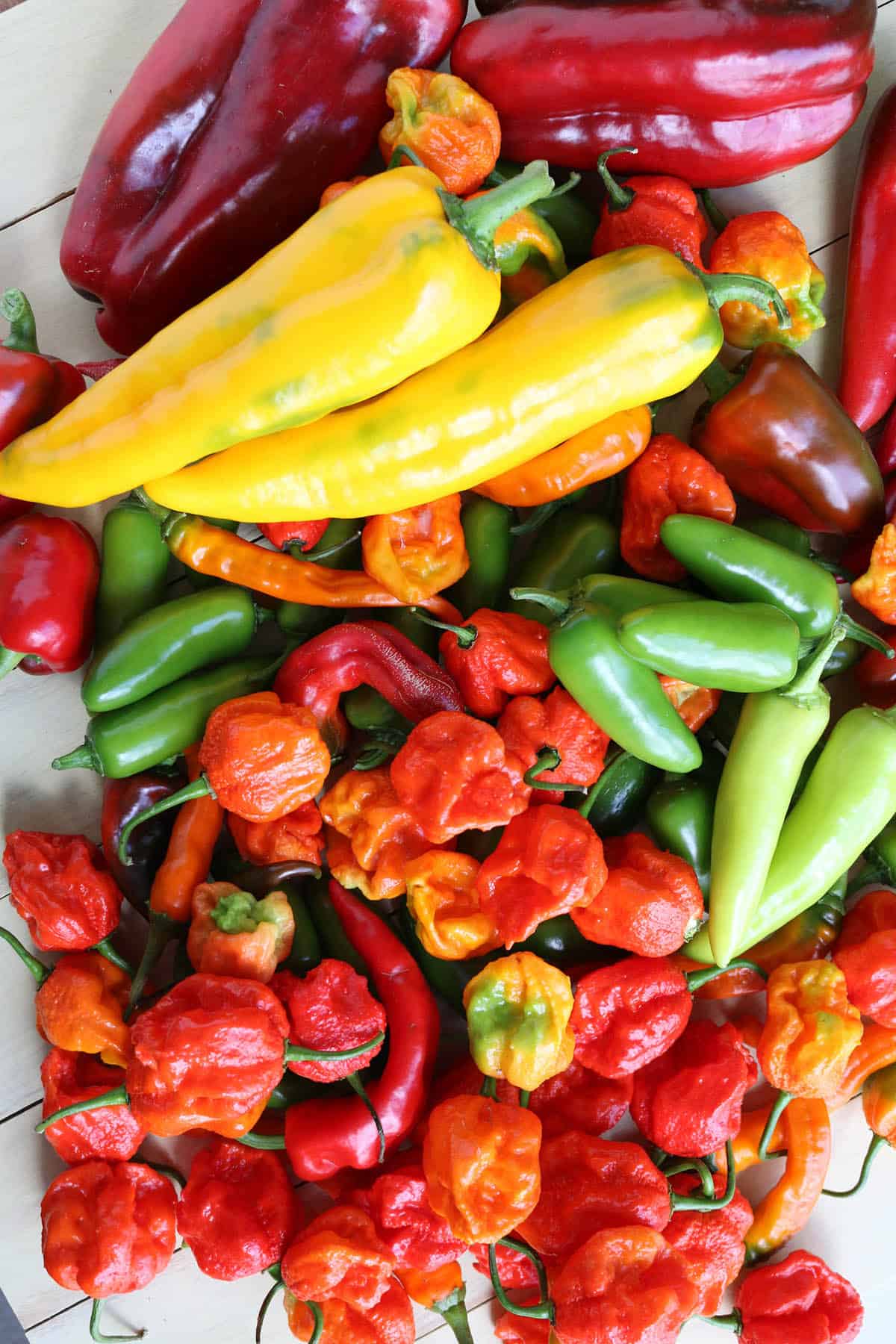 Can I Cook with Frozen Peppers?
We talk alot about chili peppers in the Madness household, and preserving chili peppers is not only one of the biggest topics, but one of the most visited areas of the web site.
We enjoy growing chili peppers of all types, but in any given season, it's difficult to consume all of those chili peppers as we harvest them. We're only two people, you know.
We cook meal for family and friends and give some away, but we also know that we'll need chili peppers throughout the winter, so we preserve them, and there are so many ways to preserve your chili peppers.
One of the simplest ways to preserve your peppers is freezing them. If you're interested in the complicated dynamics of freezing chili peppers, you can learn how to do so here.
Freezing your chili peppers is extremely easy. One of the questions I get, though, is if frozen chili peppers can be used the same as fresh chili peppers? The straight answer is NO, frozen chili peppers will never take the place of fresh chili peppers, but they can still be used in many, many ways.
Fresh chili peppers are by far the superior food, but that doesn't mean frozen peppers are bad in any way.
Frozen chili peppers will sustain you through the winter and times when you can't find any fresh peppers. If you're a gardener like me, you don't want your harvest to go to waste.
Cooking with Frozen Chili Peppers
Cooking with frozen chili peppers is easy. All you have to do is thaw your chili peppers and get cooking. Often the peppers will be soft and somewhat water logged from the freezing/thawing process, but you can dry them with paper towels or set them into a colander to drain.
You can freeze your peppers after chopping, or freeze them whole, whichever you prefer. Once thawed, proceed with your recipe. Thawed frozen peppers are not perfect for every recipe, however.
If your recipe requires crisp or sturdy peppers, the recipe likely won't work as well, as the peppers will be softened, as mentioned. However, they are great for cooking down as part of the Cajun Holy Trinity of peppers, onions, and celery for making gumbos, soups, stews, sauces and more.
I freeze my peppers all the time from my garden and use them in a big variety of ways. You can make the vast majority of recipes on this web site starting with frozen chili peppers.
If you are ever uncertain, comment below or drop me an email and I can help you adapt the recipe.
We recently snatched five jalapeno peppers from our freezer, thawed them out, chopped them up and sprinkled them over a bowl of homemade Madness Nachos.
The Flavor of Frozen Chili Peppers
Let's talk about taste. Yes, your frozen peppers will not have the same texture as fresh peppers, which have a wonderful crunch. Frozen peppers, when they are thawed, will be softer.
When you cut them, they might remind you of the texture of pickled peppers. The difference is that you won't have the pickled flavor. Still, the peppers retain the color and vitality of fresh jalapenos, and much of taste and heat of fresh jalapenos.
Sprinkling thawed jalapeno peppers over nachos is, in all honesty, a simplistic use of your preserved jalapeno peppers.
There are many ways to use frozen chili peppers.
What Can I Make with Frozen Chili Peppers?
The reality is you can make almost any recipe with frozen peppers that requires fresh chili peppers.
I mostly use them as a major base for cooking up soups, stew, chilis and multiple crock pot recipes. You can use them to make hot sauces and other sauces, soups, stews, gumbos, stir fries and more.
You can dehydrate frozen peppers and turn them into chili flakes or powders. You can use frozen peppers in curries, for pickling peppers, and for making salsa.
I prefer fresh peppers when making salsas, but frozen will definitely work. I also prefer fresh peppers over frozen when making stuffed peppers, but you can definitely use frozen whole peppers for this, if you desire.
There are so many ways to cook with frozen chili peppers.
Enjoy!