This crockpot stuffed peppers recipe is loaded with seasoned ground beef, rice, black beans and queso blanco, then cooked in a slow cooker, so easy! Perfect for bell peppers!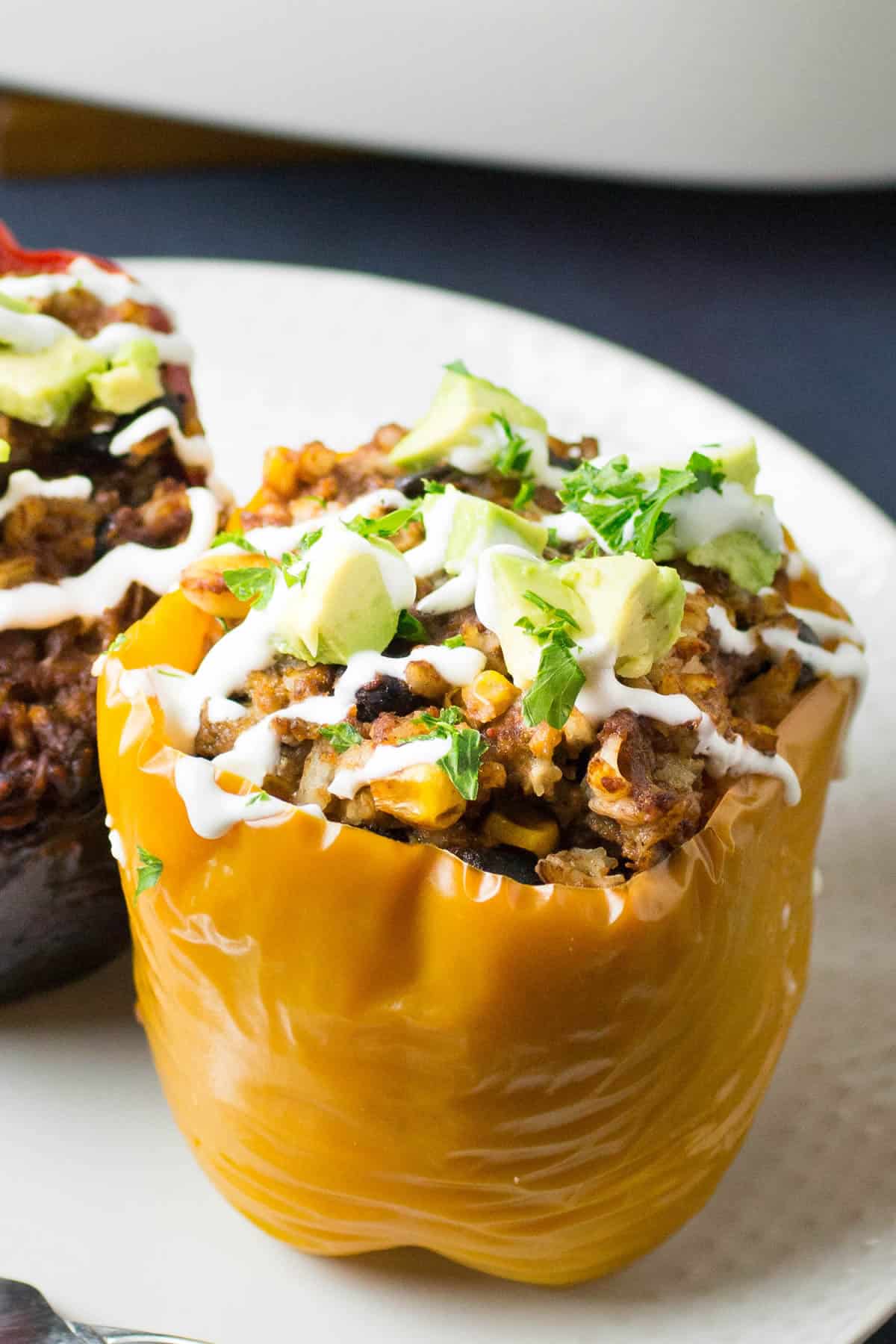 Crockpot Stuffed Peppers Recipe
I don't believe I could ever get enough stuffed peppers. They're just so PERFECT for stuffing, aren't they? It's like they were made just for this purpose, bell peppers in particular.
Everyone loves stuffed bell peppers.
They're mostly hollow so you can fit a lot inside of them, thick walled so they can withstand long cooking and still retain a pleasant "meatiness", and they are just the right size to make a satisfying meal, pure comfort food.
I've made all sorts of stuffed peppers - See our Stuffed Pepper Recipes - but the crock pot will allow you a bit more freedom throughout the day, so bust out the crock pot and get moving.
This is one of those "noon time" recipes where I can head down to the kitchen, enjoy a super quick lunch, then prep these crockpot stuffed peppers and get them going in the crock pot so we can enjoy them later on for dinner.
Patty and I work from home, so recipes like this are ideal.
Slow Cooker Stuffed Peppers Are Easy!
There isn't a whole lot of cooking involved in making slow cooker (or crock pot) stuffed peppers, other than to cook down your initial vegetables, browning the ground beef and making rice.
We're using Mexican-style ingredients, though the crock pot will work for any stuffed pepper recipe.
Also, I like to make a large batch of these - 10 at a time - so that I can freeze some for heating up later on.
The recipe portions reflect this amount, so if you'd like to make a smaller batch, scale down the ingredients appropriately. Or, learn How You Can Freeze Stuffed Peppers.
Fun! Save time later!
Let's talk about how to make crock pot stuffed peppers, shall we?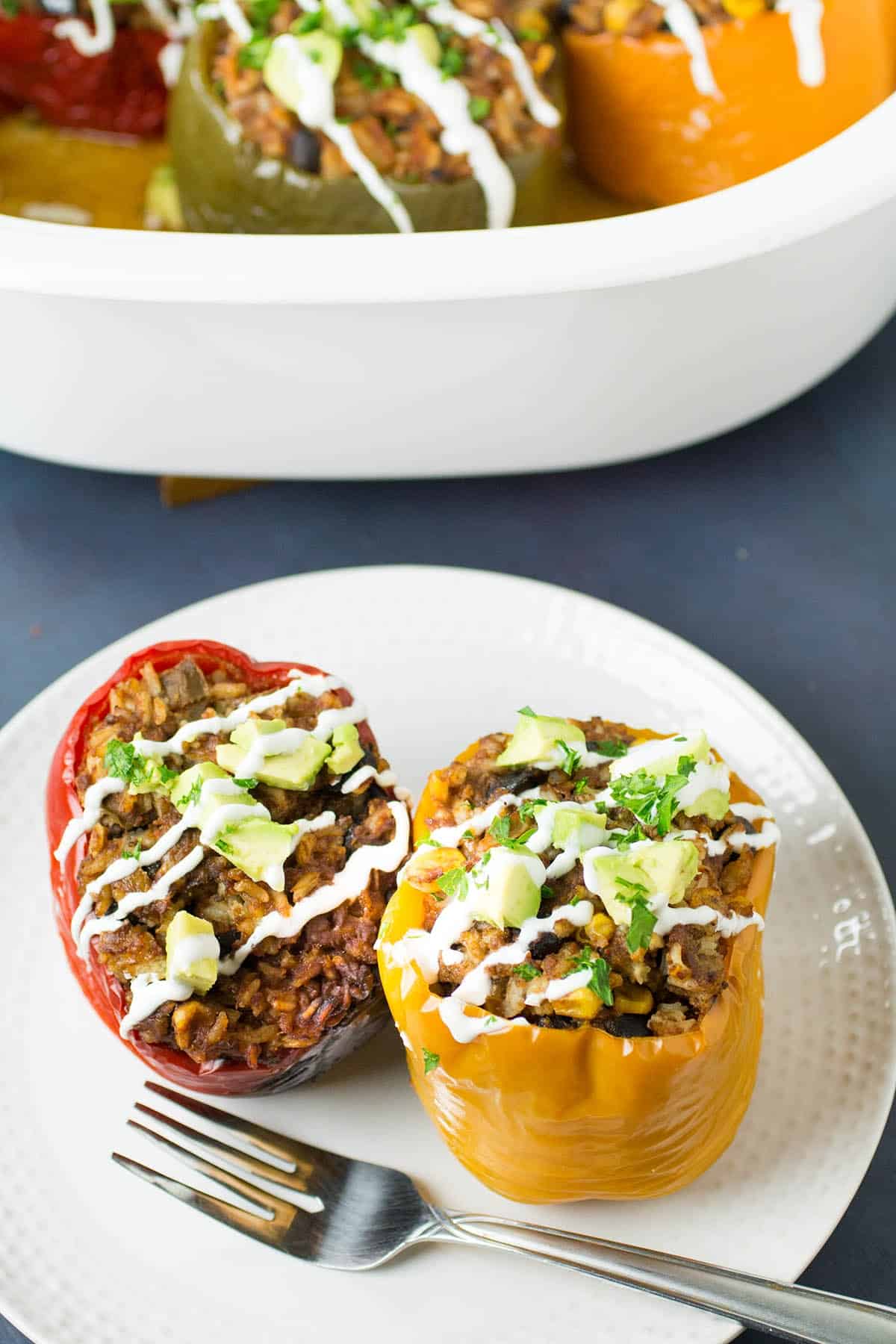 Ingredients Needed
FOR THE PEPPERS & STUFFING
10 colorful bell peppers (or use any larger pepper of equivalent size, green bell peppers are great for this)
1 tablespoon olive oil
1 jalapeno pepper, chopped (omit for milder stuffed peppers)
1 small white onion, chopped
2 cloves garlic, chopped
1 pound ground beef
2 cups cooked white rice
15- ounce can black beans
15- ounce can crushed tomatoes
1 cup frozen corn
1 cup shredded queso blanco or Monterrey Jack cheese
3 tablespoons favorite taco seasoning
Salt and Pepper to taste
FOR TOPPING
Chopped cilantro
Mexican crema or sour cream
Diced avocado
Favorite hot sauce for serving - spice it up, my friends!
How to Make Crock Pot Stuffed Peppers - The Recipe Method
First, slice off the tops of your collection of colorful bell peppers and core out the insides. I like to use a mixture of colors, but any will do. Next, cook up the jalapeno pepper, onion and garlic in a bit of oil.
You can use spicier peppers if you're looking for more heat with this meal. Toss in a couple habanero peppers. Why not? Or, omit the jalapeno if you're seeking a milder version. The flavor will still be there. Trust me.
Next, brown the ground beef in the pan. Browning the meat is important for texture.
I've seen some recipes that stuff the peppers with raw ground beef, but this results in a somewhat mealy texture, which I don't find very pleasant, so make sure you at least brown the beef or cook the meat mixture.
If you cook it all the way through it will not hurt the recipe. There is plenty of moisture. Also, you CAN use other ground meats, so consider ground turkey, chicken or pork, though lower fat meats might result in a drier stuffed pepper.
Once you've browned the meat, add it all to a large bowl with the cooked rice, black beans, crushed or diced tomatoes, corn, queso blanco and taco seasonings.
You can use your favorite store bought brand, or have fun and make your own, like this one - Homemade Taco Seasoning Blend Recipe. Dash in a bit of salt and pepper to your tastes and mix it all up.
Garlic powder is a nice extra. Tomato sauce is also a nice addition for saucier crockpot stuffed peppers.
Lastly, spoon the rice mixture into each of your hollowed out peppers and add a bit of water to the bottom of the slow cooker.
Top with any remaining cheese. You can use your favorite cheese for this recipe. I use anywhere from 1/2 cup to 1 cup cheese of Monterrey Jack, though pepper jack is nice, or cheddar.
Use a good melty cheese.
Cover and cook them low and slow for 5-6 hours (or for 3 hours on high), until the peppers are tender and softened and everything is cooked through.
It may drive you mad with hunger as the smells fill the house all day, but hey! It's the burden you must bear for awesome flavor.
When they are done, serve them with some of your favorite fixings over the top.
I spooned on a bit of Mexican crema, some diced avocado, chopped cilantro and a bit of hot sauce, but other options might include extra shredded cheese, homemade salsa or picante sauce, crumbled tortilla chips, or whatever else you like.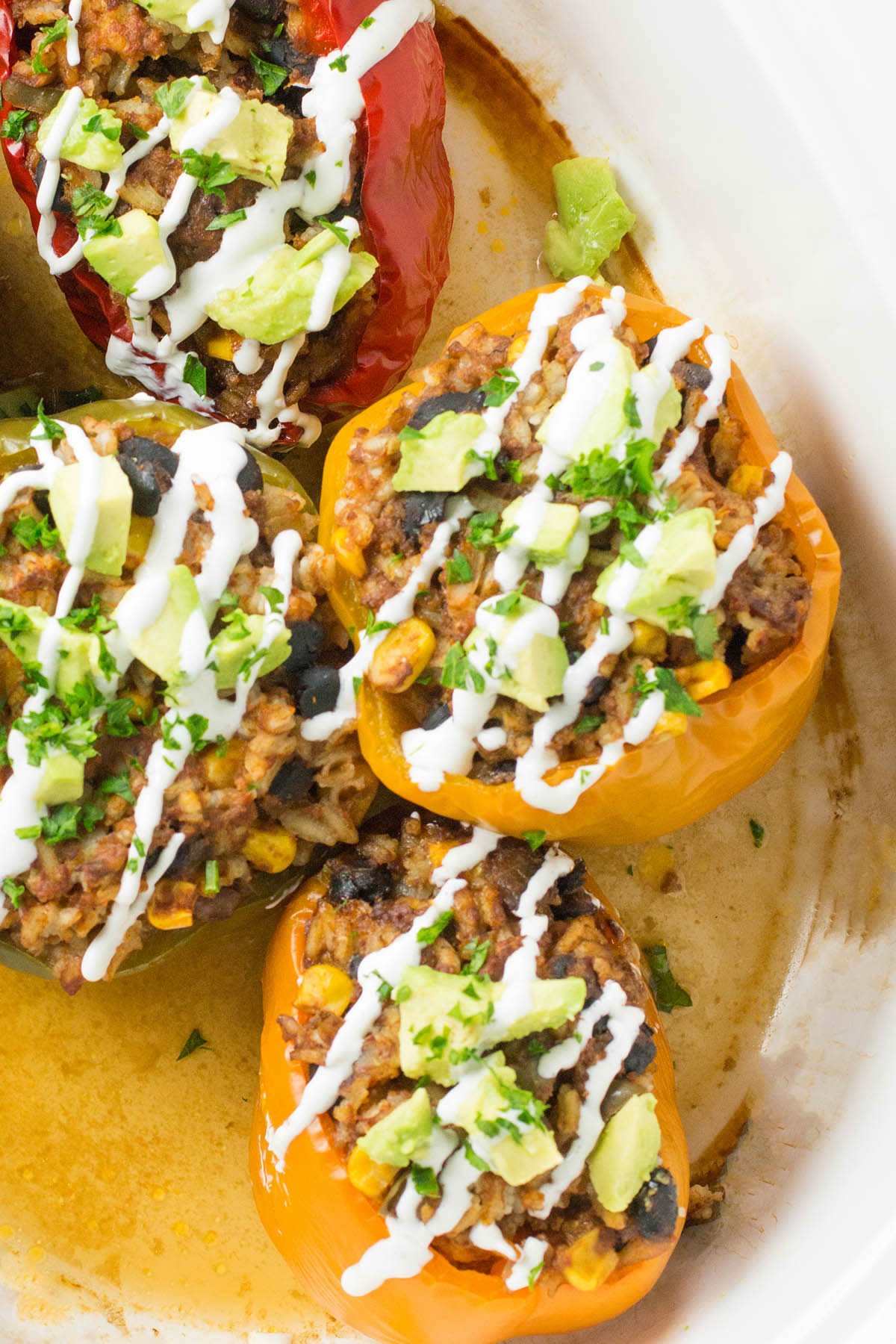 Boom! Done! Quick and easy to prepare, then just wait for the slow cooker to do it's work. Don't you love it! Simple enough, my friends!
Here are answers to further questions about making crock pot stuffed peppers.
How Long Do You Cook Stuffed Peppers in a Crock Pot or Slow Cooker?
Stuffed peppers should cook for 4-5 hours in the crock pot or slow cooker on low, or on high for 3 hours (2 hours is ok).
Stuffed peppers cooked this way are pretty forgiving, so if you leave them in a bit longer, they will usually be OK. Just don't leave them in for TOO long or they can begin to fall apart.
The answer is YES. Absolutely. Freezing your stuffed peppers is a smart way to keep them. I enjoy making larger portions so we can have quick meals throughout the week. It's a huge time saver.
They will easily last several months in the freezer, even up to a year, though mine don't stick around that long.
However, there are some important steps to take to ensure you retain the quality you desire.
Storage & Leftovers
Crockpot stuffed peppers will last up to 5 days in the refrigerator in a sealed container. You can easily warm them in the oven to enjoy again. Or, consider freezing them, per above.
Thanks so much for checking out the recipe and the web site. I hope you enjoy it! Let me know how yours turn out.
Got any questions? Ask away! I'm happy to help. If you enjoy this recipe, I hope you'll leave a comment with some STARS. Also, please share it on social media. Don't forget to tag us at #ChiliPepperMadness. I'll be sure to share! Thanks! -- Mike H.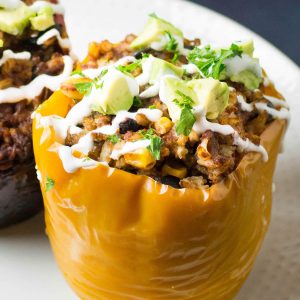 Print
Crock Pot Stuffed Peppers Recipe
This crockpot stuffed peppers recipe is loaded with seasoned ground beef, rice, black beans and queso blanco, then cooked in a slow cooker, so easy!
Save Recipe
Saved!
Ingredients
10

colorful bell peppers

1

tablespoon

olive oil

1

jalapeno pepper

chopped

1

small white onion

chopped

2

cloves

garlic

chopped

1

pound

ground beef

2

cups

cooked white rice

15-

ounce

can black beans

15-

ounce

can crushed tomatoes

1

cup

frozen corn

1

cup

shredded queso blanco

or Monterrey Jack cheese

3

tablespoons

favorite taco seasoning

Salt and Pepper to taste
FOR TOPPING
Chopped cilantro

Diced avocado

Mexican crema or sour cream

Favorite hot sauce for serving
Instructions
Slice the tops from the bell peppers and core out the insides. Set them into a crock pot or slow cooker. You may need 2 slow cookers.

Heat the oil in a small pan to medium heat and add the onion and jalapeno pepper. Cook about 5 minutes to soften.

Add the garlic and cook another minute, stirring.

Add the ground beef and cook about 5 minutes to brown it. You don't need to cook it all the way through, as it will finish in the crock pot.

Add the mixture to a large bowl and cool.

To the bowl, add the rice, black beans, crushed tomatoes, corn, shredded cheese and taco seasoning. Add salt and pepper to taste and mix it together with a wooden spoon.

Spoon the stuffing into each bell pepper.

Add about a half inch of water to the bottom of the crock pot or slow cooker and cook on low for 4-5 hours on low, or 2-3 hours on high, or until everything is cooked through and the peppers have softened to your preference.

Serve with cilantro and crema over the top, and your favorite hot sauce. Enjoy!
Notes
Nutrition Information
Calories:
325
kcal
Carbohydrates:
31
g
Protein:
16
g
Fat:
15
g
Saturated Fat:
6
g
Cholesterol:
44
mg
Sodium:
326
mg
Potassium:
715
mg
Fiber:
7
g
Sugar:
7
g
Vitamin A:
3945
IU
Vitamin C:
160.9
mg
Calcium:
134
mg
Iron:
3
mg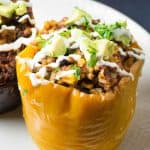 Did You Enjoy This Recipe?
I love hearing how you like it and how you made it your own. Leave a comment below and tag @ChiliPepperMadness on social media.
NOTE: This recipe was updated on 4/20/20 to include new information. It was originally published on 5/17/17.