A vegetarian recipe for sweet bell peppers stuffed with spicy rice and cheese, baked, then topped with your favorite hot sauce. These are cheesy and hearty and just the right amount of spicy. Easy to freeze.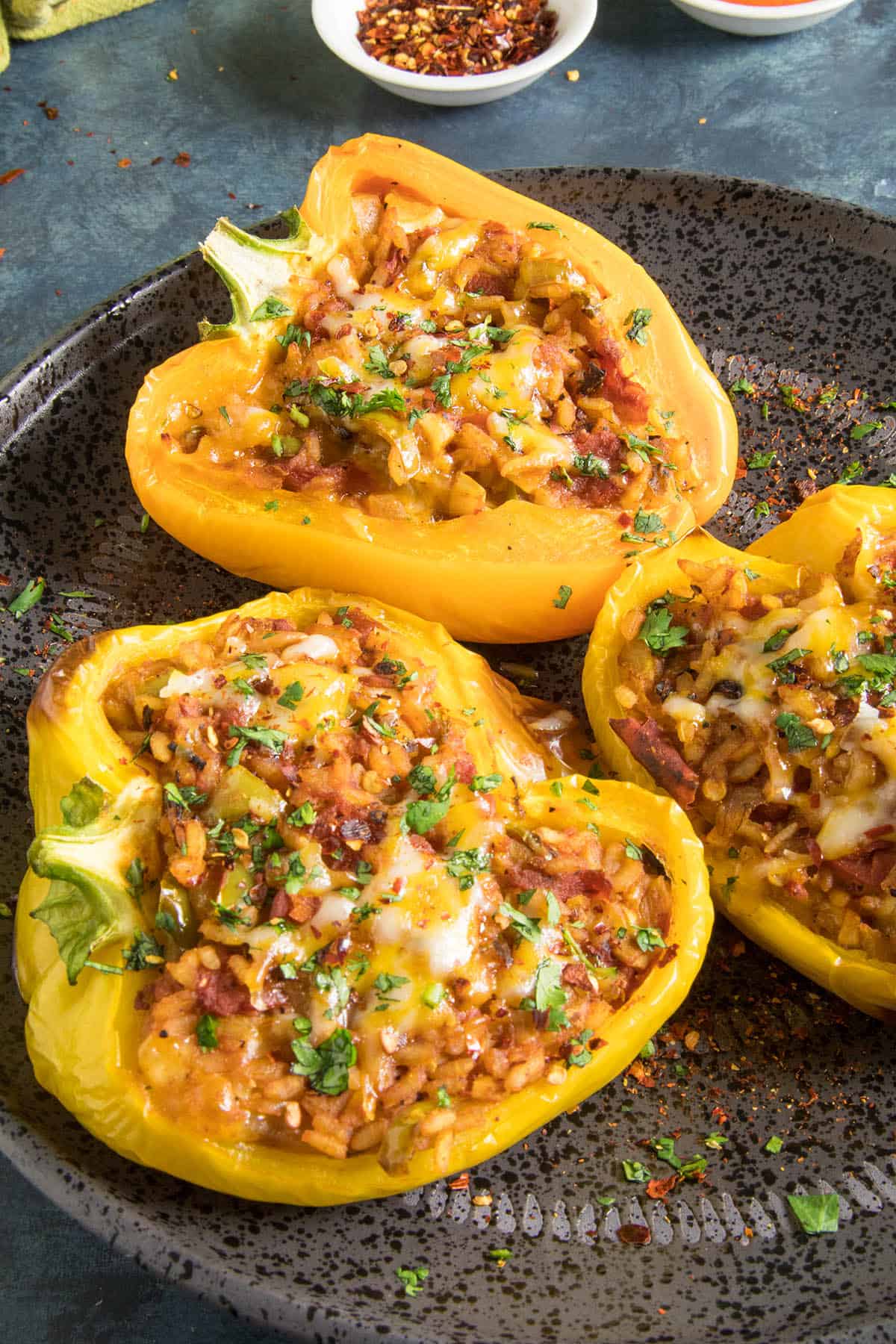 Spicy Vegetarian Stuffed Peppers
Yes, this is an awesome recipe, and it's so hearty, you won't believe it is vegetarian. One cool think about this recipe is that it scales up so nicely, so you can make a double, triple, or even larger batch then freeze them later for super quick and easy meals.
I love that!
Some of our friends might opt for the stuffed pepper party - hey, stuffed peppers and beer, yo! - but methinks we'll freeze some of these. Absolutely, you CAN freeze your stuffed peppers and I'll include a bit of information on that below.
But first, onto this delectable recipe.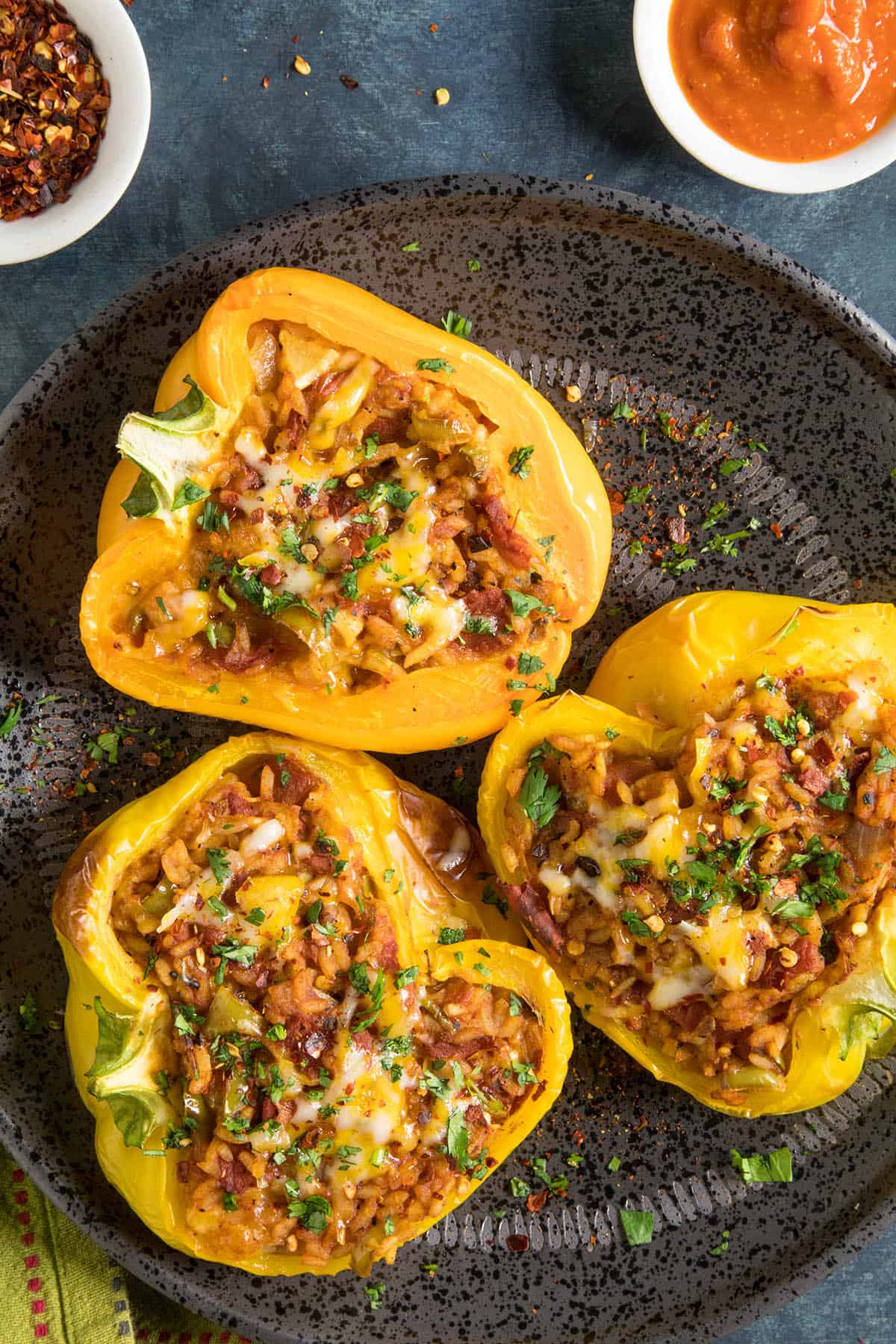 This particular recipe was born from a recent side dish we made, Mexican Rice. So. Very. Good.
You can easily use leftover rice for making this recipe.
Here's a link to that Mexican Rice Recipe in case you'd like to print it out, though I have it included a spicy rice recipe below as well. As I mentioned then, I REALLY DID make a HUGE batch of Mexican Rice, but I had intentions!
I got to use it as a base for the baked chicken thighs we made recently, and NOW we get to use it up in these crazy-awesome stuffed peppers. If you have the cooked rice already on hand, this makes for a super quick dish. Just mix in some shredded cheese and get stuffing.
How to Make Spicy Vegetarian Stuffed Peppers - The Recipe Method
First you'll want to core out the peppers, of course, and blanche them in a bit of boiling water to soften them up. The blanching is not required, and I don't always do it, but sometimes it's nice when the peppers are softer.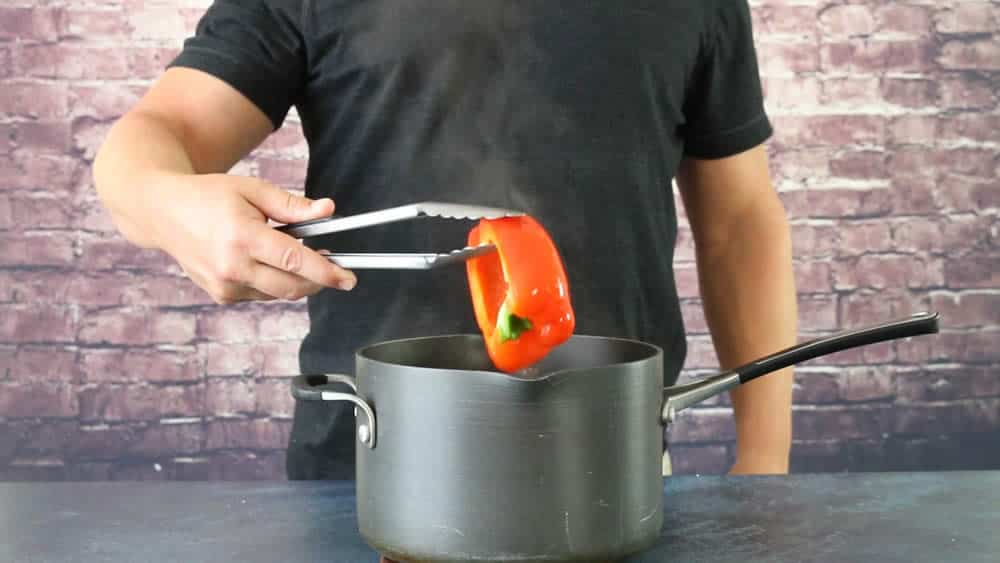 Next, prepare your rice. First, cook down the onion, peppers and garlic in a bit of olive oil, then stir in the rice. Brown it a bit, then add in the corn, peas, seasonings along with a can of fire roasted tomatoes and veggie broth.
Bring the whole thing to a boil and simmer it until the rice is nice and fluffy. Looks delicious, doesn't it?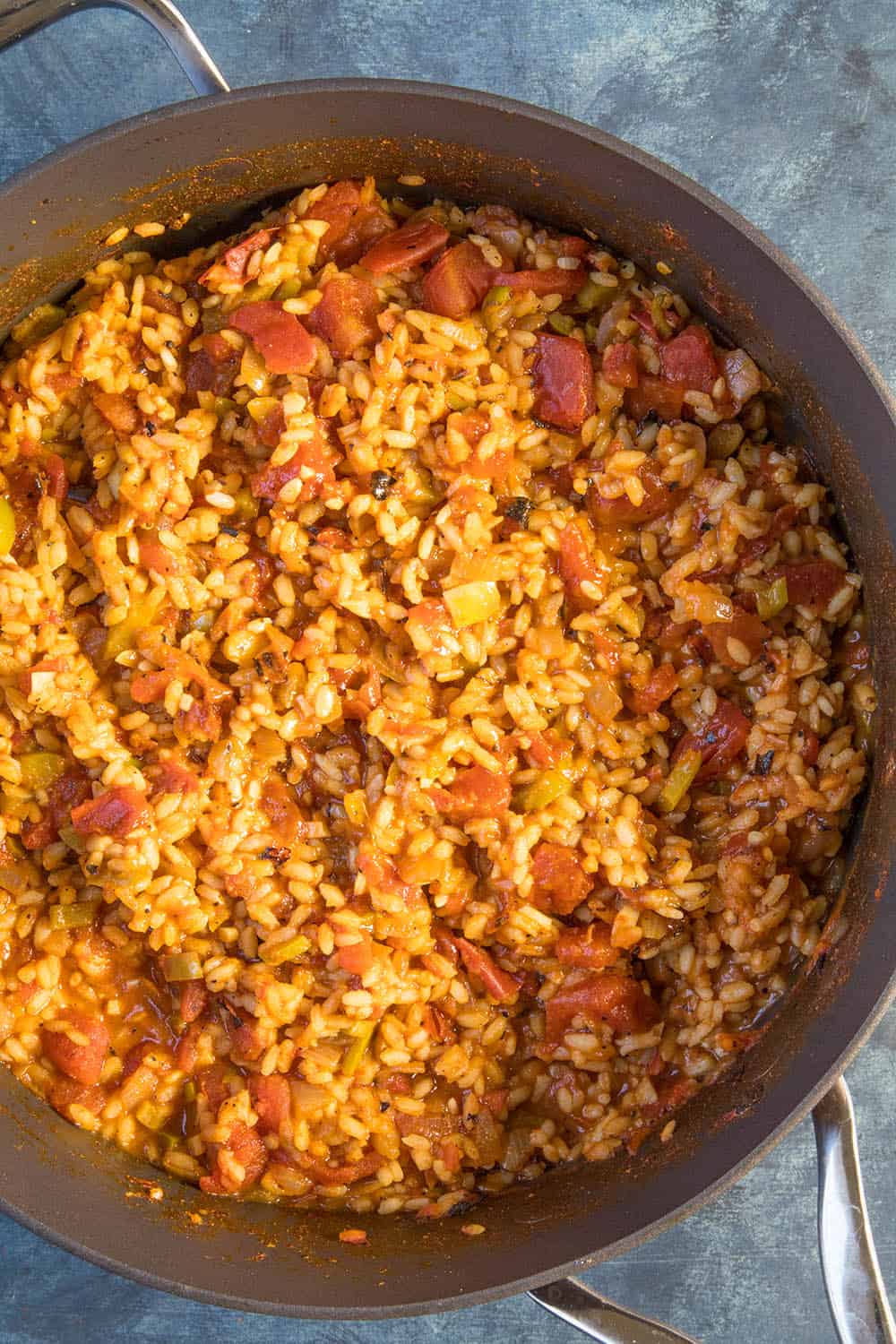 Next, mix up the prepared spicy rice with your chosen shredded cheese, stuff those beauties, and bake them about 30-40 minutes.
Just don't forget the hot sauce! Again, not a requirement, but I love the sweet-hot pop of a good hot sauce over the top, depending on which sauce you choose to compliment your dish.
Can You Freeze These Stuffed Peppers?
Yes!
If you're making a larger batch and freezing them, the best way to freeze stuffed peppers is to stuff them but not cook them. Just make sure everything inside the actual pepper is cooked, meats in particular.
Let the stuffed peppers cool first, or they might get soggy after they thaw. Place the stuffed peppers in a large freezable dish and cover them in foil or plastic wrap.
Or, wrap these individually, squeeze out the air, and freeze them that way. When you're ready to cook them, pop the out, thaw them in the fridge, then bake then per the recipe.
See my post on How to Freeze Stuffed Peppers.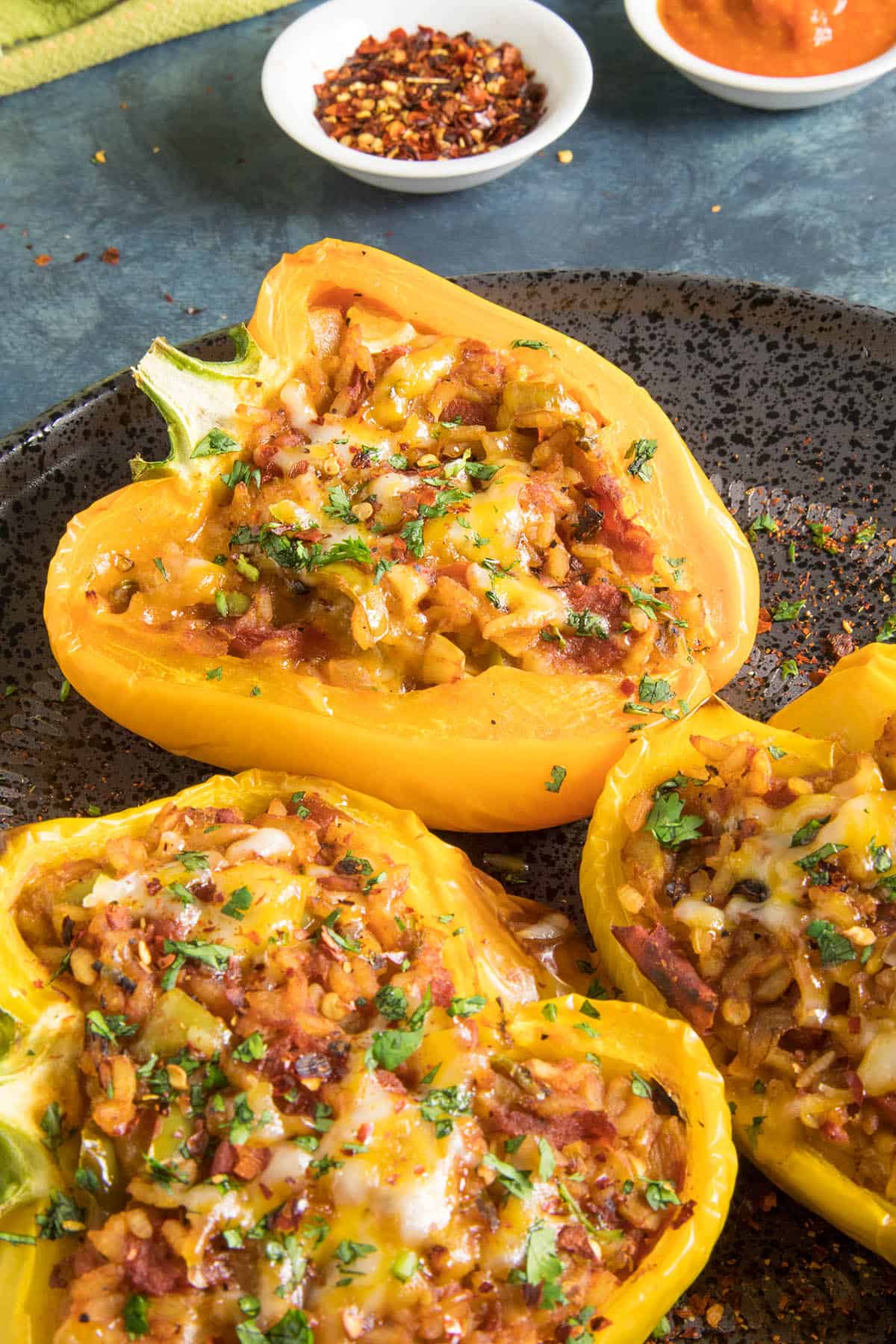 Recipe Notes
Can I Use Instant Rice?
Absolutely. Instant rice is rice that has already been cooked and then dehydrated. Using instant rice will save you a bit of time. Just cook down the peppers, onion and garlic first, then add the fire roasted tomatoes and cook about 5 minutes.
Then, add the instant rice, seasonings, broth and hot sauce. Let the rice absorb the liquid off heat until it is nice and fluffy, then proceed with the recipe.
Can I Use Other Seasonings?
Yes. I used a Homemade Cajun Seasonings blend that I prefer, but you can easily use a blend of Taco Seasonings, any preferred seasoning packet, or even try this with curry.
Can I Add Other Vegetables?
Of course! Try adding black beans or garbanzo beans for a nice variation. Chopped zucchini or squash would be nice, too. Try it with your favorite vegetables.
Storage & Leftovers
Store any leftover stuffed peppers in the fridge in a sealed container for up to 5 days.
About the Chili Peppers
I used sweet bell peppers as the stuffing vessels because of their size. Bells are ideal for stuffing, but you can use any larger pepper for this.
Consider using large Italian sweet peppers, or even earthy poblano peppers, which are also great for stuffing.
Also, I incorporated a couple jalapeno peppers into the mix for some added heat and flavor. If you're looking for a spicier version of this recipe, feel free to swap in something hotter, like a serrano pepper or habanero pepper. If you'd like to dial back on the heat, skip or halve the jalapenos.
Enjoy.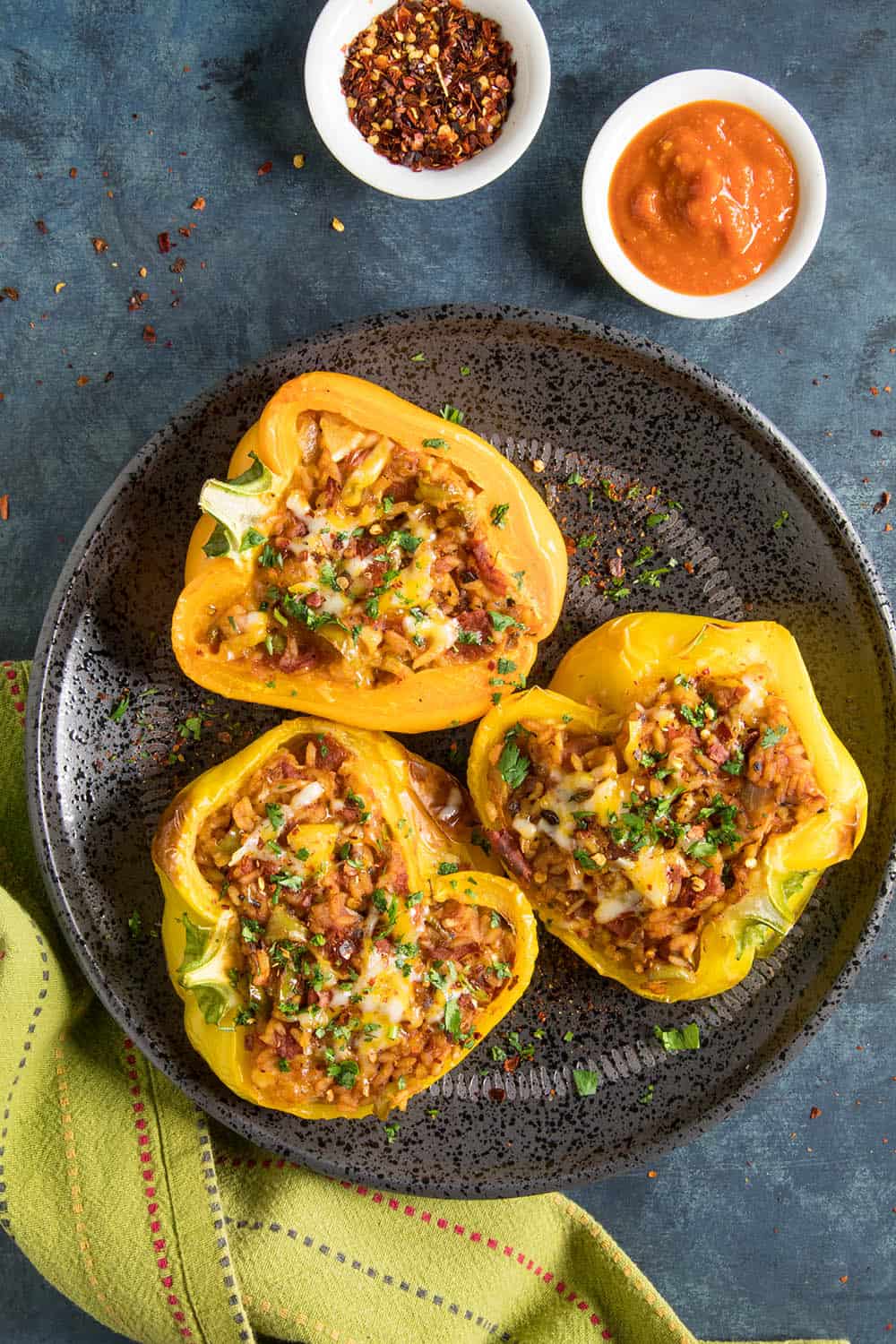 Patty's Perspective
What a great use for leftover Mexican rice, if you have it. I know Mike made a big batch with the intention of making these, but it's hard to make a small batch of Mexican rice. I enjoy peppers stuffed with meaty goodness, but these peppers were so infused with flavor and seasoning, you won't miss any of that. It's vegetarian, and it is delicious.
Check Out Some of My Other Popular Stuffed Chili Pepper Recipes
Got any questions? Ask away! I'm happy to help. If you enjoy this recipe, I hope you'll leave a comment with some STARS. Also, please share it on social media. Don't forget to tag us at #ChiliPepperMadness. I'll be sure to share! Thanks! -- Mike H.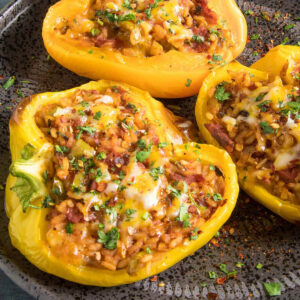 Print
Spicy Vegetarian Stuffed Peppers Recipe
A vegetarian recipe for sweet bell peppers stuffed with spicy rice and cheese, baked, then topped with your favorite hot sauce. These are cheesy and hearty and just the right amount of spicy. Easy to freeze.
Save Recipe
Saved!
Servings:
4
Stuffed Peppers
Tap or hover to scale
Ingredients
FOR THE SPICY RICE
1

tablespoon

olive oil

1

medium yellow onion

chopped

2

jalapeno peppers

chopped

4

cloves

garlic

chopped

3/4

cups

long grain rice

12

ounces

fire roasted tomatoes

(I used a store bought can)

1.5

cups

vegetable broth

+ more as needed

½

cup

frozen corn

– or fresh corn if you can get it!

½

cup

frozen peas

1

tablespoon

Cajun seasonings

1

teaspoon

cayenne powder

½

teaspoon

cumin

Salt and pepper to taste

1-2

tablespoons

favorite hot sauce

(If Desired for Extra Spiciness)
FOR THE STUFFED PEPPERS
1

cup

shredded cheese

(Cheddar is good, or Colby or Pepper Jack)

4

bell peppers

Hot Sauce, spicy chili flakes, fresh chopped herbs for serving
Instructions
Get the rice going. Heat a large pan to medium heat and add olive oil.

Add onion and jalapeno peppers and cook about 5 minutes to soften.

Add garlic and cook another minute, until you can smell the yummy garlic.

Add the rice and stir. Cook for a couple minutes, stirring, to very lightly brown the rice.

Add the fire roasted tomatoes and vegetable broth. Stir.

Add corn, peas, Cajun seasonings, cayenne, cumin, salt and pepper, and hot sauce if using. Stir and bring to a quick boil.

Reduce heat and simmer for about 20 minutes, or until the rice has absorbed all of the liquid and is softened to your liking. If it needs more cooking, add a bit more broth and keep it simmering until you LOVE it.

While the rice is cooking, bring a large pot of water to a boil.

Slice the tops off of the bell peppers and remove the innards. Boil them about 5 minutes to slightly soften.

Preheat oven to 350 degrees.

Mix the rice and shredded cheese together and stuff each pepper full. You may have extra stuffing, depending on the size of your peppers.

Bake on a large baking sheet for 30-40 minutes.

Remove from heat and top with your favorite hot sauce, fresh chopped herbs and spicy chili flakes.
Notes
This makes 4 good sized stuffed peppers. Plan accordingly!
Heat Factor: Mild-Medium, though you can really spice these up with a great hot sauce.
Nutrition Information
Calories:
362
kcal
Carbohydrates:
53
g
Protein:
13
g
Fat:
11
g
Saturated Fat:
4
g
Cholesterol:
22
mg
Sodium:
757
mg
Potassium:
536
mg
Fiber:
6
g
Sugar:
10
g
Vitamin A:
5725
IU
Vitamin C:
176.3
mg
Calcium:
205
mg
Iron:
2.4
mg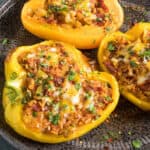 Did You Enjoy This Recipe?
I love hearing how you like it and how you made it your own. Leave a comment below and tag @ChiliPepperMadness on social media.
This recipe was updated to include new photos. It was originally published on 5/23/16.