Togarashi, or "Shichimi Togarashi", is a popular Japanese spice blend made from seven different spices. It is used in Japan much like Americans use salt and pepper.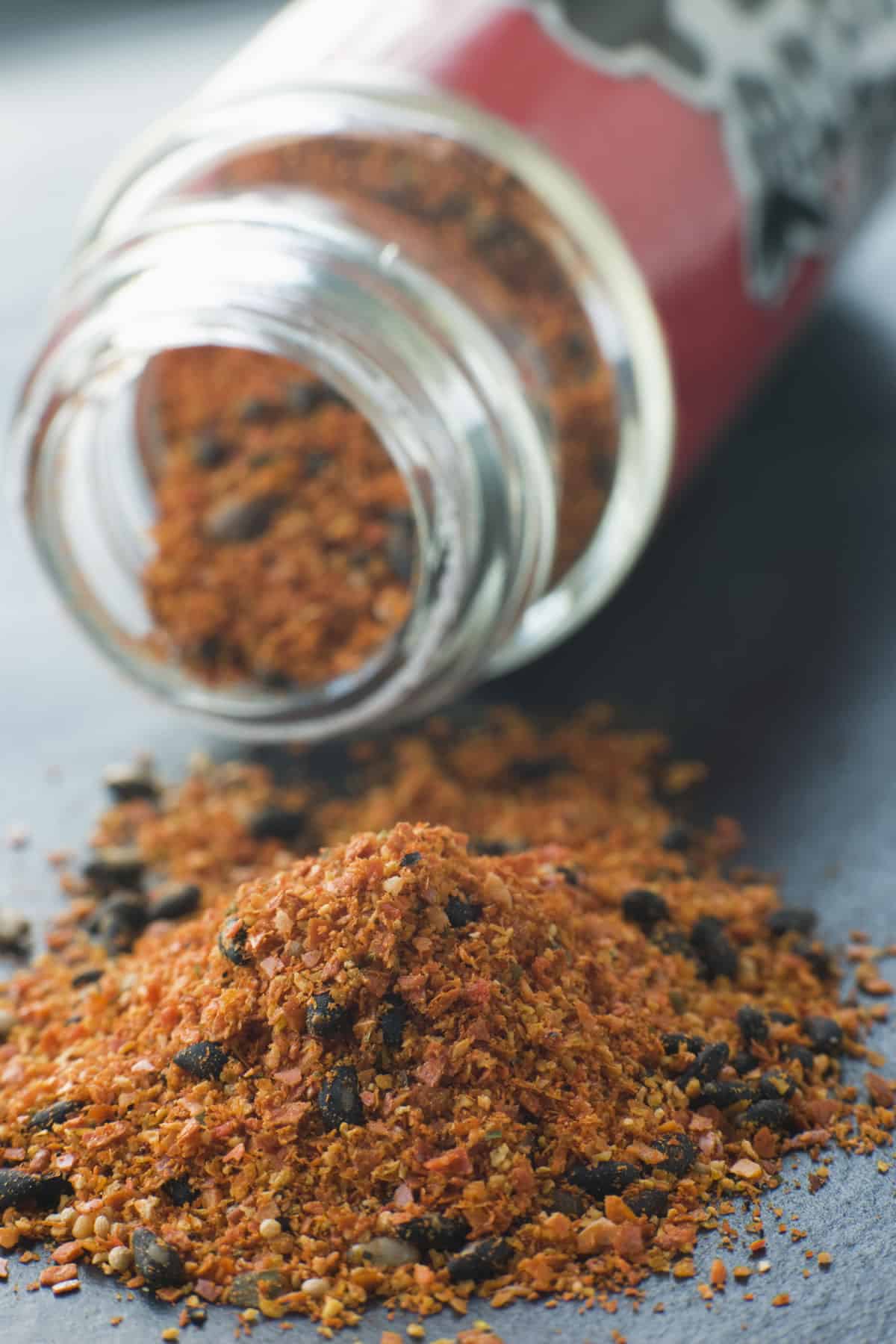 In Japanese, the genus Capsicum is known as Togarashi. It is commonly translated as "chili pepper" in English because of the popularity of Shichimi Togarashi.
Shichimi Togarashi is a highly popular Japanese spice mix used as a table condiment, much as Americans use salt and pepper. Shichimi refers to the number of spices in the mix. The term Shichimi in Japanese translates to "seven" while Togarashi translates to "peppers" - hence, shichimi togarashi means seven-pepper or "seven-spice" seasoning.
It is pronounced as "shee-CHEE-mee toh-gah-RAH-shee", and also called "Yagenbori"
The popular spice mix, also known as "seven-spice powder", is more than 3 centuries old, dating back to the 1800s. It was first made by herb dealers of 17th century Edo, in what we now know as Tokyo.
Some people confuse it with the Chinese Five Spice mix, but think again. The Chinese mix has concentrated cinnamon and star anise flavor while this Japanese mix has a predominant spicy pepper taste.
What Ingredients are in Togarashi?
The exact mix varies from family to family or among different manufacturers and store bought brands, but Shichimi Togarashi essentially contains the following seven ingredients:
Red Chili Pepper
Sichuan Peppercorns
Black Sesame Seeds
White Sesame Seeds
Ground Ginger (dried)
Ground Orange Peel
Nori (Dried Seaweed)
Poppy seeds can also be used.
What Does Togarashi Taste Like?
When combined, the flavors of the different seeds and peppers integrate to generate an "umami" taste that has a spicy kick, making it the best seasoning for rice bowls, noodles, grilled meats, and fish.
The mix delivers a quick-hitting heat that dwindles quickly but is quite complex, and the seaweed and orange peel add hints of tanginess and earthiness.
The mix is perfect for these dishes as it adds zing to the otherwise simple foods, where the orange peel with its citrus flavor balances the fattiness of the meaty ingredients that form the basis of majority Japanese dishes. The seaweed nori adds an umami flavor, while the peppers add a spicy bounce.
What is Shichimi Togarashi used for?
The spice mix is used in rubs, soups and as salad dressings in addition to rice dishes, udon noodle dishes, soba noodles, ramen, shabu shabu hot pots, yakitori, grilled fish, seafood, sushi and meat. Nowadays the mix has gained popularity and is also used to season finger foods like French fries, tempuras, rice crackers and prawn crackers.
The flavoring can be used to top steamed vegetables or even avocado toast or popcorn. So, Shichimi Togarashi is a versatile condiment used to season a wide variety of dishes.
How to Make Shichimi Togarashi?
To make Shichimi Togarashi, combine 2 tablespoons red chili flakes, 1 tablespoon dried orange peel, 2 teaspoons white sesame seeds, 2 teaspoons black sesame seeds, 1 teaspoon ground ginger, 1 teaspoon sanshō or sichuan peppercorns, 1/2 sheet of nori seaweed.
It is a hot mix so the red chilies can be adjusted according to your preference. The peppercorns and sesame seeds need to be lightly toasted before grinding all the ingredients together. The dry powder can then be stored in an airtight container for a few weeks.
For a hot and spicy version, try it with Chile Japones (spicy Japanese chili peppers).
What Can I Substitute for Shichimi Togarashi?
There are a few mixes that can serve as a substitute for Shichimi Togarashi. A simpler substitute can be hot sauce for adding a touch of zing. Hot sauce usually has an acidity that this mix lacks so red chili flakes can be a better alternative.
Another replacement can be made by mixing 3/4 teaspoon cayenne pepper + 1/4 teaspoon white or black sesame seeds, though this mixture will not be as flavorful.
Nanami togarashi has the same flavor with a heightened citrus tang so this can also be a good candidate. If you are making seafood dishes, then this is the perfect stand-in for Shichimi Togarashi as its citrusy flavor complements seafood.
Dukkah is another blend of spices containing sesame seeds like our mix which can be a good alternative. Dukkah has hazelnuts that give it a nutty flavor.
Shichimi Togarashi is the perfect "trifecta of seasoning" comprising citrus, chili, and earthy notes, which is gaining popularity as a spice mix throughout the world.
Where Can I Buy Togarashi?
Buy Togarashi Here (affiliate link, my friends). Enjoy!
Learn More About These Other Interesting Spice Blends
Questions? Feel free to contact me anytime. I'm happy to help. -- Mike H.
NOTE: This recipe was updated on 10/20/20 to include new information. It was originally published on 5/7/19.