This timeless Argentinian chimichurri recipe is made with plenty of fresh parsley, garlic, vinegar, olive oil, and more. Whip this together in minutes to add depth and sophistication to many meals. Perfect for grilled meats as a finisher, sauce or marinade.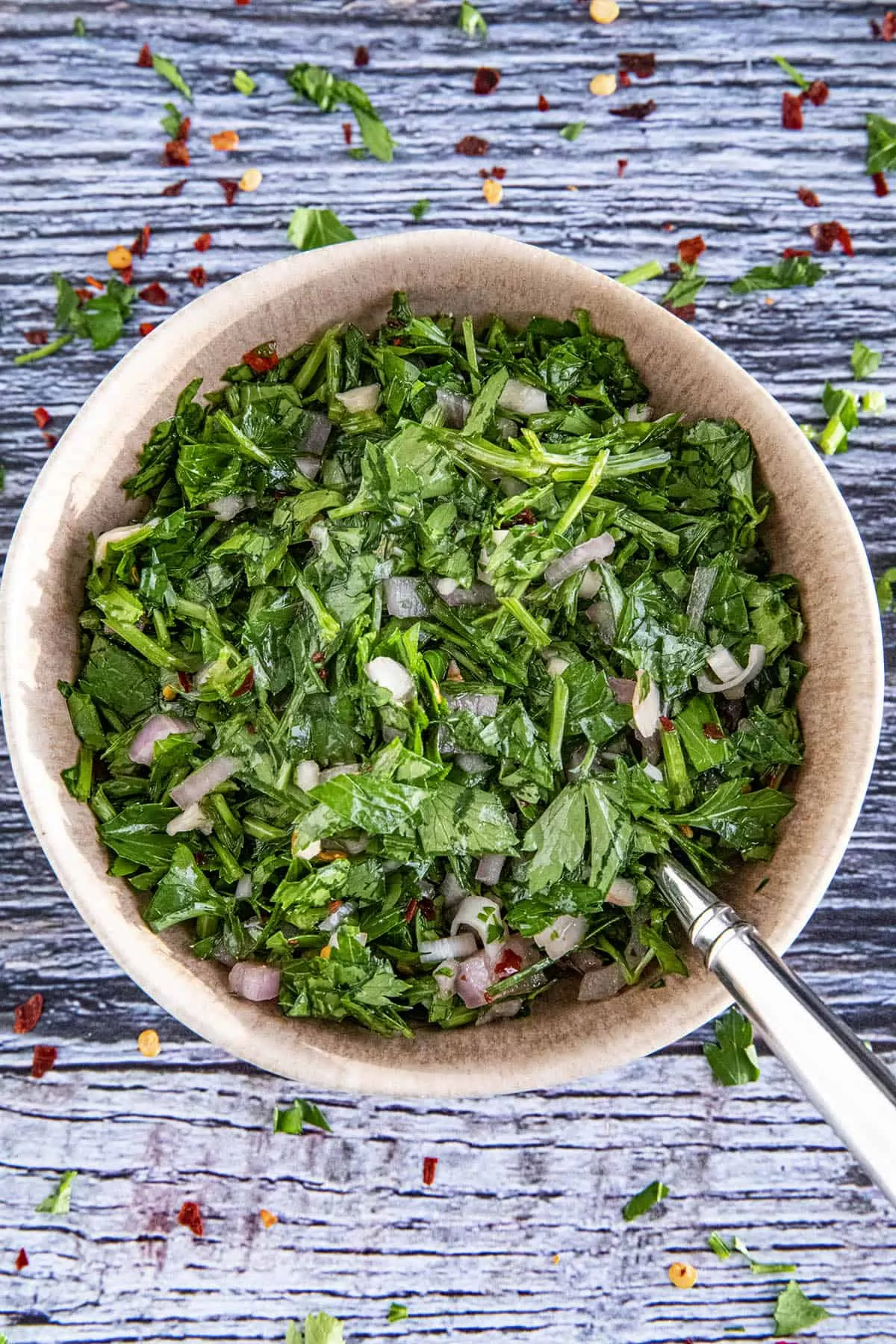 Some sauces take time to prepare. Ingredients need to be broken down, combined, flavors coaxed and developed, heat and/or time applied. Great sauces sometimes require a bit of effort and that effort is rewarded with big flavors and, hopefully, pure satisfaction.
Chimichurri, on the other hand, rewards you with such satisfaction in practically no time at all.
This is not an exaggeration.
Chimichurri is one of those timeless combinations that is simple for a reason. I imagine ancient man toiling away in the fields, combining fresh herbs and other fresh ingredients available to them, finally realizing that this particular combination is something perfect, and here it is today, still with us, unchanged in its simplicity.
Why? Because it doesn't need to change. It is perfect the way it is. The ultimate chimichurri recipe.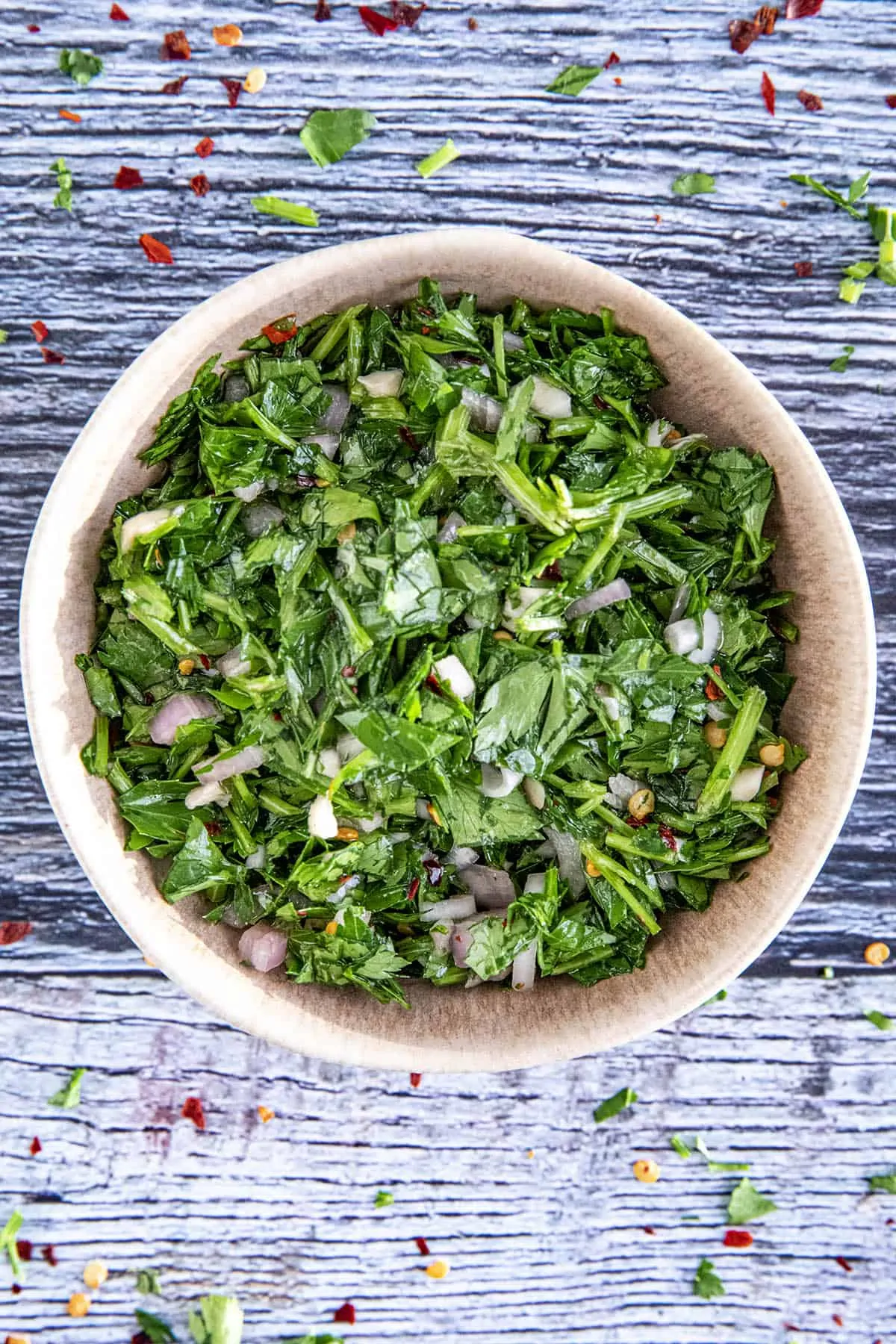 What is Chimichurri?
Chimichurri is a combination of fresh parsley and other potential herbs with oil and vinegar and several other possible ingredients. It is an Argentinian recipe, though you will find variations by region. It's a very personal recipe, varying from cook to cook, though it always includes a lot of parsley.
Some recipes include shallot in the mix, some bay leaf, some include other seasonings, such as paprika. The deviations are common, though none can take away from the underlying character that chimichurri brings.
Chimichurri adds a pop of freshness to your meals, along with a touch of tart from the vinegar and a light oily texture that clings to your taste buds and lingers. It is highly complimentary to grilled meats, particularly juicy cuts of steak like this chimichurri steak recipe, though completely at home with fish or poultry.
And, did I mention that it can be made in mere minutes?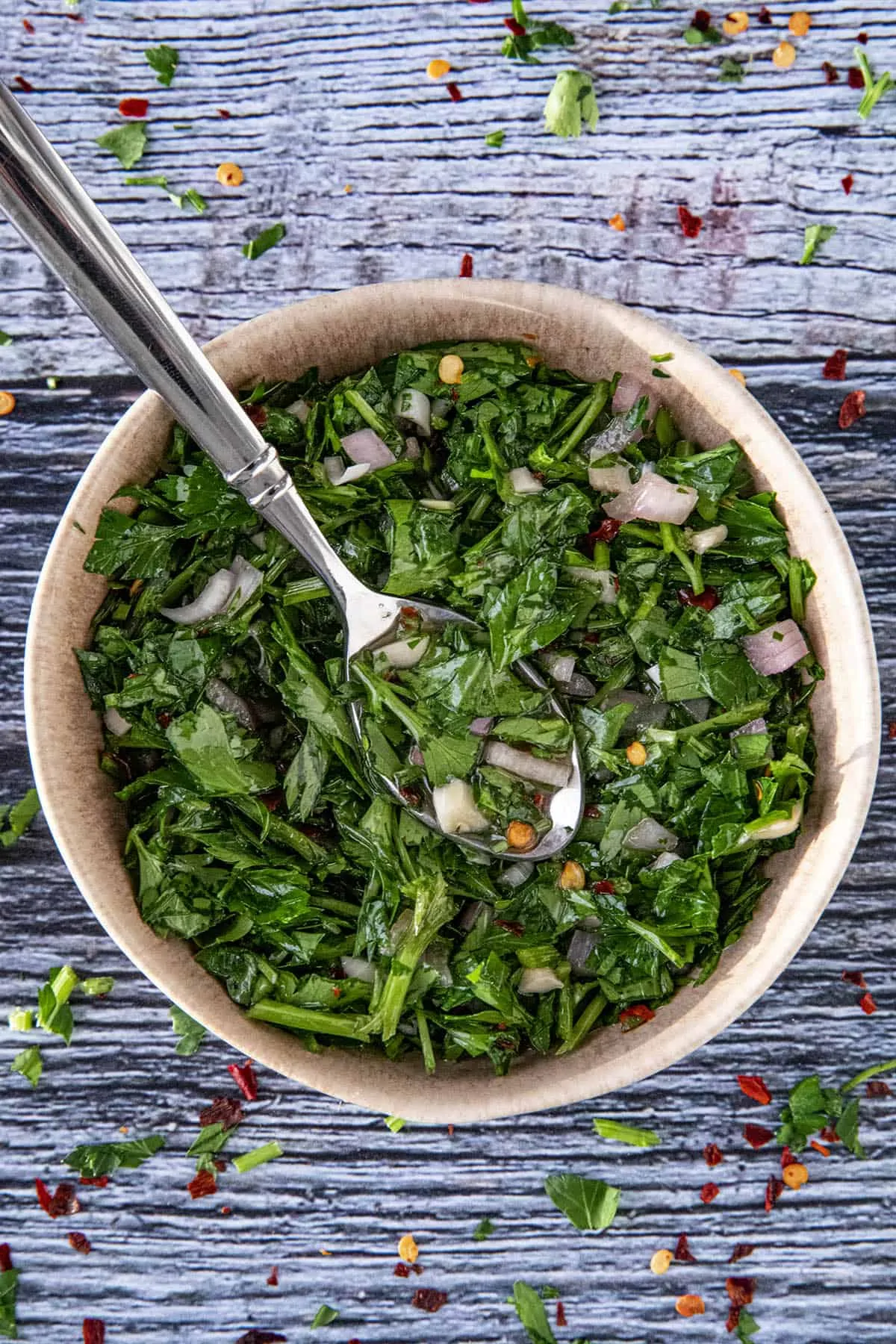 While it is often served as a finishing condiment or a sauce, chimichurri also is an ideal marinade, so if you'd like, you can whip up a double batch, use half for your marinade and keep half for your finished topping. Easy and tasty.
Let's talk about how we make chimichurri, shall we?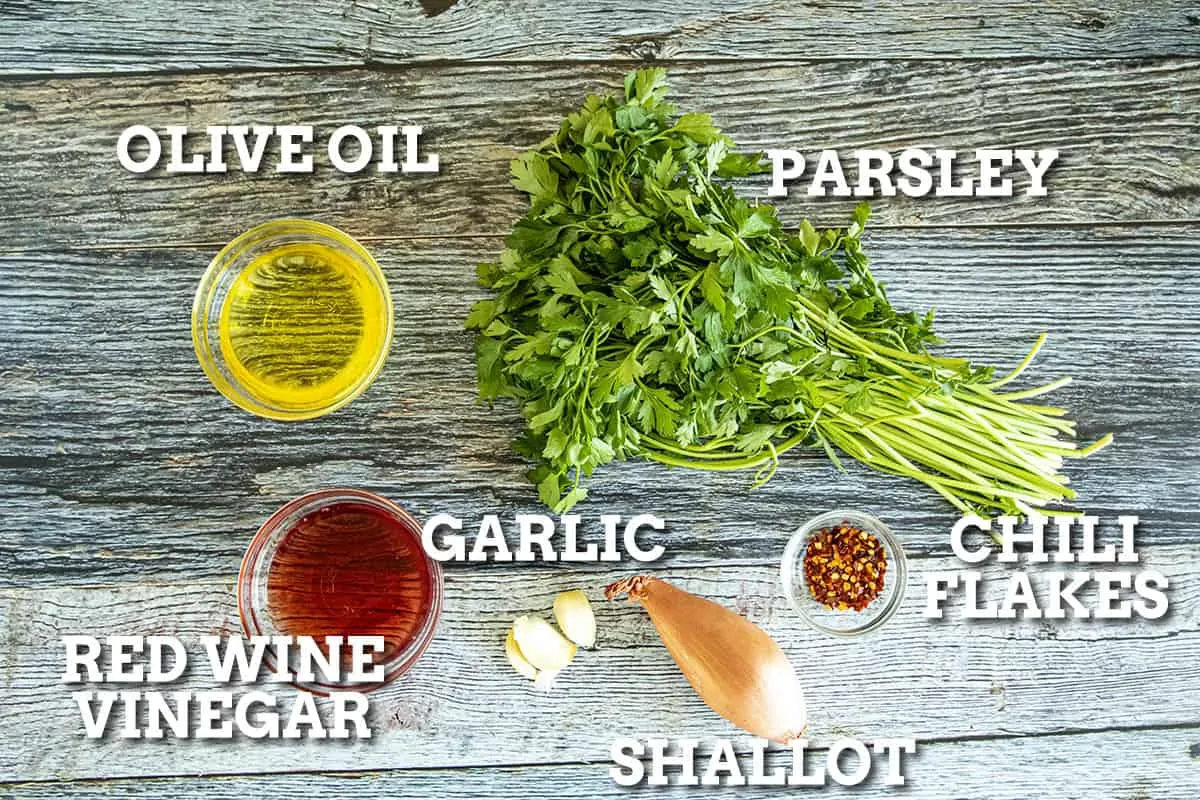 Ingredients Needed
Garlic. I love lots of garlic.
Fresh Parsley. This is the primary component of chimichurri.
Fresh Oregano. Optional, but delicious.
Shallot. Optional, but a personal favorite. Finely chopped or minced. Red onion is a nice touch, too.
Red Pepper Flakes. For a touch of heat. You can also use fresh minced peppers, like jalapeno or serrano.
Red Wine Vinegar.
Olive Oil. Corn oil (or canola oil) is more traditionally used, though many cooks now opt for more flavorful extra virgin olive oil. I know I do.
Salt and Pepper. To your personal tastes.
Some recipes call for a bit of lemon juice or lime juice as well. Feel free to add a bit of that in if you'd like a pop of citrus.
How to Make Chimichurri - the Recipe Steps
Chop the Ingredients. Finely chop everything so you can have a nicely consistent chimichurri for serving.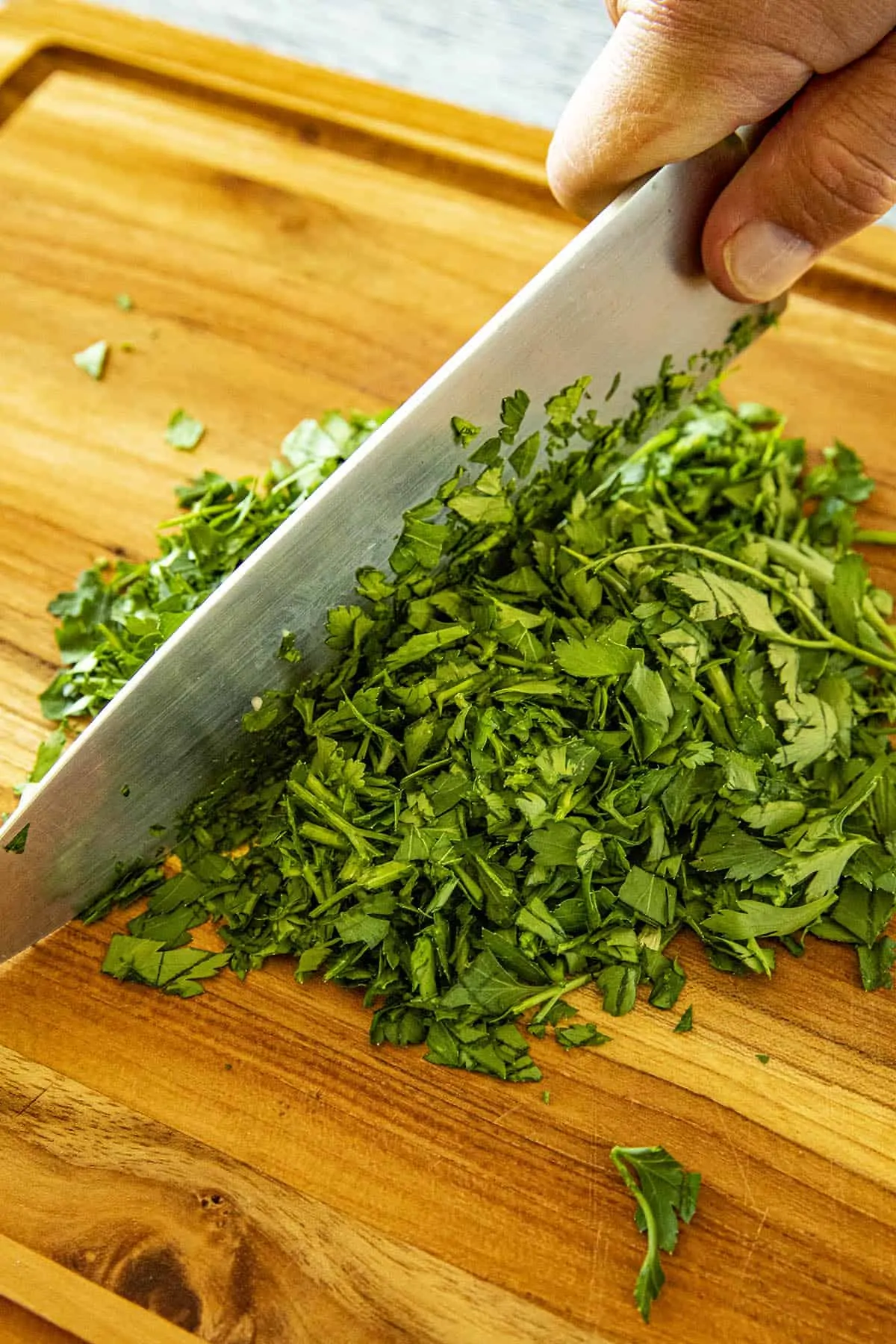 Into a Bowl. Add all of the ingredients to a mixing bowl.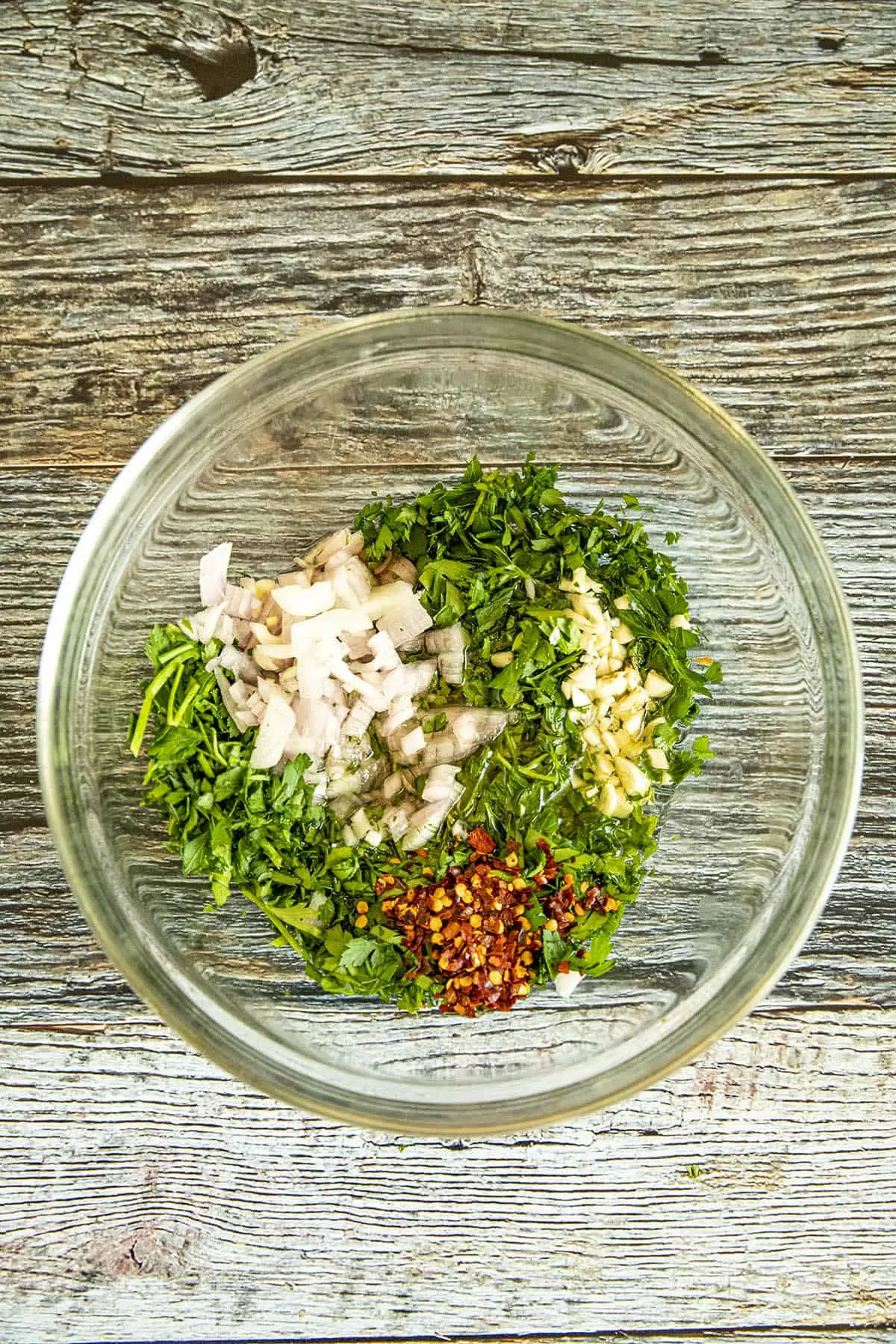 Mix and Adjust. Mix everything together until your chimichurri is nicely uniform. Taste and adjust with bit of salt and pepper to taste.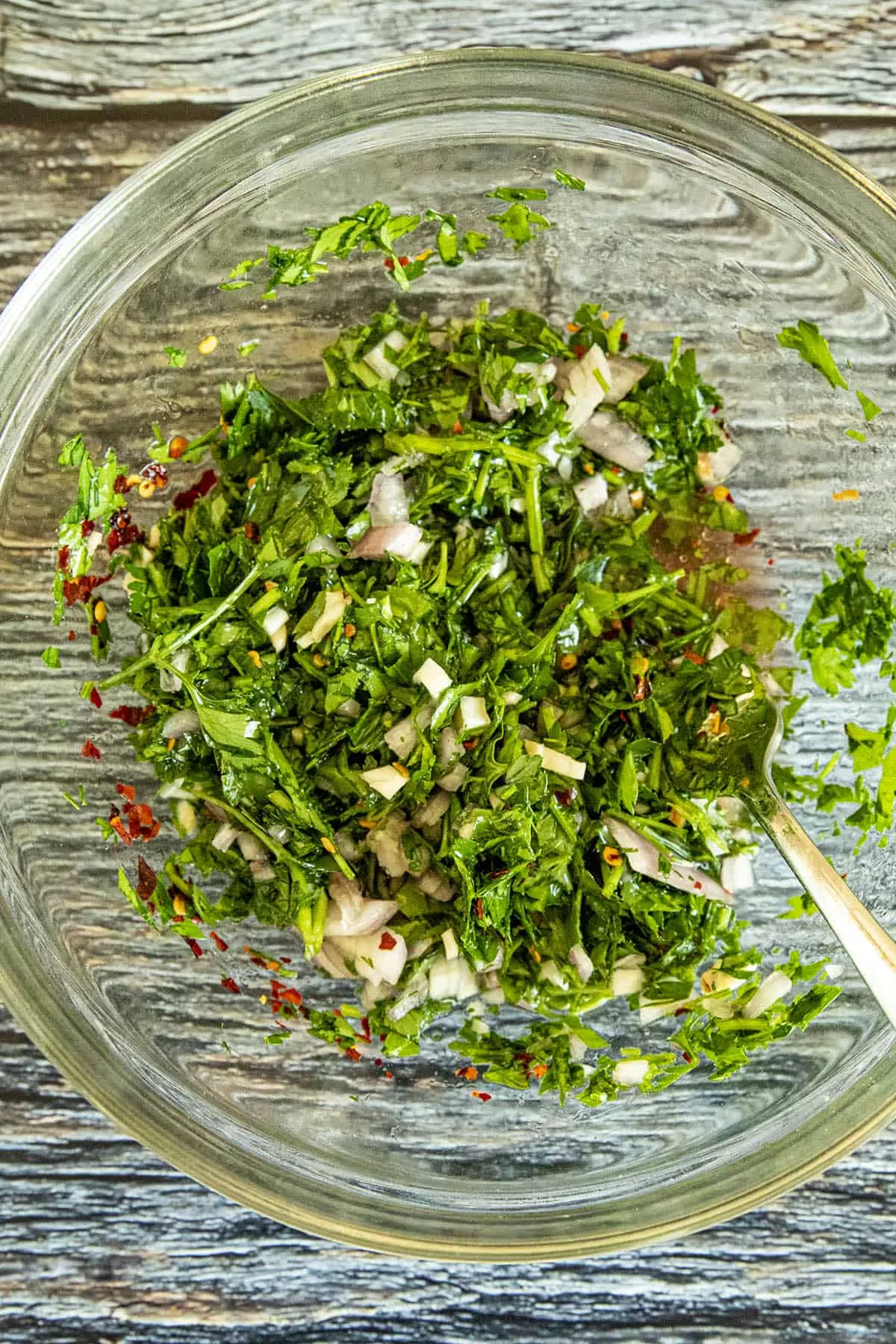 At this point you can serve your chimichurri as-is, and it will be delightful, or you can toss it into a food processor and process to form more of a sauce-like texture. Scrape down the sides, then process until you achieve your desired consistency. Boom! Chimichurri sauce for you.
I have done it both ways and enjoy each version.
Here is what it looks like processed as more of a sauce.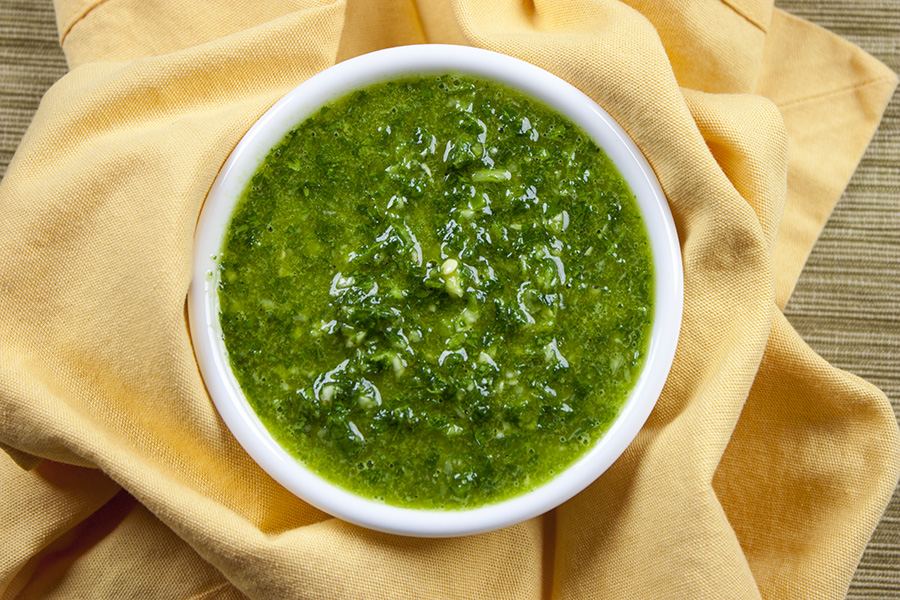 It isn't quite as traditional this way, compared to authentic chimichurri sauce, but it is still tasty. Such a great recipe.
Recipe Tips & Notes
Chili Peppers. The jalapeno pepper is optional. I like it for the flavor and heat element, but you can omit it if you'd like. If you'd like a spicier version, incorporate a serrano pepper or a spicier red chili pepper.
Chimichurri Consistency. Finely chop your fresh herbs. You'll get a better consistency and better overall flavor if you finely chop the parsley, cilantro (if using) and oregano (if using).
Vinegars. This recipe calls for red wine vinegar, though a good quality white wine vinegar will work just as well. It's interesting with balsamic vinegar, too.
Play with the ratios. This is a very forgiving recipe. Want more garlic? Toss them in. More chili pepper? Yes!
Chimichurri Vs. Chimichurri Sauce. I have seen chimichurri called a condiment and a sauce, and really it is however you want to describe it. I consider it more of a fresh herb condiment, but if I want to serve it as more of a chimichurri sauce recipe, like a chimichurri dipping sauce, I'll process it in a food processor until very smooth.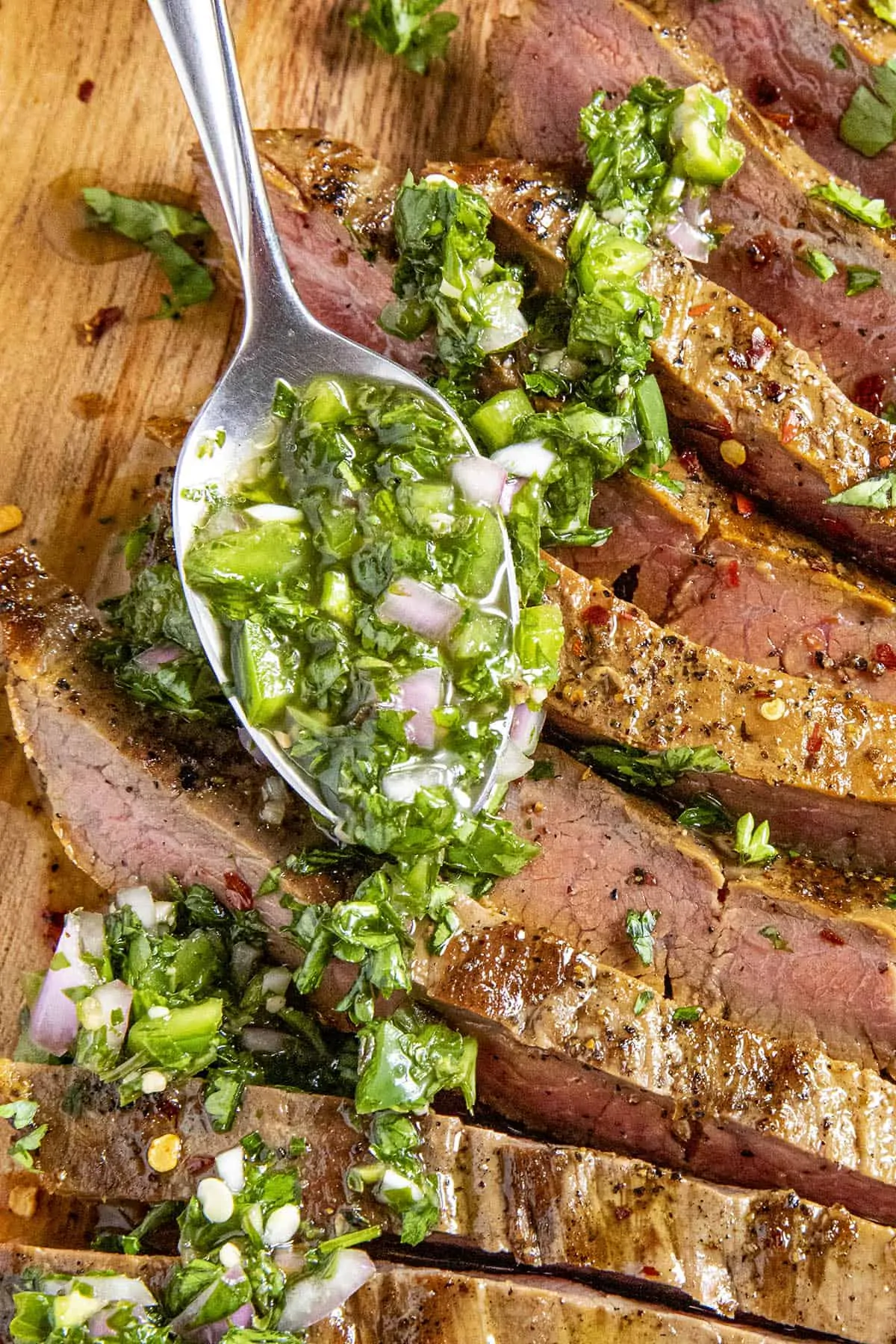 What Foods Go with Chimichurri?
As mentioned, chimichurri is often used as a marinade, but you'll typically find it used over grilled meats, particularly grilled steaks like skirt steak, flank steak, flat iron and more. However, you don't need to limit yourself to only steak.
Spoon it over grilled vegetables to really spice them up. Super delicious!
Let me know what you make with it. I hope you enjoy it!
Try Some of These Other Popular Recipes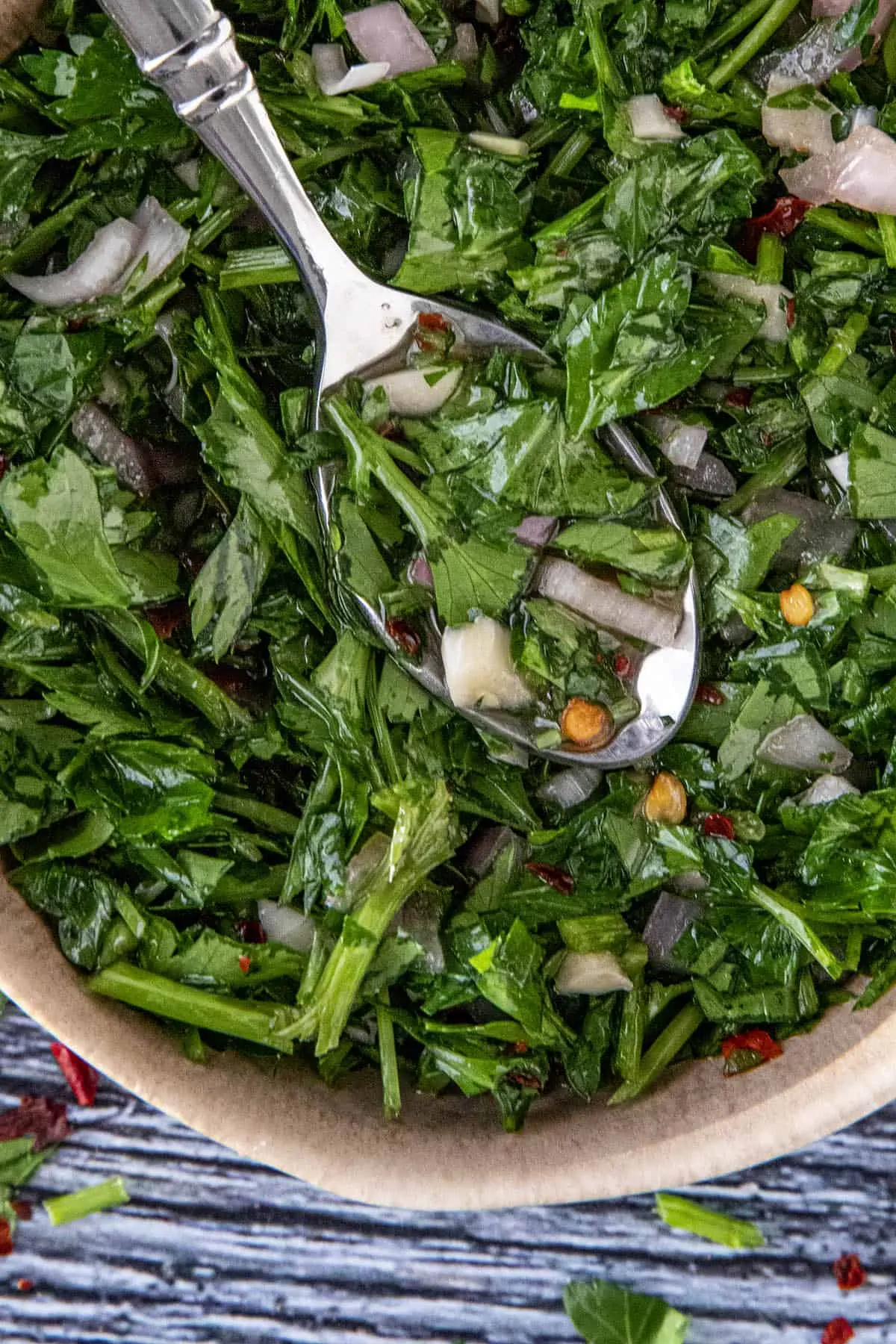 That's it, my friends! If you enjoy this recipe, I hope you'll leave a comment with some STARS. Also, please share it on social media. Don't forget to tag us at #ChiliPepperMadness. I'll be sure to share! Thanks! — Mike H.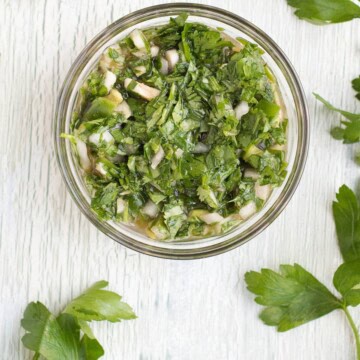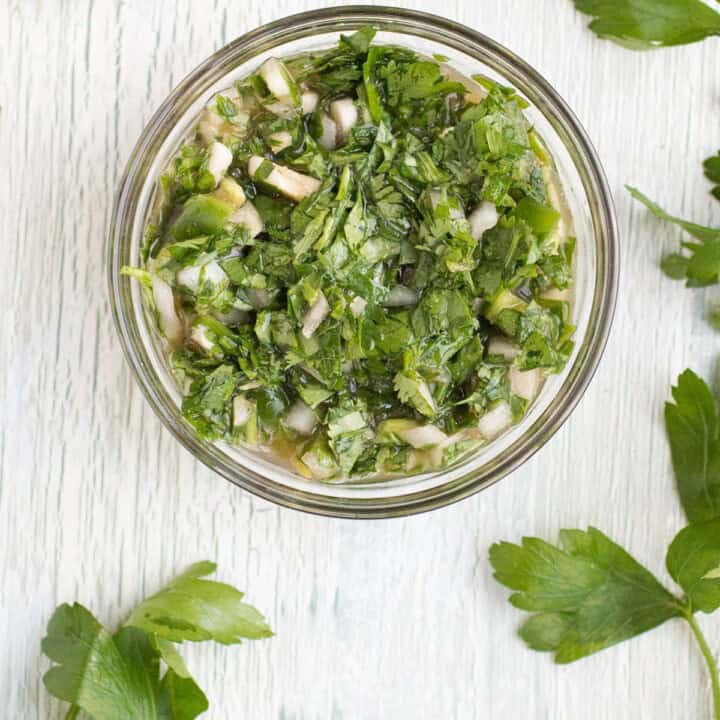 Print
Chimichurri Recipe (How to Make Chimichurri)
This timeless Argentinian chimichurri recipe is made with fresh parsley, garlic, vinegar, olive oil, and more. Perfect as a sauce or marinade for meats.
Save Recipe
Saved!
Ingredients
3

garlic cloves, minced

1/2

cup

minced fresh flat-leaf parsley

1

tablespoon

minced fresh oregano

dried is good, too (optional)

1/2

teaspoon

red pepper flakes, or more to taste

(or use 1 jalapeno or serrano, minced)

1/4

cup

olive oil

(or use canola oil or corn oil)

1/4

cup

red wine vinegar

1/2

teaspoon

salt

Black pepper to taste
Instructions
Whisk together all of the ingredients in a bowl. Adjust for salt and other seasonings if you'd like.

Use right away, or refrigerate for up to a day. It is best at room temperature.

Enjoy!
Nutrition Information
Calories:
140
kcal
Carbohydrates:
4
g
Protein:
1
g
Fat:
14
g
Saturated Fat:
2
g
Sodium:
256
mg
Potassium:
109
mg
Fiber:
2
g
Sugar:
1
g
Vitamin A:
877
IU
Vitamin C:
11
mg
Calcium:
73
mg
Iron:
2
mg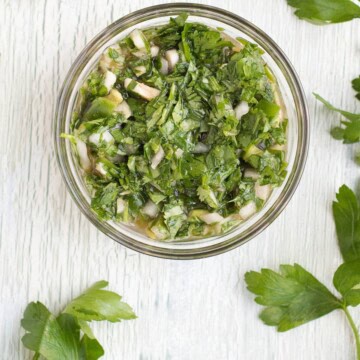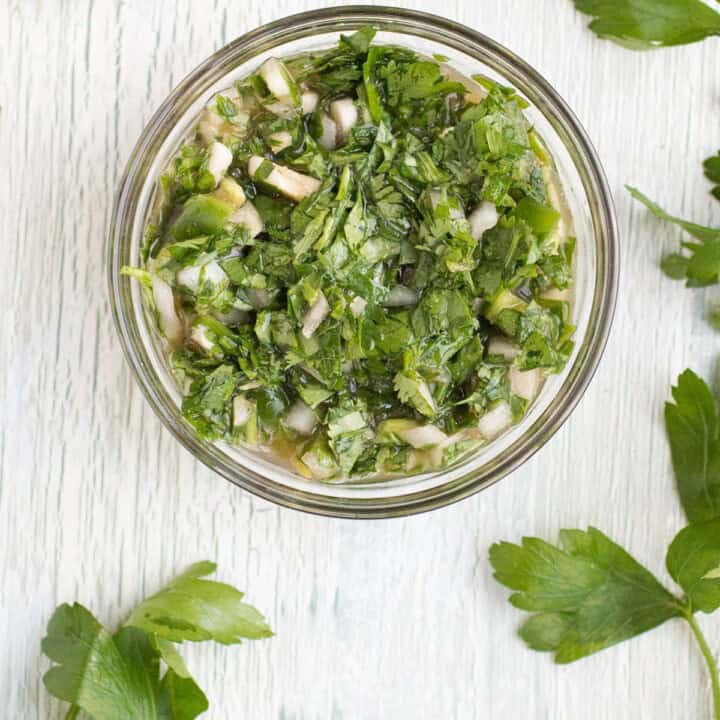 Did You Enjoy This Recipe?
I love hearing how you like it and how you made it your own. Leave a comment below and tag @ChiliPepperMadness on social media.
NOTE: This recipe was updated on 12/14/20 to include new information and photos. It was originally published on 4/5/17.