Chermoula sauce is a versatile North African condiment of fresh herbs, oil and spices used as a marinade or sauce for meats, seafood, vegetables and more.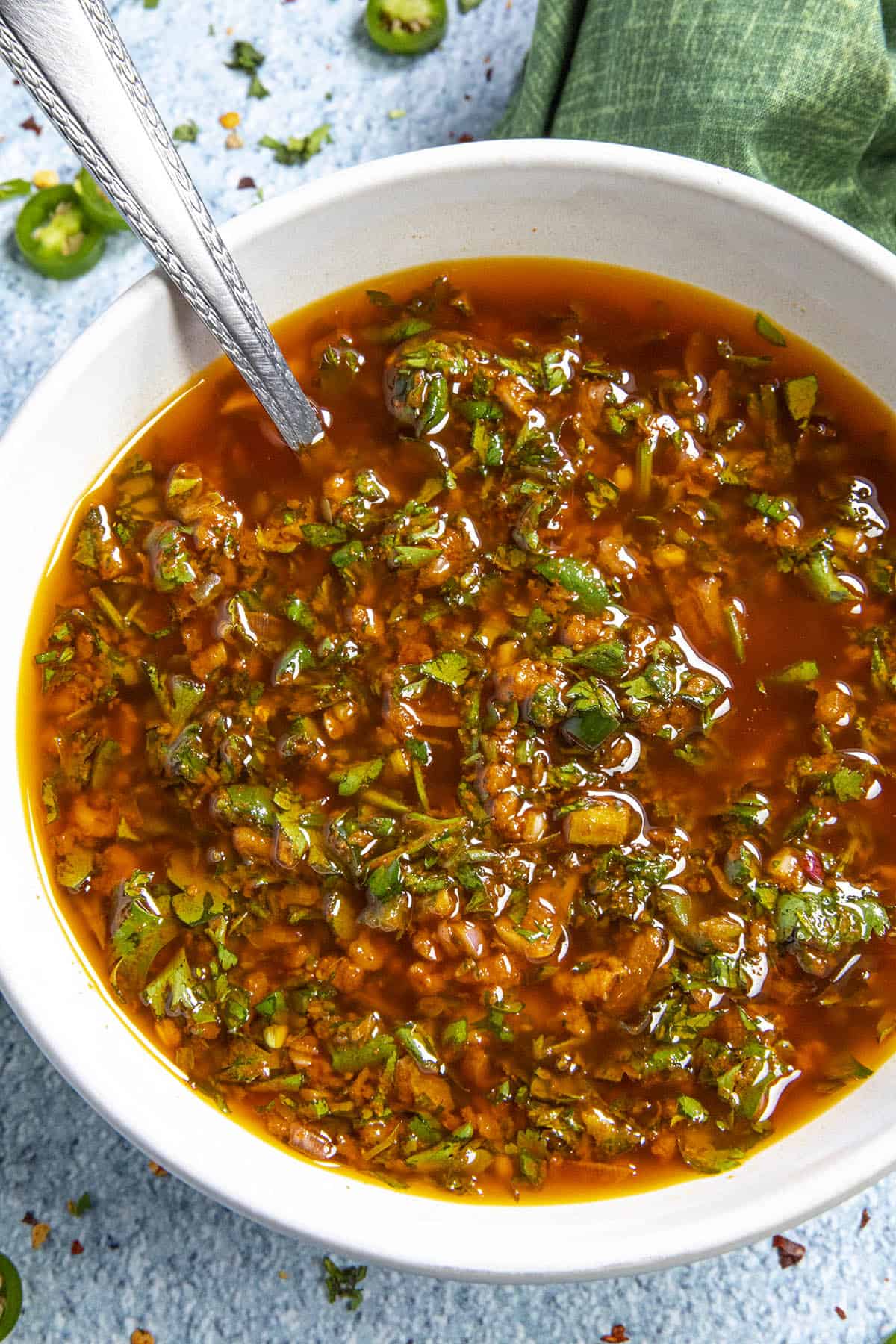 You may not be familiar with "chermoula", but if you've had traditional herb and oil based marinade-sauces like chimichurri, zhug, salsa verde, even pesto, you've had something quite similar.
Chermoula is a North African condiment typically used as a marinade for a variety of seafood, but truly it is so much more versatile. It is considered a Moroccan sauce.
You can use it for marinating steak or chicken, or finishing grilled vegetables. Consider it as a finisher as well for grilled or roasted meats, like thick cuts of steak or roasted whole chicken.
In reality, many different parts of the world have incredibly similar recipes that are only different because of the need to use local ingredients.
If you compare different herb sauces from other countries side by side, you'll find incredible similarities, as they are, at their core, a mixture of oil, fresh local herbs, and local seasonings.
Of course those seasonings, as well as ratios, will vary from region to region, but lucky for us, they usually turn out DELICIOUS!
Let's talk about how to make chermoula, shall we?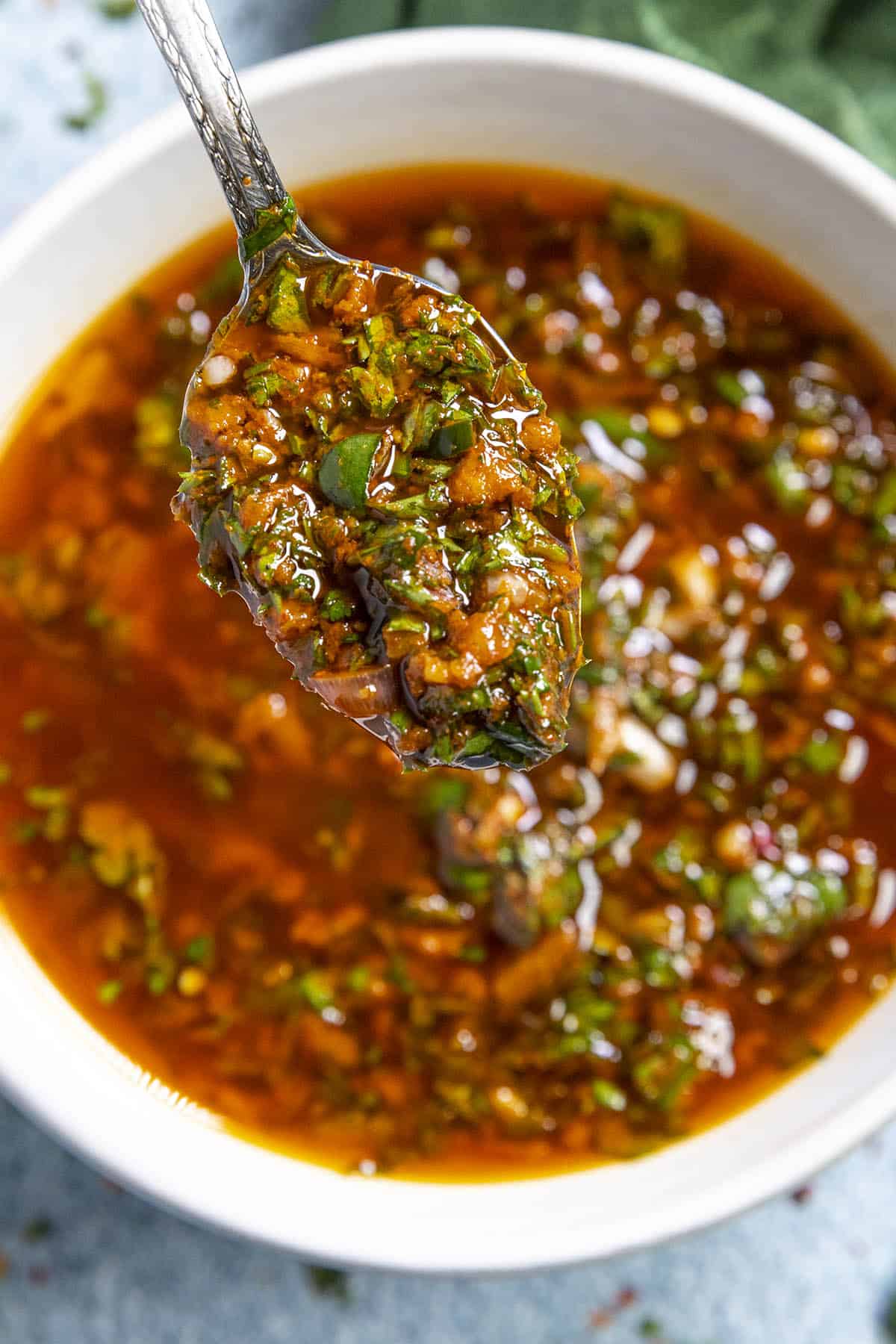 Chermoula Ingredients
Fresh Herbs. Use both chopped cilantro and parsley.
Peppers. I'm using serrano peppers today. You can sub in red pepper flakes.
Shallot.
Garlic Cloves.
Lemon Juice. Preserved lemons are popularly used.
Seasonings. Cayenne powder, paprika, cumin, salt, and optional saffron threads. Ground coriander is good, too.
Extra Virgin Olive Oil. The higher quality, the better. You can use other oils, like canola oil.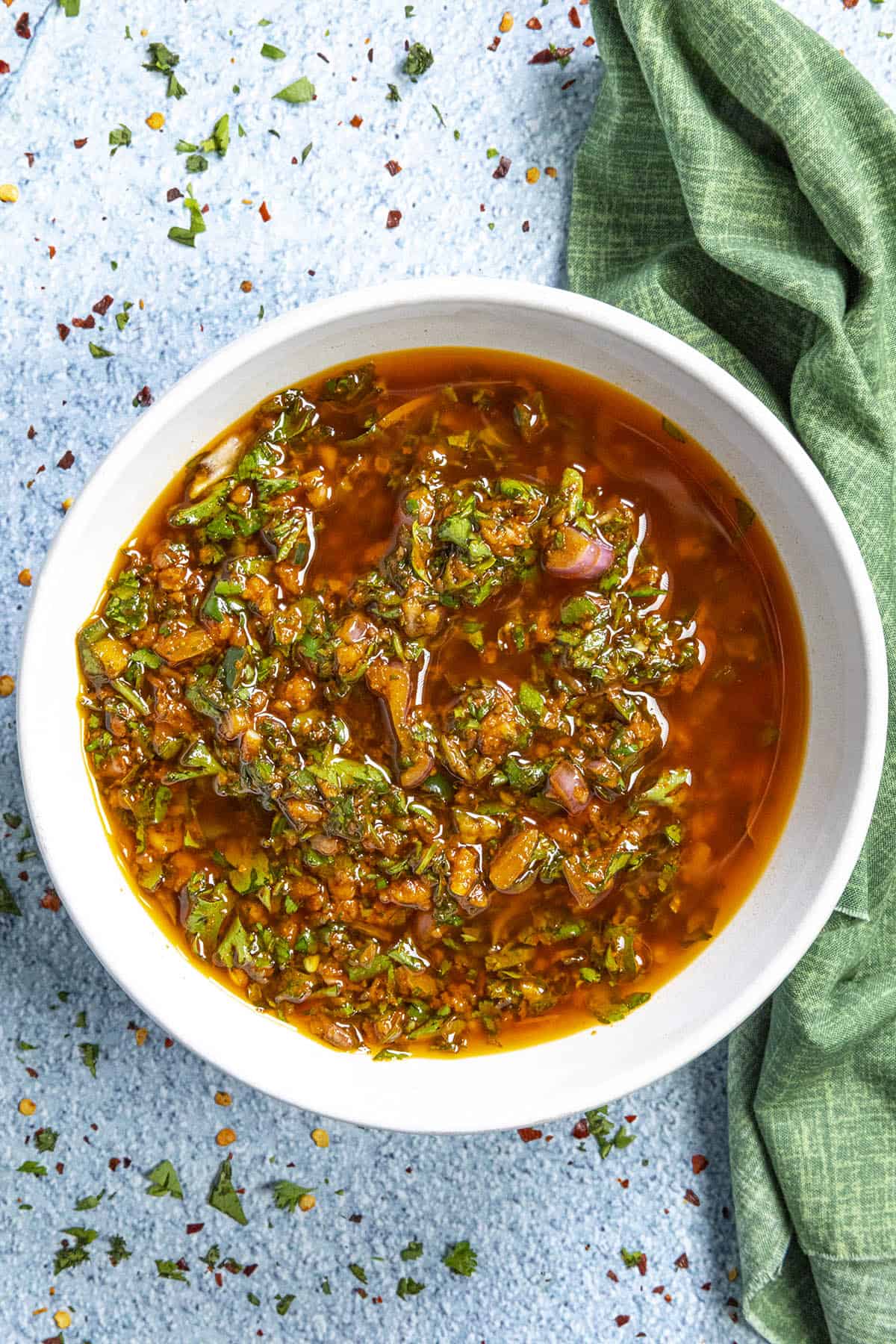 How to Make Chermoula - The Recipe Method
Prep the Food Processor or Blender, or a Bowl. Simply add all of the ingredients to a food processor or blender. Here I've added the main ingredients, minus the oil, to a bowl.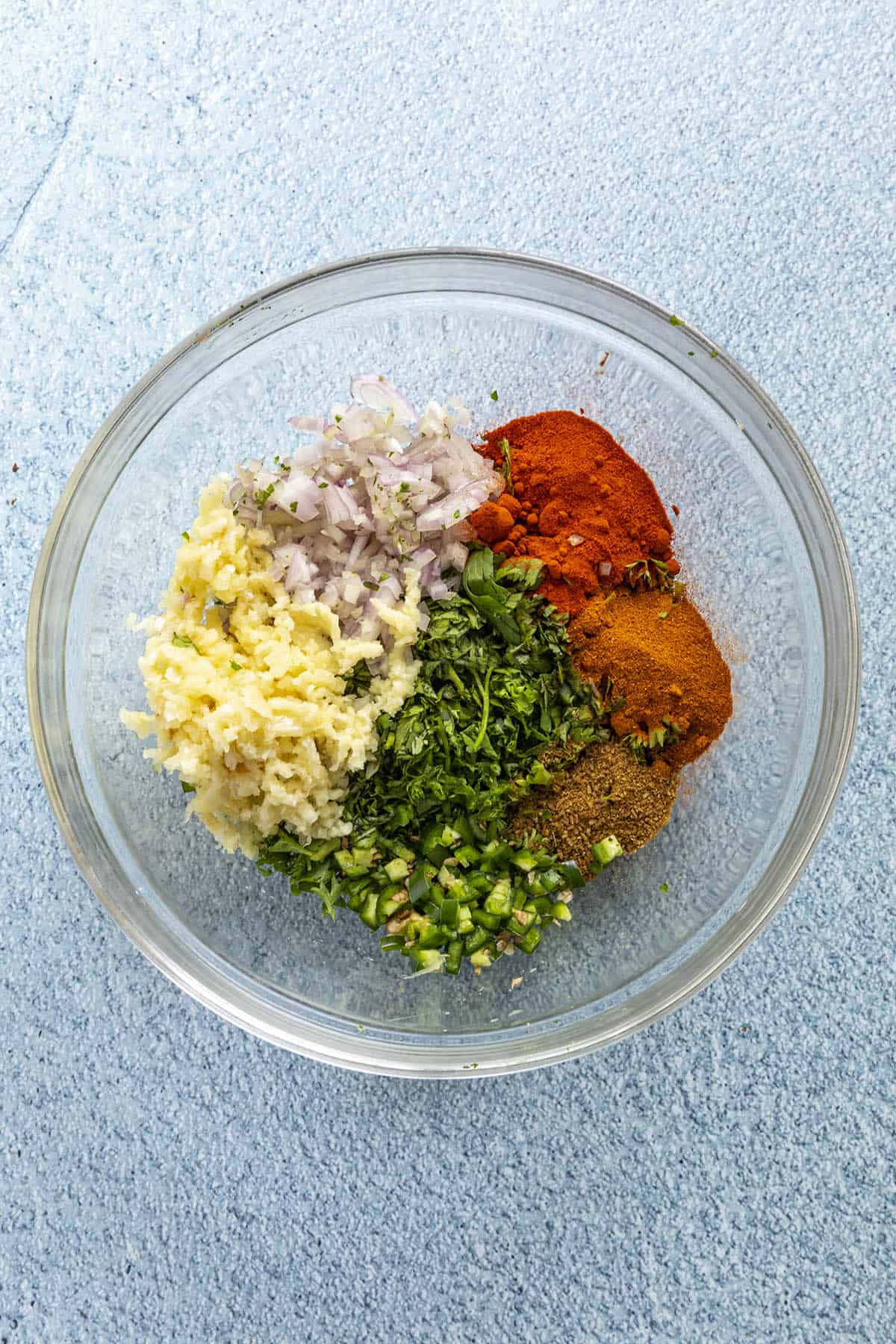 For Chunkier Chermoula. Add the oil and hand mix the chermoula until well combined.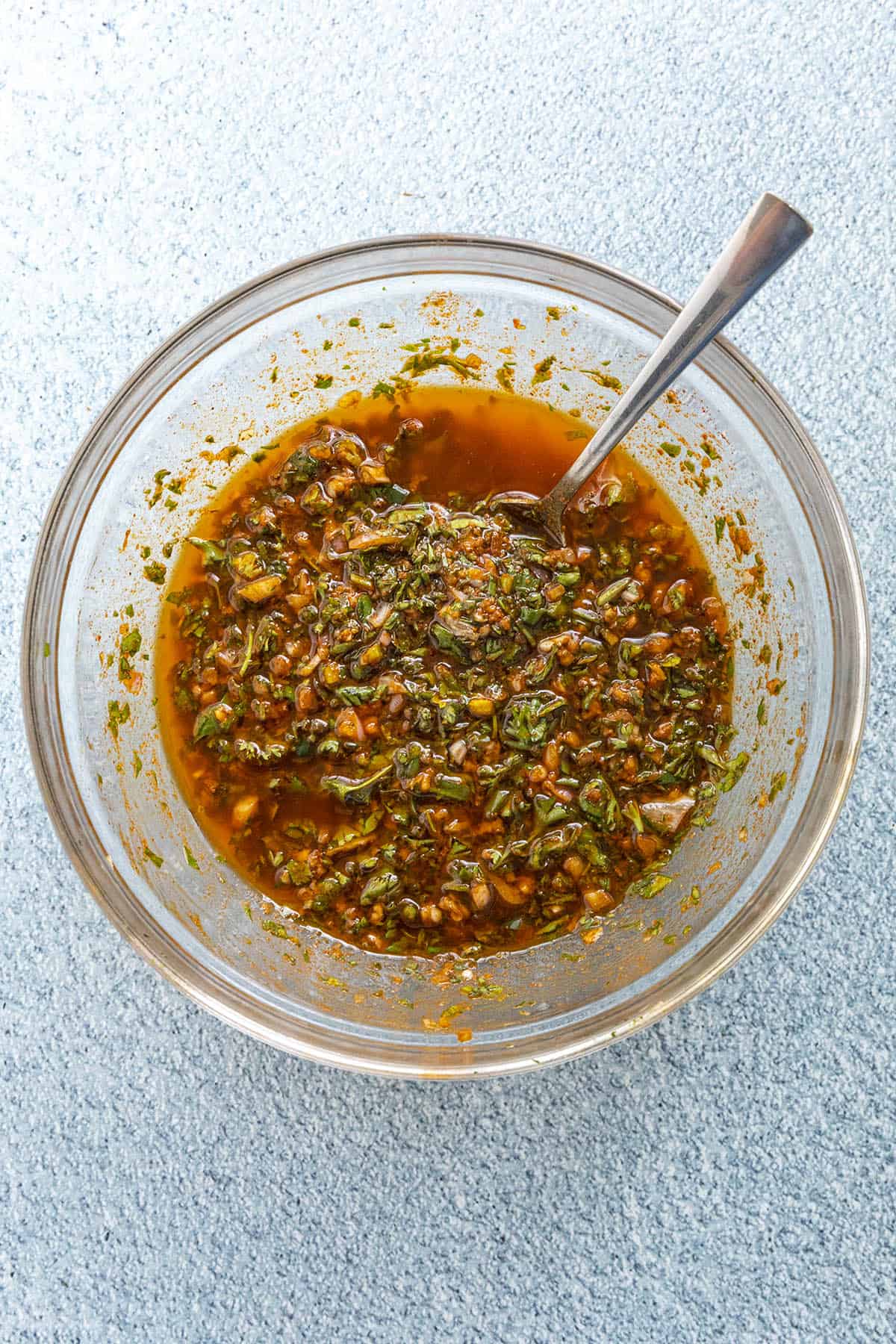 For Smoother Chermoula. Add the oil and pulse the mixture several times to achieve your desired consistency. You can also use a pestle and mortar. You may need to scrape down the sides of the processor to get everything down.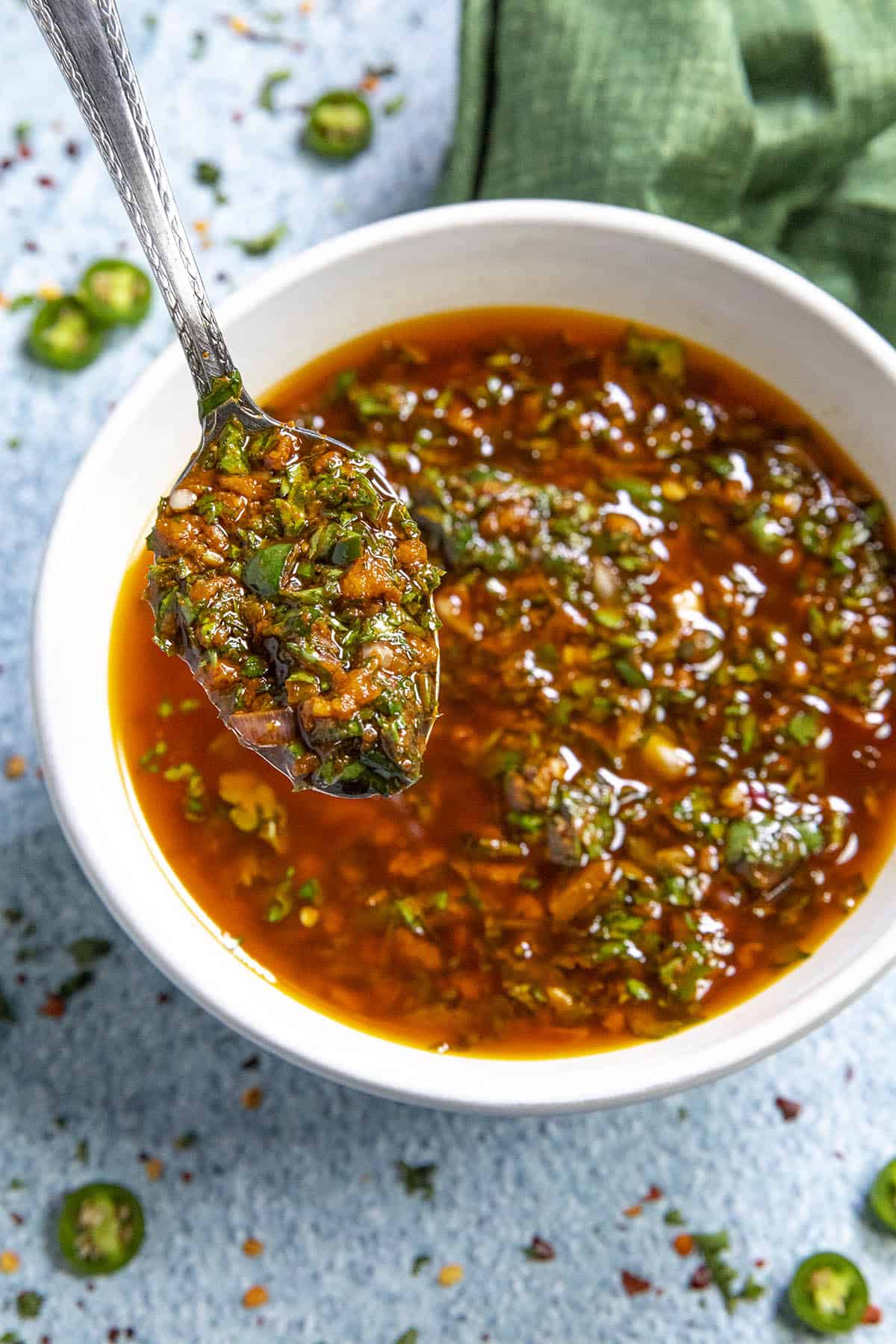 For an Even Smoother Chermoula. Add the ingredients to a blender or food processor except for the oil. Pulse to combine. Then, with the processor running, drizzle the olive oil until the sauce smooths out to your liking. You can easily add more oil as desired to thin it out for a drizzling sauce.
Here is a smoother "green chermoula", which focuses more on the herbs and less on the spices. This green sauce is very popular as well.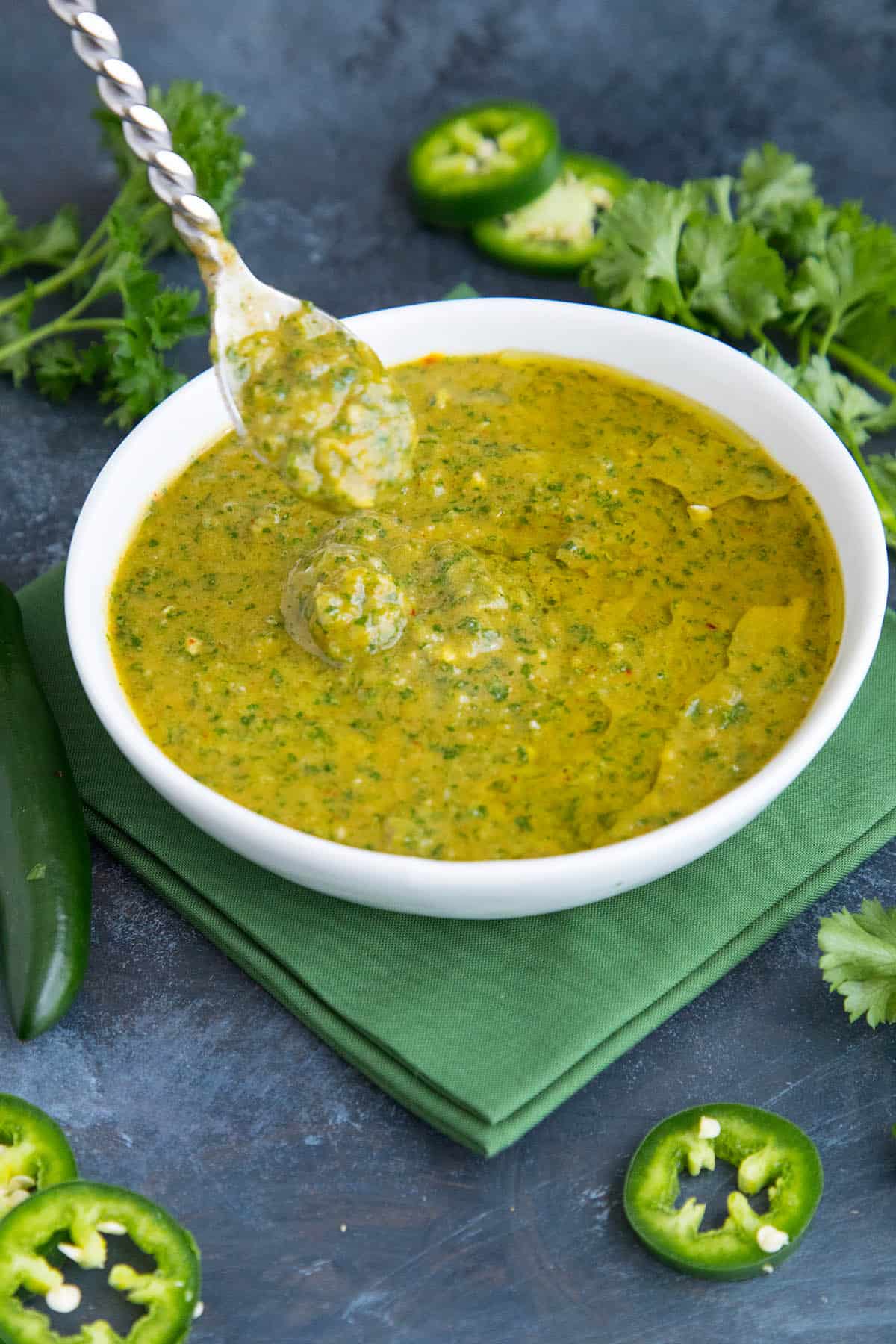 Boom, done! Your delicious chermoula sauce is ready to go. Serve it up as desired!
Recipe Tips and Notes
The Chili Peppers. For this recipe, I've included the fiery serrano pepper for a bit of zing and kick, but if you're able to obtain local African chili peppers, please use those instead. Think African Bird's Eye, Fatalii, Congo, though truly, it is best to incorporate your best quality local peppers to your heat and flavor preference.
Storing Chermoula. Spoon it into containers and top it with a bit of olive oil. Cap it so it is airtight, then keep it in the refrigerator for up to 3 days.
Can You Freeze Chermoula? You can freeze your Chermoula in plastic baggies. Or spoon it into ice cube trays, freeze it, then remove the frozen Chermoula "cubes" and store those in plastic baggies or freezable containers. They will last 3 months this way, or longer.
Try it on this Peri Peri Chicken Legs recipe, or this Grilled Harissa Chicken Legs Recipe.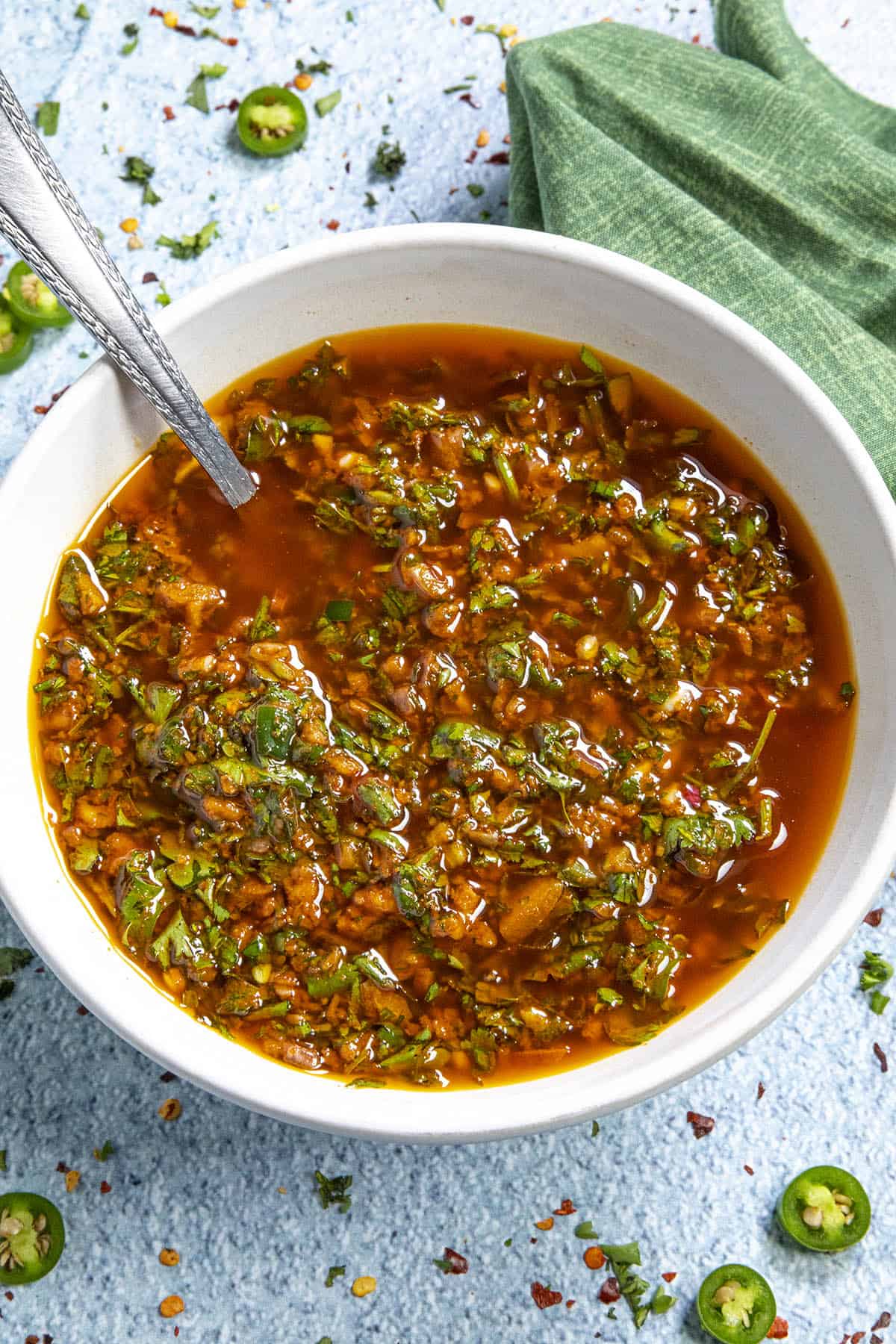 Serving Ideas for Chermoula
Marinade. Using your freshly made chermoula to marinate chicken is a great way to use it. Chicken and chermoula is a classic combination. You can marinate any cut of chicken, bone in or boneless, overnight to add extra flavor and moisture. After preparing the chicken, spoon on a bit more chermoula as a finishing sauce and you're good to go. It's delicious!
Use it as a Finishing Sauce. Chermoula sauce is great for any roasted vegetables or meats or grilled meats, chicken and pork on particular, but also lamb and veggies. Add a spoon over a grilled steak. Amazing. Try it on this Ancho Crusted Porterhouse or this Grilled London Broil Steak.
As a Dip. Chermoula works great as a dipper for pitas or other chips.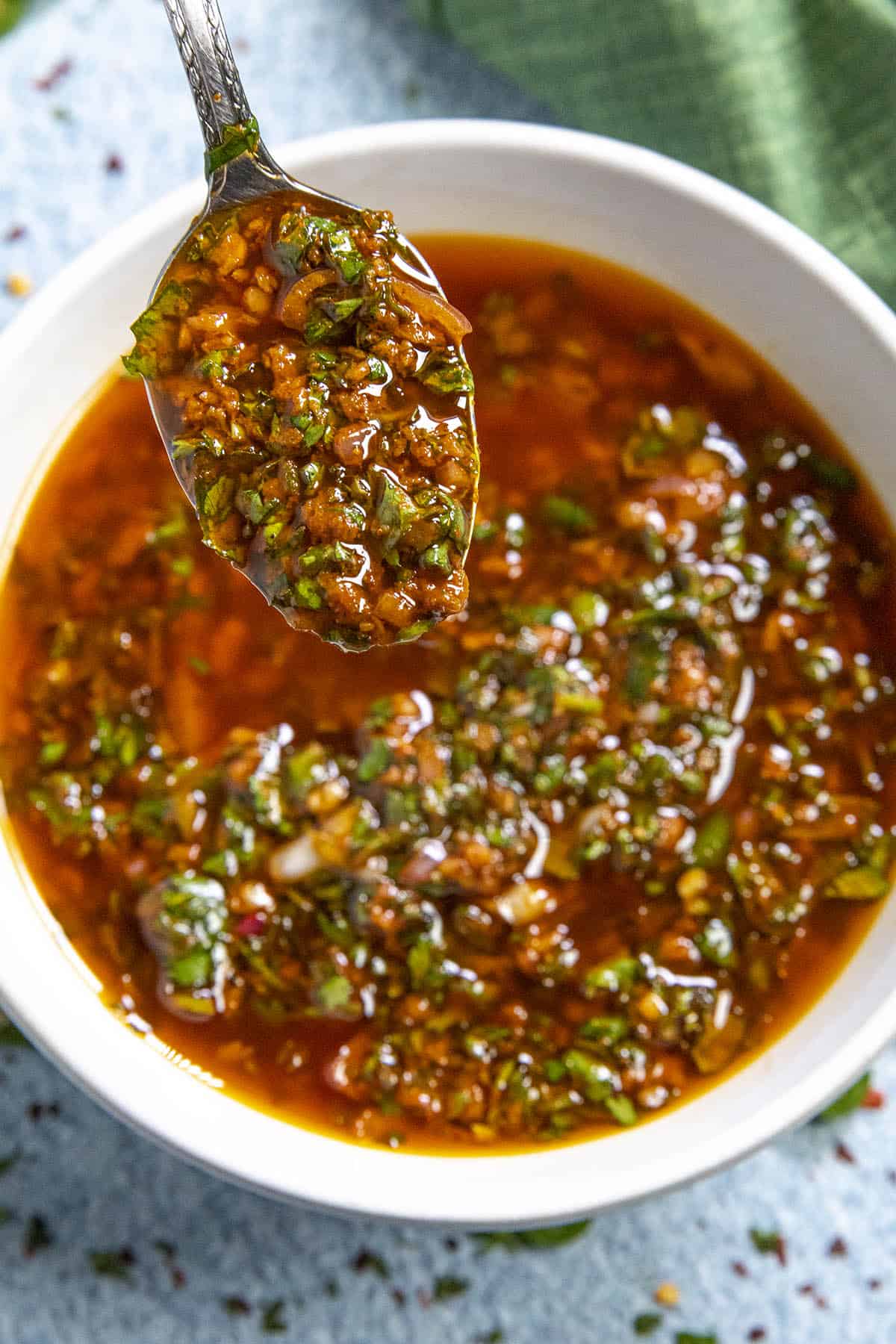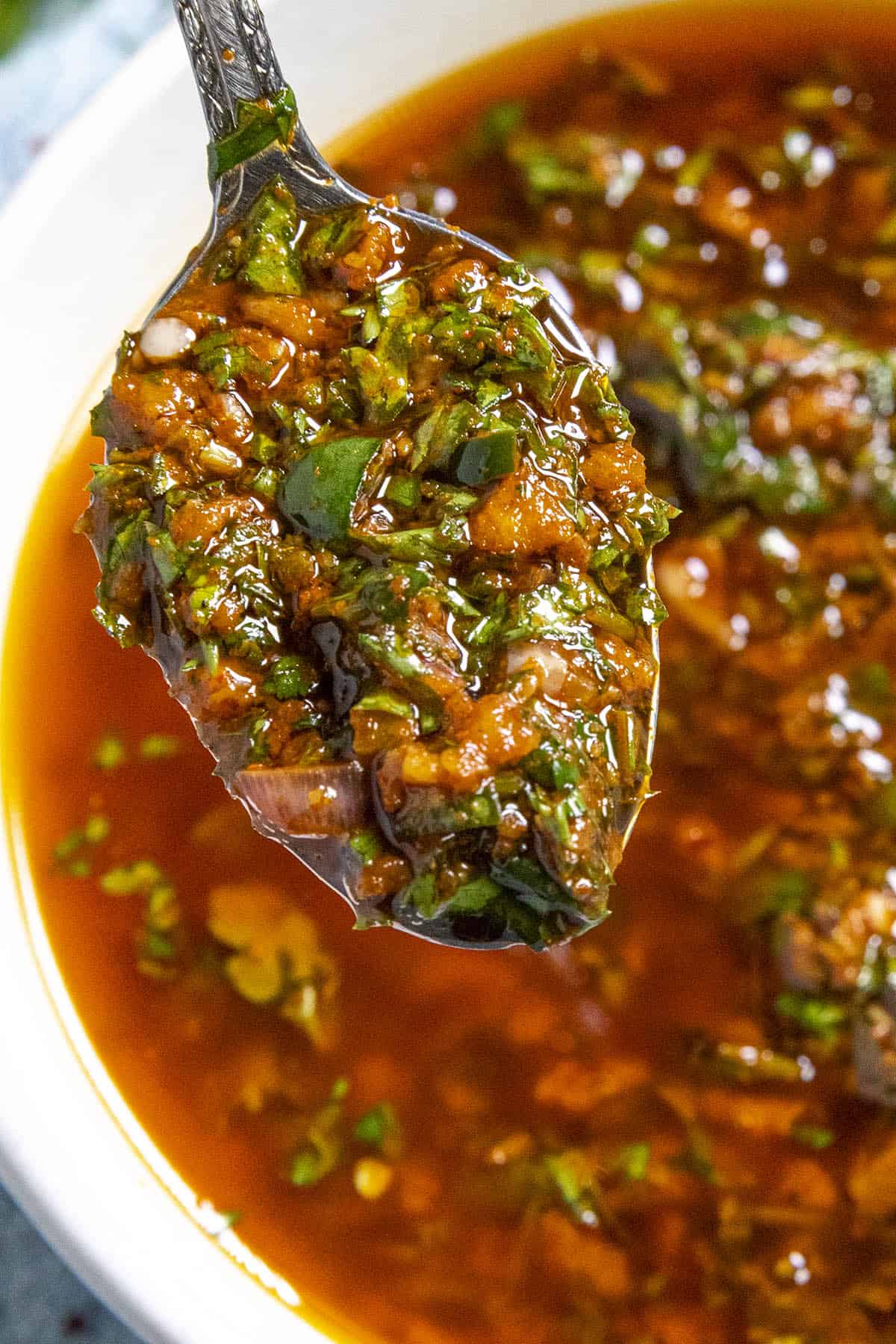 I hope you enjoy it, my friends. Enjoy! Let me know how it turns out for you. It's gluten free. -- Mike H.
If you enjoy this recipe, I hope you'll leave a comment with some STARS. Also, please share it on social media. Don't forget to tag us at #ChiliPepperMadness. I'll be sure to share! Thanks! -- Mike H.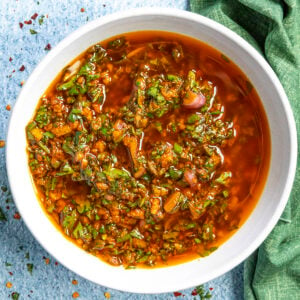 Print
Chermoula Recipe
Chermoula sauce is a versatile North African condiment of fresh herbs, oil and spices used as a marinade or sauce for meats, seafood, vegetables and more. Use it as a finishing sauce for many dishes, or for marinating fish, shrimp, or chicken.
Save Recipe
Saved!
Ingredients
1

cup

chopped cilantro

1

cup

chopped parsley

1

serrano pepper

chopped (optional, for spicy)

1

shallot

chopped

6

cloves

garlic

(or more, as desired)

Juice from 1 lemon

1

tablespoon

cayenne powder

2

teaspoons

smoked paprika

1

teaspoon

cumin

Salt to taste

8

saffron threads

(optional)

½

cup

extra virgin olive oil

(Use up to 1 cup as desired - you can also use other oils, such as canola oil)
Instructions
Add all of the ingredients except for the olive oil to a food processor and process until everything is finely chopped and begins to combine.

For Chunky Chermoula. Simply mix all of the ingredients together in a bowl, or pulse in a blender or food processor until well combined.

For Smoother Chermoula. Add all of the ingredients except the oil to a blender or food processor, then process until until well combined. Scrape down the sides, then begin to process again. Drizzle in the oil slowly as you process or pulse the mixture until all of the oil is incorporated and the mixture is smooth to your desired consistency.

Use immediately
Notes
Heat Level: Mild-Medium. You can easily add extra heat with spicier peppers.
This will keep in the refrigerator a few days. Makes about 2 cups. For a spicier version of this recipe, include spicy dried chili flakes or a dash of your favorite hot sauce, or incorporate spicier peppers to your palate's preference. Use jalapeno peppers for a milder version with just a bit of heat, or omit them altogether.
Nutrition Information
Calories:
106
kcal
Carbohydrates:
2
g
Protein:
1
g
Fat:
11
g
Saturated Fat:
2
g
Polyunsaturated Fat:
1
g
Monounsaturated Fat:
8
g
Sodium:
6
mg
Potassium:
83
mg
Fiber:
1
g
Sugar:
1
g
Vitamin A:
1027
IU
Vitamin C:
10
mg
Calcium:
17
mg
Iron:
1
mg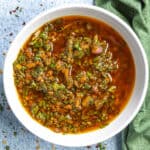 Did You Enjoy This Recipe?
I love hearing how you like it and how you made it your own. Leave a comment below and tag @ChiliPepperMadness on social media.
NOTE: This post was updated on 4/18/22 to include new information and photos. It was originally published on 4/30/18.