If you're looking for a great steak marinade recipe with kick, look no further. Our marinade includes soy sauce,vinegar, olive oil, just the right amount of spices and a homemade chili paste made with a mixture of fiery chili peppers. Perfect for any steak and other grillers.
Everyone is out grilling right now. It is grilling season, after all. We're rushing headlong into our summer months and this is when the charcoals are alight, the smokers churning out smoked meats, the grill tops sizzling. There is nothing better than sitting outside in the back yard with a cold beer, good friends, and something cooking up on the grill. So relaxing, and if you're doing it right, so mouthwatering.
You guys know me, I enjoy grilling up just about anything, but summers get me thinking about beef, particularly STEAK. Steak on the grill is like nothing else. Flame kissed, ideally seared, whether you sear it first or reverse sear, you always know when your steak has been prepared on the grill. It's obvious by the flavor.
This particular post isn't a steak recipe, however. Nope. Today we're focusing on an important part of cooking just about any steak – The MARINADE.
A good steak marinade not only adds flavor to your chosen steaks, but also helps to tenderize tougher cuts. You usually won't want to marinate a filet mignon or ribeye, but London Broil is an ideal choice for marinating, as is skirt steak, top sirloin, and flank steak. Of course you can marinate any cut you'd like. The choice is yours. A good marinade will help you enjoy those tougher cuts, which are much more affordable, yet no less flavorful.
Since you're here, I assume you're like me and you want your marinade and the resulting flavors they offer to have a bit of a kick to them. You're looking for something BOLD, something with a little BOOM to it. I hear you. Aside from all the other ingredients, the big KEY in achieving that truly "Jacked Up" marinade you're seeking is in the homemade chili paste.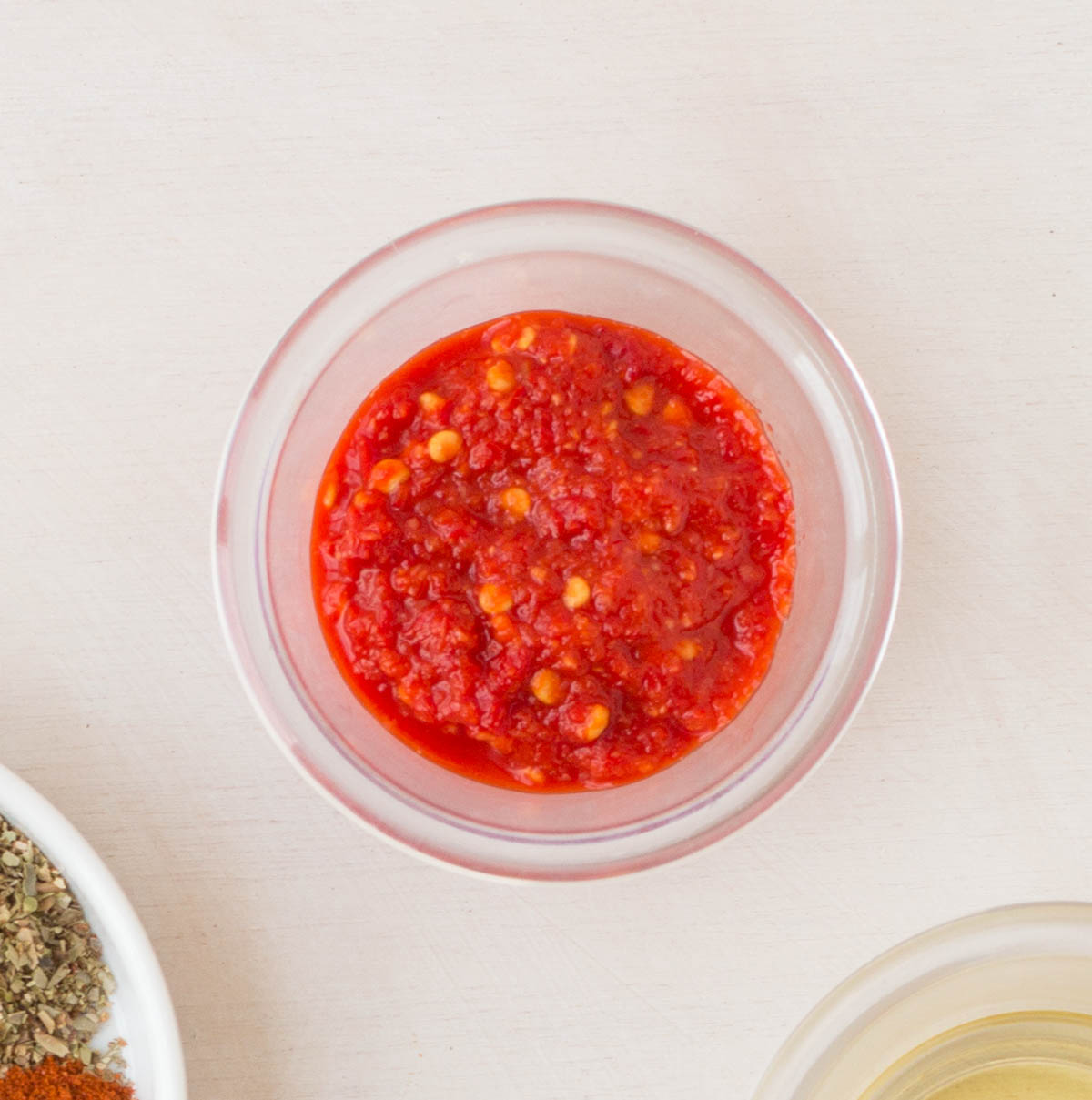 Gorgeous, yes? Making Chili Paste is an easy thing, and it truly adds a lot of flavor, and HEAT, to your food. Instructions are below for this, but note that you have a myriad of choices for your chili peppers. I used a ghost pepper, habanero pepper, and a couple of vibrant red Fresno peppers to form my paste. Ghost peppers have an excellent heat, over 1 Million Scoville Heat Units, and they're quite fruity, as are habaneros, which have a very respectable heat level as well. Fresnos are no slouch, though I enjoy them for the extra flavor and color.
If you're very serious about your heat, include more ghost peppers, or go with something even hotter, like scorpions, 7-Pots, or the Carolina Reaper.
If you'd like to tamp down the heat and not go TOO crazy, consider red cayenne peppers or ripened red serranos You'll still get a pleasant level of heat without going overboard.
But me?I want the heat!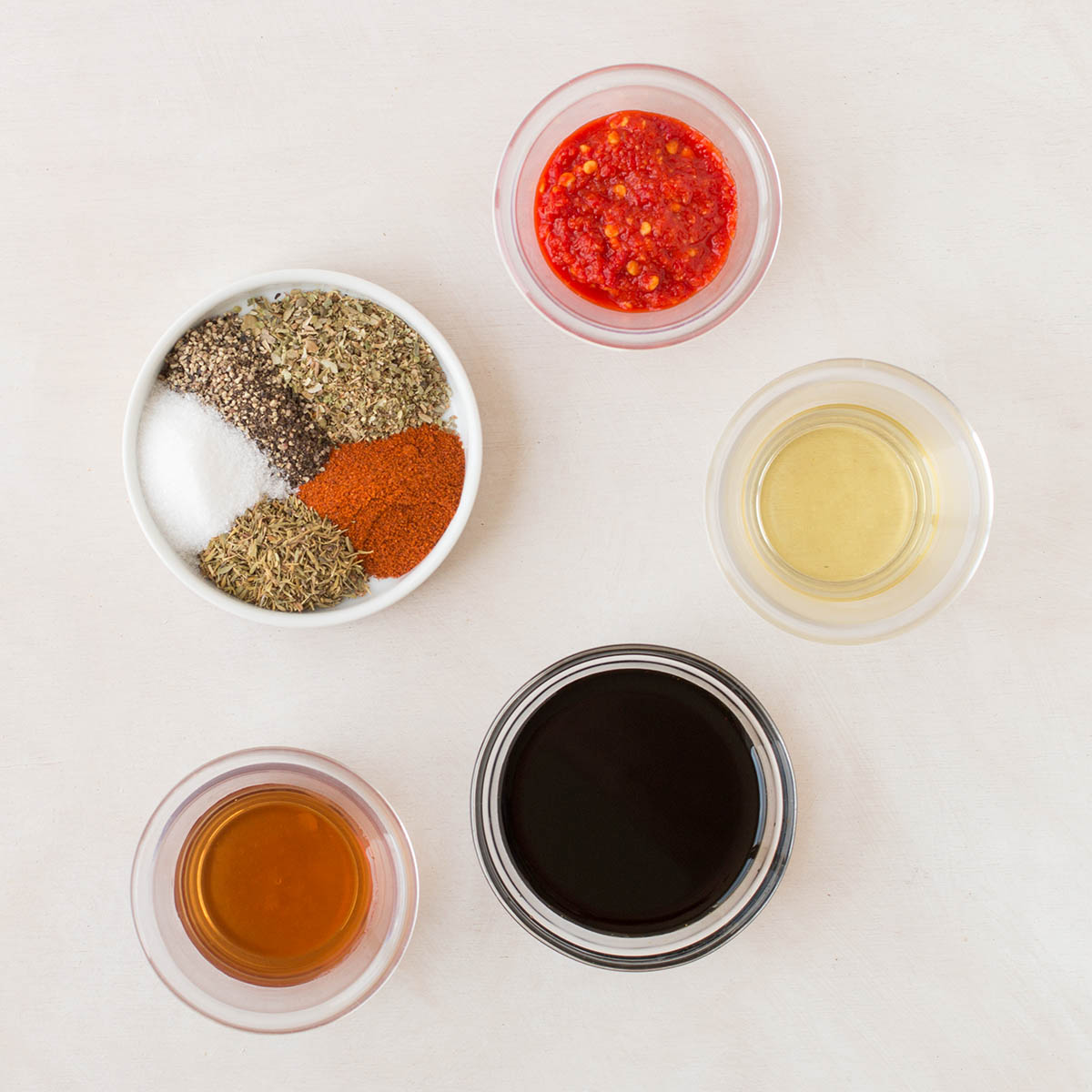 Once you've made your chili paste, simply swirl it together with the remainder of your ingredients and pour it over your chosen cut of meat. Marinating times can vary, though I like to marinate overnight for maximum impact.
I should note that this particular marinade recipe is ideal for steak, but can be used with other cuts of meat. Try it out with chicken or pork, particularly thick pork chops.
I hope you enjoy it! Get grilling!
Jacked Up Steak Marinade – Recipe
Ingredients
2-3 spicy chili peppers (I used 2 red Fresnos, 1 habanero and 1 ghost pepper)
2 cloves garlic chopped
1 teaspoon sugar
1 tablespoon white vinegar
½ cup soy sauce
2 tablespoons apple cider vinegar
2 tablespoon olive oil
1 teaspoon cayenne pepper
1 teaspoon dried oregano
1 teaspoon dried thyme
1 teaspoon salt
1 teaspoon black pepper
Cooking Directions
First, make your chili paste by adding chili pepper, garlic, sugar and white vinegar to a food processor. Process to form your paste.
Mix it together with the remaining ingredients.
Use to marinade your steak at least 6 hours, though overnight is better for deeper flavor and more tenderizing.
Makes enough to marinate 2 pounds of steak.