Classic Mexican Chicken Posole
Experience a traditional Mexican posole, a classic soup or stew, with this recipe.
If you enjoy a good stew recipe, or a soup with lots of chunky chicken or pork, then Mexican Posole is something you'll want to try. It certainly is a classic dish, very traditional to Mexico, and it has a number of variations, ranging from chicken and pork and different types of meat, to a huge variety of preferred garnishes.
I stick with what I typically have on hand – diced avocados, cilantro, some lime wedges – though others like to include lemon, cabbage, salsa, onion, radishes or other chili peppers. Roasted jalapenos or serranos would be awesome here.
One of the keys with a good posole is the chili paste that you prepare with dried ancho peppers. This paste is seriously good stuff. It adds depth and flavor, and also color, to the dish and it really makes it distinctive.
Funny thing is, before I learned how to make posole, I had been swirling ancho paste into a dish I had made up on my own years ago. Turns out I had been making something close to this classic dish somehow. No wonder I love it!
This is truly a one pot meal. I want to file this under "quick and easy", because honestly, it is easy to prepare, but it is best to let it simmer for a while. I've seen some 30-minute posole recipes and I've made some that didn't simmer for long, but it is best to let the flavors cook and develop, like any good stew or soup, or even chili. The longer you cook it, the better the flavors become. It's worth the wait.
Hominy is traditional for posole, but if you're looking for a variation, try something like kidney beans instead. I also like to add diced potato occasionally. Tastes good to me!
Patty's Perspective: This dish, to me, is very unique. It's amazing how a different ingredient like hominy can affect the flavor of the stew. It's so authentically Mexican. Mike made a big pot and it was even better the next day.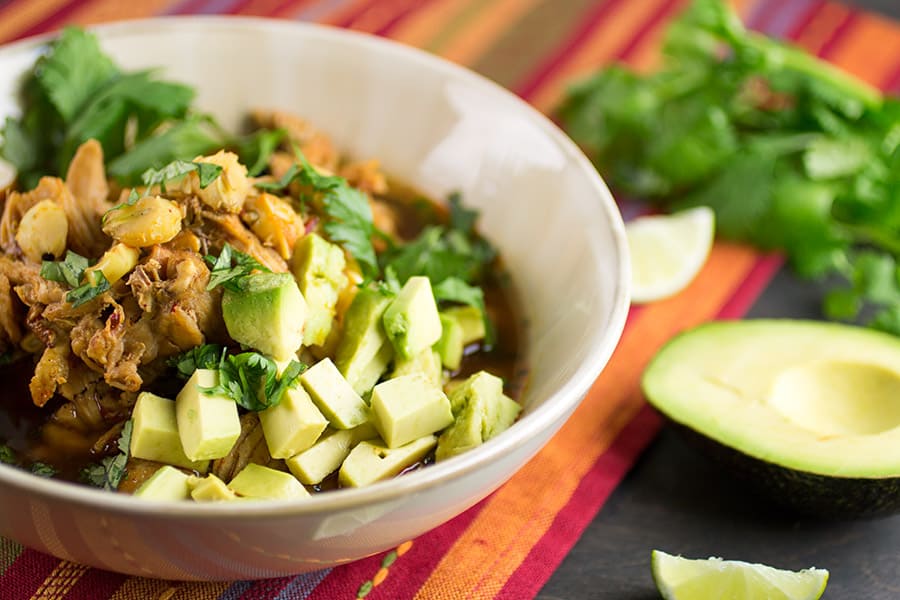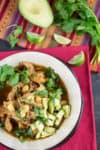 Classic Mexican Chicken Posole - Recipe
Experience a traditional Mexican posole, a classic soup or stew, with this recipe.
Ingredients
1

pound

chicken breast

1

teaspoon

olive oil

2-3

teaspoon

chili powder

Salt and pepper to taste

1

medium onion

chopped

2

jalapeno peppers

chopped

3

cloves

garlic

chopped

8

cups

chicken broth

1

bay leaf

1

teaspoon

dried thyme

2

teaspoons

cumin

1

can hominy – about 25 ounces

2

ancho peppers

3

ounces

tomato paste

1

lime + extras for serving

Sliced avocado and cilantro for serving
Instructions
Heat a large pot to medium heat and add some olive oil.

Slice the chicken breast thin and season with salt, pepper and 1 teaspoon chili powder. Add to the pot and sear each side a couple minutes.

Add onion and jalapeno peppers. Cook about 5 minutes, stirring a bit.

Add garlic and cook another minute.

Add chicken broth, bay leaf, thyme, cumin, remaining chili powder and hominy. Stir. Reduce heat to simmer.

Now, let's make a chili paste. Heat a small pan to medium heat and add ancho peppers.

Dry roast them about 5 minutes, flipping occasionally, until they are fragrant.

Set them into a bowl of very hot water for about 20 minutes to soften.

Remove stems and seeds and place into a food processor with the tomato paste. Add a bit of salt. Process until smooth.

Swirl a couple of tablespoons of the paste into your posole. Refrigerate the rest for another use. This is good stuff!

Allow the posole to simmer about an hour or longer. When ready to serve, shred the chicken in the pot with a fork and serve into bowls.

Squeeze in the juice from a half a lime and swirl into the soup.

Top with sliced avocados, cilantro, and serve with extra lime on the side.
Recipe Notes
Heat Factor: Mild-Medium. Big on flavor, though!
Nutrition Facts
Classic Mexican Chicken Posole - Recipe
Amount Per Serving
Calories 312
Calories from Fat 90
% Daily Value*
Fat 10g15%
Cholesterol 48mg16%
Sodium 1780mg74%
Potassium 1134mg32%
Carbohydrates 35g12%
Protein 22g44%
Vitamin A 3635IU73%
Vitamin C 41.8mg51%
Calcium 67mg7%
Iron 3.7mg21%
* Percent Daily Values are based on a 2000 calorie diet.