The Trinidad Scorpion Butch T is one of the hottest peppers in the world measuring over 1.4 Million Scoville Heat Units with bumpy skin and a scorpion-like tail. Learn more about it below.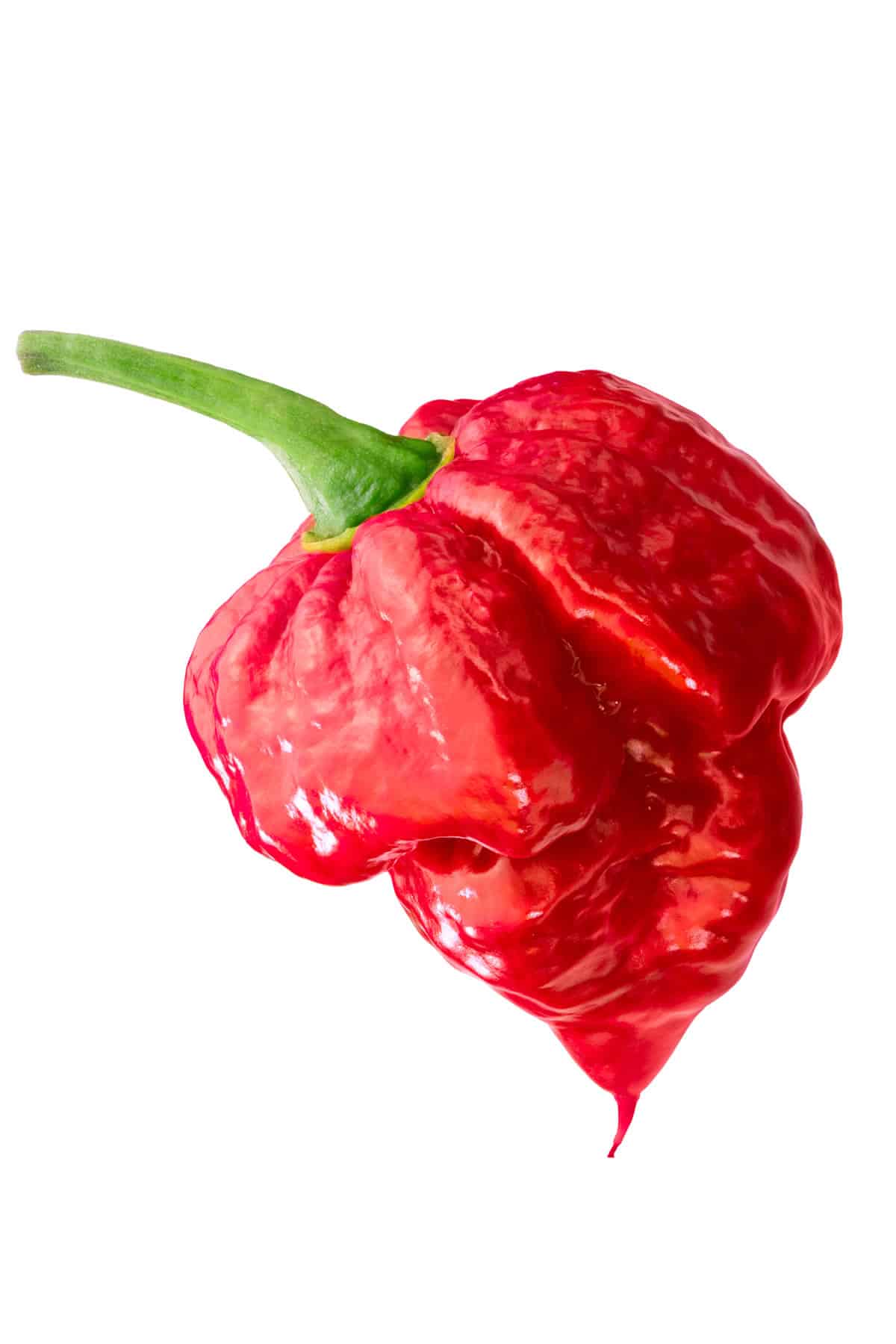 Scoville Heat Units: 800,000 - 1,463,700 SHU
Capsicum Chinense
When it comes to blazing heat that scorches quickly and precisely, the Trinidad Scorpion Butch T will surely deliver. It is one of the hottest chili peppers in the world.
The Butch T is a strain of the flaming Trinidad Scorpion pepper with roots in the United States, Australia and Trinidad, and was listed at the hottest pepper in the world briefly in 2011.
It was eventually surpassed in heat by the Trinidad Moruga Scorpion and then again by the Carolina Reaper, which is currently the hottest chili pepper in the world officially according to the Guinness World Records. Still, with it's amazing heat, it will surely satisfy those craving massive heat.
How Hot is the Trinidad Scorpion Butch T Pepper?
Official tests rate this pepper at 800,000 - 1,463,700 Scoville Heat Units on the Scoville Scale, making it truly one of the hottest peppers in the world. Compare that to a typical jalapeno pepper, which ranges from 2,500 - 8,000 Scoville Heat Units. This means the average Trinidad Scorpion Butch T is about 226 times hotter than the average jalapeno.
A habanero pepper measures up to 350,000 SHU. It is more directly comparable to peppers like the ghost pepper (bhut jolokia) and the Trinidad Moruga Scorpion. It is definitely one of the super hots.
About the Trinidad Scorpion Butch T Pepper
While the pepper is indigenous to Tobago and Trinidad, it was propagated in the United States by Butch Taylor, founder of Zydeco Hot Sauce, in 2011, who provided seeds to Neil Smith of The Hippy Seed Company and Marcel de Wit, from the Chilli Factory, both in Australia. Smith named the peppers after Butch Taylor.
The previous record holder was the Naga Viper, measuring 1.38 million Scoville Heat Units (SHU). It is possible that the Naga Viper is really a Scorpion Pepper, but his is hotter.
The "scorpion" peppers are referred to as such because the pointed end of the pepper is said to resemble a scorpion's stinger.
My Personal Experience
I have grown the Trinidad Scorpion Butch T peppers in my home garden and can attest that, yes, they are truly hot. They definitely bring that scorpion sting which brings a fiery burn instantly, unlike other superhots that carry more of a blooming heat. The pods are roundish and small with a scorpion-like tail, and the skin is rather bumpy like other superhots.
I enjoy using scorpion peppers to make extra spicy hot sauce, or for dehydrating them to make piquant chili powders, hot pepper flakes and personal spice blends. Even though the heat fades eventually from ground peppers, these still carry a wonderful blaze long after a year.
Once you get passed the heat, the flavor is quite fruity.
Where Can I Buy Trinidad Scorpion Butch T?
You can buy Trinidad Scorpion Butch T seeds, plants, flakes and powders online from several resources, or review my chili pepper seeds resources page to find links to various sources. Here are some affiliate links for your consideration.
Relevant Links
NOTE: This post was updated on 2/24/22 to include new information. It was originally published on 10/23/13.