What is a good substitute for chili powder? If you've run out and need to swap in something else for your recipe, here is a list of ingredients that might help you.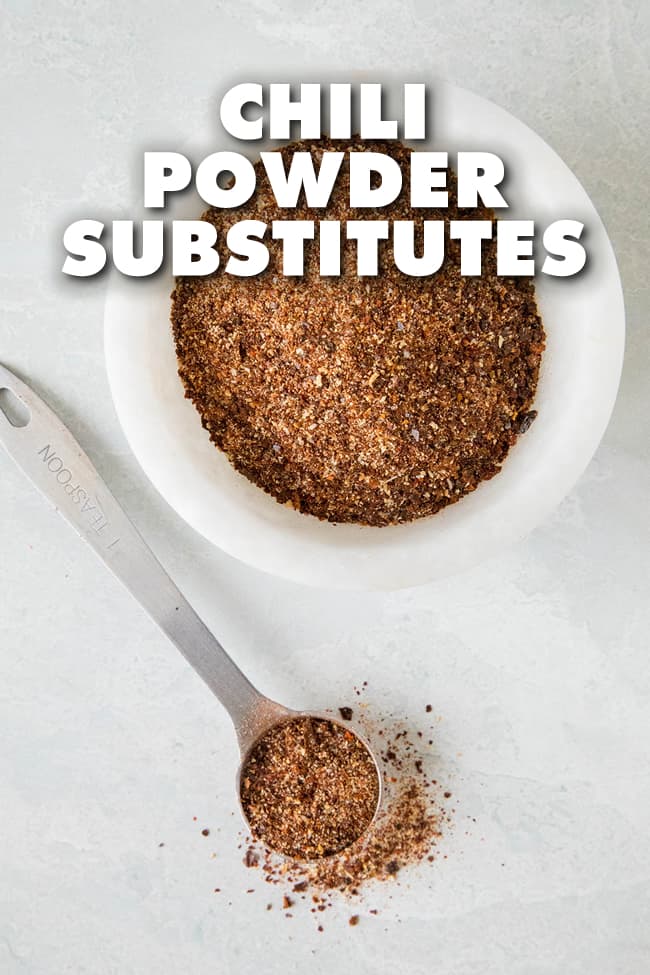 Here is the scenario. It's late and you've started your recipe. You're part way through before you realize - "Oh no! I don't have any chili powder!"
Problem is, you're already in your pajamas and you can't run to the store. Who is going to watch the kids? How can I leave this food half way cooked? Besides, I just don't want to run to the store anyway!
Isn't there something else I can use?
YES!
While these alternatives may not be ideal and may not give you the same intended fiery spice and flavor to your dish, here are some ideas that might help you in a pinch.
What is a Good Substitute for Chili Powder?
Homemade Chili Powder Recipe
Run out of chili powder mix? Try this homemade chili powder recipe. It's the perfect blend, easy to make, and ready for your pot of chili, or any recipe that calls for chili powder.
2 tablespoons paprika (smoked paprika is great)
1 teaspoon cayenne (use less for milder)
1 teaspoon garlic powder
1/2 teaspoon onion powder
1/2 teaspoon dried oregano
1/2 teaspoon cumin
Salt to taste
Simply mix the spices together in a small bowl. Store in an airtight container or jar. Once the spices are mixed, use as desired.
Cajun or Creole Seasonings
You won't get the same flavors, but a good Cajun seasoning blend or Creole blend does incorporate chili pepper powder in the form of cayenne pepper and/or paprika. If you have some on hand, this could be a good choice for you.
Check out my Homemade Cajun Seasoning Recipe.
Taco Seasoning
Taco seasonings also incorporate a lot of the same ingredients as your typical chili powder, though most do not include the darker Mexican chili peppers.
Still, taco seasonings offer up a big jolt of flavor, so will definitely work for certain recipes. It might taste like a "taco" version of the original recipe, but is that really a bad thing? I'm game!
Try my Homemade Taco Seasoning Blend Recipe.
Singular Chili Powders
You may not have these on hand, but I keep a number of chili powders that consist of only a single ground pepper for making my own spice and seasoning blends.
If you have something like ancho powder, guajillo powder, morita powder, or even chipotle powder, any of these can work to potentially save the day.
Dried Chili Peppers
I also always have a small cache of dried chili peppers on hand for making sauces, soups and certain Mexican, Tex-Mex and Southwestern U.S. dishes. I always have anchos, guajillos, pasillas and chiles de arbol, along with whatever else I've dehydrated from my own garden that year.
You can process these dried peppers in a food processor to make your own chili powder. Or use a mortar and pestle to make red pepper flakes or powder. That's how to make some fresh spice. Just watch the heat level of the peppers you're starting with.
Just like my Homemade Chili Powder Recipe, the recipe may be even better for it.
This is my recommended method, though it will require having them on hand.
Hot Sauce
If what you're really looking for is some heat, try dashing in some of your favorite hot sauce. Any store bought brand will do to bring in some added zest and flavor.
Further References
Chili Recipes
Drop me a line if you have any questions! I'm happy to help! Which chili powder substitute did you choose? I'd love to hear!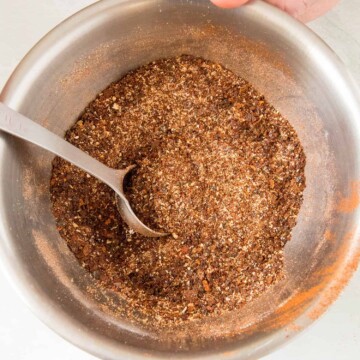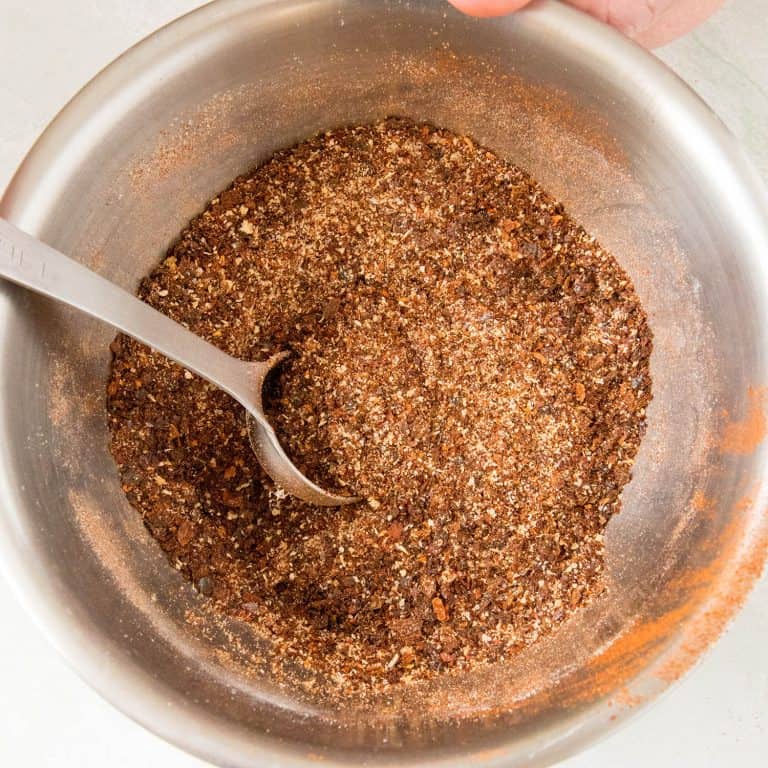 Print
Chili Powder Substitute (Homemade Chili Powder Recipe)
This homemade chili powder recipe is easy to whip together when you've run out of your favorite blend. It's the perfect chili powder substitute.
Save Recipe
Saved!
Ingredients
2

tablespoons

paprika

1

teaspoon

cayenne

use less for milder

1

teaspoon

garlic powder

1/2

teaspoon

onion powder

1/2

teaspoon

dried oregano

1/2

teaspoon

cumin

Salt to taste
Instructions
Mix the spices together in a small bowl. Store in an airtight container or jar. Use as desired.
Nutrition Information
Calories:
22
kcal
Carbohydrates:
4
g
Protein:
1
g
Fat:
1
g
Saturated Fat:
1
g
Polyunsaturated Fat:
1
g
Monounsaturated Fat:
1
g
Sodium:
5
mg
Potassium:
145
mg
Fiber:
2
g
Sugar:
1
g
Vitamin A:
2586
IU
Vitamin C:
1
mg
Calcium:
22
mg
Iron:
1
mg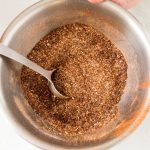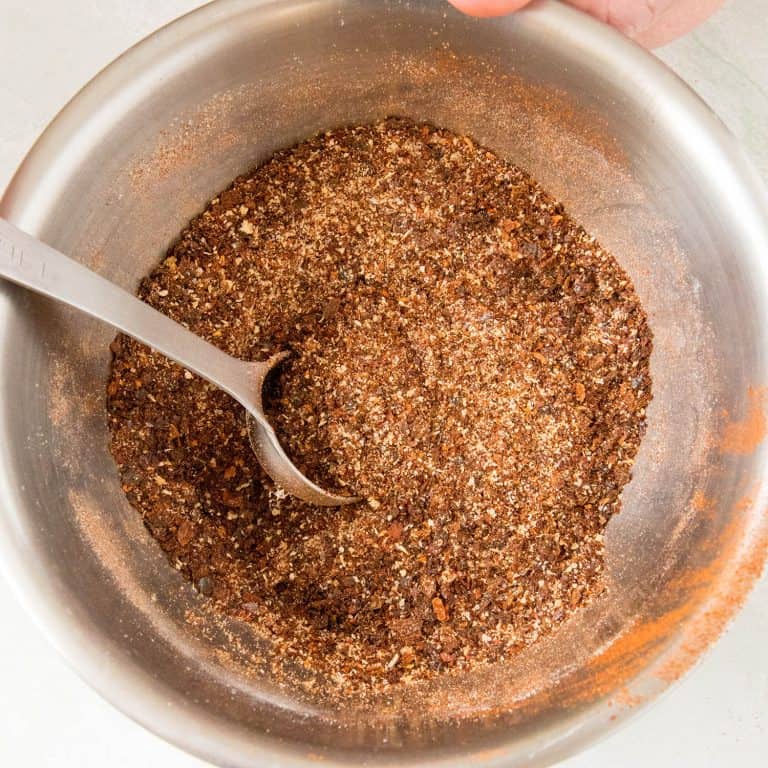 Did You Enjoy This Recipe?
I love hearing how you like it and how you made it your own. Leave a comment below and tag @ChiliPepperMadness on social media.