If you want super tender, fall-off-the-bone oven baked chicken wings, prepare them in the Dutch oven with this recipe and you're off to spicy heaven.
We have another chicken wings recipe, my friends. Shocked? But why? They're so good! Seems we've been making chicken wings around here once a month.
It's my fault, really. I'm a chicken wing fanatic. On road trips, I beg Patty to stop at wings joints along the way, desperate to find the next latest and greatest sauce or wing preparation. There are so many great wings joints around! I wish I could try them all.
One thing I rarely find on the road or in restaurants, though, are wings that are not fried. I've encountered a few, but the vast majority only offer fried wings. You can sometimes find them grilled, which is great, but I never find them oven baked.
So, I'll just have to have oven baked chicken wings at home.
What Makes These Wings Different From Other Chicken Wing Recipes?
There are a few ways to bake your chicken wings, like this recipe for Crispy Baked Ghost Pepper Wings that uses a baking sheet and really crisps up the skin, but here is a completely different method using a Dutch oven.
Baking them in your Dutch oven makes them very tender. The meat will definitely pull right off the bone. SO good.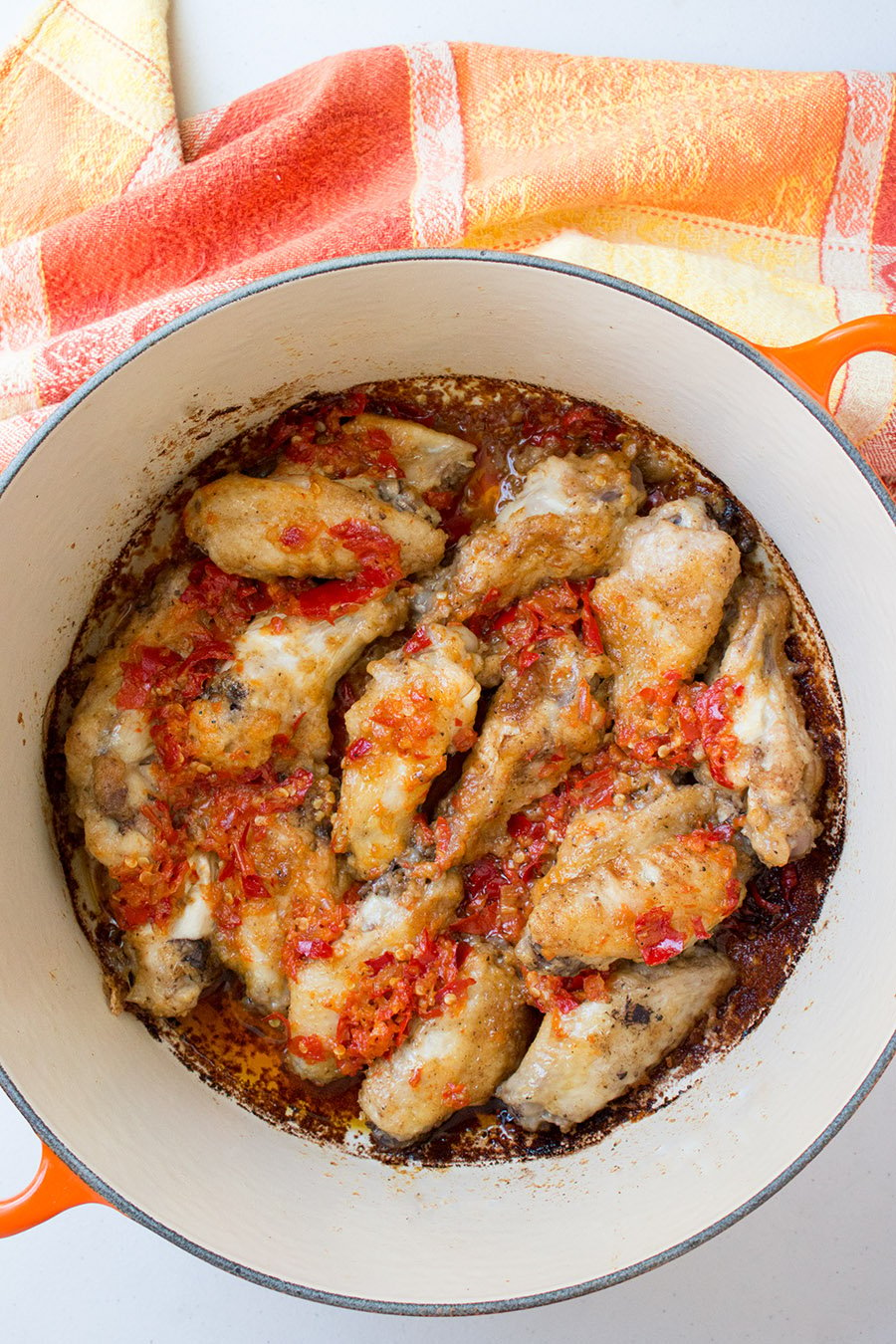 How to Make Oven Baked Chicken Wings – The Recipe Method
With this method, you brine the chicken wings first in a seasoned salty water solution and leave them overnight. This will make them super tender and will help them to fall off the bone when you bite them.
Oh baby.
Pat them dry and rub them down with your favorite seasonings, or even a bit of salt and pepper. We used Old Bay this time with a bit of flour, super easy. Sear them in the Dutch oven a few minutes per side to brown them up a bit and seal in that flavor.
Then, toss in some of your favorite sauce or fresh chili paste and pop them into the oven and just let them bake. Use my Homemade Buffalo Sauce Recipe.
The chili paste is what makes it AWESOME for me. It's nice and thick and really sticks to the chicken. .Try this version: Fresh Chili Paste.
Once done, these will be some of the tenderest hot wings you've ever had. You know I LOVE a good crispy chicken wing, but these tender chicken wings are something to behold. Seriously.
Fall. Off. The. Bone.
Now, as an experiment, I took a few of them and tossed them in a hot pan after they were baked and the skins crisped back up, so if you want some of that crispiness back, give that a go.
Or, just hit them in the broiler a couple minutes after they're done baking and that will work as well. You'll probably need to drain the Dutch oven first, though. These turned out great!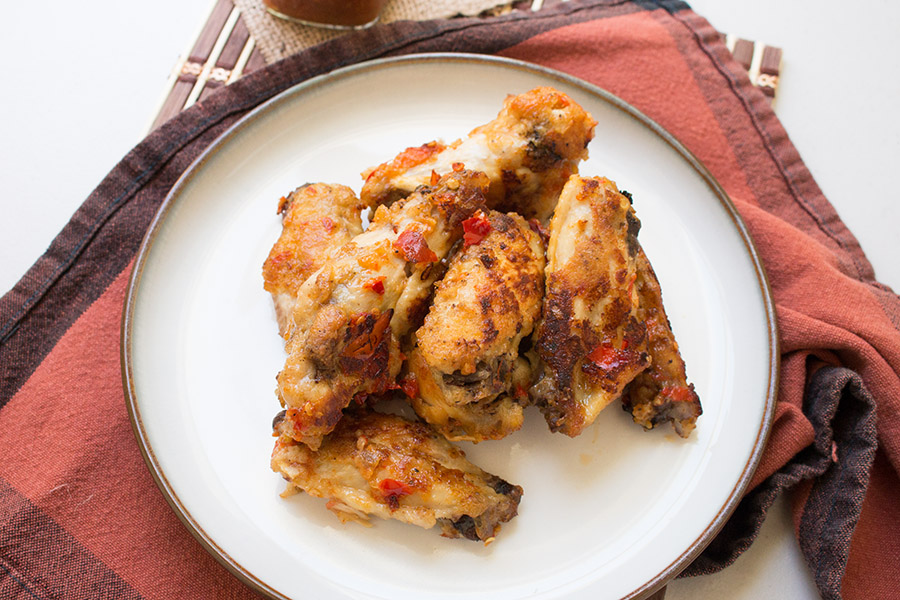 Patty's Perspective
These were some of the juiciest chicken wings I've ever had. The brine really does an incredible job. All that moisture sinks right into the meat. Loved these Buffalo wings. Just right for game day or parties.
Check Out Some of My Other Popular Chicken Wing Recipes
Got any questions? Ask away! I'm happy to help. If you enjoy this recipe, I hope you'll leave a comment with some STARS. Also, please share it on social media. Don't forget to tag us at #ChiliPepperMadness. I'll be sure to share! Thanks! — Mike H.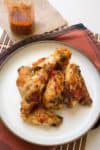 Oven Baked Chicken Wings Recipe
If you want super tender, fall-off-the-bone oven baked chicken wings, prepare them in the Dutch oven with this recipe and you're off to spicy heaven.
Keyword:
chicken wings, hot wings, recipe, spicy, wings
Ingredients
10-12

chicken wings

3

tablespoons

salt

4

garlic cloves

crushed

1

cup

flour

4

tablespoons

Old Bay Seasoning

or use your favorite blend

¼

cup

olive oil

1

cup

Fresh Chili Paste – Or you can use your favorite sauce
Instructions
Add the wings to a large bowl and add water to cover. Add 3 tablespoons salt and crushed garlic. Cover and refrigerate. Brine overnight.

Separate the wings at the joint and remove the wing tips. Pat the wings dry.

To a large bowl, add flour and seasonings. Add the wings a few at a time and coat them with the seasoned flour mixture.

Preheat oven to 350 degrees.

Heat a Dutch Oven on the stove top to medium and add olive oil. Heat.

Add chicken in batches to brown each side. When they are all browned, add all the chicken wings to the pot and add the chile paste (or whatever sauce you are using).

Cover and set into the oven. Bake for 45 minutes, or until the wings are very tender.

At this point you can serve with extra sauce, or drain some of the liquid from the Dutch Oven and blast the wings under the broiler to crisp them up a bit, or toss them into a hot pan to crisp. Or, just eat them straight out of the oven. Just cool them first!

Enjoy!
Nutrition Facts
Oven Baked Chicken Wings Recipe
Amount Per Serving
Calories 2350
Calories from Fat 1206
% Daily Value*
Fat 134g206%
Cholesterol 370mg123%
Sodium 21344mg889%
Potassium 2051mg59%
Carbohydrates 188g63%
Protein 110g220%
Vitamin A 1670IU33%
Vitamin C 52.7mg64%
Calcium 325mg33%
Iron 18.7mg104%
* Percent Daily Values are based on a 2000 calorie diet.