Aji-Lime-Kiwi Sweet Pepper Jam
A recipe for a homemade sugar free jam made with mildly spicy aji peppers, fresh crushed kiwi, and lime juice.
We're in a major winding down time for our garden in this part of the world, so lately we've been scrambling to preserve a lot of our peppers.
We're freezing peppers, pickling peppers (more of that to come VERY soon), preserving peppers in olive oil, dehydrating peppers, you name it, we're doing it.
We're also making jams. Jams? Absolutely.
Jellies and jams are a smart way to incorporate a number of your chili peppers into a single preserving session, and what you wind up with is something super crazy delicious that you can use all through the winter. This particular recipe calls for a cup of minced peppers and it makes two half pint jars.
That's quite a lot of peppers! It's OK, though, because we have so many, we barely know what to do with them all. Well, maybe we do, but still!
This is a "no sugar" or "sugar free" (aside from the fruit, of course) jam, though you can include a bit of sugar if you'd like. It isn't necessary.
The kiwi is sweet enough on its own, and sometimes you don't want all that sugar in your diet. You'll need to use a no-sugar or low-sugar pectin product. Here is the one I used: Ball Real FruitTM Low or No-Sugar-Needed Pectin – Flex Batch 4.7 oz.
It works great for me. No fail jam.
Be sure to crush the kiwi down so it incorporates thoroughly into the jam mixture, though I kept a few chunks that floated up to the top. I love how it looks.
And check out those seeds! This whole jar is a beautiful thing. You can always give some away as gifts for the jam lovers in your life. Just be careful. Making jam is addictive, almost as addictive as eating jam.
I used the gorgeous yellow aji pineapple and aji fantasy peppers I grew in the garden this year, but you can use any variety of chili peppers, realistically. You just need a cup minced.
I would choose by color and preferred heat level.
Patty's Perspective
This is one of my new favorite jams. I always love kiwi ANYTHING. It is plenty sweet enough without the sugar, and the aji peppers have a nice, slowly rising level of heat. Puts a smile on my face!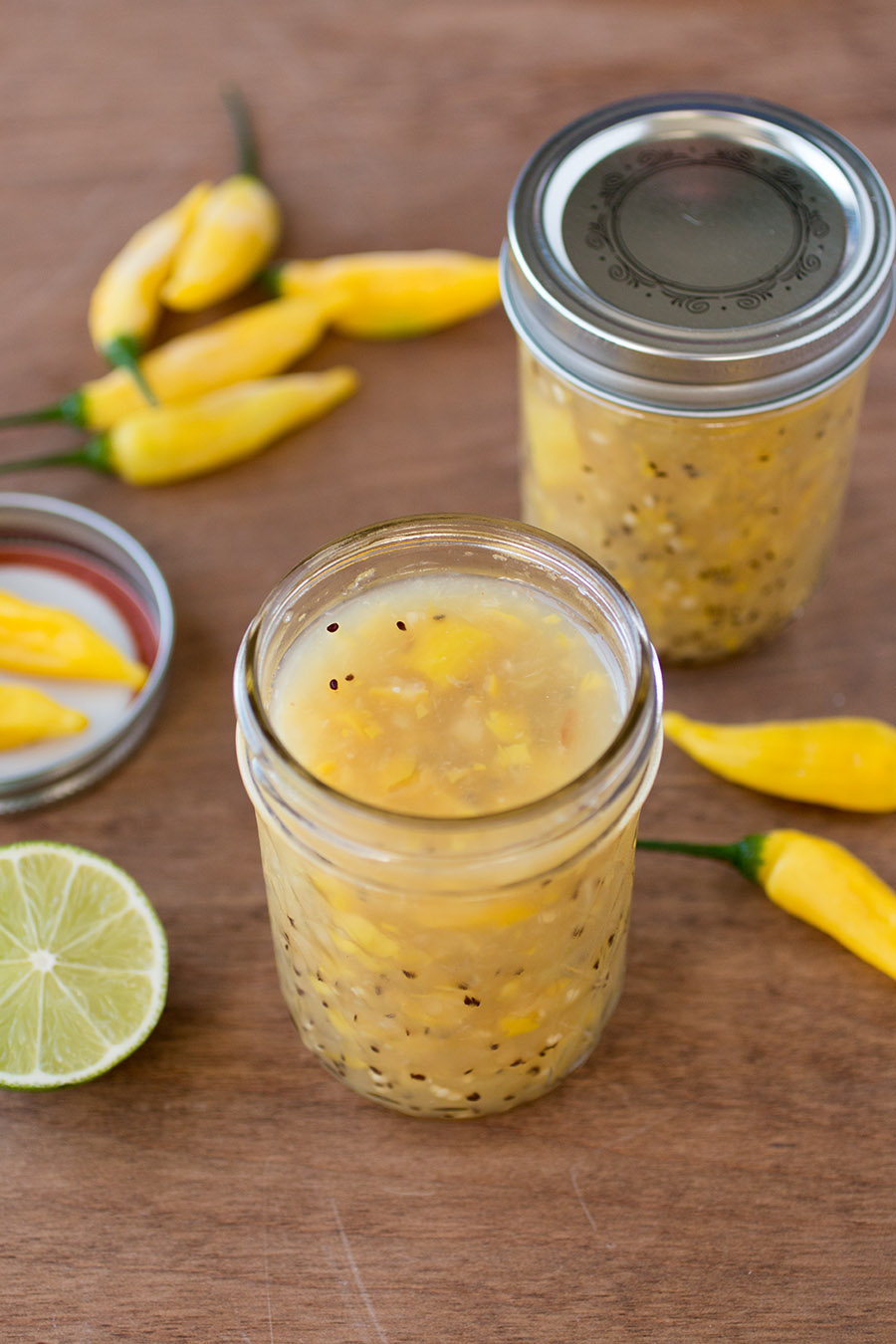 Here is a link to the jam jars that I personally use and prefer. Highly recommended. Affiliate link – FYI: Ball Mason 8oz Quilted Jelly Jars with Lids and Bands, Set of 12
Try Some of My Other Popular Jelly and Jam Recipes
If you enjoy this recipe, I hope you'll leave a comment with some STARS. Also, please share it on social media. Don't forget to tag us at #ChiliPepperMadness. I'll be sure to share! Thanks! — Mike H.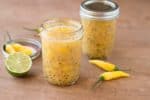 Aji-Lime-Kiwi Sweet Pepper Jam
A recipe for a sugar free jam made with mildly spicy aji peppers, fresh crushed kiwi, and lime juice.
Keyword:
jam, jelly, spicy, sugar free
Ingredients
1

cup

minced aji peppers

– I used aji pineapples and aji fantasy peppers but you can use any pepper realistically.

1

cup

crushed kiwi

1/3

cup

lime juice

1-1/2

tablespoon

no-sugar pectin
Instructions
Add the peppers, kiwi and lime juice to a large sauce pan. Stir in the pectin and bring the mixture to a strong boil, stirring constantly for about a minute.

Remove from heat and skim any foam that might rise to the top.

Cool slightly and pour into 2 8-ounce jars.

Cover and refrigerate to solidify!
Recipe Notes
NOTE: You can also preserve your jam with proper waterbath canning procedures.
Nutrition Facts
Aji-Lime-Kiwi Sweet Pepper Jam
Amount Per Serving
Calories 5
% Daily Value*
Potassium 32mg1%
Carbohydrates 1g0%
Vitamin A 40IU1%
Vitamin C 7.8mg9%
Calcium 3mg0%
Iron 0.1mg1%
* Percent Daily Values are based on a 2000 calorie diet.