Cheesy Tex-Mex Mashed Potatoes – "Papas con Chile"
A mashed potatoes recipe done Tex-Mex style with two types of cheese, chile peppers and chorizo. Nom nom! Muy delicioso!
Nom Nom. Seriously. NOM!
This is an older recipe of ours and I can't believe I haven't shared it with you all yet. Funny thing is, I've been making versions of this mashed potato recipe for years, in different iterations, and never realized it was a popular Tex-Mex dish.
Thinking back, how could it not be!
Consider – a recipe for very cheesy mashed potatoes made with jalapeno peppers, red bell pepper, onion, garlic, and spicy chorizo. So many of my favorite ingredients.
Yes! Count me in! Twice!
Patty's entire family is HUGE on mashed potatoes. It is a staple at holiday parties or large family gatherings. I am flat out not joking when the crew has gone through TEN pounds of potatoes.
They are mashed potato fanatics. However, they're extremely traditional and want only the typical mashed potato recipe, which I will NOT complain about.
I love mashed potatoes just about any way, BUT! Once you try this Tex-Mex version, you may never want to go back. Or, at least, you'll want to add this into your holiday party or family gathering side dish rotation.
Bring on the potatoes! With lots of cheese.
I mean, just look at it. YUM.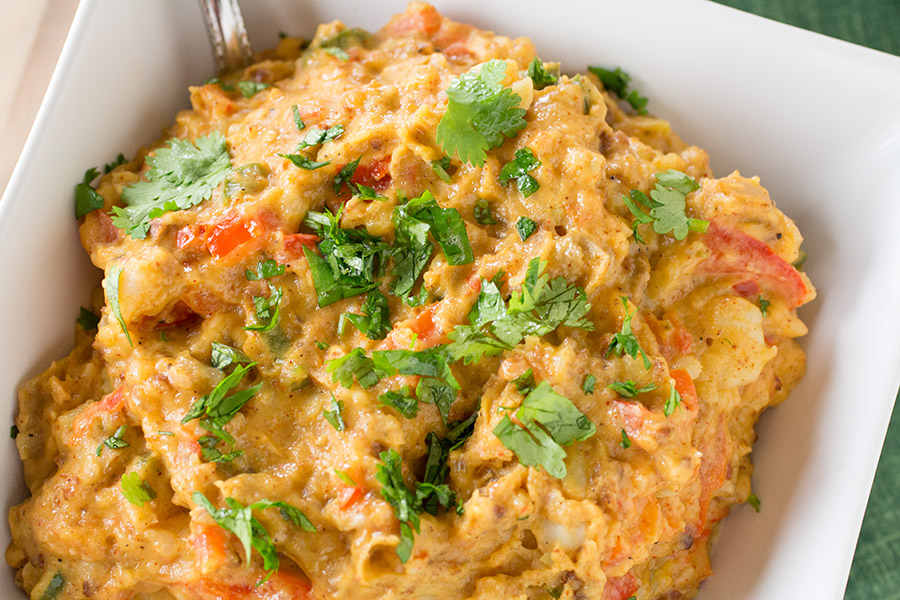 This recipe scales up nicely. I often use under a pound of potatoes and scale back the other ingredients accordingly, then serve it for two, usually with only a little bit leftover for the next day.
But, if you're having a big bash, you can easily double, triple, quadruple, or more. This is an extremely forgiving recipe in that if you put in too much chorizo or toomany peppers or not enough onion, it will still taste amazing.
So, feel free to mix things up a little here and there to your tastes.
Also, consider other ingredients. Grilled corn is AWESOME in this dish. Try other chili peppers. Don't be afraid to spice it up. Want more cheese? Go for it! Consider pepperjack or Monterey jack cheeses.
Not a fan of the spice? Lose the jalapeno peppers and double up on the bell peppers. Skip the chorizo, though that is one of my favorite parts, or go with a less spicy version.
Double the cream cheese. Or triple it! Get it REAL creamy.
Again, it's a very forgiving recipe, as is pretty any much any mashed potatoes recipe, so just have fun with it.
Patty knows how that goes! She's the official mashed potato maker at every family gathering. Hey, it's tradition!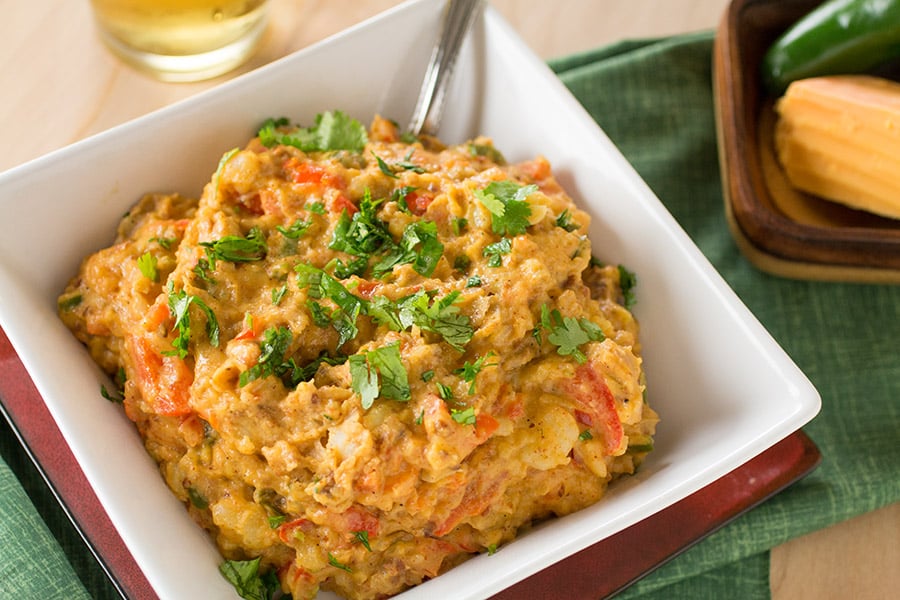 Patty's Perspective
OMG! True, I am the mashed potato maker of the family, and I truly love the way you can manipulate mashed potatoes to your flavor preference. They're like a blank canvas. We obviously lean toward spicy and seriously BOLD flavors, so this was a no-brainer recipe to share.
Try Some of My Other Popular Recipes
Got any questions? Ask away! I'm happy to help. If you enjoy this recipe, I hope you'll leave a comment with some STARS. Also, please share it on social media. Don't forget to tag us at #ChiliPepperMadness. I'll be sure to share! Thanks! — Mike H.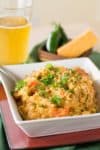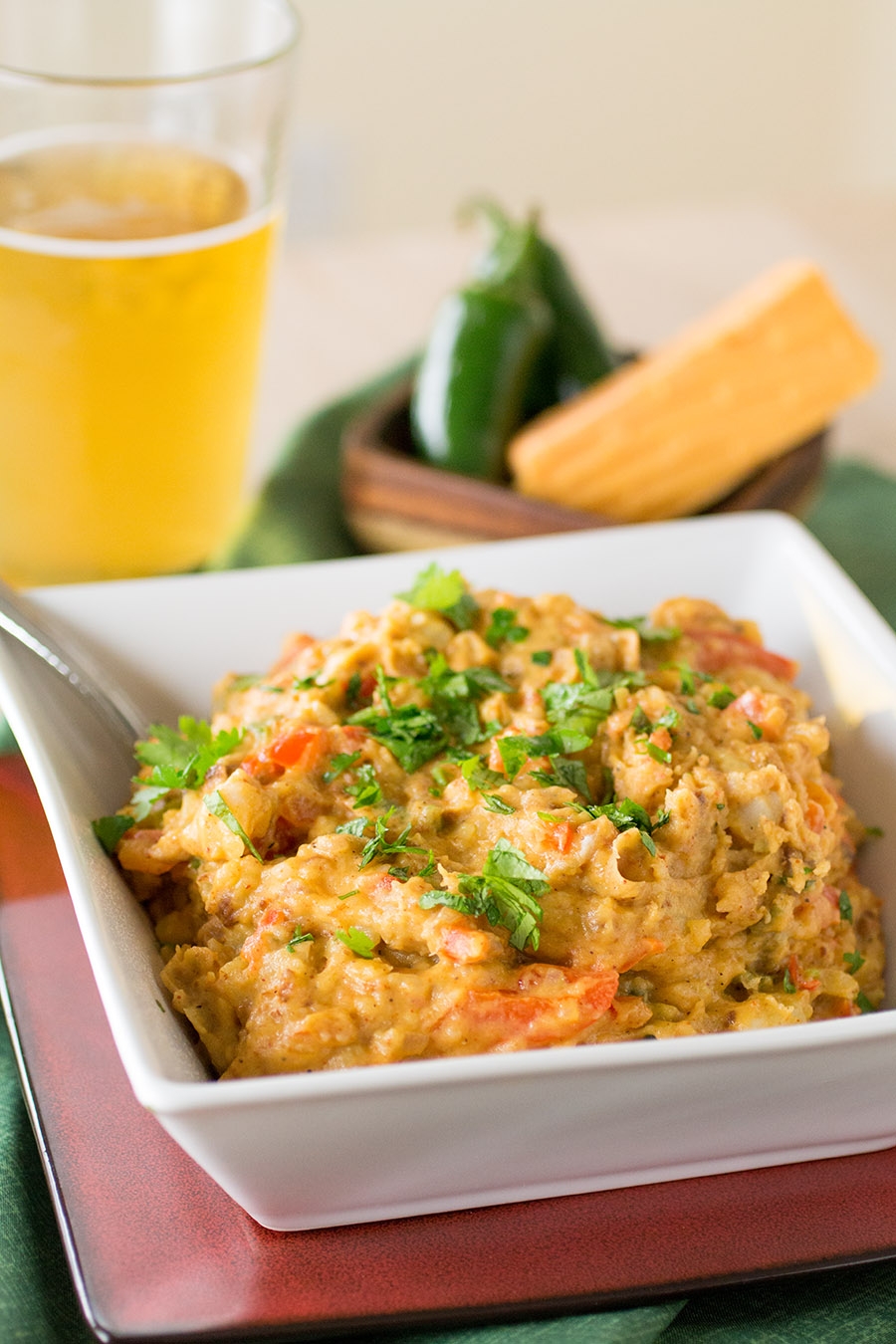 Print Recipe
Cheesy Tex-Mex Mashed Potatoes - "Papas con Chile"
A mashed potatoes recipe done Tex-Mex style with two types of cheese, chile peppers and chorizo. Nom nom! Muy delicioso!
Ingredients
1

pound

red or yellow potatoes

I used yellow here

6

ounces

chorizo

2

jalapeno peppers

chopped

½

red bell pepper

chopped

1

shallot or small white onion

chopped

1-2

cloves

garlic

minced

½

cup

shredded yellow cheddar cheese

2

tablespoons

cream cheese

1-2

tablespoons

crema or sour cream

Salt and pepper to taste

Chopped cilantro for serving
Instructions
Quarter the potatoes and set them into a pot of salted water. Be sure they are covered. Bring the pot to a boil and boil the potatoes about 15 minutes, or until they are tender enough to break apart with a fork. Drain and set into a large bowl.

While potatoes are cooking, heat a large pan to medium heat. Add chorizo and cook about 5 minutes, or until cooked through. Set into the large bowl.

To the pan, add peppers and shallot/onion. You should still have the oils from the chorizo, but if needed, add a dash of olive oil. Cook about 5 minutes to soften.

Add garlic and stir. Cook another minute. Into the mixing bowl it all goes.

Add cheddar cheese, cream cheese and crema or sour cream. Just add half the crema at first, then add more in to your desired creaminess. Mash it all up with a masher or stir with a large fork.

Season with salt and pepper to taste.

Serve with sprinkled cilantro!
Nutrition
Calories:
244
kcal
|
Carbohydrates:
13
g
|
Protein:
11
g
|
Fat:
16
g
|
Saturated Fat:
7
g
|
Cholesterol:
41
mg
|
Sodium:
443
mg
|
Potassium:
500
mg
|
Fiber:
2
g
|
Sugar:
1
g
|
Vitamin A:
530
IU
|
Vitamin C:
28.3
mg
|
Calcium:
106
mg
|
Iron:
3
mg