Use this piquant homemade blackening seasoning recipe to blacken anything from fish and shrimp to poultry, beef and more. Time to wake up those taste buds!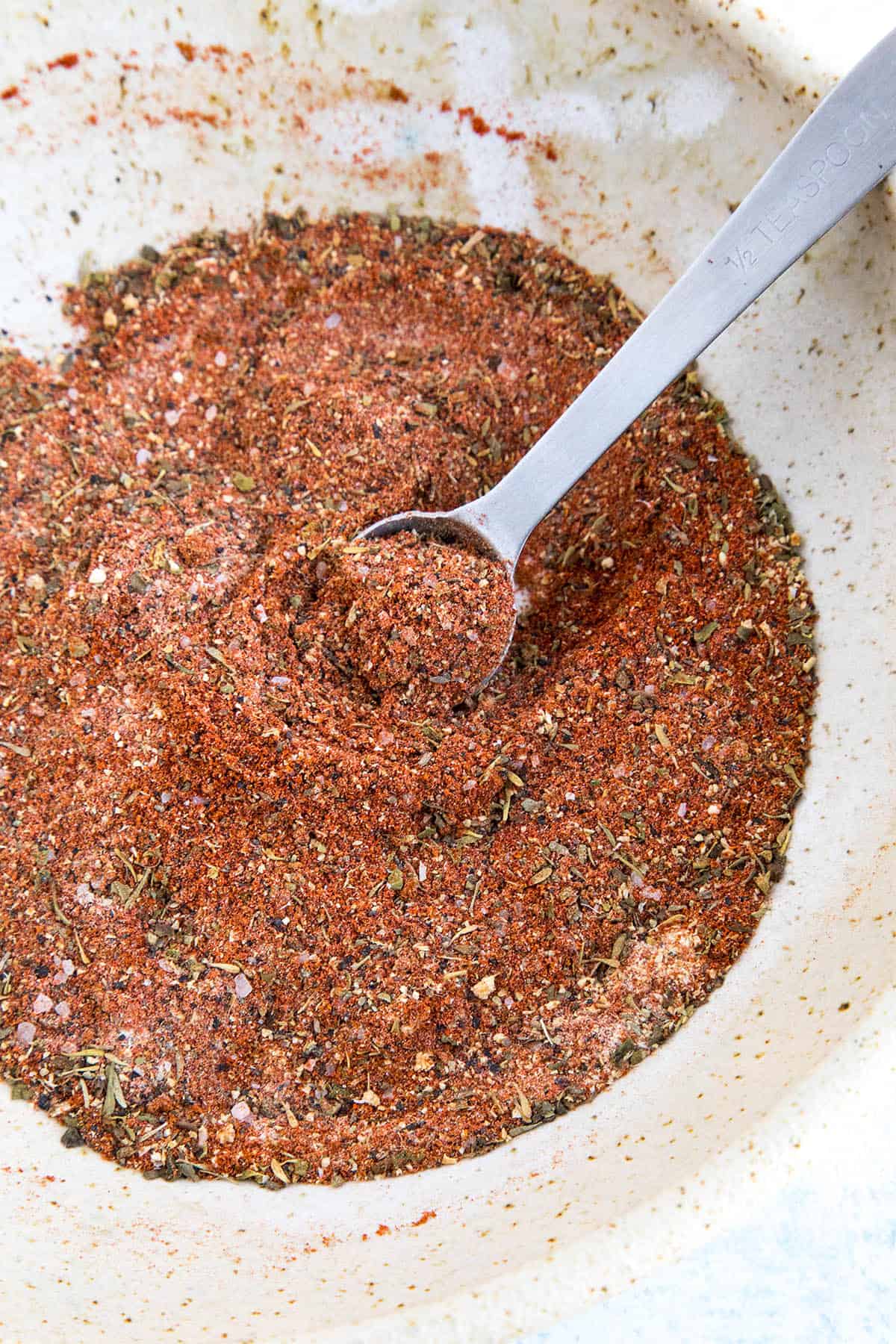 If you're looking for big and bold flavors, look no further than this blackening seasoning blend. It is guaranteed to deliver the spiciness you crave.
Blackening seasoning, aka "Blackened seasoning", is a mixture of chili powders, herbs and spices. It is spicy and piquant, very much a cross between Cajun and Creole seasoning blends. If you enjoy Cajun and Creole cooking, you'll love blackening as well.
The seasoning is "spicy" for sure, but not overly hot, so if you're looking for that huge flavor without too much of a heat blast, this is the perfect blend. However, you can easily adjust it to your own heat preferences by adding other spices, to make it your own.
The term "blackening", though, doesn't refer to the seasoning itself, but to the cooking process. Let's discuss.
What is Blackening?
Blackening is the process of cooking fish, shrimp, or other foods that have been dipped in butter and seasoned, then seared over high heat, usually in a cast iron skillet. The combination of butter, high heat, and seasoning develops a telltale dark crust on the meat that gives blackened foods its characteristic look and flavor.
How to Blacken Foods
The process is quick and easy. Simply dredge or brush your protein in melted butter, then season heavily with blackening seasoning. Heat a cast iron pan to medium-high heat or high heat, then set the meat into the pan. You're looking for a dark, crusty char on each side of the protein.
Cooking usually only takes a few minutes per side. It's a very popular cooking technique for fish and shrimp, though you can realistically blacken anything from chicken to beef to vegetables.
The blackening seasoning, of course, is essential to the overall blackening process. Let's discuss.
What is Blackening Seasoning?
Blackening seasoning is a mixture of chili powders, spices and herbs, very similar to Cajun and Creole seasonings. The most typical ingredients include a mixture of chili pepper, garlic and onion powder, black pepper, oregano and thyme, along with salt, though many variations exists from cook to cook.
You can make your own blends by varying up the ratios and also by either subtracting or adding other ingredients to your own preference.
I often like to slip in a bit of ghost pepper powder into my mix for an extra spicy blend. I usually have to keep this particular blend to myself, as it is too hot for most people. Bear this in mind when cooking for others.
How to Make Homemade Blackening Seasoning
Use this base blend to make blackening seasoning, then adjust to your own preferences after you've used it a few times:
2 tablespoon smoked paprika (or use regular paprika)
1 tablespoon cayenne powder (use more for a spicier blend)
1 tablespoon onion powder
1 teaspoon garlic powder
1 teaspoon ground black pepper
1 teaspoon sea salt
½ teaspoon dried basil
½ teaspoon dried oregano
½ teaspoon dried thyme
Mix all of the ingredients together in a large mixing bowl until they are well combined. Store the seasoning blend in an airtight container.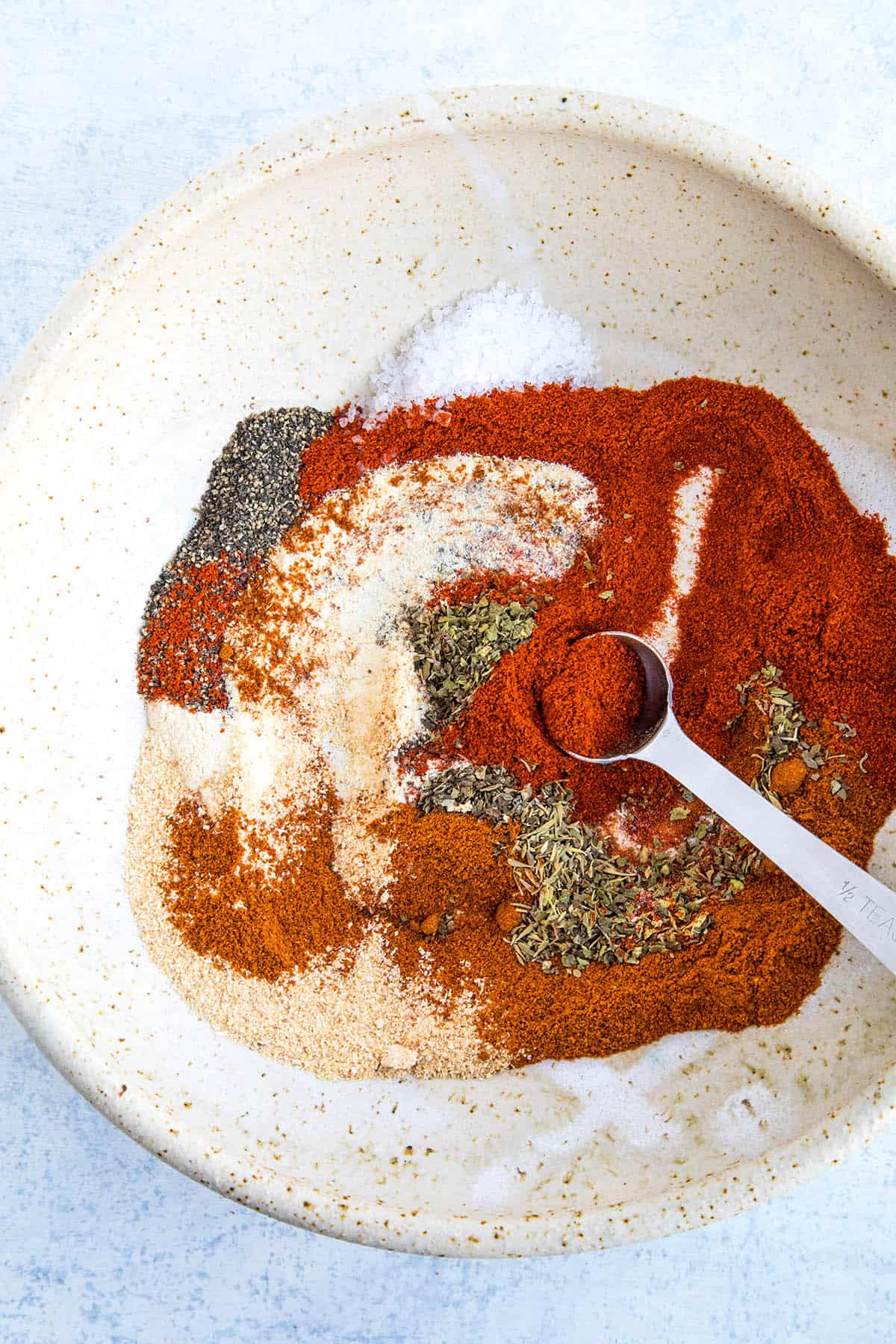 The seasoning will last a long time, though it does start to lose potency after about 3 months. Because of this, it is best to make small batches that you'll use in that time frame.
About the Peppers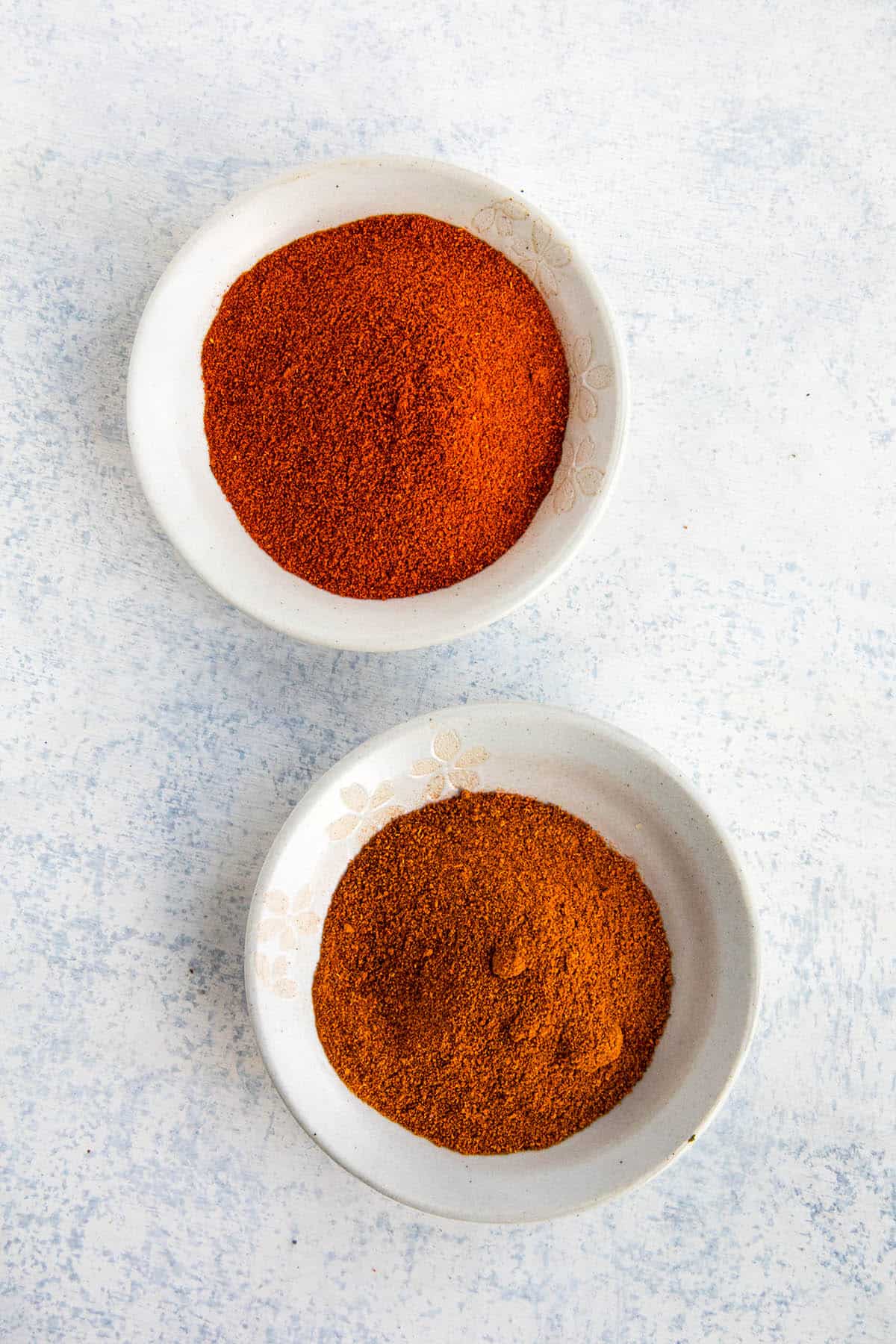 The pepper powders we're using here are paprika and cayenne pepper. These are the most typical, and the easiest to find in most grocery stores.
You can use either regular paprika or smoked paprika for some extra flavor. The choice is yours. Paprika can range from mild to hot, depending on the peppers used to make it. In the US, paprika is usually a bit sweeter and not spicy.
Cayenne powder, however, is piquant with a good level of heat, so adjust the amount included up or down, depending on your heat level preferences.
The Dried Herbs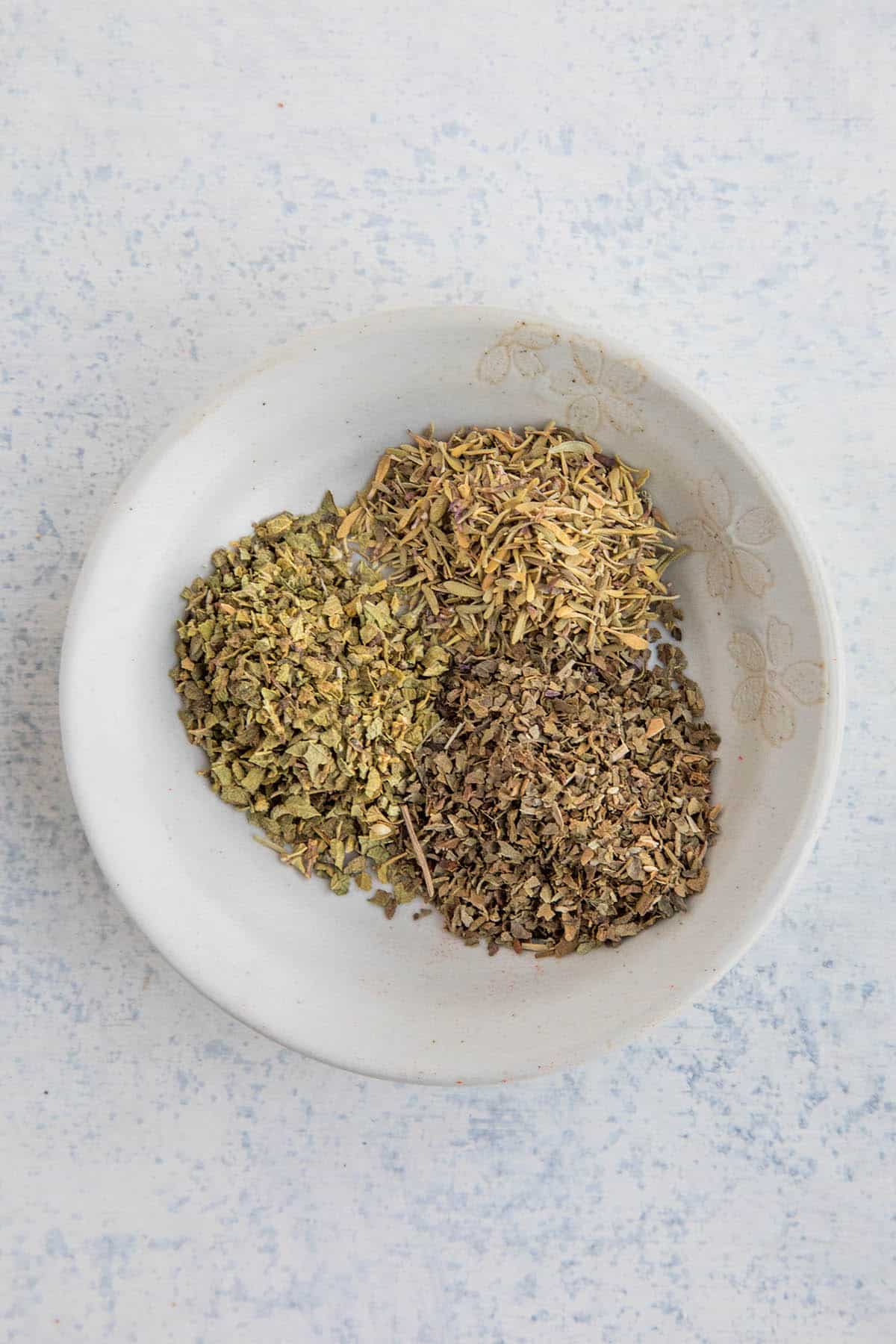 The herbs we're using for this blackened seasoning include dried basil, oregano and thyme. You can use other herbs, like parsley or cilantro, though I've found this combination to be ideal.
Especially when paired with the peppers and other spices.
The Spices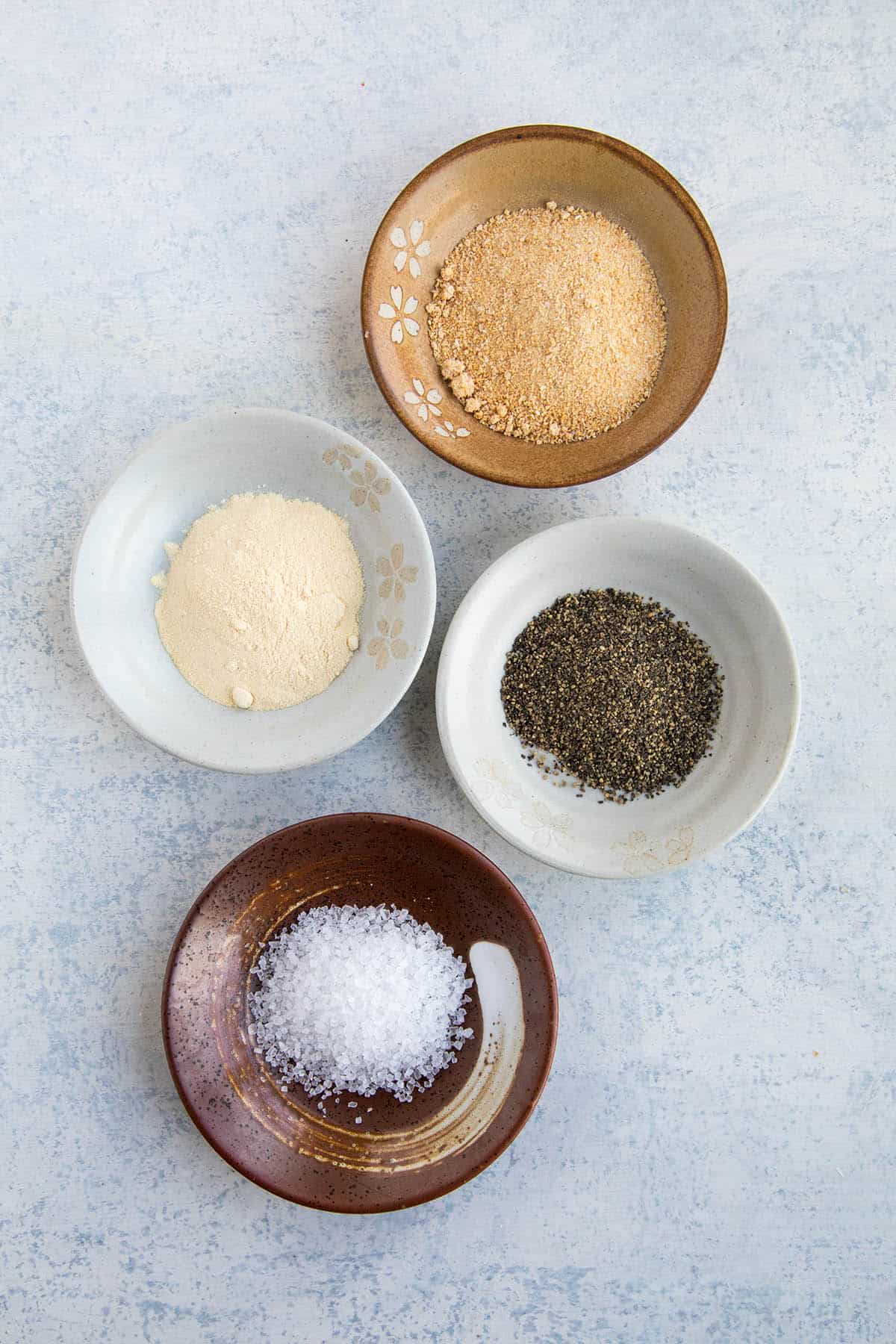 The other ingredients for this blackening seasoning include onion powder, garlic powder, black pepper and salt.
Again, you can include other ingredients, such as white pepper, cumin, spicy chili flake, etc. This overall combination is the one I prefer, sometimes with an extra pinch of ghost pepper powder, or hotter! Learn more about ghost peppers here. Such a great spice mix.
That's it, my friends! Please let me know if you have any questions. I'm here to help!
Try it Out on These Blackened Recipes
Try Some of My Other Popular Homemade Spice Blends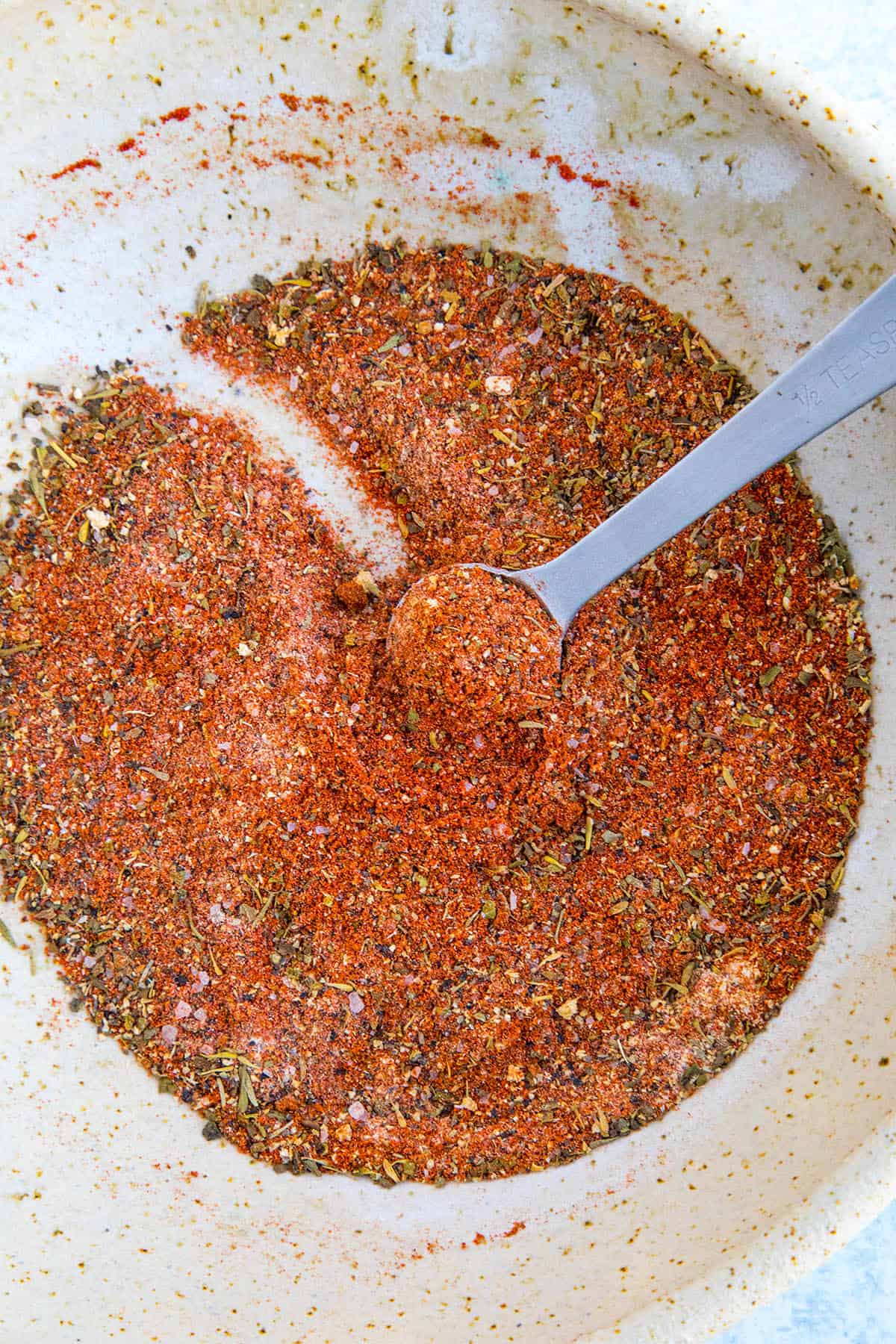 Got any questions? Ask away! I'm happy to help. If you enjoy this recipe, I hope you'll leave a comment with some STARS. Also, please share it on social media. Don't forget to tag us at #ChiliPepperMadness. I'll be sure to share! Thanks! — Mike H.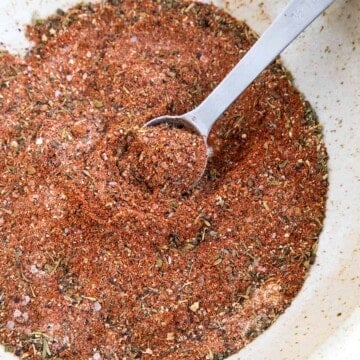 Print
Homemade Blackening Seasoning Recipe
Use this piquant homemade blackening seasoning recipe to blacken anything from fish and shrimp to poultry, beef and more. Time to wake up those taste buds!
Save Recipe
Saved!
Ingredients
2

tablespoon

smoked paprika

or use regular paprika

1

tablespoon

cayenne powder

use more for a spicier blend

1

tablespoon

onion powder

1

teaspoon

garlic powder

1

teaspoon

ground black pepper

1

teaspoon

sea salt

½

teaspoon

dried basil

½

teaspoon

dried oregano

½

teaspoon

dried thyme
Instructions
Mix all of the ingredients together in a small bowl. Make sure it is blended evenly.

Store in airtight containers and use as needed.
Notes
Makes about 3 ounces, just under ½ a cup.
Heat Factor: Mild-Medium, though you can heat things up with extra cayenne pepper, or use a spicier chili flake or powder in the mix.
Nutrition Information
Calories:
6
kcal
Carbohydrates:
1
g
Sodium:
146
mg
Potassium:
32
mg
Vitamin A:
560
IU
Vitamin C:
0.3
mg
Calcium:
5
mg
Iron:
0.3
mg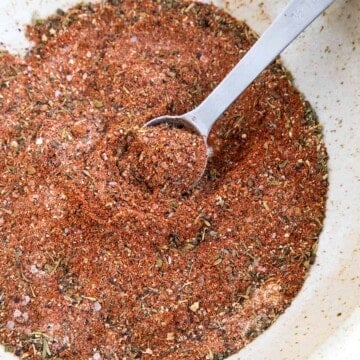 Did You Enjoy This Recipe?
I love hearing how you like it and how you made it your own. Leave a comment below and tag @ChiliPepperMadness on social media.
— Mike Hultquist – Author of "The Spicy Dehydrator Cookbook" and "The Spicy Food Lovers' Cookbook".