This homemade creole seasoning recipe blends a mixture of flavorful herbs and spices for Cajun and Creole cuisine, or any dish for a dash of bold flavor. Learn how to make it your own.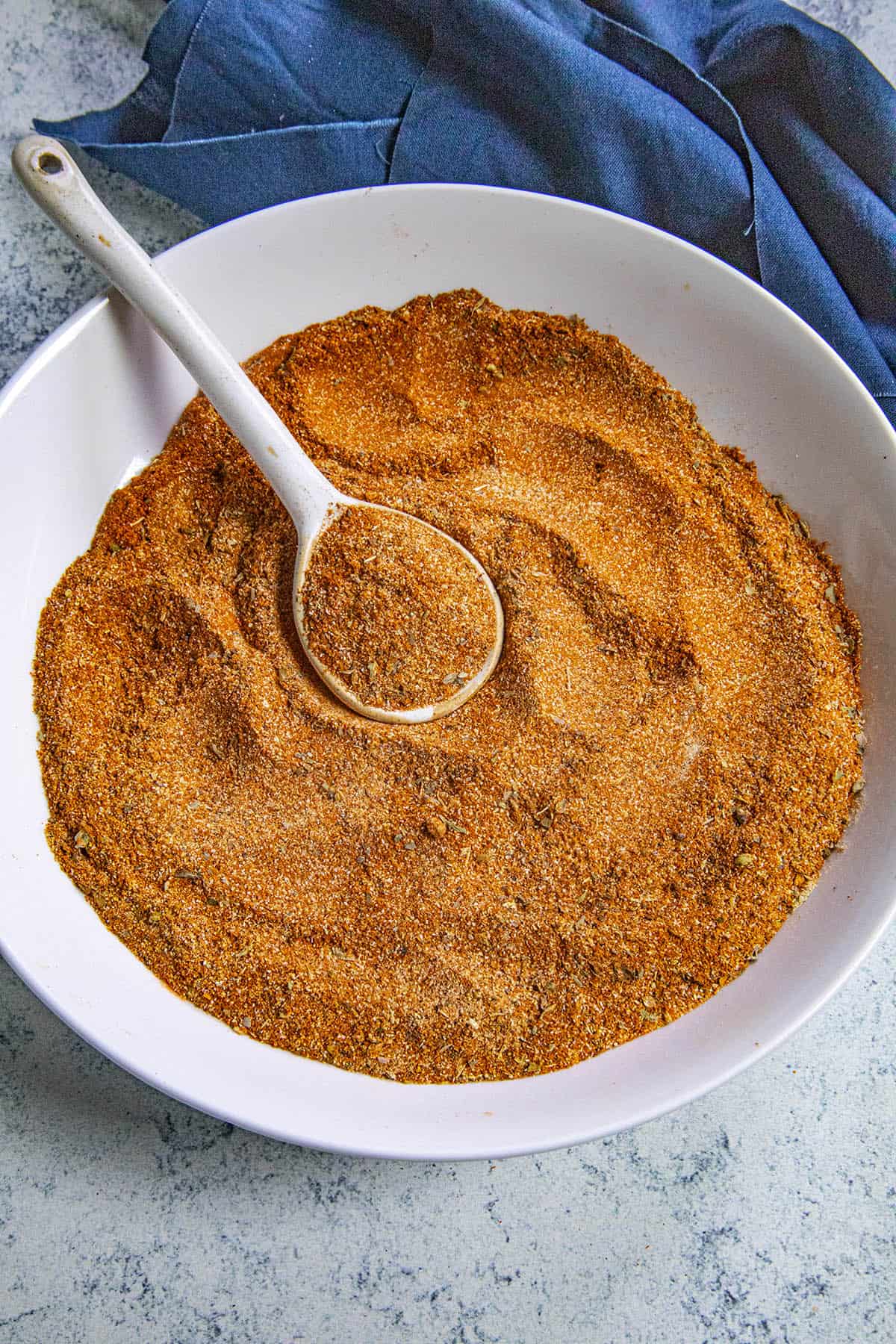 Creole Seasoning Recipe
When it comes to seasoning blends, Cajun and Creole seasonings are difficult to beat. Creole in particular. Creole seasoning is filled with the perfect blend of dried peppers, herbs and spices that develop flavor in just about anything you cook.
You can easily purchase a good Cajun or Creole seasoning blend at your local grocery store, but no two brands - or cooks! - make it the same. It is so much better to make it at home, where there are certain benefits.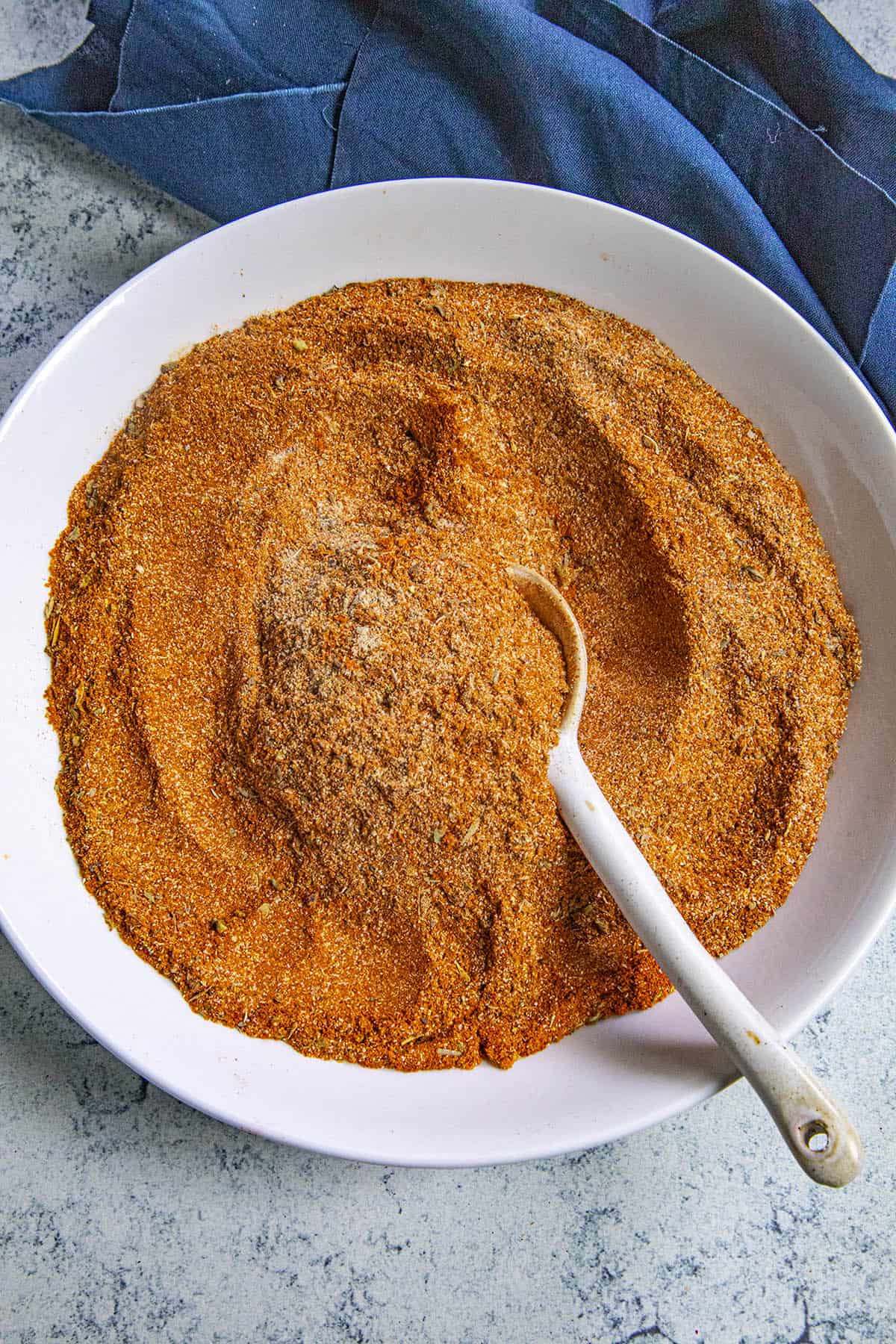 Why Make Creole Seasonings at Home?
Quality Control. If you make your own seasonings at home, you start with your own fresh ingredients. Who knows how long those pre-made blends have been sitting on the shelf?
Customization. When you make your own blends at home, Creole seasoning in particular, you are free to add in any extra "special ingredients" you prefer. It will totally your own. More on that below.
Salt. Some mass market blends have a bit too much salt, and sometimes you don't want salt at all. At home, you can make a no-salt Creole blend and add in the salt during cooking, when it should be added.
When I visited New Orleans not long ago, I enjoyed a couple cooking classes and talked to a number of chefs about Cajun and Creole seasoning. My biggest question was - What goes into Cajun and Creole seasonings? The answer was almost universal - "Whatever your mama taught you!"
Meaning, hey, pretty much however you'd like to do it. Check out my Homemade Cajun Seasoning Recipe for reference.
That's not to say you can throw in ANY ingredient. I love turmeric, but don't believe it has a place in Creole seasoning.
Let's talk about how to make Creole seasonings.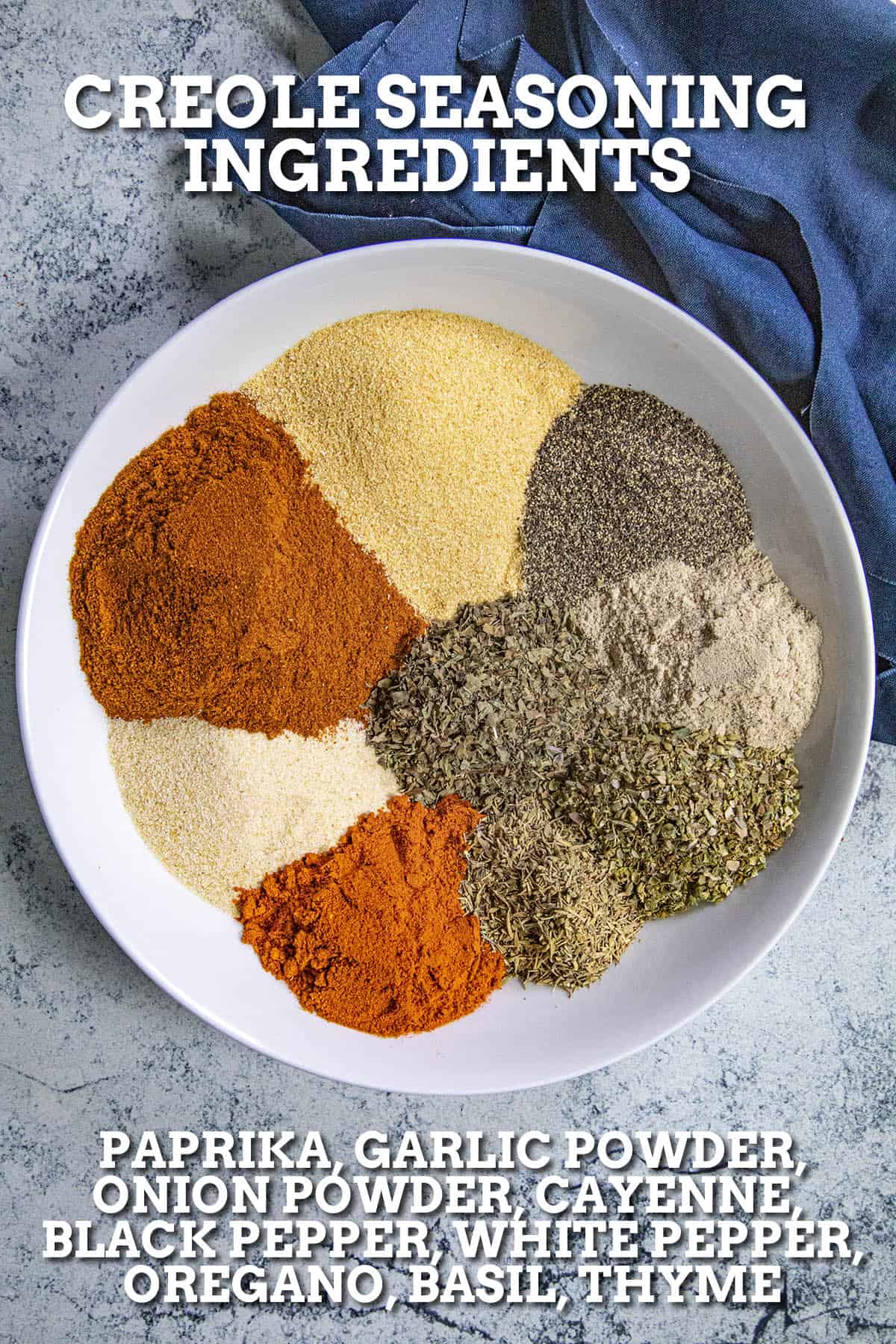 Creole Seasoning Ingredients
Paprika
Cayenne pepper
Garlic powder
Onion powder
Black pepper
White pepper
Dried oregano
Dried basil
Dried thyme
There are other ingredients you can include. One chef I spoke with was finishing up her recipe to sell in her store. She includes dried lemon peel. I think that would be a great addition!
A good creole blend really breaks down into three major components: The Peppers, The Herbs, and the Spices.
For the peppers, I'm using both cayenne powder and paprika.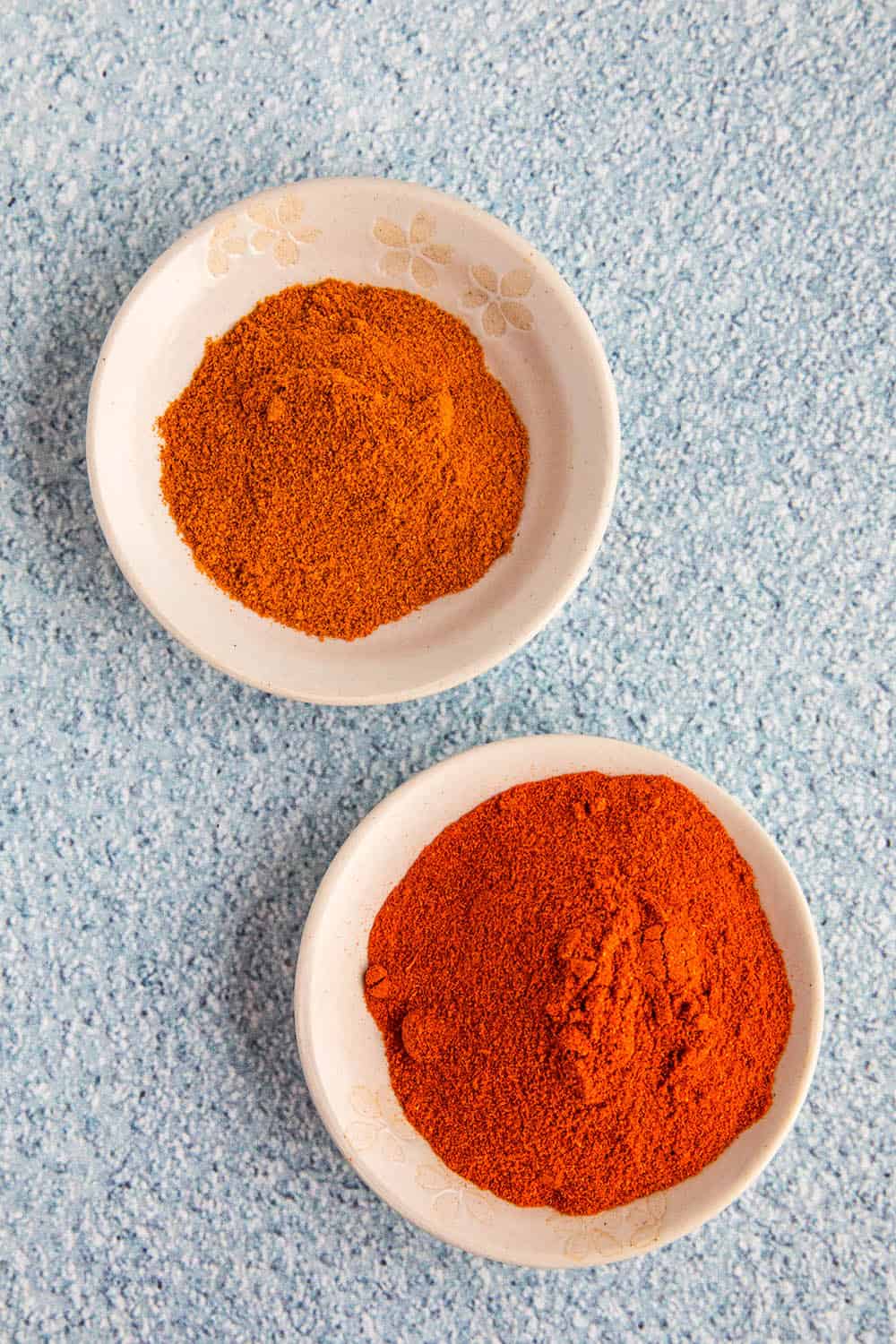 For the herbs, I'm using dried oregano, basil and thyme.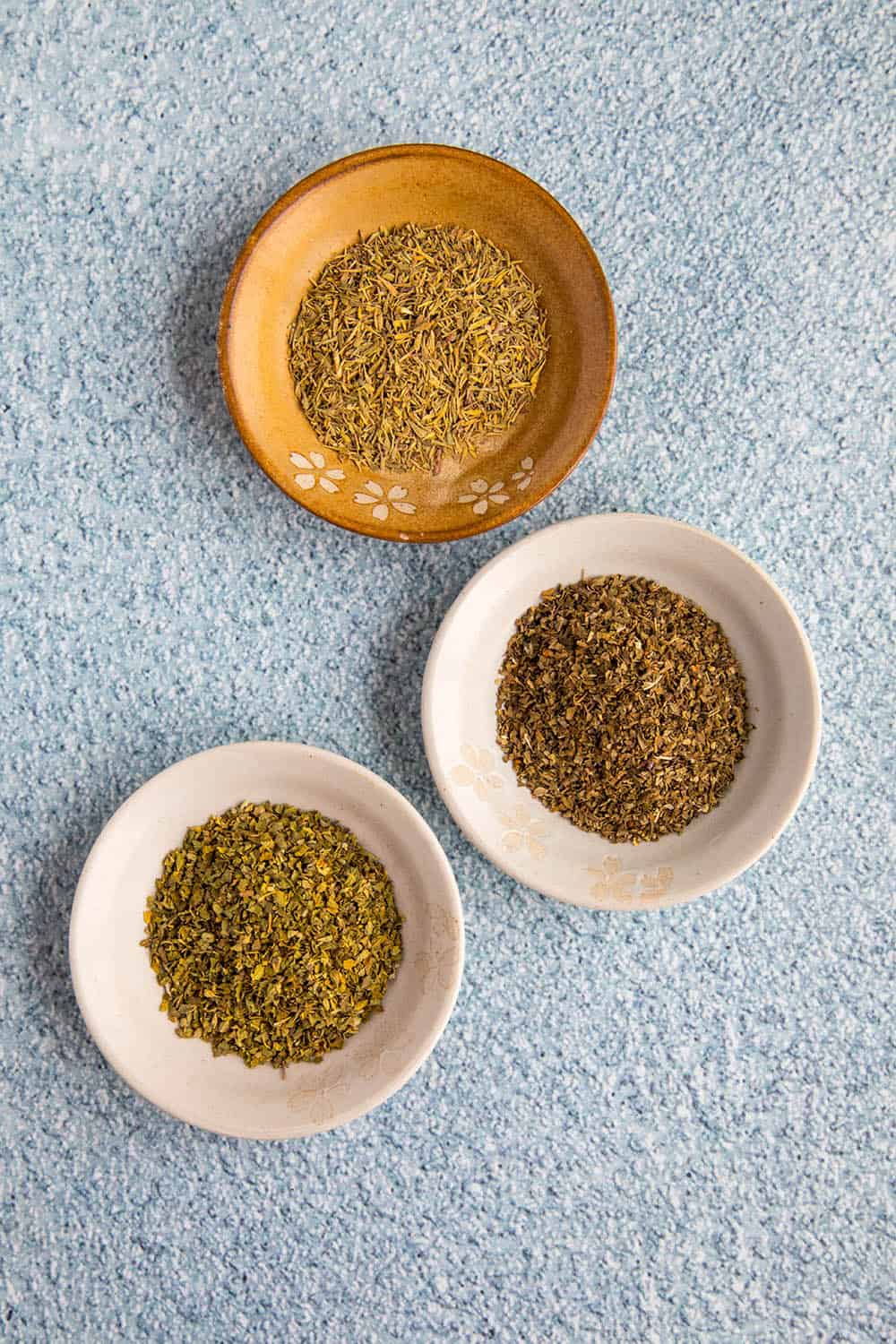 And, for the spices, I'm using garlic powder, onion powder, black pepper and white pepper.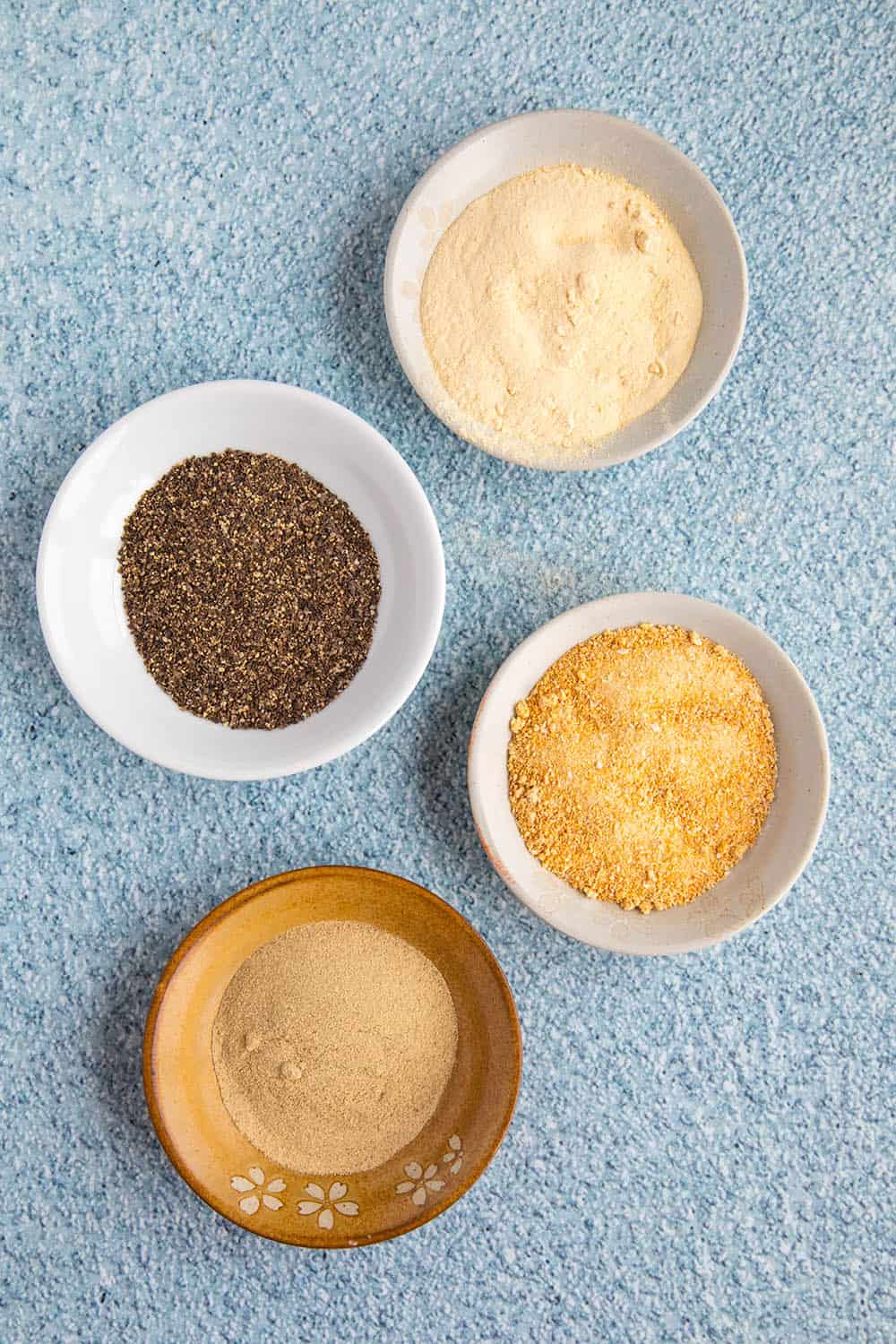 Notice I do not have salt in the recipe. You can, of course, include salt in the blend if you wish. However, I find it easier to add salt by itself. Sometimes I may want to season something and don't want salt right away because it draws out moisture.
The choice is yours. I find it better to add it alone at the time of need.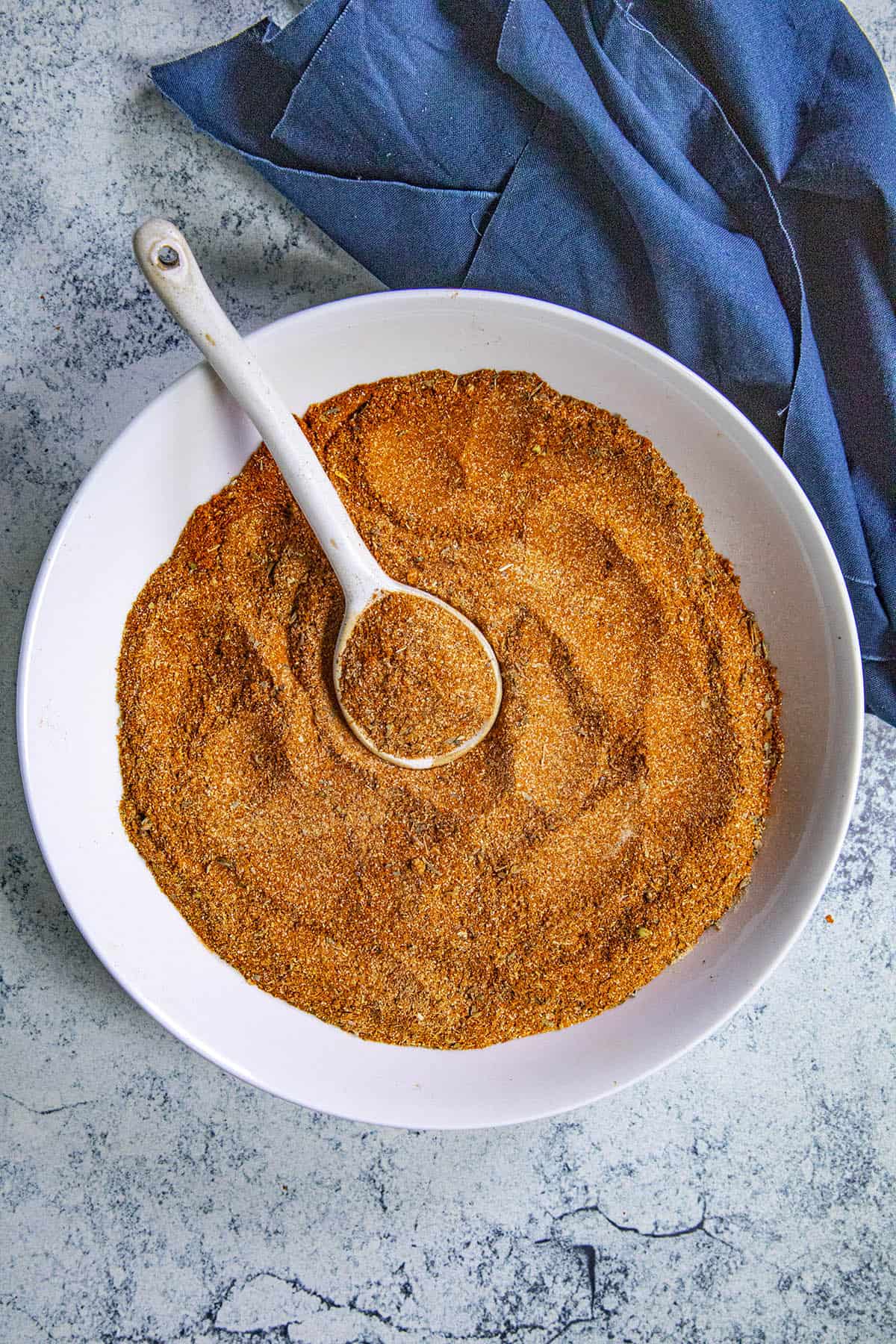 How to Make Creole Seasonings - the Recipe Method
Simply add your collection of herbs and spices to a bowl.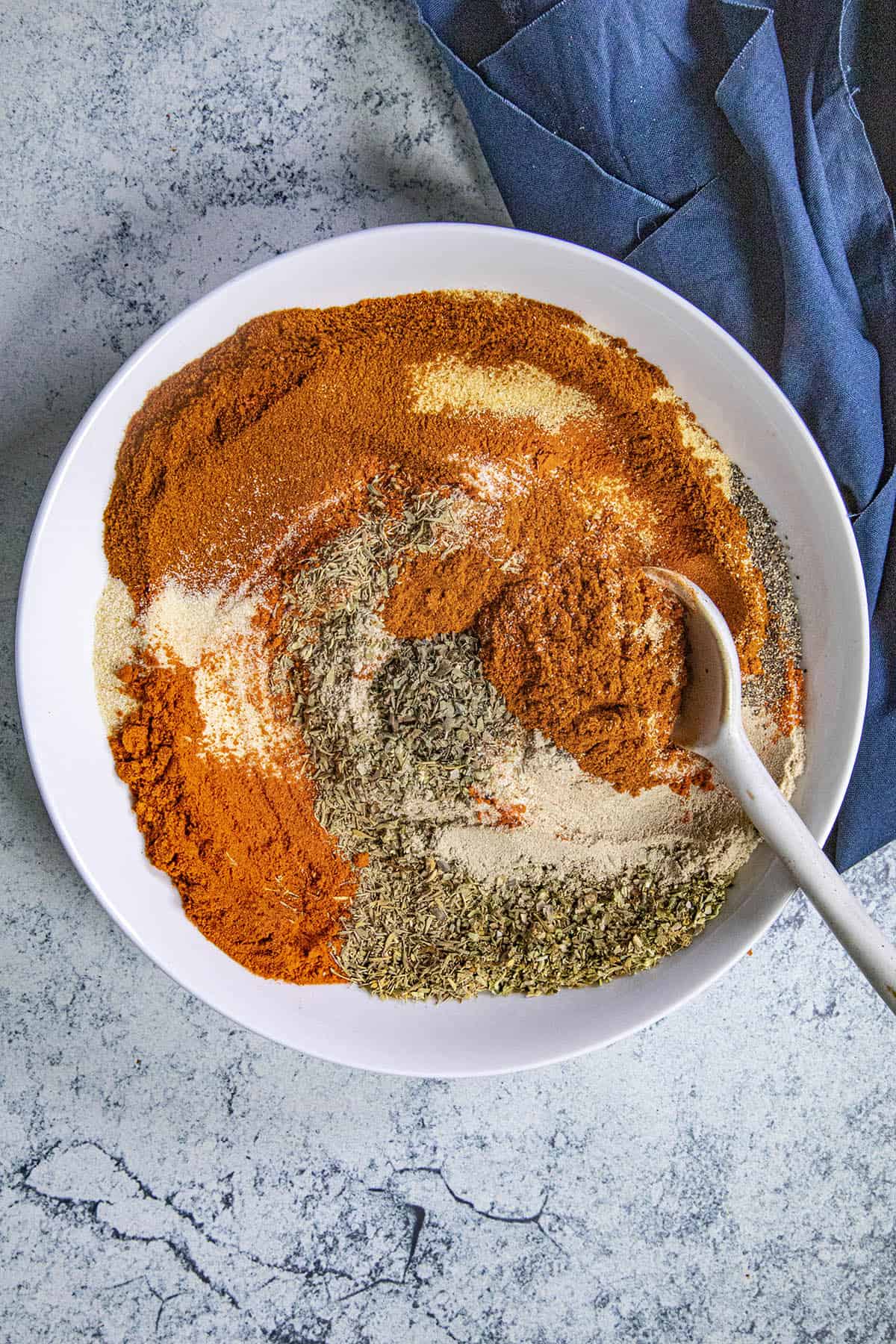 Mix them all together, like so. Store in an airtight container.
Boom! Done! It really is quite simple.
Recipe Tips
Again, you can customize the recipe with your own added ingredients, but more importantly, with your own ratios. Looking for a hotter blend? Add more cayenne pepper, or better yet, a pinch of ghost powder like I add to my Cajun Seasoning blend.
This is my preferred version.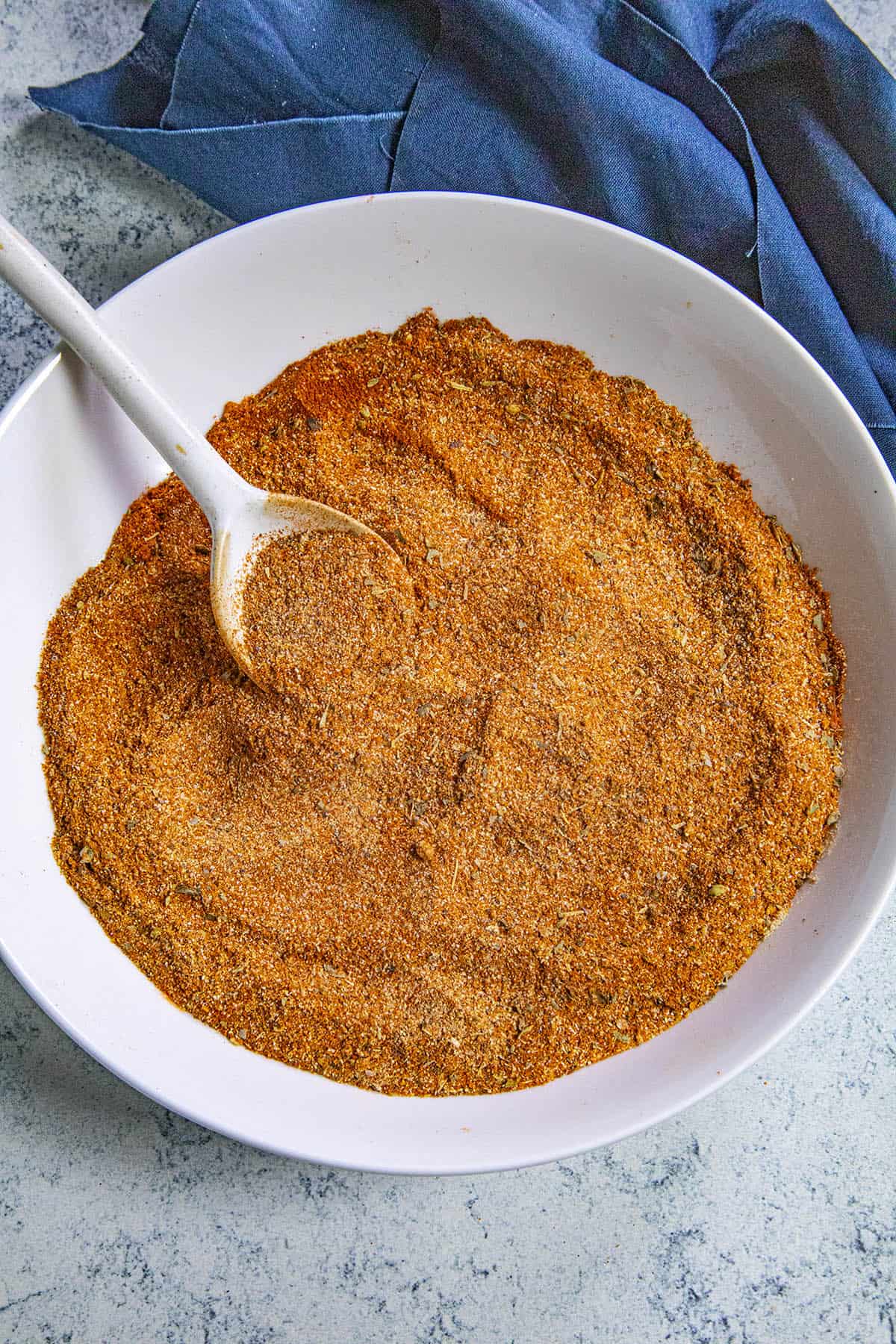 Some common questions I've encountered with this spice blend.
Storage Information
Store Creole seasoning blend in an airtight container. It will last a year or longer, but it will start to lose their potency after 3 months. It is best to make a smaller batch that you will use within that time.
Creole Seasoning Vs. Cajun Seasoning
Cajun and Creole seasoning are very similar, and to most people they are interchangeable. Long ago the distinction was that Cajun seasoning was simpler, consisting primarily of only 4-5 ingredients, mostly paprika and/or cayenne, salt and pepper, and sometimes oregano.
Creole seasonings build from that base by adding other spices and herbs for a more complex blend. However, as time has passed, the two have commingled to become much more similar.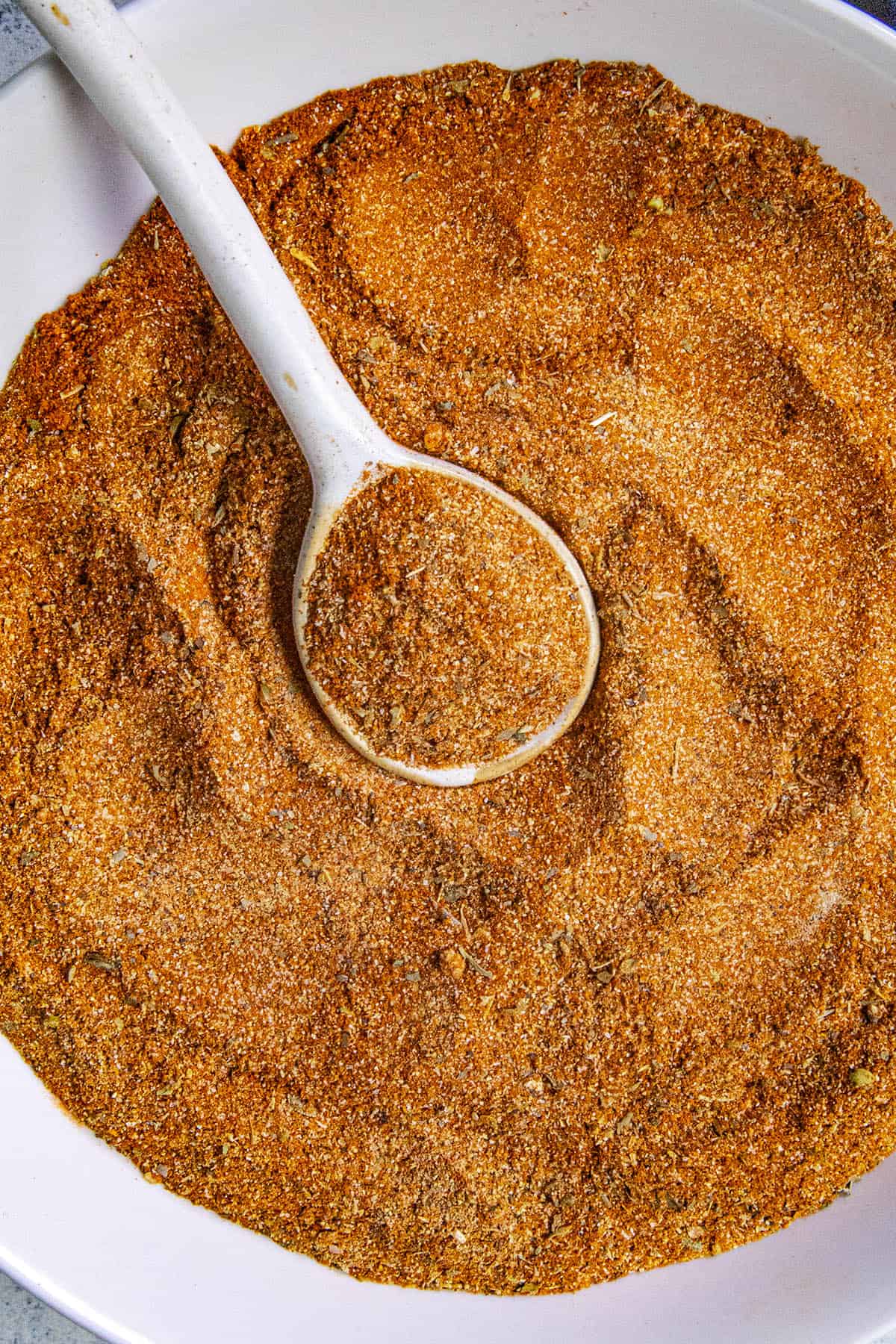 Creole Seasoning Substitutes
If you find yourself in a bind, any Cajun seasoning blend will be a perfect substitute for Creole seasoning, as it has a similar flavor profile of spice mixes and dried herbs.
You can also use some other seasoning brands like Old Bay Seasoning. It won't be a perfect match, but will do in a pinch.
Check out My Foodie Trip to New Orleans to learn more about it.
That's it, my friends! I hope you enjoy the recipe. Get mixing and keep it spicy!
Try this blend with any of my Cajun and Creole Recipes.
Some of My Favorite Cajun and Creole Recipes
TRY SOME OF MY Other Homemade SEASONINGS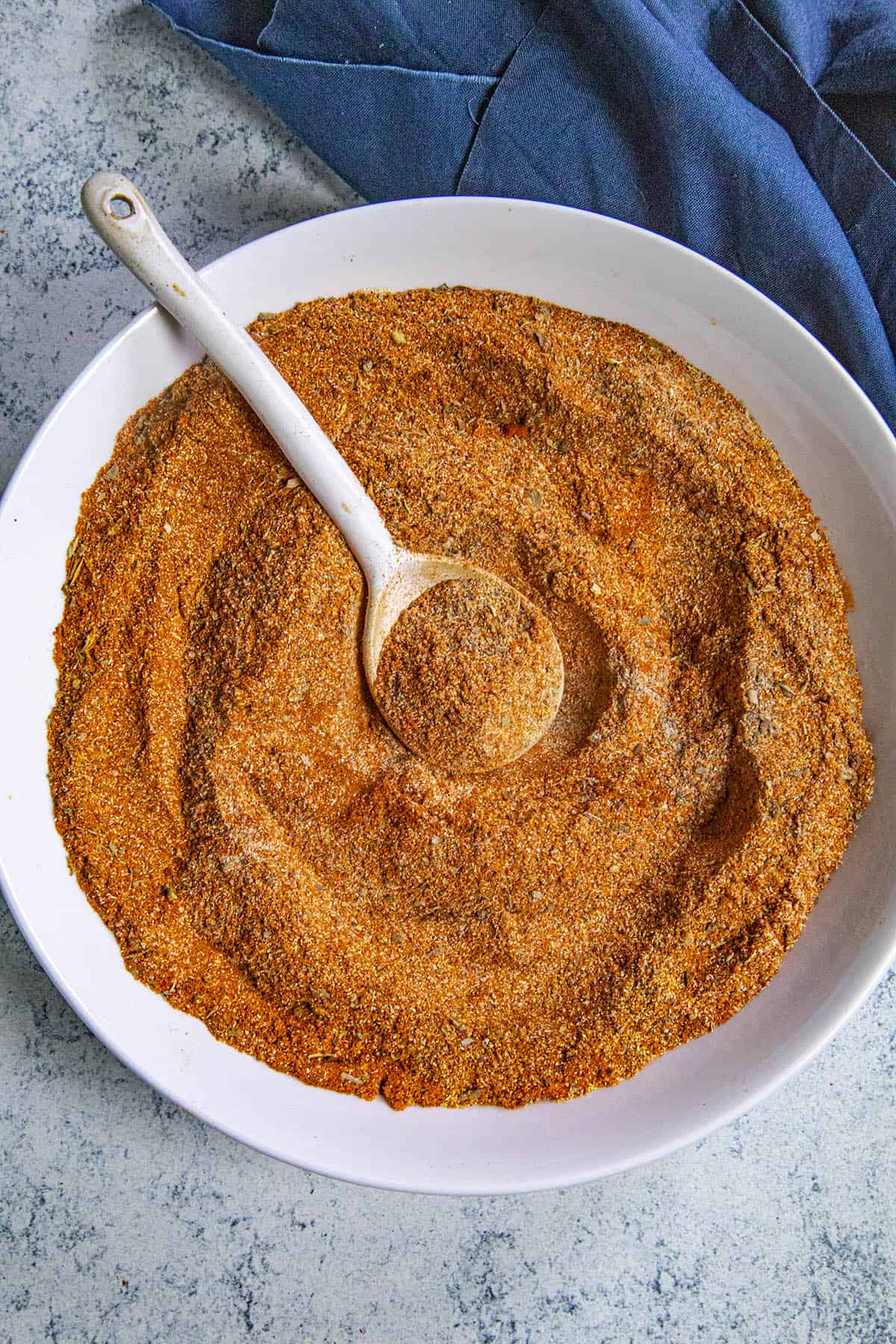 Got any questions? Ask away! I'm happy to help. If you enjoy this recipe, I hope you'll leave a comment with some STARS. Also, please share it on social media. Don't forget to tag us at #ChiliPepperMadness. I'll be sure to share! Thanks! — Mike H.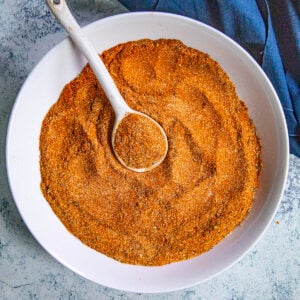 Print
Homemade Creole Seasoning Recipe
This homemade creole seasoning recipe blends a mixture of flavorful herbs and spices for Cajun and Creole cuisine, or any dish for a dash of bold flavor. Learn how to make it your own.
Save Recipe
Saved!
Ingredients
6

tablespoons

paprika

4

tablespoons

garlic powder

2

tablespoon

onion powder

2

tablespoons

cayenne

or more for a spicier version

2

tablespoons

black pepper

2

tablespoons

white pepper

2

tablespoons

dried oregano

2

tablespoons

dried basil

2

tablespoons

dried thyme
Instructions
Mix all ingredients together in a small bowl until well blended. Use as needed.
Notes
Makes about 1.5 cups.
I did not add salt to this recipe, but feel free to add 1 tablespoon (or to taste). I prefer to add salt separately at the time of cooking.
Nutrition Information
Calories:
6
kcal
Carbohydrates:
1
g
Sodium:
1
mg
Potassium:
31
mg
Vitamin A:
355
IU
Vitamin C:
0.2
mg
Calcium:
11
mg
Iron:
0.5
mg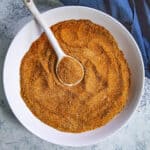 Did You Enjoy This Recipe?
I love hearing how you like it and how you made it your own. Leave a comment below and tag @ChiliPepperMadness on social media.
NOTE: This recipe was updated on 2/20/23 to include new photos and information. It was originally published on 4/3/19.