This pebre recipe is a South American condiment much like a salsa, made with tomato, chilies, onion, cilantro, garlic, oil and more, easy to make!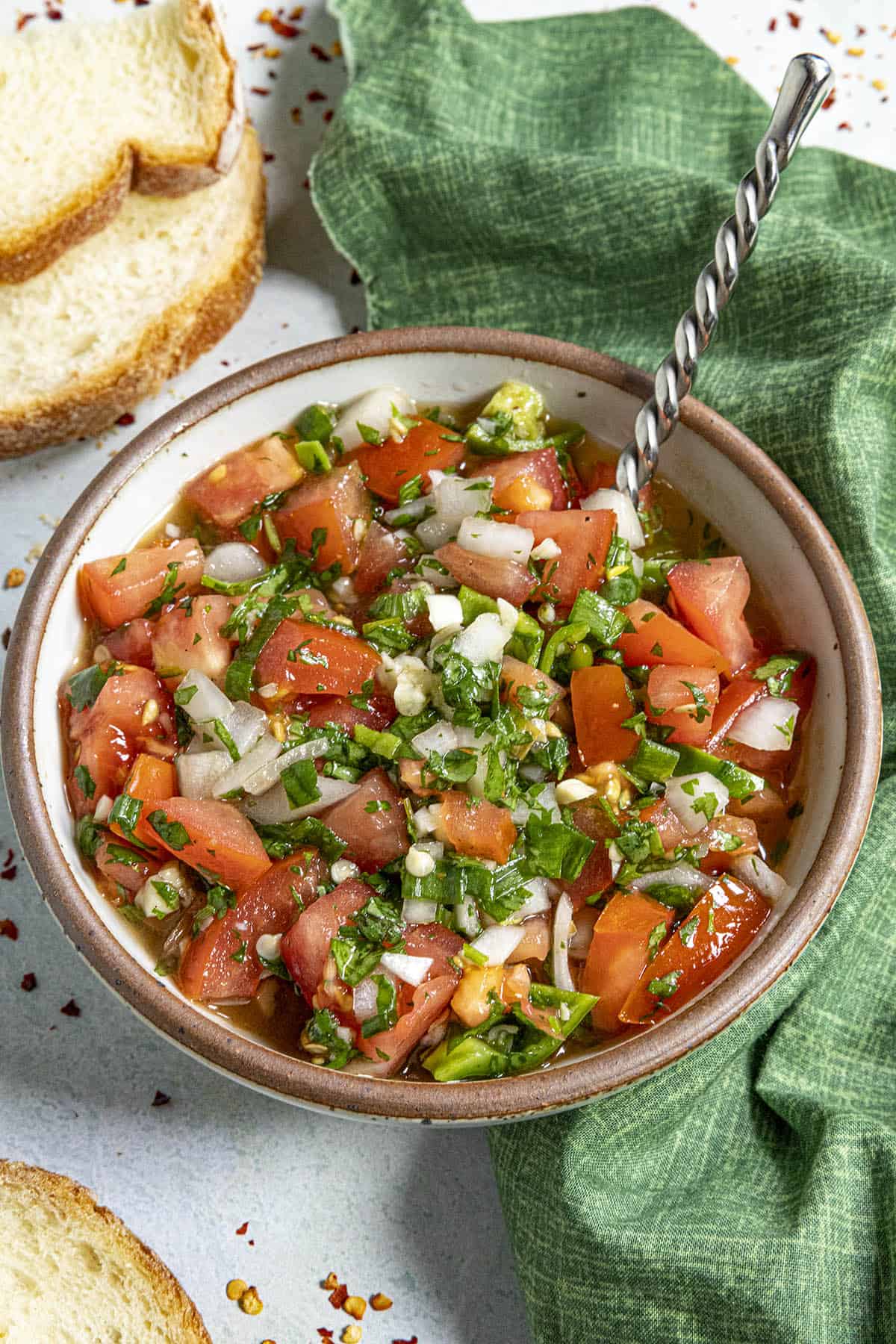 We're making Pebre today, my friends, a Chilean condiment made with chili peppers, olive oil, garlic, cilantro and more.
It is very fresh and can be used in many different ways, such as a sauce, dipper, spread and more. It is much like Chile's answer to Mexican pico de gallo.
You'll find this salsa everywhere in Chile, served on a wide variety of dishes, in both homes and restaurants.
As with any sort of regional condiment, there are variations from place to place, depending on who is making it, such as the northern Chile version which is more like a sauce.
Pebre at its core, though, is a mixture of tomato, cilantro, garlic, onion, olive oil, and peppers, traditionally aji chili peppers, which I love.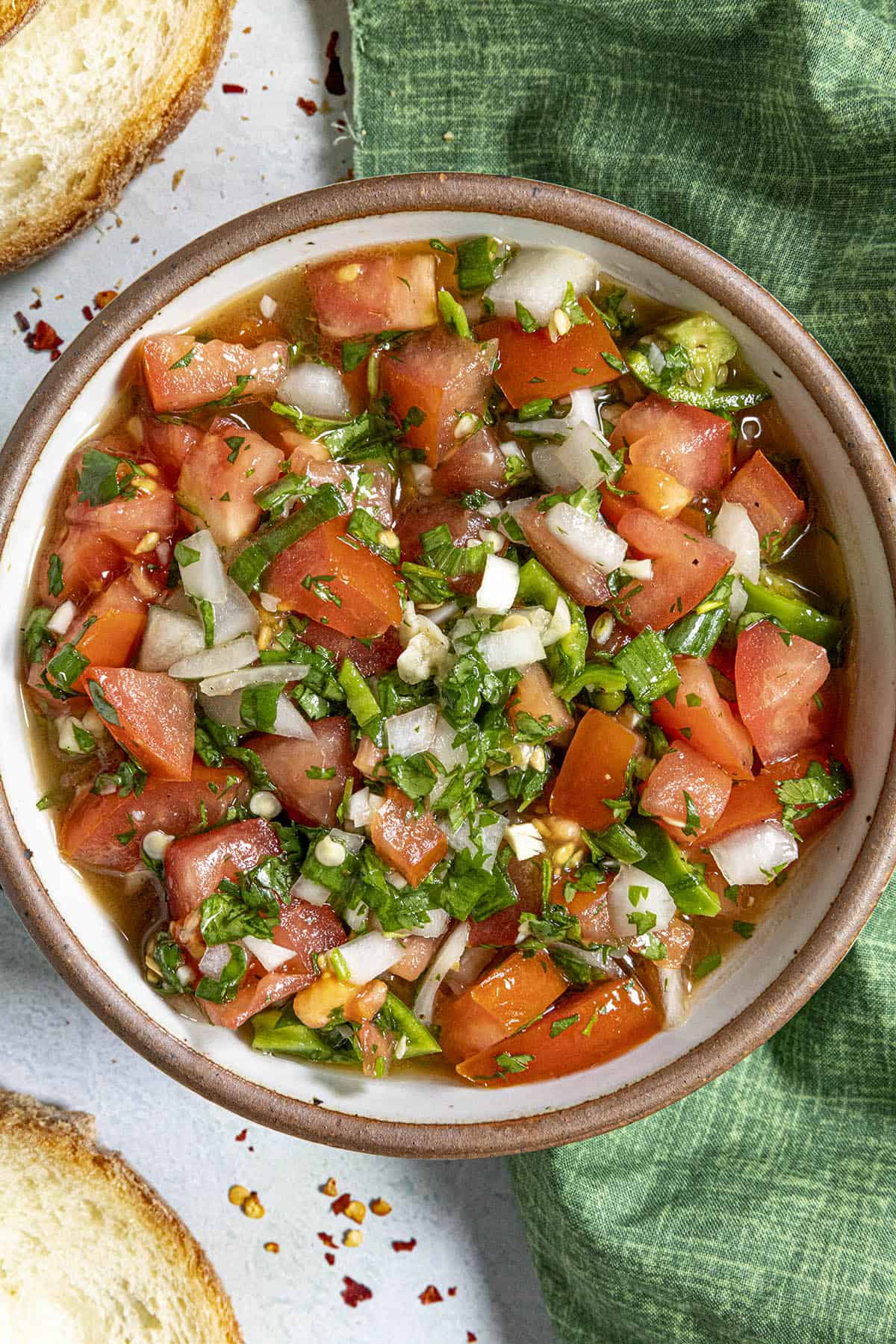 Let's talk about how to make pebre, shall we?
Pebre Ingredients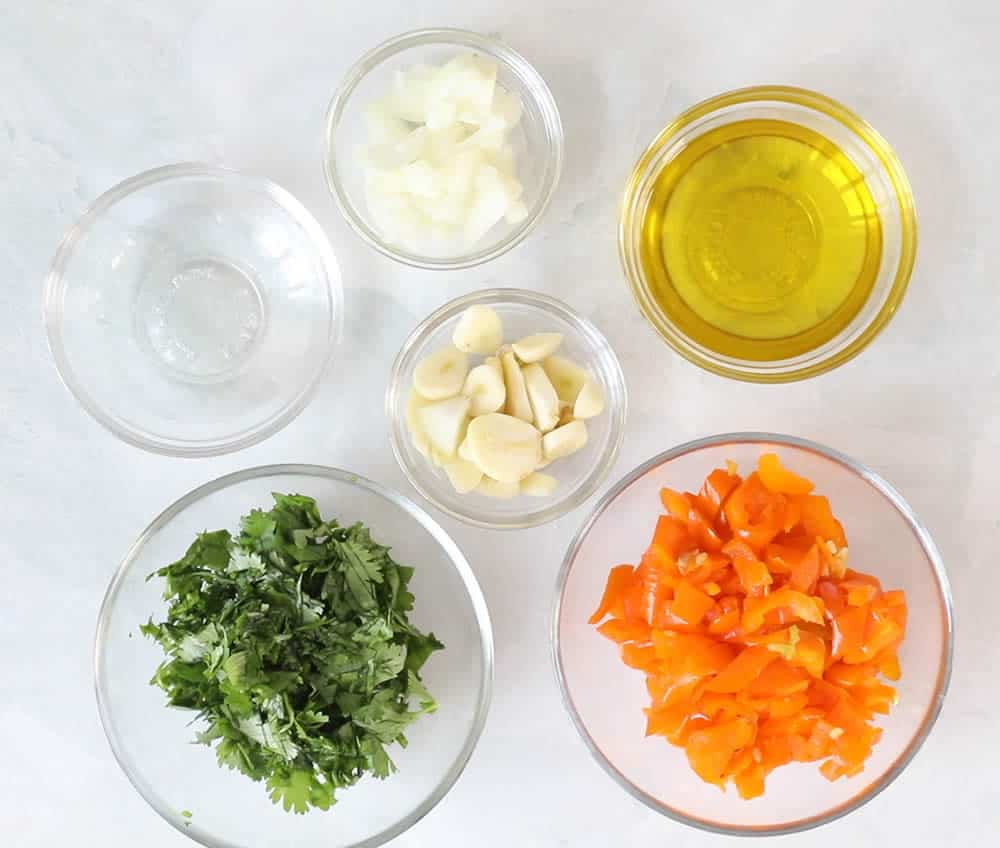 Oil, Vinegar and Water. Use 1/4 cup olive oil or a neutral oil with 1/4 cup water and 2 tablespoons white wine vinegar. Red wine vinegar is good, too.
Tomato.
Peppers. Use 5 Aji Chili Peppers chopped (we used Aji Amarillos) - or use jalapeno peppers or serrano peppers.
Onion. 1/2 small to medium-sized onion.
Scallions. Use 1/4 cup of the white part and 1 inch of the green parts.
Garlic. 4 cloves garlic, smashed to release their flavors.
Cilantro. Use 1/2 to 1 cup chopped cilantro, depending on your preference.
Salt and Pepper. Use salt and pepper to your personal taste.
Some optional additions include lemon juice and red chili flakes for some heat. Although non-traditional, you can also add in some sort of hot sauce, like sriracha, for added zing.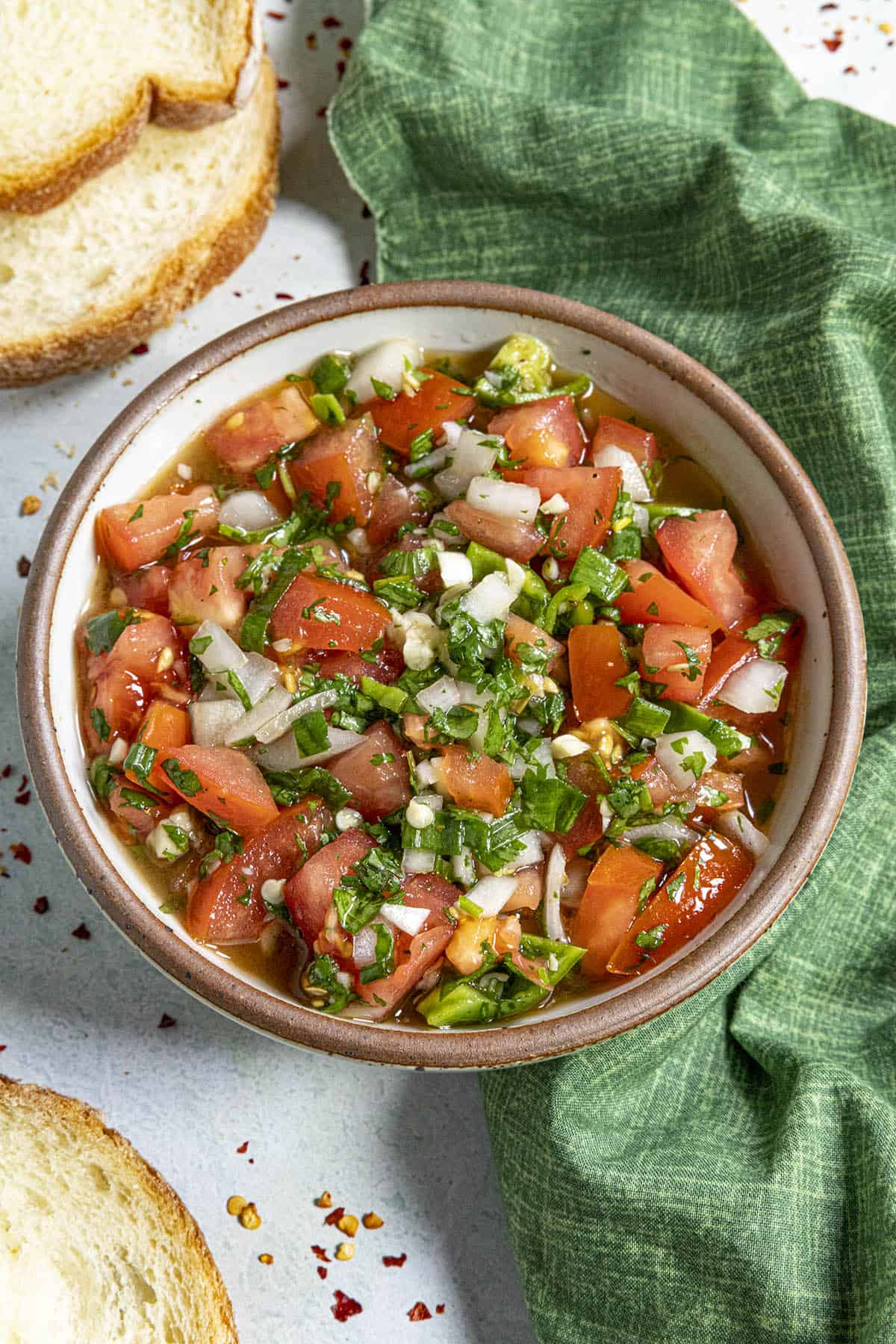 How to Make Pebre - the Recipe Method
Whisk. First, whisk together the oil, water, vinegar and smashed garlic in a large bowl until the mixture thickens up a bit.
The Vegetables. Next, finely chop up your tomato, peppers, onion, scallions and cilantro.
Combine. Toss the chopped onion, tomato, and vegetables into the oil mixture and mix to combine.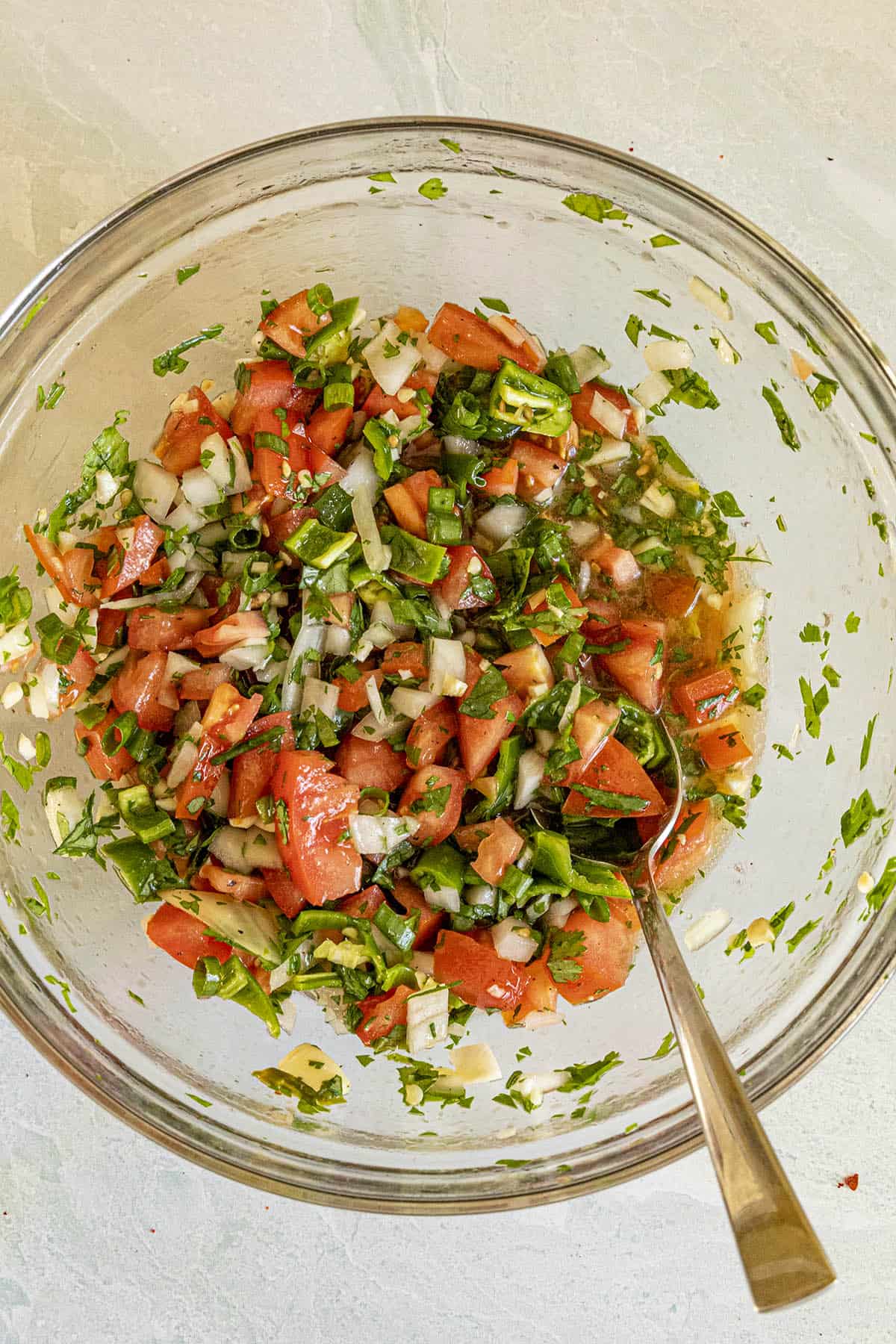 Season and Refrigerate. Season with salt and pepper to your personal tastes, then transfer the mixture to a bowl. Cover and refrigerate to let the flavors mingle.
You can serve it right away, but I like to wait 2 hours to mellow.
Boom! Done! Pebre in the house! What do you think? So good, isn't it? I love pebre. So good.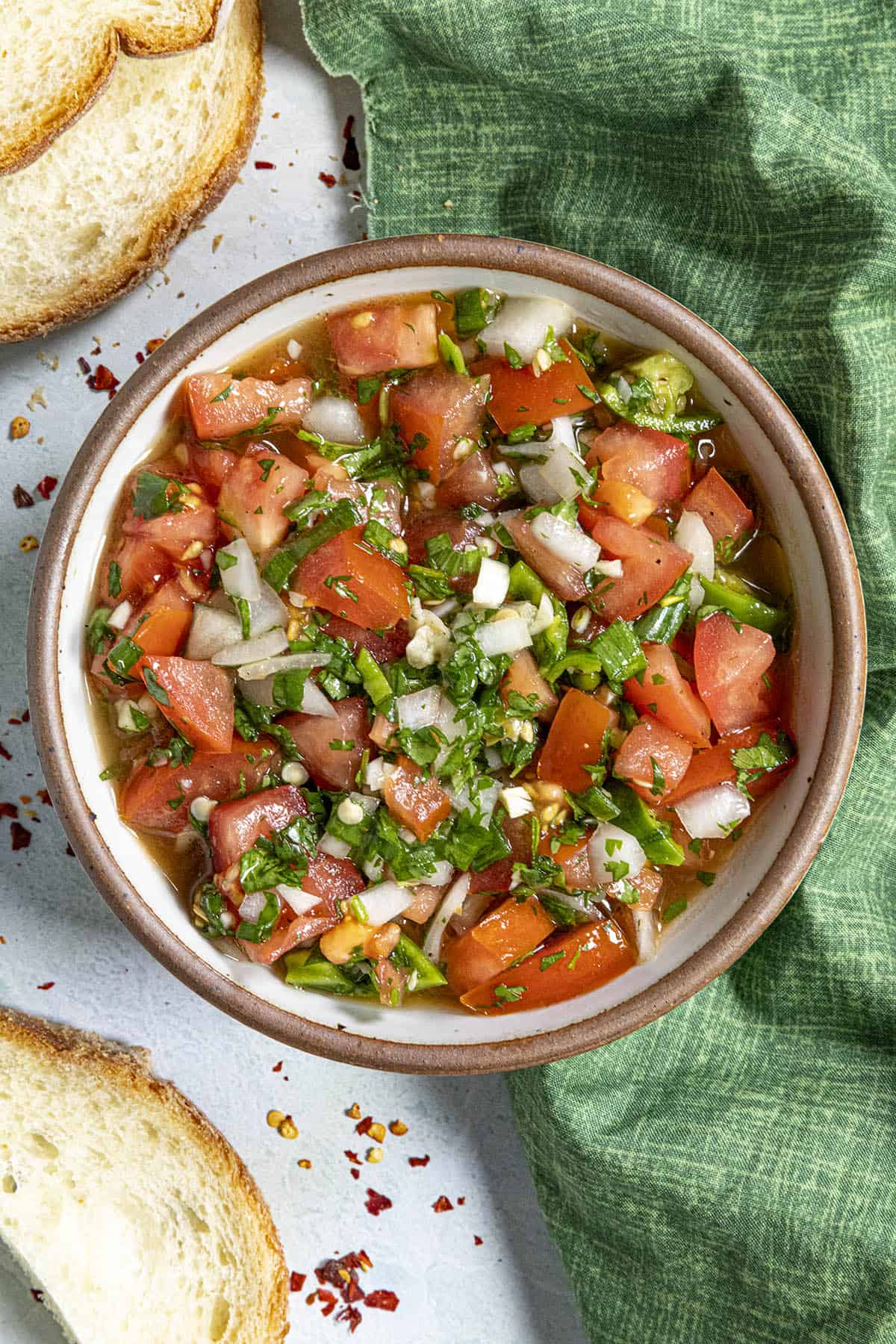 About the Peppers
Aji peppers are traditionally used to make pebre. Also known generally as the Peruvian hot pepper, "aji" is the common name primarily in South America and areas of the Caribbean for chili peppers.
If you can't find ajis, you can easily substitute them for milder jalapeno peppers or spicy serrano peppers, which are equally flavorful.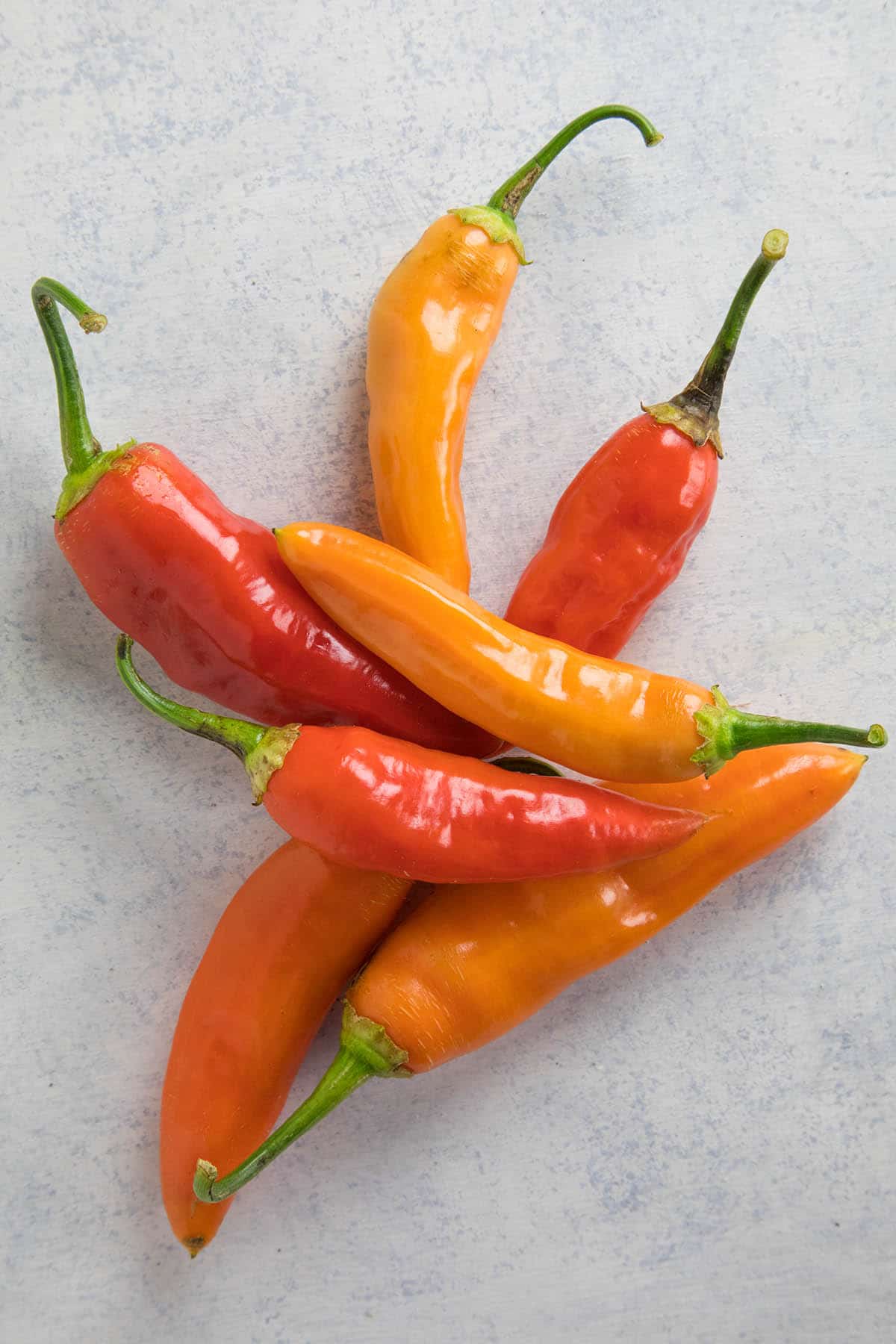 Learn more about Aji Peppers, including the many different types. Also, learn more about the Scoville Scale here.
Recipe Variations
Tomatoes. Some like to skip the tomatoes, you'll have a green version of the recipe, called Pebre de Cilantro.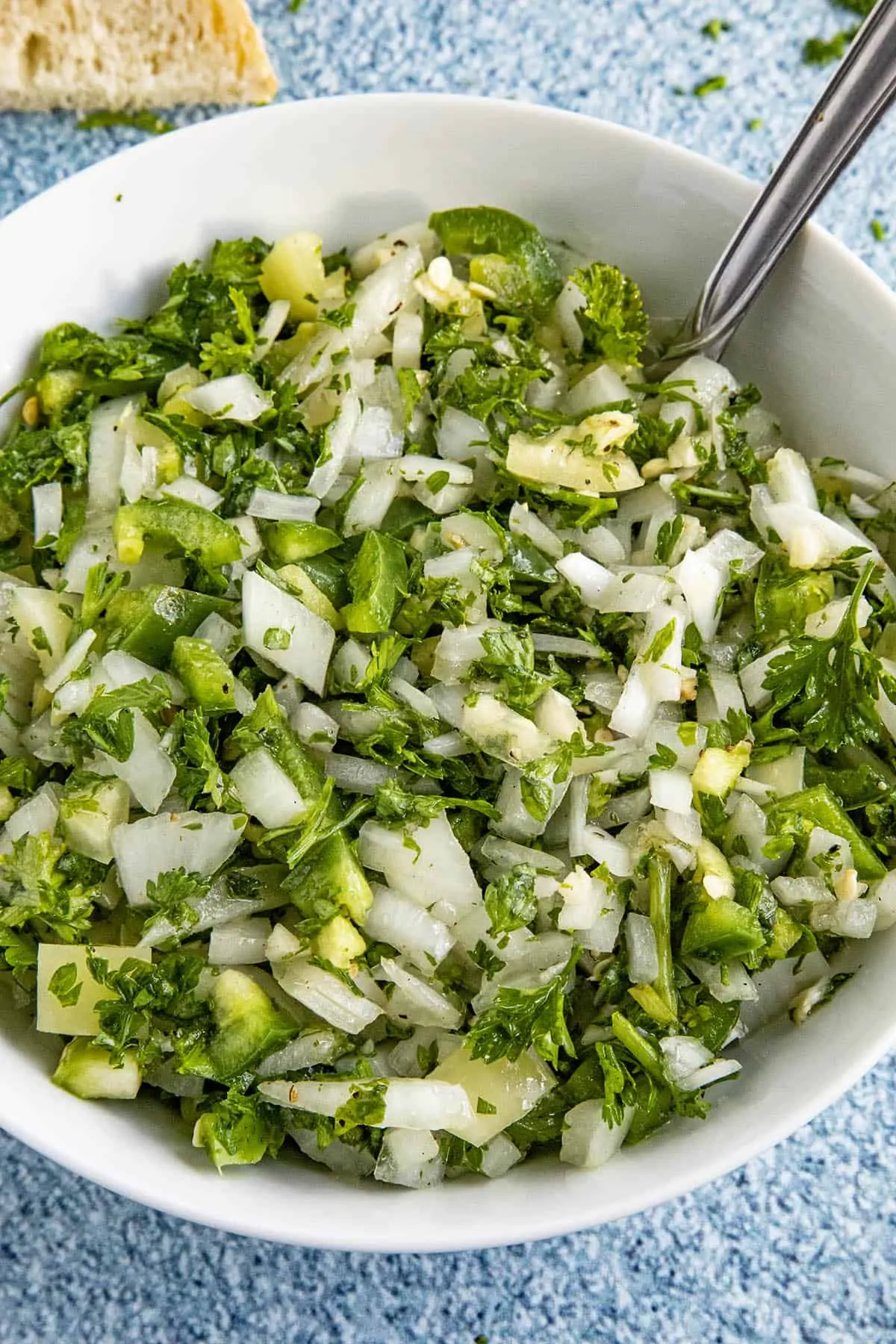 Chancho in Piedre. If you make this in a molcajete or with a mortar and pestle and mix it very well, you will have another popular Chilean salsa recipe called Chancho en piedra, which is a smoother version of a good pebre sauce.
Give it a try. Delicious!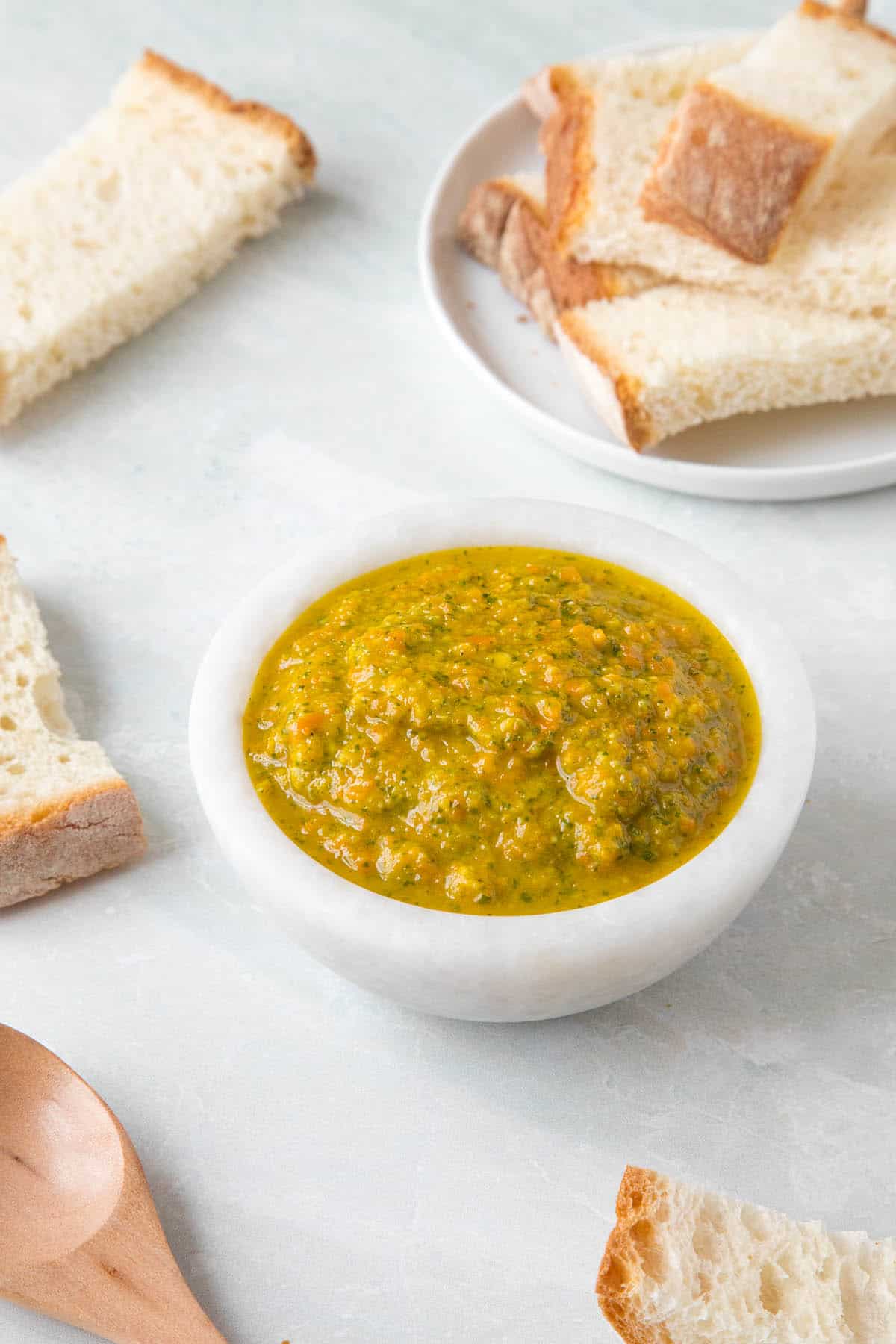 Consistency. Process it to a consistency you prefer, either smooth or chunky. You can always splash in a bit of cold water to thin it out if you'd like.
Most people make it chunkier, like a pico de gallo salsa, but some prefer a Chilean pebre sauce, which is more popular in Northern Chile.
It looks more like a red chili sauce this way.
Serving Ideas for Chilean Pebre
Pebre can be used to spice up just about anything, like a simple sauce or salsa.
Consider spooning it over boiled potatoes for some zing, or drizzling it over grilled meats, particularly chicken or a good steak.
Cookbook Recommendation
I've been learning a lot about South American cooking from several different cookbooks. Here is a link to one of my favorites. Definitely recommended. Affiliate link, my friends!
Try My Other Popular Recipes Like This One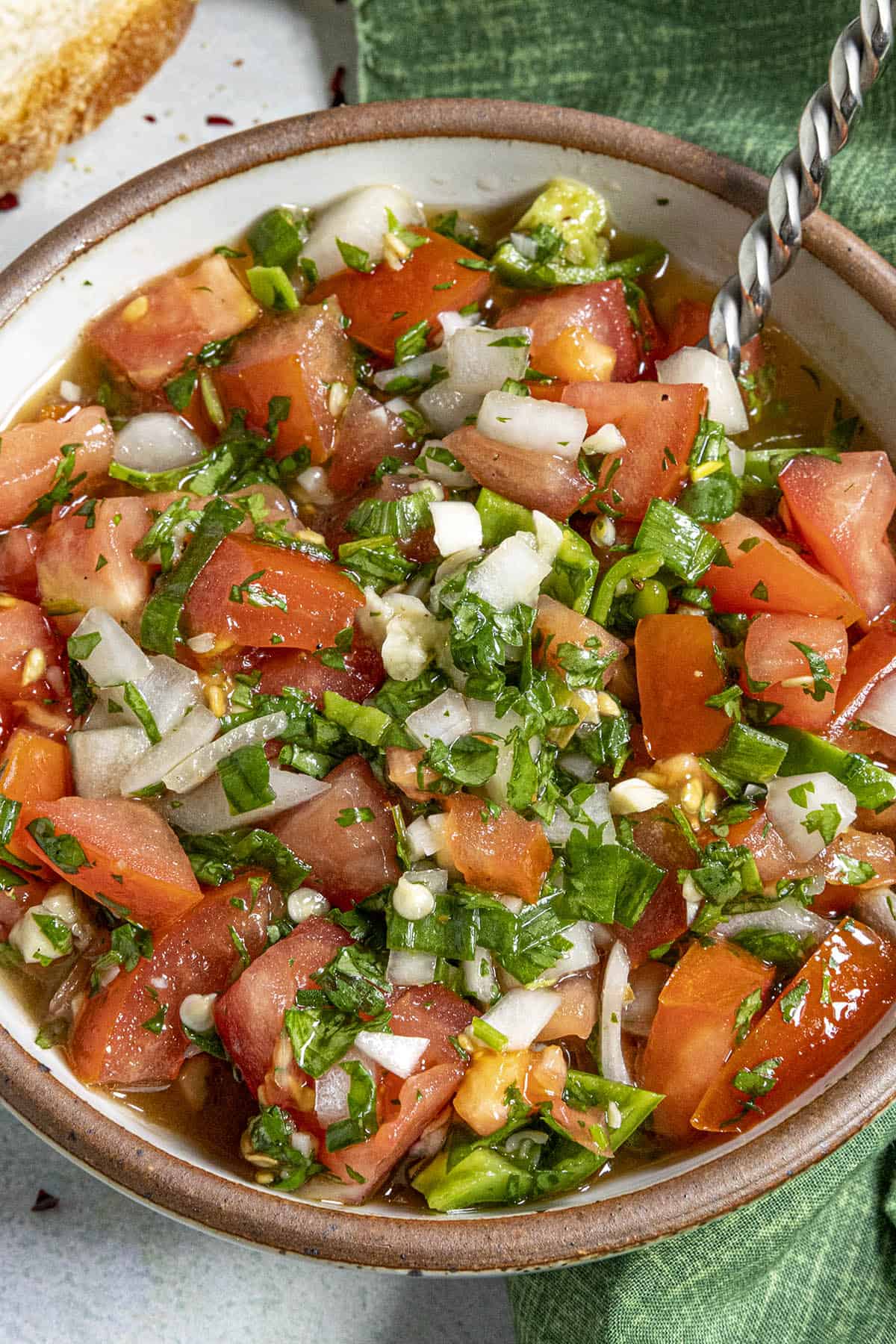 If you enjoy this recipe, I hope you'll leave a comment with some STARS. Also, please share it on social media. Don't forget to tag us at #ChiliPepperMadness. I'll be sure to share! Thanks! -- Mike H.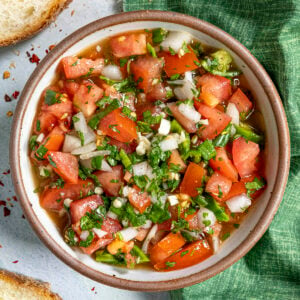 Print
Pebre Recipe
This pebre recipe is a South American condiment that is much like a salsa, made with tomato, chilies, onion, cilantro, garlic, oil and more. It is spicy and delicious!
Save Recipe
Saved!
Ingredients
1/4

cup

neutral oil

(Olive oil is good, too)

1/4

cup

water

optional

2

tablespoons

white wine vinegar

4

cloves

garlic

smashed

1

large tomato

chopped

4-5

Aji Peppers

chopped (we used Aji Amarillos - or use jalapenos or serranos)

1/2

small onion

chopped

1/2

cup

chopped cilantro

(use 1 cup for more defined cilantro flavor)

1/4

cup

chopped scallions

white part and 1 inch of the green

Salt and pepper to taste
Instructions
Whisk together the oil, water and vinegar with the garlic in a bowl until it thickens a bit.

Stir in the remaining ingredients until well combined.

Refrigerate about 2 hours to allow flavors to mingle, or serve immediately.
Video
Notes
It should last a week in the fridge, sealed.
Optional Additions: Consider adding cumin, paprika, lemon juice, or balsamic or red wine vinegars.
Nutrition Information
Calories:
252
kcal
Carbohydrates:
3
g
Protein:
1
g
Fat:
27
g
Saturated Fat:
4
g
Sodium:
3
mg
Potassium:
44
mg
Fiber:
1
g
Sugar:
1
g
Vitamin A:
233
IU
Vitamin C:
2
mg
Calcium:
9
mg
Iron:
1
mg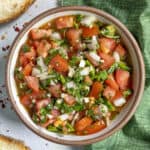 Did You Enjoy This Recipe?
I love hearing how you like it and how you made it your own. Leave a comment below and tag @ChiliPepperMadness on social media.
This recipe was updated on 11/7/22 to include new photos and information. It was originally published on 5/1/2014.