This buffalo cauliflower recipe is so addictive, with cauliflower bites dipped in seasoned batter, baked, then drizzled with spicy Buffalo sauce, served with blue cheese dip. Make these for your next appetizer or party. Beware! They are rather addictive.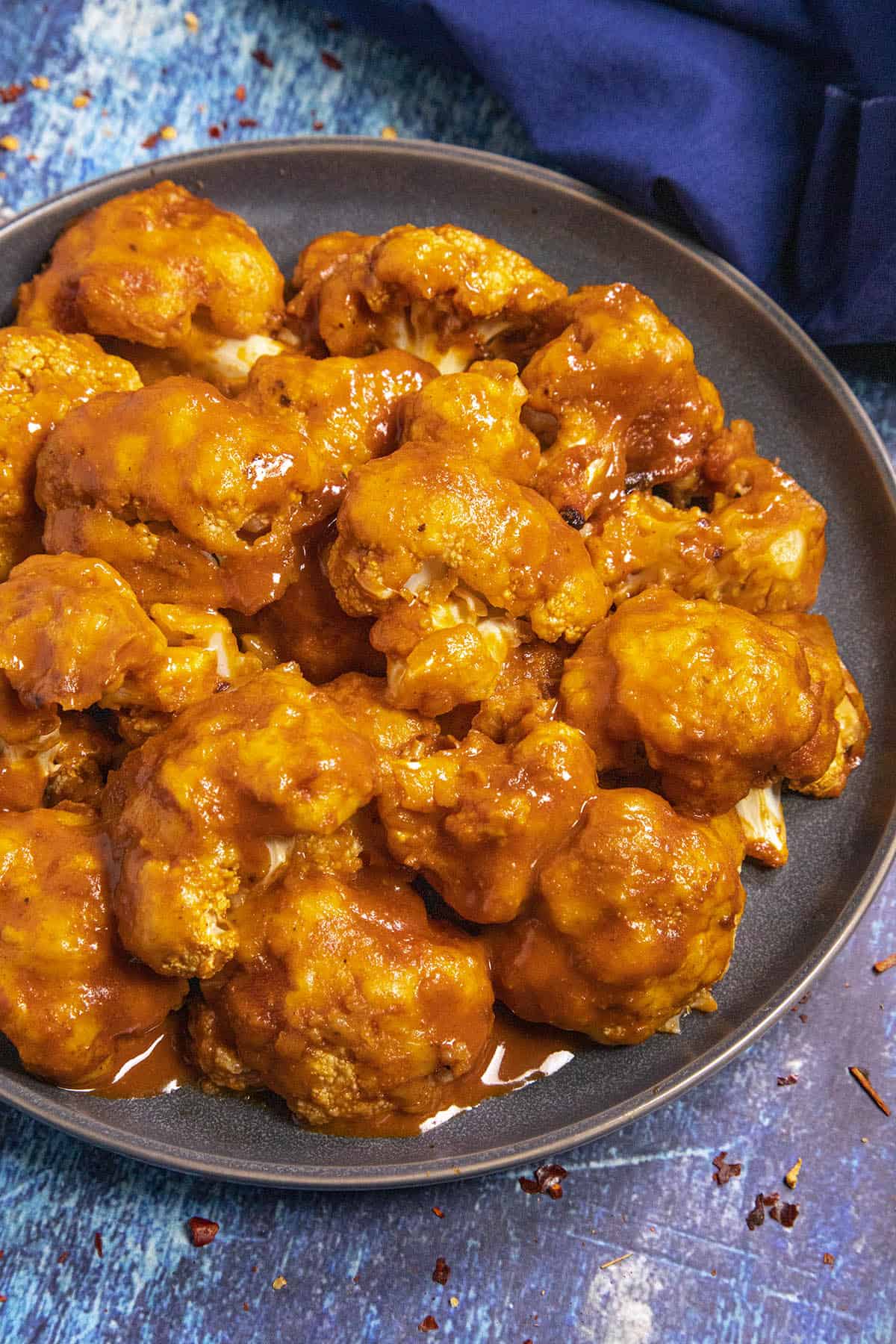 Buffalo Cauliflower Recipe
We're making Buffalo Cauliflower in the Chili Pepper Madness kitchen tonight, my friends. You are definitely going to want this recipe.
The first time I made this recipe was for a test run, sort of a proof of concept. I didn't plan on eating the whole thing, but once I took the first bite, BOOM! I couldn't believe it. I'm not sorry.
They really are that good.
Baked Buffalo Cauliflower Wings - Your New Favorite Appetizer or Party Food
If you enjoy Buffalo Chicken Wings, you'll find this buffalo cauliflower recipe appealing as it hits all those spots on your tongue and in your stomach that Buffalo Wings hit.
You might not think so, because hey, we're working with cauliflower here, but they do. They're the perfect appetizer, game day, or party food that everyone will enjoy.
Are you a cauliflower lover? It is not my intention to knock cauliflower. It's one of my favorite vegetables, in reality, but we can't deny that cauliflower has very little flavor. This is not a negative. In reality, it's cauliflower's super power. It absorbs whatever flavors you give to it and reflects them right back to you.
Like Buffalo Sauce. Consider this as a vegetarian alternative to Buffalo Wings. I've seen these called Buffalo Cauliflower Wings, Buffalo Cauliflower Bites and simple Buffalo Cauliflower. Doesn't matter to me, my friends. They're awesome no matter what you call them!
Let's talk about how to make buffalo cauliflower, shall we?
Buffalo Cauliflower Ingredients
Cauliflower. Use 1 head of cauliflower florets only (core and stem removed).
For the Batter. Use 1/2 cup all purpose flour, 1/4 cup milk, 1/4 cup water, 2 tablespoons cayenne pepper and salt and pepper to taste.
Buffalo Sauce. Use 1 cup of your favorite Buffalo sauce. Try my Homemade Buffalo Sauce Recipe. So good!
Dressing. Blue cheese dressing for serving (or use ranch dressing)
How to Make Buffalo Cauliflower Bites - the Recipe Method
Make the Batter. First, add flour, water, milk, cayenne pepper and salt and pepper to a small bowl. Mix well to form a batter.
Batter the Cauliflower Bites. Add the cauliflower florets to the batter and set them onto a baking sheet oiled with a bit of olive oil or cooking spray in a single layer. Line it with parchment paper for less mess.
You can toss to coat the cauliflower with the batter if desired to get a nice, even coating. You can toss any excess batter.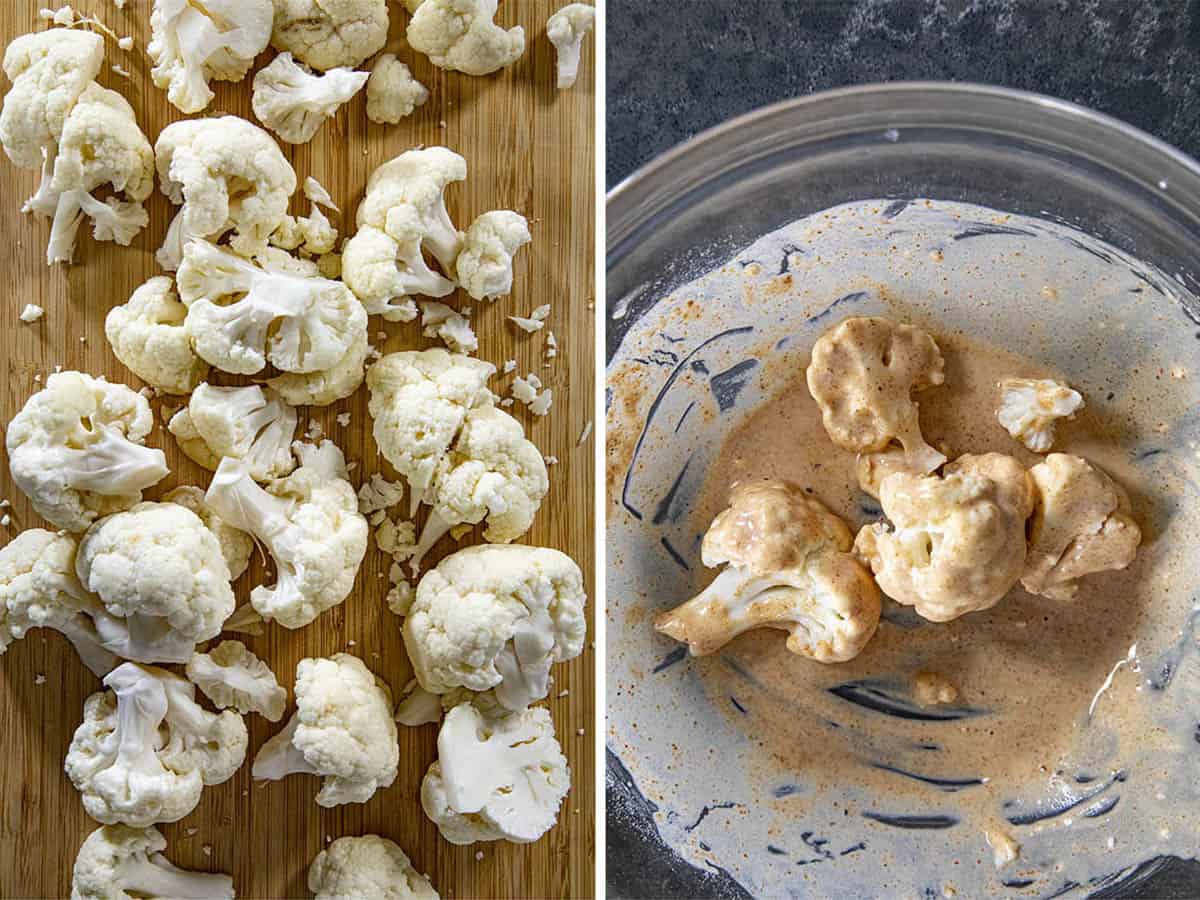 Bake the Cauliflower. Preheat the oven and bake for 20 minutes at 450 F. When the cauliflower is baked, it will crisp up slightly.
Brush with Buffalo Sauce. Remove and brush generously with Buffalo wing sauce.
Second Bake. Bake 10 to 15 minutes more.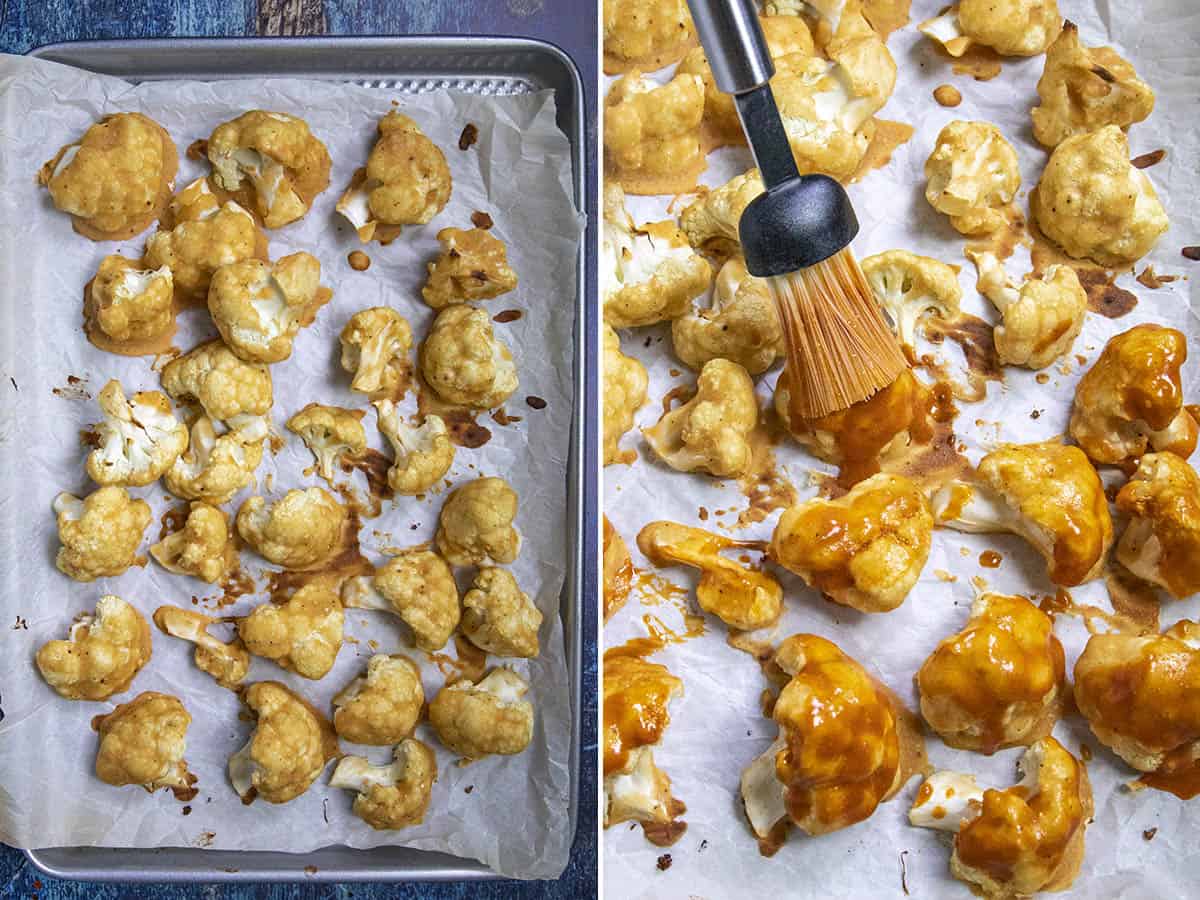 Serve Them Up. Cool slightly and serve with blue cheese dip in a large bowl. Enjoy! Eat them fast!
Boom! That's it! Buffalo cauliflower on your plate and ready to enjoy! Pretty easy, isn't it? Much like a Buffalo wings recipe. I love these cauliflower bites. Such an easy appetizer, nice and spicy, and very satisfying. They're shockingly good, even if you think you don't like cauliflower. If you don't, you will now!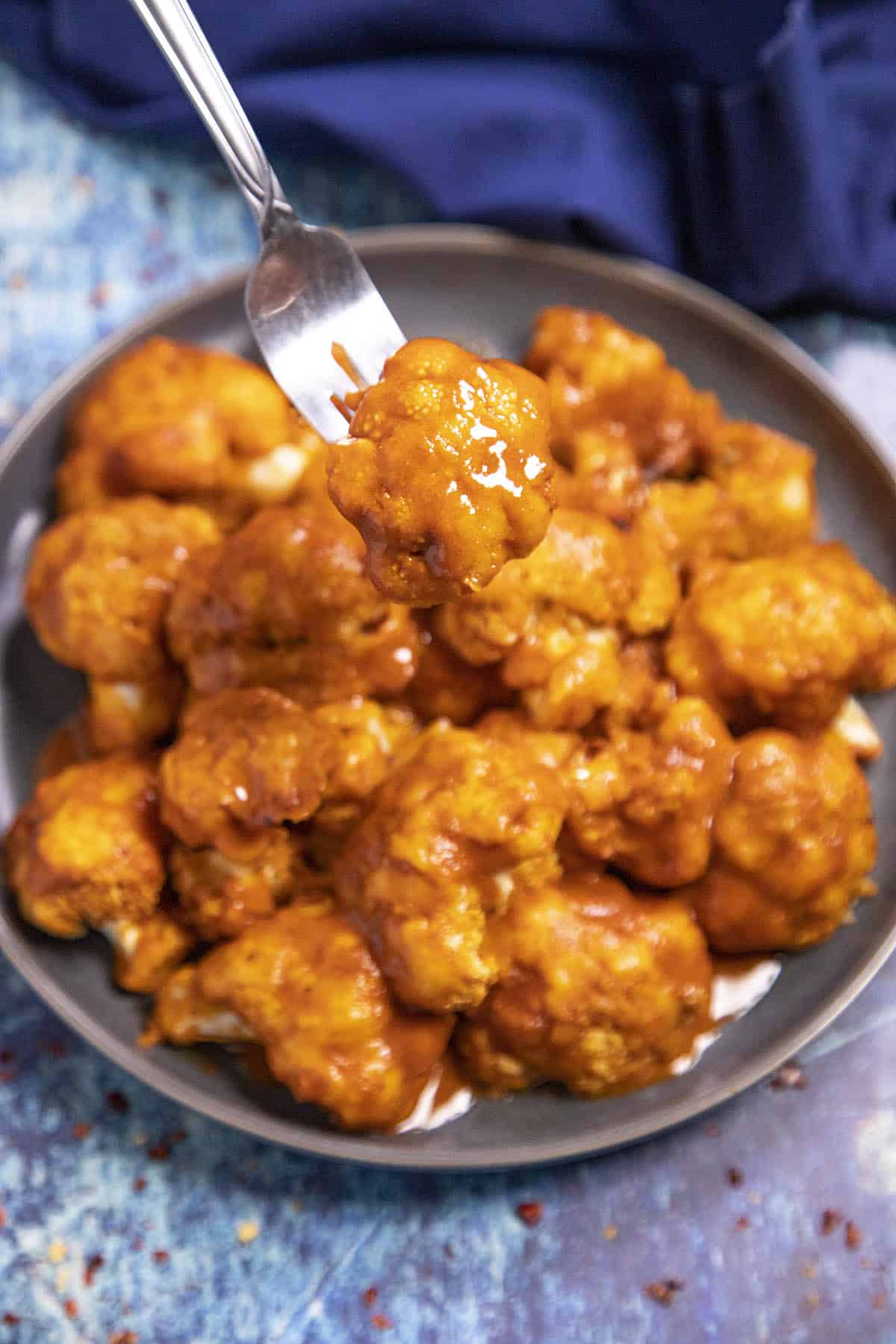 Recipe Tips & Notes
Cauliflower. Cauliflower has the ability to absorb any flavor you throw at it. It's a blank slate food, so when you toss these with Buffalo sauce, it gives you BUFFALO SAUCE with every bite!
Heat Factor. If you want to get all BOOM with your flavors, try adding a bit more butter to your Buffalo sauce, maybe a bit of honey and some extra spicy chili flakes. Swirl it together in a heated pan and...whoa. AWESOME.
Keep them Warm. You can easily keep these warm in the oven, or wrap them in aluminum foil until the guests arrive.
Soggy Buffalo Cauliflower. Be sure to cut your cauliflower into larger pieces. If you cut them too small, they can get too soft from the baking process and become soggy.
How Long Do You Bake Buffalo Cauliflower?
The total baking time for buffalo cauliflower is 30 minutes. After you coat them in batter, you first bake them for 20 minutes, then brush them with buffalo sauce, and finally finish baking them for 10 minutes more.
For the Buffalo Sauce
I am using my own homemade buffalo sauce recipe for these, but you can use your own favorite brand. Or, make a super quick version with hot sauce and butter.
Basically, melt the butter then whisk in your favorite Louisiana style hot sauce for a very simple version. Add some garlic powder for a nice garlicky flavor.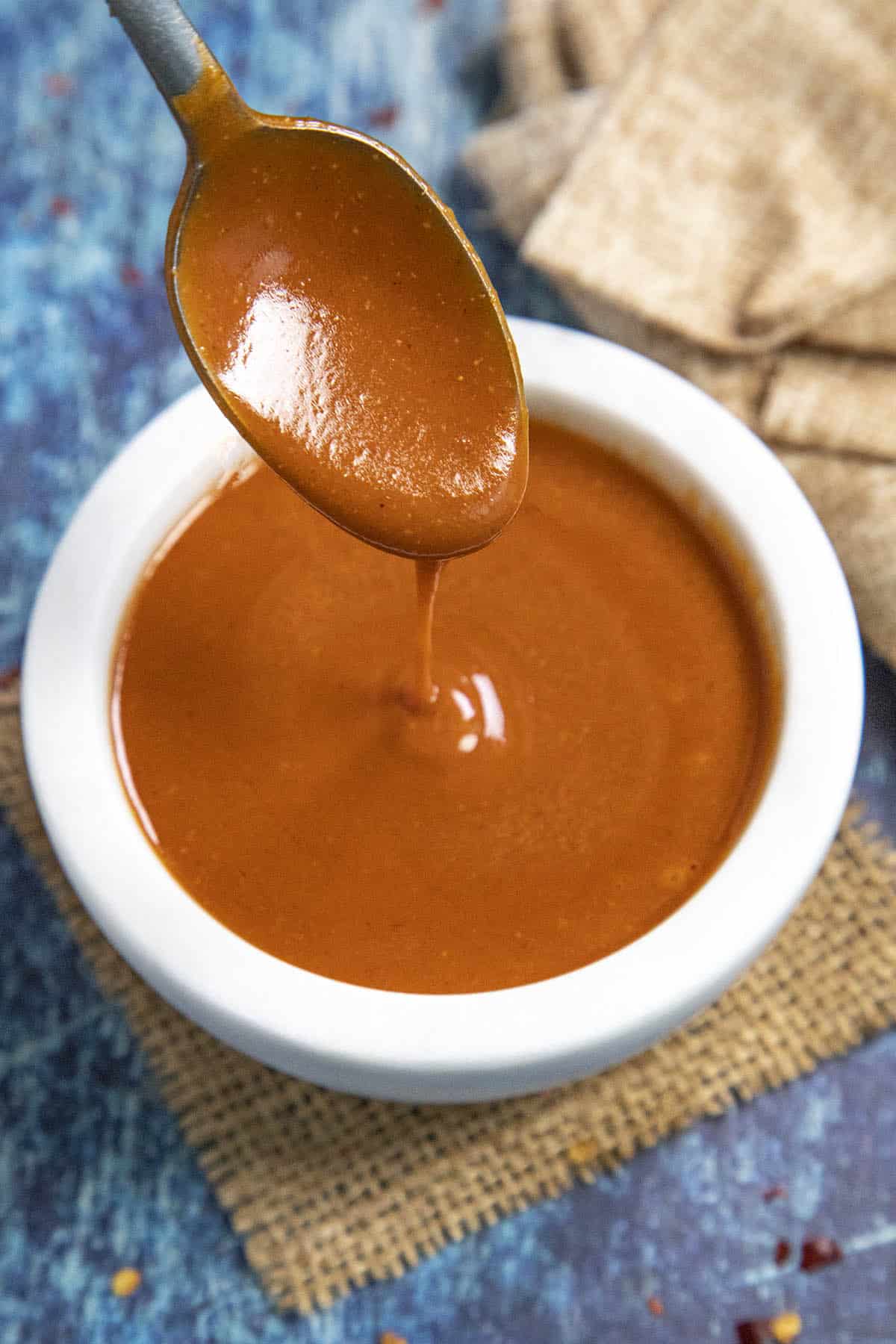 Can You Use Frozen Cauliflower to Make Buffalo Cauliflower?
Yes, making buffalo cauliflower from frozen cauliflower is quite easy. Simply thaw the cauliflower completely before mixing your batter, then proceed with the recipe steps as directed.
This particular recipe will make an outstanding side dish, but I think it will work best as an appetizer. Make it for your next party and watch people explode with delight upon trying them. Or, serve them on tortillas as tacos or even a sandwich!
Keep tabs. Make sure fights don't start breaking out when the bowl gets close to empty. Maybe make two of them.
What to Serve with Buffalo Cauliflower Bites?
Don't forget a simple ranch or blue cheese dressing for serving. Just like Buffalo chicken wings, these babies taste great when given a tiny dip of blue cheese dipping sauce or ranch dressing alongside some celery sticks. Buffalo sauce and blue cheese - they're best buds.
And who'd-a-thunk they would love cauliflower so much?
Go for it! I hope you enjoy these. Let me know!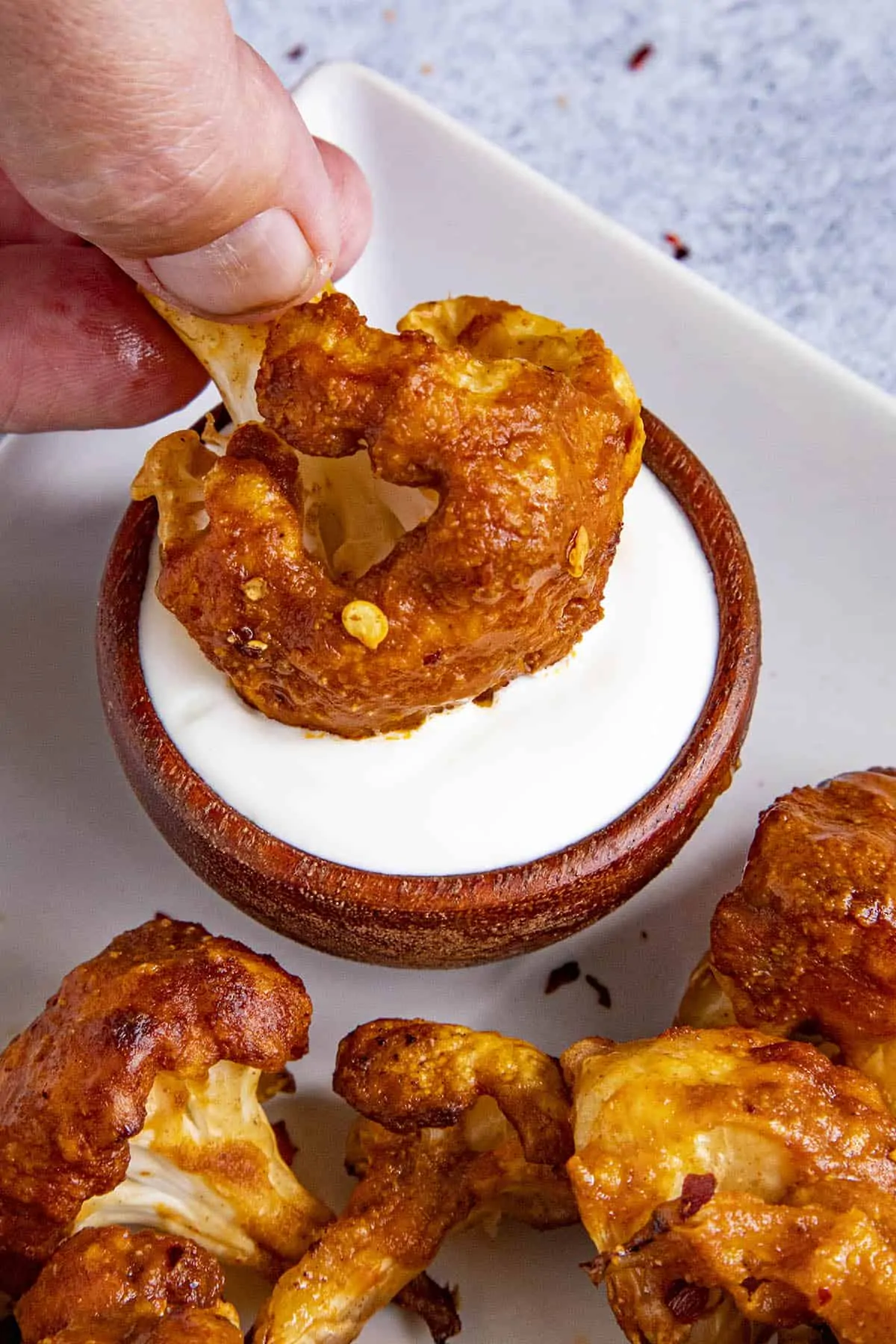 Check out a VIDEO of the recipe below!
Patty's Perspective
These ARE surprisingly addictive. Even if you don't like cauliflower, you should give these a try. The Buffalo sauce really seeps in and makes this truly satisfying. I loved these.
Got any questions? Ask away! I'm happy to help. If you enjoy this recipe, I hope you'll leave a comment with some STARS. Also, please share it on social media. Don't forget to tag us at #ChiliPepperMadness. I'll be sure to share! Thanks! — Mike H.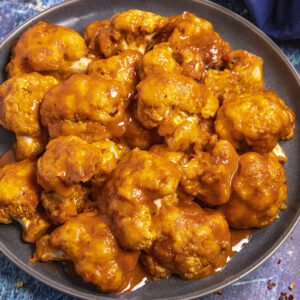 Print
Buffalo Cauliflower Recipe
This buffalo cauliflower recipe is easy to make with cauliflower bites battered, baked, and brushed with spicy, tangy Buffalo sauce, the perfect appetizer!
Save Recipe
Saved!
Ingredients
1

head of cauliflower

florets only (core and stem removed)

1/2

cup

flour

1/4

cup

milk

1/4

cup

water

or more as needed

1

tablespoon

cayenne pepper

(I use 2 tablespoons for extra heat!)

Salt and pepper to taste

1

cup

favorite Buffalo sauce

Blue cheese dip for serving
Instructions
Add flour, milk, water, cayenne pepper and salt and pepper to a mixing bowl. Mix well to form a batter.

Dip the cauliflower florets into the batter and set them onto a lightly oiled baking sheet.

Bake at 450 degrees for 20 minutes.

Remove and brush generously with Buffalo sauce.

Cool slightly and serve with blue cheese dip.

Enjoy! Eat them fast!
Video
Nutrition Information
Calories:
71
kcal
Carbohydrates:
14
g
Protein:
2
g
Sodium:
1850
mg
Potassium:
147
mg
Fiber:
1
g
Vitamin A:
1040
IU
Vitamin C:
14.8
mg
Calcium:
10
mg
Iron:
1
mg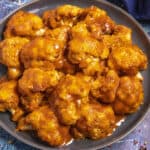 Did You Enjoy This Recipe?
I love hearing how you like it and how you made it your own. Leave a comment below and tag @ChiliPepperMadness on social media.
NOTE: This recipe was updated on 4/17/23 to include new information and video. It was originally published on 6/30/17.