A recipe for chicken wings that have been brined, rubbed with chili powder and garlic, then tossed with your own homemade Peri Peri sauce. Then we grill them to perfection and toss them again in Peri Peri sauce. Win!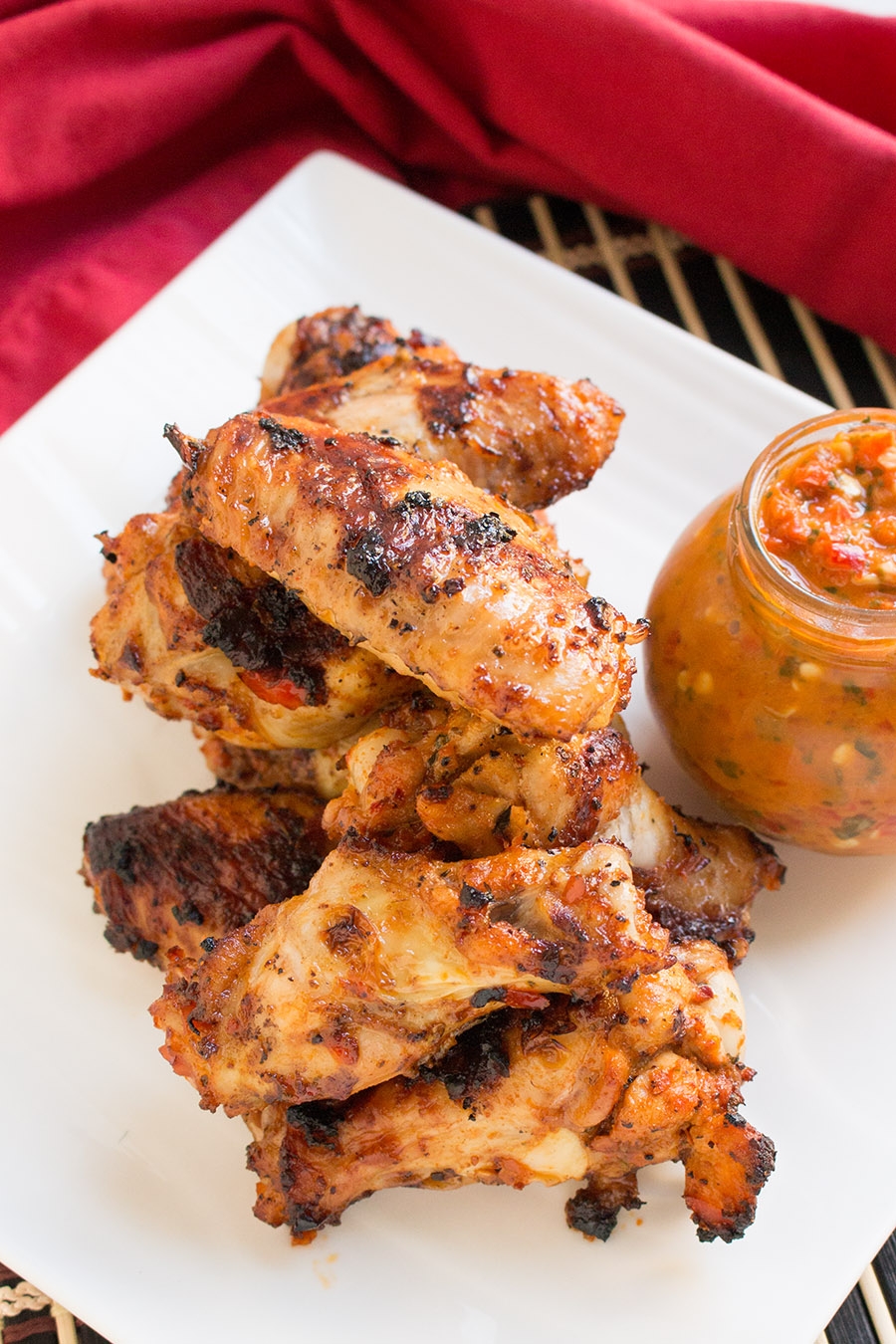 We literally JUST made our own Homemade Peri Peri Sauce and it was DEE-VINE. So tasty. So yum-inspired. So many beautiful chili peppers in there. But you can't let the sauce just sit there. You have to eat it! Peri Peri sauce is a traditional sauce originating from Africa.
It varies from region to region and it can be served as a dip or spread, or as a sauce for all sorts of foods, particularly chicken and fish.
One of my personal favorite foods is chicken wings - see our Chicken Wings Recipes and you'll see what I mean - and these grilled Peri Peri wings are an excellent addition to the collection.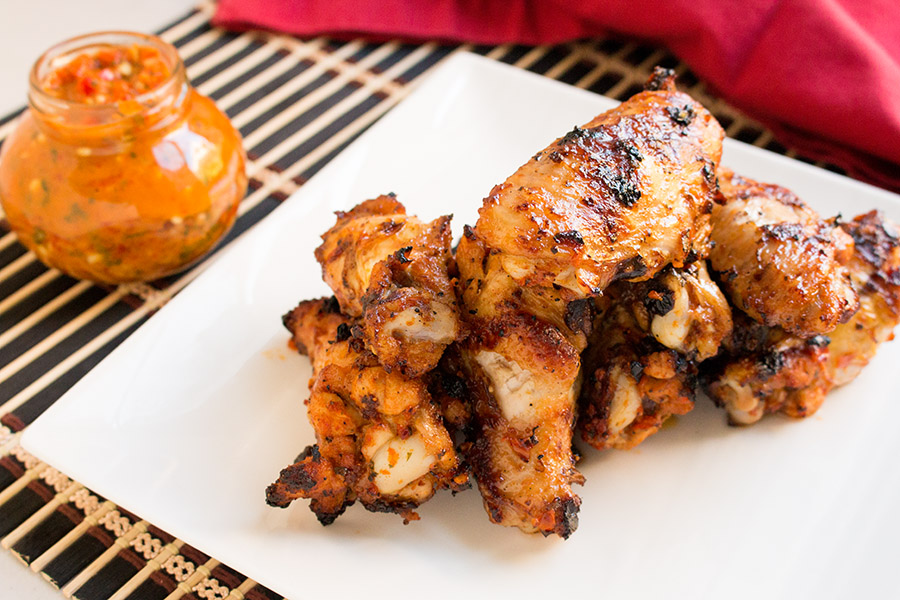 We're grilling these up for this recipe because we both love the smoky addition the grill adds to the flavor of the wings. First they are brined for several hours. This helps plump up the chicken wings and makes them extra juicy by the time you serve them. Pat them dry, and give them a good dry rub.
Seriously get it in there! It adds extra flavor. Toss the wings in your own homemade Peri Peri sauce and pop them on the grill.
Seriously, you have to make your own Peri Peri sauce. Here is the recipe link again: Homemade Peri Peri Sauce. Give it a whirl. It's OK. I'll wait here.
Here is what it should look like. Ours is a bit chunky because of the food processor, but you can make it as smooth as you'd like.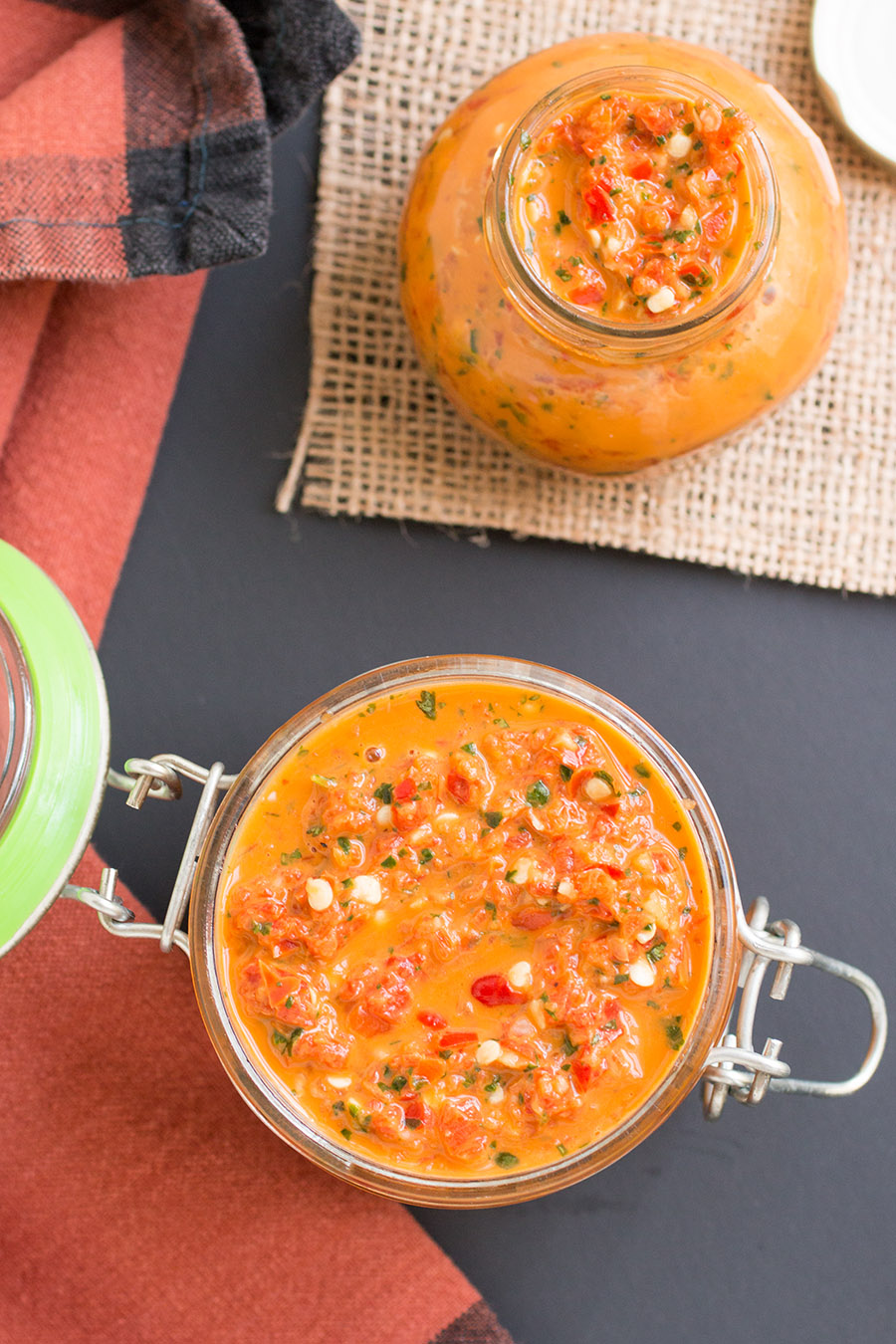 Doesn't it look awesome? I think so, and I can't wait to make another batch. It has a nice bit of heat and spice, and it nicely coats the wings both before and after you grill them for that oh-so-over-the-top blast of deliciousness. Totally. I'm in. I want more of these already.
Once you have them grilled, toss them in more of the Peri Peri sauce and you're off to foodie-chicken wing Heaven. I may have to hashtag that. #ChickenWingHeaven.
I prefer the flats of the chicken wing. How about you?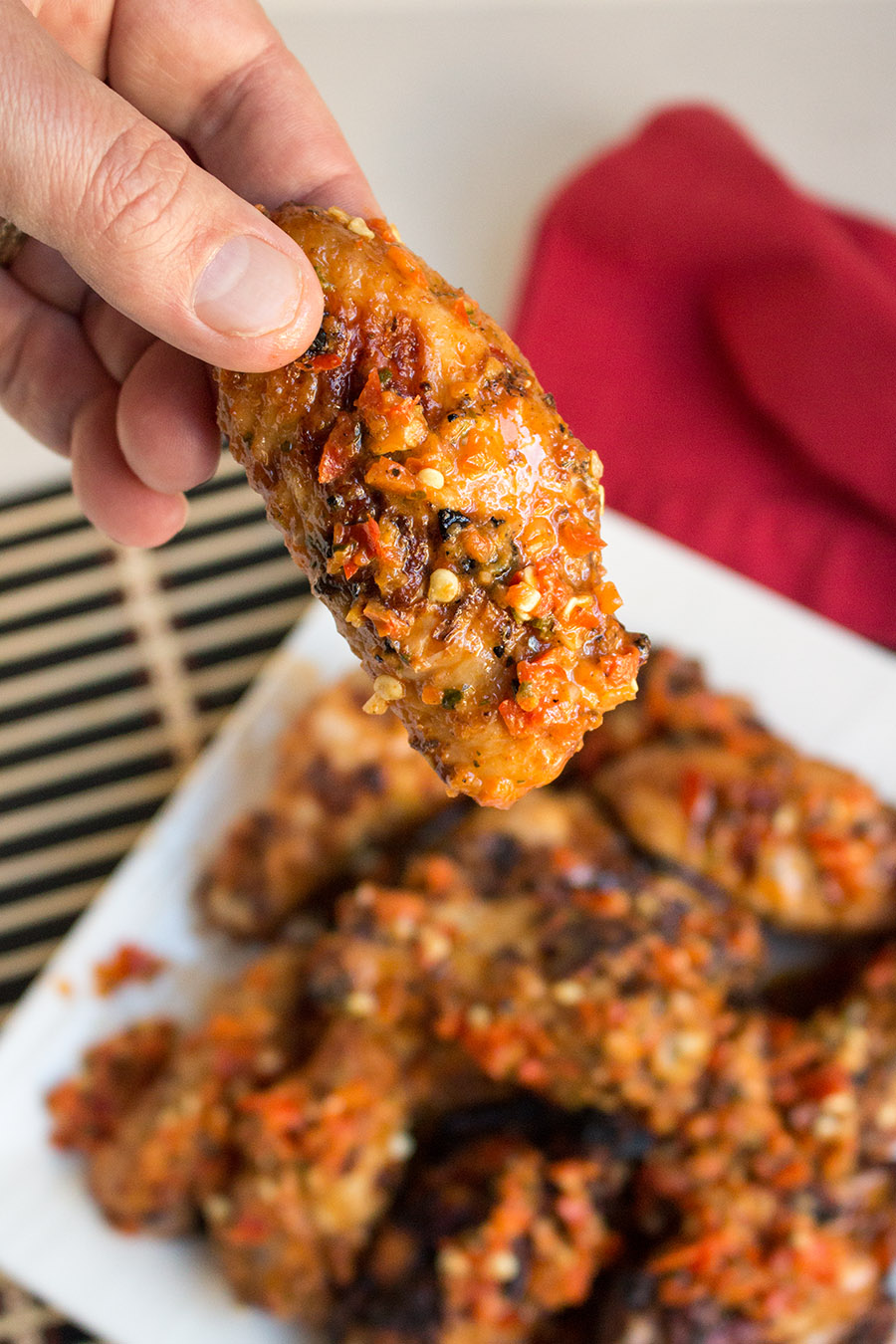 Patty's Perspective
I've fallen head-over-heels in love with Peri Peri sauce. I was instantly, "What can we make with this?" We had the chicken wings in the freezer, so yeah! I expected these to be great, and guess what? They certainly were.
Check Out Some of My Other Popular Chicken Wing Recipes
Also, Check Out These Related Recipes
Got any questions? Ask away! I'm happy to help. If you enjoy this recipe, I hope you'll leave a comment with some STARS. Also, please share it on social media. Don't forget to tag us at #ChiliPepperMadness. I'll be sure to share! Thanks! -- Mike H.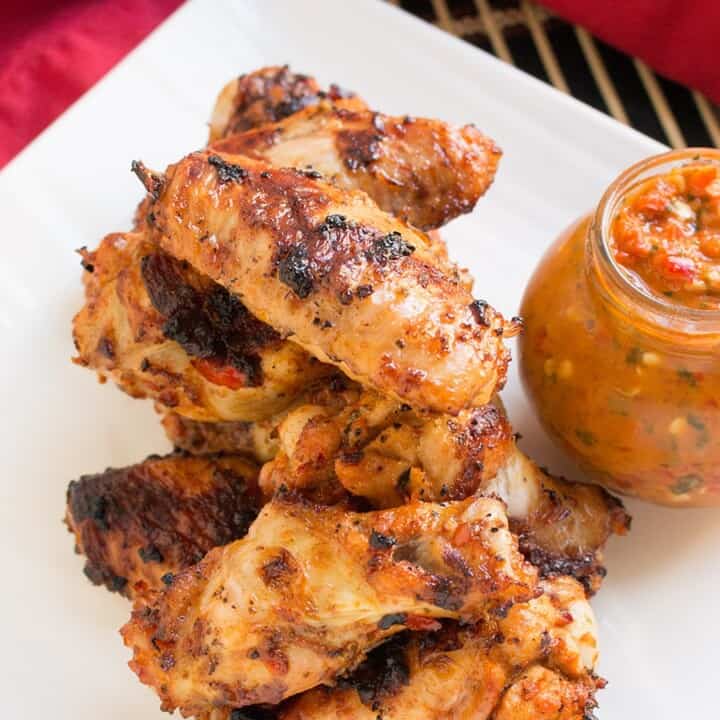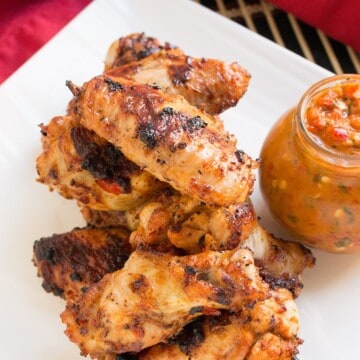 Print
Grilled Peri Peri Chicken Wings
A recipe for chicken wings that have been brined, rubbed with chili powder and garlic, then tossed with your own homemade Peri Peri sauce. Then we grill them to perfection and toss them again in Peri Peri sauce. Win!
Save Recipe
Saved!
Ingredients
2

pounds

chicken wings

separated and tips removed

4

tablespoons

salt

2

tablespoons

chili powder

1

tablespoon

garlic powder

½

cup

Peri Peri Sauce
FOR THE PERI PERI SAUCE RECIPE
1

pound

red chilies

chopped – African Bird's Eye peppers are traditional, but you can sub with red peppers available to you

4

cloves

garlic

chopped

1

teaspoon

smoked paprika – you can sub in other chili powders

½

cup

chopped cilantro

½

cup

olive oil or vegetable oil

Juice from 1 lemon

Salt to taste
Instructions
Prepare your sauce first by combining all sauce ingredients in a food processor. Process to form a smooth paste. Refrigerate until ready to use.

Set the chicken wings into a large bowl. Add salt and cover with water. Cover and refrigerate about 3 hours to brine.

Remove and pat the wings dry.

Set them into a large bowl and rub the dry spices into the skins. Get it in there!

Toss the wings with half of the Peri Peri sauce.

Heat a grill to medium-heat and grill the wings for 20 minutes, turning once half way through. Keep an eye on them so the skins do not overcook.

Once cooked through, toss the wings with the remaining Peri Peri sauce and serve, or serve the sauce on the side.
Nutrition Information
Calories:
583
kcal
Carbohydrates:
15
g
Protein:
25
g
Fat:
47
g
Saturated Fat:
9
g
Cholesterol:
94
mg
Sodium:
7945
mg
Potassium:
733
mg
Fiber:
3
g
Sugar:
6
g
Vitamin A:
2775
IU
Vitamin C:
187.7
mg
Calcium:
54
mg
Iron:
3.6
mg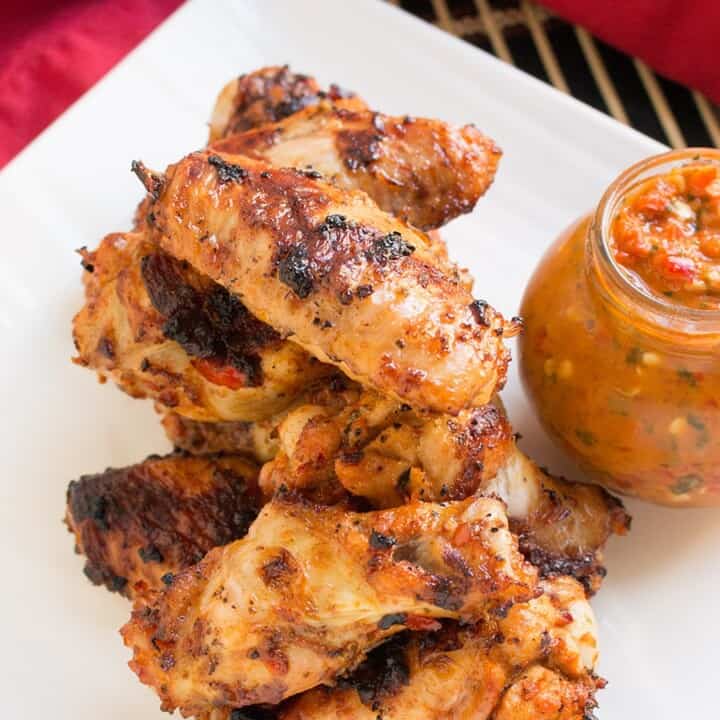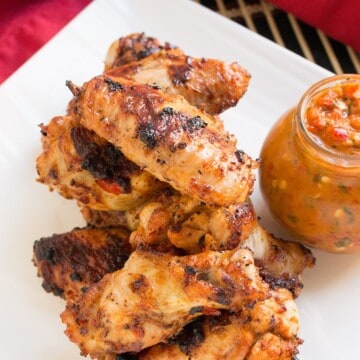 Did You Enjoy This Recipe?
I love hearing how you like it and how you made it your own. Leave a comment below and tag @ChiliPepperMadness on social media.