A homemade hot sauce recipe made with garden grown aji peppers that have been fermented for 6 weeks, then processed with fresh garlic, lime juice and vinegar. Simple and delicious.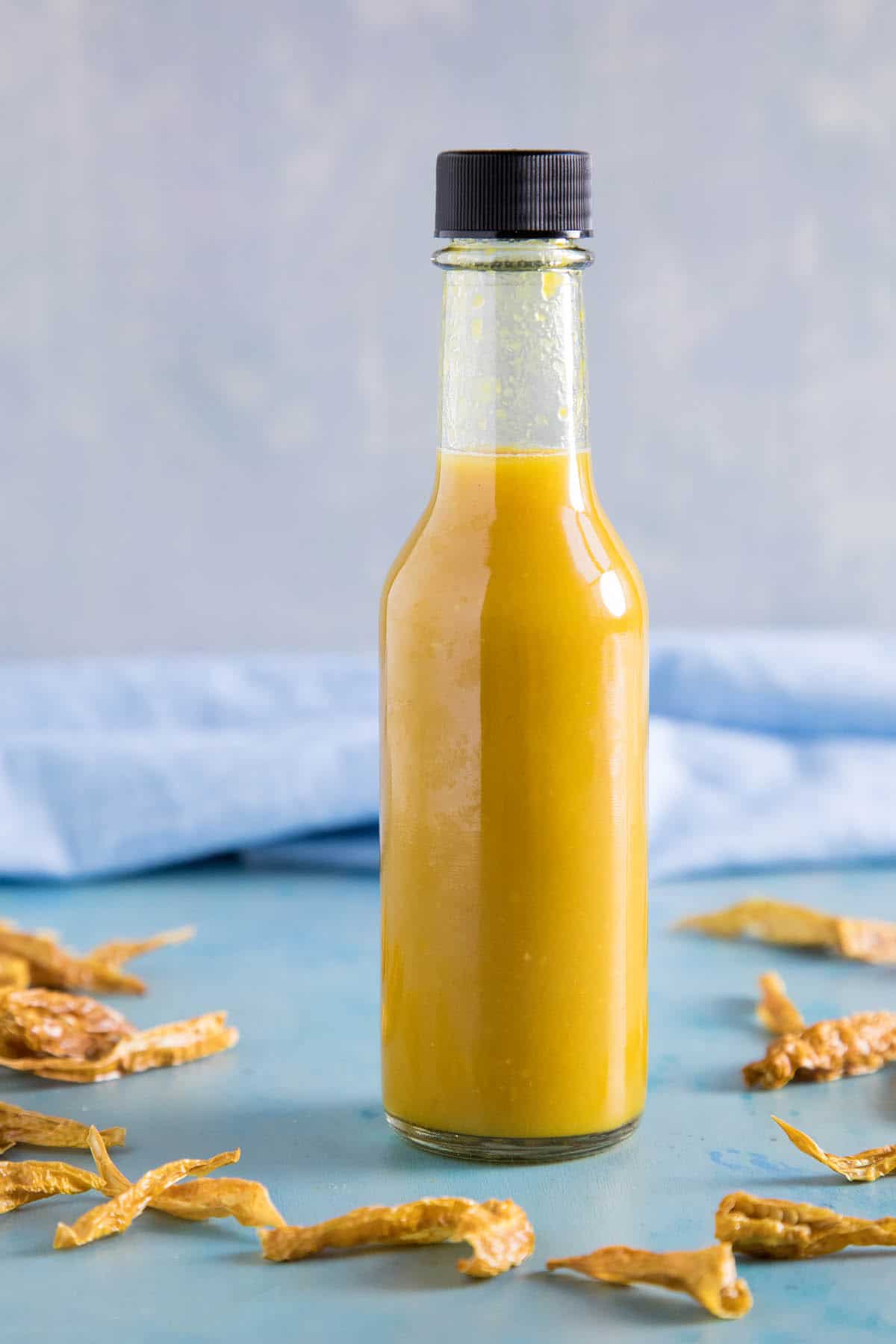 Fermented Aji-Garlic Hot Sauce Recipe
My fermentation experimentation continues. I grew several aji pepper varieties this year in the garden and you know, if you've ever grown aji peppers, that they are VERY productive.
It's one of the reasons I typically grow at least one aji variety each year, because of the large yield.
You'll find a good range of them as well, from sweets to hots, with flavor differences in between, so you're free to grow to your own taste preferences. The thing is, since they are SO productive, what can you do with all of those peppers?
You can cook them into meals, of course, freeze them, dry them to make homemade chili flakes and powders, but don't forget one important way to keep them...
HOMEMADE HOT SAUCE!
YES!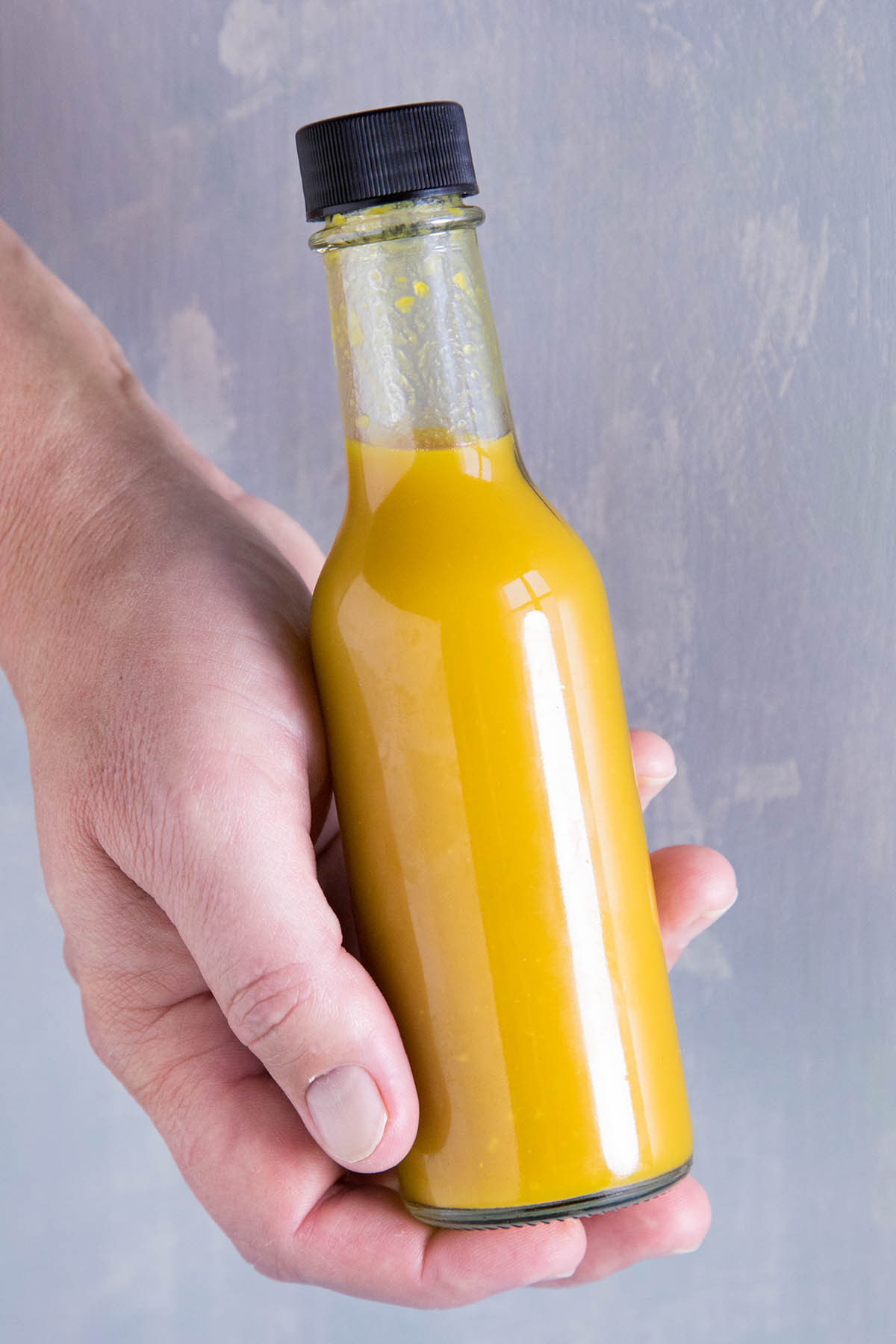 Fermented Aji-Garlic Hot Sauce Ingredients
How to Make This Fermented Aji-Garlic Hot Sauce - The Recipe Method
I took a solid pound of ajis - Aji Habaneros, in this case - and fermented them for 6 weeks. Learn How to Ferment Chili Peppers Here.
I used the brine method, which is my preferred fermenting method with chili peppers. Basically, I processed the peppers, added them to a jar, and poured a salt solution over them to cover. Leave a good inch of head space.
The brine is made by mixing 3 tablespoons of sea salt with 1 quart of unchlorinated water, which creates the ideal environment for good bacteria to do its work.
The process of fermentation basically breaks down the peppers, mellowing them out a bit, developing flavor. You can typically see that activity in the form of bubbles in the brine, though sometimes you'll have a quiet fermentation and won't see the bubbles.
As the process slows, activity tends to stop after a week or 2, though you can continue fermenting. In this case, I left mine in the pantry for 6 weeks before moving onward.
This is a very simple recipe once your fermentation is completed. I was looking for a no-nonsense hot sauce to keep in the fridge for splashing over foods, something vinegary, something garlicky, something a bit spicy.
This is a great one for that. Just cook the fermented peppers, including the brine, with lime juice, fresh garlic and vinegar, then process it in a food processor.
I strain mine afterward to give it a consistency more like Tabasco sauce, though you can keep it more chunky and solid if you'd like. If you DO strain it, try dehydrating those solids for a bit of homemade seasoning powder. There is plenty of life left in that pulp!
See How to Make Seasonings from Strained Hot Sauce Pulp.
Let me know how it turns out for you! Happy hot sauce making!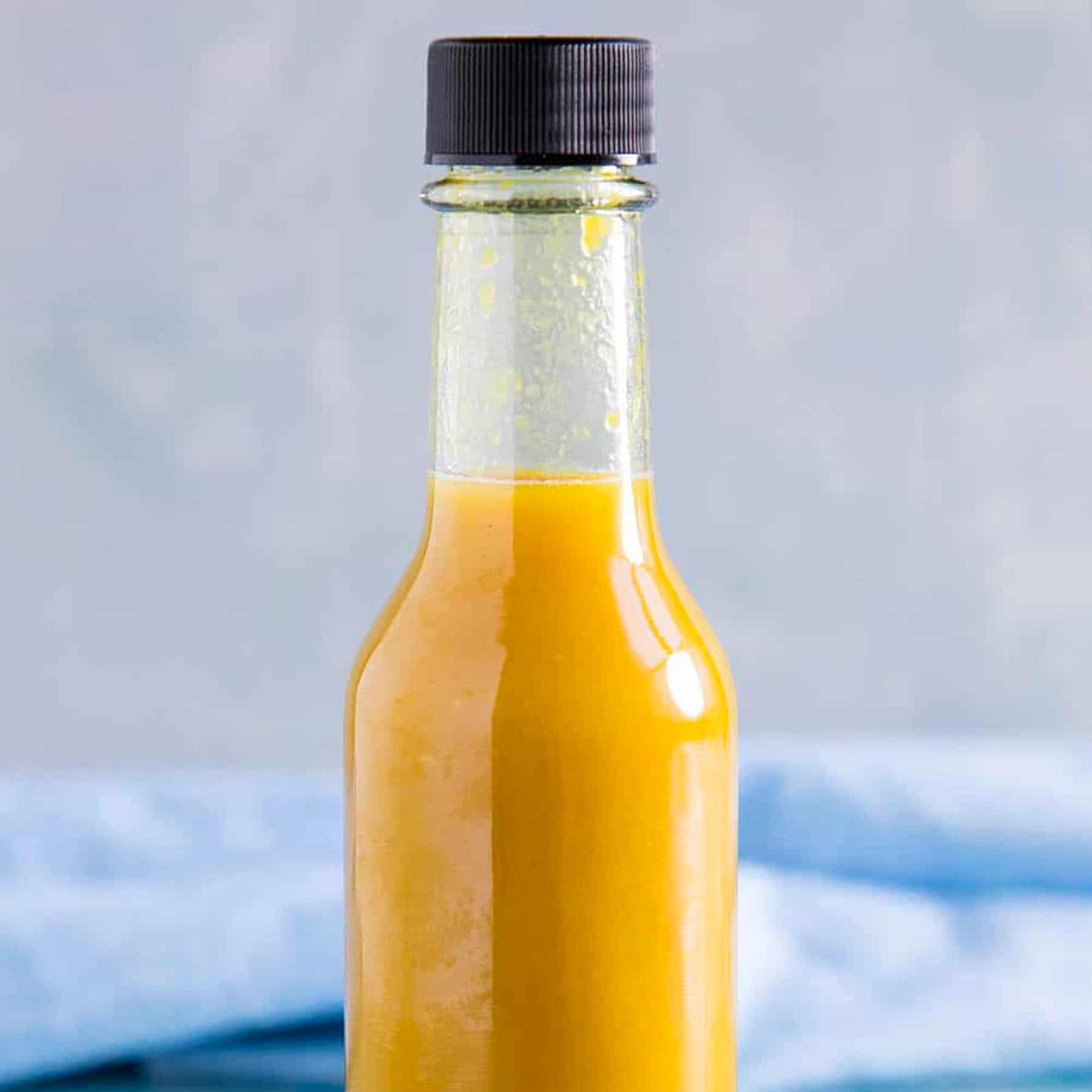 About the Fermenting Process
Most of the work is in the fermenting process, and that isn't much work. It's mostly chopping, measuring, and WAITING. Waiting is the hardest part.
You can ferment for a week or 2 to let the good bacteria do their work, but you can easily go longer. I often go about 8 weeks for mine.
If you're new to fermenting, I have some information you can refer to. See: How to Ferment Chili Peppers (How to Make Fermented Pepper Mash).
A few notes on making hot sauce.
Can You Make This Hot Sauce with Fresh Instead of Fermented Peppers?
Absolutely. Just skip the fermenting steps. You will still get a hot sauce with great flavor.
Fermented peppers offer up a milder flavor for your hot sauce blends, so the resulting hot sauce is typically more complex and nuanced than many other hot sauces. The choice is yours.
Adjusting the Hot Sauce Heat Factor
These aji peppers have a good level of heat to them, but if you're looking for an even HOTTER hot sauce, either add in a few heat level peppers that you'd like to cook with, such as habanero peppers or ghost peppers, or just use those exclusively for a different but delicious sauce.
Recipe Tips & Notes
If you like the bottles that I am using, I find them locally sometimes, but I also order them through Amazon. Here is a link to some bottles I like (affiliate link, my friends!): Swing Top Glass Bottles, 8.5 Ounce - Set of 4. If you like the smaller bottles that most hot sauce makers use, here's another link: Hot Sauce Bottles, 5 Oz - 24 Pack.
For longer storage you can process this hot sauce. Just be sure to use proper canning/jarring safety procedures.
Aside from drizzling this sauce over anything you please, here's a post I did about How to Cook with Hot Sauce. As if you need even MORE reasons to eat hot sauce. I hope you find it helpful!
Storage & Leftovers
It should keep a few months easily in the fridge, or even longer. It's all about the acidity.
To be technical, target level ph for shelf stable foods is below 4.6 ph, but should probably be lower for home cooks, around 4.0 or so, to account for errors. If you're concerned, add more vinegar to lower the ph. Sauces made with fermented chili peppers will last even longer.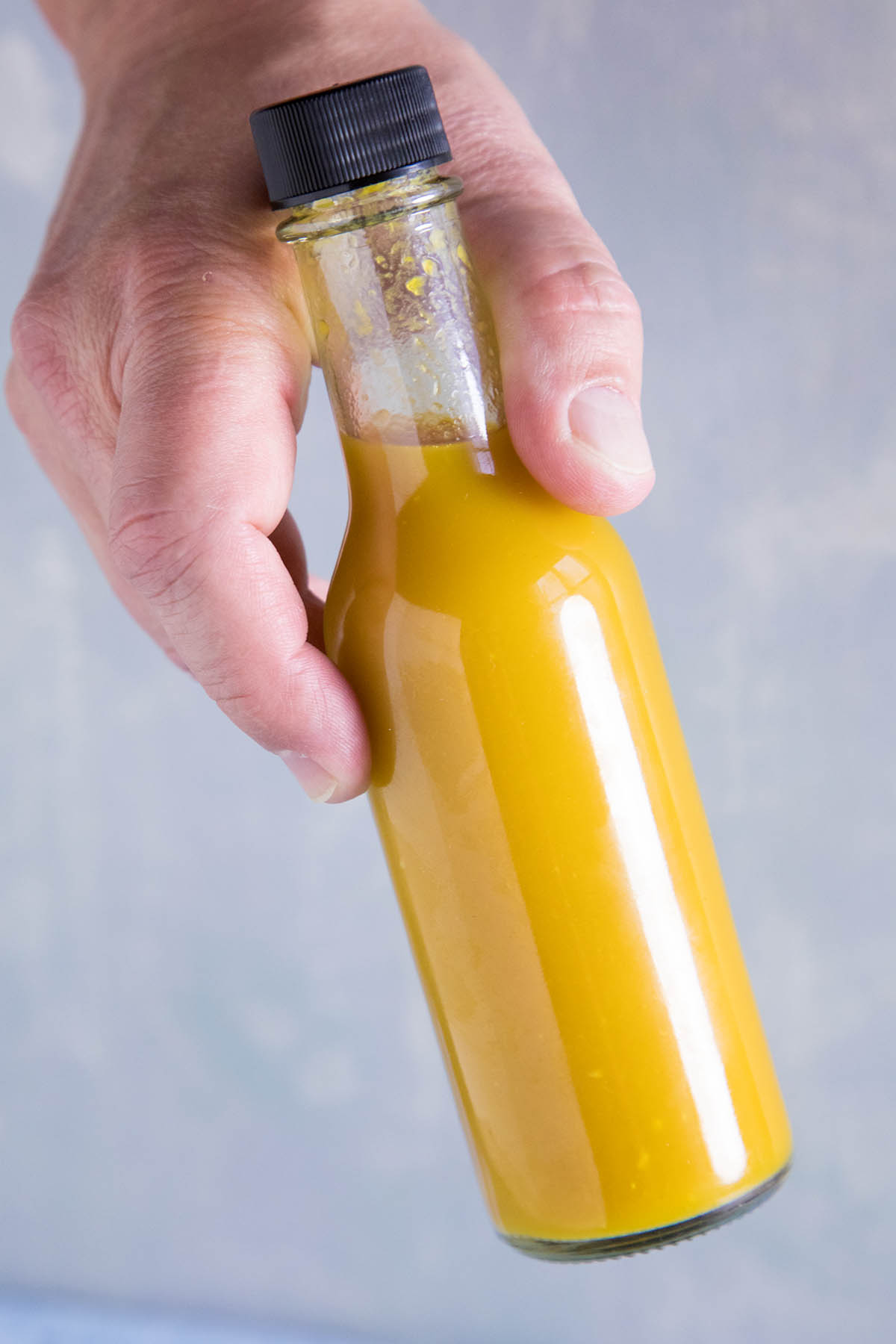 Got any questions? Ask away! I'm happy to help. If you enjoy this recipe, I hope you'll leave a comment with some STARS. Also, please share it on social media. Don't forget to tag us at #ChiliPepperMadness. I'll be sure to share! Thanks! — Mike H.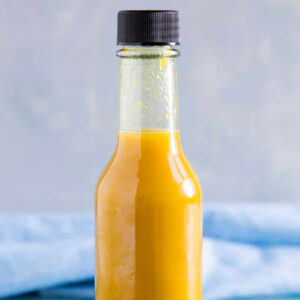 Print
Fermented Aji-Garlic Hot Sauce Recipe
A homemade hot sauce recipe made with garden grown aji peppers that have been fermented for 6 weeks, then processed with fresh garlic, lime juice and vinegar. Simple and delicious.
Save Recipe
Saved!
Instructions
Add all the ingredients to a small pot and bring to a quick boil. Reduce the heat and simmer for 10 minutes.

Cool a bit, then process it all in a food processor blender.

Strain the sauce through a fine mesh sieve and bottle it up. You can discard the pulp or use it for soups or stews, or dehydrate it for seasoning.
Notes
Makes about 6 ounces of hot sauce.
Heat Factor: Medium. You can heat this up with hotter aji peppers.
Nutrition Information
Calories:
5
kcal
Carbohydrates:
1
g
Sodium:
1
mg
Potassium:
42
mg
Vitamin A:
150
IU
Vitamin C:
30.6
mg
Calcium:
3
mg
Iron:
0.2
mg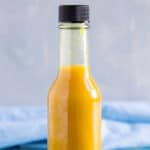 Did You Enjoy This Recipe?
I love hearing how you like it and how you made it your own. Leave a comment below and tag @ChiliPepperMadness on social media.