A hot sauce recipe with plenty of zing and smoky flavor, this ancho-jalapeno hot sauce is made with jalapeno peppers, carrots, garlic, ancho powder and more. Drizzle it over anything for extra flavor.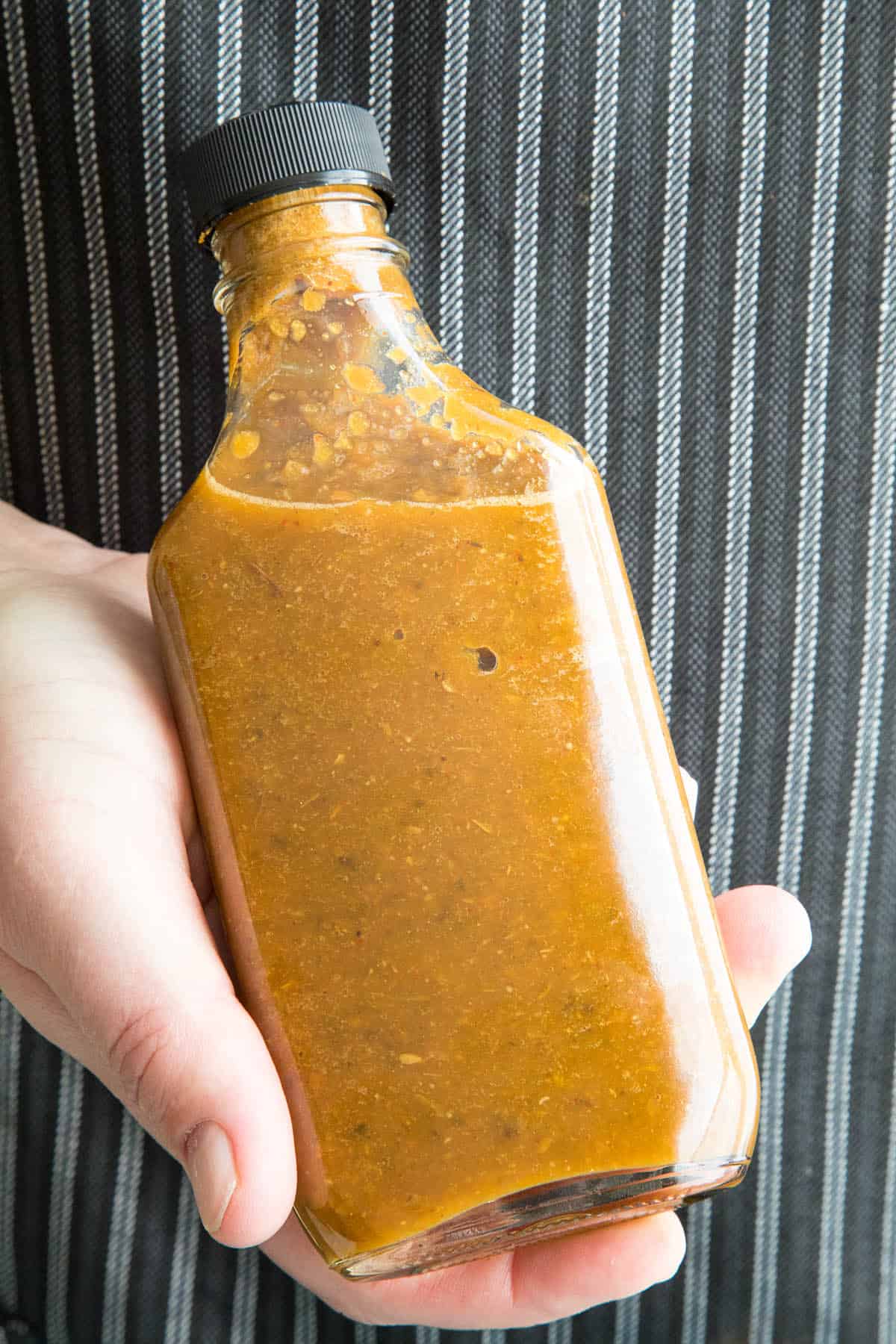 Ancho-Jalapeno Hot Sauce Recipe
More hot sauce coming at you, my friends. If you're growing jalapeno peppers this year, soon your garden will be EXPLODING with them, so you better get cooking.
Not only will you need start thinking about all those jalapeno pepper recipes, as well as ways to preserve your chili peppers, but you'll also need to start thinking about paying me a visit to give me some of them!
JK! I'm growing them, too, so no worries. My jalapeno plants are going crazy, so that's why recipes like this exist. The big question, you know, when growing jalapeno peppers is always...
What Can I Do With a LOT of Jalapeno Peppers?
If you're stuck for ideas, you can always check this page - 10 Ways to Use a Huge Jalapeno Harvest.
But here's a more direct idea for you. Make HOT SAUCE.
Yes!
This is a fermented hot sauce recipe and it requires an entire pound of jalapeno peppers, which may not seems like a lot of weight, but it takes quite a few jalapeno peppers to weigh 1 pound.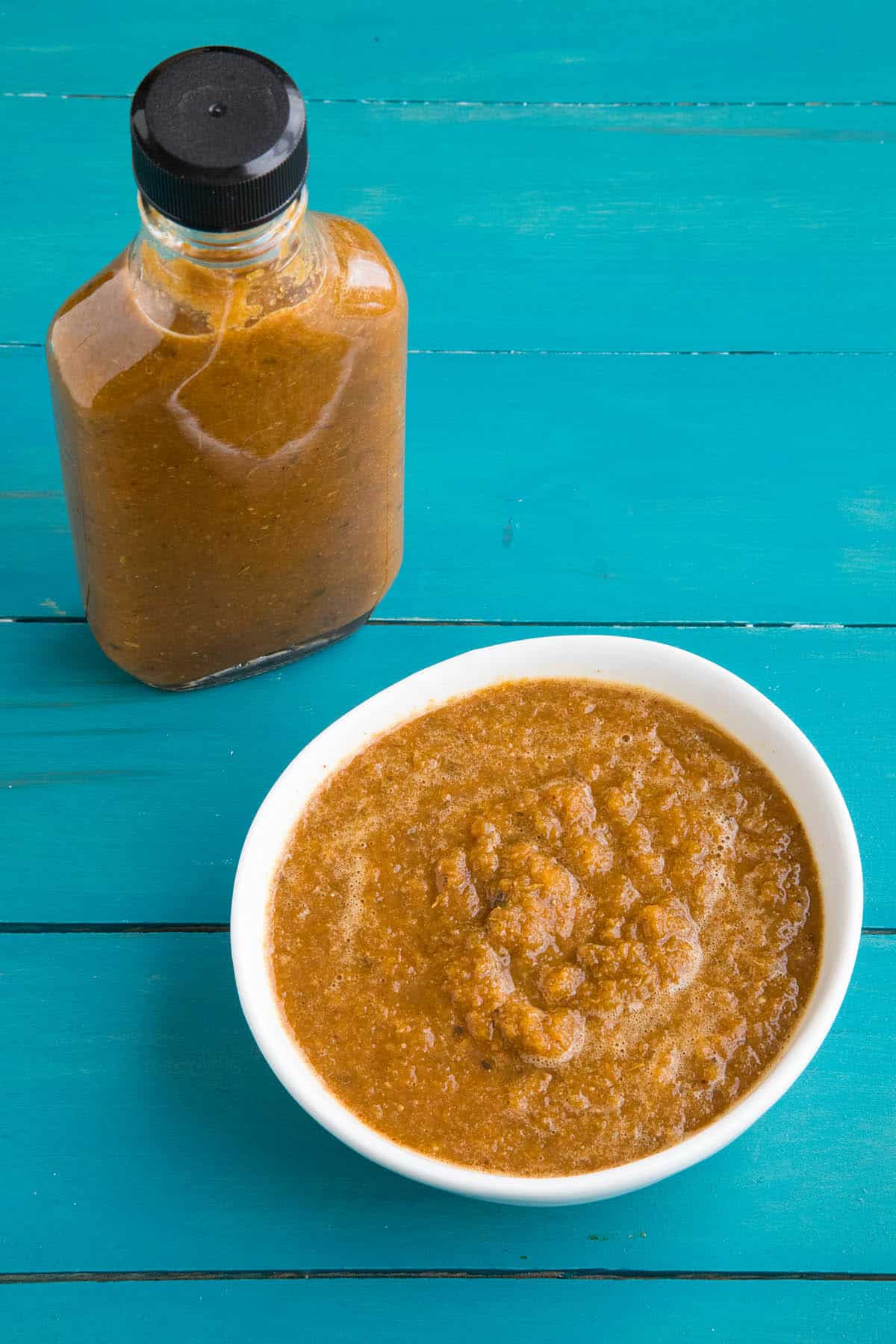 To Ferment or Use Fresh Peppers?
If you're not comfortable with fermenting (you SHOULD be, though), you CAN make this jalapeno hot sauce with fresh jalapeno peppers. Just skip steps 1-4 in the recipe. Start by processing the peppers in a food processor, then jump to step 5 and make your jalapeno hot sauce.
It will still be a good hot sauce, for sure, but you'll have a fresher, greener flavor that is not quite as developed as you would achieve by fermenting.
Check out my page on How to Make Fermented Pepper Mash to learn more about why you should be fermenting chili peppers.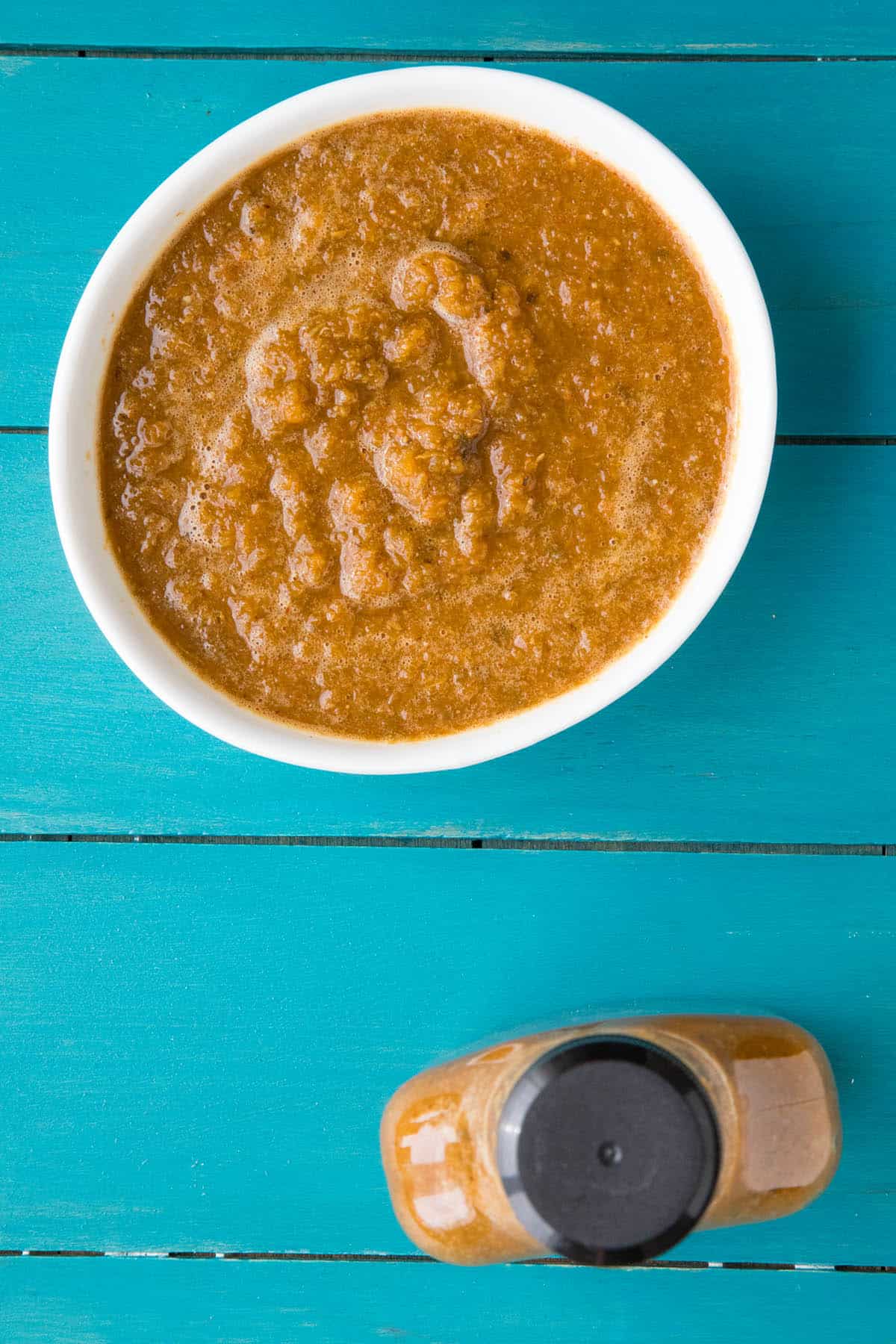 Fermented hot sauces are mellower and have a deeper flavor, so I've been fermenting a LOT of chili peppers the past several years for making my own hot sauces.
Just like this one!
I've added several other ingredients for flavoring, particularly a portion of ancho chili powder, which gives it a nice level of smokiness and depth. I only used a teaspoon, but you can easily double to triple that to your own personal tastes.
Recipe Tips & Notes
After you strain out the solids to thin out the hot sauce, you can throw the solids away, OR dehydrate them and use them for seasoning.
Those solids still have plenty of life left in them, and hey, what a great way to make some homemade seasonings for yourself? Sprinkle it over foods or use it as a rub. It would be GREAT on anything grilled. Spice things up a bit!
Check out my other Hot Sauce Recipes, too.
Storage & Leftovers
It should keep a few months easily in the fridge, or even longer. It's all about the acidity. To be technical, target level ph for shelf stable foods is below 4.6 ph, but should probably be lower for home cooks, around 3.5 or so, to account for errors. If you're concerned, add more vinegar to lower the ph. Sauces made with fermented chili peppers will last even longer.
The best ph meters that I recommend are from Thermoworks. Get yourself a ph meter from Thermoworks today. I am a happy affiliate.
Frequently Asked Hot Sauce Questions
Here are answers to some of the most common questions I get on other sauces:
Where'd you get that sauce bottle?
I find them locally sometimes, but I also order through Amazon. Here is a link to some bottles I like (affiliate link, my friends!): Swing Top Glass Bottles, 8.5 Ounce - Set of 4
. If you like the smaller bottles that most hot sauce makers use, here's another link: Hot Sauce Bottles, 5 Oz - 24 Pack
.
Can I process this hot sauce for longer storage?
Absolutely. Just be sure to use proper canning/jarring safety procedures.
What should I do with hot sauce?
Aside from drizzling it over anything you please, here's a post I did about How to Cook with Hot Sauce. As if you need even MORE reasons to eat hot sauce. I hope you find it helpful!
Patty's Perspective
I've been seeking out fermented foods a lot more since I have IBS. I am looking for any way to incorporate them into my regular eating. Well, guess what? Mike loves making fermented hot sauces. YAY! And problem solved, it's always in the fridge ready to add to any meal. I love this one more than a lot of other hot sauces.
I typically gravitate to the green jalapeno hot sauces regardless, but there is something about this one. It seems to pair with more foods than any other one we have in the fridge. And as you can imagine, we have a LOT of Hot Sauce in our Fridge.
Try Some of My Other Popular Jalapeno Sauce Recipes
Check out Some of My Other Popular Hot Sauce Recipes:
Check out more Hot Sauce Recipes or learn more about How to Make Hot Sauce.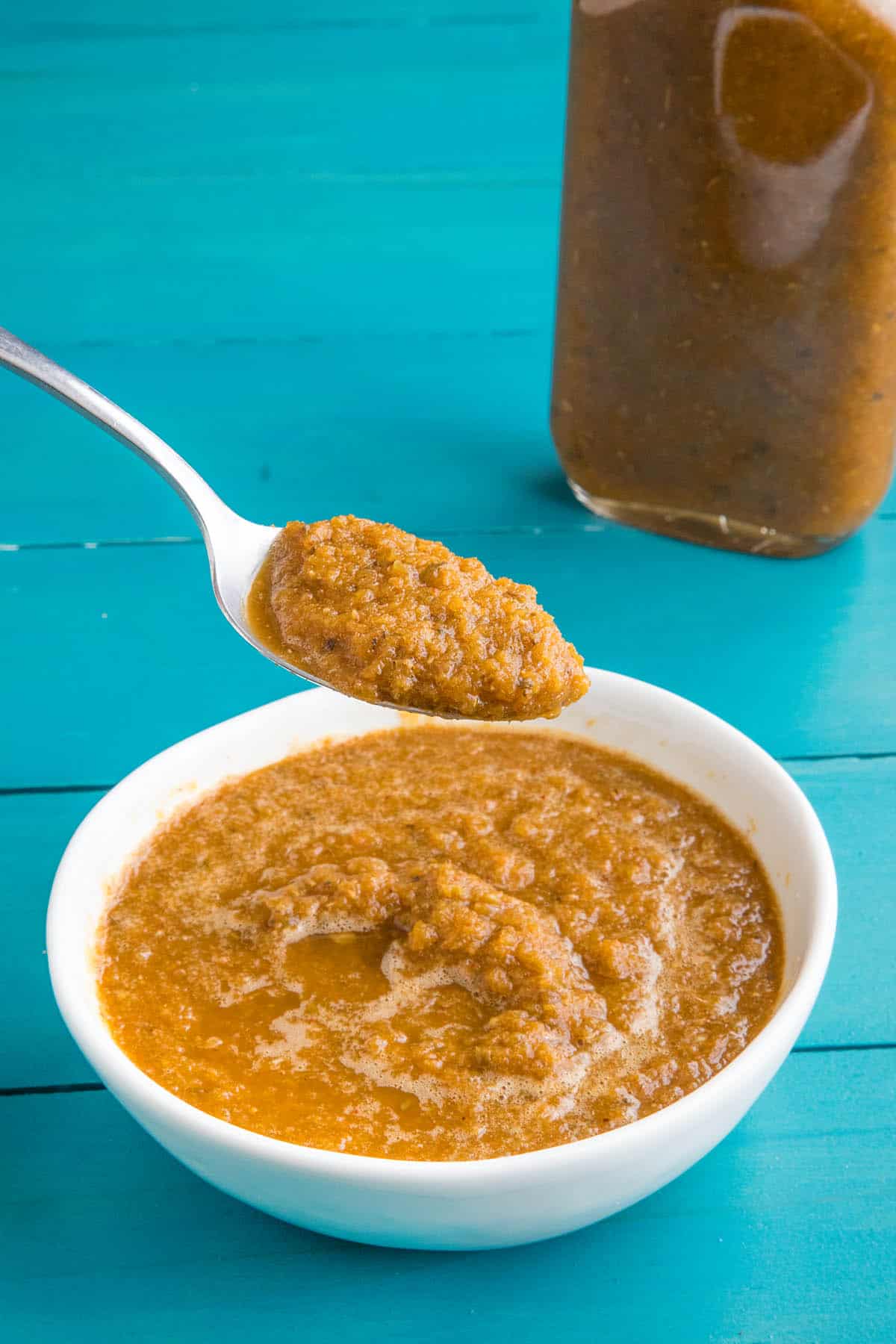 Got any questions? Ask away! I'm happy to help. If you enjoy this recipe, I hope you'll leave a comment with some STARS. Also, please share it on social media. Don't forget to tag us at #ChiliPepperMadness. I'll be sure to share! Thanks! -- Mike H.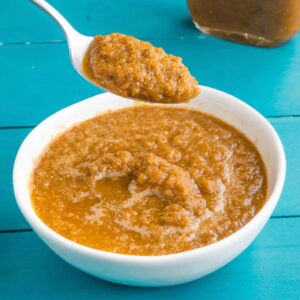 Print
Ancho-Jalapeno Hot Sauce Recipe
A hot sauce recipe with plenty of zing and smoky flavor, this ancho-jalapeno hot sauce is made with jalapeno peppers, carrots, garlic, ancho powder and more. Drizzle it over anything for extra flavor.
Save Recipe
Saved!
Ingredients
1

pound

jalapeno peppers

chopped

4

ounces

carrots

peeled and chopped

5

cloves

garlic

chopped

¼

cup

apple cider vinegar

1

tablespoon

Mexican oregano

1

teaspoon

ancho chili powder

1

teaspoon

salt

½

teaspoon

cumin
Instructions
First, roughly chop the peppers, carrots and garlic. Pack them into a large jar, leaving at least 1 inch of head space. The mixture may rise a bit when fermenting.

Next, mix 1 quart unchlorinated water with 3 tablespoons sea salt. Pour just enough brine over the mixture to cover it, pressing them down a bit as you go. It is important to keep the mixture covered with brine to avoid spoilage. Check this daily.

Screw on the lid and set the jar away from direct sunlight to ferment for at least 1 week. I fermented for 8 weeks. Ideal temperatures are between 55-75 degrees F. The most active fermentation period is between 1-2 weeks, so be sure to monitor it during this time. "Burp" the jars often by unscrewing the lid a bit to let out some of the accumulating gases. Or, use an airlock or membrane for easier fermenting. See our page, "How to Make Fermented Pepper Mash", for further instruction.

After 1-2 weeks, the fermenting activity will diminish and the brine will turn cloudy and taste acidic.

When satisfied with your fermenting time, pour the contents, including brine, into a pot along with the remaining ingredients. Bring to a quick boil. Reduce heat and simmer for 15 minutes.

Cool, then process with a food processor until nice and smooth.

Pour into sterilized jars and seal. Refrigerate and enjoy. Tastes even better if you leave it mingle a week or longer.
Notes
Makes about 2.5 cups.
For a NON-FERMENTED Version of This Recipe: Skip the fermenting portion and use fresh jalapeno peppers. Simply add all of the chopped ingredients along with the vinegar to a pot with 1/2-1 cup of water (depending on your preferred consistency), bring to a boil, then simmer 15 minutes. Adjust for salt. Cool, process and store in sterilized jars or bottles. You can strain the sauce if you'd like a thinner sauce before bottling.
NOTE: Acidity measured 3.5 after 8 weeks of fermenting and would be low enough for home use and storage. Vinegar brought it down to about 3.0.
Nutrition Information
Calories:
5
kcal
Carbohydrates:
1
g
Sodium:
61
mg
Potassium:
42
mg
Vitamin A:
615
IU
Vitamin C:
13.7
mg
Calcium:
5
mg
Iron:
0.1
mg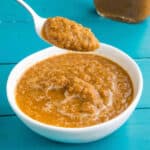 Did You Enjoy This Recipe?
I love hearing how you like it and how you made it your own. Leave a comment below and tag @ChiliPepperMadness on social media.