A hot sauce recipe made with your favorite hot peppers, garlic, honey and dark rum. Just a touch of sweet with your ideal level of heat. Drizzle it over everything.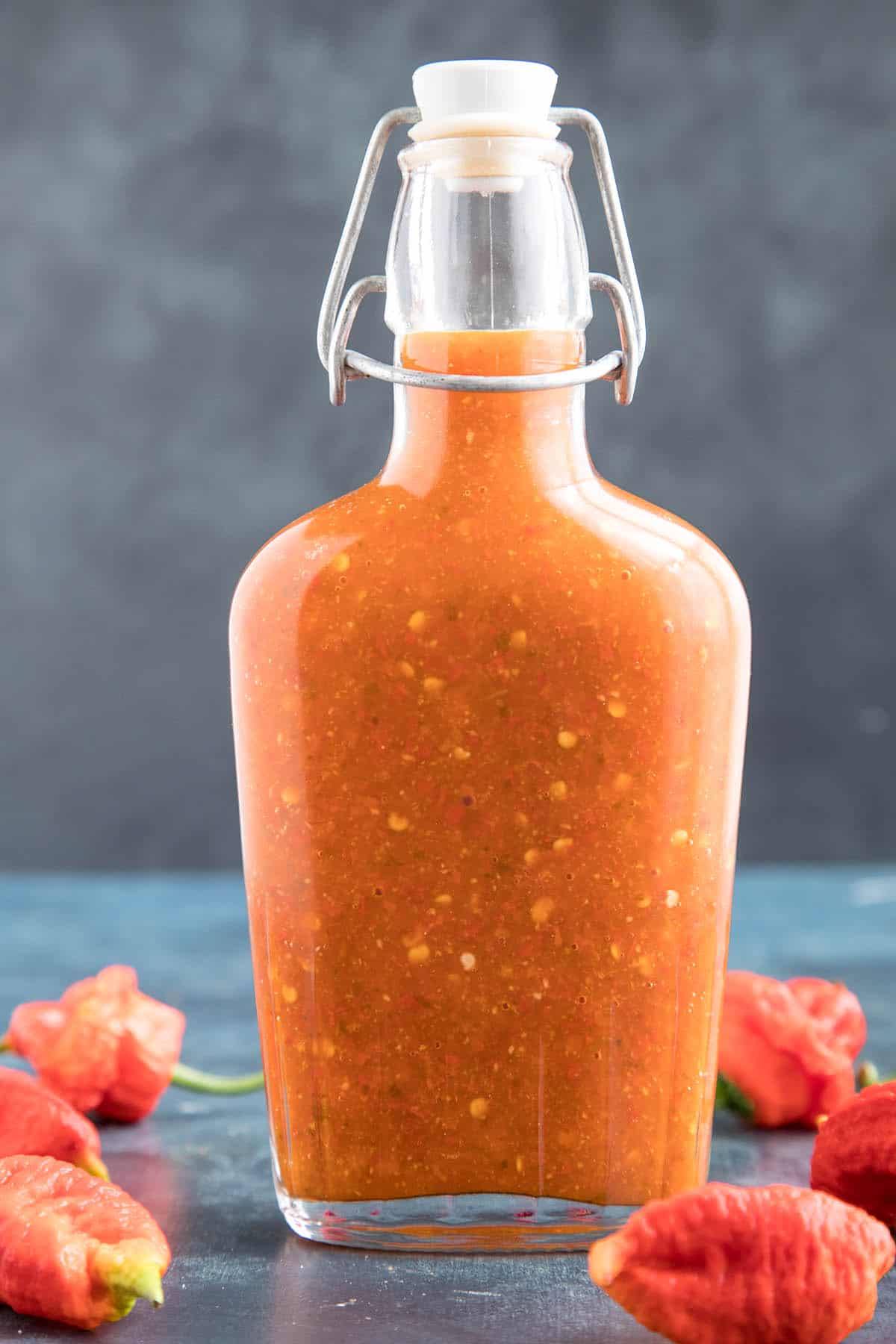 Got another hot sauce coming your way, my friends. We're not fermenting the peppers this time - see "How to Ferment Chili Peppers" if you're interested in that subject - but instead working with fresh chili peppers that we'll be roasting.
Roasting your peppers is a good way to coax out additional flavors for your resulting hot sauce. It's a super simple sauce recipe with very few steps, though you'll be crazy happy with the end flavors.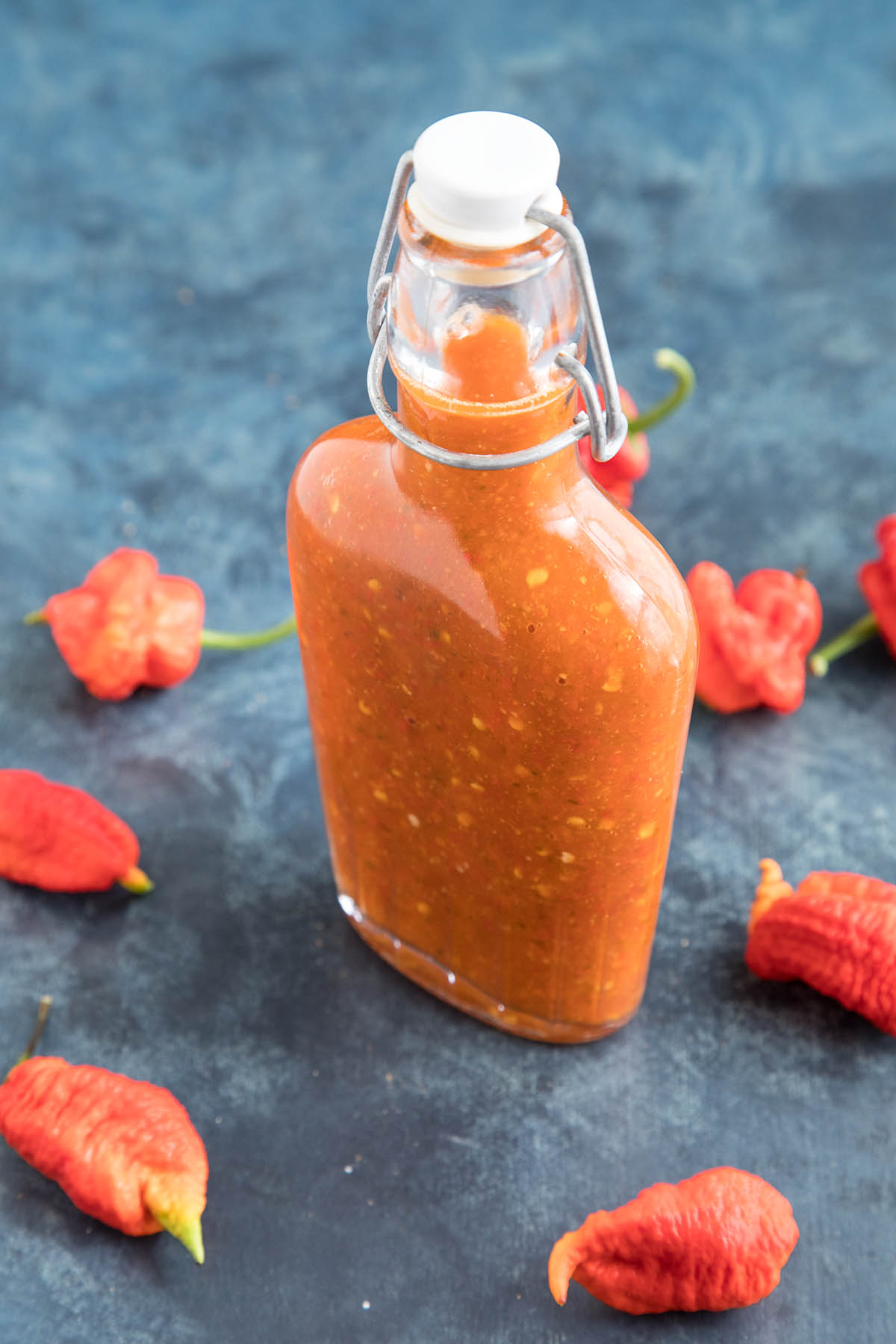 I'm calling this a more generic "Hot Pepper Sauce" recipe as you can see because you can make this with any pepper of your choice, realistically. I grew so many peppers in our garden this year and this is me basically using some of them up.
Notes on the Hot Sauce
I used a collection of Squash Red peppers, Jamaican Hots, and Brain Strain peppers, which are incredibly HOT, classified as superhot chili peppers.
I was going for something VERY hot that I can spoon into chili, which I LOVE making this time of year, or for swirling into soups and stews to bring up the heat of the entire pot.
Chili Pepper Substitutions
You are free to use whatever chili peppers you prefer to achieve a heat level you desire. You don't have to be a crazy man like me, eating the superhots. I'll have to make a milder version for Patty using a couple habanero peppers and rounding it out with sweeter peppers.
She loves a good hot sauce, too, but isn't a fan of the superhots. Too hot for her! I have some sweet peppers fermenting right now for her.
Here is that Recipe - Sweet Pepper Chili Sauce.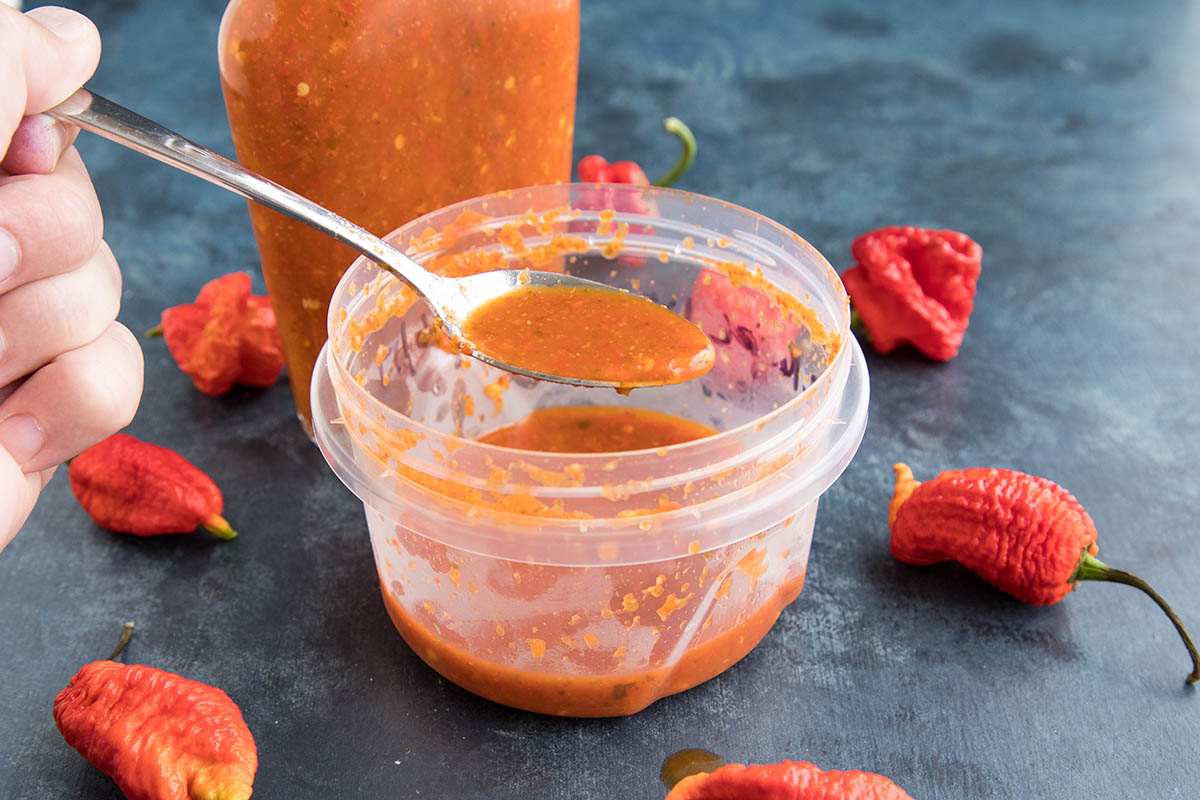 The process is easy enough to make the hot sauce.
Making this Honey Roasted Hot Pepper Hot Sauce - The Recipe Method
In a nutshell, you'll chop your peppers and mix all of the ingredients, except the vinegar, together in a bowl. Spread it all out over a baking sheet and roast them in the oven for about 12 minutes to cook everything down a bit.
Cool it all slightly then process it all up in a food processor with apple cider vinegar.
You can strain the sauce at this point if you'd like a smoother sauce, but it's already pretty smooth. I didn't strain mine. You can still see some of the seeds in there. I sort of like that sometimes. Makes it feel more rustic, though go for your preference.
You'll definitely get your preferred heat along with a sweet finish from the honey and brown sugar, though it isn't TOO sweet. You'll also notice the pungency of the garlic, basil and dark rum for complexity.
Give a try, my friends! Let me know it turns out for you. I hope you like it! -- Mike H.
Adjusting the Hot Sauce Heat Factor
You will get a good range of heat depending on your peppers of choice, but note that the honey and brown sugar mellow out that heat slightly. If you're looking for hot sauce with a BANG, go with ghost peppers or hotter.
Frequently Asked Hot Sauce Questions
Here are answers to some of the most common questions I get on other sauces:
How long will this sauce keep?
It should keep a few months easily in the fridge, or even longer. It's all about the acidity. To be technical, target level ph for shelf stable foods is below 4.6 ph, but should probably be lower for home cooks, around 4.0 or so, to account for errors. If you're concerned, add more vinegar to lower the ph. Sauces made with fermented chili peppers will last even longer.
Where'd you get that sauce bottle?
I find them locally sometimes, but I also order through Amazon. Here is a link to some bottles I like (affiliate link, my friends!): Swing Top Glass Bottles, 8.5 Ounce - Set of 4
. If you like the smaller bottles that most hot sauce makers use, here's another link: Hot Sauce Bottles, 5 Oz - 24 Pack
.
Can I process this hot sauce for longer storage?
Absolutely. Just be sure to use proper canning/jarring safety procedures.
What should I do with hot sauce?
Aside from drizzling it over anything you please, here's a post I did about How to Cook with Hot Sauce. As if you need even MORE reasons to eat hot sauce. I hope you find it helpful!
Check out These Related Recipes:
Check out more Hot Sauce Recipes or learn more about How to Make Hot Sauce.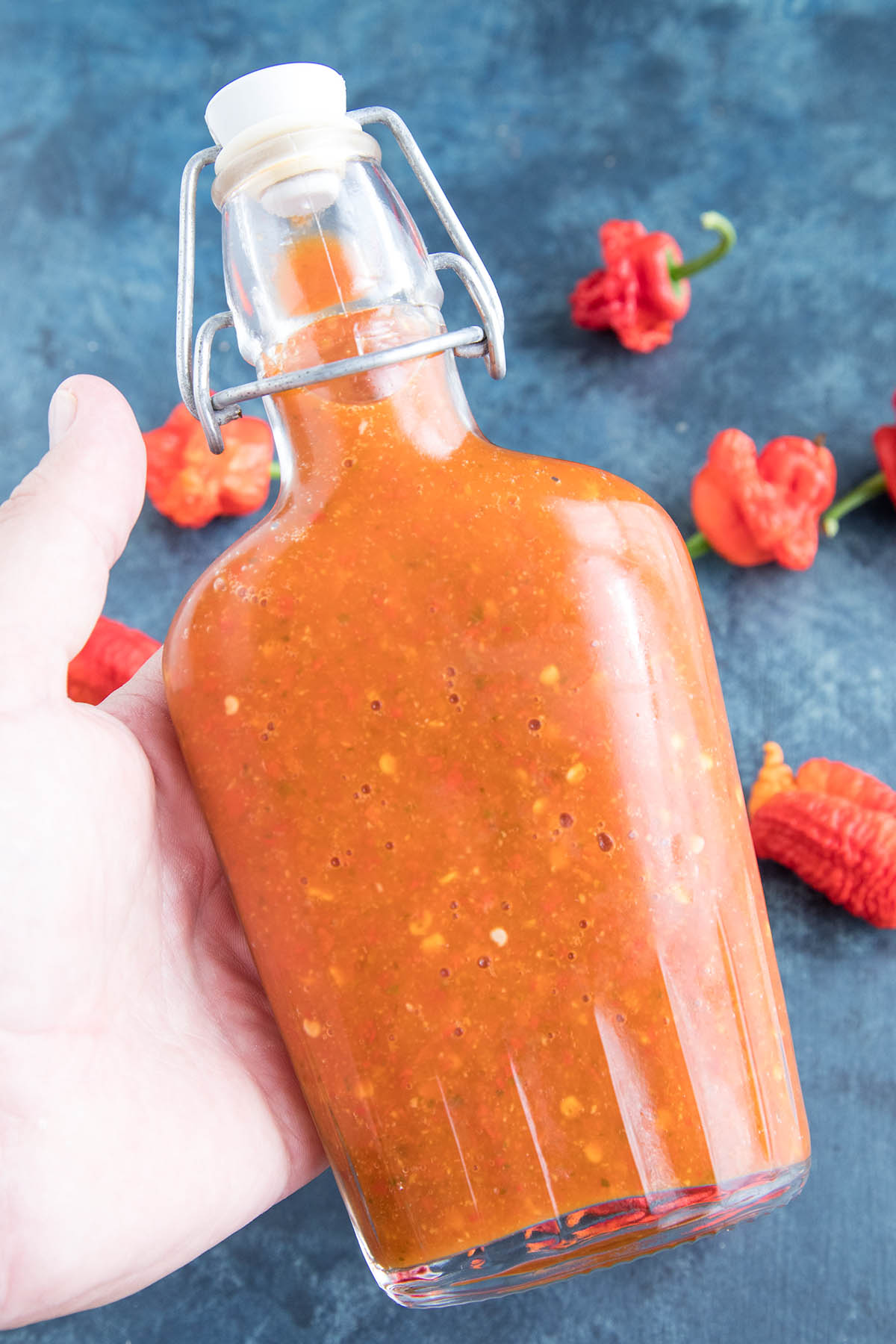 If you try this recipe, please let us know! Leave a comment, rate it and tag a photo #ChiliPepperMadness on Instagram so we can take a look. I always love to see all of your spicy inspirations. Thanks! -- Mike H.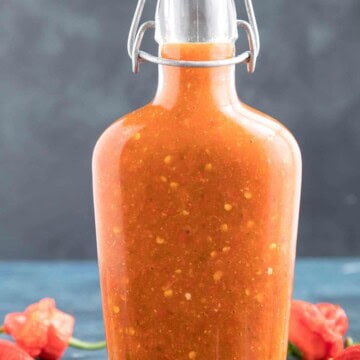 Print
Honey Roasted Hot Pepper Hot Sauce – Recipe
A hot sauce recipe made with your favorite hot peppers, garlic, honey and dark rum. Just a touch of sweet with your ideal level of heat. Drizzle it over everything.
Save Recipe
Saved!
Ingredients
8

ounces

hot peppers

chopped

5

cloves

garlic

chopped

2

tablespoons

fresh chopped basil

2

tablespoons

brown sugar

¼

cup

honey

3

tablespoons

dark rum

1-1/2

cups

apple cider vinegar

12 oz

Salt to taste

Juice from 1 lime
Instructions
To a large bowl, add hot peppers, garlic, basil, brown sugar, honey and rum. Mix well.

Spread the mixture over a baking sheet, reserving any remaining liquid from the bowl.

Roast in the oven for 12 minutes at 350 degrees F.

Cool slightly then add the mixture to a food processor with the reserved liquid, apple cider vinegar and salt to taste. Process until smooth.

Swirl in lime juice and pour the sauce into a glass container or bottle. Cover and let it sit for at least 24 hours or longer for the flavors to blend.
Notes
Enjoy! Makes about 2 cups.
Heat Level: Hot.
Nutrition Information
Calories:
29
kcal
Carbohydrates:
5
g
Sodium:
1
mg
Potassium:
46
mg
Sugar:
5
g
Vitamin A:
120
IU
Vitamin C:
16.5
mg
Calcium:
4
mg
Iron:
0.2
mg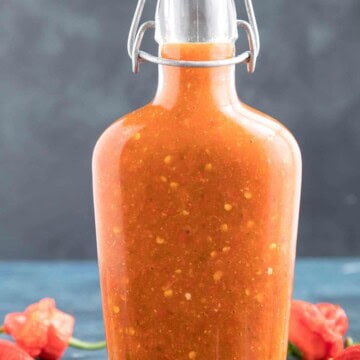 Did You Enjoy This Recipe?
I love hearing how you like it and how you made it your own. Leave a comment below and tag @ChiliPepperMadness on social media.