This hot sauce recipe uses serrano peppers that have been fermented, then processed with vinegar, garlic, tequila and lime juice. It is juicy, tart and just the right amount of spicy.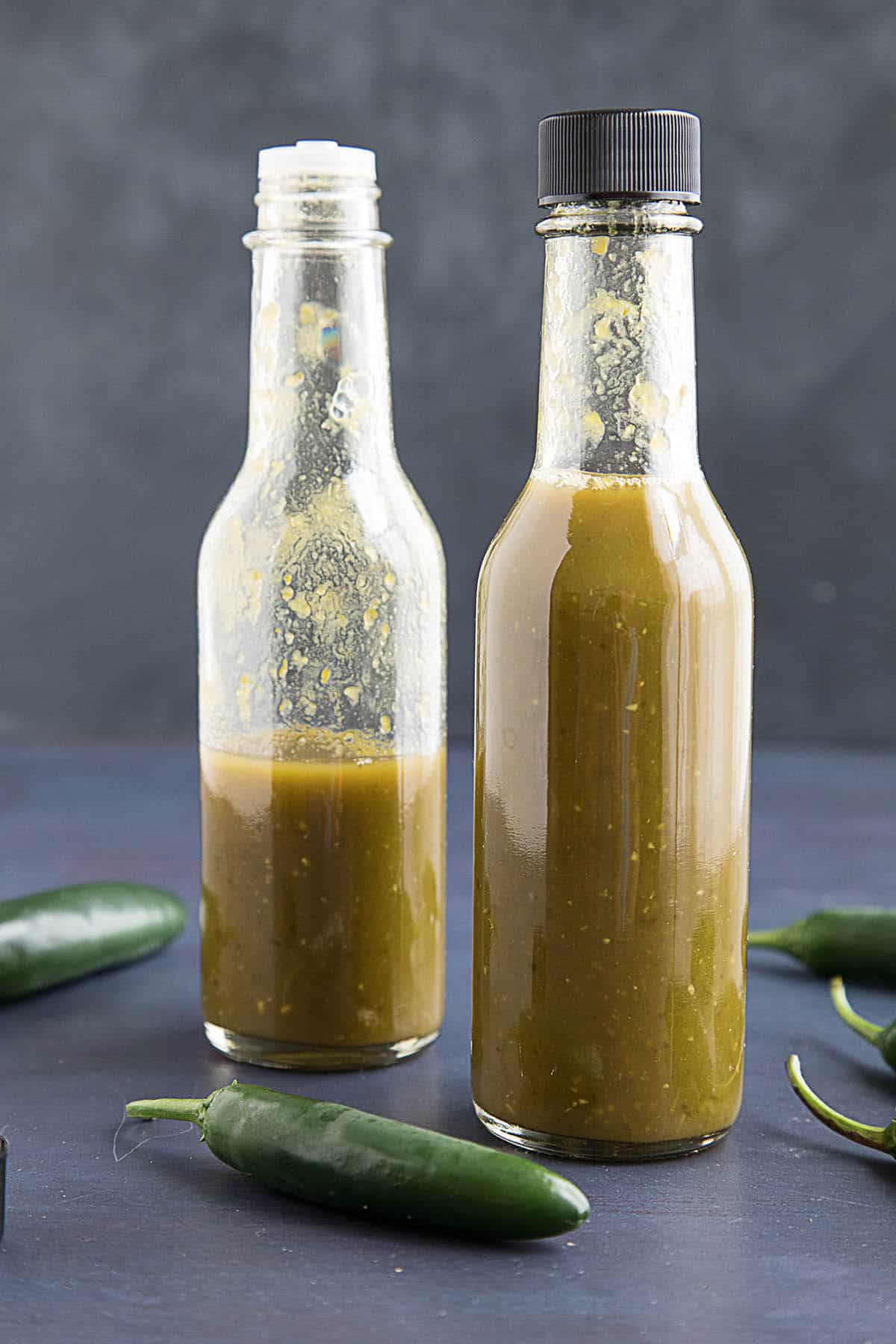 Spicy Serrano Hot Sauce Recipe
More hot sauce coming at you, my friends. If you can believe it, our garden is STILL producing peppers because of this phenomenal weather we've been having. I know cold weather is on the way, but we've been a bit lucky here in zone 5 this year and I'm reaping the benefits.
I grew serrano peppers this year and HOLY WOW did they go wild. I only planted a single plant and that plant has produced marvelously. If you're going to grow peppers, be sure to include a serrano plant. One of the most productive plants in the garden.
The big question, though, when growing serrano peppers is...
What Can I Do With a LOT of Serrano Peppers?
Here's an idea for you. Make HOT SAUCE.
Yes!
This is a fermented hot sauce recipe and it requires an entire pound of serrano peppers, which may not seems like a lot of weight, but it takes quite a few serrano peppers to weigh 1 pound.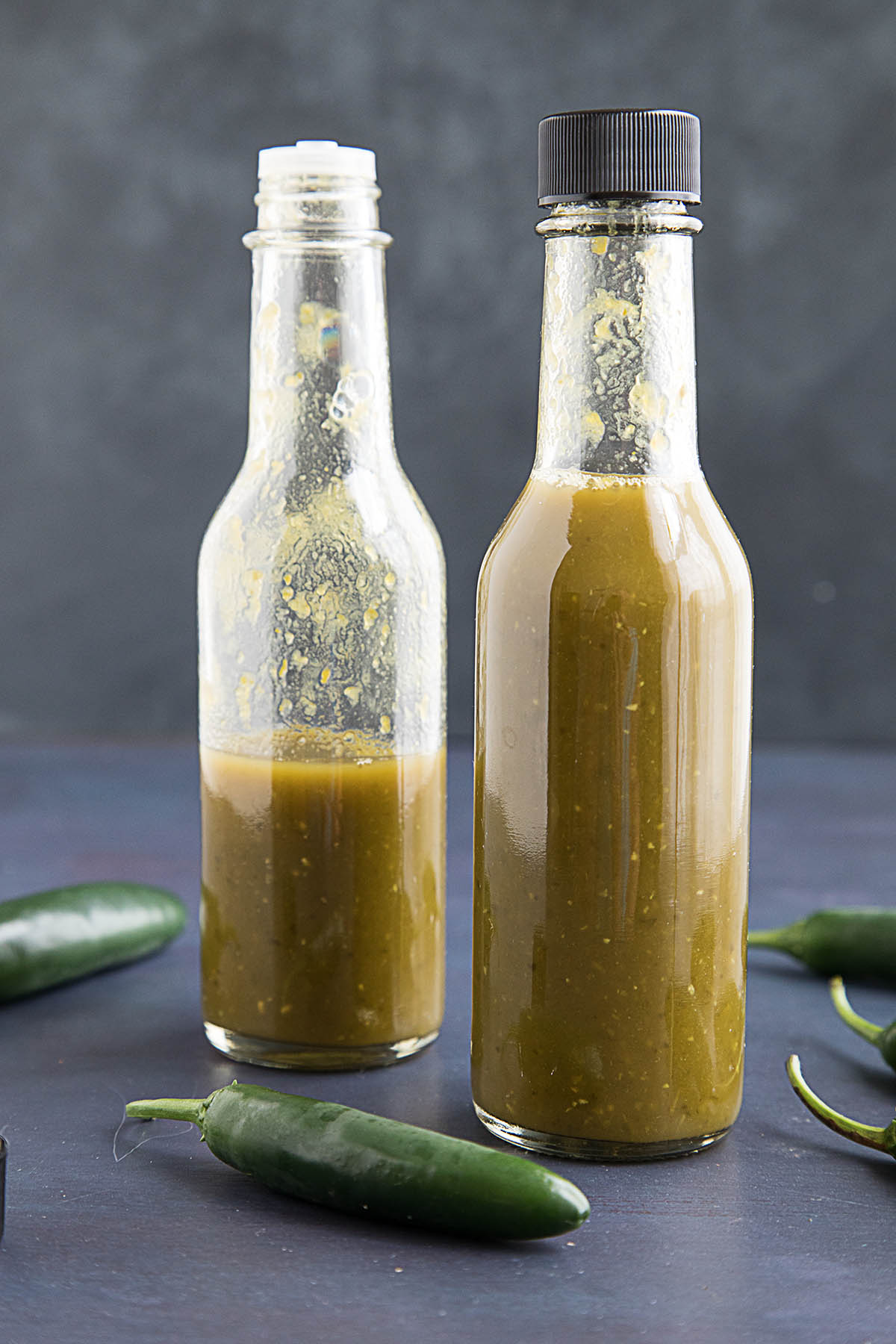 To Ferment or Use Fresh Peppers?
If you're not comfortable with fermenting (you SHOULD be, though), you CAN make this hot sauce with fresh serrano peppers. Just skip steps 1-4 in the recipe. Start by processing the peppers in a food processor, then jump to step 5 and make your serrano hot sauce.
It will still be a good hot sauce, for sure, but you'll have a fresher, greener flavor that is not quite as developed that you achieve by fermenting.
Check out my page on How to Make Fermented Pepper Mash to learn more about why you should be fermenting chili peppers.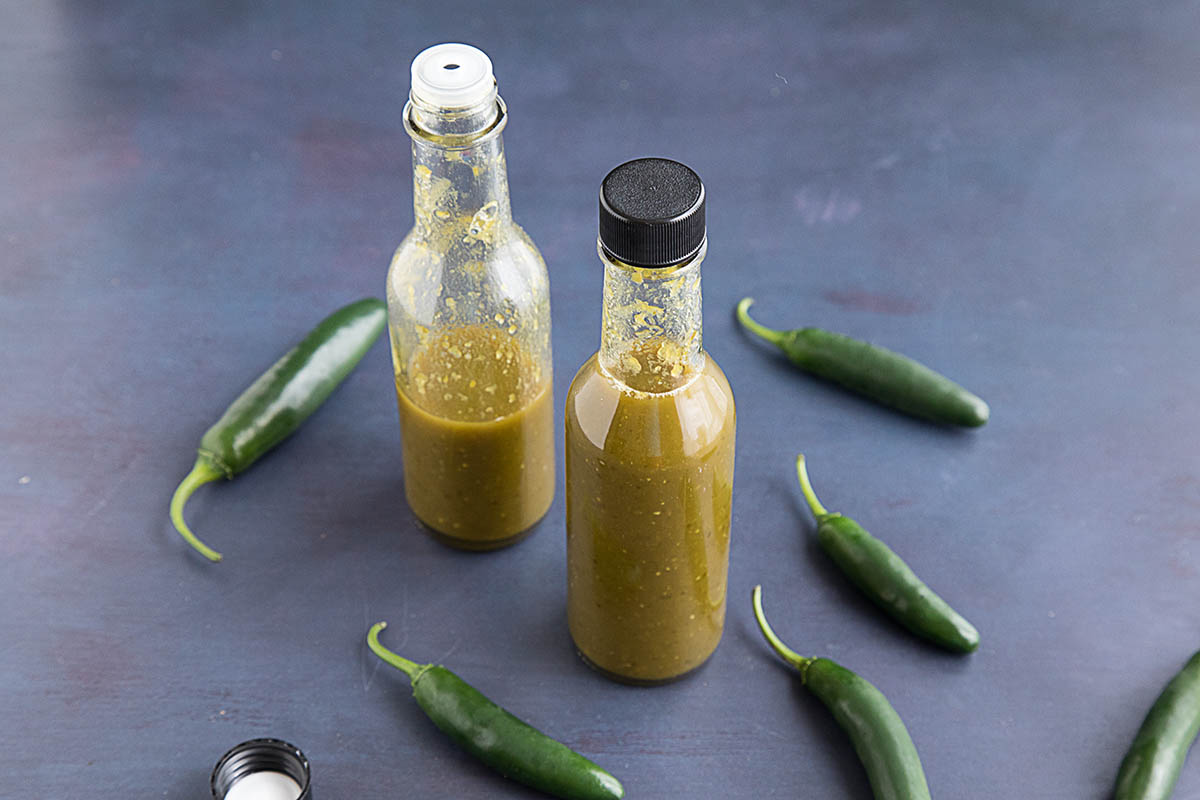 Fermented hot sauces are mellower and have a deeper flavor, so I've been fermenting a LOT of chili peppers this year for hot sauces.
This is actually a hot sauce for Patty, because she tends to lean toward green hot sauces and seasonings. I tend to favor vibrant red and orange sauces, but Patty loves her serrano peppers.
So here you go, Patty! She loves this one. It is slightly garlicky and tart and distinctive with the addition of tequila, something else Patty loves.
Enjoy and check out my other Hot Sauce Recipes, too.
Where'd you get that sauce bottle?
I find them locally sometimes, but I also order through Amazon. Here is a link to some bottles I like (affiliate link, my friends!): Swing Top Glass Bottles, 8.5 Ounce - Set of 4
. If you like the smaller bottles that most hot sauce makers use, here's another link: Hot Sauce Bottles, 5 Oz - 24 Pack
.
Recipe Tips & Notes
Process this hot sauce for longer storage. Just be sure to use proper canning/jarring safety procedures.
Wondering what to do with this sauce? Aside from drizzling it over anything you please, here's a post I did about How to Cook with Hot Sauce. As if you need even MORE reasons to eat hot sauce. I hope you find it helpful!
After you strain out the solids to thin out the hot sauce, you can throw the solids away, OR --- dehydrate them and use them for seasoning. Or simply do not strain for a thicker sauce. Those solids still have plenty of life left in them, and hey, what a great way to make some homemade seasonings for yourself? Sprinkle it over foods or use it as a rub. It would be GREAT on chicken. Give it a little ZING, right?
Storage & Leftovers
This sauce should keep many months easily in the fridge, or even longer. It's all about the acidity. To be technical, target level ph for shelf stable foods is below 4.6 ph, but should probably be lower for home cooks, around 4.0 or so, to account for errors. If you're concerned, add more vinegar to lower the ph. Sauces made with fermented chili peppers will last even longer.
The best ph meters that I recommend are from Thermoworks. Get yourself a ph meter from Thermoworks today. I am a happy affiliate.
Check out more Hot Sauce Recipes or learn more about How to Make Hot Sauce.
Check out These Related Recipes:
Try Some of My Popular Serrano Recipes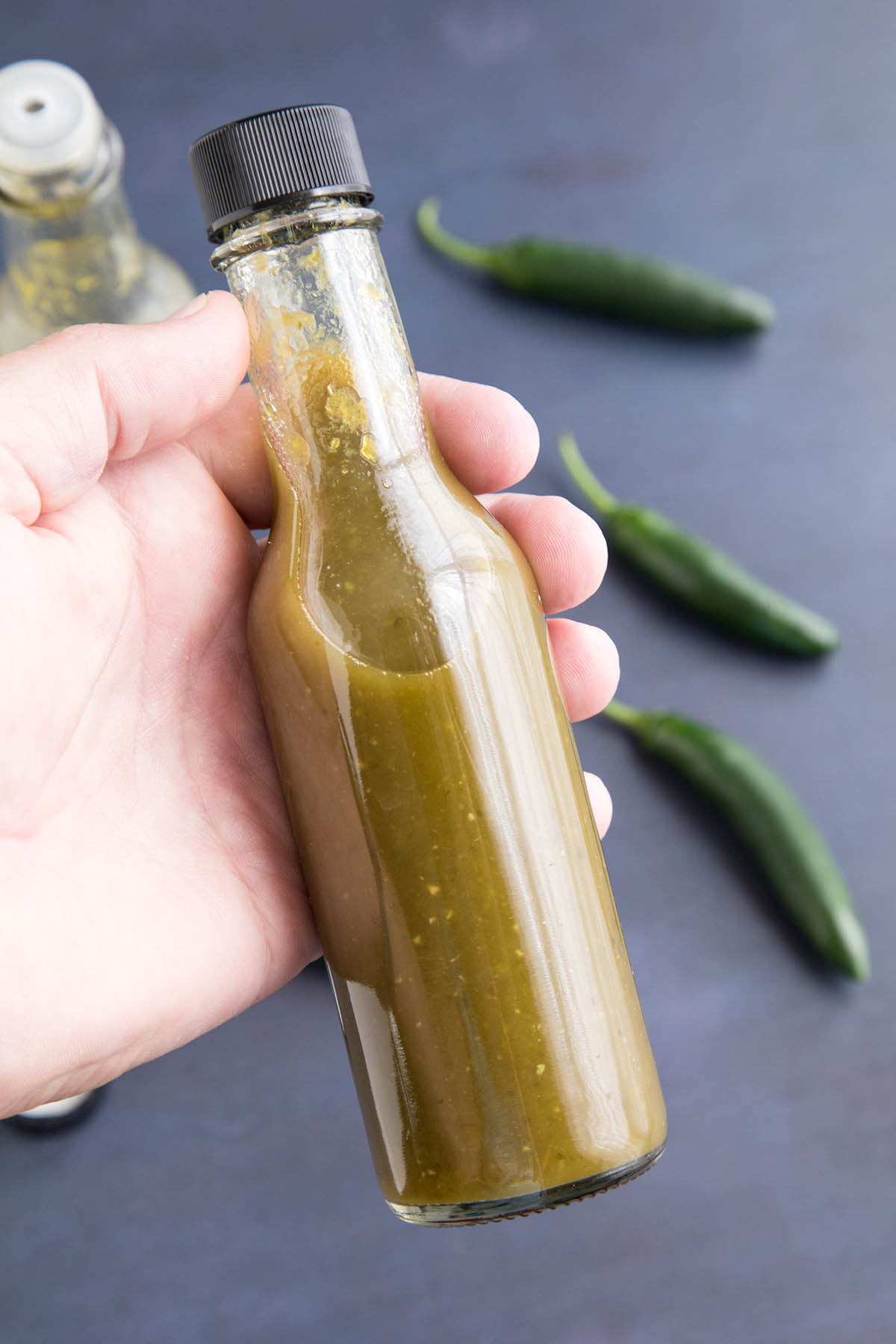 Got any questions? Ask away! I'm happy to help. If you enjoy this recipe, I hope you'll leave a comment with some STARS. Also, please share it on social media. Don't forget to tag us at #ChiliPepperMadness. I'll be sure to share! Thanks! — Mike H.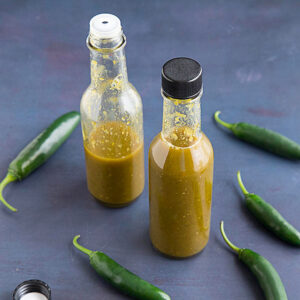 Print
Spicy Serrano Hot Sauce Recipe
This hot sauce recipe uses serrano peppers that have been fermented, then processed with vinegar, garlic, tequila and lime juice. It is juicy, tart and just the right amount of spicy.
Save Recipe
Saved!
Ingredients
1

pound

serrano peppers

3

tablespoons

sea salt

1

quart

unchlorinated water

3

cloves

garlic

minced

3

ounces

white wine vinegar

1.5

ounces

reposado tequila

Juice from 1 lime
Instructions
First, ferment the serrano peppers. Process your fresh peppers in a food processor. If you don't have a processor, use a mortar and pestle or simply rough chop them. Pack them into a jar, leaving at least 1 inch of head space. The peppers may rise a bit when fermenting.

Next, mix 1 quart unchlorinated water with 3 tablespoons sea salt. Pour just enough brine over the peppers to cover them, pressing them down a bit as you go. Discard or save any remaining brine for another use. It is important to keep the peppers covered with brine to avoid spoilage. Check this daily.

Screw on the lid and set the jar away from direct sunlight to ferment for at least 1 week. Ideal temperatures are between 55-75 degrees F. The most active fermentation period is between 1-2 weeks, sobe sure to monitor it during this time. "Burp" the jars often by unscrewing the lid a bit to let out some of the accumulating gases. Or, use an airlock or membrane for easier fermenting. See our page, "How to Make Fermented Pepper Mash", for further instruction.

After 1-2 weeks, the fermenting activity will diminish and the brine will turn cloudy and taste acidic.

Pour the fermented serrano peppers, including the brine, into a pot along with garlic, vinegar and tequila. Bring to a quick boil. Reduce heat and simmer for 15 minutes. NOTE: If you feel the brine will make your hot sauce too salty, you can strain the peppers and use fresh water instead, just enough to cover the peppers in the pot. Or, use a combination of brine and fresh water.

Cool slightly then add to a food processor with the lime juice. Process until smooth.

Strain the mixture to remove the solids, if desired. Pour into hot sauce bottles and enjoy.
Notes
Makes 8-9 ounces of hot sauce, though it will make more unstrained.
Nutrition Information
Calories:
13
kcal
Carbohydrates:
1
g
Sodium:
1051
mg
Potassium:
70
mg
Vitamin A:
215
IU
Vitamin C:
10.3
mg
Calcium:
5
mg
Iron:
0.2
mg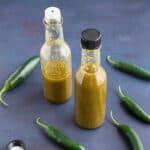 Did You Enjoy This Recipe?
I love hearing how you like it and how you made it your own. Leave a comment below and tag @ChiliPepperMadness on social media.