Berbere spice is a robust Ethiopian spice blend of bold chilies and aromatic spices, essential to many East African dishes, like soups, stews, and more.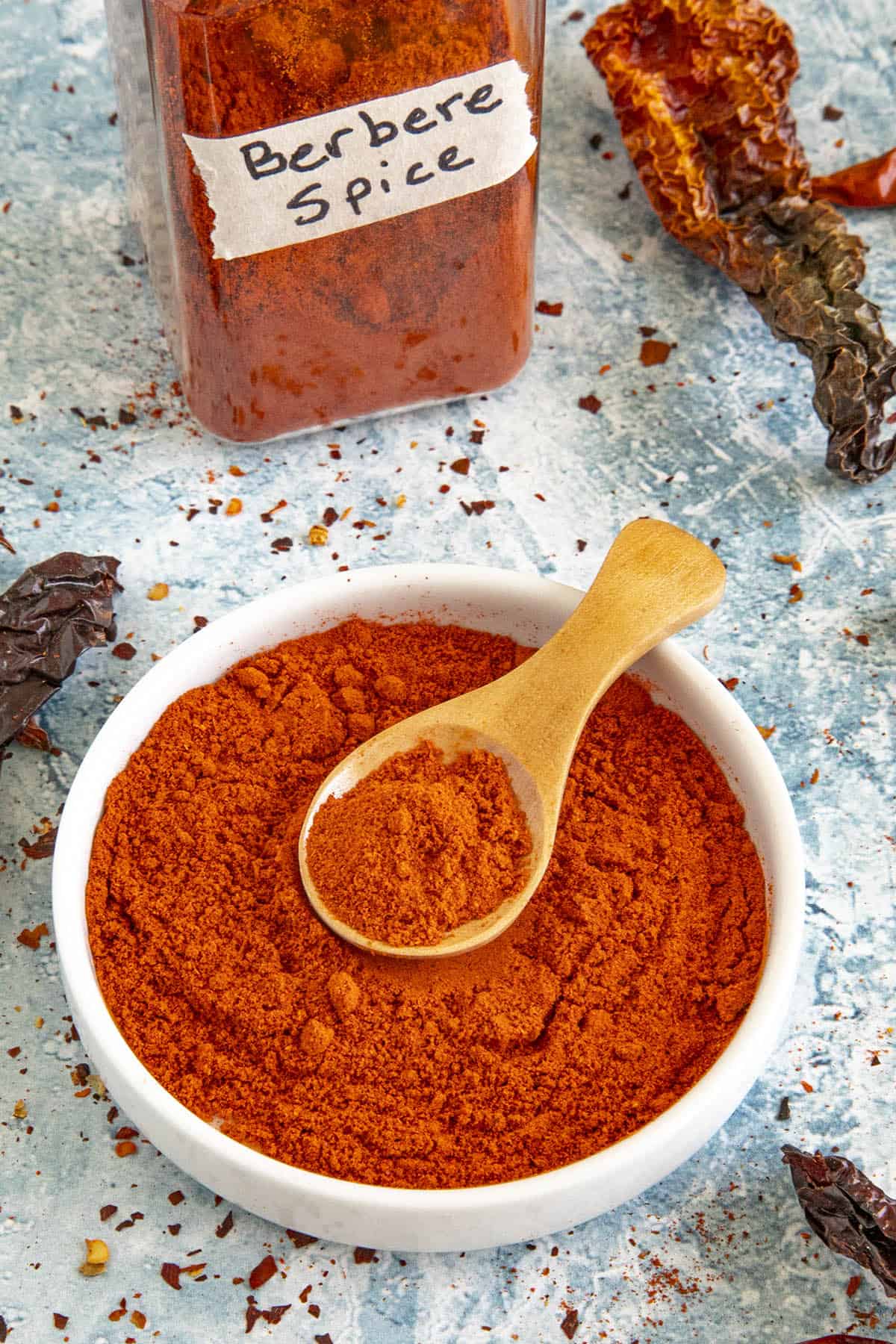 What is Berbere Spice?
Authentic "berbere" is a traditional Ethiopian spice blend that originates from the southeastern part of Africa. It is widely considered the spicy mix of Eritrea and Ethiopia.
It consists of the staple spices of the region, including but not limited to dried chili peppers, garlic, ginger, basil, korarima, rue, ajwain or radhuni, nigella, besobela, cinnamon, turmeric, cardamom, fenugreek, and other ground spices.
Different chili powders or dried red chilies can be uses, such as paprika, cayenne, guajillo, dried New Mexican chilies, or other local chilies.
The fiery red spice mixture is a key ingredient and a distinctive feature in the Ethiopian cuisine.
Recipe blends vary from region to region and cook to cook, and it is easily customizable to remove or emphasize specific spices and heat levels.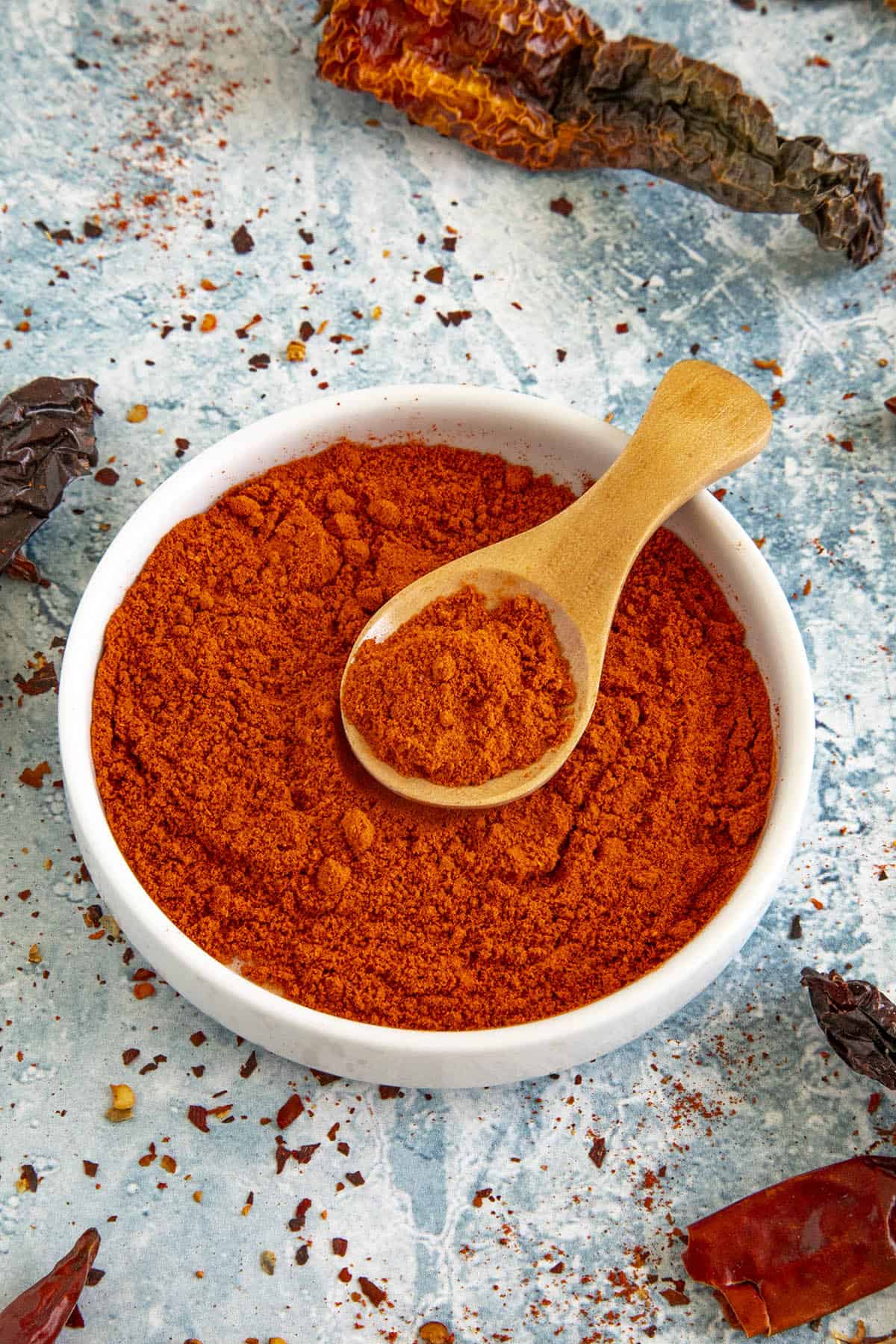 What Does Berbere Seasoning Taste Like?
The flavor of berbere is hot, peppery and tangy. Traditional berbere is best made from whole spices that are toasted and ground, which produces maximum flavor.
The flavor is compared to a mixture of BBQ, Southwestern, and Curry flavors. To me, there is rich depth of flavor unlike any other spice blend I use.
How Hot is Berbere?
Berbere comes in variety of heat levels. The hotness of the mixture depends on how much chili pepper the maker has used in the spice blend, and is usually a medium heat level for most.
I recommend to use it sparingly, depending on your tolerance, of course.
Using Berbere Spice
While Ethiopian cuisine essentially revolves around stews and soups, such as Doro Wat (the national dish of Ethiopia), berbere also serves as an excellent dry rub on meats and as a marinade.
While it is most often found as a dry powder in the markets or at online stores, you'll often find it in the form of pastes.
You can make the paste at home by mixing the spice with butter, oil, vinegar, wine or even simply water.
It can also be used for vegetarian dishes, as seasoning or rubs, as it is often used in salads or vegan varieties of chips like apple chips and zucchini chips.
It is also used in quinoa and couscous to add a kick of flavor.
Berbere is quite a versatile spice blend, which is why is used to make numerous BBQ rubs, lentil soups, beef and mutton stews (as the seasoning blend goes well with the natural juicy flavor of red meat), spiced butter and even being used as a table condiment in households.
The spice blend works well with pasta, particularly with red bases and tomato bases, complementing the tartness and acidity. Add a touch of berbere to homemade pasta sauce at the end of the preparation to enhance the flavor with a touch of smokiness.
Berbere works well with butters and fats, and is commonly used to season burgers to make them more "exotic". It can also be used for making tacos, an Ethiopian/Mexican spin on the dish.
Not to mention it also works wonders with lean meats like chicken and turkey.
Don't limit yourself to strictly Ethiopian dishes when using Berbere. Try it out in literally any cuisine to give it a new flavor spin.
Try Berbere in Some of These Dishes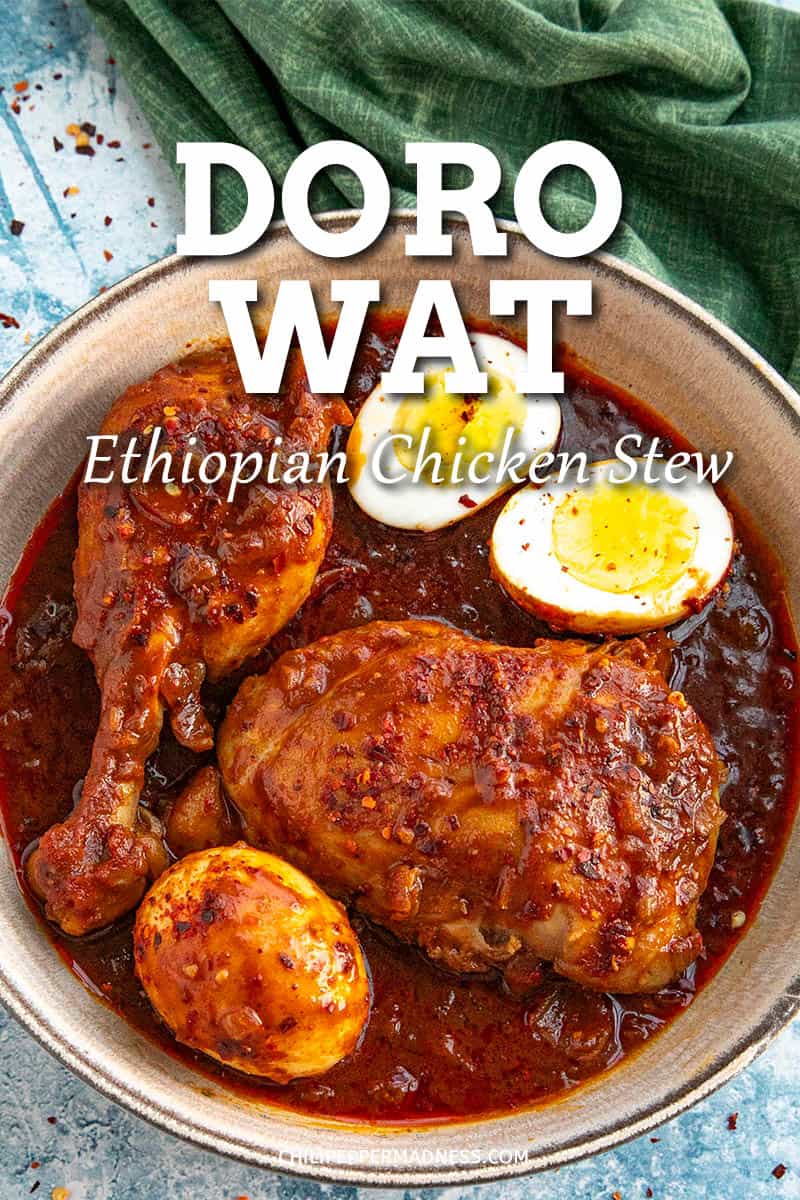 Berbere Substitutes
If you are unable to find berbere spice or make your own blend, the following spices can be used as a substitute:
Tsire (another African blend)
How Do You Pronounce Berbere?
Despite the growing popularity of this wonderful spice blend around the world, it is somewhat difficult to pronounce it properly in its regional Ethiopian dialect. According to numerous sources, it is phonetically pronounced as 'ber-bə-ˈrā'.
Or, more like this - bear-ber-AY.
Here is a link to Merriam Webster's site where you easily find the pronunciation of the word: https://www.merriam-webster.com/dictionary/berbere. "Ber-be-re" with the word being broken into 2 or 3 syllables respectively, depending on the source and dialect of the speaker.
Where Can I Buy Berbere?
You may be able to purchase berbere spice at a local specialty store, but your best bet is to find a good online resource. Below is a link to Amazon where you can buy some online. It's an affiliate link, my friends.
Learn More About These Other Interesting Spice Blends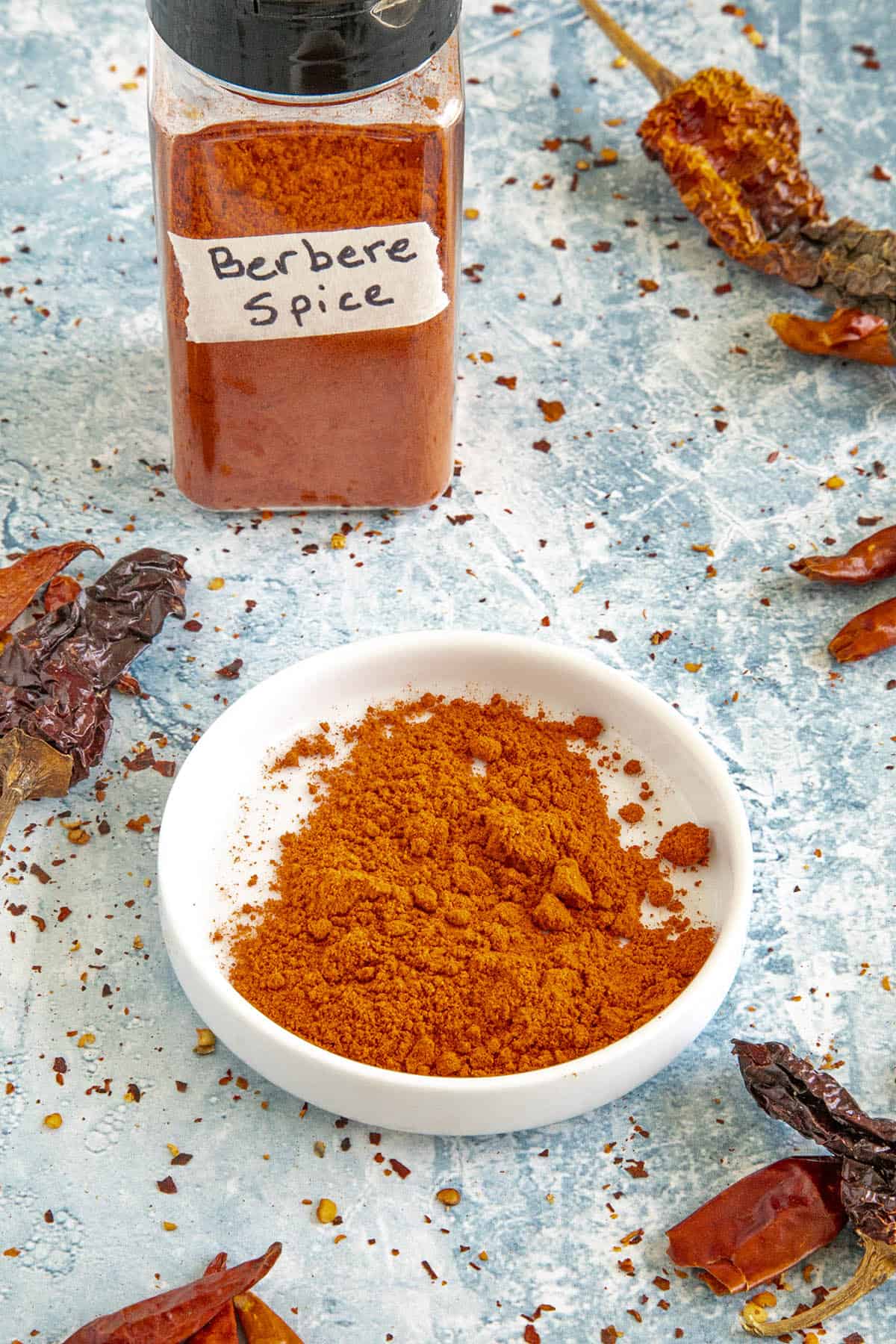 Got any questions about berbere spice blend? Ask away! I'm always glad to help.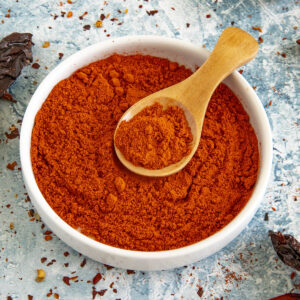 Print
Berbere Spice Blend Recipe
Berbere spice is a robust Ethiopian spice blend of bold chilies and aromatic spices, essential to many East African dishes, like soups, stews, and more.
Save Recipe
Saved!
Ingredients
2

tablespoons

paprika

1

tablespoon

cayenne

1

teaspoon

ginger powder

1

teaspoon

garlic powder

1

teaspoon

ground coriander

1/2

teaspoon

onion powder

1/2

teaspoon

ground cumin

1/2

teaspoon

ground cardamom

1/2

teaspoon

ground fenugreek

1/2

teaspoon

ground cinnamon

1/4

teaspoon

ground cloves

1/4

teaspoon

ground allspice

1/4

teaspoon

ground nutmeg

1/4

teaspoon

ground turmeric

1/4

teaspoon

ground black pepper

1/4

teaspoon

salt

adjust to taste
Instructions
Combine all of the ingredients in a small bowl. Mix well.

Store in a spice container and use as desired.
Notes
Makes about 1/3 cup.
For the best flavor, start with whole seeds or berries (such as fenugreek seeds, cumin seeds, whole dried chilies), then lightly toast them in a warm pan for 1-2 minutes to loosen their oils and release their natural flavor. Then grind them with a spice grinder and combine them with the other dried ingredients.
This recipe is VERY customizable. Feel free to omit or add more of any of your preferred ingredients.
Nutrition Information
Calories:
17
kcal
Carbohydrates:
3
g
Protein:
1
g
Fat:
1
g
Saturated Fat:
0.1
g
Polyunsaturated Fat:
0.3
g
Monounsaturated Fat:
0.1
g
Sodium:
100
mg
Potassium:
96
mg
Fiber:
1
g
Sugar:
0.4
g
Vitamin A:
1501
IU
Vitamin C:
1
mg
Calcium:
14
mg
Iron:
1
mg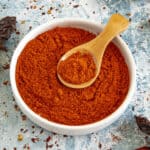 Did You Enjoy This Recipe?
I love hearing how you like it and how you made it your own. Leave a comment below and tag @ChiliPepperMadness on social media.
NOTE: This post was updated on 9/25/23 to include new information and photos. It was originally published on 9/8/19.